There is no doubt that time tracking software for architects is a necessity. Their job is difficult, challenging, often complicated, and includes lots of numbers. Especially when it comes to financial aspects, calculating budget, and estimating time necessary for executing a project
Plenty of tools are available for various industries and professionals but architects tend to be omitted. Their work is tremendously important. If it wasn't for them, we would still live in miserable sheds and walk on muddy roads. And it's important to remember about architects to help them improve how they work.
Architect's work is not only about planning and designing fancy constructions. It's also about making individual adjustments for clients, counting numbers or monitoring the building process. All of that is exhausting and requires using lots of resources and data.
But it can all be automated and optimized with the right tools. Check out our list of 10 best time tracking software for architects!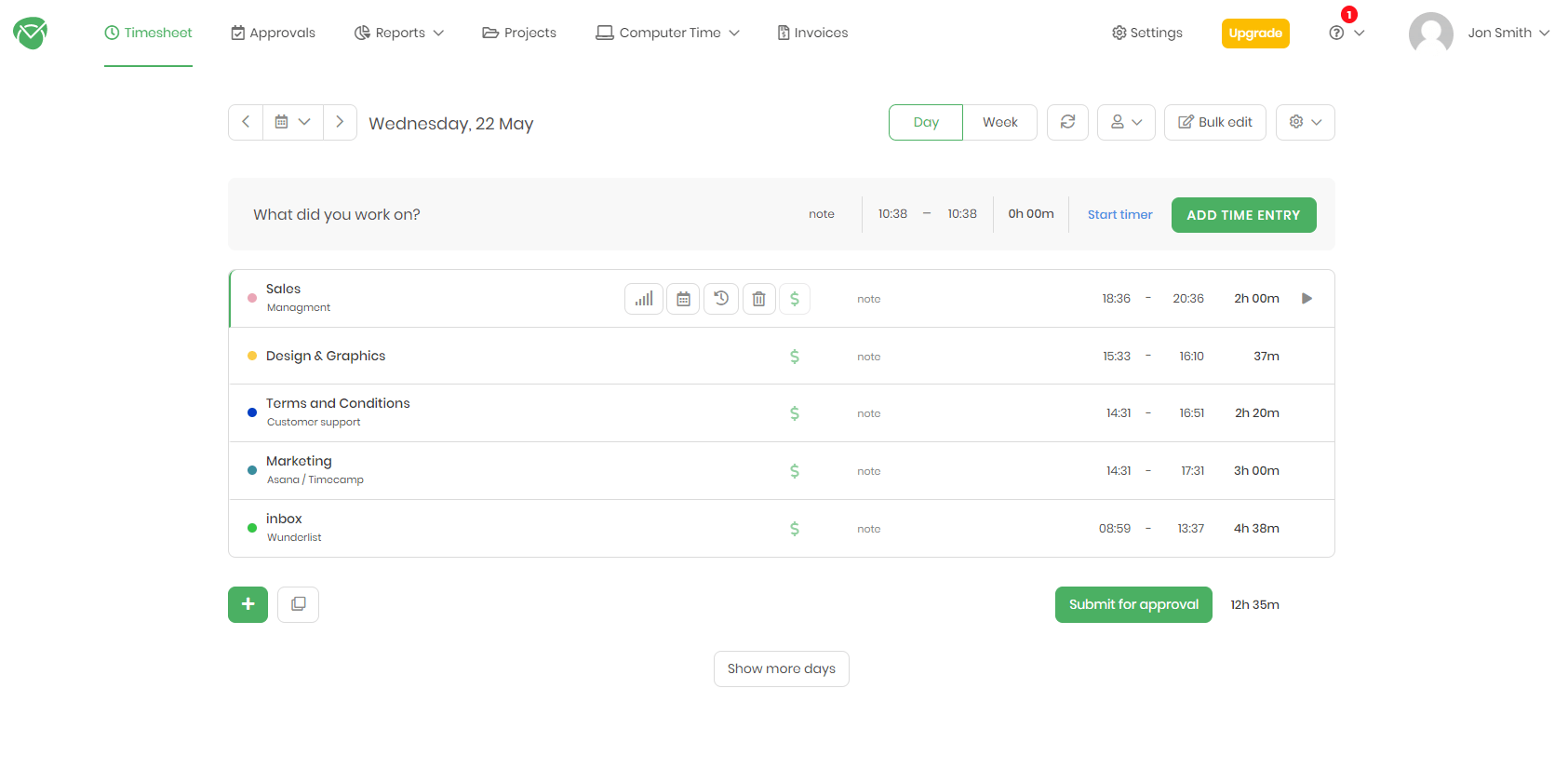 TimeCamp is the best time tracking software for architects who are too busy to collect all the reports and manage projects manually. The tool tremendously advances and automizes work. Also, you can easily report back on the project's progress to the client thanks to extensive database information.
TimeCamp will work exceptionally well for both individuals and organizations, no matter the size. Because architects' work is difficult and comprises of many long and complicates stages, it is extremely important to keep track of all activities. All that in a one, robust tool.
Main features:
TimeCamp is a time recording software which does not only track your time. It tracks all your activities, no matter what they are – designing a new building, gathering information necessary for reports or delegating tasks to co-workers.
Since as an architect you may work on multiple projects, the tool has a feature of creating projects and then separating them into smaller tasks or creating individual tasks not depending on any project.
Invoicing feature makes it possible to create invoices based on reports and send them to your clients right away.
TimeCamp gathers all data in one place and gives you detailed reports on your work, your project's stages, budget, and other numbers which you may find necessary in your work.
The software also works as a project management tool to enhance the communication and co-operation between you, the clients, and other engineers engaged in the project.
An extensive list of integrations helps you to operate between different apps and software to smoothen your work.
A mobile app allows tracking time even when you are on the construction site or in the field without internet access. The app will automatically synchronize all the information after you regain the connection.
Pricing:
Solo (for one user) – free
Basic – $5.25 billed annually
Pro – $7.50 billed annually
Enterprise – custom pricing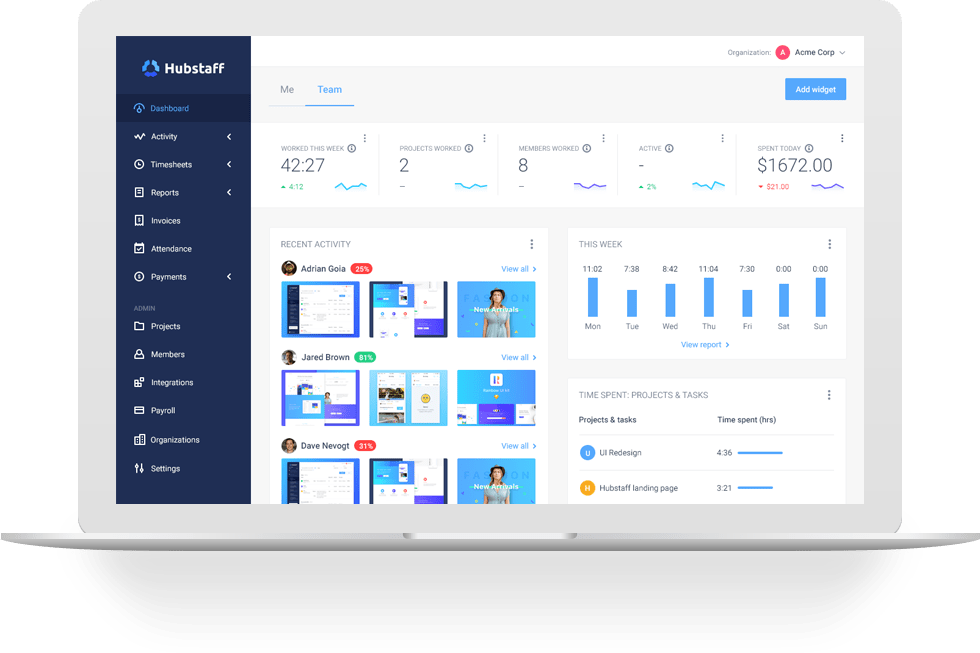 Hubstaff is one of the most popular apps for increasing productivity and also one of the best time tracking software for architects. It has all the necessary features a good time tracking app should have. Small, large teams, corporations, individuals, everyone will find it helpful.
Main features:
Location monitoring – tracking through GPS, web-based reports

Online timesheets
Team dashboard
Reporting
Scheduling with employee attendance tracker and staff scheduler
Screenshots
Invoicing
Setting up pay rates once for each member of a team or project, so payments are automatically sent based on hours worked during that pay period
Numerous integrations with other tools and platforms
Pricing:
Free – 1 User

Basic – 

1 User – 

$5/ month

Premium – 

1 User – $

10/ month
See the comparison between Hubstaff & TimeCamp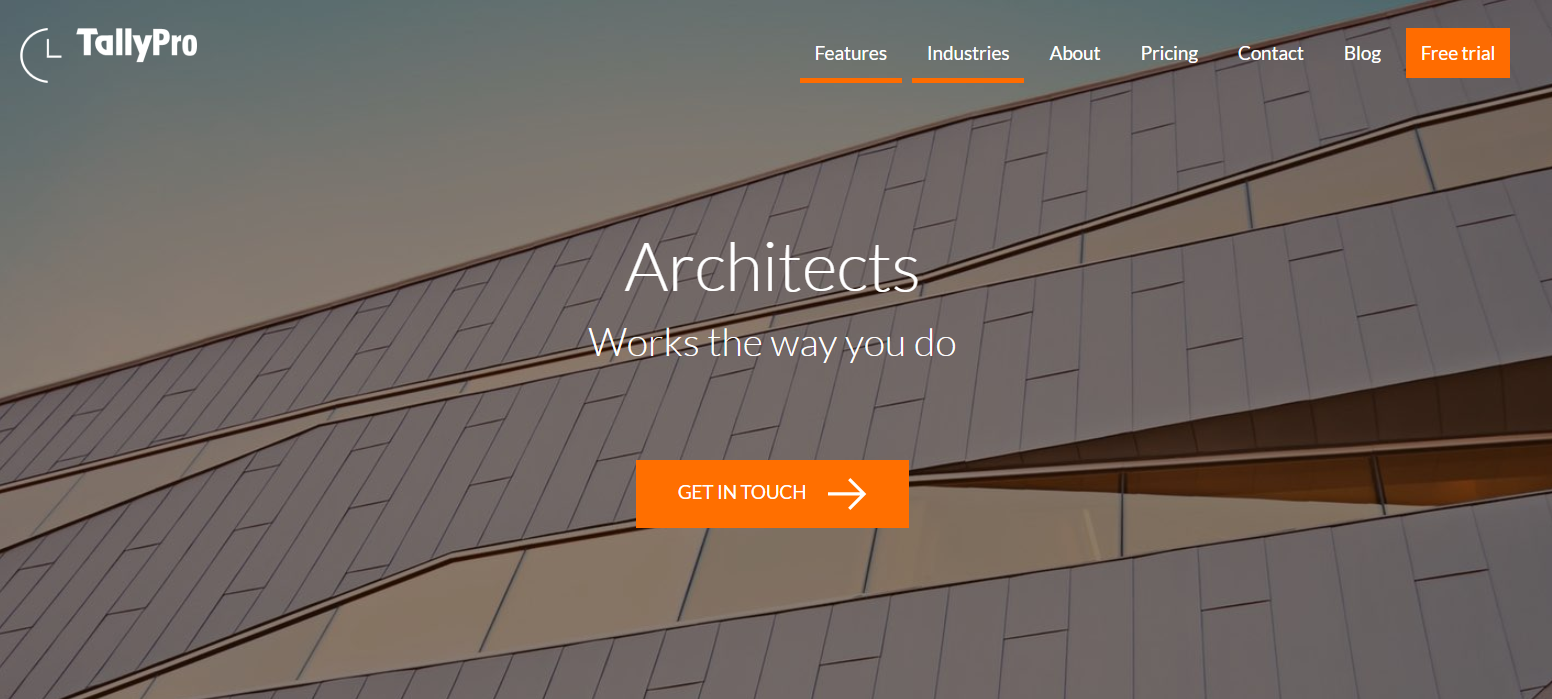 TallyPro is another time recording software for architects. Its time tracking feature serves as an analyzer of your activities. And with its reports, you get an insight into all your work. The tool gives you control over your workstyle. Either you work on an hourly-basis, milestone, or a fixed fee, TallyPro enables you to adjust features according to your needs so that you can be flexible.
Main features:
Billable and non-billable categories for projects
You can manage your time most convenient to you: based on the project, time recorded, by reports or billing
It's a web-based platform easily accessible from anywhere
The tool gathers all the data for you, so you don't have to enter it manually and waste your time on that
You can automatically create invoices
Has all your data encrypted and backed-up
It is important to mention that TallyPro also allows you to manage all resources and control every aspect of the project as well as analyze staff performance and report back to your clients.
Pricing:
Free for a single user
Business – £20 per employee per month (additional employees cost £7 per employee/month)
Enterprise – custom pricing

SQUAVA is a perfect time tracking software for architects who need a simple, unified system of tracking time, budget, and progress of projects. Also, SQUAVA is fantastic for checking on your backlog. The tool enables you to monitor the current state of the required resources and easily plan future work.
Main features:
Time tracking with timesheets and reports
Backlog reports available in the real-time
Budgeting with cost tracking
Automatic invoices
Record of bank transactions
Pricing: SQUAVA has only one plan – The Only Plan – $40 per month per user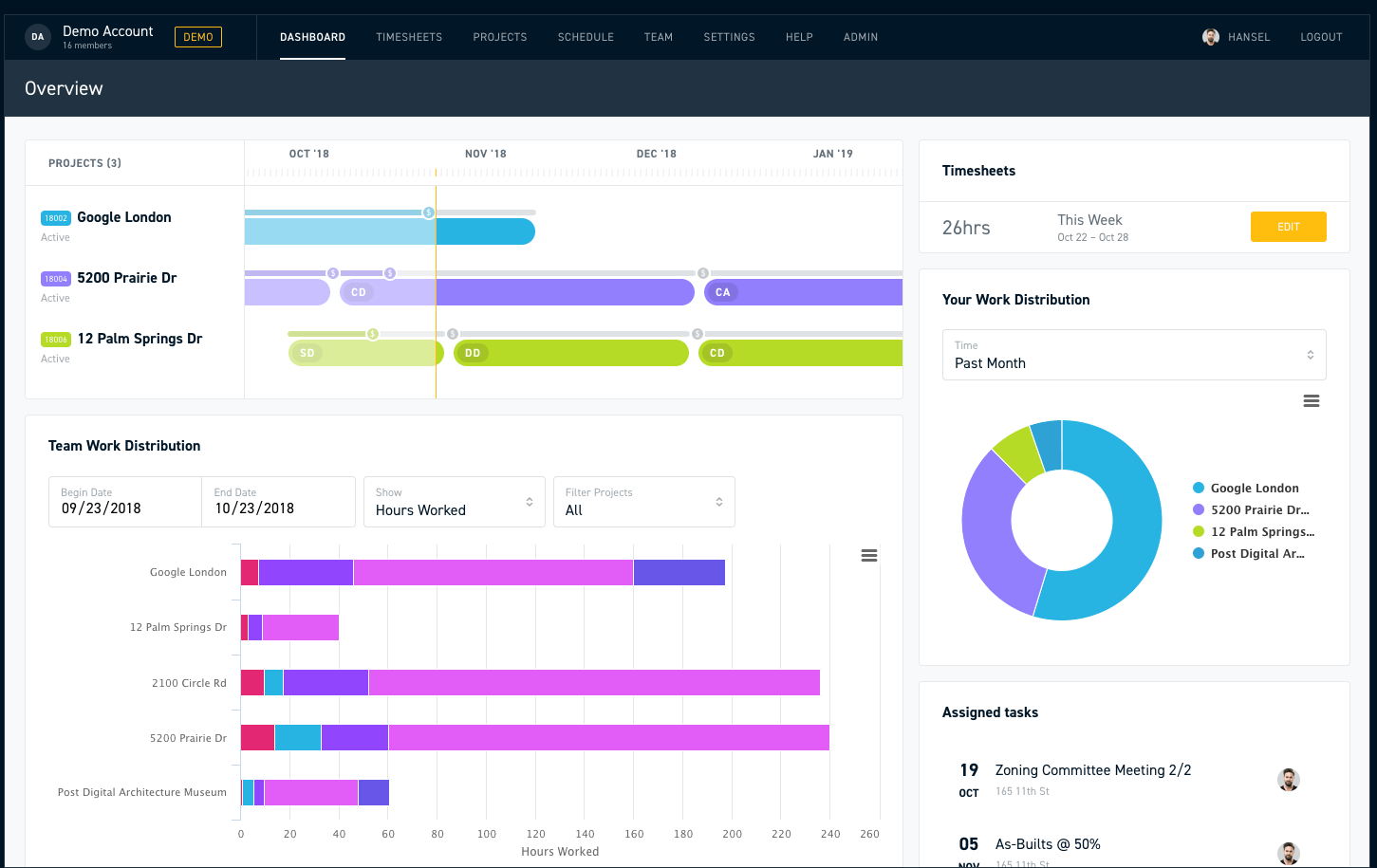 Some tools are designed for a specific sector and such is the case with Monograph. It's a typical time tracking software for architects (and engineers). It's a simple and intuitive tool that helps to organize work and streamline complex processes.
With Monograph you can track time, plan and manage projects, and take care of your finances. It's straightforward software for architects built by architects.
Main features:
Automatic time tracking with project forecasting
Billable and non-billable time with fixed and hourly billing
Invoicing by different categories: Activity, Role, or Phase
Project planning with visualization feature
Pricing:
Pricing starts at $45 per month ($30 base price + $15 per person)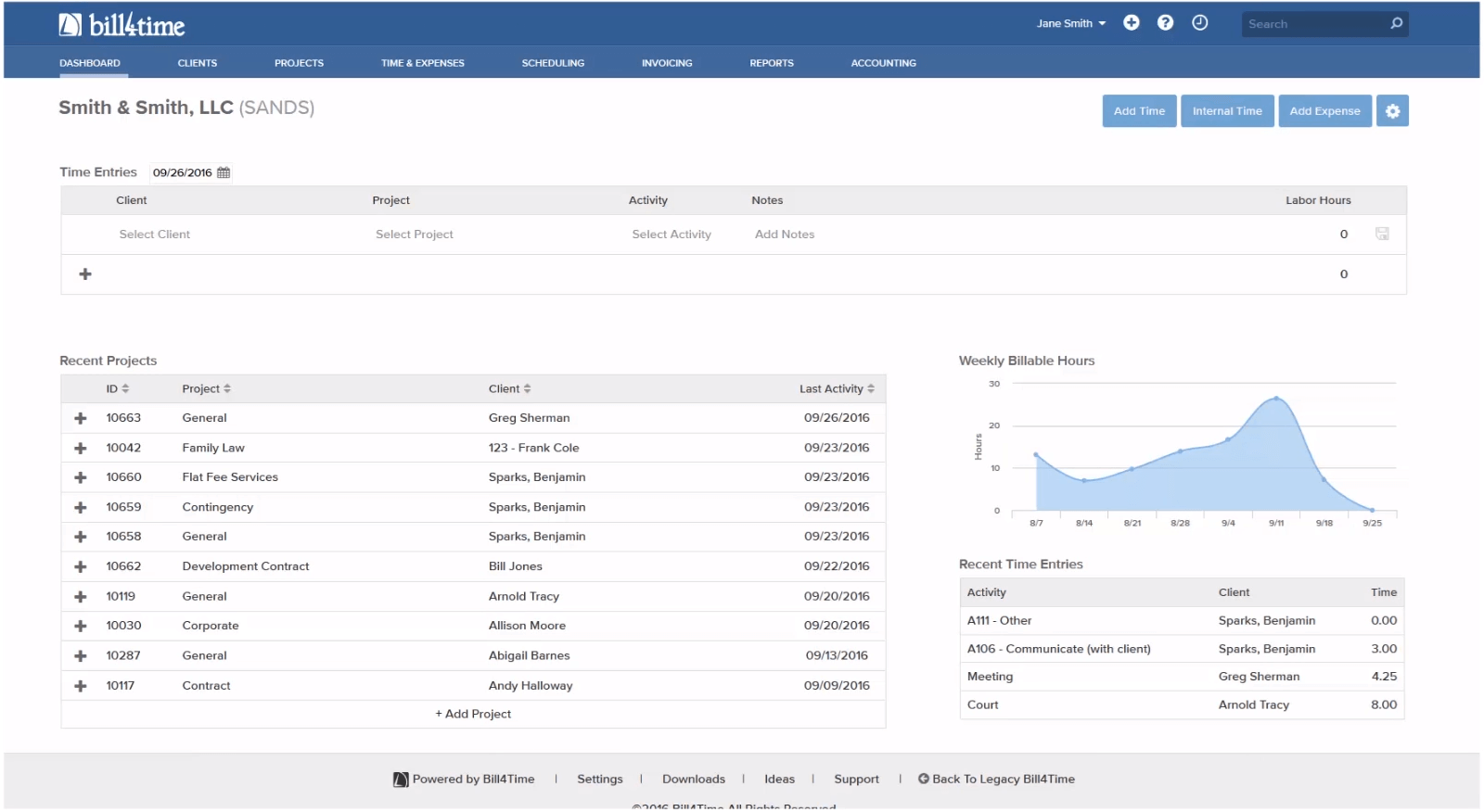 Bill4Time is a great software for architects who need to manage and track their budget. It helps to keep all the financial aspects under control and make sure there are no mistakes. The app allows the team of your architects to stay on track but it also ensures smooth communication with your clients in terms of information exchange.
Thanks to the client portal, everybody always knows what's happening. There's no room for mistakes with such a powerful database.
Main features:
Effective and simple time tracking
Billable and non-billable time
Billing and invoicing
A wide variety of reports including client summary, internal time, invoices, expenses and more
Integrations
Online payments and client portal
Contact, project and document management
Pricing:
Time & Billing – $27 per user/month (billed annually)
Legal Pro – $45 per user/month (billed annually)
Legal Enterprise – $80 per user/month (billed annually)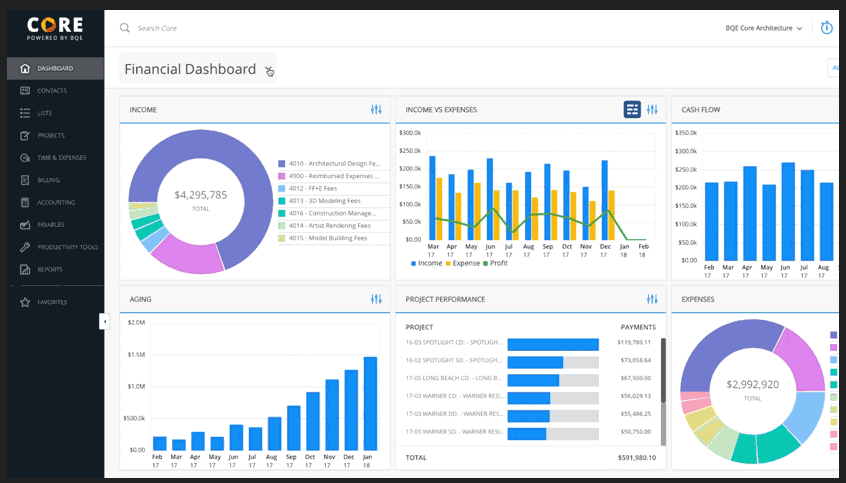 Core time recording software for architects is relatively simple. Architects have to deal with daily problems of their job such as participating in developing the requirements the client wants, coordinating a team, designing, and administrating the contract with all its aspects. The core comes with aid and enhances the architect's time and team management.
With Core, you can reduce the stress related to accounting, team and project management but also tracking time spent on projects. This helps in creating reports for your clients to let them know about the project's progress.
Main features:
Available as a web and mobile apps
Multiple, customizable dashboards with a graphical interface
Time and expense tracking
Billing
Reporting
Customizable invoice templates
Memorizable and customizable reports
Project management features: tracking and managing a budget, tracking profitability, task and people management
Multi-level submittal and approval processes for time and expenses, budgets, estimates, vendor bills, and invoices
Pricing:
The core has several types of modules. Base Module is required and starts from $19.95 per user/month. Additional Modules having different features  start from $9.95 per user/month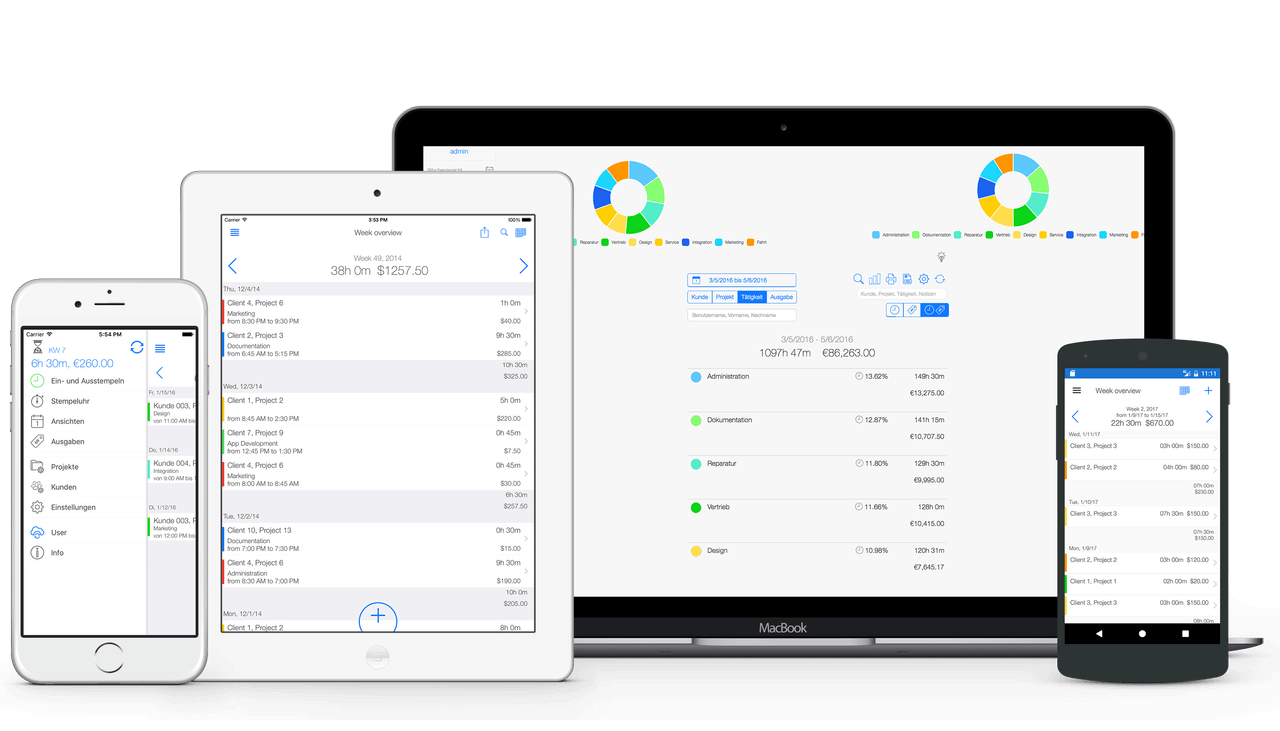 TimeTrack is one of the best time tracking software for architects because it's straightforward and doesn't require additional onboarding. It has the basic features that allow you and your team to record working time and improve all processes related to planning, designing, and evaluating projects' profitability.
TimeTrack helps eliminate tedious paperwork, manually filling up timesheets and makes your team's work fast and effective.
Main features:
Project and employee time tracking
Time tracking with numerous options on different levels (manager, leader, employees, etc.)
Available for iOS and Android as well as for Microsoft platforms
Synchronizes across different platforms
Project evaluation with different filters
Adjustable timesheets
Pricing:
TimeTrack offers a free version. Upgrades start from $2.99. Features vary on the pricing plan.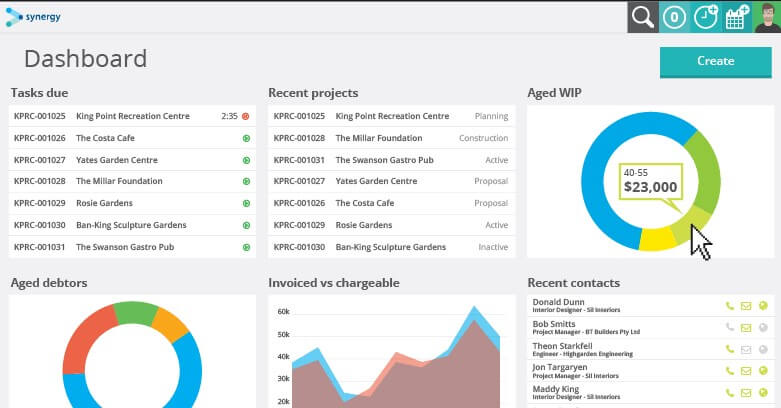 Synergy is a cloud business and project management software used by architects and engineers. It's precisely tailored to architects needs and that's what makes it a perfect solution for this industry. It's a tool packed with extensive and elaborate features. Not only will Synergy help in delivering successful projects but it will also give a boost to your entire business.
Main features:
Time tracking with rich features
Project Portal allowing you to keep track of all aspects of the project
Billable and non-billable time entries
Assigning rates and costs to projects, rate and costs calculator
Dashboard with important information in the real-time
Accounting add-ons
Custom reports
Pricing:
Professional – $10 per user/month
Business – $20 per user/month
Enterprise – $40 per user/month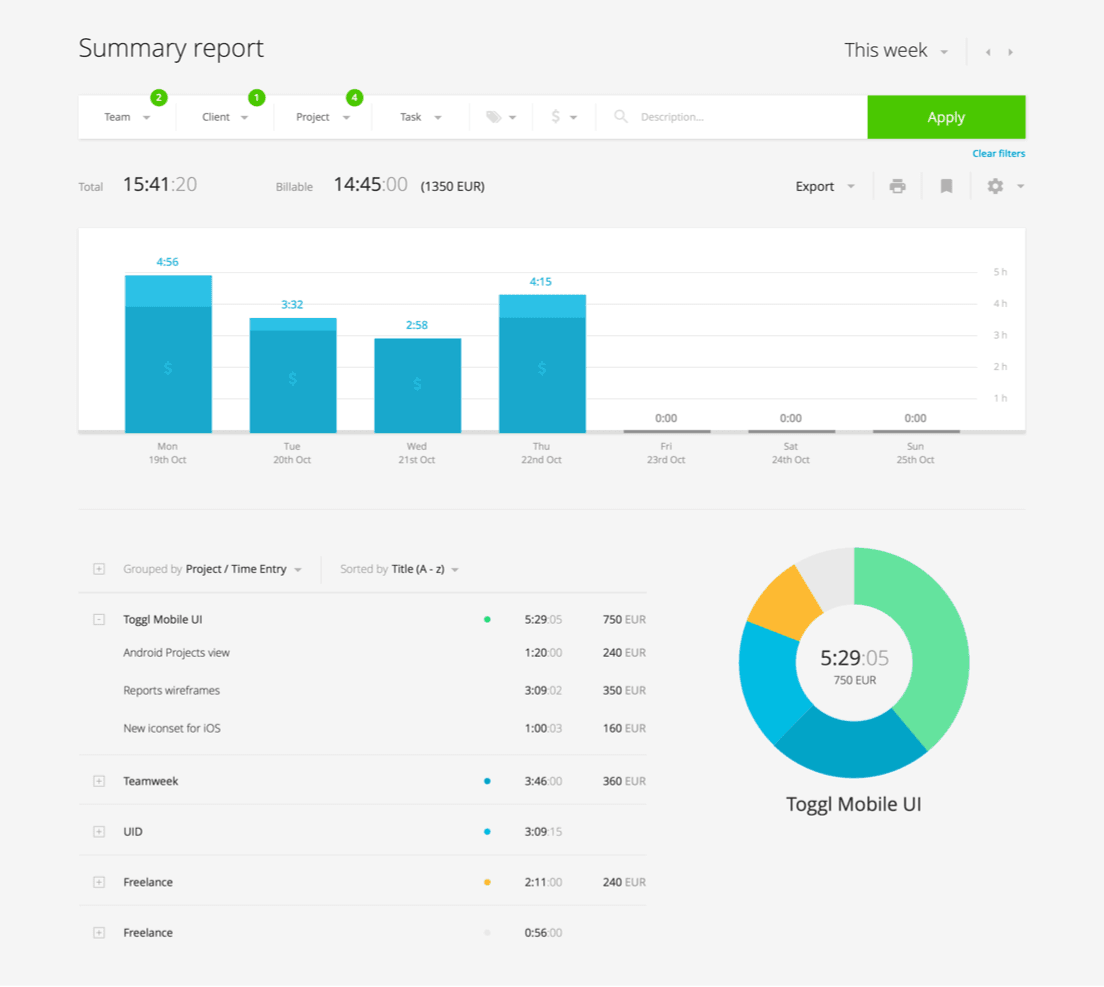 Toggl is a time tracking program that is especially useful for freelancers or small business owners. The app can be used to record how much time is spent on each project and helps you to plan tasks ahead of time. It's a simple and intuitive solution. Toggl is an excellent time tracking software for architects who need simple time tracking.
Main features:
Simple time tracking
Reminders and alerts
Team dashboard
Desktop, web, and mobile apps
Billable rates
Project dashboard
Reports
Pricing:
Starter – $9 per user per month (billed annually)
Premium – $18 per user per month (billed annually)
Enterprise – custom pricing
See the comparison between Toggl & TimeCamp
Which Time Tracking Software for Architects Will You Choose?
Are you an architect? Which time tracking software do you use? Is your favorite tool on our list? Or maybe we missed it? Let us know in the comments!
Remember that not every time tracking software is suitable for all businesses. You should look for one that corresponds to your company's needs, has all the necessary features and is flexible in use for your team. Choose smartly and stay productive!