The List of Top 10 Time Tracking Software With GPS
October 24, 2019
by Kate Borucka
4 comments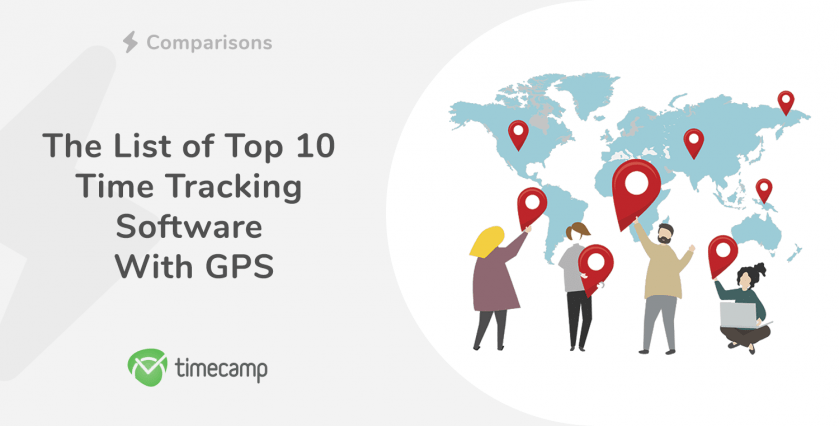 Time tracking software with GPS is changing the way we work. It allows employers and employees to overcome work boundaries, and work flexibly and more effectively. But from all the tools available on the market, it may not be easy to choose the right one. If you're looking for top time tracking software with GPS, you are in the right place.
CONTENTS:
› Why Use Time Tracking Software With GPS?
1. TimeCamp
2. ClockShark
3. TSheets
4. Timr
5. LaborSync
6. Hubstaff
7. Boomr
8. Timeero
9. Mitrefinch
10. TimeDoctor
11. Taimer
› Do You Use Time Tracking Software With GPS?
Why Use Time Tracking Software With GPS?
Whether being a freelancer, manager or member of a larger team, you can significantly benefit from using time tracking software with GPS. Advantages are enormous but 5 of the most important include the following:
Transparency – if a team uses time tracking software with GPS, everybody can have a clear insight into the progress of works, different projects, and each other's location thanks to real-time reports
No mistakes – transparency results in accuracy and structured data. When all information is in order, the risks of mistakes is much lower
Unity – with one tool, there is no necessity to use separate apps. Everything is available in one place. Additionally, your organization can organize the software in such a way that it is a central hub for gathering factual data on all projects (budget, time spent on each task, attendance, and many more), measuring outcomes, and managing team
Remote management – if in your business, you hire remote workers, work with fleets or your employees need to travel regularly, time tracking software will help you keep track of everyone and manage them accordingly
Work automation – nothing improves and speeds-up work as much as the right software. Tedious tasks are automated, reports fill in automatically, and employees can focus on their work instead of on counting numbers
Using time tracking software with GPS enhances all types of processes, helps to save money, and tightens organizational structures.
If you're looking for the right tool, here's the list of the top 10 time tracking software with GPS. These are all the best apps dedicated to people who want to be more productive, accountable, and profitable.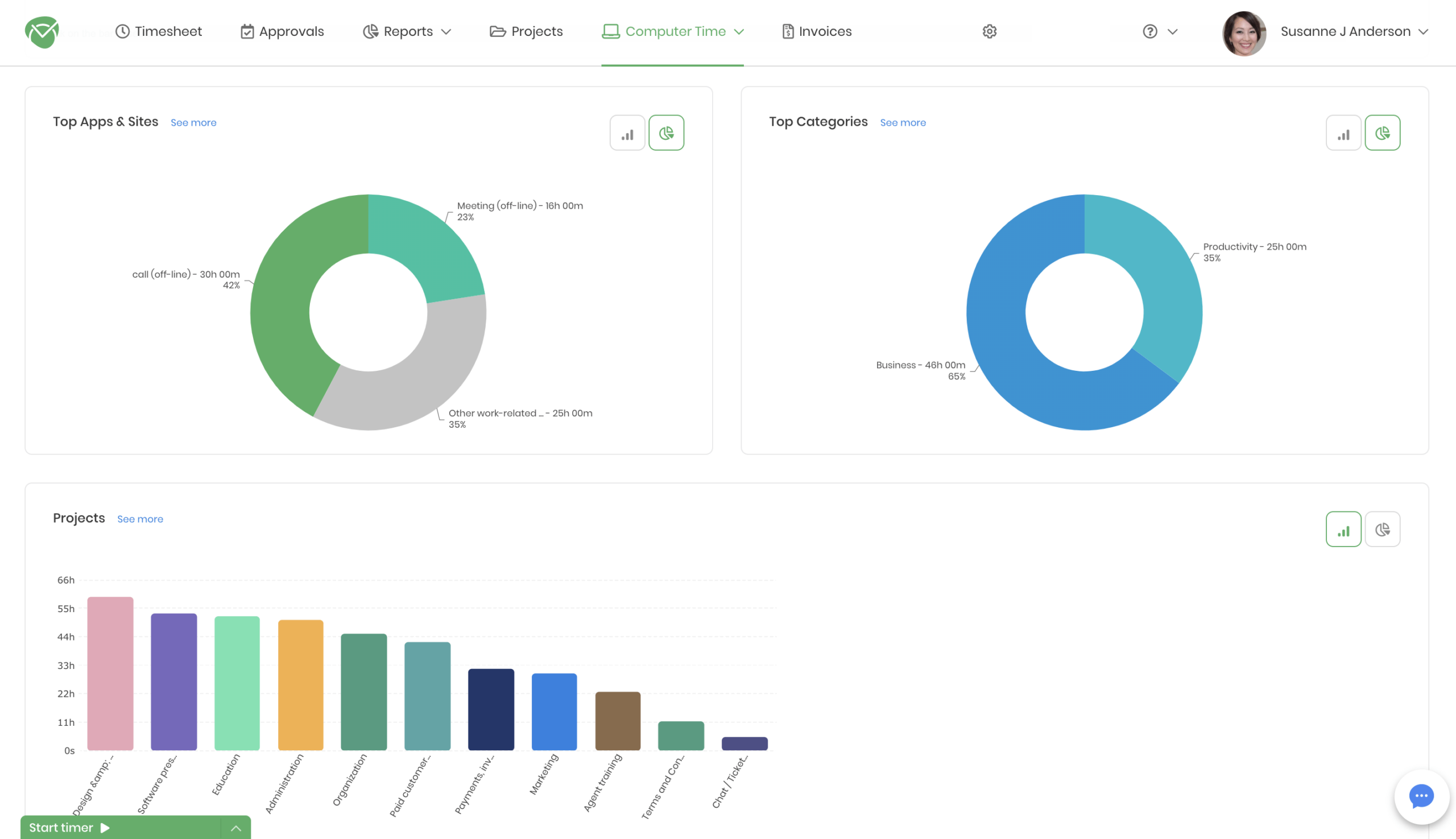 TimeCamp, a 100% free time tracker for unlimited number of users, is one of the most advanced time tracking software on the market. If you're looking for a tool that will help you save time and money, it's the right choice!
TimeCamp allows you to track your employees work to improve workflow, communication, and collaboration in your team. Its automatic tracking features make it a great centralized system for project management. With TimeCamp, you can easily track your team's attendance,  monitor and allocate budget, and oversee all stages of projects. It has all the necessary components you need to always stay on top of work and be ahead of your competitors!
 Main features:
Automatic time tracking in the real-time with comprehensive and detailed reports
Accurate timesheets with approvals to know when and how your employees work
Monitoring employee activities by categories, including app and website tracking
Monitoring productive and unproductive activities
Tracking time by tasks and projects to know what your employees are working on and what's the projects' state
Attendance tracking and management to keep track of vacations, leaves, absences, and more
Budget monitoring
GPS – NEW feature!
Integrations with the most popular software for project management, accounting, CRM, productivity, and more!
Available for:
Pricing:
Free – $0 for unlimited users
Basic – $5.25 per user (billed annually)
Pro – $7.50 per user (billed annually)
Enterprise – custom pricing
So excited to inform GPS tracking in TimeCamp has been launched!
Learn more about GPS time tracking during 30-minute demo!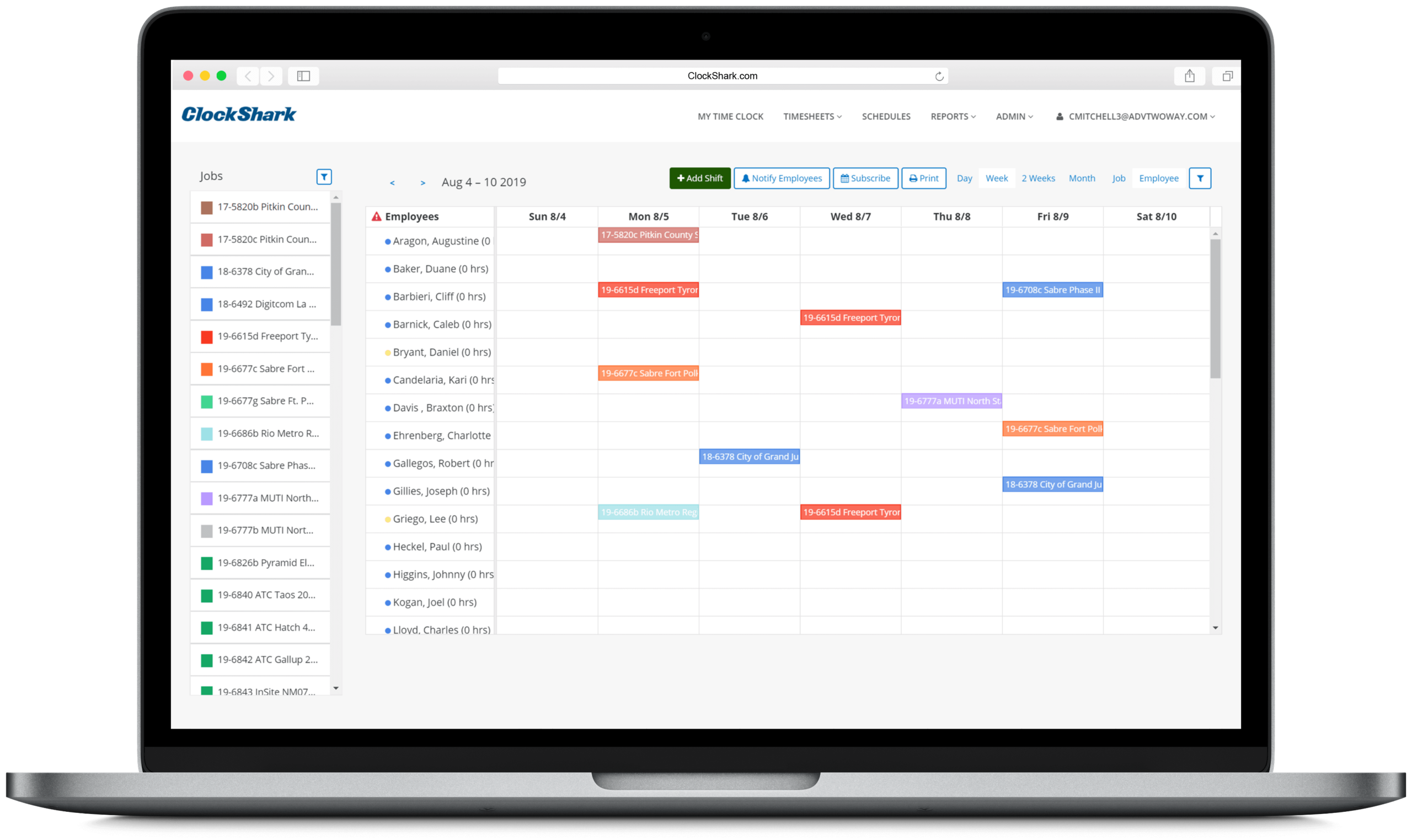 ClockShark is a robust time tracking software with GPS. It's suitable for teams working in every type of business – individuals, small and large teams, freelancers, remote workers, and everyone who wants to keep track of their work. Also, ClockSharks' features will fit perfectly to the needs of construction workers and anyone who works on the site or anywhere in the field. The software comes with a variety of features that help not only to keep a record of stuff's work and schedule jobs but also allow to keep track of employee location.
Main features:
GPS tracking
Time tracking with timesheet approvals
Scheduling with the drag-and-drop feature
Kiosk time with facial recognition
Advanced job costing controls
File attachment
Third-party integrations with the most popular software: QuickBooks Online, QuickBooks Desktop, Run Powered by ADP, ADP Workforce Now, Xero, Sage 100 Contractor and Zapier
Available for:
Pricing:
Basic – $3/mo per person +$15/mo base fee
Standard – $5/mo per person +$25/mo base fee
Pro – $8/mo per person +$45/mo base fee
Includes 14-day trial with all Pro features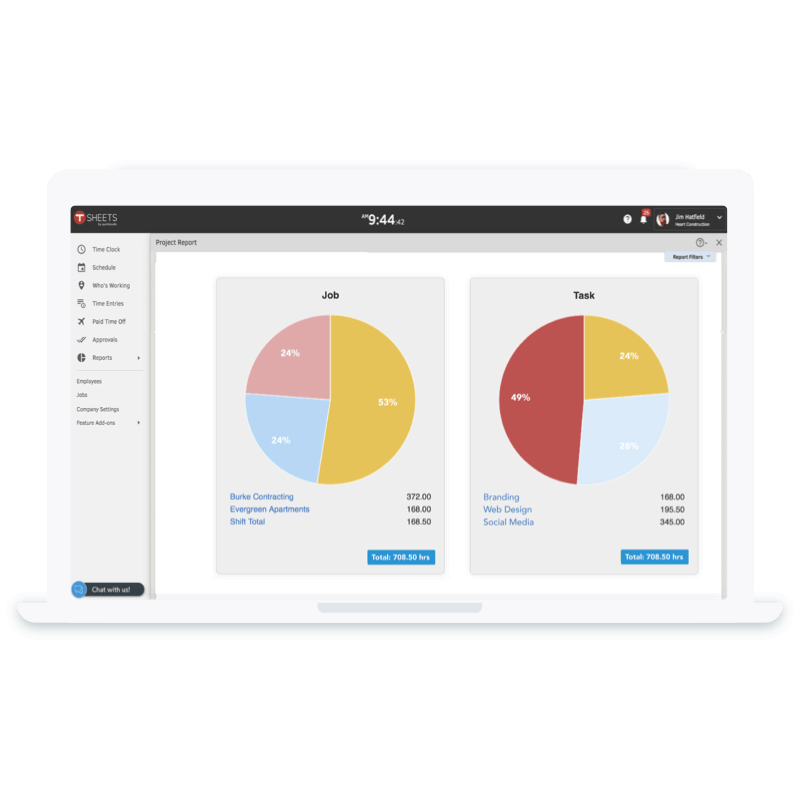 TSheets by QuicBooks is a cloud-based time tracking software with GPS. It combines accounting and time tracking features. It's intuitive and easy-in-use, best for small businesses that need to simplify payroll and invoicing. TSheets can help you save on payroll costs and payroll processing. TSheets is also a great mini project management system that helps to gather all important data in one place and easily monitor financial aspects of projects.
Main features:
One-click time tracking
Scheduling by jobs or shifts
Real-time interactive reports and timesheets
GPS location tracking
Different overtime settings and flexible pay rates
Alerts and notifications
Time-off management
Available for:
Pricing:
$6
.40 
per user, per month
+ $16 base fee per month. 14-day trial available.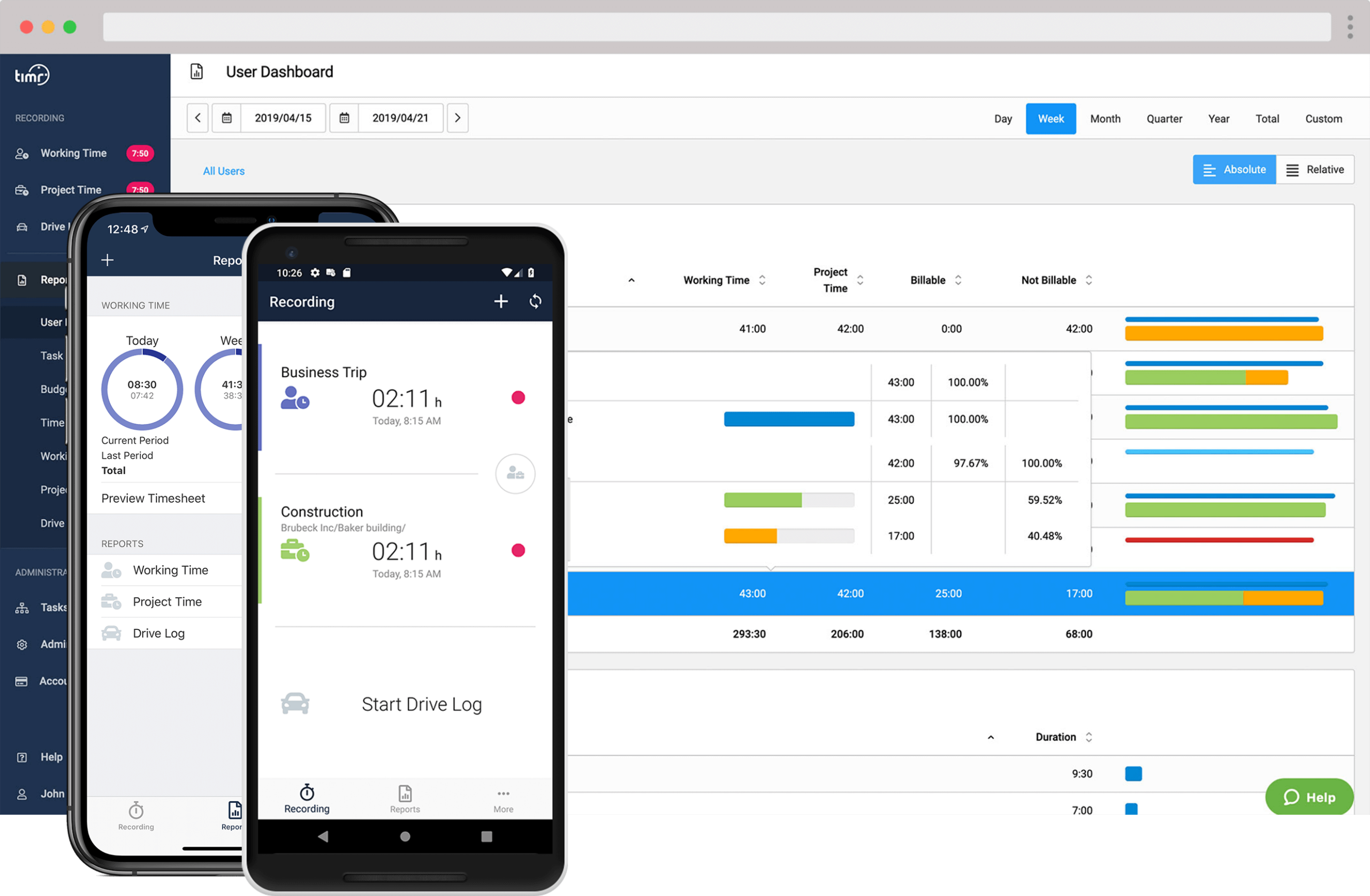 Timr is a good tool for people who need time tracking, project tracking, and location tracking in one. The app provides full features necessary to keep track of all activities that are essential to deliver projects on time and on place. Use it if you need a centralized system for managing a team.
Main features:
Tracking work hours and project time
Available via browser and mobile app
Tracking mileage with the GPS
Centralized admin dashboard
Customizable reports
Holiday and absence management
Daily, weekly and monthly account records
Automatic reminders
Available for:
Android
iOS
Blackberry
Windows
Pricing:
Regular – no base fee + € 8/user per month (10% discount if paid annually)

Plus – € 29/month base fee + € 8/user per month (10% discount if paid annually)

Enterprise – € 79/month base fee + € 8/user per month (10% discount if paid annually)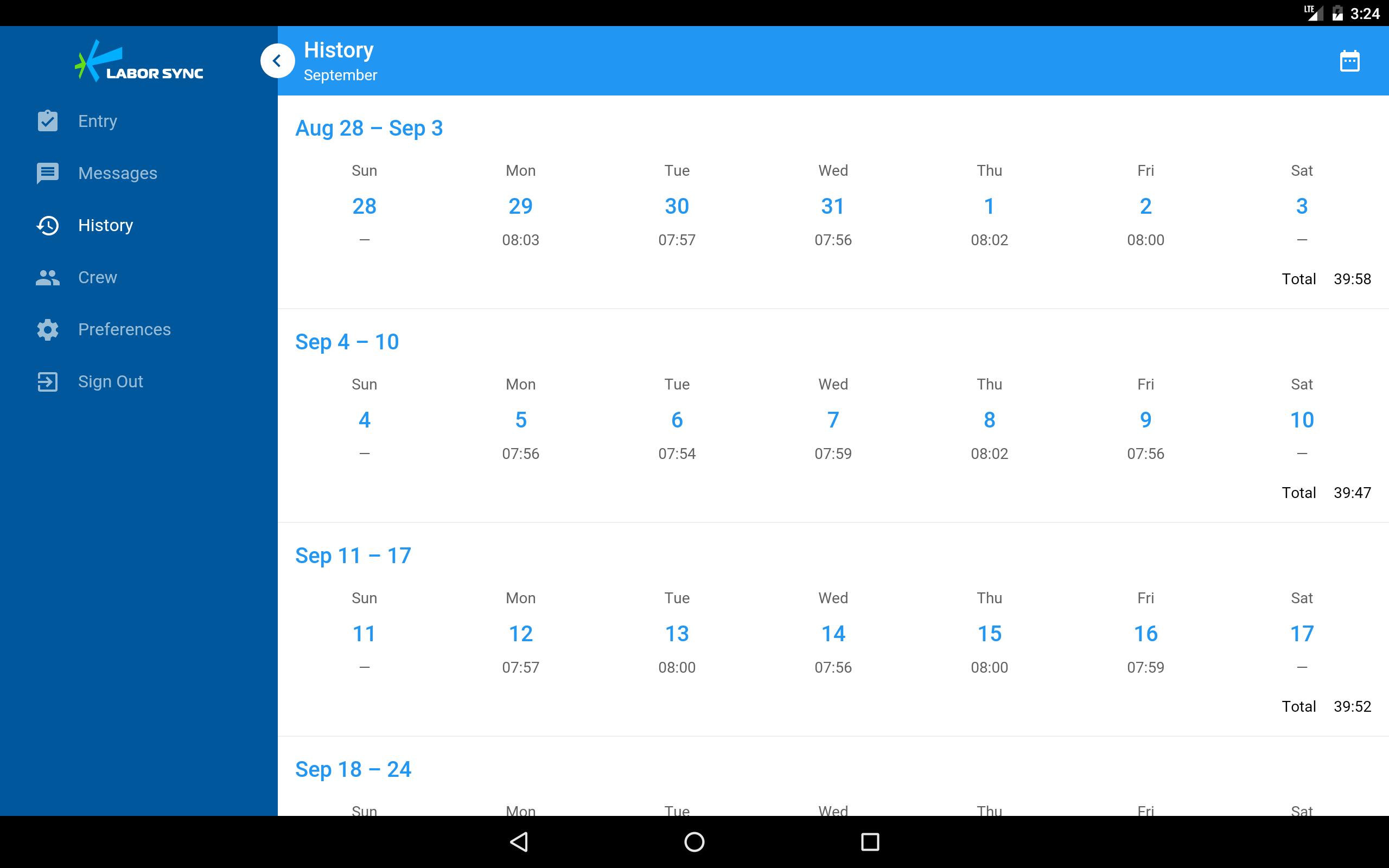 LaborSync is an advanced time tracking software with GPS. This system is suitable for time and attendance management. It helps to keep track of employees' hours and their location via mobile devices. LaborSync helps to optimize and automate processes in the organization, save time, and increase revenue. It's a robust employee tracking system with numerous features. Additionally, it's available in 15 different languages.
Main features:
GPS-enabled time tracking, you have accurate reports indicating how long each employee is at a job site and the route
Real-time GPS tracking – you can always see what your employees are doing at a specific moment
Reporting in the real-time
Payroll management
Estimating project
Project management
Overall employment management
Customizable reports
Field notes and messaging – through the messaging feature, employees can be notified of meetings, schedule changes, or any other information
Available for:
Pricing:
$10 per month for an active employee. Includes 14-day trial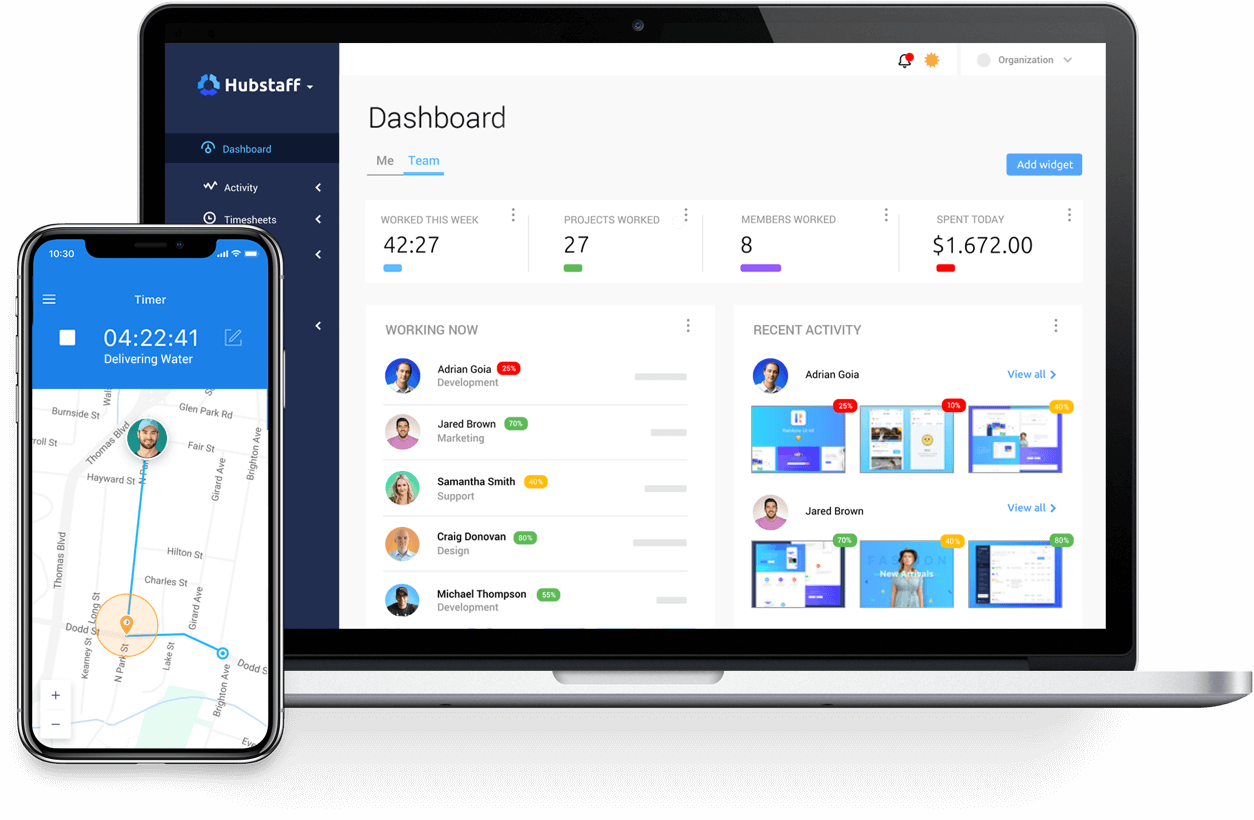 Hubstaff is one of the most popular time tracking and productivity apps. It's a fancy tool with all the basic features a good time tracking software with GPS should have. Hubstaff's a good solution for people who need a simple version of project management tool that can provide you and your clients (or employer) with the proof of work such as screenshots, reports, and timesheets. It can also be helpful in automating simple invoicing and payroll processes.
Main features:
One-click time tracking in the real-time
Reports and timesheets with approvals
GPS tracking with Geofence
Timeclock apps available as iOS, Android, Mac, Linux or Windows apps
Setting up different pay rates
Employee attendance app and staff scheduler
Screenshots
Available for:
Android
iOS
Desktop app
Chrome
Pricing:
Free – 1 User

Basic – 

1 User – 

$5/ month

Premium – 

1 User – $

10/ month
See the comparison between TimeCamp & Hubstaff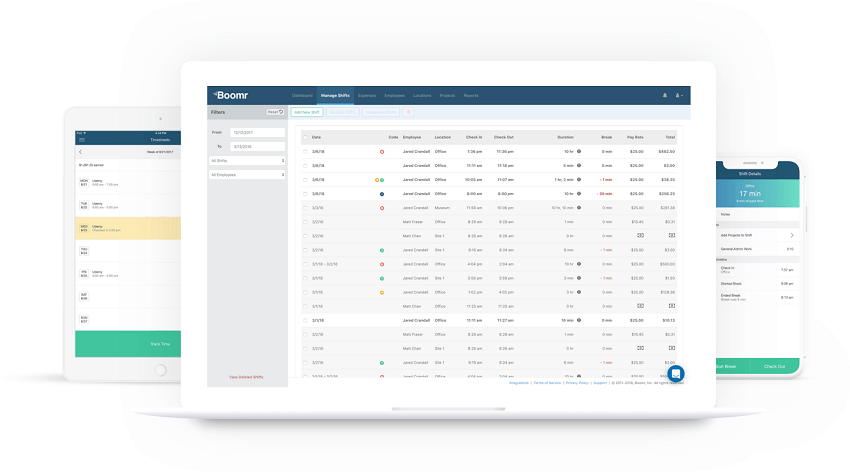 Boomr is a time tracking software for those who need detailed features. It is the best choice for organizations that need fully integrated system for managing timesheets, attendance and payroll. Boomr is a powerful software designed specifically for tracking time and monitoring employees' work. The software is also compliant with federal and state labor laws, and always stays updated with any regulatory changes.
Main features:
One-click employee self onboarding
Built-in team messaging and communication
Geo-stamped timekeeping
Real-time Overtime Watch alerts and reporting
Integrations with other tools
Pricing:
Standard – $4/month per user +$16 base fee per month
Business – $7.20/month per user +$36 base fee per month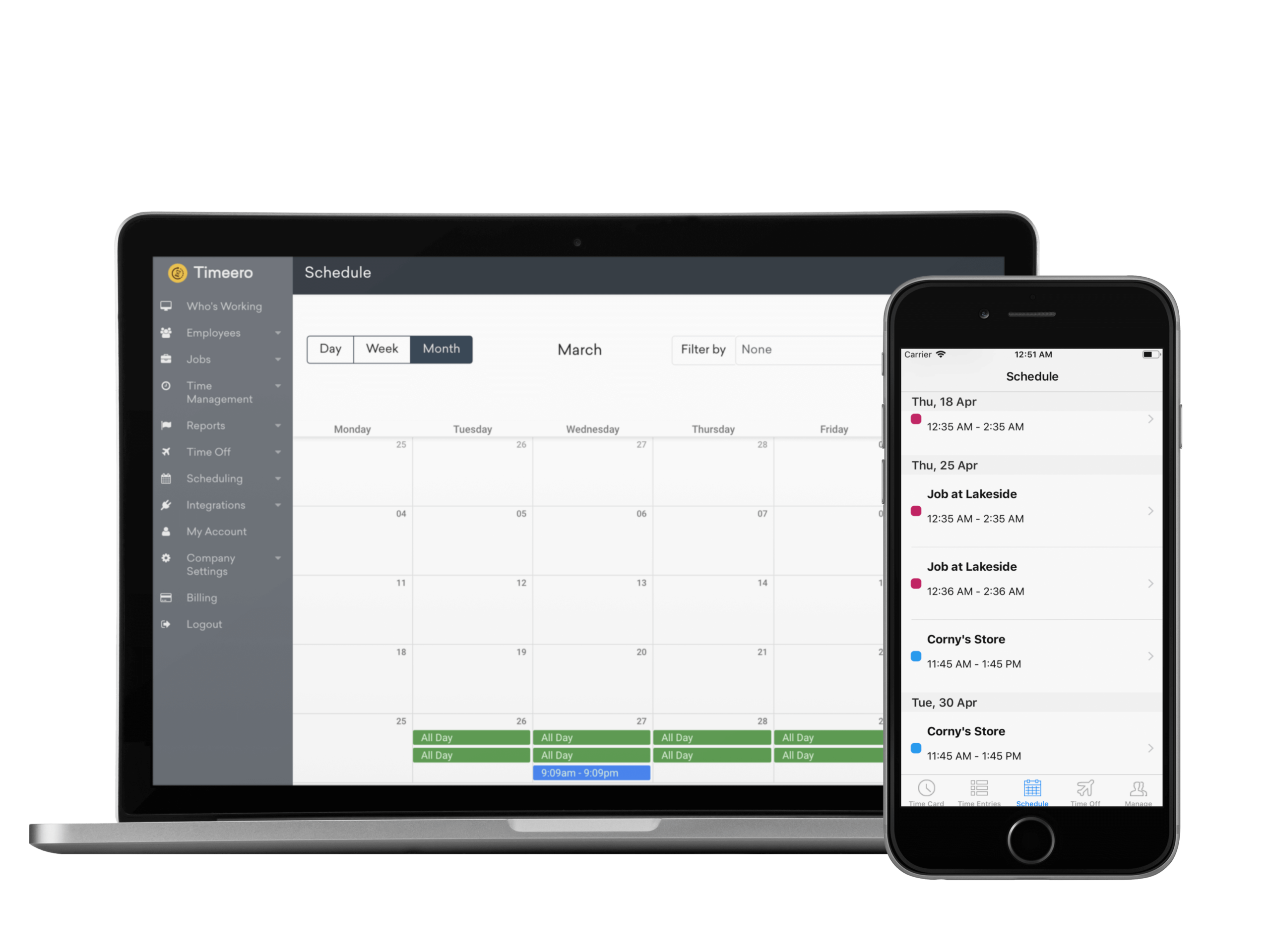 Best for employees working outside of the office or being constantly on the move, Timeero comes with practical features. It's an intuitive and simple time tracking software with GPS. Timeero helps to automate timesheet management and get rid of all the paperwork. The software lets your employees fully focus on their work with one-tap clock in/out. Timeero is a good solution for small businesses that need to have a quick insight into team's work and location. The tool is fully compliant with the Department of Labor wage rules.
Main features:
Time and attendance tracking
GPS tracking with mileage tracking and route review
Customizable geofencing
Manager and admin approvals
Time-off management
Clock in/out reminders
Budgeting
Reports
Available for:
Pricing: (included 14-day trial)
Monthly – $5/user per month + $10 base fee
Annual – (10% discount): $55/user
99+ employees – custom pricing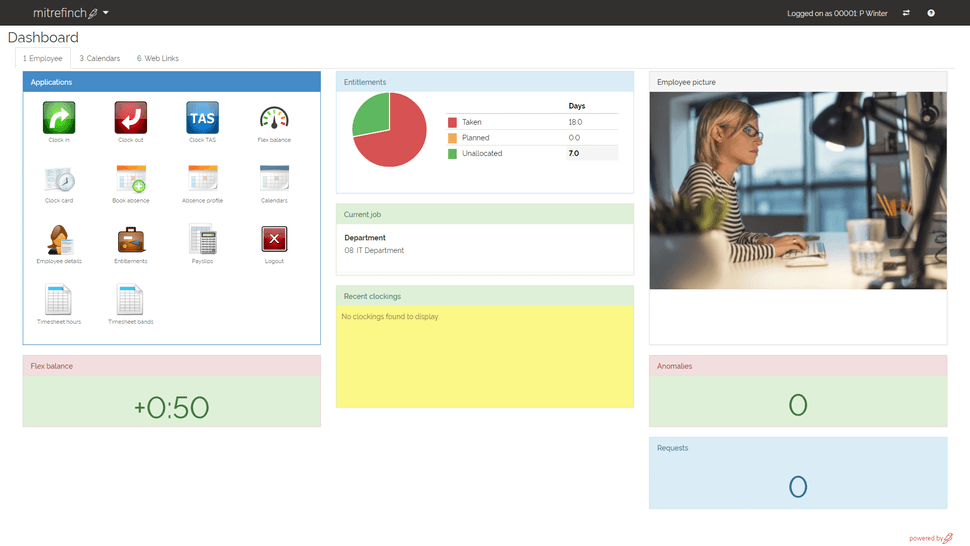 If you need advanced software, Mitrefinch will be the right choice. Mitrefinch is time and attendance software that helps to keep transparency in the workflow. The process of implementation is tailored to your organization's needs. A customized, in-depth consultation helps you identify exactly what you need the software to do. It's a fantastic solution for managers and employees who need a very specific, personalized software.
Main features:
GPS tracking
Time tracking
Leave management
Attendance tracking
Advanced employee scheduling
Clocking with different options – web-based clocking, biometric time clock, text alert clocking, land-line clocking, mobile clocking, and desktop reader
FMLA tracking
Available for:
Pricing:
Custom pricing depending on your needs
Fully customizable, TimeDoctor is the best employee monitoring software for demanding users who need detailed insight into employees' activity. It monitors the usage of apps and websites so managers can see how their teams are spending time during work.
At the same time, employees can use the app to boost productivity and better allocate their time. TimeDoctor is a first-class software for proper resource allocation and overall project management.
Main features:
Time tracking with distinction to tasks, projects, people
Time Doctor will monitor employee internet usage during their work time. When it is detected that excessive amounts of time are being spent on YouTube, Facebook, or browsing other personal websites, Time Doctor will give those users a nudge to check if they are still working
Website and application monitoring
Screenshots
Ability to give clients access to Time Doctor
Payroll management
GPS tracking
Range of configurable options available
Integrations with the most popular apps
Pricing:
$9.99/month per user with free 14-day trial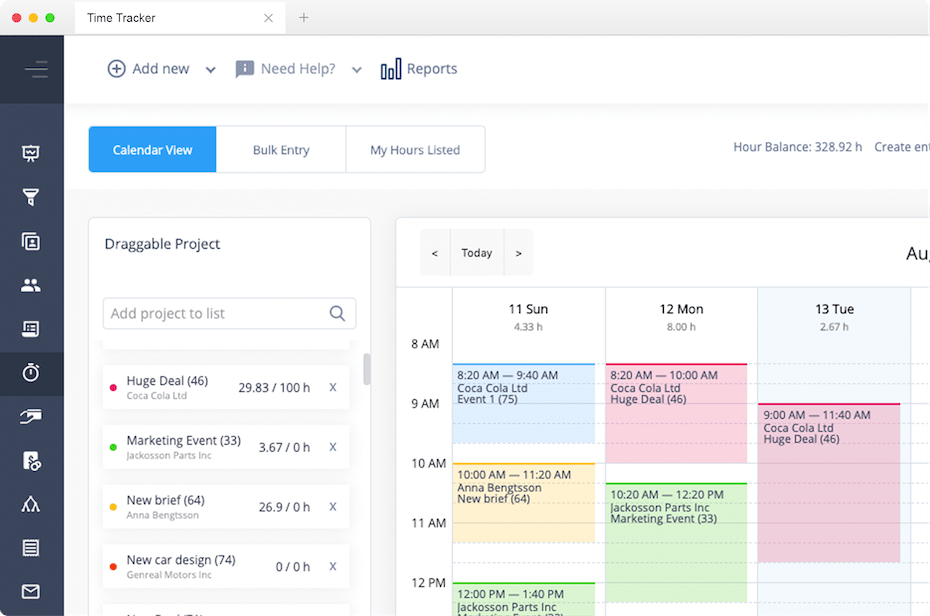 Taimer is not just a time tracker, but an all-in-one professional service automation (PSA) software for professionals to manage sales, projects, resources, time, finances and reporting. With Taimer, you can replace 10+ apps and save time, improve productivity, and have full visibility on key business functions, profitability, and finances on a single, simplified, integrated platform.
Main features:
Project management

Sales management (pipelines, CPQ, sales quotes, sales insights, reports etc.)

Resource scheduling (Gantt, grid & list views)

Time tracking software with a GPS-log

Finance management (invoicing, bills, expenses & travel expenses)

Business Intelligence (BI) reporting (profit & loss, invoicing, activities, hours, sales, goals)
Available for:
Pricing:
Free CRM (Free Forever; for 1 users)

Sales CRM (13€/month/user)

Project Management (16€/month/user)

ERP (26€/month/user)
How Do You Use Time Tracking Software With GPS?
Is your favorite time tracking software with GPS on our list? Did we miss something? Or maybe you use different methods to track your or your employee's work and location? Some people still prefer the traditional "pen and paper" approach. They write down on paper their working hours, collect receipts for gasoline, and make all the paperwork pile up. How about you?
Share your thoughts in the comments, we'll be happy to hear from you!