10 Best Top-class Timesheet Templates Your Company Will Love
January 3, 2020
by Kate Borucka
No comments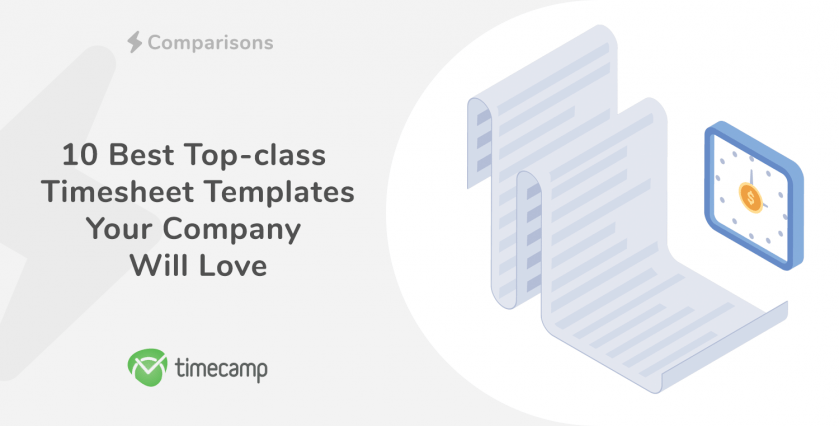 There are two types of people, those who don't like timesheets and those who hate them. Timesheets are used in different forms in almost every company. And if you're not using time tracking software or timesheet software, you will find timesheet templates extremely helpful.
In our article, you will find the best timesheet templates for your company that all your employees will love!
What Is Timesheet?
Timesheets are used to track hours worked on a daily, weekly, monthly, or annual basis. Typically, they have a tabular format divided into different sections such as tasks and projects, hours spent on a task, exact time of starting/ending work, date, hourly rate, overtime, etc.
Nowadays, paper timesheets are slowly falling out of use and are replaced by their digital versions.
Stop filling out your timesheets manually! Use TimeCamp for automated time tracking and convenient timesheet approvals!
With the use of dedicated software, time is tracked automatically and timesheets are generated in real-time without the necessity for employees to get involved. Filling out timesheets manually is ineffective, takes a lot of time, and it's easy to input inaccurate data. That's why it's better to use automatic tools. And there are plenty to choose from:
Simple digital spreadsheet such as Excel
Time tracking software – we recommend to use the professional tool instead of a manual time tracking spreadsheet
Task management software
Project management software
Payroll software
Punch cards
Or a combination of them all
Or if you prefer, you can use timesheet templates, which can also help you and your employees save time. The only thing you need to do is to choose the right one from all the available options.
In this article, you will find some printable time sheets you can use for free.
Applications of Timesheets
The most popular application of timesheets is to record hours worked. But you can use different spreadsheets to manage projects, payroll, and workflow of your team. The possibilities are endless. All you need is the right format.
Here are 4 timesheet templates to help you manage your business, daily work, and monitor productivity.
This template is a perfect fit if you're looking for a simple solution to track hours spent working on multiple projects. This project-based timecard calculates total hours grouped by project and day of the week.
The spreadsheet includes a weekly and biweekly version of the timecard. You can also choose whether to enter hours using decimal or h:mm format. The template works for Excel, OpenOffice, and Google Sheets.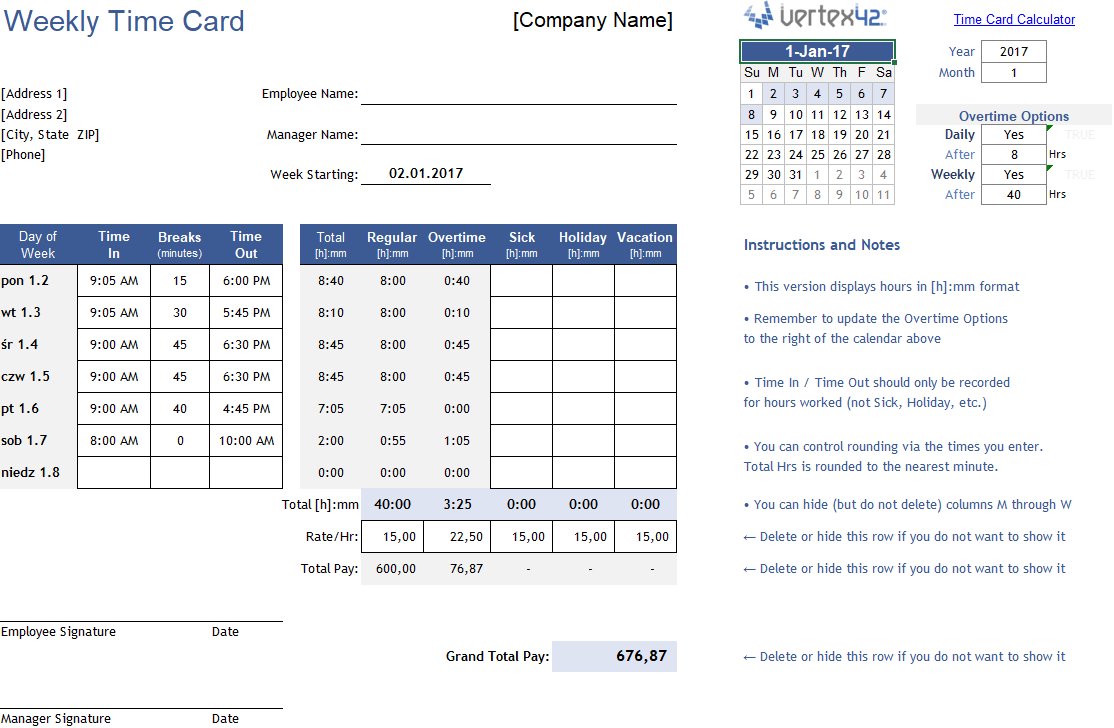 Timesheet template that calculates hours is very helpful if you want to make sure all numbers entered in the spreadsheet are calculated correctly. Although it seems simple, this timesheet template is a powerful tool.
It allows you to enter the time in, time out, and the total amount of break time (in minutes). It calculates total work hours and overtime. Total hours are calculated from a time in and time out, with breaks entered in minutes.
You can customize the timesheet the way you like. Print an official timesheet with signature lines, add company logo, address, change colors and formats of time and date. Additionally, if you work in California, you can be sure it corresponds to California's specific overtime rule.
Vertex42, the creator of this template, provides all necessary instructions and FAQ section in case you have any doubts.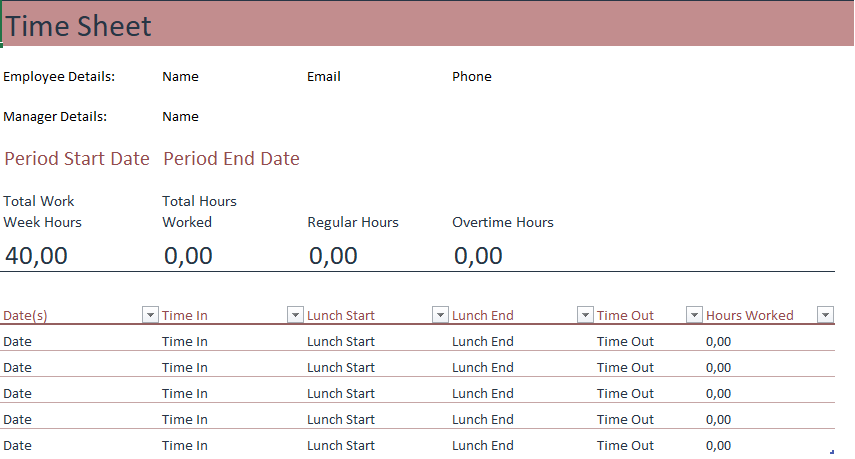 To save the time spent on filling out timesheets, use this template by Microsoft. It's a simple spreadsheet for employees and it has basic features. It includes the most important information on employee work – date, time in/out, start and end of the lunch break, total work hours in a day and week, regular and overtime hours. After entering the numbers, it automatically calculates all the data.
It's a simple solution. But if you need something more for printable timesheets, Microsoft provides similar options – Employee timecard (daily, weekly, monthly, and yearly), Biweekly timesheet with sick leave and vacation, and simple Time card.
👉 Check also our favorite weekly schedule templates.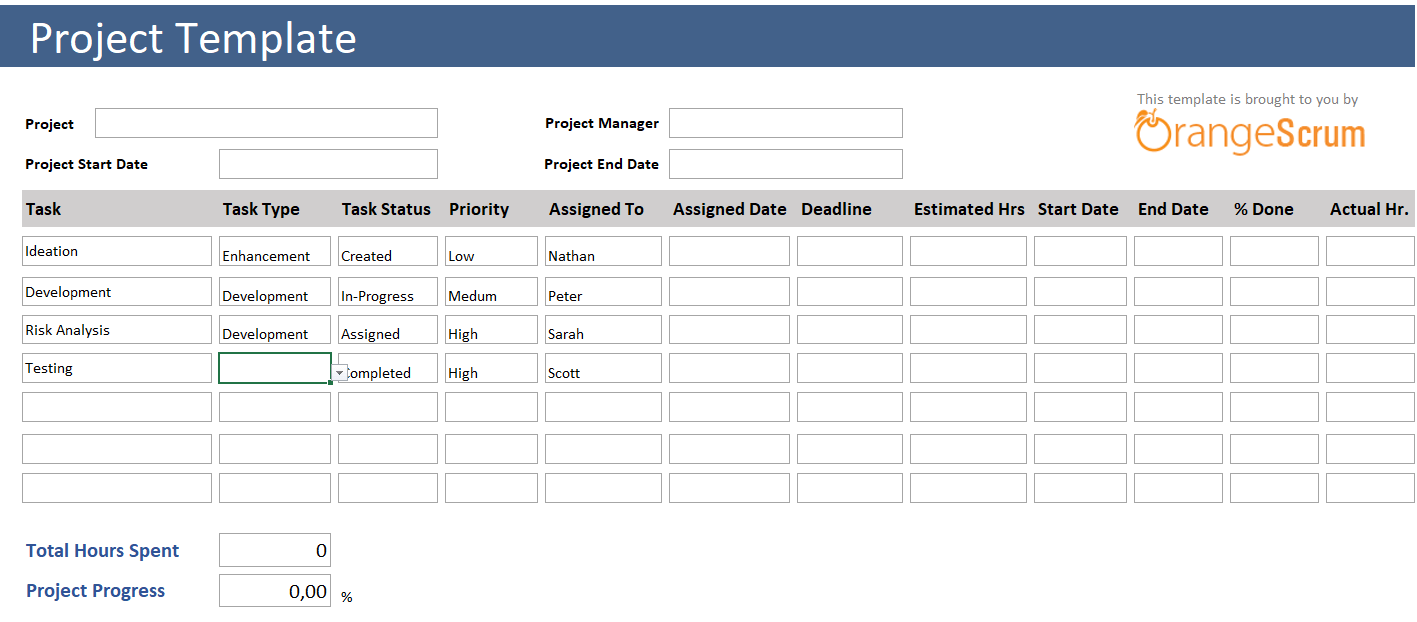 With this timesheet template from Orangescrum, you can easily manage and track tasks and projects. It's a simple template but has the key information necessary to deliver a successful project. You can input such data as the name of the project, project manager's name, start and end dates, tasks and their type, status, assignees, priority, deadlines, and more.
It can help track hours against the estimates, control the budget, and make sure the deadline is met. The template will be of great help for project managers who want to keep things simple and transparent and don't have the need to use advanced project management software. It's best for uncomplicated projects that don't involve large resources and detailed planning.
Timesheet Templates for Different Industries
Simple timesheet templates can largely enhance work. They are easy to use and don't require spending too much time filling them out. But if you work in a specific industry, you will need templates precisely tailored to the individual needs, specifications of the niche and client's requirements.
If you need more demanding spreadsheets, take a look at the list of 6 timesheet templates for different industries.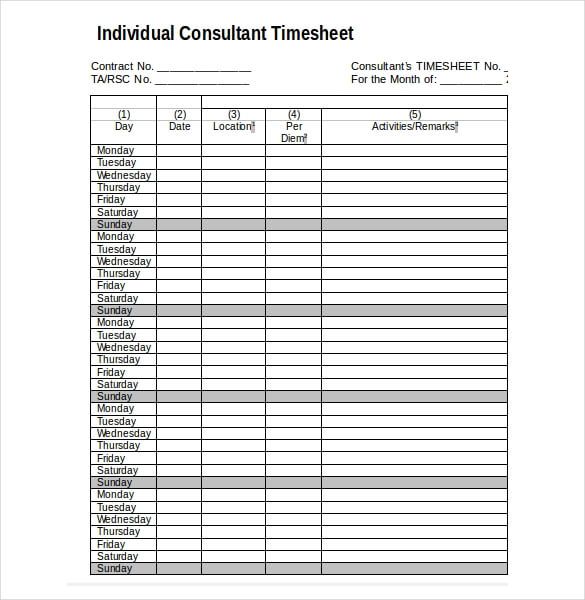 If you are a consultant or an employer planning to hire one, a classical timesheet template may not be enough. Consultants have a demanding job and they need a specific system to keep track of their work. And in choosing the right template, you need to consider the following aspects:
Consultants can work in the office or in different locations
Different types of consultation – group or individual meetings, on-site meetings with an examination, video conferences or mail exchange
Irregular hours and days of consultation and breaks
Time spent on travels
Including all the above in a timesheet may not be easy. That's where you will find these 17+ printable time sheets templates for a consultant by template.net handy. You can easily adjust them to your needs, input all the details and have the numbers calculated with one click.
👉Check our article about time tracking for consultants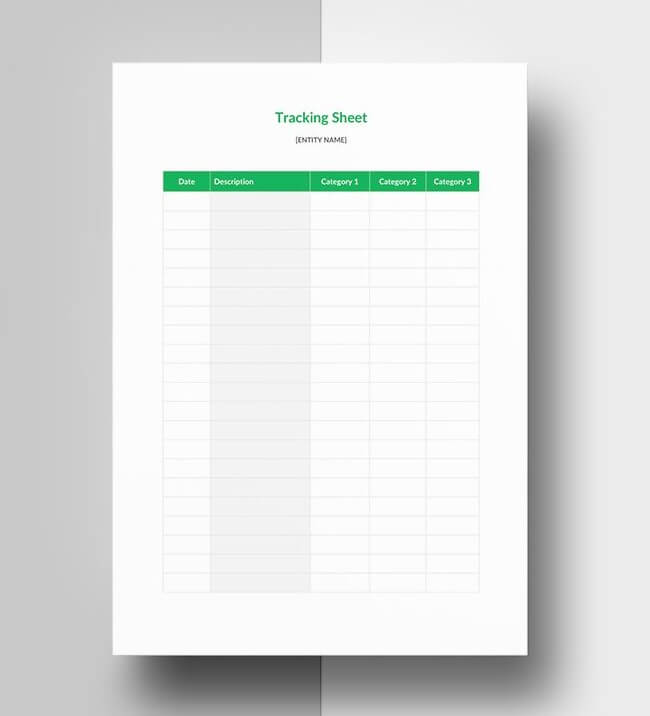 Here, you will find a list of helpful timesheet templates for accountants.
With such a timesheet, you can accurately calculate payroll. It can help save time and money on accounting and HR processes. Timesheets for accountants need to be oriented around specific costs and include such information as hours worked in a day, week, month and year, different rates, and regular and overtime hours.
You need to be able to edit the template to adjust it for employees who have different hourly rates or work in a different system such as freelancers or contract workers.
You can also use it during audits or financial analyses to provide accurate information on the company's budget. Simple but professional, allows you to be accountable and don't miss on the important details.
This type of timesheet template is a must for freelancers and individual contractors. When working for different clients, you need to invoice them for hours worked and include overtime. With this simple template, you just need to enter the right numbers and print it or send it to your employer right away.
👍  PRO TIP: If you're paid a fixed price for a project, keep track of your time. Even if your employer doesn't need it, it may be useful for you to precisely calculate hours you need to finish the project. That will help in estimating the right price for future projects.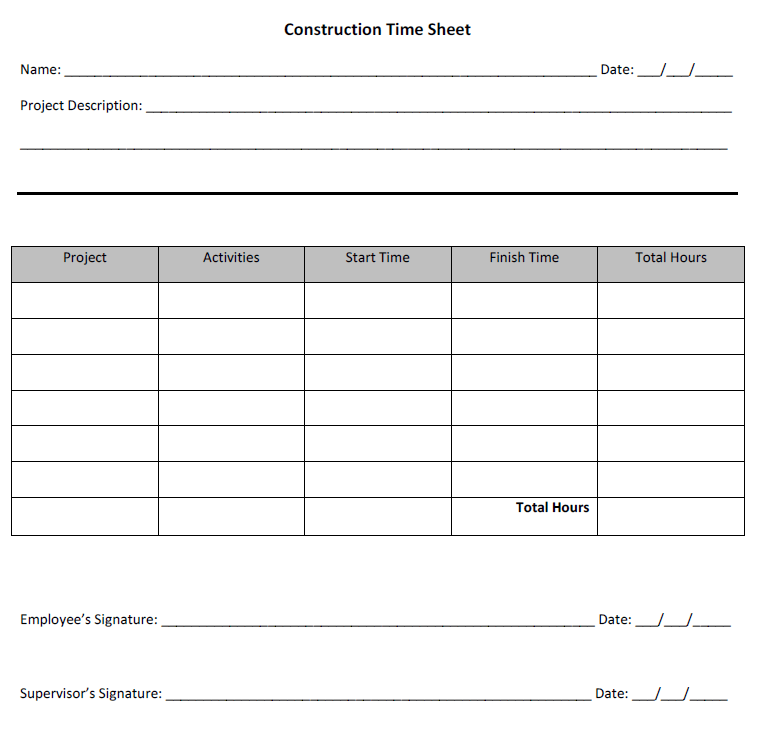 This is a simple construction industry timesheet template. It has all the necessary elements in a plain format. You can track the time of construction workers by projects and activities. It's a basic solution for workers who are too busy to pay attention to details and need a fast way to keep a record of hours worked.

Software developers have a demanding job and need to keep a steady hand on the progress of works. With this Excel template from ProjectManager, you will keep your team focused and motivated. It's great for planning, monitoring, and reporting. The template includes all the basic but necessary information – project, start/end of work and hours spent, overtime, sick, vacation, holiday, rate and total hours. Everything you need to plan teamwork and keep track of it.

Lawyers need to be organized. And there is no better way to do it than to use this template by template.net. It can help in coordinating work with clients. It's also suitable for tracking work hours including overtime. As a lawyer, you need proof of your work and there is no better way than to submit your timesheet to the clients and people you work with.
👉 Recommended article: How many hours a week do lawyers work?
Alternative to Timesheet Template
Timesheet templates can help in keeping track of your work but in many cases, they are not efficient. Even if you use the simplest form, you still need to make sure to input the right numbers. You may not always remember to fill them out after work so you spend extra time wondering what are the numbers. That can lead to mistakes. And such mistakes contribute to the loss of money.
To avoid it, you can implement time tracking software, such as TimeCamp. There are many benefits of using it but 4 of the greatest include the following:
Automatic time tracking in real-time with reports and timesheets – you can focus on work instead of filling out timesheets
Integrations with other apps increase productivity
Easy and quick timesheet approval eliminates the risk for mistakes
Invoicing – create invoices based on hours tracked or customize them and send them straight to your clients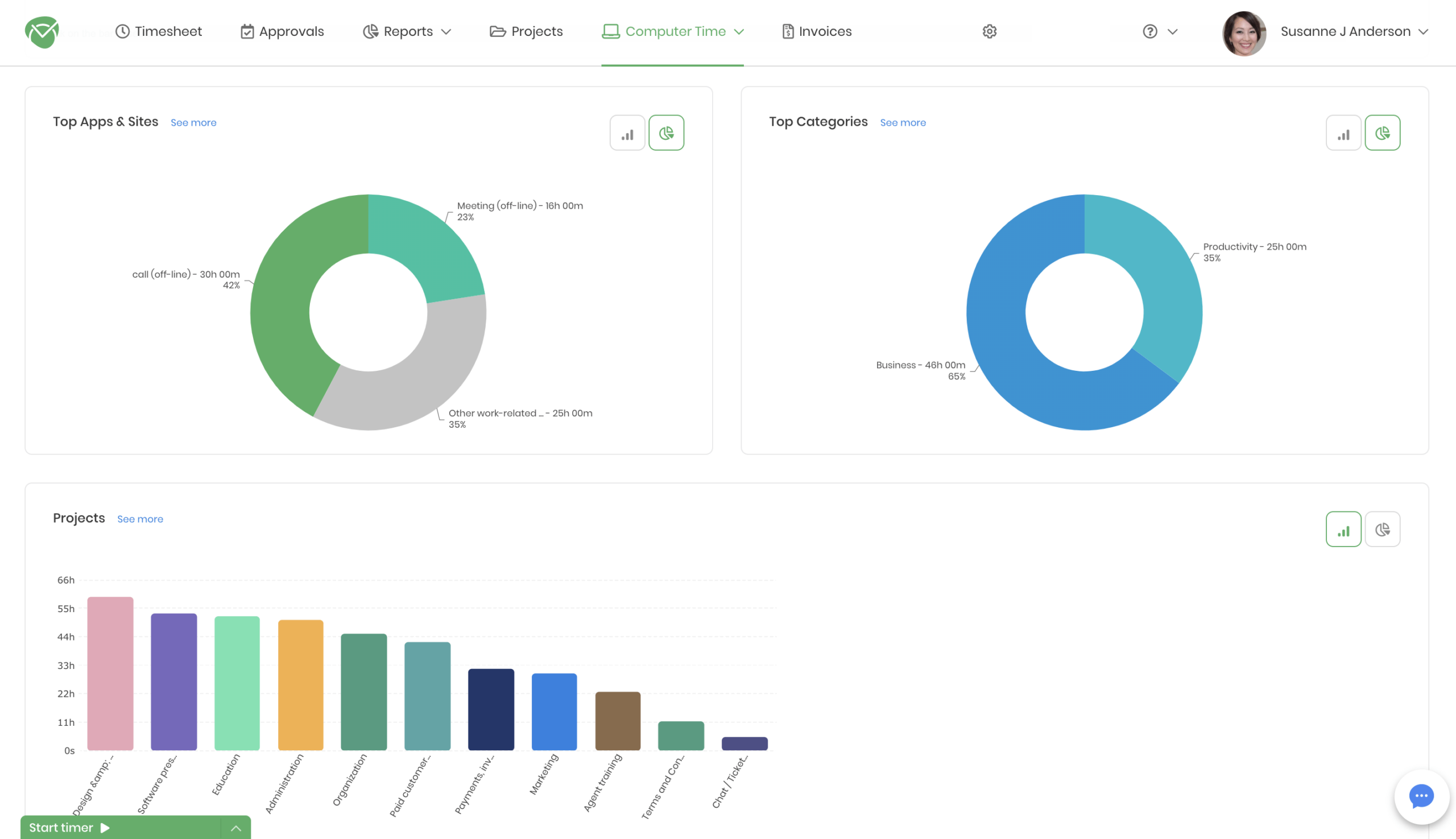 Tired of filling out timesheets?