A weekly schedule template can help you organize time and manage work more efficiently. And better time management will allow you to achieve work-life balance and positive work results. Let's dive into the land of free weekly templates!
How Do You Use a Weekly Planner?
Using a weekly schedule template is one of the easiest methods for time and task management. It helps to stay organized and keep track of all projects and responsibilities.
A weekly schedule template can have many different forms and applications:
Class schedule template for teachers and students to keep a record of homework assignments
A planner for those who want to improve productivity
The work schedule for employees usually in the form of timesheets
Professional planner templates for creatives and agencies responsible for organizing events
Schedule template for conferences or meetings
A simple template for household chores
Traditional calendars with sections organized in a monthly order with weekly schedules, or digital calendar templates
A weekly schedule template is easy in use. It has a simple structure of a table divided into three or more columns – the name of a task, day of the week, and duration of the task. You can use it to record the progress of work, track time, make notes of important events, plan meetings and add any information you need to organize time.
You simply enter all the information in the columns and adjust it to your preferences. A weekly schedule template can be personalized in many ways. It's a flexible system that can have many configurations. It's as simple as that!
How Do You Make a Weekly Schedule?
Creating a weekly schedule is not difficult. You can either do it yourself or use the free templates available online.
The easiest way to create a weekly schedule template is to use Word and Excel. You can do it by creating columns for different entries, depending on what you want to use your template for. It should include the date and name of the tasks. But you can also add such items as project, appointments and people you meet with, time spent on a task, personal information, and anything you need.
In other words, you can personalize your weekly schedule template as you wish. It can be a simple form or a complex, creative pattern.
On the other hand, if you don't want to spend time creating a weekly planner, you can choose one of the templates prepared by other people. Such templates are fully compatible with Word and Microsoft Excel, and most of other tools.
What Are The Best Schedule Templates?
On the internet, you can find a broad array of free planner templates. To help you find the best weekly planner template, we've prepared a comprehensive list. Here, you can find free weekly schedule templates for everyone:
Professionals working in various industries
Students and academics
Employees who need a simple and transparent college schedule
Project managers and leaders
Freelancers
Field workers
People who want to improve productivity
Those who need a simple weekly planner for personal use
There are different options for a weekly planner suitable for everyone, even for the picky ones. Take a look at our list of the best free weekly planner templates and choose the one you like most!
QUICK NAVIGATION
1. Calendarpedia
2. Microsoft Schedule Templates
3. Creative Templates from Canva
4. OnPlanners – printable weekly planner templates
5. Pinterest Templates
6. Weekly Schedule Templates for Google Docs
7. Weekly Calendar Templates from Smartsheeet
8. TimeCamp – automatic weekly schedule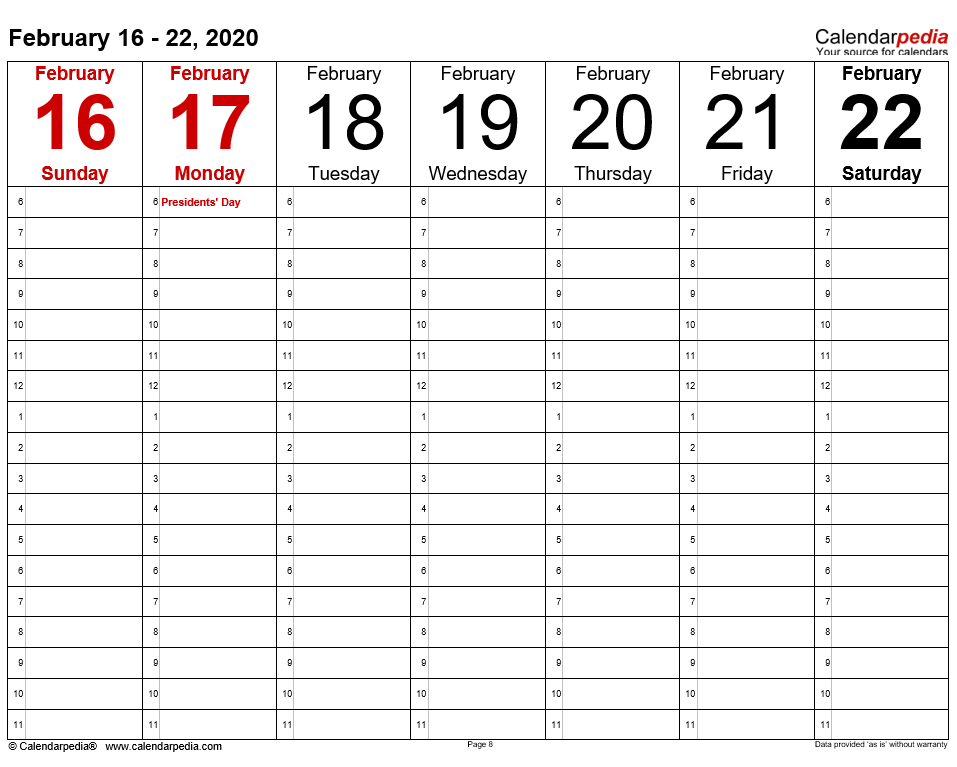 Calendarpedia is a website with calendars, planners, templates and dates of all public holidays. It's a fantastic resource of calendars of all types – yearly, monthly, weekly calendars, weekly schedules, split year calendars, school and academic calendars, and many, many more. Even though there is a vast choice for a weekly schedule template, the website offers transparent options.
Each weekly template is fully customizable. Every week is on an individual, separately printable page – one for every whole and partial week of a given year. You can use the templates for personal and business needs.
Also, you can find templates designed specifically for Australia, Canada, or the UK. They include all the dates of holidays, Christian and religion-related festivals, and other special days.
On Calendarpedia you will find every type of template you need to organize your work and time.
Weekly templates available for:
Microsoft Word
Microsoft Excel
PDF format
Libre Office
OpenOffice
Google Docs
Compatible with Microsoft Office mobile for iPad/iOS, Android and Windows 10 mobile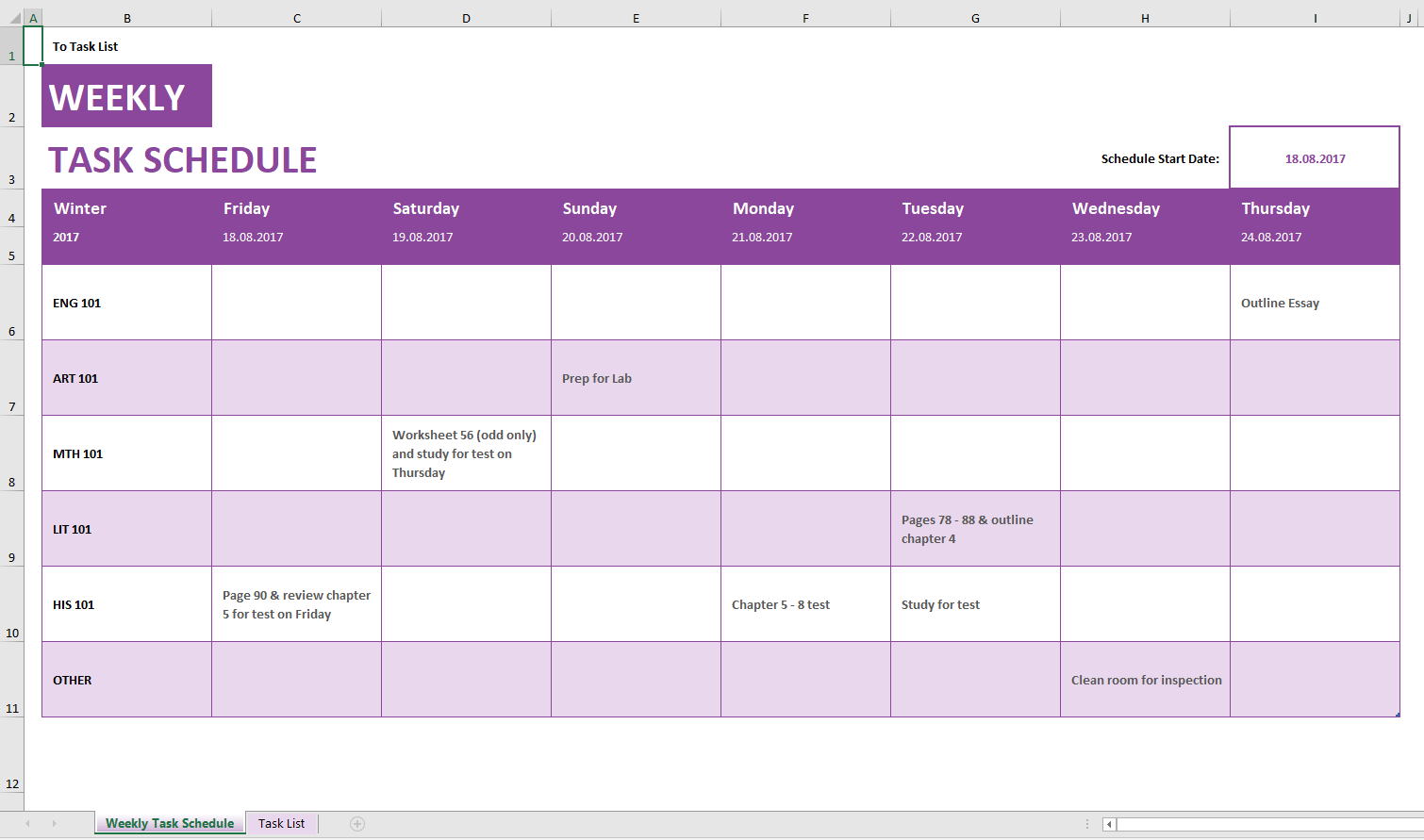 If you're looking for a weekly planner template straight from Microsoft, make sure to check their depository of free templates. It's a good solution for fans of Microsoft. What's more, many templates are available directly in Word and Excel so you don't have to look far away. It's all at hand.
These planners can be easily adjusted to your needs – you can change colors, the setup, and add as many entries as you want. It's most suitable for simple weekly planning for homework assignments, chores, and straightforward task management.
Additionally, Microsoft offers thousands of various templates in categories such as business cards, calendars, invoices, agendas, business plans, financial management, memos, and many more. Together with the weekly schedule template, it can create a database of all the important information that will help you plan even the most complicated projects and manage them in a transparent way.
Microsoft Word offers simple solutions while Microsoft Excel lets you create advanced formulas that are helpful for analytics and problem-solving.
Weekly templates available for:
Microsoft Word
Microsoft Excel
Compatible with Google Docs, OpenOffice, LibreOffice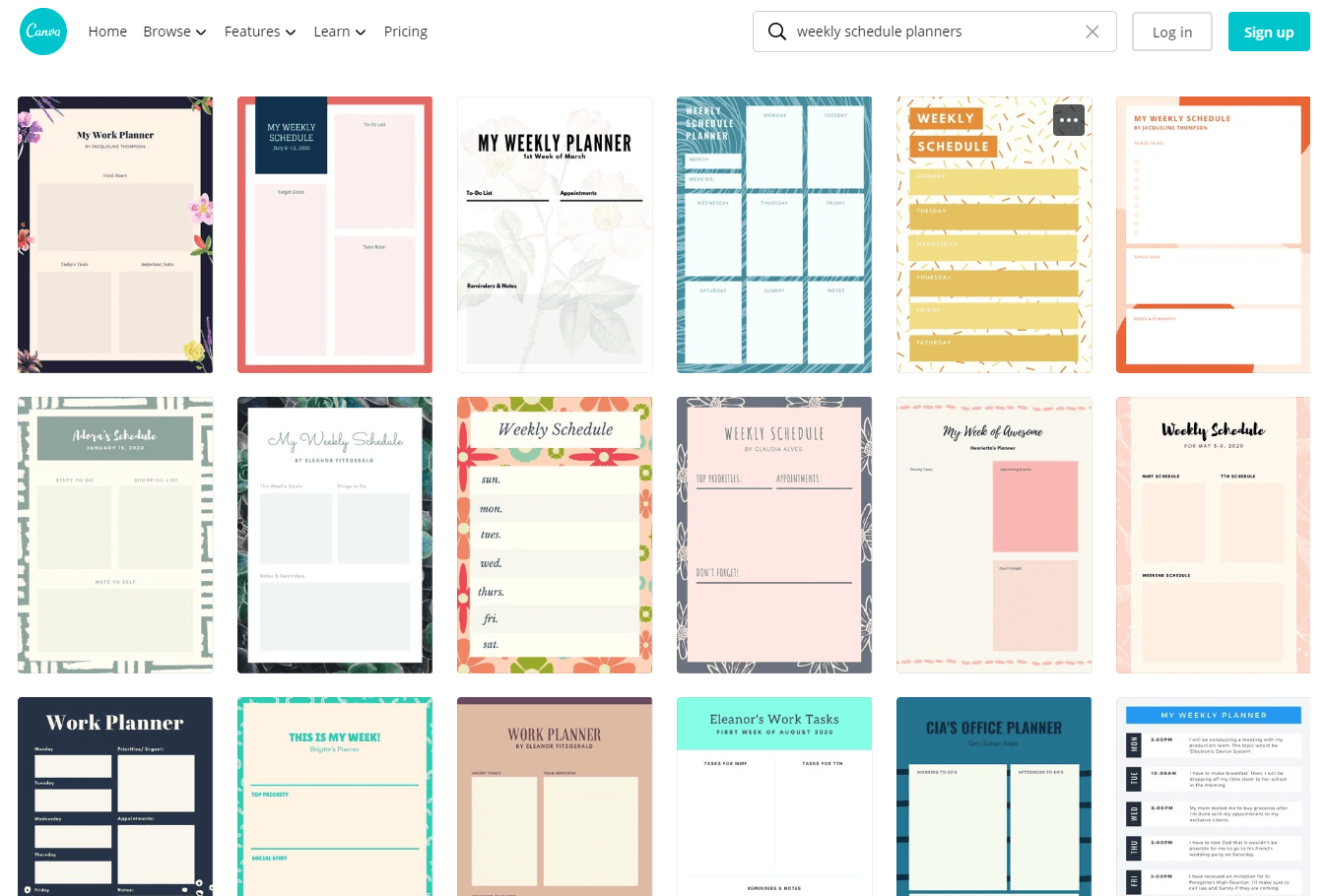 If you're more of a creative person, especially a girl, a businesswoman or simply like original solutions, you will definitely find something interesting in Canva's collection of over 160 templates.
Canva offers a selection of customizable, stylish weekly schedule planners that'll get you motivated. You can choose from a variety of templates for different purposes – you can use them to plan a meal, meetings, business agenda, weekly work schedule and anything you like.
Canva's templates perfectly fit in just one page and the daily agenda lets you see your plans and goals at a glance with transparent layouts.
To use a weekly schedule template, you need to sign up for Canva.
4. OnPlanners – Printable Weekly Planner Templates
Onplanners is a website with thousands of free planners. Every template has different planning pages and layouts. You can customize them as you want, download, and print. What's more, they have all the important elements a good weekly schedule template should have such as goals, reminders, events, priorities and weekly to-do lists.
If you need more than a weekly schedule template, you can look around the website to find something of interest.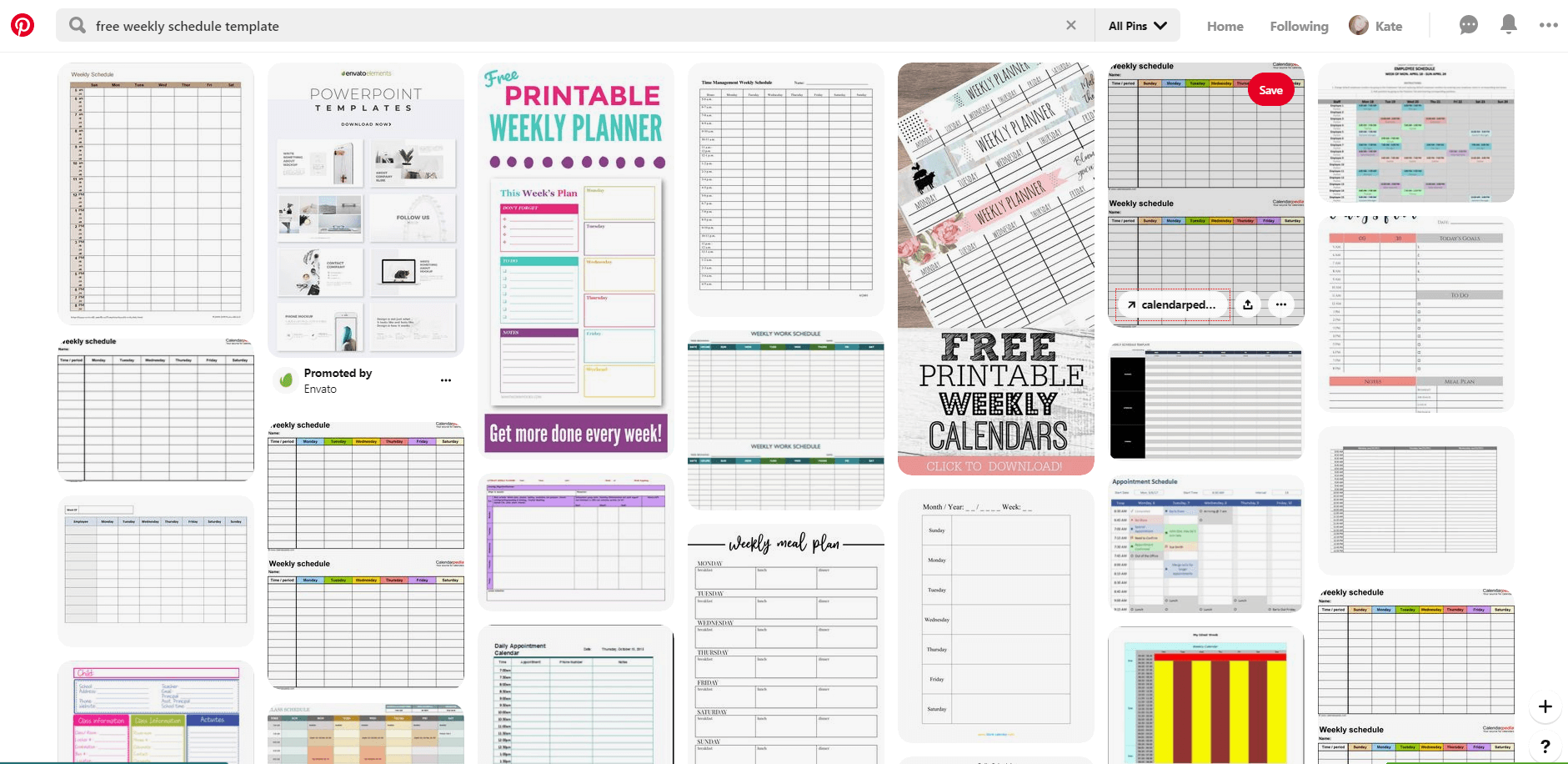 You can find everything on Pinterest beginning from funny memes to a weekly schedule template.
They are available in different layouts and you can choose from all the categories. You can find bullet journals, minimalist templates, hourly templates, a weekly planner in the form of a whiteboard, templates for work, family and for students, weekly schedule template for employees, simple, complicated planners, vertical, timesheets for Excel, black and white or colorful planners.
Everything you want in any type of format. There's plenty to choose from!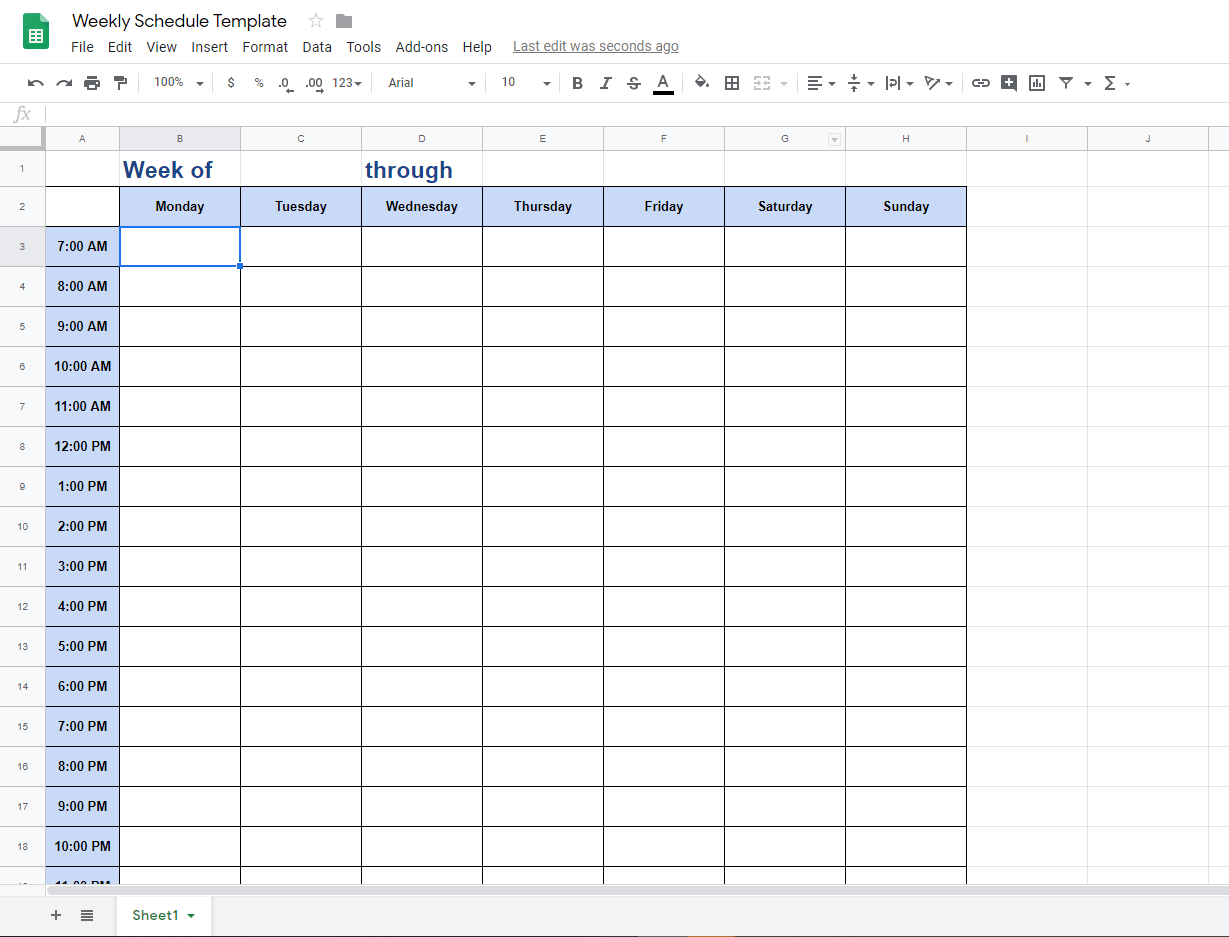 Google Docs offers schedule templates for those who prefer to plan work and tasks online. It's best if you get a template from an external website rather than directly from Google, since the options are limited. There are plenty of choices available on the internet.
Also, in G Suite Marketplace you can find many useful add-ons to tweak your template.
If you prefer, you can create your own calendar in Google Docs. It's an analog process to creating a template in Microsoft Word and Excel. You can later download your weekly schedule template and use it with Word or Excel.
Google Docs templates are also compatible with Microsoft Word, Microsoft Excel, Libre Office, and OpenOffice.
Smartsheet created 15 free weekly templates. These are simple solutions that allow you to keep track of anything you want – tasks, projects, appointments. You can also create to-do lists and set and monitor goals.
They fit on one page so you get a transparent view of your weekly agenda or make a weekly summary of work.
Smartsheets templates are available for Excel, Word, and PDF format, for Google Docs, and directly in the Smartsheet app.
8. TimeCamp – Automatic Weekly Schedule
Using a schedule template is an effective form of time management. But counting the time necessary to spend on particular tasks isn't. Especially, if you bill your clients by hours. That's where automatic time tracking software comes in handy.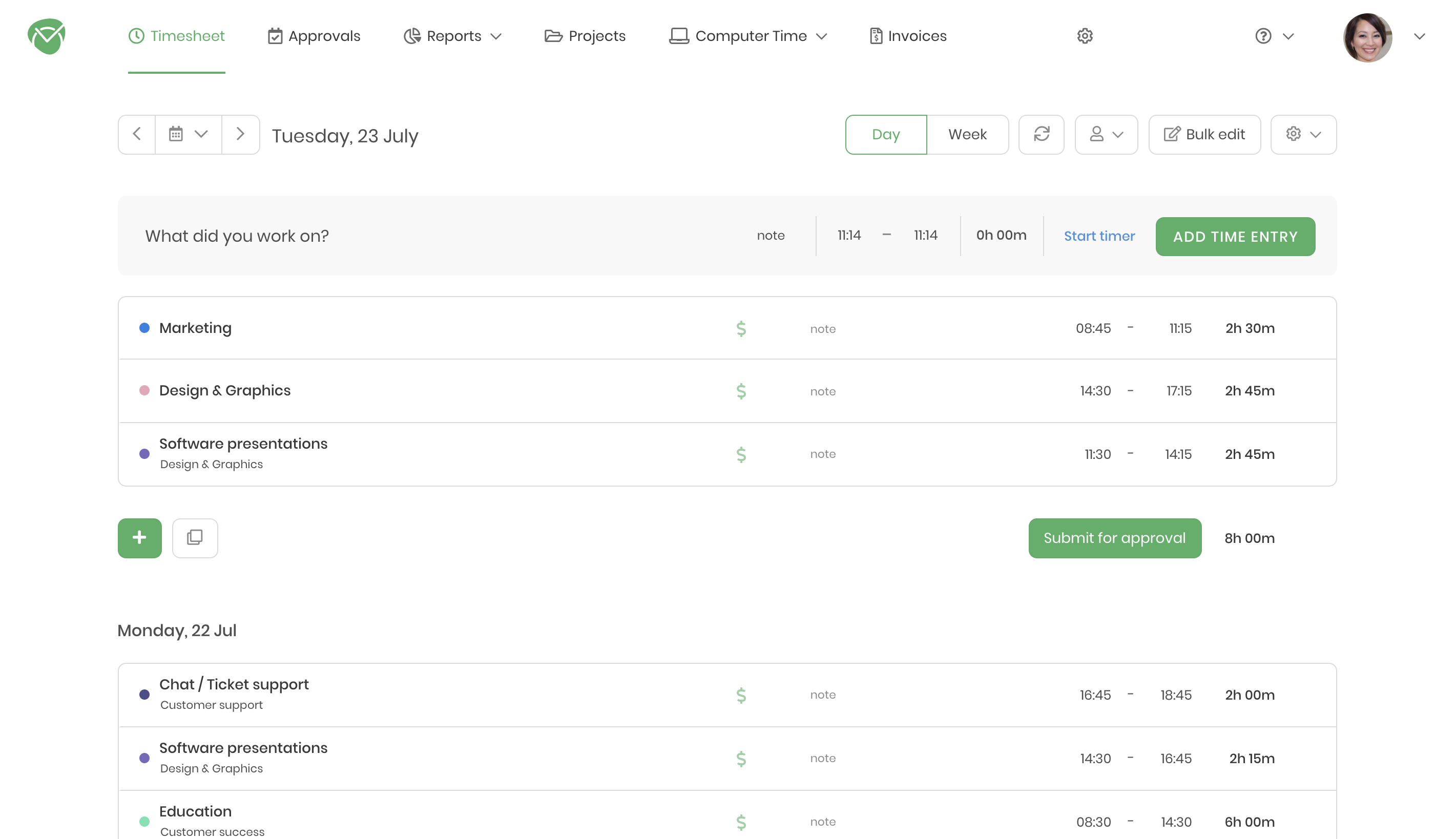 With TimeCamp you can automate and optimize work. Thanks to precise time tracking you know exactly how much time you have to dedicate to every task and project.
It's also a good employee schedule tool that helps to plan the work of the entire team. You can see how and when people work, you can manage attendance and make sure things are going the right way.
TimeCamp offers many advanced features that are helpful in organizing time and work:
Automatic time tracking that records usage of apps, websites, and tasks
Timesheets with approvals (and ability to export timesheets to Excel and Google spreadsheet)
Billable and non-billable rates
Budgeting and invoicing to help you collaborate with clients
Monitoring productive and unproductive activities
Integrations with the most popular productivity apps, communication software. project management software, CRM, and many, many more
To Wrap It Up
Weekly schedule templates are a great form of time management. You can also use them as reports that help you monitor work progress and run errands. Or you can choose an automatic solution to save time and money. We hope you found what you were looking for and can now perfectly plan your week!
Related posts