The Best Time Card Apps in 2020
June 5, 2020
by Kate Borucka
No comments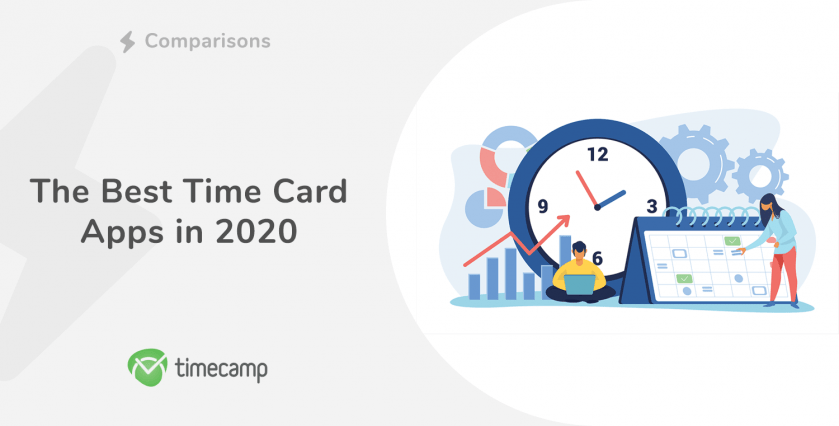 The origins of time cards date back to the 1880s when Willard Le Grand Bundy designed his first time recorder. And despite their old age, they don't lose popularity. According to the TSheets study, 66% of surveyed are hourly employees who need to track their time. That comes with the necessity to keep the record of work hours.
Paper Timesheets vs Automatic Time Cards
Paper timesheets have their limitations. One of the perks of using them is the lack of ability to integrate them with the software you use in your organization. It slows down the workflow and requires a lot of paperwork.
Another disadvantage is the fact that it's easy for errors since all the numbers need to be entered manually. Additionally, employees need to remember the exact moment at which they started and finished work.
Automatic time cards, on the other hand, are a much convenient solution. Not only can you integrate them with your payroll software and other apps, but also use them on mobile devices, access from anywhere, and have your information stored in one place, easily accessible to the entire company. You also have flexible timesheets that you can adjust, change, and customize as you need.
And with a time card app, tracking time with the exact whereabouts of employees happens in real-time with and up-to-date insights.
Here are the best employee time card apps.
QUICK NAVIGATION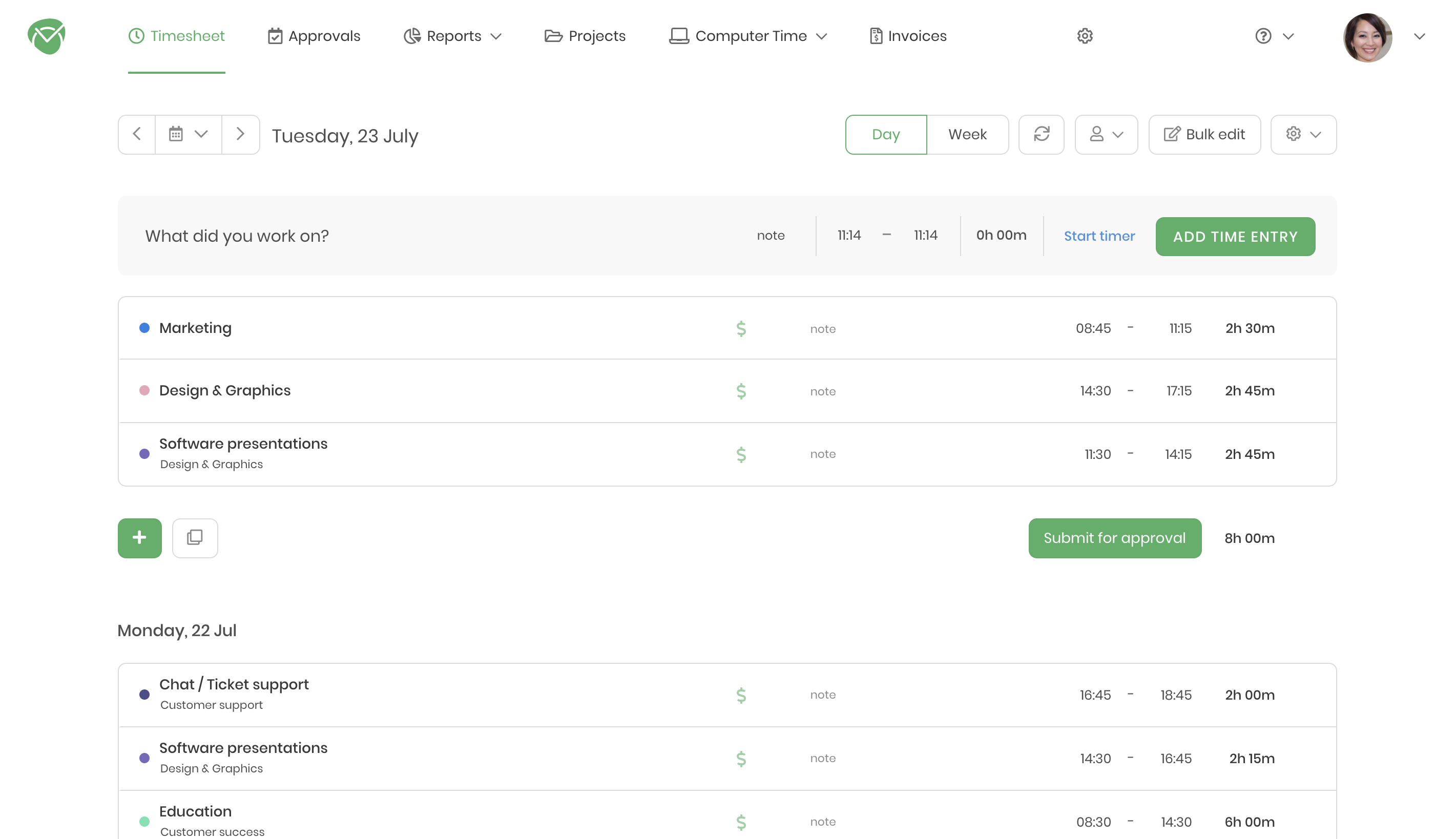 TimeCamp is a time tracking software dedicated to small and large teams, freelancers, and everyone who wants to keep track of work hours and improve productivity.
It can be used as a time card for both, in-office and field workers. It's available as a web app, desktop app (Mac, Windows, Linux), and for mobile devices (iOS, Android) so everyone can access it. Its main advantage is that it's fully automatic. When your employees begin work, all they have to do is to start the timer or turn on the desktop app and it automatically records time.
Comprehensive reports show he exact time of performed tasks and projects. And timesheets are created based on tracked time. You can add time entries manually, adjust them, and view all billable, and non-billable activities. Additionally, TimeCamp tracks productive and unproductive categories so you can work on your efficiency and improve performance.
👉 Read more about Best Timesheets Apps!
When it comes to mobile time tracking, employees can use it as a mobile clock-in clock-out software. The new GPS feature registers people's location so you know where and when your team works.
The attendance module lets you manage leaves, holidays, and more. TimeCamp features altogether create a unified hub for monitoring billable hours, teams' whereabouts, and tracking project time for processing payroll.
Help your team focus on their tasks and let TimeCamp do the numbers for them – sign up for free!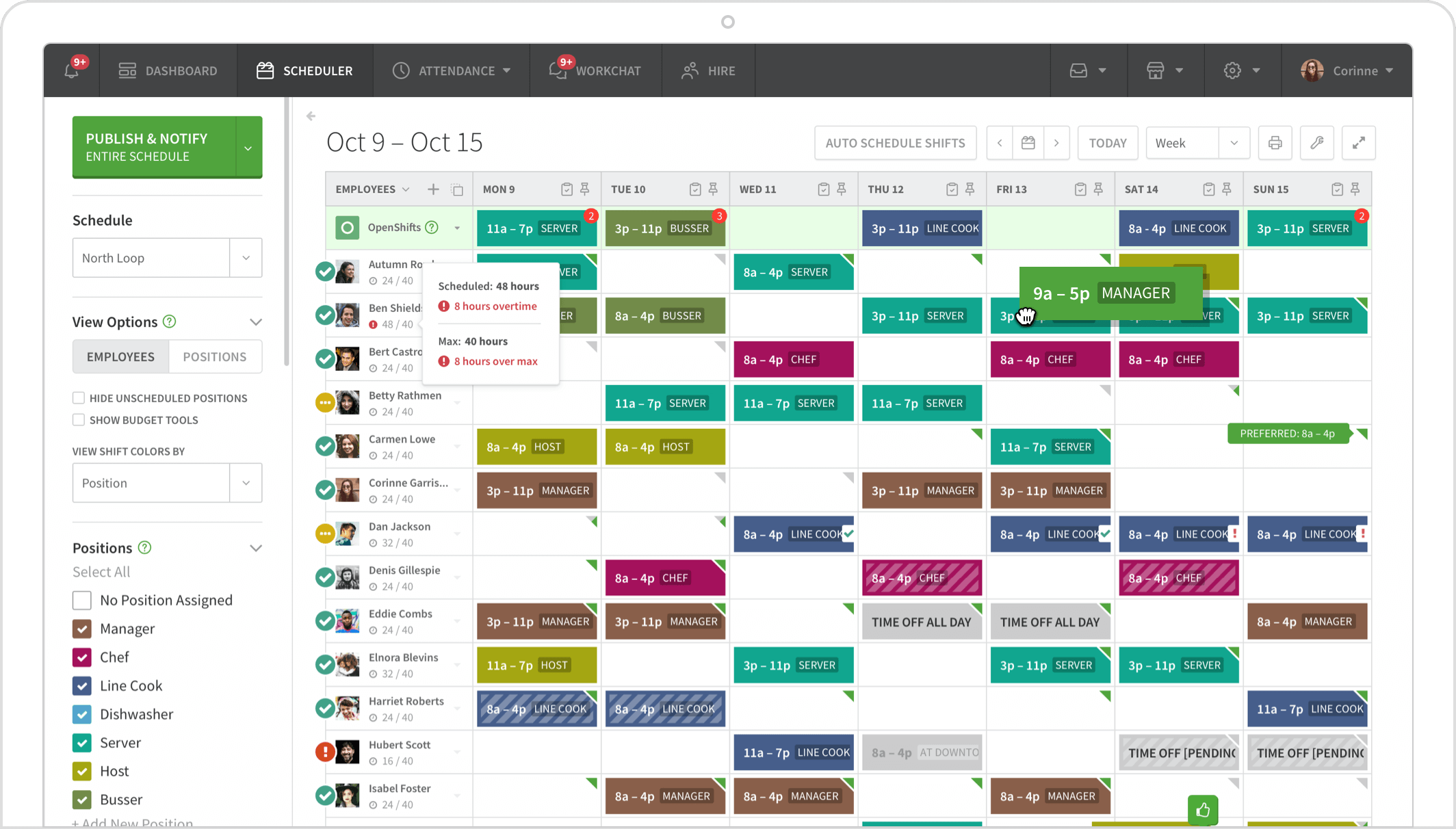 When I Work is a scheduling and attendance app. The tool has several features that make it easy to track employees' hours and attendance.
With When I Work, employees can clock in and out their shifts on a computer, from a mobile phone or a time clock terminal. Notifications and customization let managers oversee workforce actions.
You get informed when people clock in early, are late, clock in from a different job site, and receive overtime alerts.
You can then, review timesheet with time cards and approve them for payroll. Digital timesheets let you audit time records. There's also the possibility to manage labor costs in real-time, enter time, overtime hours, and breaks – you can configure paid and unpaid breaks.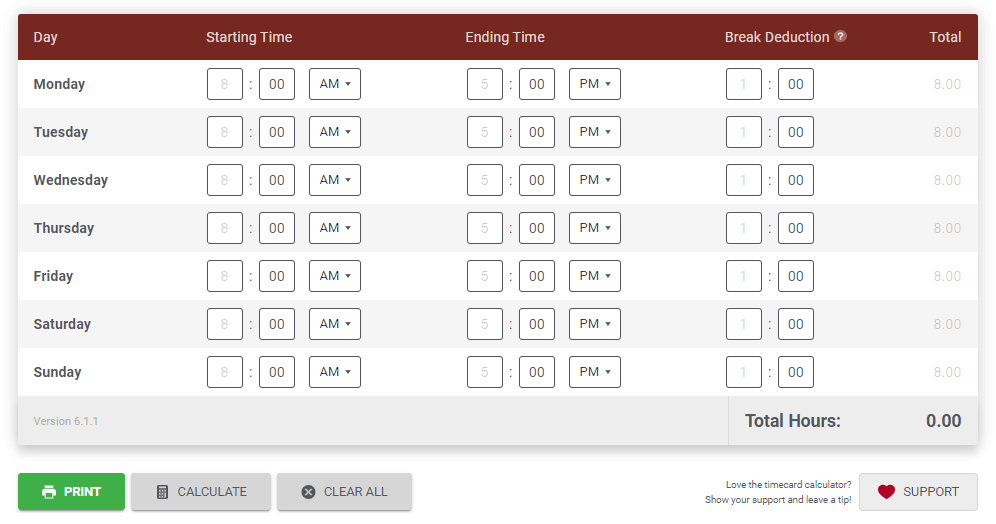 Redcort offers two solutions. The first one, a simple, free time card calculator, where you can determine the total number of your weekly hours, and later print it.
The second is an advanced time card app—Virtual TimeClock. It offers three versions—Basic, Pro, and Network. The app is a time clock for tracking employee attendance and work hours. You can install it on a computer or on a tablet.
Redcort allows your team to clock in and out with time cards for payroll management. You can see the status of all users in real-time, track different activities (this, however, can be done only manually as there's no automatic time tracking), set passwords for each user to prevent buddy punching.
Reports show regular hours, daily and weekly overtime, and total hours for the week. The administrator toolbar lets you manage time and attendance, edit or add an entry in the timesheet, approve payroll, and track and manage leaves for custom categories.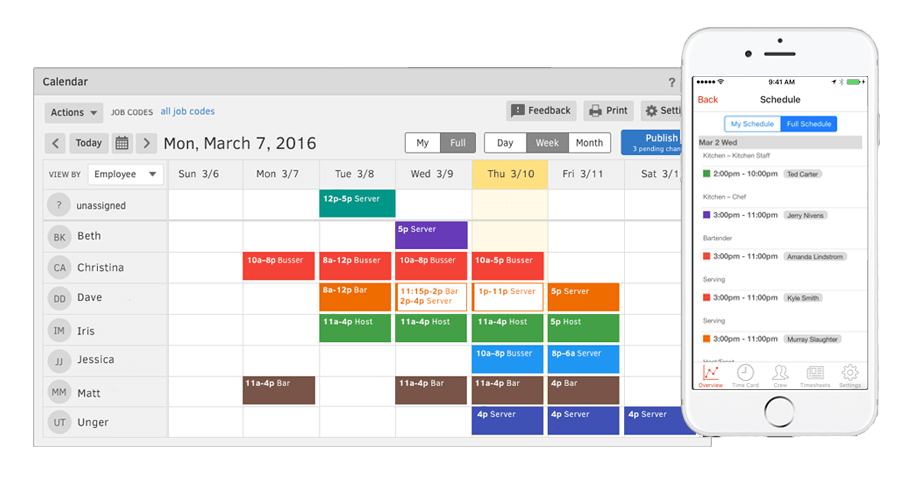 TSheets is a timesheet software with a work clock for mobile employees. Individuals and teams can clock in or out when on the move. The GPS tracker updates locations in real-time and geofencing lets you set up specific job sites to notify employees when they come to or leave their locations.
The scheduling component allows you to see the team's whereabouts, their availability, and schedule shifts so you can update the workflow.
TSheets app is available on Android and iOS. Additionally, the app integrates seamlessly with QuickBooks for easy payroll processing.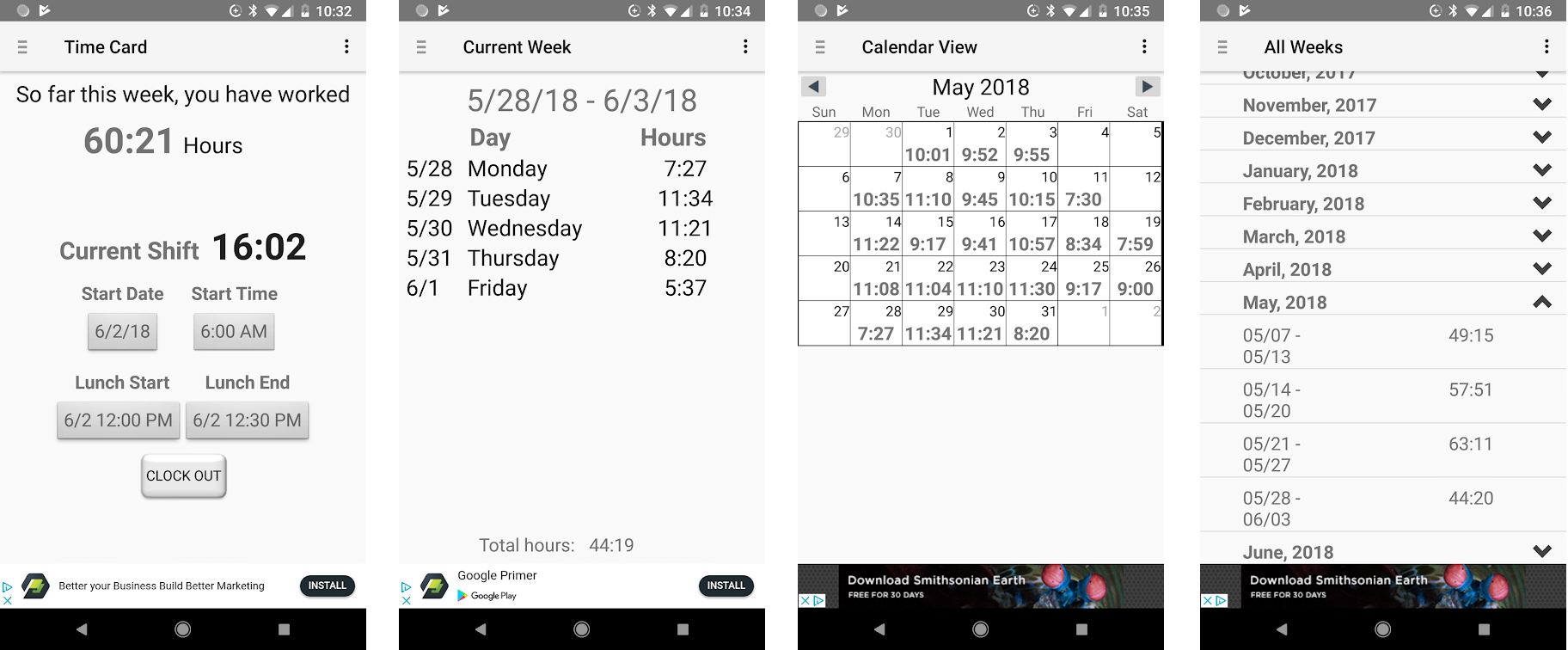 Time Card is an app for Android. It's a simple mobile time clock app with only the basic functionality of clocking in and out. It's a virtual version of a standard time recorder. Time Card is best for personal use for people who want to clock in work hours, either as a proof of work for clients or to track time spent on different projects.
The app lets you capture the time spent on work, breaks, and shows the exact hours and dates. It's a great minimalistic solution.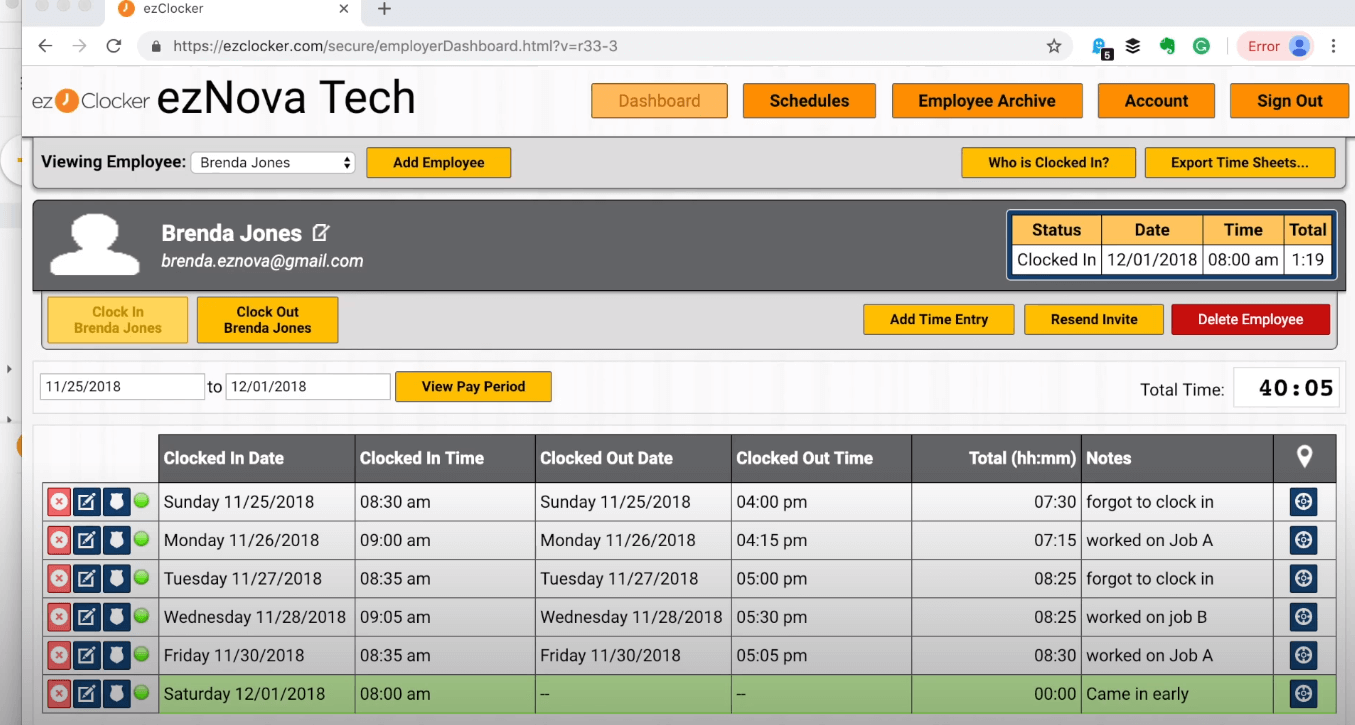 ezClocker is an employee time card app suitable for freelancers, in-office workers, and those working in the field. It's a combination of timesheets with a scheduling app. With its simple design, it's easy to navigate within the software. It has no extra functionalities.
ezClocker is a classical time card app. You can use it to create employee schedules, plan shifts, and assign people to locations. The options of entering an hourly pay rate, tracking work hours in a day, week, and month help to monitor resources in a simple way.
The mobile app is available for iPhone. With the GPS map location view, it's easy to verify whether your workforce is at their job site.
👉 Check our list of the best geofence time clock apps.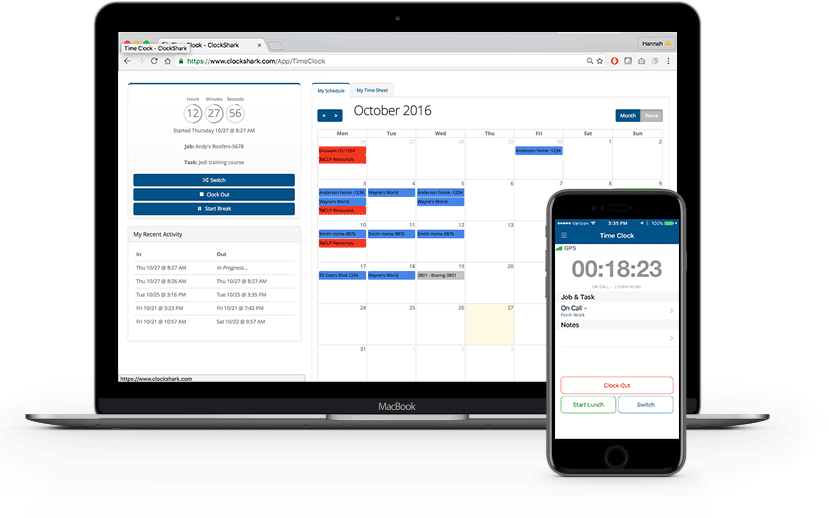 ClockShark replaces paper timesheets for entire crews. It allows for clocking time on the road, job site, and any other place so you can know when your crew changes job sites or tasks. GPS location tracking gives managers insight into the location of every team member. It's also possible to clock in for your crew if they don't have access to their phone.
ClockShark offers apps for Android and iPhone. People can also report with Kiosk with a 4-digit PIN code. The web application allows managers to simply and quickly review timesheets, and manage schedules.
ClockShark is best for crews working on the site, construction workers, warehouses' management, and all mobile workforce.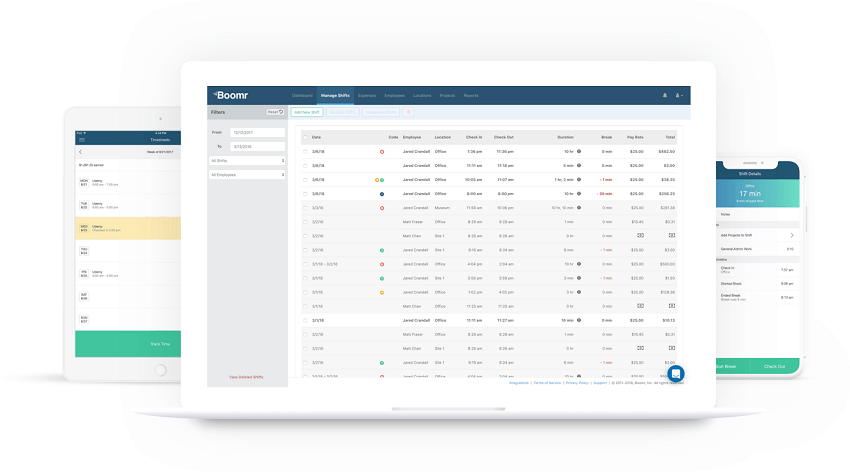 Boomr is a timesheet software helpful in payroll and shift management, and accounting. Its mobile time card app allows for clocking in work from any place, track employee hours, and keep track of shifts.
Reports help to track projects, employee timesheets, and productivity to reduce labor costs. You can flexibly use the app, add shifts manually, edit them, use geofencing and auto-checkout for automation, and customize time tracking for your business needs.
Boomr offers a terminal mode for an iPad, which can be a time clock mounted on a wall or placed at your job site. You can also use the web time clock app on a personal laptop or a stand-alone computer terminal.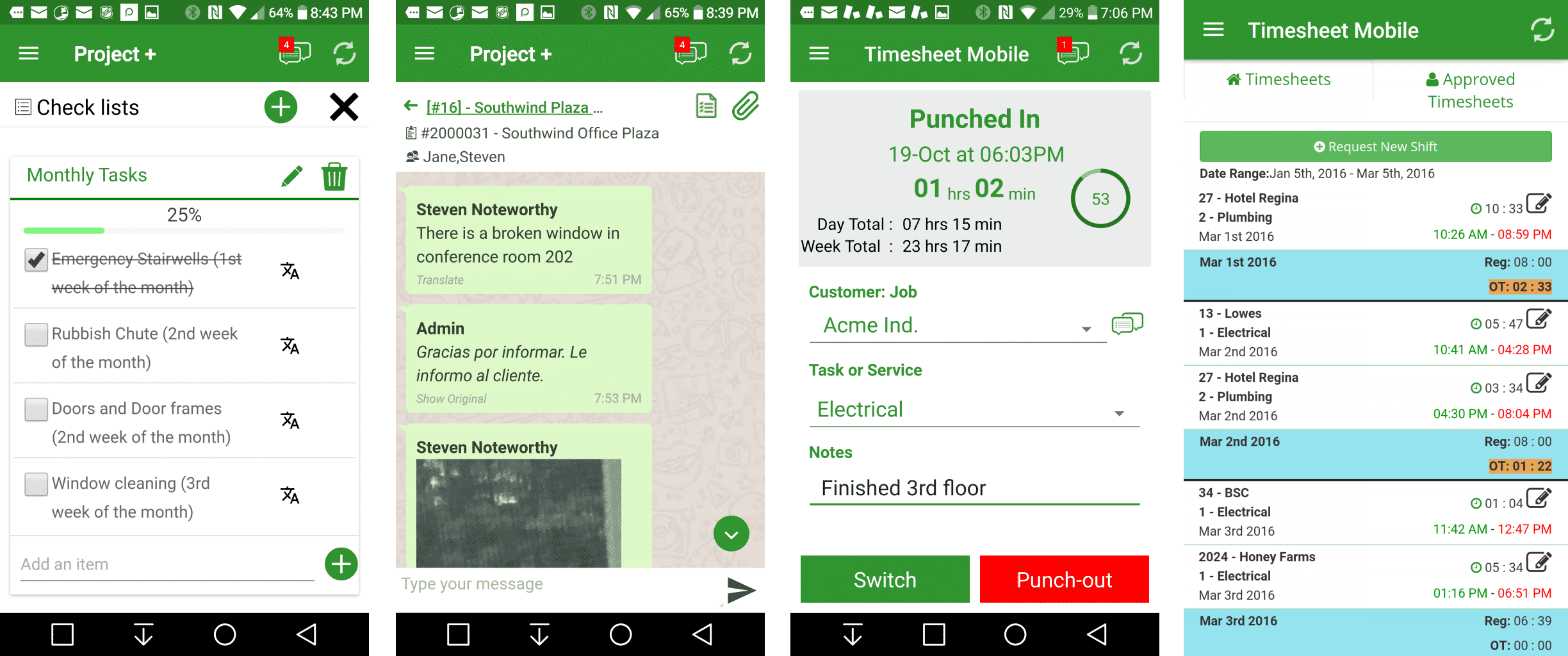 Timesheet Mobile allows users for clocking in time with mobile timesheets. Geofencing tells where employees are and suggests the job site they're at – they get a punch prompt to easily select the task they're doing and can add notes. The moment employee punches in, Timesheet Mobile captures their location, and the manager gets notified about workforce location. When people leave the job site, they're reminded to punch out
In the office, the admin can view all the information about employees on the desktop in real-time. Timesheets provide reports for payroll and for job costs.
---
An employee time clock or timecard calculator can help in payroll processing. It also automates and optimizes paperwork by eliminating paper timesheets.
What are your favorite time card apps?