Top 12 Time Tracking Software for Accountants
March 16, 2021
by Kate Borucka
11 comments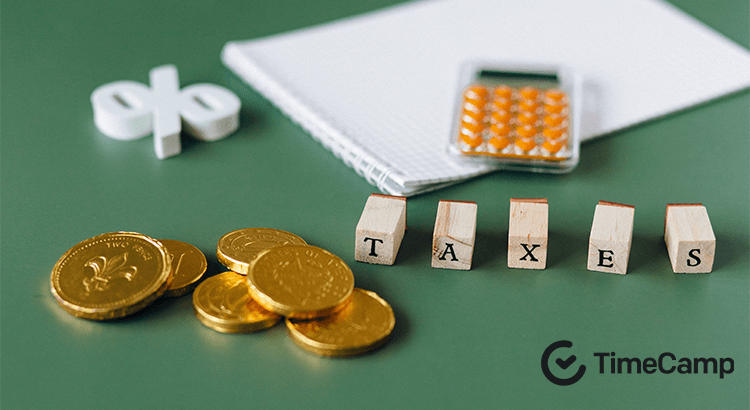 Time and billing software helps to track time spent on projects and bill accurately. It's a great help when you run a company. According to statistics, for 40 percent of small business owners, the biggest challenge in having a business is bookkeeping and taxes.
The right tool can help you avoid all the headaches with admin work, keep a hand on the administrative procedures, and make sure all numbers add up. And if you're an accounting firm, with the right tool you'll be able to serve your customers effectively.
Why Use Time and Billing Software for Accountants?
Accounting tools have many forms but the most popular is a solution that combines functionalities of a time and billing software.
The demand for such tools is steadily growing for one simple reason—they make it easy to controls finances.
Plus, with rapid growth in areas such as subscription business models, you may no longer be wondering 'what is recurring billing?', but instead thinking about the best recurring billing tools that can eliminate manual errors while invoicing each of your subscribers.
But there are many more benefits:
It's easy to track billable time, especially for accountants who bill hourly for their services
Companies also use the tools to manage payroll, taxes, and other financial aspects of owning a business
You don't have to use two separate tools and your workflow is much faster
Accurate estimates and better budgeting
Transparency with all the numbers and important data in one place
Workflow automation—there's less bureaucracy, paperwork, and administrative tasks
You're always prepared for audits
Improved time management—tracking time lets you learn how you spend it and what you focus your attention on
Whether you're an accountant who needs a personal time tracker for billable time tracking for your services, or a business owner looking for a tool to automate billing and easily manage finances and monitor credits  in your company, you're in the right place! After all, financial transparency is essential for everyone, whether they own a business or not. The knowledge you gain from using time and billing software can help you understand your loan options, credit card eligibility, and more. But if you find most business cards aren't accessible to you due to bad credit, know that you have other options. For example, you can find a guaranteed approval business or corporate card at Capital One or OpenSky.
Here, you'll find the best apps we've chosen based on time and billing software accountants' reviews and set of features.
Remember that it's not enough for a tool to be popular. It should have all the necessary functionalities and correspond to your needs. Take a look and choose the one you find most appealing!
👉If you want to find out more about billable hours best practices click here
👉 Check this article if you want to find out more about time tracking for consultants
The best time and billing software for accountants
1. TimeCamp – free time tracking software for accountants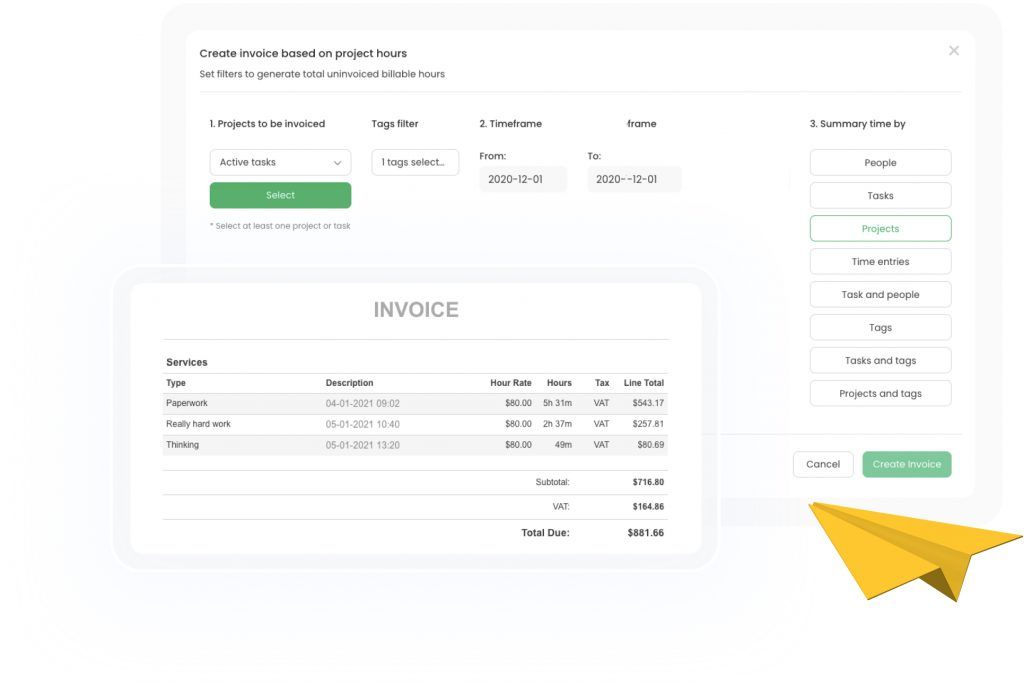 TimeCamp is a free time tracking software with accounting features. It helps to keep track of the business expenses, control the budget and margin, manage projects in one place, control all administrative procedures, and manage payroll.
You can track time automatically with the desktop app that works in the background, a one-click start/stop timer on the web, or add time manually. The tool automatically generates rich reports and timesheets so you can quickly access all the information about your projects and costs.
TimeCamp is easy to use, very intuitive, and flexible, and at the same time offers a wide range of functionalities.
To give you a clear overview, here are all the important features helpful in the accountants' work:
Allocate a specific budget to tasks, projects, people
Adjust billing rates — set individual rates for specific projects, specific users/groups, or specific users in specific projects only
Predict future expenses with accurate estimates
Track billable and non-billable hours
Create quotes
Define taxes
Customizable reports allow you to set them up even for unusual pay periods
Create an invoice based on hours tracked, send it to your Clients directly from TimeCamp via email. You can also generate a public link or convert to PDF files all invoices and later share them however you prefer with your clients
Export invoices to your favorite accounting software (Xero or Quickbooks)
Integrations with QuickBooks and Xero
GPS tracking if you work in multiple locations
You can also divide your projects into subtasks and add tags to better organize project management
Timesheet approval
TimeCamp gives you a lot of flexibility and use it just the way you want to.
---
Make TimeCamp your personal accountant!
Sign up for free – save time and money!
---
Pricing
Free

– a free plan of TimeCamp for unlimited users includes all the essentials – accurate time tracking, unlimited projects, a time clock kiosk, desktop, and mobile apps, idle time detection, and many more,

Starter – $2.99 per user per month

, including unlimited tasks, excel reports export, attendance, time-off, overtime tracking (billed annually)

Premium

–

$4.99 per user per month

, including one integrations, billable time, budget & estimates, apps & websites tracking, project archiving, and more (billed annually),

Ultimate

–

$7.99 per user per month,

including unlimited integrations, billable rates, labor costs, invoicing, timesheet approvals, custom user roles, and more (billed annually)
Enterprise – custom pricing; contact sales team for more details
2. Harvest – tracking project budget and expenses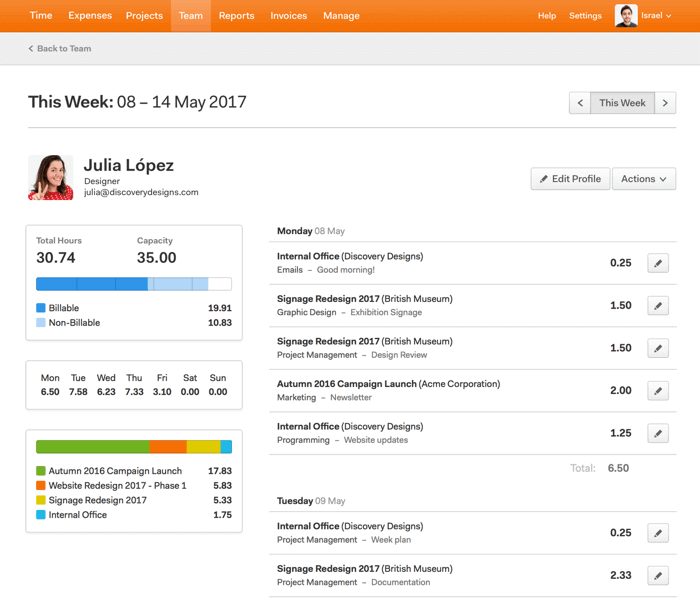 Harvest is one of the most popular time tracking software. Why is it good for accountants? Because it not only helps to track time but also expenses. The software allows you to turn your billable time and expenses into professional invoices, send them to your clients, and get paid online.
When you're exceeding the budget or are close to reaching the line, Harvest sends you a notification so you can control the budget and not be surprised by the information.
It's a great tool for teams because it helps to keep track of all time spent on work, dive into details, and control the budget. Also, you are able to see if your projects are profitable. The tool integrates with other apps to make it easy for you to control all your invoices.
👉 See the comparison between Harvest & TimeCamp
Pricing: Free version offers 1 seat and 2 projects. Pro plan with unlimited seats and projects costs $12 per seat per month. You can sign up for a 30-day free trial.
3. Jetpack Workflow – managing admin work of your accounting firm

Jetpack Workflow is a cloud-based application that helps accounting professions manage, track, and automate recurring client work. It's a project management workflow tool that was built specifically for accountants, CPA firms, and bookkeepers.
You can standardize all processes and customize jobs to clients with templates to easily create a project workflow. It's possible to store client information and docs, message with your team, and add notes.
The main dashboard gives you full visibility into projects' state. You can also track the progress of your team with fast reports. Additionally, Jetpack Workflow integrates with other apps via Zapier.
It's a tool that can help you manage all the internal processes of your accounting firm.
 Pricing: No free version is available but you can sign up for a free trial. Pricing starts at $36 per month.
👉 Read more about small business time tracking.
4. Xero – granular accounting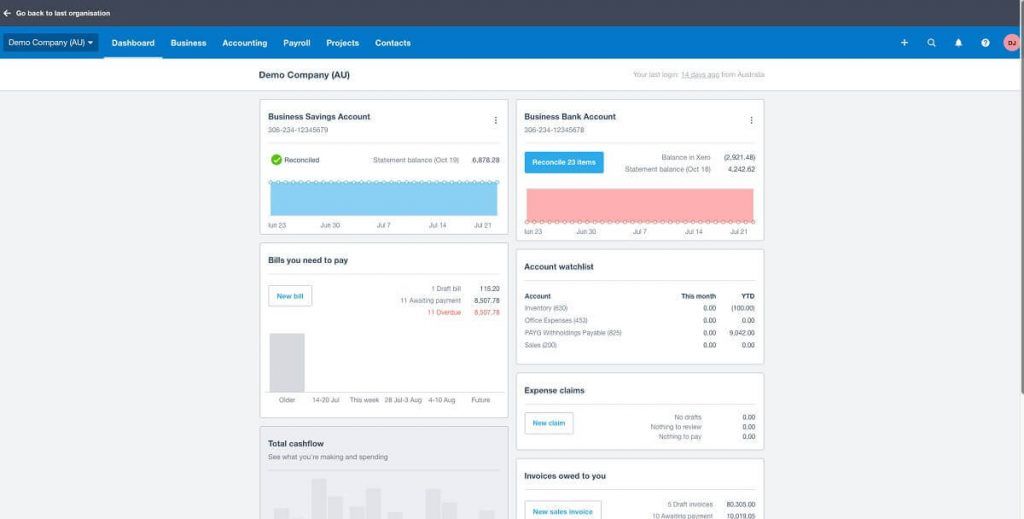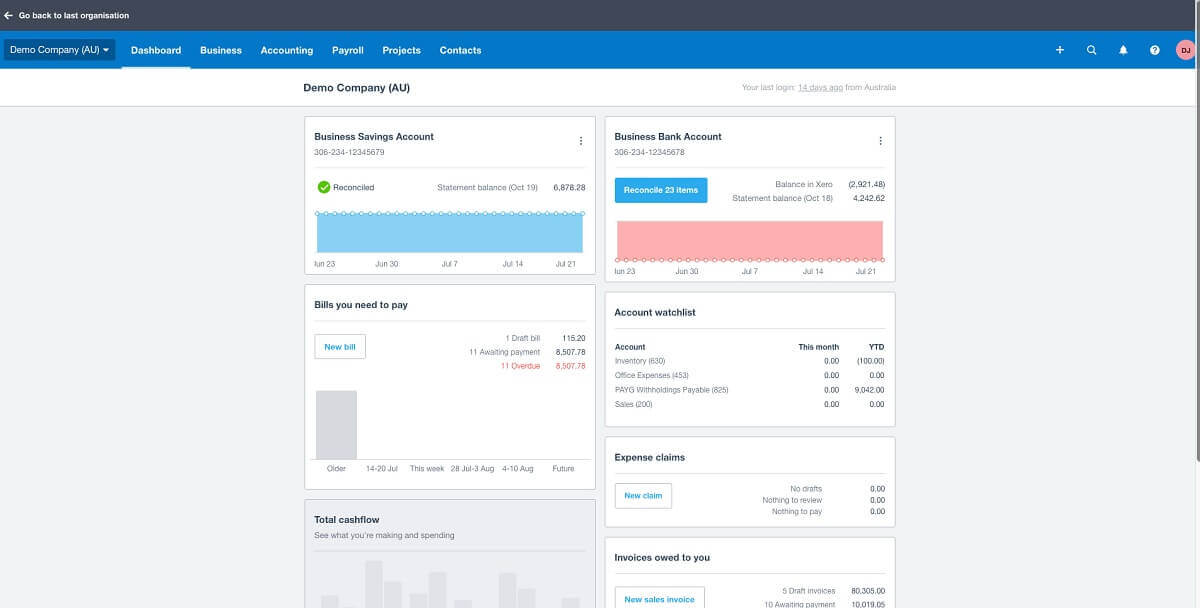 Packed with helpful functionalities, Xero is a powerful time and billing software. It's designed specifically to handle accounting services.
Xero's online accounting platform provides the foundation on which you can build a complete business solution. It connects you with your bank, accounting tools, accountant, payment services, and third-party apps, so everything is securely available at any time, on any device.
Here's what you can do with Xero:
Collaborate with clients and share information, reports, and other data from your account
Track and pay bills
Simplify employee expense claims. Capture costs, submit, approve and reimburse claims, and view spending
Connect your bank to Xero and set up bank feeds
Accept online invoice payments and get paid up by connecting to Stripe, GoCardless, and others
Track project profits – prepare quotes and estimates, use a built-in timer, monitor profit margins
Keep the full contact history, and inventory of your items
Automatically calculate sales tax on transactions, and use reports to prepare sales tax returns
🧩 Check our Xero time tracking integration and boost your financial performance!
Pricing: You can access all Xero features for 30 days, then decide which plan best suits your business. Pricing starts at $11 per month.
5. TaxDome – integrated hub with client portal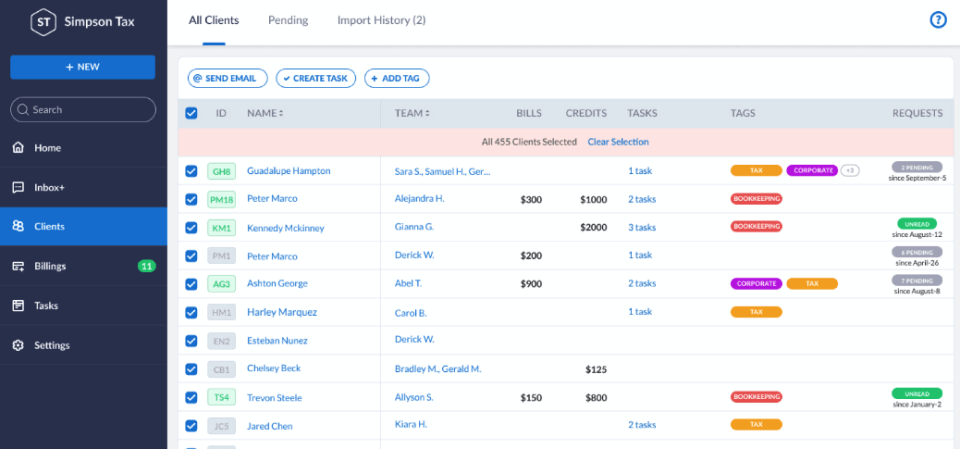 If you need a fully-featured, single, integrated hub to run your practice, TaxDome may be the right choice. Although it may seem a bit complicated at the beginning, all the modules are well-connected and it's easy to navigate the tool.
Except for time and billing, TaxDome offers Automated workflows, a user-friendly client portal, customizable CRM, unlimited and secure file storage, e-signatures, messaging and more. The SSL encryption keeps all your data safe.
Pricing: You can try TaxDome for two weeks for free. Pricing starts at $50 per month per user, billed annually
6. Ronin – simple time and billing software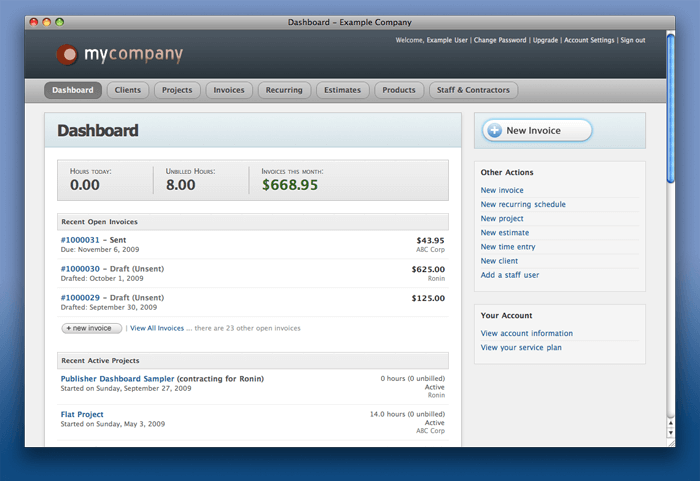 Ronin is a simple online invoicing and time tracking web app. It's easy-to-use but has the basic features you need for accounting.
With Ronin, you can track expenses against clients, set estimates, store and easily access clients' contacts, specify employees' roles, and set budget and rates for time tracking.
It has payment integration with PayPal, Stripe.Net, and Authorize.Net. The app allows you to customize invoices with your own HTML/CSS, send them in multiple currencies, and also create recurring invoices.
Pricing: the free version offers basic functions. Pricing starts at $15 per month.
7. BigTime – fully-featured service automation tool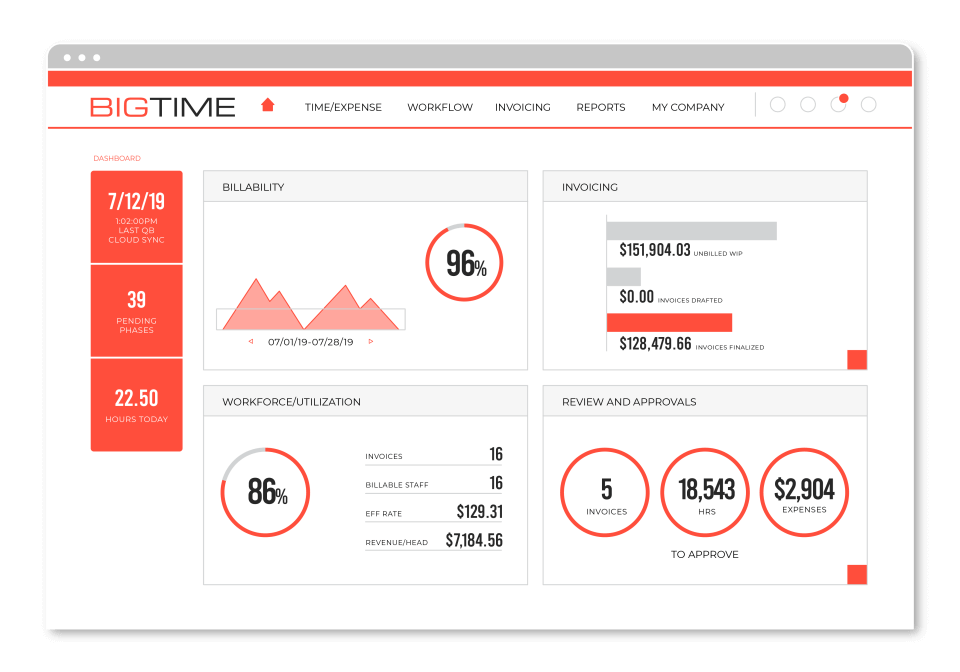 BigTime is a professional service automation software that brings all your company information in one place. It allows you for centralizing all of your operational metrics in one place, see the status of every project in real-time, track time and expenses against projects, allocate resources and workflow with the workload capacity and performance data, and manage finances.
Here are BigTime's main features:
Time tracking designed for consultants with customizable views, smart lookups, user-driven presets/defaults, and timesheets
Expense tracking including billable and non-billable hours, reimbursable, non-reimbursable, equipment, mileage, and other transactions
Custom billing, invoicing, and payment processing
Basic project management functionalities
Business analytics and reports
Integrations with other tools
BigTime is a suitable time and billing software for accountants who need extensive accounting features.
👉 See the comparison between BigTime & TimeCamp
Pricing: BigTime doesn't offer a free plan. Pricing starts at $30 per month.
8. Tick – simple time and billing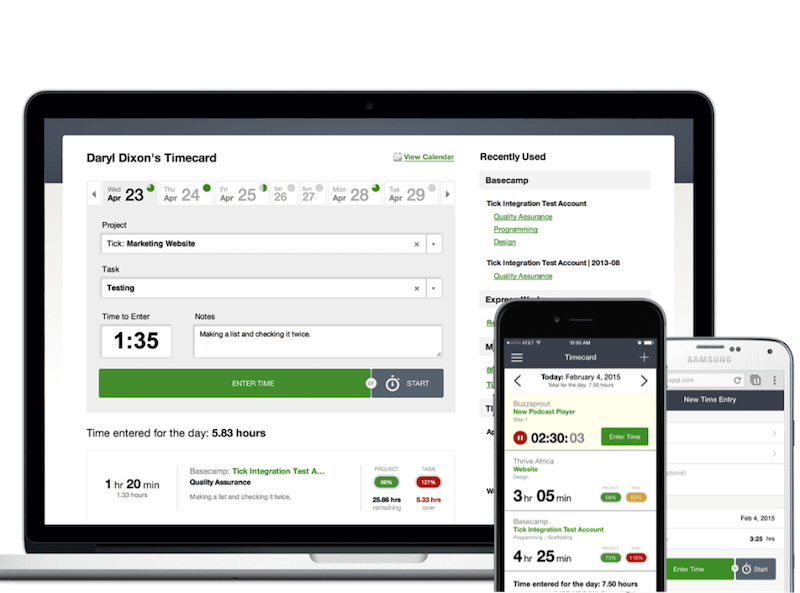 Tick is a simple time tracking software. It tracks duration of particular tasks and gives you an insight into how much time is spent on activities. Later on, you can access all data in timesheets.
It's a minimalistic app suitable for all industries and people that look for a straightforward solution.
It's a great tool for anybody who wants to make work automatic and smooth. Tick also has many integrations with accounting software so you can easily connect the tools to have all the figures under control. This makes it a great time tracking software for accountants.
Pricing: You can try Tick free for 30 days. With the free plan, you can only create one project. Pricing starts at $19/month.
9. Replicon – resource management with accounting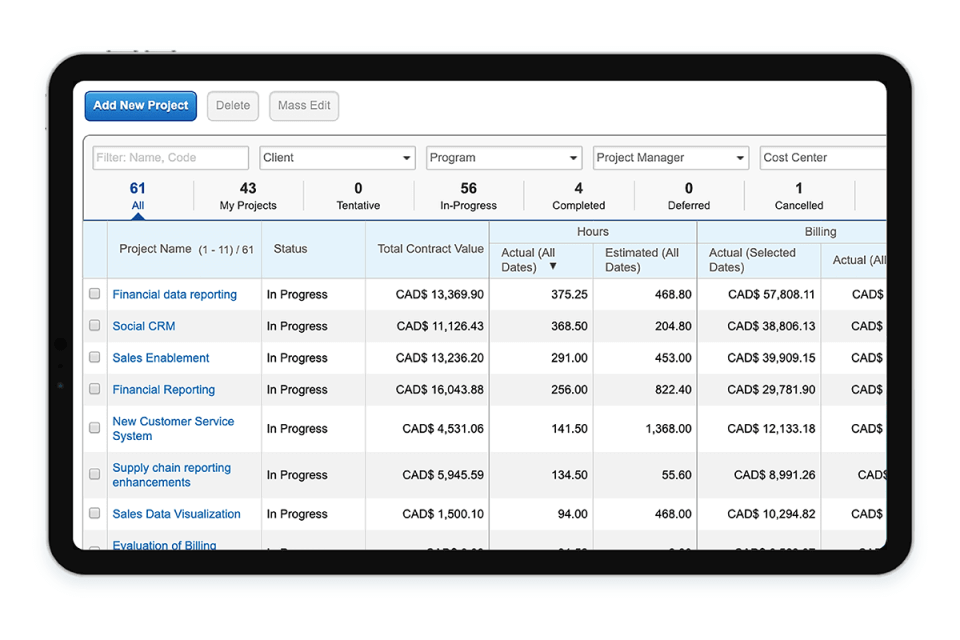 Replicon is an advanced project management solution that lets you manage resources. It's a feature-rich tool to organize the workflow of the team and keep all the data in one place. It's a good solution for businesses that need a centralized platform to keep a hand on their services.
It has more functionalities than you need to manage your firm. You can manage resources and attendance, submit and monitor expenses, define tax formulas, set rates for different services, set estimates, and use invoicing module.
Replicon can help you streamline client billing and make document management easier.
Pricing: starts at $3 per user per month. You can combine different modules at different prices.
10. QuickBooks – accounting with bookkeeping for professionals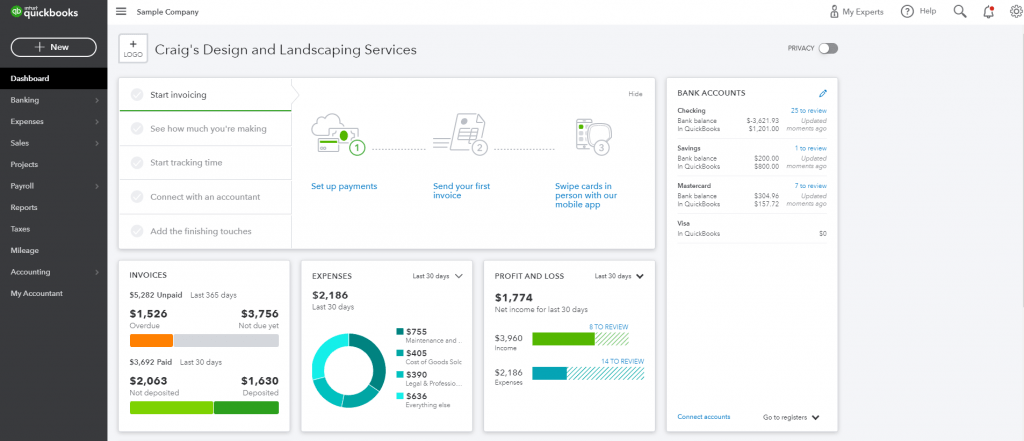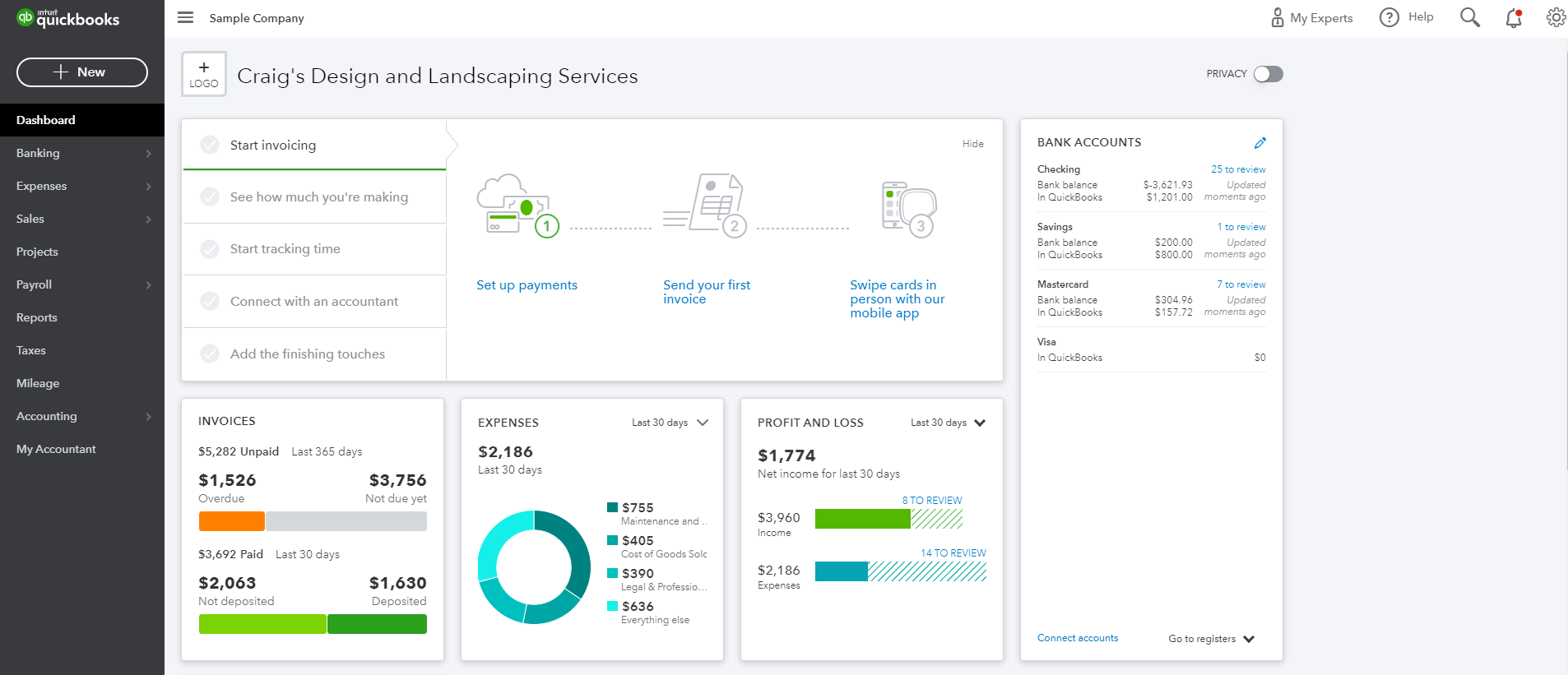 QuickBooks is one of the most popular time and billing software for CPAs, tax accountants, financial advisors, but also for small businesses.
The tool offers many granular accounting functionalities. You can track income and expenses, create and sends invoices, accept credit cards for faster payments, snap receipts, or track miles with your smartphone's GPS for faster financial processing.
👉 Read more about Time Tracking Software for QuickBooks.
There's also the possibility to deduct taxes, run and export different financial reports, clock employees, manage billable hours, and many, many more.
QuickBooks can be helpful in payroll processing, HR, and keep track of important financial data.
✨ Make sure to check our integration with QuickBooks✨
Pricing: starts at $15 per user per month
11. Bill4Time – legal billing software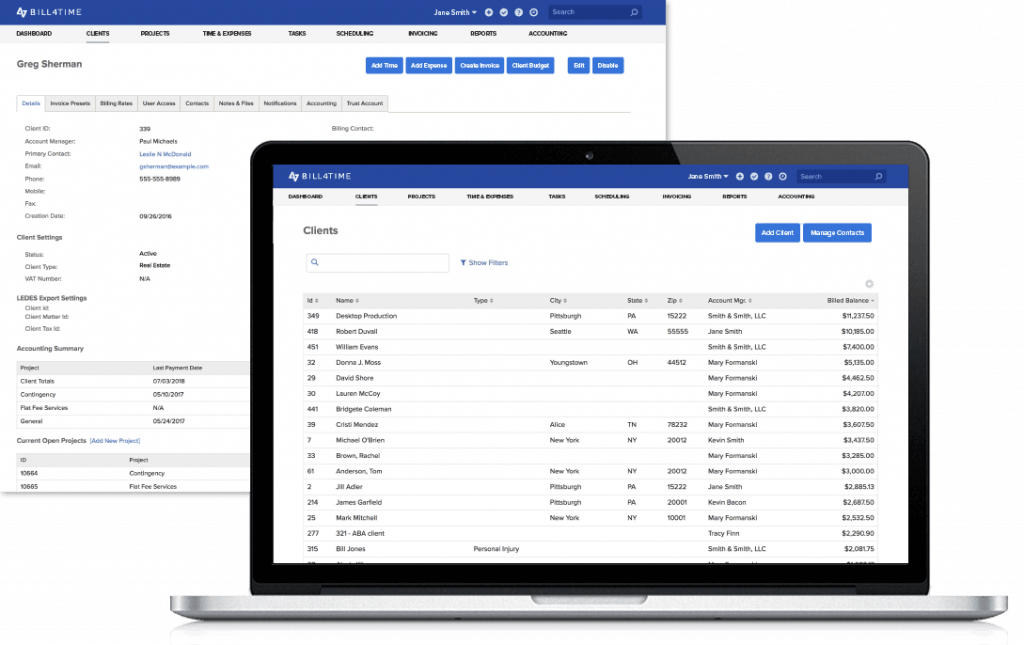 Bill4Time is the best time and billing software for accountants who work in the legal industry. It's suitable also for auditors, tax accountants, financial advisors, and consultants.
The tool provides time and expense tracking, online invoicing and payments, and project, contact and document management. There's also reporting (aging, collections, writeup/down, tax, and (WIP) work in progress) to help you assess the financial health of your business.
Bill4Time offers 256K-bit SSL encryption and is SSAE 16 Type II certified.
Pricing starts at $29 per user/month. You can also try Bill4Time for free with all functionalities for 14 days.
12. InvoiceOcean – simple bookkeeping for small business owners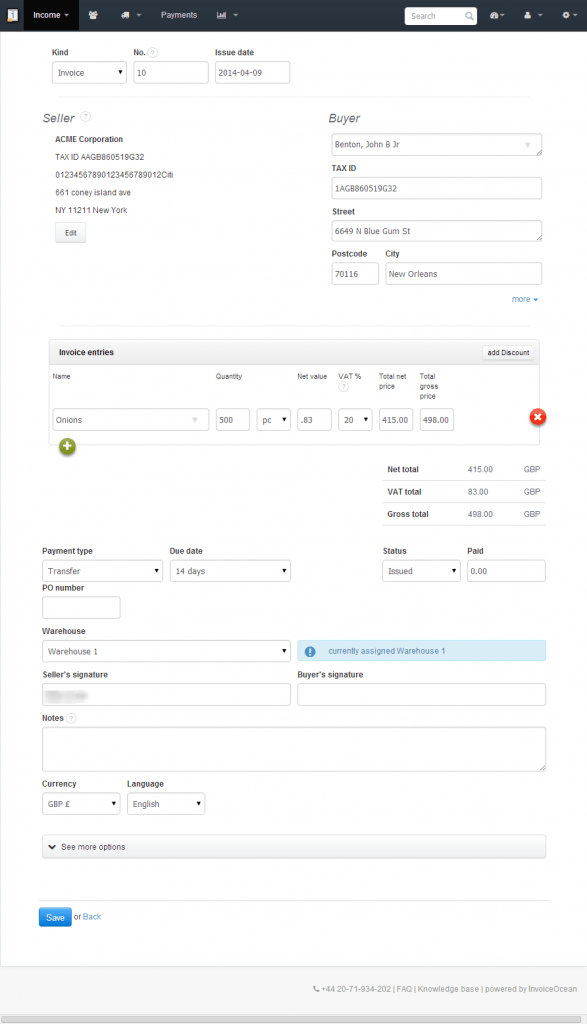 Unlike complex accounting tools, InvoiceOcean makes the process of creating invoices and recording business expenses easier for business owners. You can send documents such as proforma invoices, estimates, partial, final, and recurring invoices. Also, there is an option of adding a "Pay Now" button and receive faster payments with Paypal, Braintree, and Stripe.
You can also invite an accountant who will collect all documents needed for the tax time directly from the dashboard.
13. Billdu – invoicing software for small businesses and freelancers
Billdu is an invoice management software designed to help businesses manage their financial transactions. It offers a range of features that allow users to create professional invoices, manage expenses, and track payments, among other things.
One of the key features of Billdu is the invoice generator, which allows users to create and send professional invoices quickly and easily. Users can customize their invoices with their company logo, choose from a range of invoice templates, and add custom fields as needed. Billdu also offers automated invoicing options, which can save users time and streamline their invoicing process.
In addition to its core features, Billdu offers a range of other tools designed to help businesses manage their finances more effectively. These include tools for managing estimates, purchase orders, and credit notes, as well as a variety of reports that allow users to analyze their financial data and make informed decisions.
Pricing: Billdu has flexible pricing plans to fit different business needs, with a range of features and options available at different price points. Try Billdu for 30 days free (no credit card required) and then get it for as little as $3.99 on the Lite plan. Or, go one step further and enjoy the extensive possibilities you get with the Standard plan for $8.99 or Premium for $16.99.
Conclusion
Whether you're a professional CPA, bookkeeper, financial advisor, or company owner, you can gain many benefits from using time and billing software for accountants.
Apps for accounting firms make it easy to quickly share important data with the auditors, improve and automate processes. Instead of doing all the paperwork and calculating numbers, you can focus on your services and enhance customer service.