Chrome Plugin: TimeCamp now integrates with 70+ extra tools!
May 24, 2021
by Ola Rybacka
No comments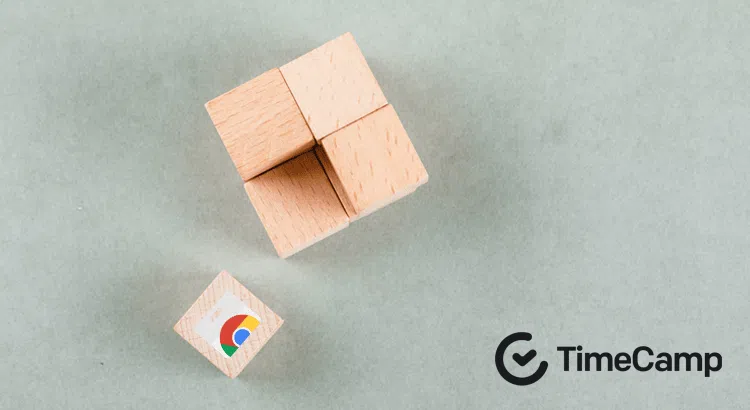 Time trackers work perfectly as a standalone tool, but they are also doing great as part of a somewhat tool suite. At TimeCamp, we're doing our best to listen to our users' voices and add new integrations to already existed ones. But we're also looking for more flexible solutions. Proud to announce we've released the Chrome Plugin for more than 70+ new apps!
As one of the time tracking Chrome extensions, it makes TimeCamp even more accessible and allows you to track time without leaving the tool you use and it hasn't been already integrated with our app directly.
How does the Chrome Plugin work?
Our Google Chrome extension allows users to track time inside other tools they use. There's no need to jump between the given app and TimeCamp to log working hours – all we need to do is to run the timer by clicking on our easily recognizable green button and the time entries will seamlessly appear in the timesheet in TimeCamp.
The good news is that the code for our Chrome Plugin is entirely open source. Feel free to join us on Github and contribute!
👉 Check also our list of the best Chrome extensions for productivity.
How can I get the extension?
Go to the Chrome Web Store and click the icon "Add to Chrome" from the menu on the right side. Then, for better access, make sure the plugin is visible in the extensions bar. Remember, that to use Google Chrome extensions, you have to be logged into your Google account. Also, be sure to check if you use the latest version of Google Chrome.
Now you can sign up for a new, free account or log in to TimeCamp (or it will be done automatically if you're already logged in to the web version).
Sign up for free and give our Chrome plugin a try!
Once you're logged in and the plugin is enabled in the browser, the timer will appear immediately in the tool you use. All set, now you can start tracking working hours!
Why do I need a TimeCamp Chrome Plugin?
Tracking time is essential for maximizing everyday productivity. Especially when using multiple tools for streamlining the daily routine. That's why we wanted to make TimeCamp even more flexible and give our users an opportunity to track time inside as many apps as we can.
With the TimeCamp browser extension you can:
record working hours directly in the browser – in case you're not a fan of desktop apps,
track working hours using tools that haven't been already included in our integrations' list and then access the data right in the timesheet,
track time without leaving your favorite browser (and even opening the new tab),
How does Chrome Plugin benefit you?
One Chrome Plugin works for multiple tools! It syncs perfectly with your TimeCamp account, so you can always be sure the time entries registered with Chrome extensions will appear in your timesheets. What's more, there are many other advantages of using these extensions:
it simplifies the timekeeping process,
it's entirely free (remember that now TimeCamp offers a free plan for unlimited users, check the details here!)
many of the most popular tools don't offer a native time tracking feature so that the browser extension is a huge help if you need a time tracker inside your favorite app,
the installation is smooth – you don't have to download anything, just add the extension to your browser.
You'll find the full list of apps on our Integrations page. However, we also collected the tools you can connect with our Chrome plugin here, below – feel free to search if we've already included it!
A business collaboration platform that streamlines everyday organizational processes. 

Team collaboration software with comprehensive project management features. Perfect for daily workflow automation. 

Axosoft
Agile project management software dedicated especially to developers. Seamlessly organizes team's development activities. 

Bitbucket
Owned by Atlassian, it's all-in-one source code repository hosting that allows to build, test and deploy the tools. 

Bitrix24
Social enterprise platform for small businesses that streamlines tedious processes from project management through CRM to communication. 
Named itself as an ultimate productivity tool, Clickup combines features that make teamwork effortless: project management, to-do lists, chat, resource management, and more. 

SImulation tool that allows you to create conceptual models and turn them into simulation with a single click. 

Project management software for software teams build by a software team. Adjusted for development teams' needs. 

Another project management tool for software development teams. Streamlines daily workflow and helps track ongoing code changes. 

Corgee
Outsource management tool that allows to communicate and collaborate with multiple vendors at the same time. 

Easy to maintain and backup syntax-based open source Wiki software. Easy to use user-friendly because of low system requirements. 

Collaboration tool for writers ensures a distraction-free writing environment and easy access to the previous versions of documents.

Documentation service for motivated teams. Helps to create, organize and share documents within your team. 

A content management system that allows you to avoid information overload. Save any piece of content for reading later. 

A collaboration tool allows teams to create apps without coding skills, organize their workflow, and visualize data. 

Productivity app helps teams and individuals deal with tedious management tasks like maintaining to-do lists, scheduling, and task organization. 

Project management system for development teams with bug and issue tracking features. Offers also ticket and backlog management. 

Service management software that names itself as a bridge between IT and the business. Automates mundane processes and keeps the entire team on the same page. 

Writing management tool for keeping the content organized and easily accessible. 
Most popular cloud-based text editor, part of GSuite, among other tools like Google Drive.

Cloud-based note-taking tool. Capture what's on your mind and keep all the to-do lists in the same place. 

Email client for web and mobile, trusted by thousands of teams worldwide. 

Habit and productivity tracking app that turns your improvement efforts into a game. 

The rich, packed suite serves teams as a marketing platform, content manager, CRM tool, and service management system.

Digital calendar that visualizes all the marketing-related processes in one place. 

Smart Customer Relationship Management software that streamlines both sales and marketing efforts. 

Kanbanery
Kanban-based project management tool for teams and individuals.

Open source Kanban boards for Todoist. 

A smart collaboration tool that helps execute workflows and streamlines team communication. 

Project management software with scheduling technology that helps teams do their best work. 

All-in-one customer service tool with live chat, ticketing, and knowledge base building. Offers also social communication. 

Customer support platform for bug and issue tracking with a simple, clean interface. 

Microsoft Outlook
Another well-known email client yet has been recently enhanced with an extensive calendar feature. 
Simple yet effective Customer Relationship Management tool. 

Ultimate workflow tool for teams that offers project and task management, sales, CRM, content design, and many more. 

All-in-one workspace app provides teams with databases, notes, kanban boards, wikis, reminders, and calendars. 

Open source business workflow tool with CRM, project management, POS management, and more. 

Product development platform combines 3D CAD, PDM, collaboration, and analytics tools – and all in the cloud.

Open-source project management tool for all-sized teams that ensures communication and collaboration in one place. 

Entirely free open source ticketing system for high-quality customer service. 

PagerDuty
Digital operations platform that gives real-time visibility into essential apps and services. Packed with on-call management, incident response, and event intelligence. 

A web-based software development tools suite that includes a Differential code review tool and Diffusion repository browse.

Ultimate CRM tool for sales teams. Keeps the customer-related data in one place and tracks all the pipeline stages. 

Innovation management platform for tech teams with Portfolio Management, Tech Empowerment, and Ecosystem Enablement. 

Podio
Collaboration app for building no-code apps and setting workspaces. It organizes data and team communication to streamline the workflow. 

Produck
A seamless project management tool that helps teams stay on the same page no matter of size. It stands out with its burndown charts, release reports, and portfolios. 

Switzerland-based open source email service that pays special attention to the users' privacy. 

Project management tool designed especially for remote collaboration. Ensures teams with features like resource management or timesheets.

A team collaboration tool that helps the team stay on the same thanks to the different views of workflow visualization: Kanban boards, dashboards, and timelines. 

Open source, Ruby on Rails framework-based project management platform. Serves also as an issue tracking tool. 

A to-do app for getting things done smarter. Syncs for all used devices and get the user notified of their assignments when necessary. 

Ensures software teams with one tool that provides features for both the development and effortless bug/issue tracking. 

A tool for 360° feedback assessment. Allows to create projects for each work, collect feedback from multiple providers and share the results across the team. 

A workflow management tool that keeps the entire team up to date with all the projects' changes. Delivers a detailed, real-time overview of the current work schedule. 

A project management tool that ensures teams with all the essential features to manage everyday workflow: workload optimization, project templates, and collaboration. 

An app for staying perfectly organized. It turns emails into tasks, creates to-do lists, and allows users to manage multiple calendars simultaneously.

To-do list app that organizes the workflow in one place. Ensures both teams and individuals with comprehensive task management and progress tracking. 

Task management app that streamlines planning with drag and drop feature and projects' transparency. 

To-do list app, but enhanced with various collaboration features like task management, workspaces, and even habits tracking. 

Suite for software development teams. Offers features for bug and issue tracking as well as easy and intuitive ticket management. 

Web-based project management software with free agile tools that unleash the collaborative power of teams. 

Well-known free online encyclopedia created by millions of people around the world. 

A robust project management tool that maximizes teams' performance thanks to the different workflow visualization methods. 

Project management software ensures agile teams with task management, collaboration, reporting, and knowledge management. 

Open source ticketing system for less frequently used systems like Debian or Ubuntu. Users can install the tool on their own servers and get started with a 30-days trial.

A project management software dedicated to GitHub users. Automates the Github workflow and helps spend more time on coding. 

Project management tool for development teams that provides agile workflow thanks to the robust Kanban boards and seamless integration with GitHub. 

As you can see, there are plenty of tools you can track time for with our Chrome Plugin. If the tool you use isn't listed above, let us know in the comments section.