G Suite time tracking – track time for your favorite workspace toolkit!
July 7, 2021
by Ola Rybacka
No comments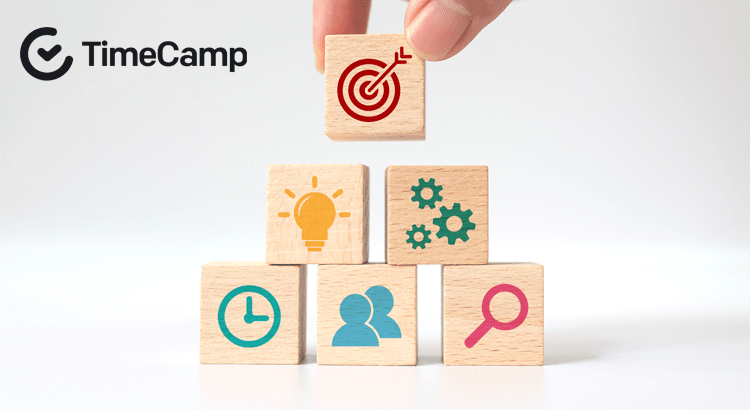 Time tracking for G Suite is a must-have these days. Let's face it – Google is the biggest player when it comes to online tools. Many companies worldwide use their products because of their high reliability and easy access. So, if you're an active Google Apps user looking for comprehensive G Suite time tracking, you're in the right place!
👉 What's G Suite?
Google Workspace, formerly G Suite, is a set of cloud hosting collaboration tools. It's similar to the Microsoft Office suite.
It includes the following Google Apps:
Gmail – email client that can be customized for business needs,
Google Calendar – integrated online calendar,
Google Drive – file storage tool that allows sharing documents within the team,
Google Meet – videoconferencing app,
Google Docs – text documents editor,
Google Sheets – collaborative spreadsheets,
Google Keep – a to do list app,
Google Slides – presentation tool,
Google Forms – survey creator,
Google Sites – website creator that doesn't require programming skills,
and more.
Google Workspace offers affordable pricing plans:
Business Starter – $6 per user per month (includes, e.g., 100 participant meetings and 30GB cloud storage per user),
Business Standard – $12 per user per month (150 participant video meetings with recording and 2TB cloud storage),
Business Plus – $18 per user per month (250 participant meetings with recording and 5TB cloud storage).
If your business requires a more custom approach, contact them to discuss the details of the Enterprise plan.
👉 What to use for Google Workspace time tracking?
TimeCamp's Chrome Plugin, of course! We've recently announced that you can now track time for 70+ new tools with our browser extension. It's a huge benefit if the tool you use doesn't offer a direct TimeCamp integration.
👉 Check also our list of the best Chrome extensions for productivity.
How to get TimeCamp Chrome Plugin?
Go to our Chrome Webstore site and click the "Add to Chrome" button. Once you do it, log in to your TimeCamp account (or sign up if you haven't done it yet). Make sure to pin it to the extensions bar!

Once the plugin is enabled, the "start timer" button should be visible in the app you use. To find out how it looks like for a particular tool, check the list of software that integrates with our browser extension.
Now you're fully prepared to start tracking working hours and measure time spent on daily work-related activities from anywhere on the web. Click on "Start timer" and choose tasks you'd like to track time for. Entries will immediately appear in the timesheet in TimeCamp.
These records count to your time summary as well; you can then export reports and use them for further productivity analysis. Or you can create a report and send it to your customers as proof of work.
👉 How to track time for Google Apps with TimeCamp?
With TimeCamp Chrome Plugin, you can easily forget about filling timesheets manually. Just one click is enough to start the timer and enjoy a seamless time tracking service. All the entries registered with a browser extension appear immediately in TimeCamp so that you can count them in your billable hours. Huge help for billing and payroll issues!
Currently, the TimeCamp browser extension works for the following Google Apps:
Gmail,
Google Docs,
Google Calendar,
Google Slides,
Google Keep.
Let me explain how it works. Below, you'll find a short manual on how it works for each app, e.g. how time tracking for Gmail works.
Time tracking for Gmail
Go to your Gmail account and open an email. You'll see the "Start timer" button right to the headline. Click it and choose projects/tasks from the task picker (and add tags for better transparency). Email headline will appear as a note.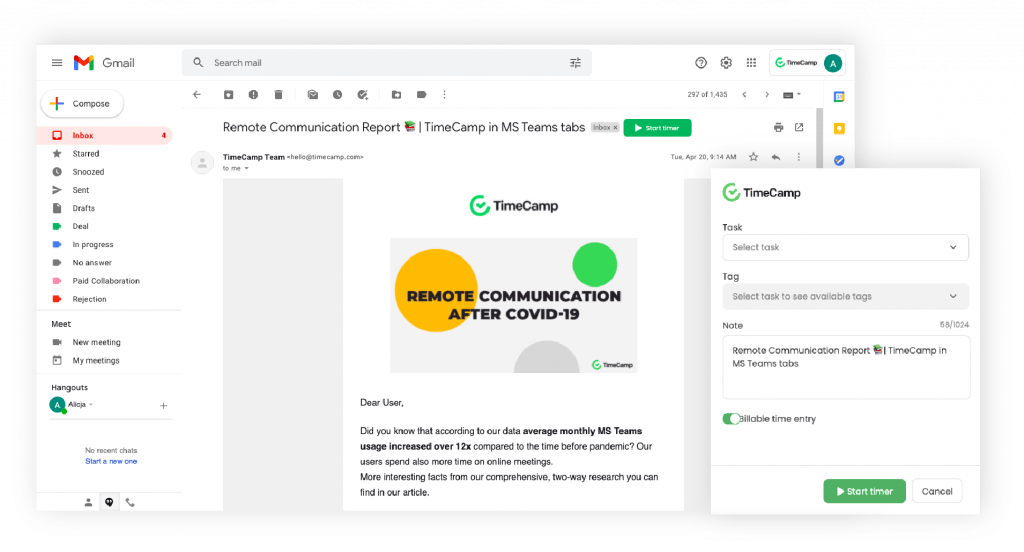 Use the Gmail time tracking integration to find out how much time it usually takes to create new emails and read the ongoing correspondence.
Time tracking for Google Docs, Spreadsheets, Slides
How to: Open a Docs or Spreadsheets file (blank or already filled, it doesn't matter). The "Start timer" button appears on the toolbar, right to the "help" option in the user interface. Choose a task to which the document belongs. Similar to an email headline in Gmail, the name of the document will appear as a note.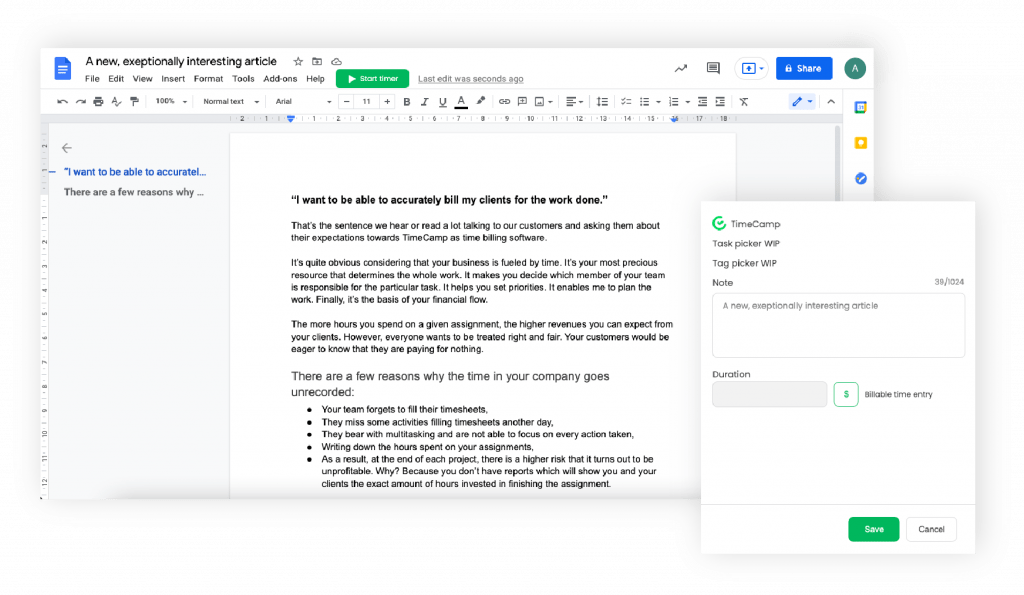 Keeping track of time for Google Docs and other types of documents will help you stay focused on what really matters at work.
See more about Google Docs time tracking integration with Time Camp!
Time tracking for Google Calendar
Go to your Calendar and choose the event you'd like to log working hours for. All the entries tracked with this integration will appear under "Google Calendar Events" tasks. You can, of course, change it if you want the entry to count to the other existing task. As above, the event name will appear as a note.
Whether the meeting is held offline or online, tracking time with TimeCamp Chrome Plugin will let you know how much time the meetings usually take. Perfect for further productivity analysis.
What's more, TimeCamp also offers a native Google Calendar integration!  If you want to automate the process of assigning your events to specific projects, simply use the meeting/event name as a keyword in the project.
Log in or sign up for a new account and enjoy the seamless Google Calendar time tracking integration!
Time tracking for Google Keep
Go to your Keep account and choose one of the items. Instead of the "Start timer" button, you'll see the small play-like icon on the toolbar, right to the "redo" option. Click on it and assign the entry to a task.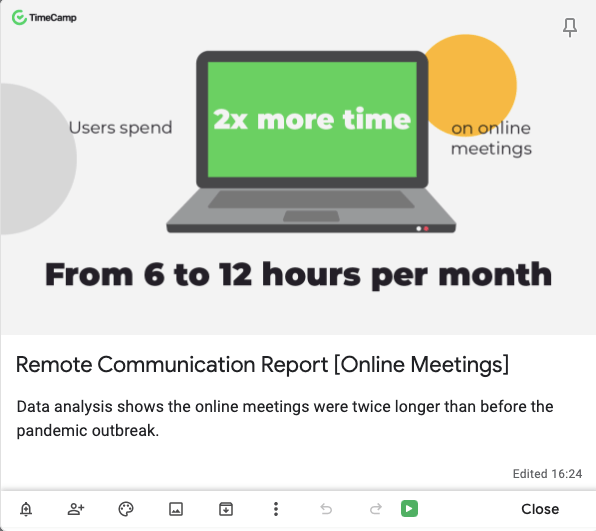 Tracking time with our Chrome Plugin will let you know how much time you usually spend working on Google Keep items. Even if it's a minute within a day, it still counts to billing records! 
All you need to do to start Google Keep time tracking is just one click. Check out!
👉 Why use G Suite time tracking?
It's an effortless way of finding out how much time is usually spent on each project,
Managers can easily see and analyze their teams' performance thanks to the wide range of reports – predefined and customizable,
Although TimeCamp has many native integrations, it still doesn't offer time tracking for every part of Google Workspace. With one mouse click, our browser extension helps you log working hours spent on collaboration,
Once you sign in to your account and log hours, they automatically appear in your timesheet. It makes you sure time is tracked accurately, on the dot.
---
Don't waste your time on unproductive time logging. Benefit from tracking working hours in a smart way. And of course feel free to share your experience with using our Browser extension for G Suite in the comments section!