15 Time Tracking Software for Ubuntu
July 14, 2021
by Kate Borucka
3 comments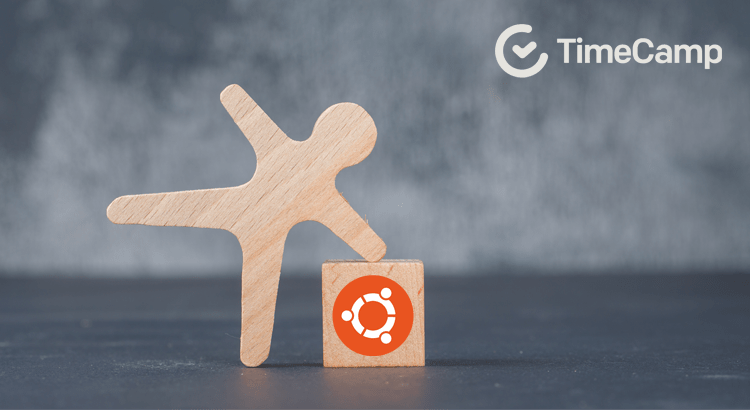 A good time tracking app for Linux can significantly improve your performance and time management. Although the market of time tracking software lacks good apps for Linux, there are tools that can help you save time and money.
If you're looking for the best time tracking software for Ubuntu, you're in the right place.
A Few Words on Ubuntu
Ubuntu is a Linux operating system for servers, desktops, clouds, developers, and IoT devices. It's gotten its name from Southern African philosophy. It translates to "human-ness" and Ubuntu developers suggest that it can be loosely translated as "humanity to others" or "I am what I am because of who we all are." A deep philosophy behind a small operating system.
Ubuntu is popular, although it doesn't have as many users as Windows or macOS. Especially among the fans of having a flexible, fully customizable work management system.
Why? Well, firstly because Ubuntu is completely free – its users are encouraged to use it, study it and improve it. Ubuntu comes with a wide assortment of open-source software, has incredibly low requirements (it is the best choice for older computers, on which Windows is working at snail's pace), and flawless built-in security modules. If you are interested, visit their website to learn more.
More and more people choose Ubuntu as their primary system when it comes to working. However, as it is not as "important" as these two massive systems mentioned before, it is harder to find reliable tools to support you with your work and guarantee effective time management.
Why Track Time With Computer Software?
Time tracking software has many benefits. Especially, if you work in Linux and spend a lot of time on work. The existing tools dedicated to this operating system offer many helpful features that make work easier.
Here's what you gain from using a good Linux time tracker for Ubuntu:
rich time tracking data to help you understand how you work and when you're most productive
precise log time tracking for every task and project—such time data can be proof of work for your clients or you can use it for better task management
tracking billable time if you charge per hour of your work
billing functionality allows you to easily track time expenses and have all the data about your work in one place
you can control your expenses and monitor the profitability of a project by quickly looking at the gathered data
A good Linux time tracking software can help you save a lot of time and money, and automate repetitive processes.
👉See how to keep track of time and work hours.
What's The Best Ubuntu Time Tracker?
There are not many Linux time tracking apps on the market tailored to the needs of Linux users with Ubuntu. Some of the existing solutions are outdated and developers don't dedicate time to updating them, and either abandon them or leave them as open-source software.
So to help you find the best time tracking software for Ubuntu, we've gathered a list of tools. And there's no one-size-fits-all formula that'll be perfect for everyone. Each tool has different features, purpose, and design.
Here are the best time tracking software for Ubuntu.
TABLE OF CONTENTS:
Best for: tracking billable time
TimeCamp is a suitable time tracking software for Ubuntu, which is now free for unlimited users. This app for Linux is suitable for both professional companies and agencies, where teams have numerous members and for busy individuals. It boosts the productivity and efficiency of any working person.
The software calculates time expenses automatically so you can focus on your work.
TimeCamp time and project management features can help you boost performance:
With TimeCamp you will be able to accurately bill your clients with billable hours tracking
Measure project profitability and track and analyze time spent on the project with billing reports
Idle time detection
The desktop app automatically gathers all your time tracking data (including websites and apps' usage, time spent on all activities, and more)
Graphical timesheets integrated with calendar
History of your project portfolio
Projects, tasks, subtasks, and tags let you visualize a hierarchical tree of your company and everything you work on
You can prepare invoices based on hours, filters, and reports
TimeCamp offers a whole bunch of integrations with other tools for better workflow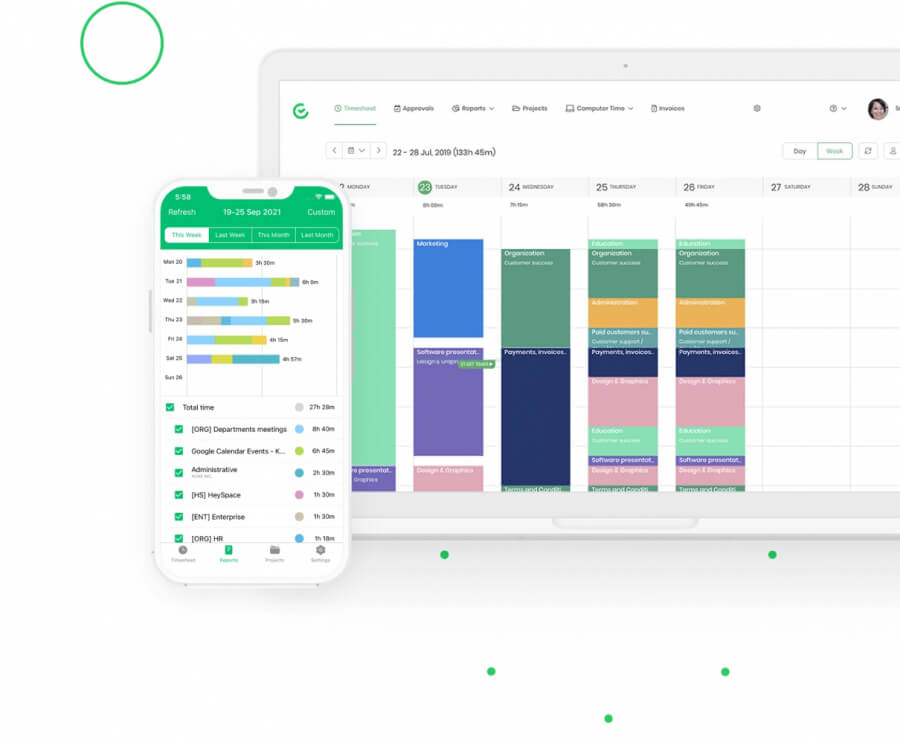 TimeCamp is available for Linux, as a web app, and mobile app, and it syncs across all your devices so you don't have to worry about internet connection.
Pricing
Free

– a free plan of TimeCamp for unlimited users includes all the essentials – accurate time tracking, unlimited projects, a time clock kiosk, desktop, and mobile apps, idle time detection, and many more,

Starter – $2.99 per user per month

, including unlimited tasks, excel reports export, attendance, time-off, overtime tracking (billed annually)

Premium

–

$4.99 per user per month

, including one integrations, billable time, budget & estimates, apps & websites tracking, project archiving, and more (billed annually),

Ultimate

–

$7.99 per user per month,

including unlimited integrations, billable rates, labor costs, invoicing, timesheet approvals, custom user roles, and more (billed annually)
Enterprise – custom pricing; contact sales team for more details
Read how to track computer usage efficiently.
2. Hamster
Best for: simple time tracking
When it comes to time tracking, Hamster is one of the recommended tools for Ubuntu. It's best for individuals who need a simple time tracker.
Hamster is written in PyGTK, and uses SQLite for data storage. After installation, it is added to your indicator menus, and once you hit a simple keyboard shortcut Super+H (super is an alternative name for the Windows key) and type what you are doing, you will be able to start tracking, stop, or change tasks.
What is more, Hamster offers categorization of your tasks (you can add tags to them, and Hamster should do an auto-completion) and provides statistics that you can export as HTML reports so you can send them to others. You can learn more about it here.
Pricing: Hamster is a free app.
3. Toggl Track
Best for: minimalistic Ubuntu time tracker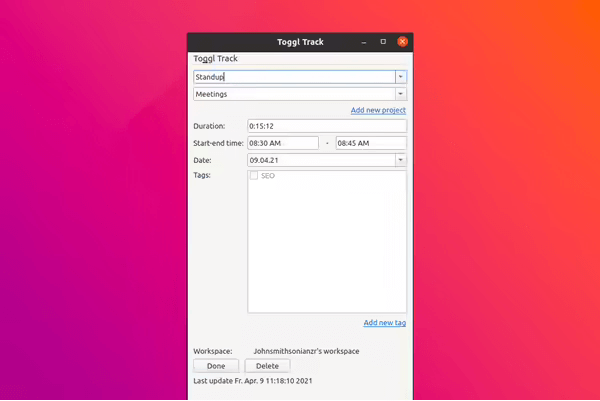 Toggl offers its Toggl Linux desktop application for time tracking. It synchronizes data with the web version of Toggl immediately, but it can also work offline, storing data locally and sending it to the server whenever there is a network connection.
Tracking time is intuitive; it requires filling in the details of your job and clicking the "play" button – from that moment on the time is being tracked. You can edit the description of your tasks and add tags to them. Toggl also detects idle time and has reminders for those, who often forget to track their working time. All your time data is available in clear reports.
Toggl is a simple time tracker with basic time tracking features.
Pricing: The free version with limited functionalities is available for up to five users. Pricing starts at $9 per user/month.
4. GTimeLog
Best for: tracking time with commands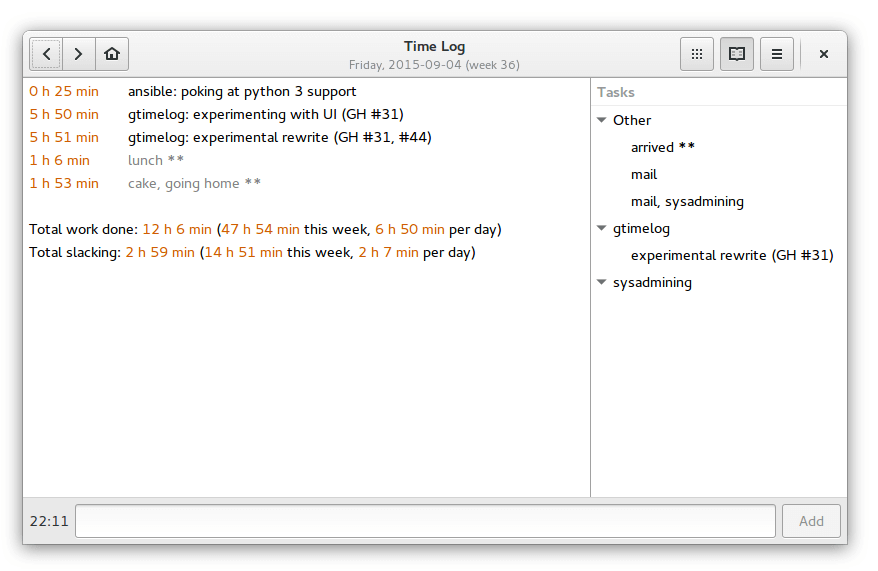 GTimeLog is another app that keeps track of time for the Ubuntu desktop environment. It is a very basic time tracking tool — the main purpose of its creators was to keep it as unintrusive as possible.
However, the use of it is a bit more complicated than the traditional other time tracking apps. Instead of clicking certain buttons, you have to write commands to properly track time and name tasks.
There are two types of activities you can track in GTimeLog — billable and non-billable. To indicate which activities are not work-related, you add two asterisks to the activity name: lunch**. For activities that are non-billable, you add three asterisks: break ***.
Here are some other features:
Tasks pane that lists common tasks
Time log with displayed details of all the things you've done during the day
Three views: one shows all the activities in chronological order; a time log for start/end of work, with entries grouped with the same title into one activity and a total time; and all entries grouped into the same categories with a total duration
It stores time logs in case you forget to track time.
GTimeLog is a simple app but intended for more advanced Ubuntu users. Learn more about it here.
Pricing: GTimeLog is a free time tracker.
5. Org mode
Best for: project and task management with time tracking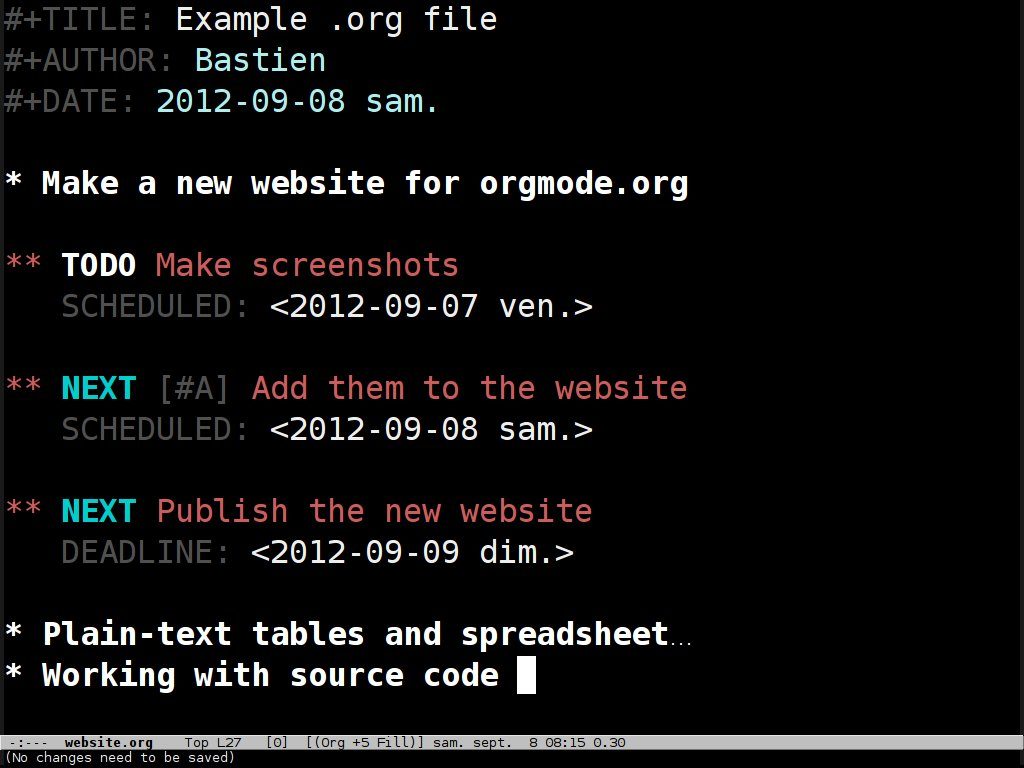 Another app designed strictly for the Linux environment is Org mode. It can be used as a to-do list manager and planner. It has features of a project management and time tracking app.
You can turn tasks into headlines, clock in and out quickly, and generate reports that you can customize. Additionally, you can adapt Org to your workflow — it displays the scheduled task for the week, to-do lists, and projects. Org also allows you to import time entries with tables from .csv and .tsv files, or directly from the contents of the current buffer, then export them to any format supported by the tool.
Overall, it's a decent tool with various features but intended rather for software engineers and not for regular users.
Pricing: Org is a free tool.
6. Klok
Best for: tracking time on desktop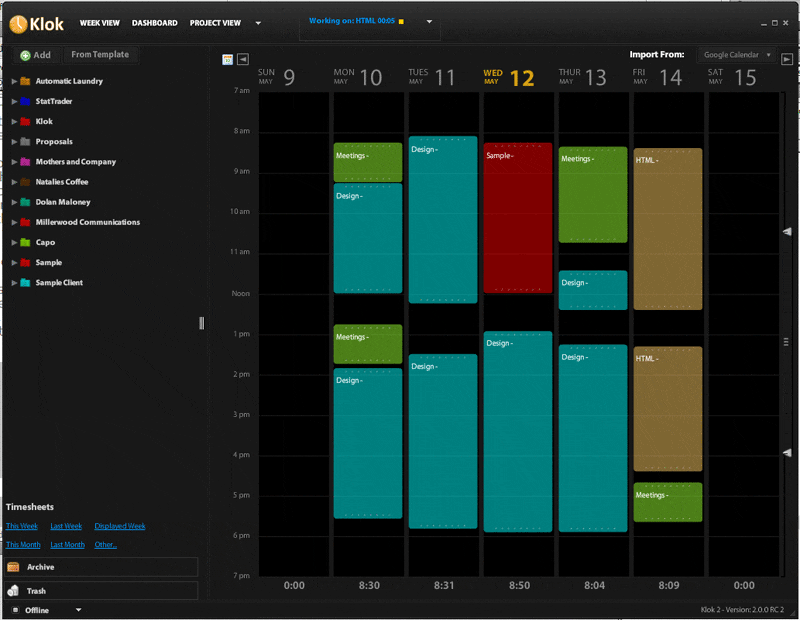 Klok is an adobe air application. It's a computer software that tracks hours spent on work, providing a visual display of time tracking data in a form of charts and graphs to manage for better time management.
Every detail of your working time is monitored and analyzed. Also, the design of this time tracker is pleasant to the eye, and the use is intuitive.
Moreover, you get features such as timesheets, billing and invoicing clients, reporting, and importing meetings from your calendar.
Pricing: Klok offers a free version or a lifetime license. Paid version is $19.99 for a license and depends on the number of users.
👉 Check the best Klok alternatives.
7. jTimeSched
Best for: lightweight time tracking with necessary-only features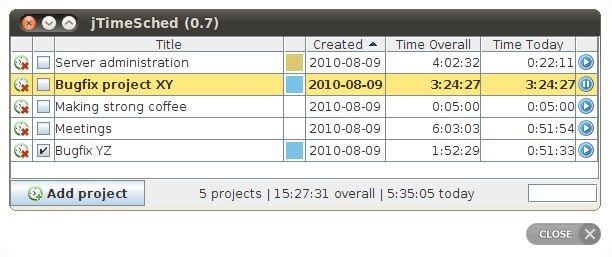 jTimeSched enables its users to track elapsed time for tasks and projects. Its aim is to provide the intuitive and only necessary functionality. In comparison to other apps for Linux environment, jTimeSched is easy to operate.
Here are the main features:
You can create as many tasks and projects as you want with one click
The app tracks elapsed time for a working day and displays the overall time
You can add time manually
Delete task with a double click
Categorize tasks by color, and sort them by title, category, date created, time overall, time today, or current state
Its author calls it a "lean tool for time tracking," confirming its simplicity. The main weakness of this software device is that it does not provide any statistics. Regardless, it is a free and solid time tracking app.
Pricing: jTimeSched is free.
8. Kimai
Best for: customizable time tracking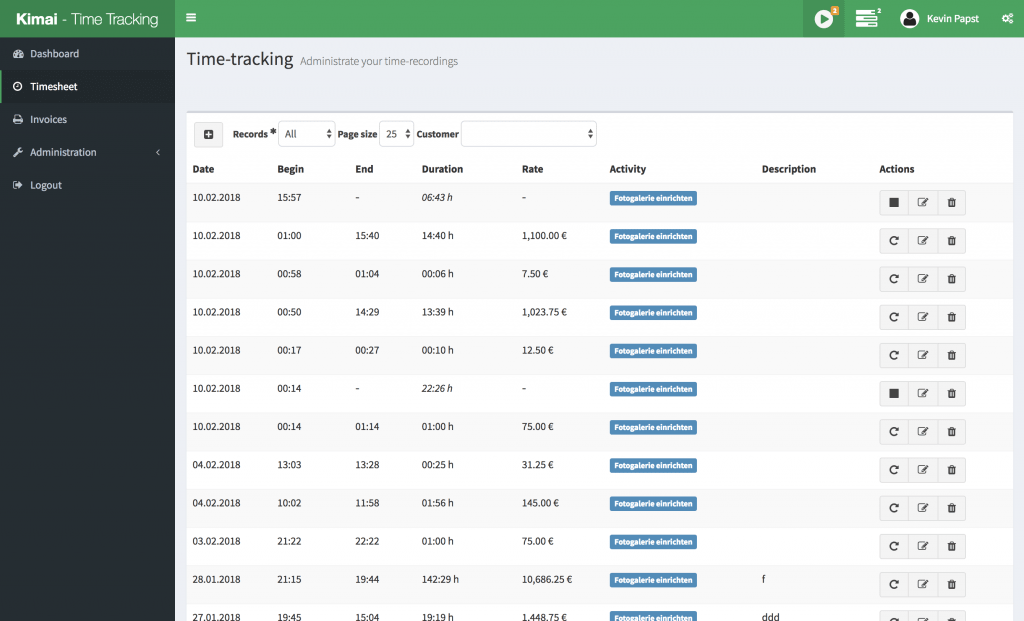 Kimai is a simple, open-source time tracker. It can be installed as a web service or as a single-user program. It tracks work time and provides statistics on demand, whether it is the period of time, type of project, certain customer, or action.
It's a customizable time tracking software that allows you to control your budget, work hours, and helps in project and task management. You can use it solo or with your team.
Main features:
A simple timer that works as a start/stop button. It'll run as long as you don't turn it off, and you can do it in any browser. It doesn't stop automatically. There are also time clock and duration modes if you prefer to track time in another way
Editing time entries and manual time tracking
Billing functionality — you can set billing rates for weekends, fixed or hourly rates, and track expenses based on customer, project, and activity
You can add plugins manually (you'll need to have some coding knowledge to do that) to extend the features
The layout is responsive so you can also use Kimai on mobile devices
Pricing: Kimai is a free open-source software.
9. Time Doctor
Best for: monitoring employee time
Time Doctor is one of the time tracking tools that offer their app for every operating system, including Ubuntu. It tracks the total time worked by every person that uses it and provides a breakdown of how much time is spent on certain projects, clients, and tasks.
Furthermore, a useful feature of Time Doctor is the gentle reminder to get back to work whenever the app notices that you're getting distracted (for example spending too much time on Facebook).
Pricing: It offers a 30-day free trial (even a limited free plan) and its pricing starts at 7$ for a single user billed monthly.
10. Rachota
Best for: tracking hours spent on work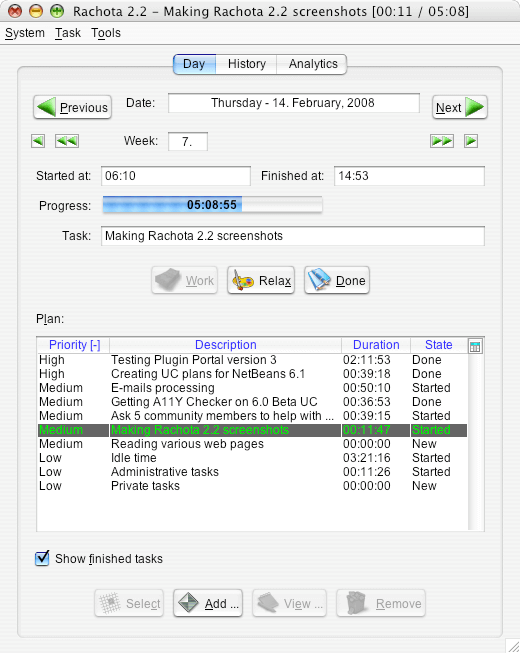 Rachota is a Linux time tracker that lets you track hours spent on work. It's a basic time tracking software with a simple and intuitive interface.
Rachota shows time data in diagram form, allows you to create customized reports or invoices, and provides suggestions to increase your efficiency. Because Rachota is written in Java, it's OS independent, runs from USB drive, and is small and fast (609 kB).
Main features
Rachota time tracking app is secure to use, you don't have to worry about your data
Powerful data mining features
Manual editing of measured time
Feedback capability
Tagging
Generates reports or invoices as HTML, CSV or TXT files
Extremely compact
Rachota detects idle time
The displayed details of your working time include categorization, effectivity, granularity, prioritization, repetition, and the status of your work
Available in 11 languages – English, Japanese, Portuguese, Romanian, Russian, Spanish, Czech, Dutch, Hungarian, Italian, French, and German
11. KTimeTracker
Best community-driven time tracker with basic features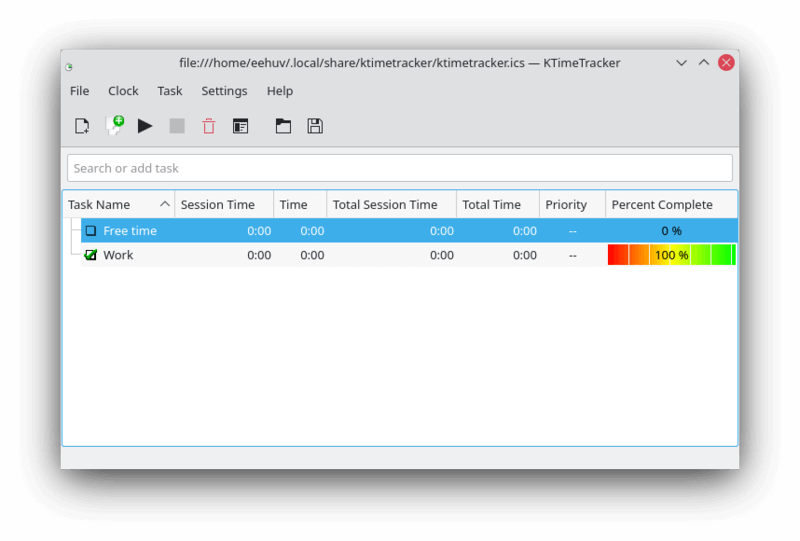 KTimeTracker is the time tracking component of Kontact, the integrated Personal Information Manager from KDE desktop environment. It's an open-source type software free to everyone.
It's a basic time tracker with no high-end features. You track your time and at the end of the day or month, you can get a report of much time you spent on particular tasks. So if you need a simple solution, KTimeTracker for Ubuntu is exactly what you need.
Pricing: KTimeTracker is free and open to new ideas. You can become part of the community and work on its development.
12. arbtt
Best for: tracking activities in the background with a continuous time-saving frequency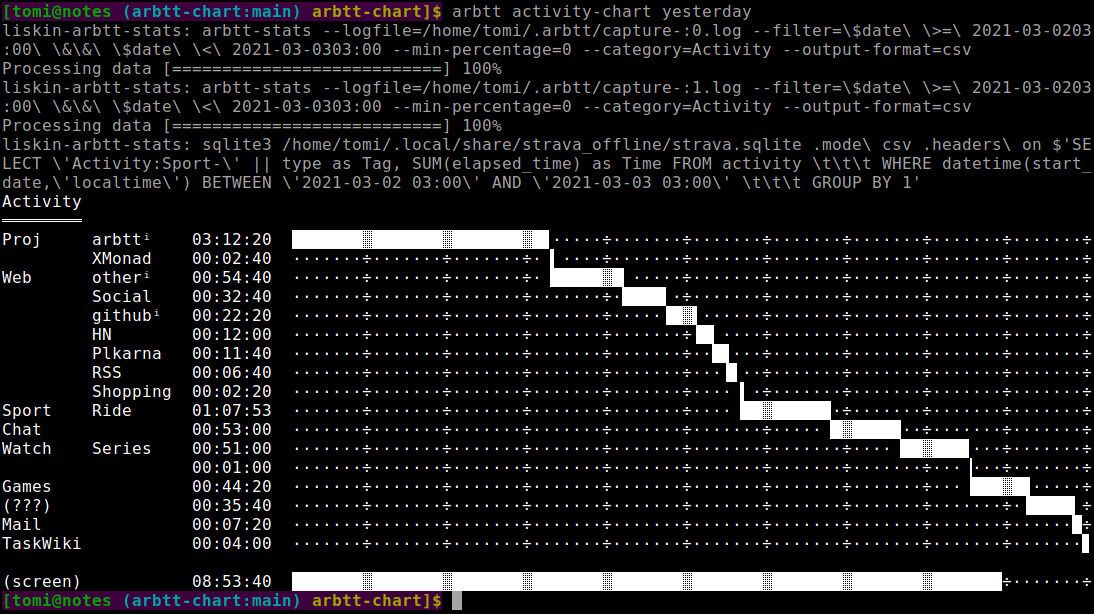 arbtt (automatic, rule-based time tracker) is a desktop daemon — it runs in the background and keeps a continuous log file of your activity, by recording at regular intervals which windows are open, which one has the focus, and how long it has been since your last action.
The tool has a built-in command-line statistics generator that sifts through the data and reveals patterns and relevant information. Because the tool works in the background, you don't have to focus on one task but can switch context and focus on your work.
However, tracking time with this app requires coding knowledge.
Pricing: arbtt is a free tool.
13. TimeSlotTracker
Best for: creating a to-do list for tracking work time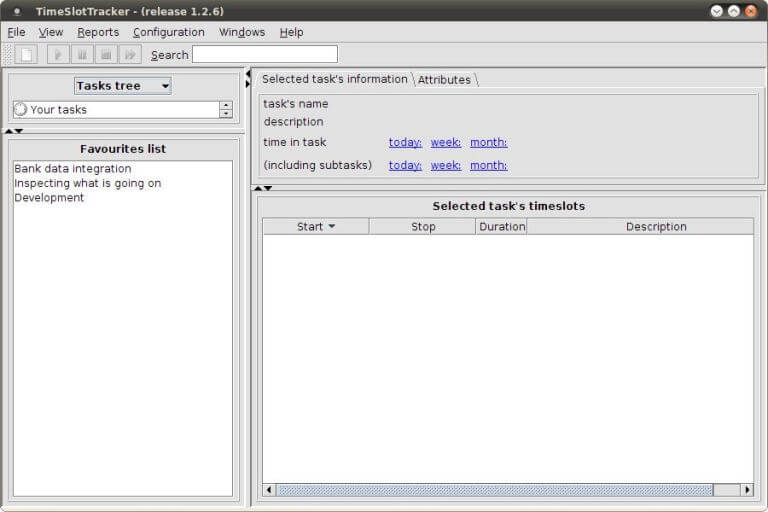 TimeSlotTracker (TST) is a tool to record time spent on particular tasks. It offers basic time tracking.
The app records tasks as time slots in a hierarchical tree with time logs for each task and total time. You can access your data in an HTML report, localization (7 languagess), xml data format, and sync TST with iCal.
However, to set up the tool, you need to know programming as there's some configuration data to manage.
Pricing: TimeSlotTracker is a free tool; you can also contribute to the community to develop the app.
Working on Ubuntu? Start tracking your time with TimeCamp! Thousands of companies worldwide can tell you that you won't regret it!
14. Watson
Best for: command-line time tracking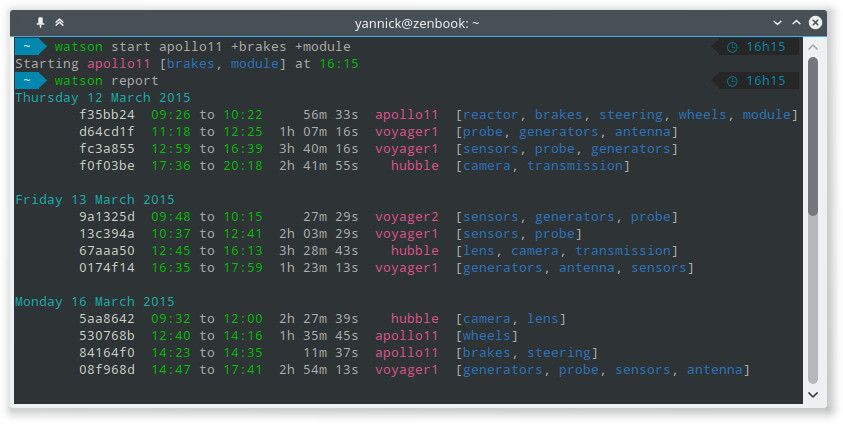 Watson is not a typical time tracker for Linux. It's a command-line time tracker (CLI) that monitors your time during work and generates reports with dates, tags, and name of a task. It doesn't, however, offer tracking time expenses.
Main features:
Straightforward time tracking
Rich commands to make tracking time easier
Several options for reporting (e.g., activities reported only for one task, different format outputs, tags)
Configuration options
Settings for time logs
Check also best reporting tools!
The tool requires programming knowledge, so if you're not familiar with the subject, you'll find the tool difficult to use.
15. GnoTime
Best for: tracking time with a hierarchical to-do list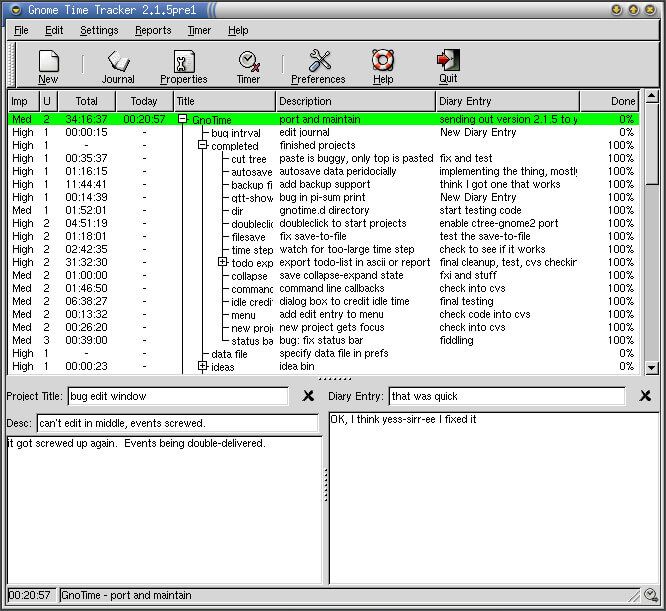 The Gnome Time Tracker is a time tracking tool that you can use as a to-do list, diary, or journal to track the amount of time you spend on projects. The program counts time totals and generates a summary report for all your projects.
You don't need extra configuration data since the tool is easy to install and easy to use. The stable time-saving frequency keeps your data accurate and ensures there are no bugs in time reports.
Main features
Simple running timer
Specify rates for project billing: regular rate, overtime, double-overtime rate, or a flat fee
HTML reports that can be saved to a file, emailed, or posted to a web site
Rank the urgency and importance of to-dos
You can add notes to a task
Idle time detection
To Wrap It Up
The right time tracking app for Ubuntu can help you track time spent on multiple projects, improve time management, and boost your performance.
 What is your favorite time tracking app for Ubuntu? Let us know in the comments!
5 out of 5 stars (based on 8 reviews)