Klok Time Tracking and Competing Alternatives
November 19, 2021
by Lorea Lastiri
No comments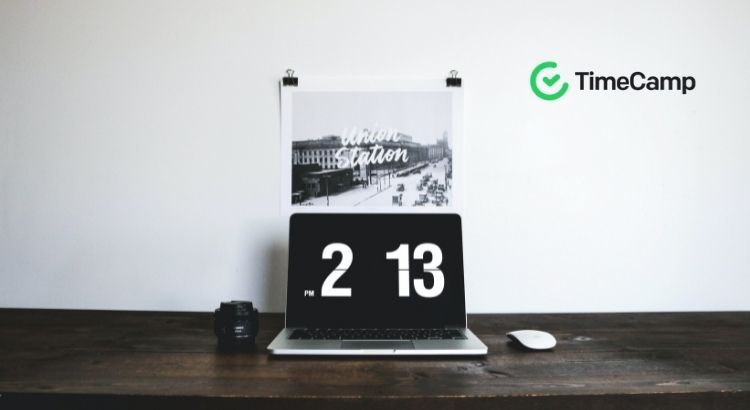 Klok is a leading time tracking software that is used widely by freelance workers. Klok's simple work timer allows users to assign tasks, track hours, and manage earnings.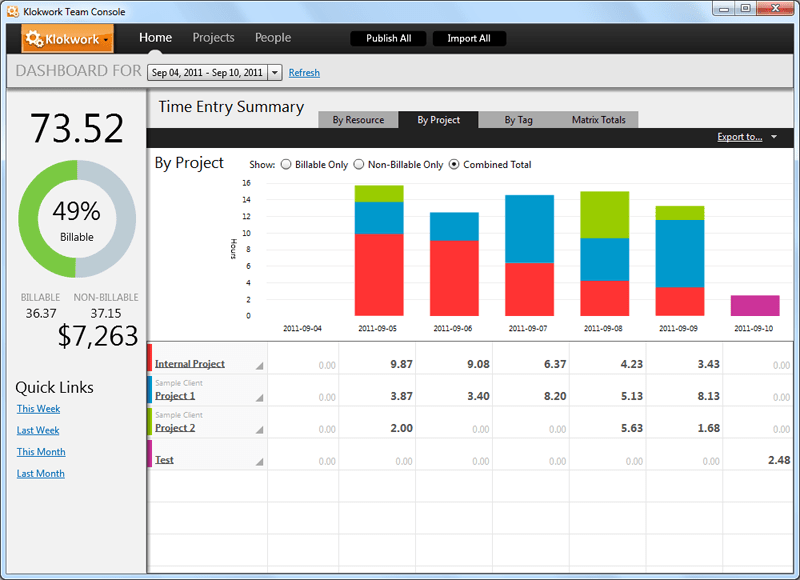 Klok is popular amongst those concerned with recording time entries accurately and storing past projects accordingly. It is a hassle-free means of keeping on top of timesheets; however, it has many limitations.
You cannot conduct an absence analysis on Klok, and you also can't use it for meetings, budgeting, or to set tracking reminders. Klok doesn't offer a free account, with an expensive minimum membership fee of $18.99.
You can download a Klok alternative, such as TimeCamp, to avoid the drawbacks found on Klok.
This article will detail the leading Klok alternatives to help you keep on track of projects, hours, and earnings.
1. TimeCamp – estimate future projects with this tracker app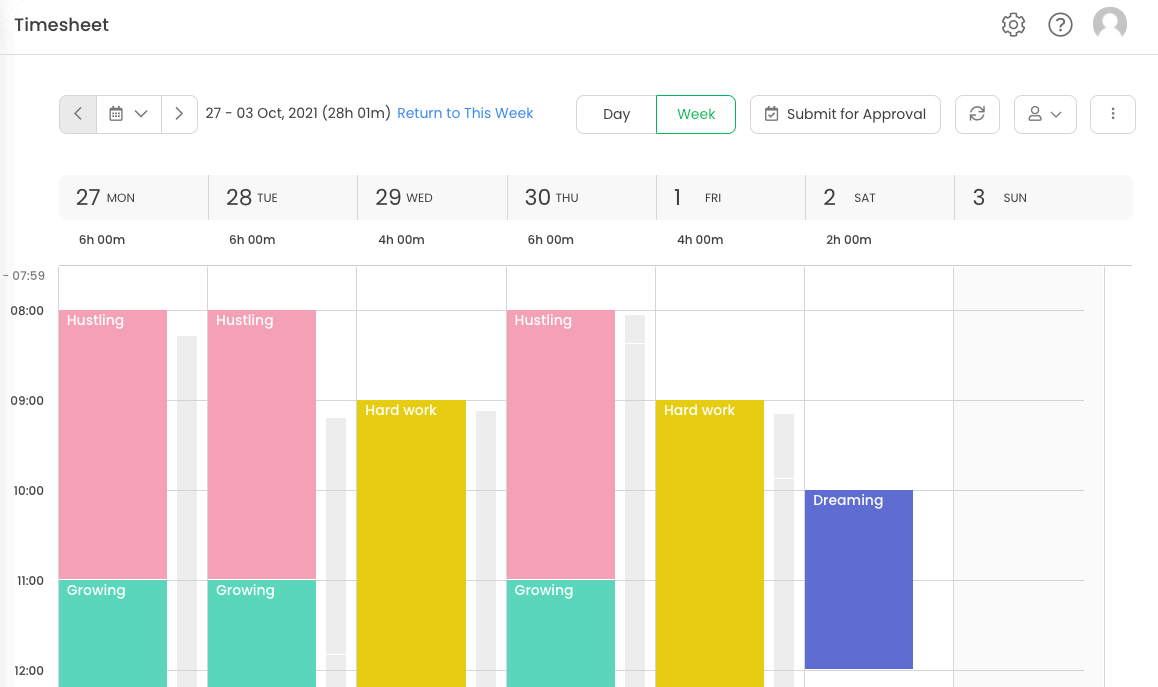 TimeCamp is one of the best Klok alternatives available as it allows you to manage your team and projects free of charge effectively. TimeCamp is one of the only time tracking software apps that features effective idleness updates to see how productive your team is.
You can make your team more productive by keeping track of sites visited.
TimeCamp allows you to identify sites your colleagues visiting for non-work purposes. You can keep your company staying profitable by identifying billable hours from non-billable hours and bill your clients easily.
Ready to try TimeCamp?
Sign up and start tracking time today!
Why is TimeCamp a good Klok alternative?
TimeCamp is a good Klok alternative as you can insert tags on TimeCamp, whereas you cannot do so on Klok. TimeCamp also makes it easier to gauge profits, analyze your team's absences, and set productivity goals.
Pricing
TimeCamp's free version grants access to unlimited users, works on mobile and desktop, allows for tags to be added, and allows for users to start as many projects as necessary.
TimeCamp's Basic package is $5.25 per month. This provides employees with productivity tracking with regular reports.
TimeCamps's Pro package is $7.50 per month and allows for invoices to be generated and sent, and grants customized user roles.
2. RescueTime – software that makes sure time is spent working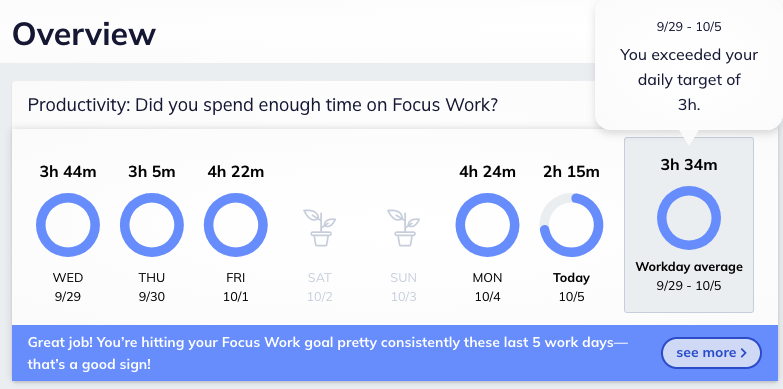 RescueTime focuses primarily on minimizing time wasted. This software alerts you when you have spent too long on a particular task, ensuring that you move to the next task in a timely fashion. It also provides you with handy percentages detailing how long an employee has been on particular website windows. For example, it will say 30% on news and factual sites, 20% on software development, etc.
Employees can analyze their usages of websites and determine where they are wasting time.
Why is RescueTime a good Klok alternative?
RescueTime is a good Klok alternative because it provides a more accurate representation of how employees use their time. It encourages workers to spend their time on more beneficial sites and limit their time on less beneficial websites.
Pricing
The Lite version of RescueTime is free and allows you to understand how the website operates. Premium is $12 per month and gives you better insight in terms of tracking.
3. Toggl Track- time tracking for multiple team members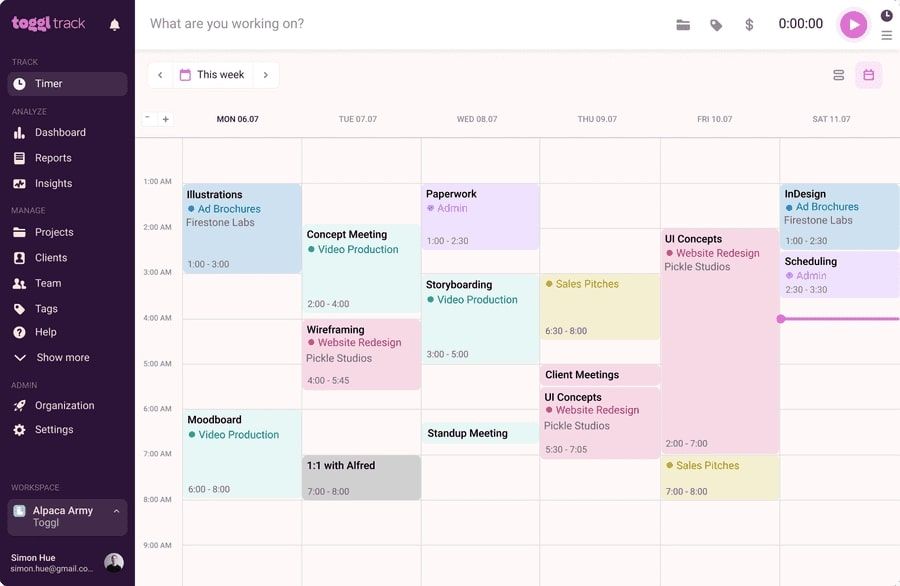 Toggl Track delivers all you could expect from a time tracking application, allowing all members of your team to track their time automatically or manually. The app's visual display is clean and easy to use. You have the option to either use Toggl Track on your browser or as an app.
Toggl's interface allows you to adjust time, titles, due dates and even track time while offline.
Is Toggl Track a good Klok alternative?
Toggl Track is a good Klok alternative as it allows you to plan future projects, log timesheets and edit past timesheets. Toggle Track offers a unique time capturing feature, and it also allows you to keep on top of tags, neither of which Klok can perform.
Pricing
Toggl's free account is only compatible with one user.
Toggl's Team package costs $8 per user per month and grants an unlimited amount of team members to work on an unlimited amount of projects. It also offers 100MB worth of storage space.
Toggl's Business package allows your team to exchange data with clients and costs $13.35 per user per month.
4. Hubstaff – sync your Cloud storage with this time tracking app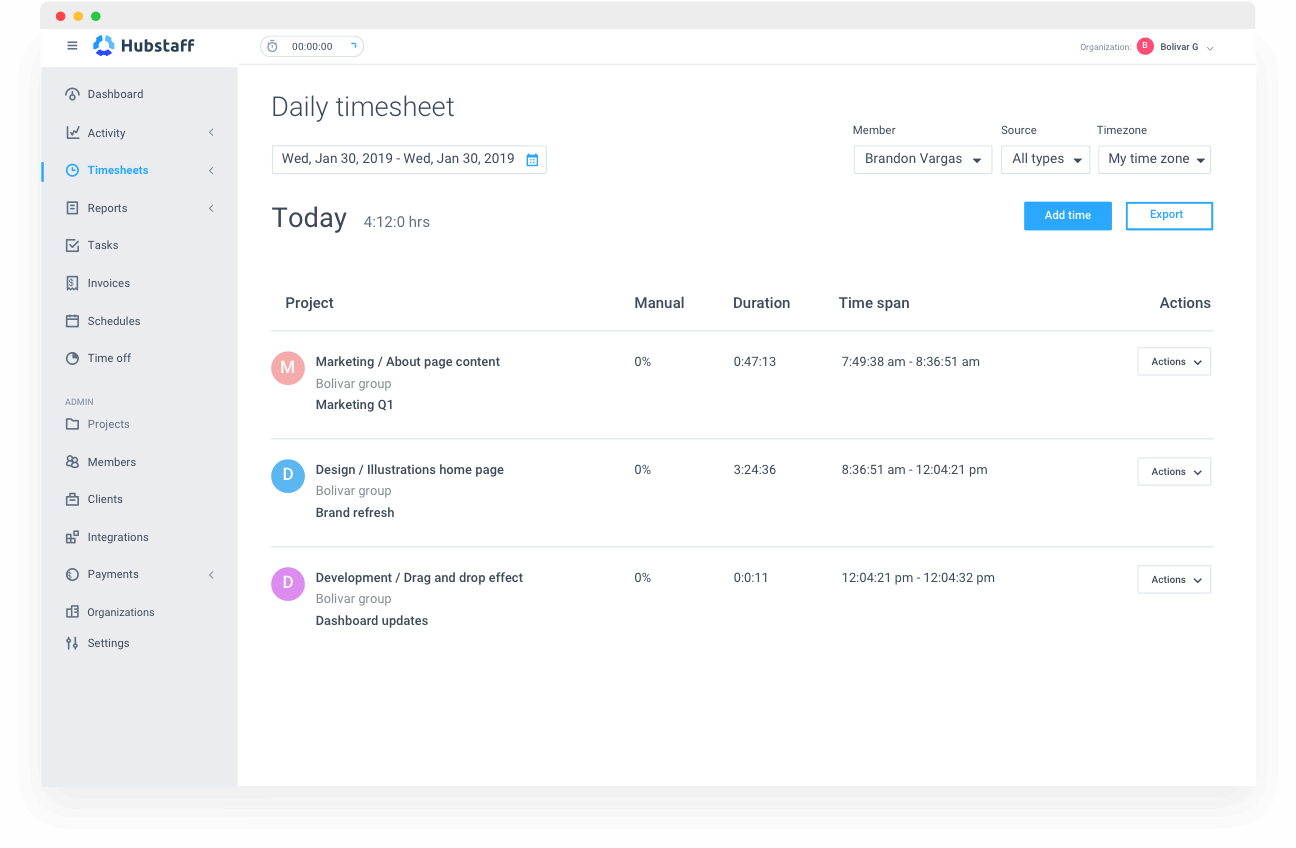 Hubstaff is the perfect Klok alternative for remote workers. This app provides real-time updates on every aspect of your team's progress, from apps to URLs used. You can also effectively organize shifts on Hubstaff, allowing you to figure out how much time each team member has to complete a certain task.
Hubstaff is a beneficial software as it is highly compatible and even syncs your work with the Cloud. This feature keeps you up to date on your team's whereabouts, timezones, and other useful data.
Why is Hubstaff a good Klok alternative?
Hubstaff is a good Klok alternative because it can accurately track vacation and leave absences, whereas Klok cannot. Other advantages that Hubstaff has over Klok include providing higher quality timesheet management, organizing several billing rates at once, and an excellent overtime calculation feature.
Pricing
Hubstaff offers a free account that allows up to five users to work on a maximum of 10 projects.
Hubstaff premium is $5 per user per month. This premium version allows for an unlimited amount of users to work on an unlimited amount of projects.
5. Harvest – Record time accurately on this reliable tracker application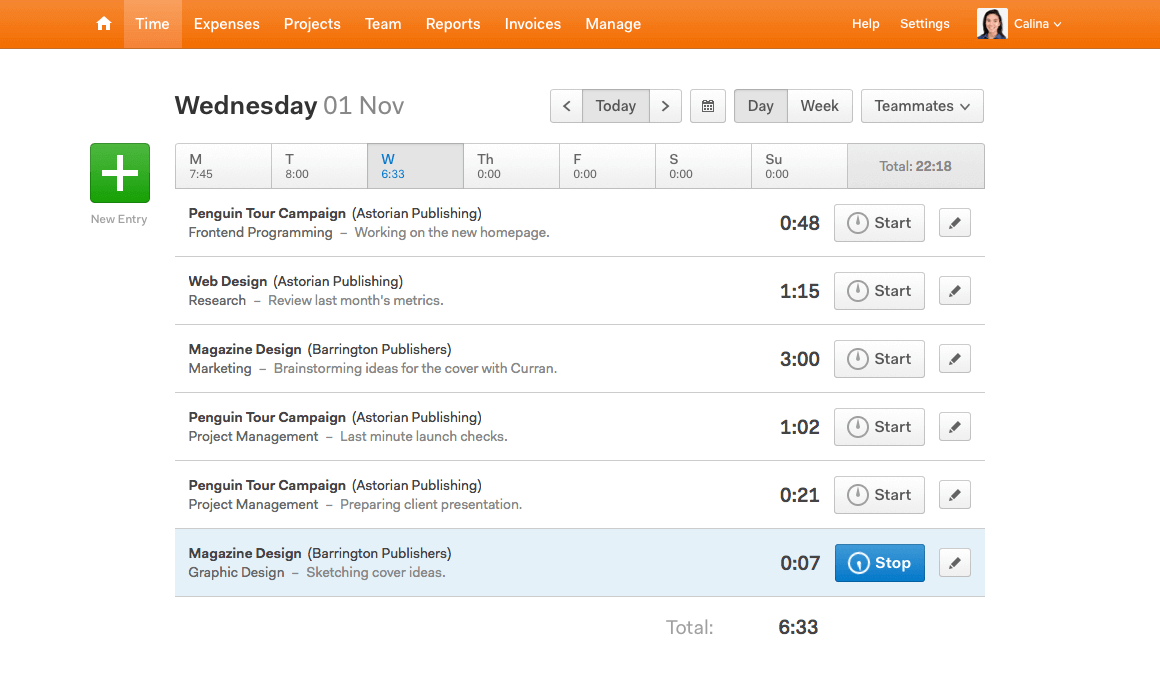 Harvest may only be available for desktops, but it provides a great time tracking service for remote workers. Harvest is the best option if you want a straightforward tracker app with some project management features. This software also makes it simple to generate invoices for each week.
Harvest is highly compatible and can work alongside other software like Asana, Trello, PayPal, and Basecamp.
This app also tracks idleness and displays this as 'non-billable' hours on the timesheet review.
Why is Harvest a good Klok alternative?
Harvest is a good Klok alternative as it is a more accessible application for managing absences and overtime workers. Plus, it offers a free trial, whereas Klok does not.
Pricing
Harvest offers a free account, which allows for one user to work on two projects.
Harvest also has a pro version that costs $12.00 per month per person. Harvest Pro allows for unlimited users to work on an unlimited amount of projects.
Conclusion
Klok time tracking is highly efficient for keeping on top of employee activity. It features all of the main aspects that you'd expect from a work tracking application, including offline time entry tracking, invoice generation, and time capturing capabilities.
Klok also has several other limitations, such as an inability to calculate income or budget.
Many alternative time tracking websites can outdo the capabilities of Klok, with extra features that ensure all employees spend working time valuably.
TimeCamp is the best alternative option to Klok in terms of ability and price. TimeCamp actively works to save you money by giving you idleness updates and tracking your employees' online whereabouts at all times. TimeCamp is truly an economic time tracker, with no hosting fees and a highly efficient free version available.
Sign up for TimeCamp today to start tracking time effortlessly!