Best Employee Scheduling Apps for Every Business
February 17, 2023
by Ola Rybacka
No comments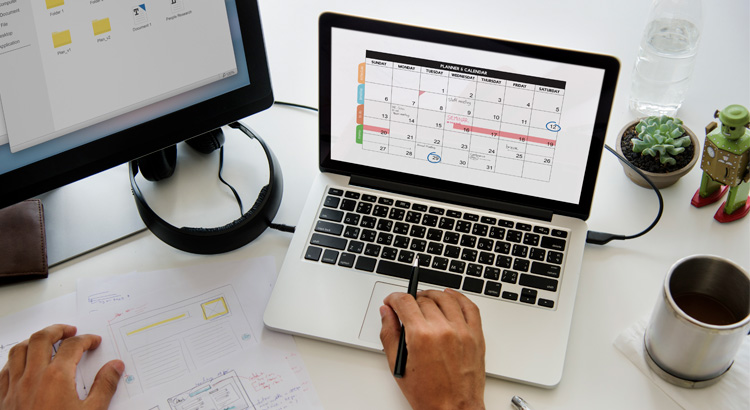 Work and employee scheduling are a must-have for companies where jobs are performed in rotations. However, these days it's quite painful doing it manually, wasting tons of paper. Modern days require modern solutions – and that's why the SaaS market is full of meeting and employee scheduling software that makes this process smooth and easy.
What is employee scheduling?
Employee scheduling, or workforce scheduling, is a crucial part of workforce management. But it's not only about the usual shift coverage – creating employee schedules should be cost-effective and profitable for both company and its employees.
No matter the service industry, each company needs a crystal clear scheduling policy. It allows creating and executing of a fair employee schedule, taking time off requests and holidays into consideration. What's more, a proper work schedule positively affects employees' productivity and efficiency and keeps everyone on the same page.
The well-planned schedule, based on throughout analysis of employees' availability, prevents from:
scheduling conflicts and misunderstandings,
problems with task delegating,
wasting labor costs.
Not so long ago, businesses used to plan work schedules with pen and paper or using Excel in the case of more tech-savvy teams. Schedule distribution was poor and often caused problems, especially for new employees Now, in times of automation, employee scheduling can be done with just a few clicks online using a cloud-based solution of work schedule apps – this way is undeniably more efficient and lowers the time cost of the entire process.
If you're still looking for a perfect scheduling app to cover your employees' shifts, we listed all the most recommended work scheduling apps on the SaaS market. However, before introducing them, let's look closer at the features these apps offer.
👉  Read also about flextime.
What are the features the best employee scheduling apps should have?
As the popularity of SaaS tools grows, there are more resource scheduling apps on the market. Some of them are quite ordinary, packed only with scheduling features, while others are more sophisticated, supporting HR processes. Of course, it's good there are many scheduling software to choose from; however, a wide choice can be confusing, especially for beginners.
How to choose a perfect employee scheduling app that'll help the company optimize labor costs?
Here are the essentials we should look for when giving a work scheduling app a try:
work schedule and employee schedules,
various ways of time tracking, like automatic timers, time clocks, timesheets,
a calendar, (or personal calendar apps integration, e.g. with iCal or Google Calendar),
employee attendance and leave management
both the desktop app and mobile apps,
good customer service (essential at the beginning of the tool's usage – many companies offer training sessions for beginners),
a possibility to submit time off requests,
messaging feature (e.g. all group or 1-1 chats)
Additional perks that are not necessary but can help you automate other HR processes:
meeting scheduler features with various meeting types,
payroll reports,
productivity tracking with worktime reports,
exporting to popular formats like Excel, Google Sheets,
appointment reminders or push notifications,
clock-ins.
What's more, always look for the free trial and the best users and features to price ratio.
What's the best scheduling app for your business?
Now you know what to look for when choosing an employee scheduling software. Let's take a look at what the SaaS market offers!
TimeCamp and work schedule apps
💚 Automatic time tracking software with attendance and time reports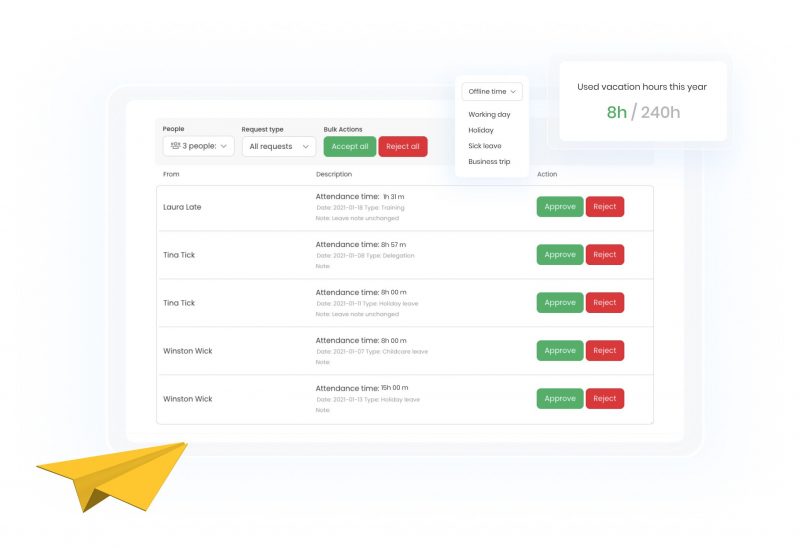 Even though TimeCamp doesn't offer work schedule planning, its features allow you to take employees' availability under control and improve the scheduling process. The tool provides you with a detailed overview of work hours for both fixed and hourly employees, and makes managing labor cost way easier.
There's an accurate time tracking, which provides managers with valuable data on their employees' time usage – how much time they need to finish the tasks or how long are the private and group meetings. And thanks to the easy-to-use app for mobile devices, users can log hours for their tasks no matter where they are.
Our attendance module can also be used for scheduling employees and to manage availability. Except for normal working days, it also tracks time off, like vacations, holidays, and sick leaves. Once the app works, it clocks the employees in and clocks out when they finish their tasks. One glance at the stats, and the managers know all the employee's availability for a particular time period – in an effortless way.
What's more, with Google Calendar integration, you can track time for all your and your employees' meetings and events and assign tasks to them. The results are priceless for scheduling further meetings because we know almost precisely how much time we should devote to them while planning shifts.
💸 Pricing: Now, you can get TimeCamp for free for unlimited tasks and users. You'll find attendance and leave management in the lowest pricing plan ($6.99 per user per month).
Homebase
👉 Fully-featured employee work scheduling app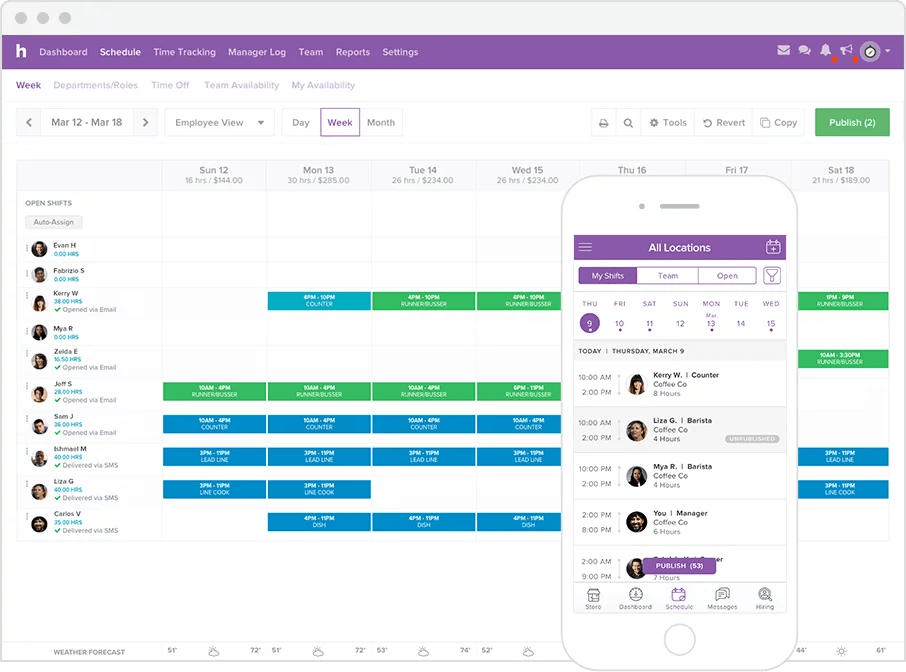 If you want to make sure your team schedules are in perfect sync, try Homebase. The app is a work schedule planner that offers two-way automated scheduling: ready-made scheduling templates and automatic mode. It monitors employees' availability, so it's easy to avoid conflicts when creating a schedule.
It also allows you to send notifications to staff members with details of their shifts and any schedule changes.
🔥 Key perks:
Scheduling and shift planning
Performance tracking
Team communication
Attendance
Hiring
Employee surveys and onboarding
Employee documents & management
💸 Pricing: Homebase offers a free plan (for one location and unlimited employees) with features that are paid in most of the competitors: scheduling and availability, time clocks and timesheets, team messaging, and hiring. The price of the paid plans starts at $14 per month per location.
Extra: If you need a free work schedule template, visit their website, enter your email address and download it.
When I Work
👉 Employee scheduling app for shift-based workplaces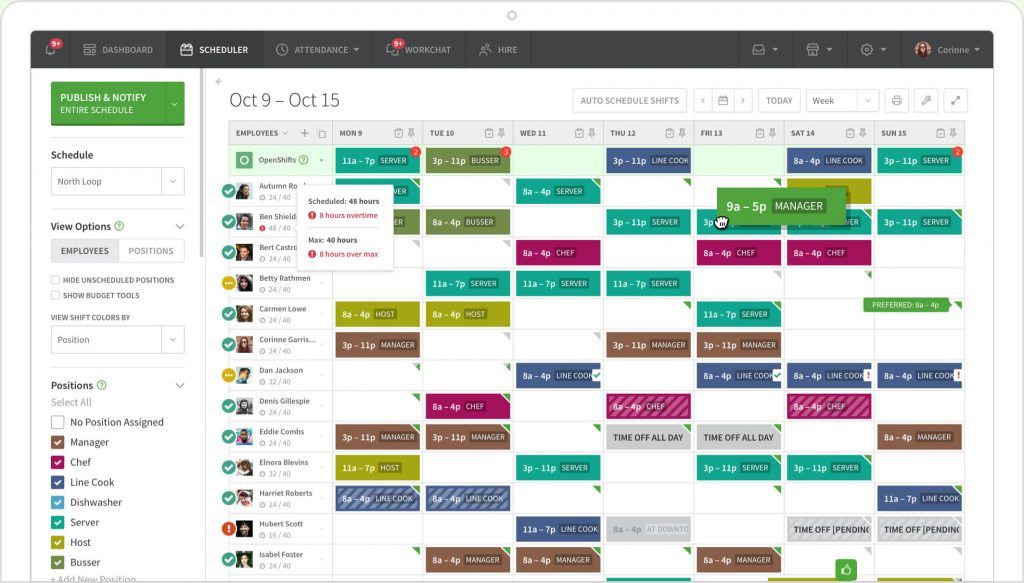 Perfect employee scheduling app for companies hiring hourly workers. When I Work, employee scheduling software clearly shows employees' availability and automatically creates a schedule for a chosen period, saving you up to 15 hours per week. The app allows you to create an error-free schedule, and publish schedules and makes the entire work management process more efficient.
🔥 Key perks:
Employee scheduling
Team messaging
Time clock and timesheets
Shift planning
HR integrations
💸 Pricing: When I Work doesn't offer a free plan, but the price is affordable. The paid one for small businesses starts at $2 per user (up to 100 users) and includes scheduling and communications. Good price for a rich-packed app.
Extra: On their blog, you'll find free scheduling and timesheet templates. However, to download it, you should enter your name, email address, and the number of company members, all for the purpose of template customization.
ZoomShift
👉 Employee scheduling app for hourly billing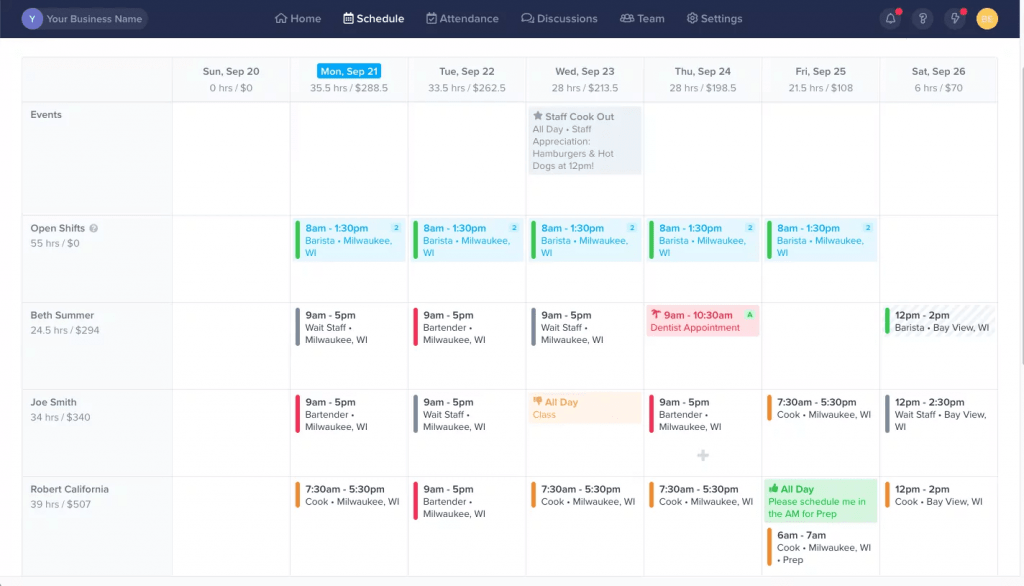 Zoomshift is a work scheduling app that encourages business owners to ditch spreadsheets and start using online solutions for managing employee availability. The tool offers ready-made schedule templates, saving you hours of scheduling shifts manually. Thanks to the drag-and-drop interface, you can easily move the shifts across a calendar view and create a week's schedule in no time.
Once the entire team is invited to browse the tool, you can see their work hours and preferences (so that you can quickly find the replacement if needed). They can also request time off and take the shifts that are open or swap them.
🔥 Key perks:
Employee schedule,
Time clock and timesheets,
Shift planning,
Shift swapping,
Payroll report,
Overtime warnings,
Automatic reminders
💸 Pricing: ZoomShift work schedule app doesn't offer a free plan; however, there's a 14-day free trial to try the features before purchasing. The least expensive paid plan (price: $2 per user per month) offers, e.g., work schedule, availability and time offs, and shift cover requests.
Shiftboard
👉 Hourly employee scheduling platform for easy workforce management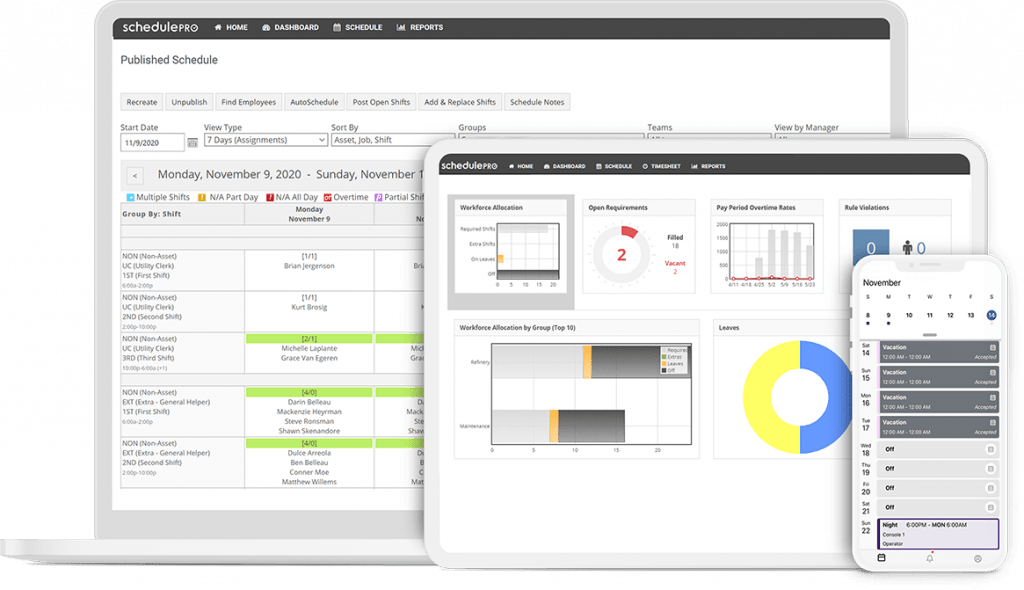 If your company belongs to the manufacturing sector, then you should take a closer look at Shiftboard. It's a smart workforce scheduling tool for both production and service-centric businesses. It helps you schedule the employees, whether your organization needs a tool for a set rotation, to create recurring shifts, or adjusts daily staffing.
🔥 Key features:
Employees and work schedule,
Automatic scheduling,
Shift pattern rotation,
Time off requests private,
Employee self-service: mobile apps, shift trading, time off requests,
Overtime management,
Reporting,
Workforce management.
💸 Pricing: For both their products, SchedulePro and ScheduleFlex, Shiftboard offers two subscription plans. However, except for the features comparison, they mention neither the prices nor if the free trial is available.
Extra: Shiftboard team organizes webinars that cover important topics for the manufacturing sector.
Sling
👉 Work scheduling app with communication features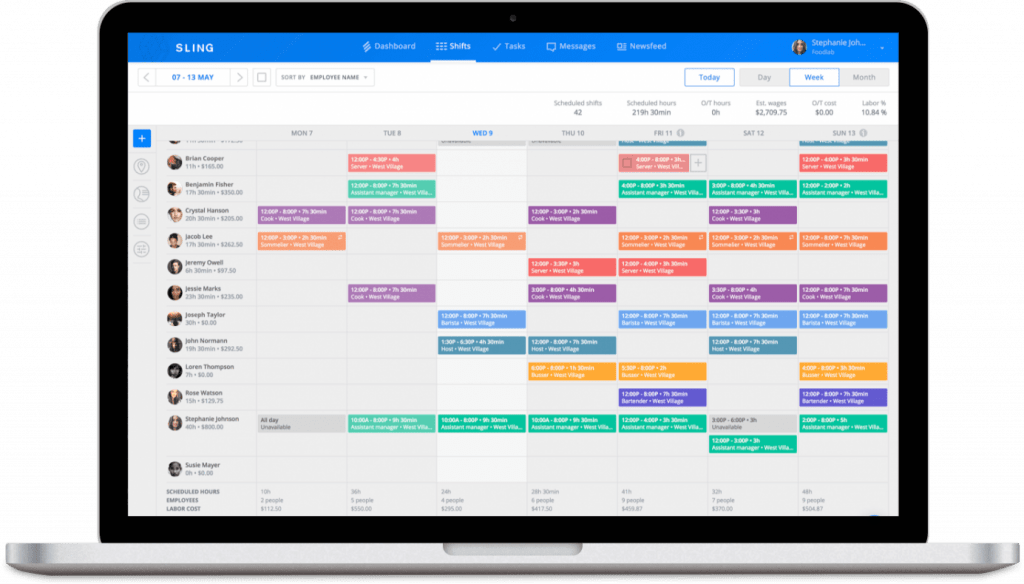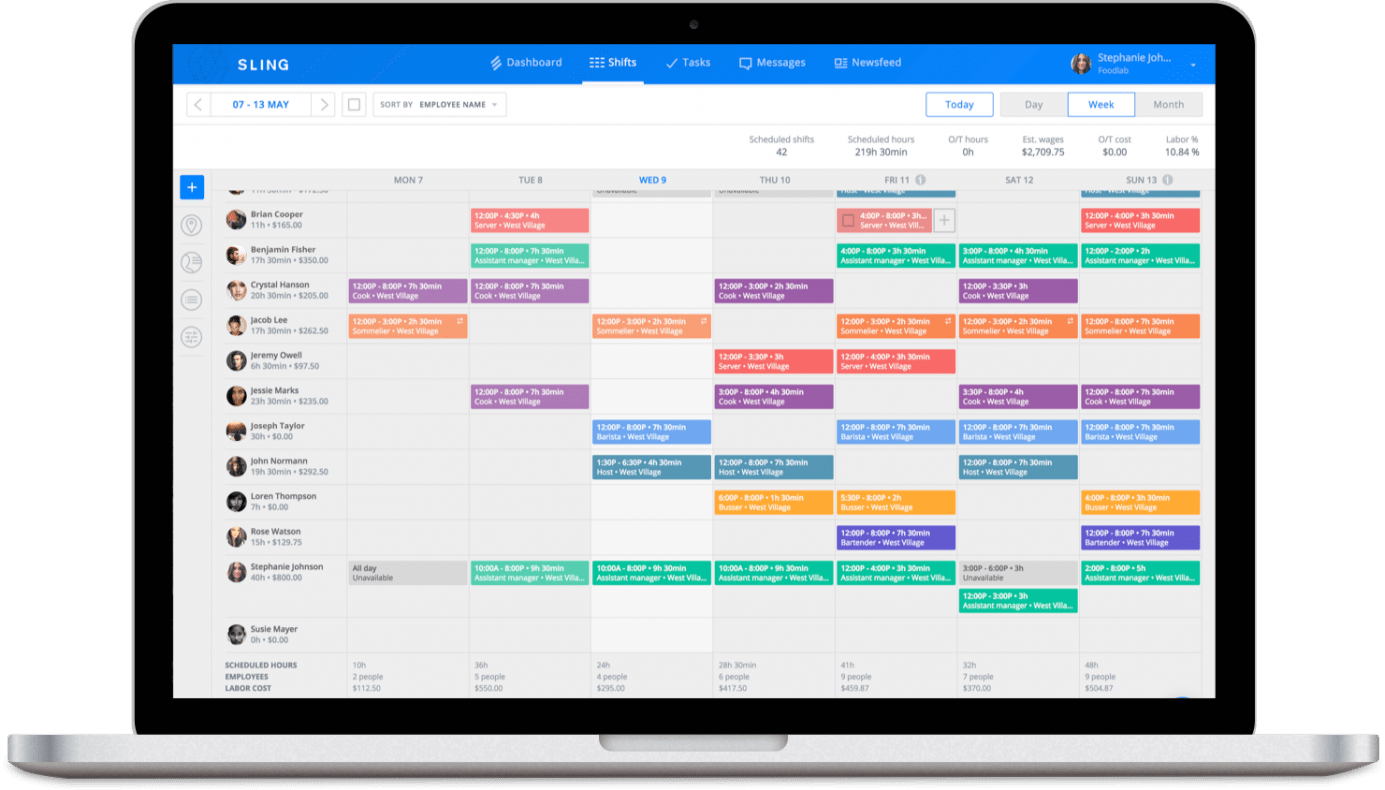 Smart employee scheduling positively affects the decrease of labor costs. Sling, an employee scheduling tool, helps businesses, no matter of size, create and optimize schedules, predict costs, and make adjustments if needed. Making the entire process automatic, this scheduling software significantly reduces the time devoted to staffing.
👉 Read about Business Process Reengineering
🔥 Key features:
Shift scheduling,
Time and attendance,
Overlapping shifts scheduled,
Labor cost optimization,
Reporting,
Paid time off request,
Team messages,
Newsfeed,
Task management
💸 Pricing: A free plan focuses mainly on employee scheduling feature. If your business needs something more, like an attendance platform or timesheets, purchase one of two available pricing plans that start from $2 per user per month.
When To Work
👉 One-click scheduling app with AutoFill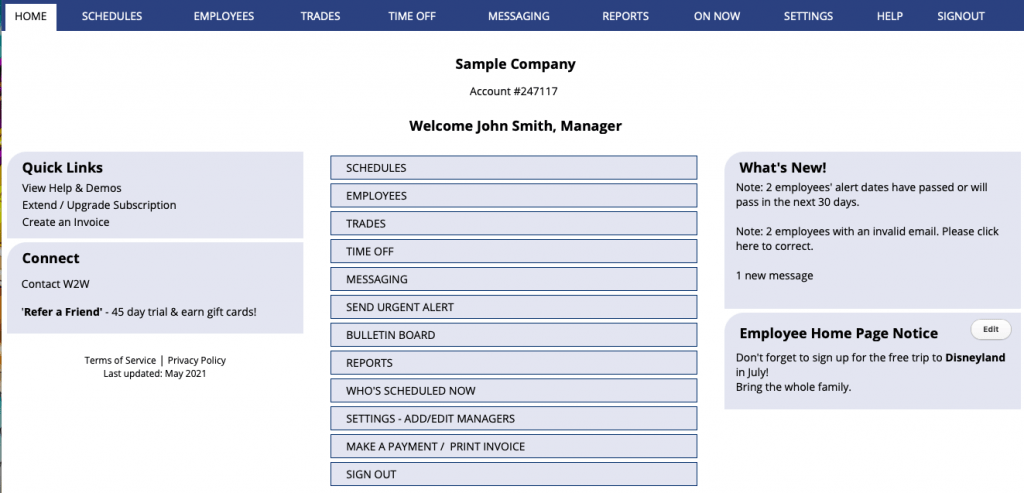 When To Work, as the name says, provides business owners with a smart work schedule app. It allows the employees to set their work time preferences, which is a clear message for managers who are available for the open shifts. Then, thanks to the "AutoFill" features, it's just one click to fill the schedule based on the preferences and approved time-off requests.
The app also helps find a replacement if needed, matching the best people in no time. Once employees are chosen, they get push notifications that help them get ready for extra work in advance.
🔥 Key features:
Schedule work events with AutoFill,
Various schedule views: graphic, calendar, list or chart,
Replacements,
Shift management with confirmations,
Automatic notifications,
Customization.
💸 Pricing: When To Work has a quite straightforward pricing plan that includes all the features but varies depends on the number of employees. There is also a free 30-day trial.
Humanity
👉 Employee scheduling software for happier employees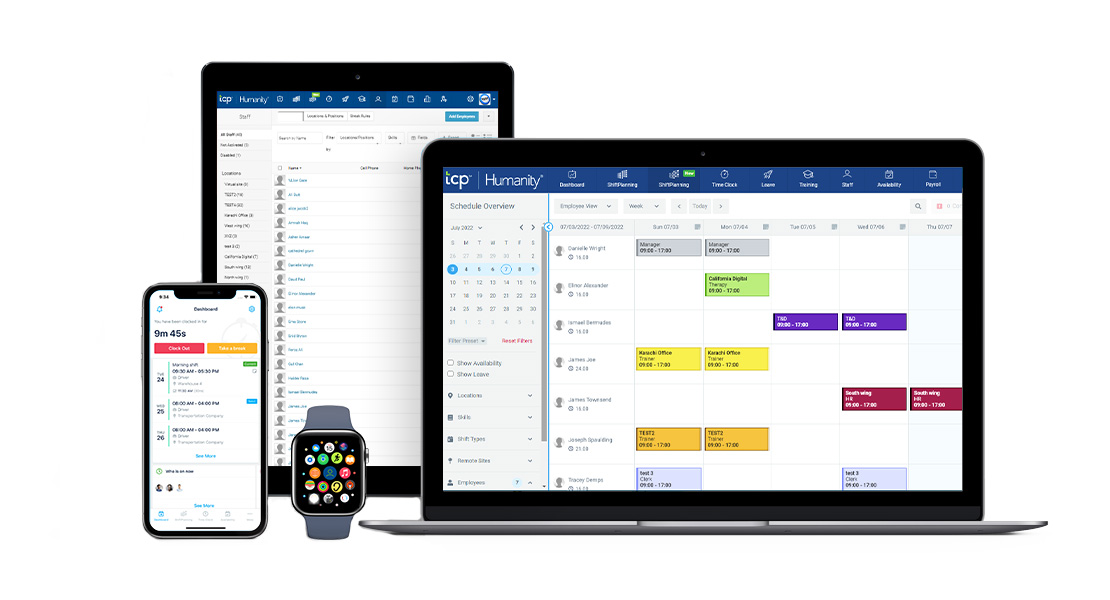 Humanity is another cloud-based employee scheduling software. It makes the entire scheduling process data-driven, so you don't have to guess whether an employee is available at a given time or not. Humanity also offers flexible shift planning, so you can always make changes in your staffing if needed. What's more, the app allows creating custom scheduling rules to ensure the schedules comply with law regulations.
🔥 Key features:
Demand-driven scheduling
Auto-scheduling
Custom rules for law compliance
Flex scheduling to avoid understaffing
Time clock
Integrations with HR tools
💸 Pricing: Humanity offers paid plans that start at $3 per user per month (but require a minimum price of $80 per month). A free trial is available.
Harvest Forecast
👉 Resource planning to schedule employees across projects and tasks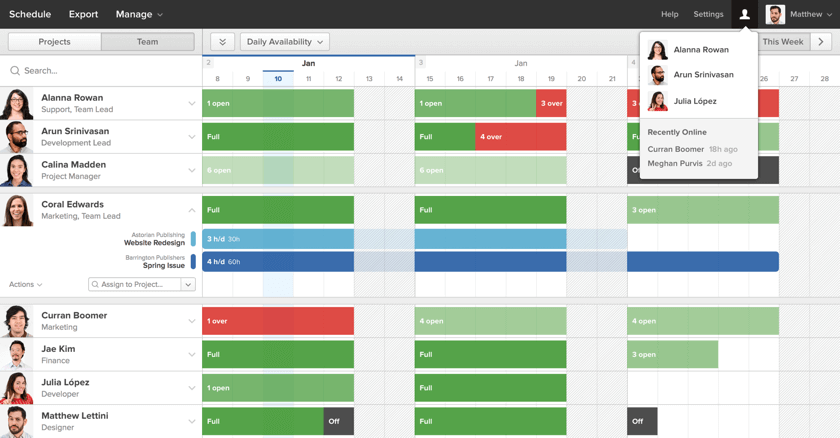 However, Harvest is primarily a time tracking software; they also created a work scheduling app. It shows clearly how busy the team is at a given time, so it's easy to assign the right people to ongoing and further projects. With Forecast, the entire team stays on the same page with managers and partners, so the chances of misunderstandings about who's currently working on what is reduced to the minimum.
🔥 Key features:
Visual time planning,
Flexible team permissions,
At-a-glance utilization,
Harvest integration,
Data export.
💸 Pricing: You can get Forecast for $5 per user per month. A free 30-day trial is available.
PlanDay
👉 Staff management and shift scheduling in one, easily accessible app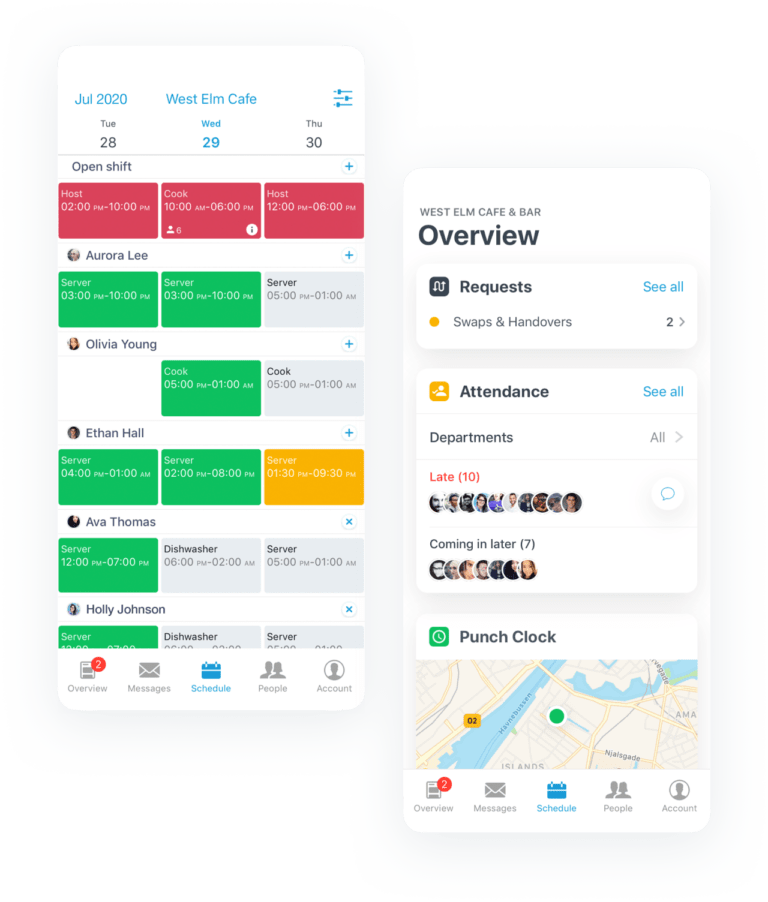 Planday is an all-in-one app for an effective work schedule, no matter how many employees your business hire. Thanks to the one shared app (available as desktop and mobile app), all your employees can access all the important details about upcoming shifts, swap them in no time if needed, or set their working preferences. What's more, this schedule planner is also packed with team communication and allows everyone to share their thoughts in a group chat.
🔥 Key perks:
Staff management
Scheduling
Shift swapping,
In-app chat feature,
Punch clock
Reporting
💸 Pricing: PlanDay doesn't offer a free plan, but their paid plans are for quite an affordable price that, starts at 2.49€ per user per month.
CoastApp
👉 The smart work scheduling software for every business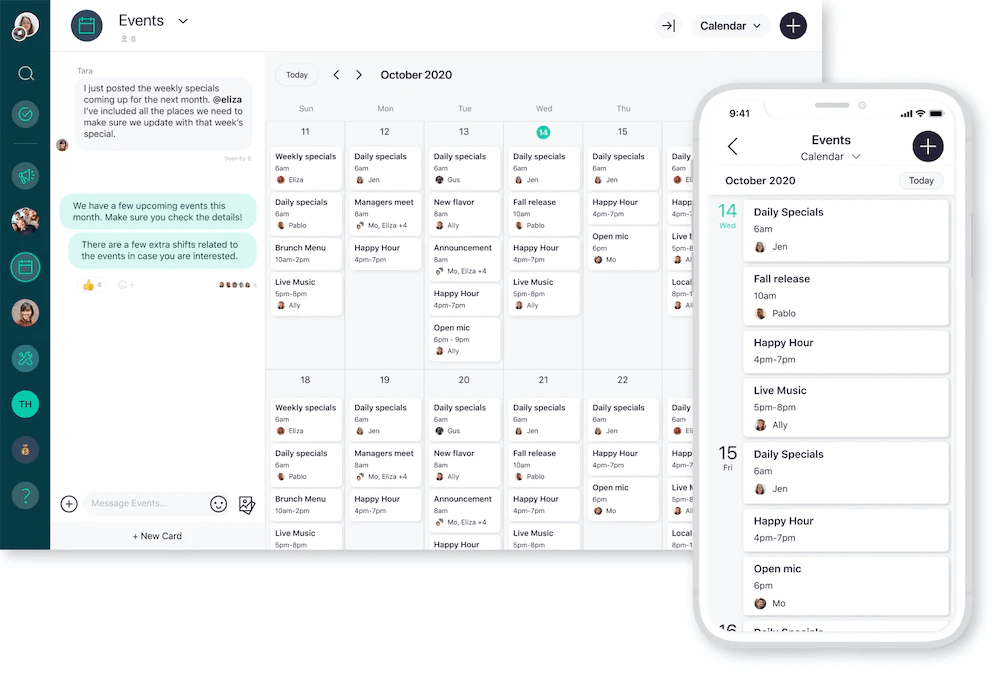 No matter how many people your business hires and how many tasks they perform, CoastApp will significantly support everyday team management. Except for an easy-to-use work schedule, the app allows employees to communicate easily and helps everyone stay up to date with multiple shifts. It provides every business with a group chat and shows who has already seen the schedule, messages, or tasks.
🔥 Key perks:
Work schedule easy to use for both managers and employees
Team communication
Tasks
Business maintenance
💸 Pricing: A quite rich-featured plan is available; however, if you need, e.g., more extended file storage, you have to purchase one of the paid plans that start from 4$ per user per month.
Calendly
👉 Perfect for teams and freelancers who need help scheduling meetings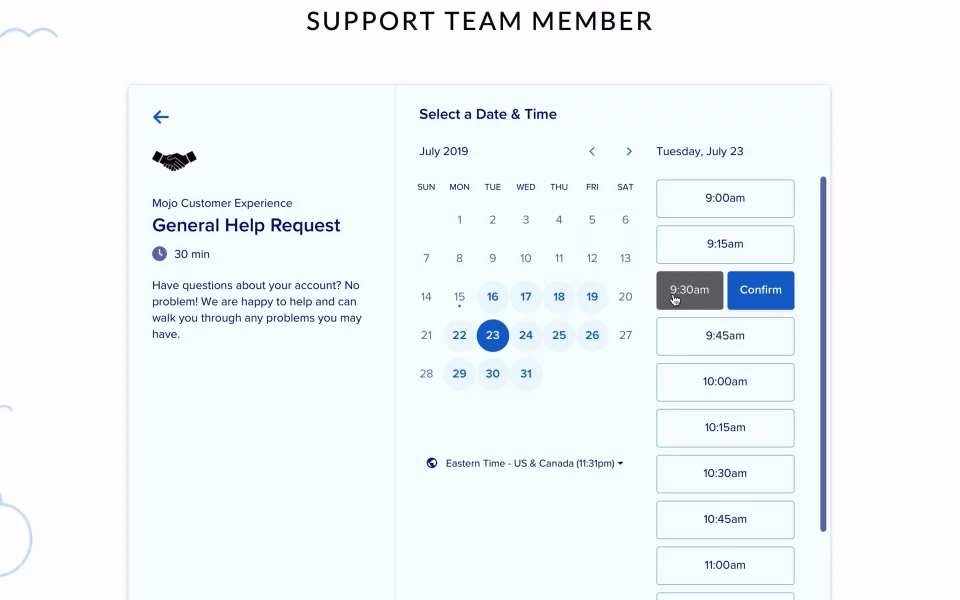 The appointment scheduling tools, such as Calendly, work well as great support for those who spend the majority of their working hours on meetings. As a calendar app, it not only helps schedule upcoming appointments but also shows the employees' workload for a person responsible for schedule creation.
With a wide range of appointment scheduling options, like availability sharing or preferred times settings, you can easily schedule the meetings without worrying if they would collide with other responsibilities.
💸 Pricing: A free plan is perfect for basic meeting scheduling. Paid plans allow you to add up to 6 calendar connections per user and start from $8 per month. A 14-day free trial is available.
Google Calendar
👉 Basic work schedule coordination for basic needs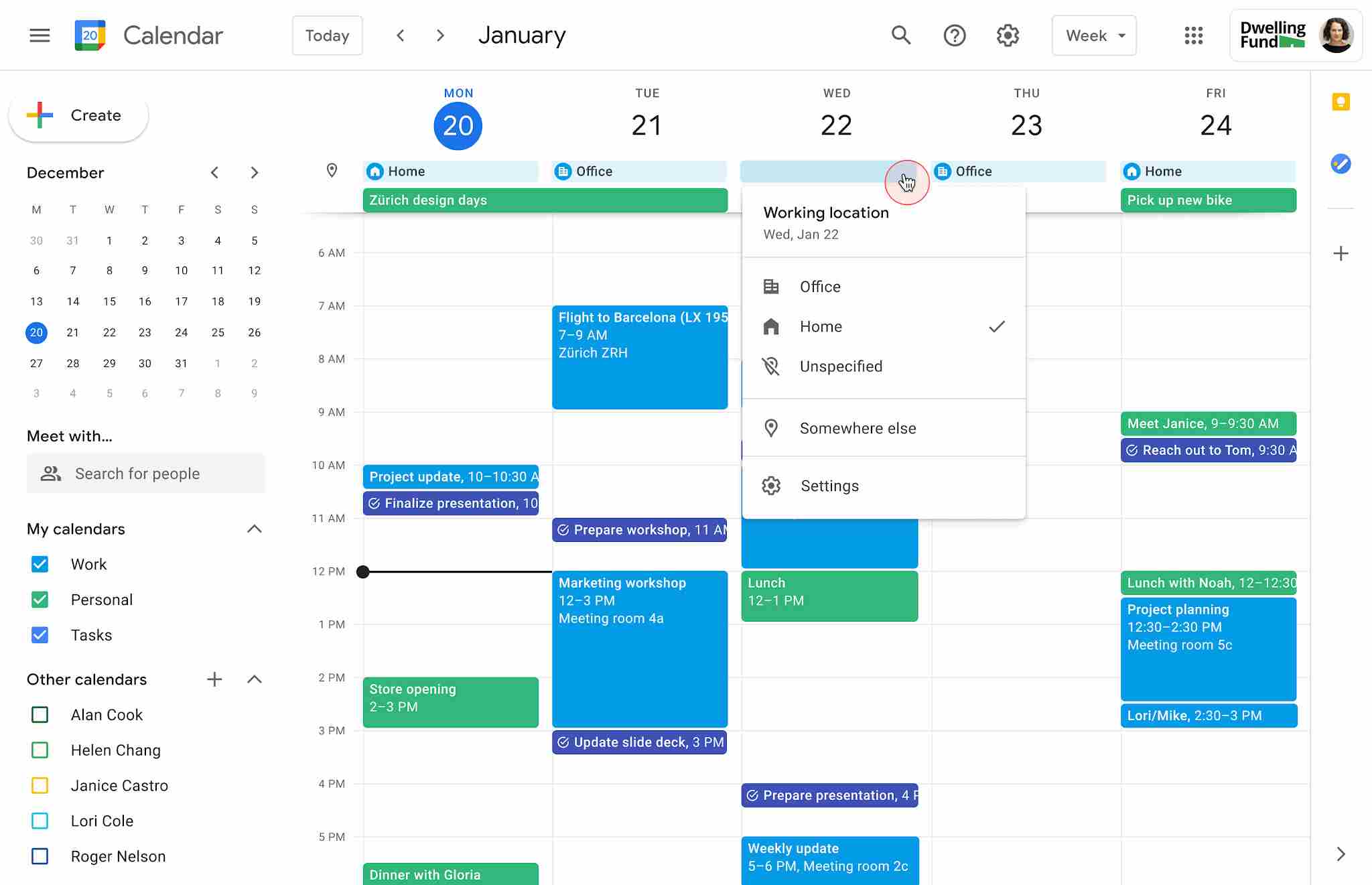 Most of us use Google Workspace products daily and are familiar with their Calendar service. And sure, companies can use it as an employee scheduling app – because of the sharing feature.
Once all of your team members use Google Calendar for daily work planning and meeting schedule, it's easy to find out how available they are. Next, you should create a new calendar and plan shifts for, e.g., a week ahead, adding employees' activities as events.
Make sure to add your employees as attendees for each event/meeting that applies to them and invite them to subscribe to the new calendar.
This method, however cost-free, is quite tedious for managing bigger teams. Beginners in scheduling or teams with rather predictable staffing will make good use of it.
Check our Google Calendar time tracking integration!
Work schedule apps – a conclusion
Tracking employees' working hours and their schedule is a must-have these days. First, it positively affects team members' performance; second – every business owner is required by law to track attendance. And no matter how many employees your business hire, automated scheduling apps are always a significant help to make the entire process paperless and with reduced time cost.
Before choosing a perfect app to schedule shifts and manage employee hours, make sure it meets your needs during a free trial – luckily, most of the tools mentioned above offer it. But no matter which one of the scheduling apps you choose, it will definitely make a good profit for your business and help you with managing labor costs.
No matter how big your team is – if it's just 10 or 100 team members, ditching pen and paper-based scheduling processes is always a good choice. We showed you the best employee scheduling apps.- now it's your turn to choose your favorite one!
Let TimeCamp help you streamline the scheduling process – sign up for a free trial!