Top 10 Time Tracking Software for Linux
February 24, 2023
by Tomasz Celler
13 comments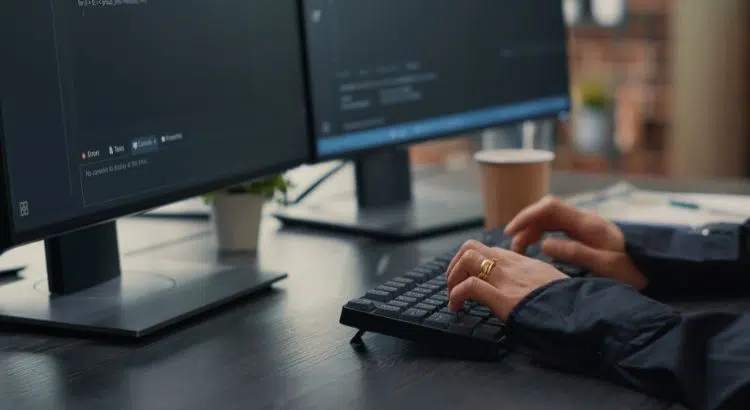 Time tracking is a practice that involves recording the time spent on various tasks, projects, and activities. It is used to monitor productivity, improve efficiency, and optimize workflows. Time tracking is essential for businesses to ensure that projects are completed on time and within budget, while also maximizing profitability.
Time tracking software can be useful for individuals and businesses that use the Linux operating system. There are several time tracking software options available for Linux users, including both free and paid options.
What is the Linux Operating System?
Linux is a free and open-source operating system that was first created by Linus Torvalds in 1991. It is based on the Unix operating system and is known for its stability, security, and flexibility. Linux has become popular among individuals, businesses, and organizations worldwide, and is often used by developers and system administrators.
Linux is not very popular computer software (at least among regular users, software engineers, for example, prefer to work on it), but it is the leading operating system on servers, mainframe computers, and virtually all fastest supercomputers. It is also worth mentioning that without Linux there wouldn't be Android as we know it now, no network routers, video game consoles, and smartwatches.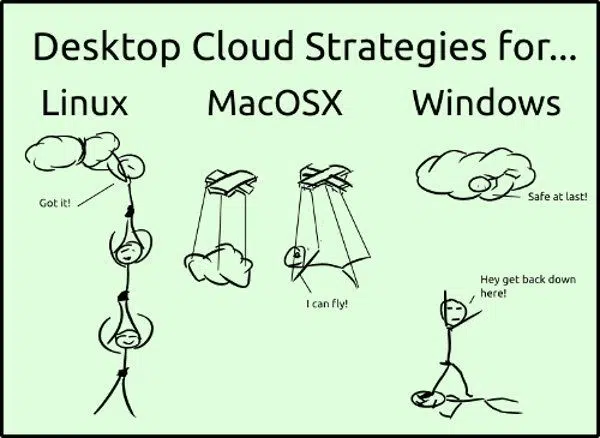 Source: https://itsfoss.com/
Okay, that's enough about Linux, let's get to the topic of this post – a presentation of time tracking software designed for this system. As it is not so popular as Windows or Mac OS, there are many of them but we have done some research and found a few pearls.
What is the best time tracking software?
And again we place ourselves on the top. But it wouldn't be like this if we did not consider ourselves to be the number one free time tracking app there is! Our desktop version for Linux offers the same features, as the app designed for Windows and Mac, including:
Automated time tracking: an automatic and accurate time tracking feature that allows users to track their time without any manual input.

Customizable timesheets: TimeCamp provides users with customizable timesheets that can be tailored to their specific needs.

Project and task tracking: users can track their time by project and task, making it easy to see how time is being spent on different activities.

Productivity tracking: a productivity feature that provides insights into how much time is being spent on productive tasks versus non-productive ones. It surely improves task management.

Integrations: integrations with a range of popular productivity tools, such as Trello, Asana, and Jira, and more.

Reporting: generate reports, including daily, weekly, and monthly reports, as well as reports on specific projects or tasks. Program counts time totals but also has an option in reports to include non-billabe and billable time.

Mobile app: a mobile app that allows users to track their time on the go.

User-friendly interface: a simple and intuitive interface that makes it easy for users to track their time and access their data.

GPS tracking: TimeCamp allows to track employee location and track work hours to improve workflow.
And many, many more…
Overall, TimeCamp is a comprehensive and flexible free time tracker for Linux users, offering a range of features to help individuals and teams track their time effectively and optimize their workflows. The app usage is intuitive and easy so helpful when you want save time.
👉 Check also our article about GPS tracking apps and choose one which best suits you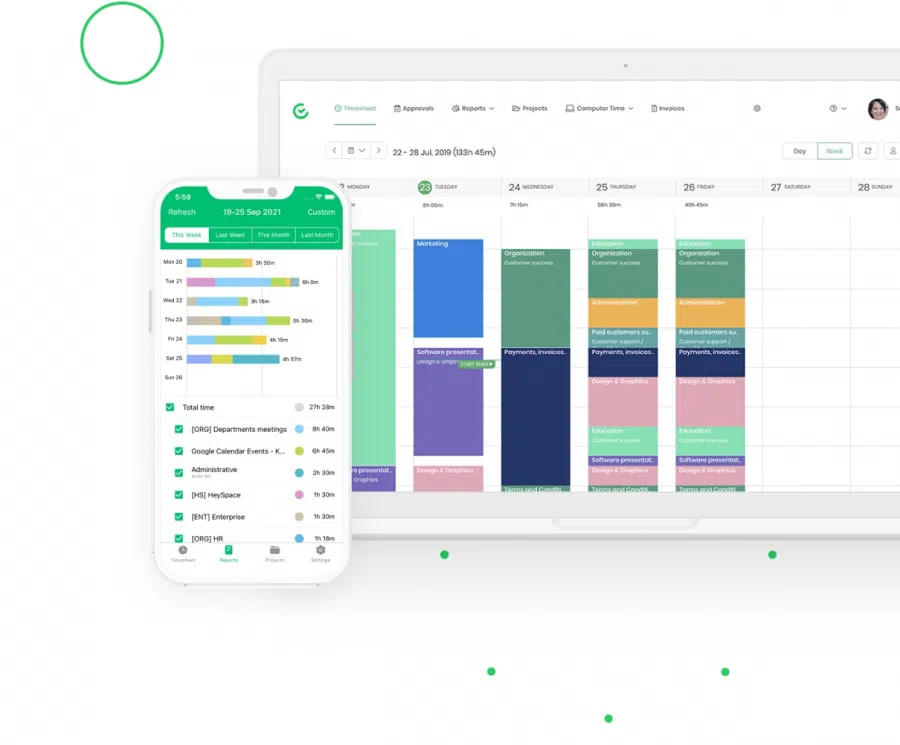 Start using TimeCamp today! Visit our website and see how many possibilities our software offers.
Register and start tracking time today for free!
2. Project Hamster
Project Hamster is a popular among users of Linux time tracking app, and it comes with several features to help users track their time effectively. Some of the key features of Project Hamster include:
Task management: Project Hamster allows users to track time spent on different tasks and activities, and it provides detailed reports on how time is being used.

Reporting: various reporting options, including daily, weekly, and monthly reports, as well as reports on specific projects or tasks. Also, it is possible to create billing reports.

Reminders: reminders that can be set up to remind users to track their time, ensuring that no time is lost.

Integrations: Project Hamster integrates with other productivity tools, such as the GNOME desktop environment, which allows users to access their time tracking data from a single location.

Offline time tracking: App allows users to track time offline and syncs the data once the user is back online.

User-friendly interface: a simple and intuitive interface that makes it easy for users to track time without any hassle.
In general, Project Hamster is a time tracking software designed for Linux users that is both thorough and easy to use. It provides a variety of functions to aid individuals and groups in efficiently monitoring their time and enhancing their work processes.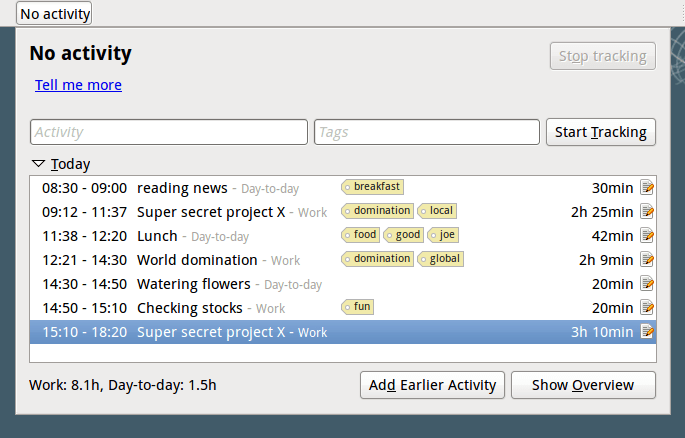 3. Hubstaff
Hubstaff covers every major Linux distribution and also offers cross-platform solutions. Basically, it shouldn't make a difference what operating system the workers use, they should still be able to work together. Hubstaff includes a web version, a desktop application for Windows, Linux, and macOS, as well as a mobile application for iOS and Android.
Once it's on, Hubstaff collects data (working in the background until the user exposes it). Every time a new upgrade for Linux is introduced, Hubstaff releases patches and updates to make sure that the software is secured. Perhaps not everyone can be comfortable with the fact that now and then Hubstaff is taking screenshots of our desktop. To tell the truth, this is how most of the time trackers work.
We can work on the free version, but if that is not sufficient enough, there are a few paid plans we can choose from. If we are not ready to make a purchase, trying the free option is still recommended, as it is a well-developed time tracking software.
Hubstaff is a comprehensive and flexible project tracking and time tracking software for Linux users, offering a range of features to help individuals and teams track their time effectively and optimize their workflows. With its productivity tracking, scheduling, invoicing functionality, or even billing functionality Hubstaff can help users manage their time, work efficiently, and get paid for completed work.
Looking for a time tracking alternative? Check TimeCamp vs Hubstaff comparison!
4. Klok
Though Klok producers were aiming for Windows, they designed Klok as an adobe air application. It just so happens that most of Linux distributions support Air – all we have to do is to check whether we got the version that does so.
Klok is a decent time tracking tool with a number of features – colorful charts with reliable and detailed information on the time tracked throughout the day, automatic time tracking with the adjust feature, invoice generator or dashboard reporting to name just a few.
It does, however, have some weaknesses. There are many reports about bugs and glitches (especially in the Linux environment). The cloud storage is not offered, the data is stored on personal computers and cannot by synchronized between different ones. What is more, most Linux users agree that Klok, as it is running on Adobe Air, is not a "true" Linux program.
It may be a time management tool worth trying if you are a freelancer – a free version is being offered, though it has some very basic features. If you are a manager, well, we recommend something more advanced.
See the differences between Klok and TimeCamp! 
5. Kimai
It is a web-based, basic time tracking software that tracks and classifies time. Thanks to it we have an access to our timesheets and can print them – from daily ones to yearly, sorted by customer, project, and action.
It can run cross-platform and cross-network thanks to the web browser based interface, we can install it as a web app and use in any place with a network connection.
Kimai offers different functions for multiple or unlimited users – a customer, a worker and an admin. Besides, everyone has an access to customizable invoices and extensions that add additional functionalities. For a free open-source time tracker, Kimai is actually quite advanced and definitely worth recommending.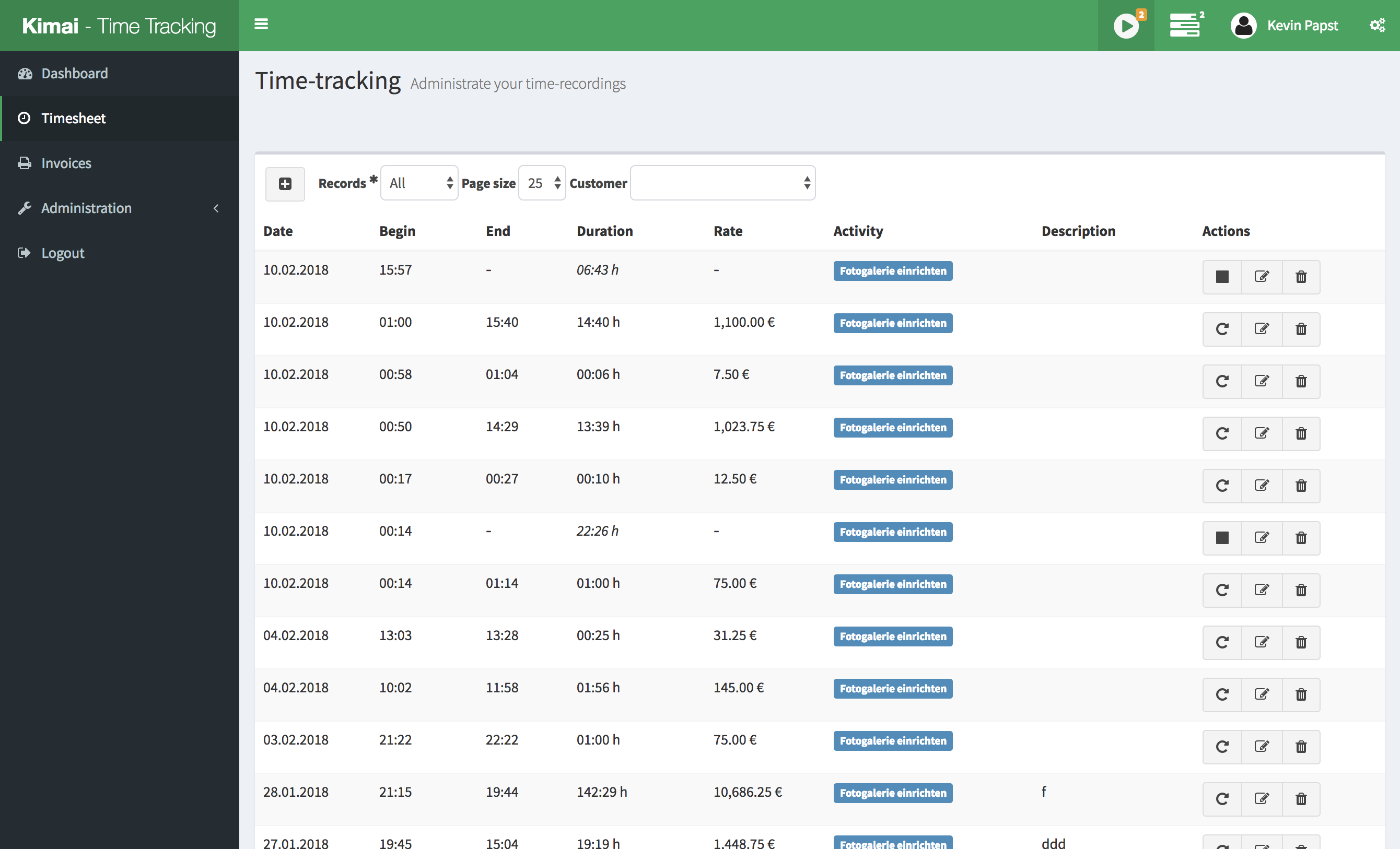 6. Task Coach
This is another simple, open source software for personal tracking and managing to-do lists. Its main job is to deal with composite tasks. Also, it offers categories, notes, and effort tracking.
Task Coach offers a considerable number of features, including:
Ability to create or delete editable tasks and subtasks to track multiple projects. You can also create as many tasks as you need

Advanced settings for tasks which we are able to track on a daily, weekly or monthly basis

Possibility to sort tasks by all their attributes, e.g. subject, budget, budget left, due date, etc.

Included filters that enable us to, for example, hide finished tasks or view only today's tasks

Ability to drag and drop an e-mail from Outlook or Thunderbird onto a task viewer to create a task

Simple add attachments by dragging and dropping them onto the task

Assign tasks and notes to categories

Ability to set task's budget. Time spent can be displayed by day, week, and by month

Tasks, notes, and categories can be exported to HTML, they can also be printed

Multi-platform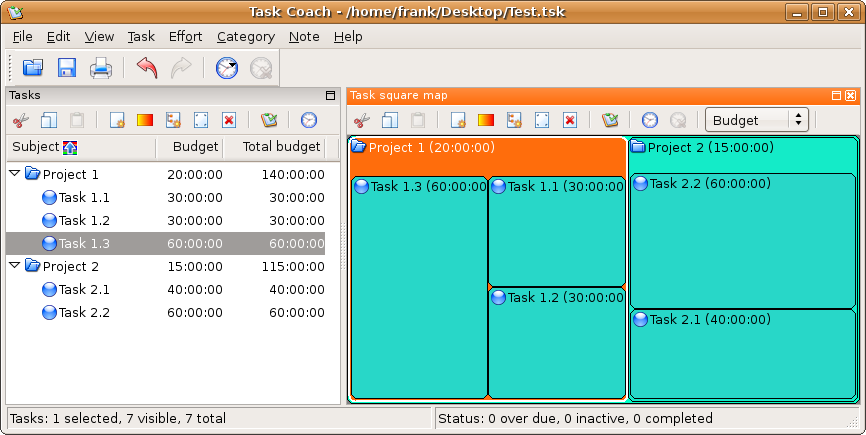 7. Rachota Timetracker
The word is in Czech and means "manual work". Rachota is a Java application designed for personal time tracking. It offers customized reports and invoices as well as the analysis of measured data after which it provides a user with hints how to improve the time usage.
Among its features are:
Security

Powerful data mining features

Thorough analysis on user's effectivity, prioritization, repetition, statusing, categorization and granularity

Manual editing of measured time

Feedback capability

Tagging

Generates TXT files, CSV or HTML reports or invoices

Extremely compact timesheet app

Support in 11 languages is being provided – English, Japanese, Portuguese, Romanian, Russian, Spanish, Czech, Hungarian, Italian, French, and German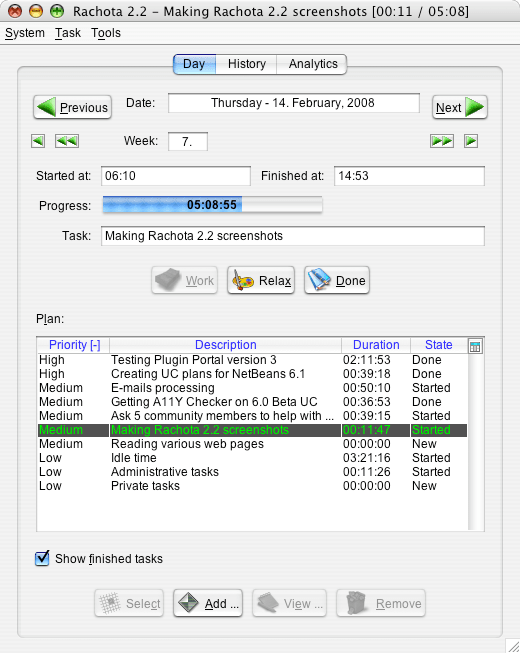 8. dotProject
Another web-based project tracking software available for many users and in many languages.
Instead of being a time tracker, dotProject is designed to be a generic project management tool. This written in PHP software is intended to serve as an information gathering and progress reporting tool.
The software allows users to break down all your projects into smaller tasks and assign them to team members. With the help of the Gantt charts, users can track the progress of their projects, identify dependencies, and adjust timelines if necessary. dotProject also includes a robust resource management system that allows users to assign and manage resources such as people, equipment, and materials, ensuring that all aspects of a project are covered.
Another key feature of dotProject is time tracking. Users can easily track the time spent on each task or project and generate reports to analyze their team's productivity and efficiency. This feature enables users to identify bottlenecks and adjust their workflows accordingly.
In addition, dotProject includes collaboration tools such as forums, messaging, and file sharing, which allow team members to communicate and work together more effectively. The software is highly customizable, allowing users to configure it to their specific needs and workflows. Finally, the multi-language support feature ensures that the software is accessible to users from all over the world, making it a great choice for globally distributed teams.
9. Kontakt
Kontact is the integrated Personal Information Manager of KDE, but can be used with other systems as well. It supports email, address books, calendars, tasks, news feeds and much more.
It lets us handle email, agenda, contacts and other 'personal' data together in one place. Kontakt is delivering innovations to help us manage our communications more easily, organize our work faster and work together more closely, resulting in more productivity and efficiency in digital collaboration.
Kontakt consists of many components which are tailored to work well with each other. And each of them offers a different set of features. It takes some time to get familiarized with all of them, for more information we recommend visiting their website.
10. TimeSlotTracker
TimeSlotTracker is a time tracking tool written in Java. Users can split it into tasks (with hierarchy). They can also store several time slots, and make reports based on gathered data. Using this time tracking software needs programming knowledge to operate.
Features include:
Time tracking

predefined and custom reports (csv, html, txt) including:

HTML summary, detail and journal report

HTML timesheet table report (with description)

CSV summary and journal report

CSV timesheet table report

TXT detail, journal and monthly report

XML data format

JIRA support (JIRA is issue tracking project management software)

localization in 7 different languages

Native Windows installer

Native Debian package

Drag'n'Drop support: copying and moving multiple timeslots at ones

iCalendar support

JNLP installer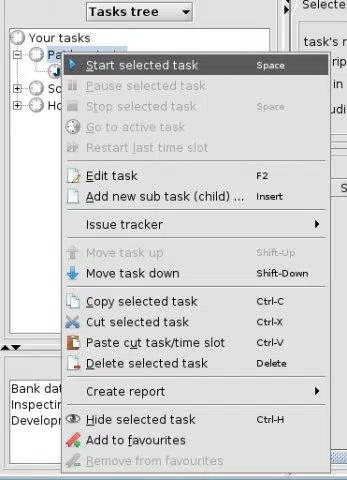 Summing up
This is our list of 10 time tracking apps for Linux. Some of them may be hard to use for a person with insufficient knowledge of Linux environment. These days this is still a niche software but its value is undeniable and there is a multum of reasons to give it a try. Who knows, maybe one day it will go head to head with Windows and Mac OS.
Perhaps you know some project management tools for Linux that we omitted in this article. If yes, do not hesitate to share them in the comment section!