Smart and Efficient Ways to Track Computer Usage!
February 16, 2023
by Kate Borucka
5 comments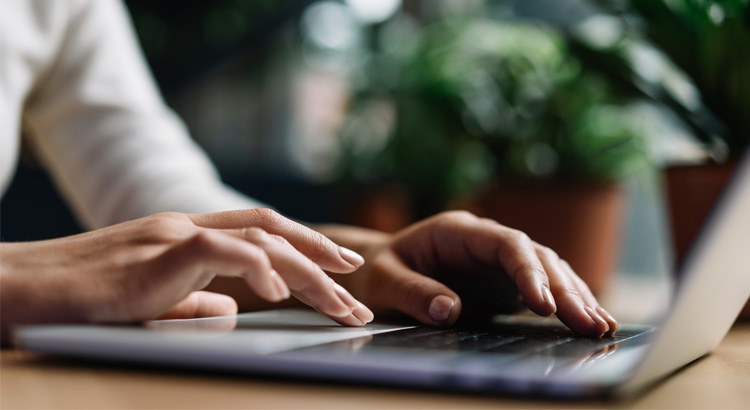 A tool to track computer usage can be an unusually helpful system. It can give you a deep insight into your working hours and show how you and your employees spend time so you can better organize work.
Nowadays, computer monitoring software is becoming more and more popular. Some people love it, others hate it. The topic of employee computer monitoring software evokes privacy concerns. Especially in recent years, after the outburst of the COVID-19 pandemic, it's become a sensitive subject.
When many employers want to track employee activity to ensure people are doing their job, employees question the credibility of computer usage tracking software of any form.
But one of the reasons companies or individuals decide to implement user activity monitoring is to keep track of work and help employees improve productivity.
So what's up with employee monitoring and computer monitoring software in general? Is it legal? And how to ensure privacy while using a PC usage tracker?
And how to choose an employee monitoring solution when the market is full of different products for monitoring employee productivity nowadays?
Here's your ultimate guide for how to track computer usage!
Why Implement Computer Usage Monitoring Software?
Some people find employee monitoring software intrusive and consider it a means of spying on their activities. But when you choose the right tool and use it properly, it can bring many benefits, and even those who oppose the usage of activity monitoring software will be surprised by the results.
According to Amra Beganovich, founder of Amra & Elma and Colorful Socks brand, utilizing computer monitoring software has provided them with an ability to identify strategy issues and in turn fix them in order to offer their employees more free time for more creative projects. 
And there is one big reason to use computer monitoring software—it improves employee productivity. Here's why it's worth using a PC usage tracker:
You can view, analyze, and understand how you or your employees work. See how you're spending your time, what you're wasting it on, and what are the main distractions.
Comprehensive monitoring features help to categorize and segregate all your activities so you can organize work, tasks, and projects.
Monitoring tools are a source of valuable data on the company's performance, and employee engagement, but are also proof of work for stakeholders and clients as they can generate detailed reports. Computerity plays a significant role in understanding the nuances of digital behavior without invading personal spaces.
It's easier to spot suspicious activity and insider threats as well as potential troubles with the device's performance, which might call for a cleaner tool or other software to eliminate the problem,
By implementing a monitoring tool and installing datacenter proxies, you can prevent insider threats like security breaches or data leaks.
Technology is there to help you, so with the use of the right program, your company can grow and employees can be more efficient.
How Deep Can You Go with Monitoring Tools?
Is this legal? – it's the first question that comes to mind when thinking about monitoring computers or work monitoring software. The Employee Monitoring and Workplace Privacy Law states that employee monitoring is legal. It may even be required for certain sectors and businesses or under the USA Patriot Act.
It's the basis for the safe functioning of every business—it helps to protect trade secrets and confidential information and detect breaches, such as sexual harassment, data breaches, or frauds and thefts. And let's not forget that employees' safety is also at stake.
Different laws are in force in different countries, so it's worth checking what the rules for employee monitoring data and user activity monitoring in your country are. Especially when it comes to using monitoring tools for a remote workforce.
So if you're using computer monitoring software privately, you don't have to worry. However, if you're an employer who implements an employee monitoring tool, you should pay attention to three aspects.
1. Define what to monitor
When you track employees' work, you have to be careful. If you breach their privacy and security, it may have legal consequences for you and your organization.
So the first step is to inform your employees or team that their work will be monitored by an employee computer monitoring software. And the purpose of it is not to spy on them but to enhance their work and boost productivity. Then, discuss with all people what exactly you want to track. Do you want to keep track of tasks, projects, tools, websites, and entire screens, or just record work hours for payroll processing?
You should decide together with your employees so you can all improve your work and make the best use of the employee computer activity monitoring tool.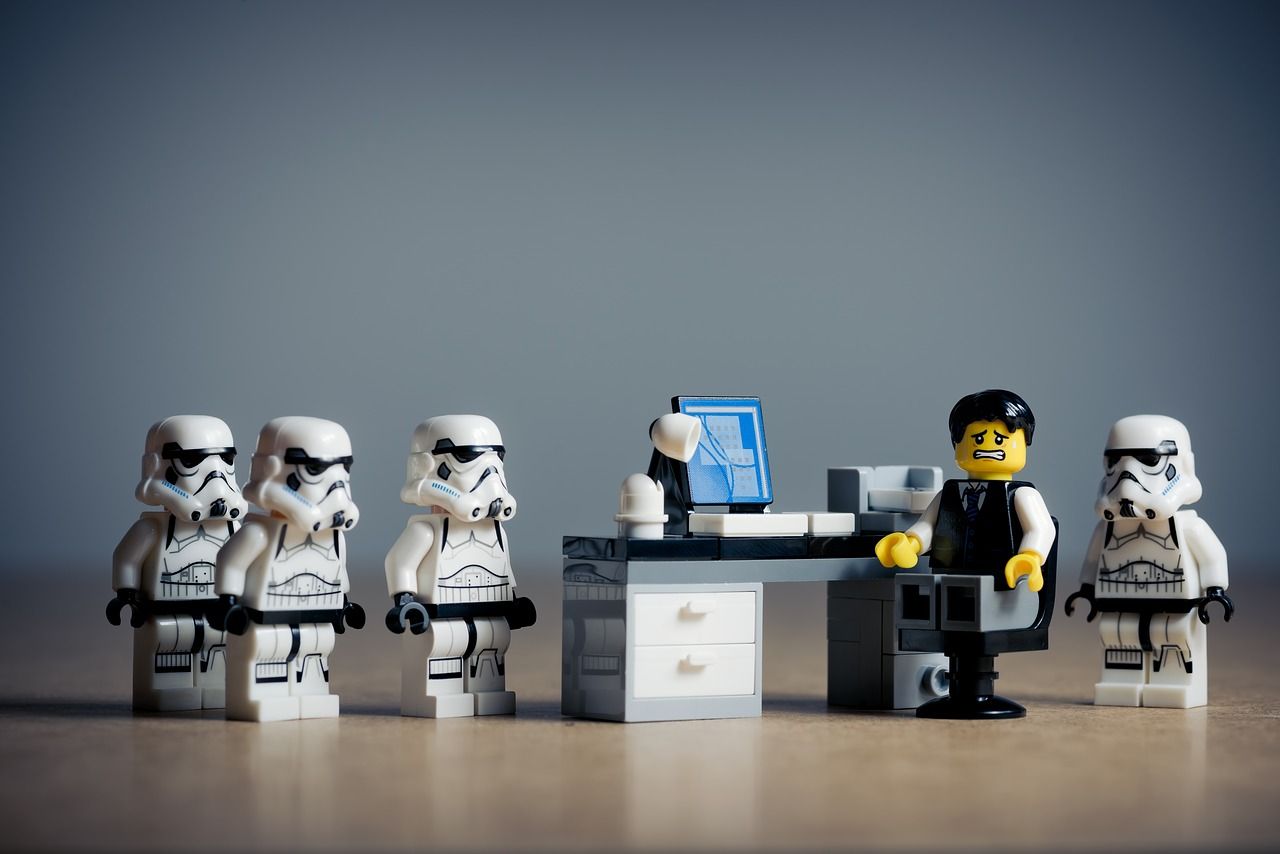 2. Choose the right software to track computer usage
Without the right software to track computer usage, you won't achieve the desired outcome. There are plenty of options to choose from, but not all will correspond to your business model, style of work, or other important factors.
Also, make sure your employee monitoring tool integrates with other tools. That way, you'll be able to flexibly administer your work and monitor activity across multiple devices.
Also, think if you really need a tool that provides invasive methods of compute monitoring, like keystroke logging or continuous video recording. These key features of spying/tracking tools, even if not used on daily basis, may scare the employees and discourage them from using the tool you chose,
💡 Read our article about Best Time Recording Apps!
3. Talk to your employees
The process of implementing employee monitoring software in the company is often misunderstood. That's why it's essential for managers to talk to team members and explain the reason behind their decision.
Mutual trust and respect are the core fundamentals of effective collaboration in the workplace. Monitoring employee activity should be done in a smart way so it doesn't have a negative impact on your workforce. After all, it's all about improving work, not spying on your people. Metaphorically, it is like using a computer vacuum to keep the entire system clean and running. And when there is a proper performance monitoring tool in use, every employee's diligence will be noticed and awarded, which positively impacts the overall team satisfaction.
How to Track Computer Usage?
Employee monitoring tools can have many forms. You can pick software to monitor work in stealth mode to detect suspicious activity in your organization. Or you can go for a laptop usage tracker to help improve employee performance.
As for employee activity tracking tools, monitoring features vary among apps. You can track computer in several ways:
You can use system power troubleshooter, local files, or similar applications for checking event sources and user activity logs on a computer

Dedicated employee monitoring apps—these allow you to capture screenshots, monitor network within your company, log keystrokes and mouse movements

Time tracking software with time spent on tasks breakdowns, working hours and activity logs for accurate timesheet data and tracking billable time

Some computer monitoring tools are aimed specifically at remote workers and gather important data for users to improve collaboration and workflow, and measure productivity,
Tracking user activity can be done in a private way without disclosing personal information. The main objective is to ensure the end-users don't feel threatened or intimidated by the company's practices. What's more, your employees shouldn't be afraid that the company uses their sensitive data for purposes other than those stated in the company's policy or employment agreement.
💡 Read also about Work From Home Monitoring.
What Is The Best Monitoring Software?
There are plenty of tools for computer monitoring. You can use them for your personal or work needs or implement them in your organization so people can find out how they perform and boost their productivity.
Here are some of the best employee monitoring software.
1. Your computer
Best for: local data access
Seems odd? Not at all! By far, it's the easiest way of monitoring a computer. This one, however, is best if you want to check which apps and websites people use while working on your computer.
This solution works best for several users of one computer or those who need rich data on the use of the system and each program. All you have to do is to access the local files on your computer with internet history, data on programs used, and users. Such a basic approach is definitely the first step to preventing data breaches.
You can find the full, detailed description by following this link.
2. TimeCamp
💚 Best for: automatic time tracking, billable hours, and improving employee productivity
💡 Check our article and find out how to increase billable hours using an automatic time tracking software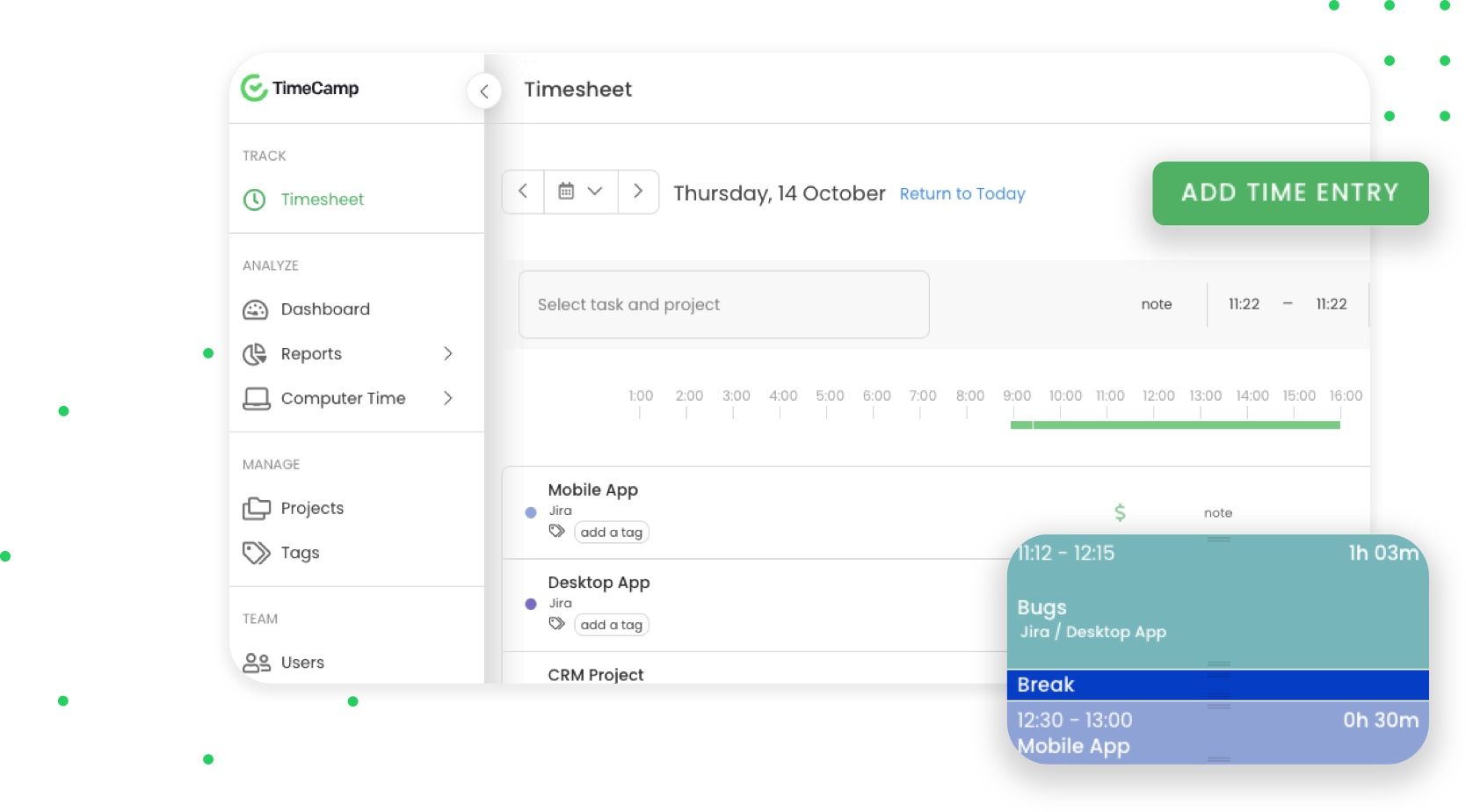 TimeCamp is a free time tracking software for unlimited users that's also packed with tracking employee activity. While the feature is optional, it may be a game-changer for employee productivity improvement.
Collecting activity logs helps fill timesheets in no time – once the tool registers apps and websites you browsed, they're assigned to appropriate projects and tools. All you need to do is turn on TimeCamp desktop app, a monitoring tool that works in the background. If an employee is inactive (no mouse and keyboard usage) the tool stops its time tracking service and resumes it when a person is active again.
It's extremely useful especially for remote workers, who are prone to distractions and often forget to stop the timer when taking a break or switching to task different than work-related.
However, TimeCamp is not only a robust employee monitoring software.
It helps you and your employees in many other ways, for example:
It boosts efficiency by measuring employee engagement, monitoring productive and non-productive activities, including app usage and websites visited and helps to determine and eliminate distractions that take attention away. Just generate and export reports and analyze productivity metrics to find out how your team is performing.
You and employees become accountable — know how and when they work, can optimize and automate processes, and improve workflow.
And finally, TimeCamp makes your business profitable by helping you to keep track of your budget with billable and non-billable hours tracking, and budgeting.
Everything happens in real time, so you can take action when needed. Additionally, it's available for mobile devices as a web and desktop app for Windows PC, macOS, and Linux so it's suitable for those who work from home and need to remotely monitor the company's performance. (TimeCamp offers a screen capture feature on demand)
Pricing
Free

– a free plan of TimeCamp for unlimited users includes all the essentials – accurate time tracking, unlimited projects, a time clock kiosk, desktop, and mobile apps, idle time detection, and many more,

Starter – $2.99 per user per month

, including unlimited tasks, excel reports export, attendance, time-off, overtime tracking (billed annually)

Premium

–

$4.99 per user per month

, including one integrations, billable time, budget & estimates, apps & websites tracking, project archiving, and more (billed annually),

Ultimate

–

$7.99 per user per month,

including unlimited integrations, billable rates, labor costs, invoicing, timesheet approvals, custom user roles, and more (billed annually)
Enterprise – custom pricing; contact sales team for more details
Become productive, accountable, and profitable.
3. Teramind
👉 Best for: insider threat prevention and sensitive data breach prevention
Teramind monitors employee computers and provides a detailed user behavior analytics. It tracks user activity and detects possible threats. Once the software identifies suspected behavior, it sends you an instant e-mail.
It's an intelligent tool that can lock out a user, deny access or blur the image so that the thief cannot get access to the data. If you suspect someone at your company is stealing confidential information, you should immediately equip your organization with Teramind.
Pricing: $10 per month/user. Starting price is for a single user on Teramind Starter (Cloud). Minimum 5 users.
4. ActivTrak
👉  Best for: rich analytics for finding bottlenecks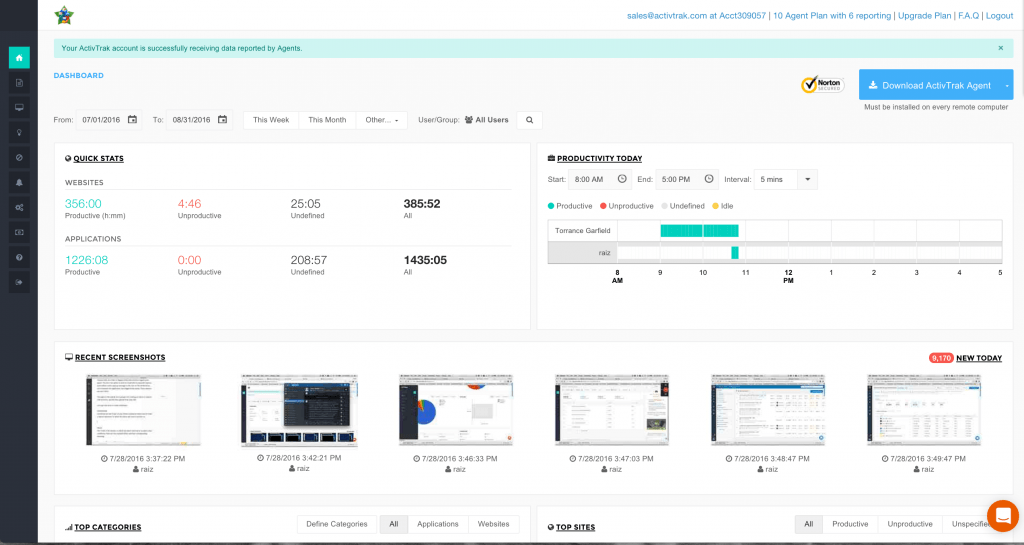 ActivTrak works similarly to Teramind. Additionally, it monitors employees' productivity.
It's equipped with the feature of screenshots, alarms, tracking people's activity and application usage, blocking websites, and many more. It has all you need to safely and privately monitor your employees and eliminate the risks of breaking the company's rules. ActivTrak gathers detailed data on employee work so you can understand people's work styles and improve team collaboration.
Additionally, the tool lets your team track productivity to find bottlenecks in their work. You can install it on many computers in less than a few minutes.
ActiveTrack is definitely a tool for these who are monitoring employees' activity to maintain the highest level of data security and prevent company data leaks. However, the tool may be too intrusive for users who value personal privacy.
Pricing: free for up to 3 users. Pricing starts at $9 user/month (billed annually).
5. Time Doctor
👉  Best for: simple employee monitoring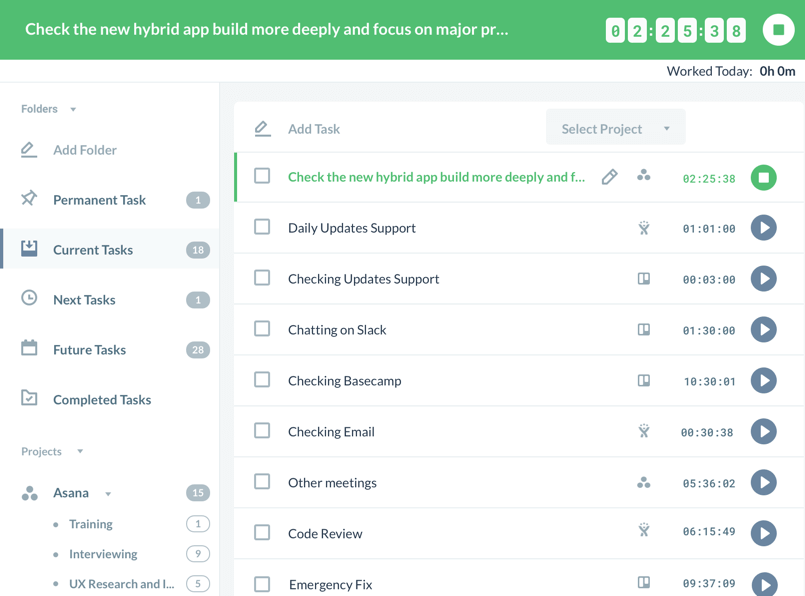 Time Doctor is a time tracking tool dedicated to teams who want to improve productivity. The software has an intuitive user interface and it's easy to install.
This employee monitoring software tracks time people spend on projects and tasks, and creates activity reports with screenshots. Time reports show metrics so you can view how your staff is performing. You can see the exact time with all the data on how people work.
💡 Check also our list of screen recording software.
Time Doctor gathers information on how every user spends time working at a computer, including time off, breaks different tasks, projects, and activities.
💡 See the comparison between Time Doctor & TimeCamp
Pricing: starts at $7 / month with limited features.
6. Windows Event Viewer
👉  Best for: monitoring Windows logs and all computer activities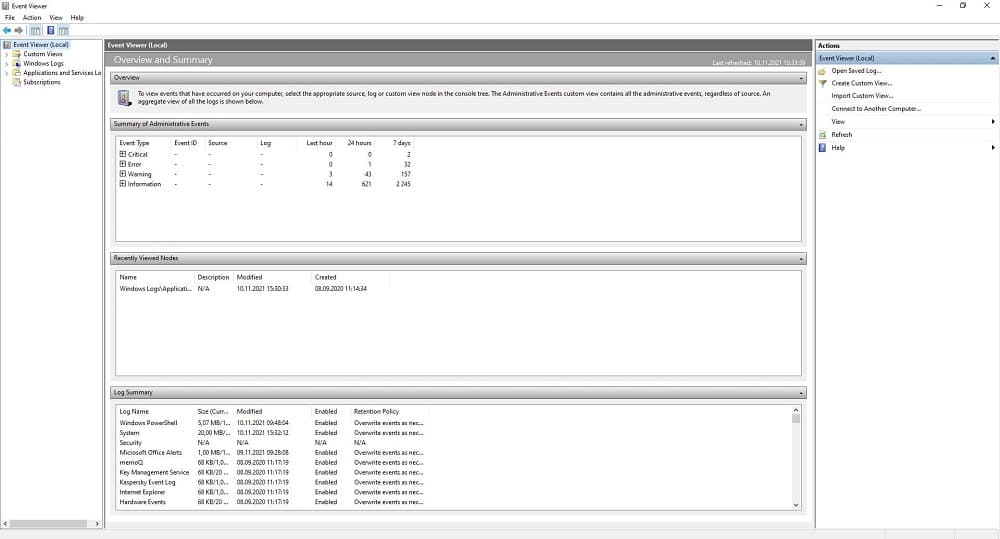 Windows Event Viewer is a dedicated system app for Windows users that allows you to track computer usage. You can find it on every Windows computer. You can find it either by clicking on the Windows key and searching it in apps or accessing it in local files (in Administrative Tools).
With the tool, you can check your user activity on a daily basis as it shows Windows logs, application usage, file names, and time spent on all programs.
It's an activity tracking system best for users such as developers who need an extremely detailed application monitoring solution with access to rich data on activity.
Windows Event Viewer is a good power troubleshooter that lets you find out the power states of your computer, errors, bugs, network issues, and all the data on Windows computer state.
Pricing: Event Viewer is a free, built-in app.
7. DeskTime
👉  Best for: employee attendance and time tracking with PC usage monitoring software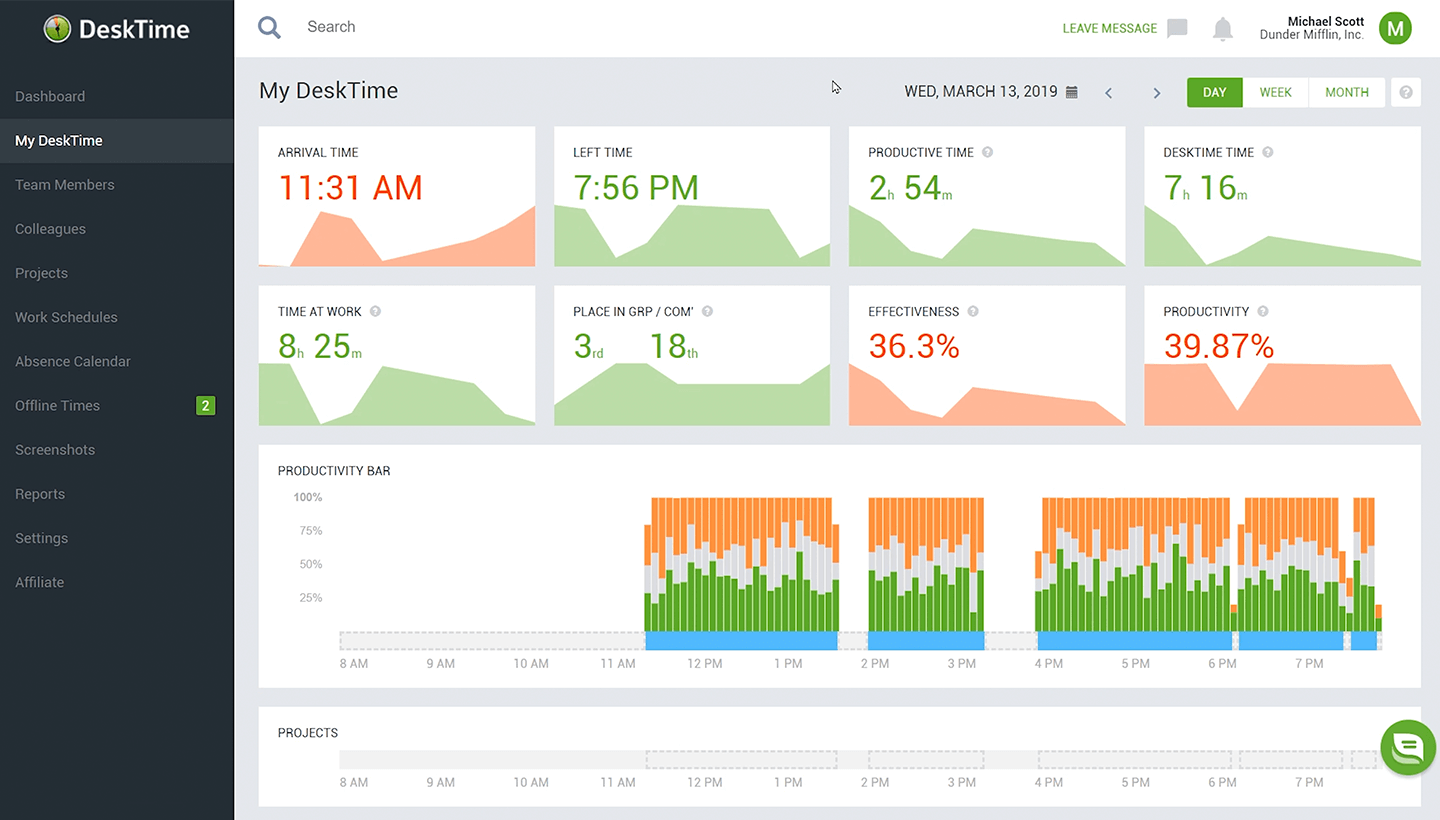 DeskTime is an employee attendance tracker rich in features that will make it easy to track the attendance of your employees, their working hours, plan their work, and organize projects.
DeskTime can be used in an offline mode and on many computers to later synchronize with the cloud. You can easily access the app from any place to check on your team's progress, see statistics on company and employees' performance on the productivity bar with, and other information on real-time activities and attendance statuses.
Additionally, DeskTime has an absence calendar to keep track of vacation hours, sick leave, and other free days. You can also create an employee absence schedule to calculate payroll, and better allocate work quickly.
Pricing: free for one user. Pricing starts at $7 per user/month and depends on the number of users.
8. Kiwi Application Monitor
👉  Best for: Windows user and network monitoring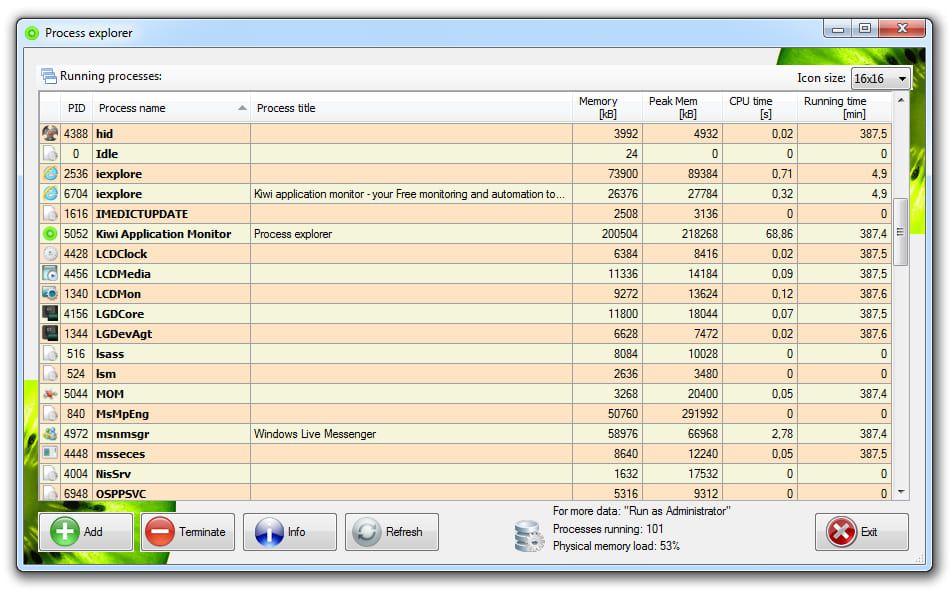 Kiwi Application Monitor is a small program for Windows computers. It's freeware software that lets you monitor your applications, processes, Windows, and user activity. It's a minimalistic app that you can minimize to the system tray and always have at hand.
Kiwi allows you to track computer usage and windows user activity and provides information as activity reports with statistics on monitored applications such as start, end, and total run time, peak memory usage, or current memory usage.
With this employee monitoring software's advanced rules, you can create your set of conditions, actions, and alerts. There are 100 elements to choose from and define what happens when certain circumstances occur. You can insert as many conditions and sub-conditions as you need and as many actions as you want to adjust Kiwi to your needs.
You can use the app to monitor internet activity and control many Kiwis on the network using Kiwi Admin for many computers.
Pricing: Kiwi is free with limited features. The Pro version is $37 for a one-time purchase.
9. ActivityWatch
👉 Best for: tracking personal activity on a computer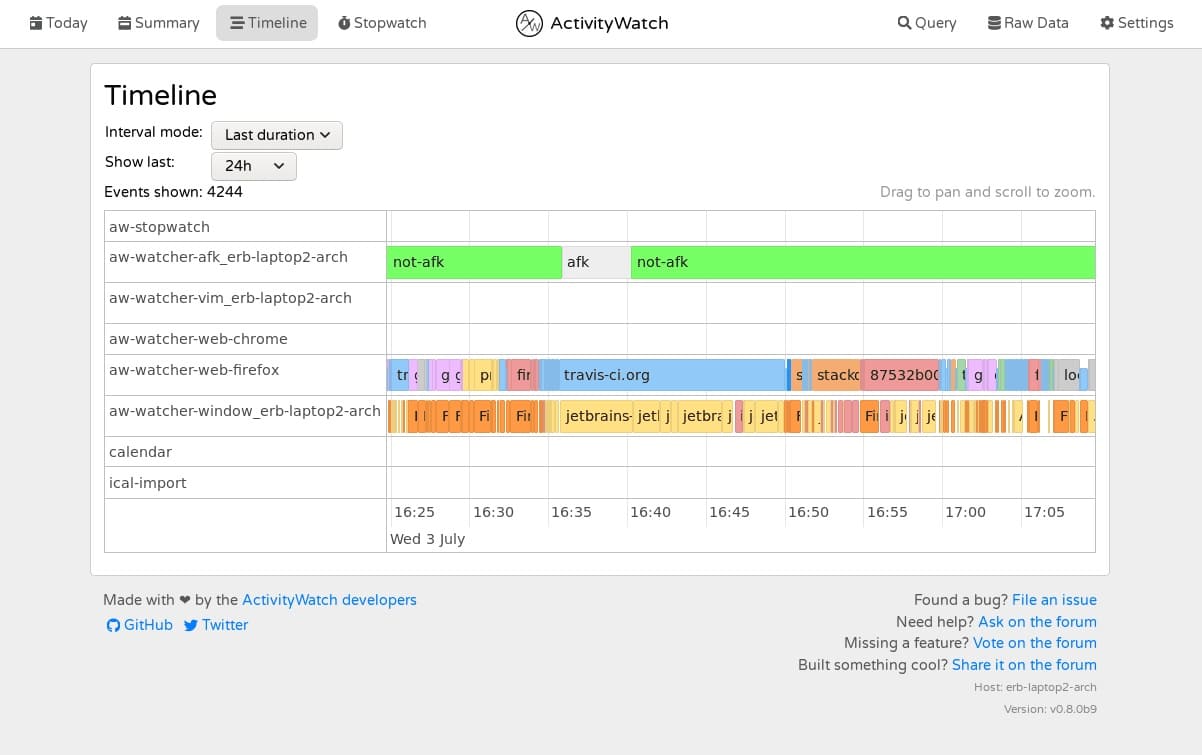 ActivityWatch is an open-source, privacy-first, cross-platform tool that lets you track productivity when using your computer.
This tool allows you to track computer usage – it records relevant information about what you do and what happens on your computer. It collects and stores your data locally.
You can use it to improve personal or organizational productivity when using a computer or to understand how you and employees work. ActivityWatch also helps to track how much time you spend on different activities, manage bad screen habits, keep a log of computer activities, or learn how you use your device.
Pricing: ActivityWatch is a free software.
10. Hubstaff
👉  Best for: monitoring remote workforce and productivity tracking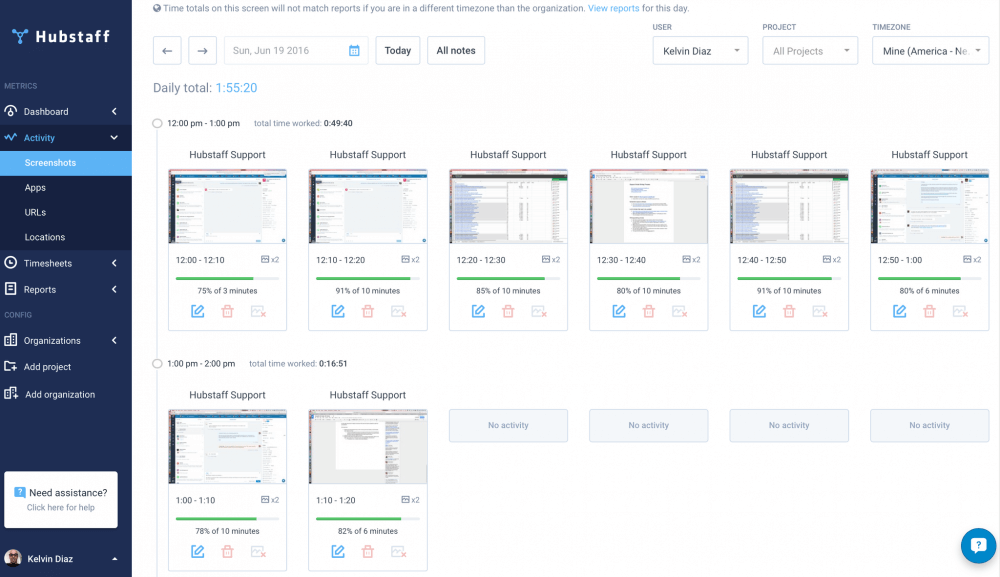 Hubstaff is an employee monitoring solution and time tracking software that lets teams monitor PC usage with the desktop app available for Windows, Mac, Linux, and Chrome OS. It displays a window in which you have access to your tasks and projects. There, you can create new entries and manage those already existing.
The app synchronizes with the cloud and shows reports on your work based on the activity registered by the app, productivity data, and the location of every employee.
Hubstaff time tracker collects all data on your activities and how much time you spent on them — apps, URLs, optional screenshots with activity rates. Everything happens in real-time.
The software is especially useful in remote team administration.
Pricing: free plan for 1 user with limited features. Basic – $7 per user per month for at least 2 users. Premium – $10 per user per month. And Enterprise – $20 per user per month.
11. WebWork Time Tracker
👉  Best for: remote teams that need computer monitoring systems with and without screenshots
WebWork is a time tracker that incorporates all functions for complete work monitoring. These include time tracking with and without screenshots, attendance monitoring, app, and website usage, task management, and detailed reports. 
With WebWork you get transparency into your teams' work and do not have to worry about missing a thing. Whereas your team members get to see a visual representation of their time and work process and manage their work accordingly.  
The feature of 4 screenshot modes allows for different privacy levels, depending on the project type and owner's preference. 
WebWork can be used across 4 platforms, including web, desktop, mobile, and as a Chrome extension.
Pricing: free trial of 7 days plus the ability to pay for the next month in 30 days. The monthly price is 2.99$ per user. 
12. NAKIVO
👉  Best for: VMware vSphere monitoring and resource management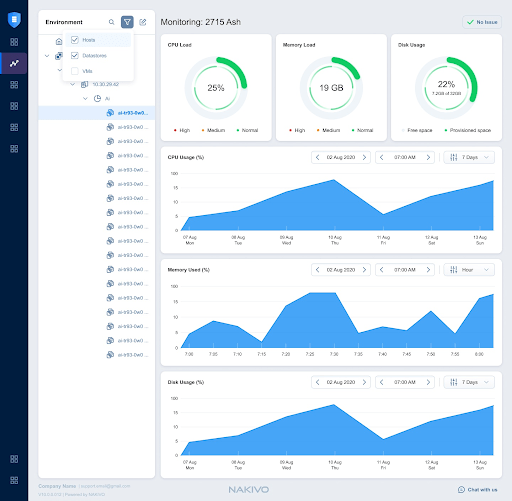 VMware Monitoring from NAKIVO is a tool that allows you to track and optimize available resources in your VMware vSphere environment. 
You gain complete oversight of overall key metrics including CPU, RAM, disk usage, storage and network resources of vSphere hosts, virtual machines (VMs), and datastores. The comprehensive dashboard visualizes data in real-time which simplifies management and helps you avoid virtual machine sprawl.
VMware monitoring also collects historical resource usage data and analyzes current information to detect and quickly avoid performance issues and bottlenecks by distributing VM loads between hosts. 
With detailed and live monitoring, you can anticipate virtual or physical resource requirements to conduct precise scalability forecasting and easily expand your environment based on your needs.
You can use VMware Monitoring as a standalone tool or combine it with NAKIVO's comprehensive backup and disaster recovery solution to ensure effective data protection.
Pricing: Free trial of 15 days without any restrictions. Free Edition for up to 10 VMs during the whole year. Pricing starts at $13 per workload/year with a subscription license and includes 24/7 support.
13. CurrentWare
👉  Best for: Enforcing acceptable use policies & detecting time theft
CurrentWare is an employee monitoring and security software suite for Windows devices. It includes solutions for user activity monitoring, data loss prevention, web filtering, and remote PC power management.
Each solution operates from the same central CurrentWare web console; they can be purchased separately for the most flexibility or as a full suite for the best value.
With CurrentWare you can monitor employee computer activity such as web browsing and software usage, capture screenshots of employee desktops, prevent employees from transferring data to unauthorized USB devices or cloud storage services, and block access to certain apps and websites that are against your company's acceptable use and cybersecurity policies.
User activity alerts can be configured to notify managers, human resources, and IT personnel when unwanted activities occur such as visiting inappropriate websites or transferring sensitive files to USB storage devices.
Pricing: $8.99 USD per user/month for the full suite, or $3.99 per user/month for a single module (paid annually)
How Do You Track Computer Usage?
What is your method and tools for tracking computer usage and apps and websites? Or you maybe you don't do that at all? Try to implement the above tips in your work and your productivity will skyrocket! It's always a great idea to mix tools, use integrations, different practices, and methodologies.
Remember, we do not encourage you to spy on your employees!
In the end, mutual trust is the key to a successful employer-employee relationship.
It's best to make employee monitoring tools or computer monitoring software an integral part of your business structure and strategy as a means of improving work. Talk to your workforce and always be honest about the ways to track computer usage in your company.
Does your company plan to give employee monitoring software a try? Show your managers our article to help them choose the right employee monitoring solution and make a successful implementation. 
And remember that you can always just… 
---
Co-author: Ola Rybacka, Content Specialist at TimeCamp
5 out of 5 stars (based on 1 review)