Best to do list templates and tips to get your work and life organized!
February 27, 2023
by Ola Rybacka
No comments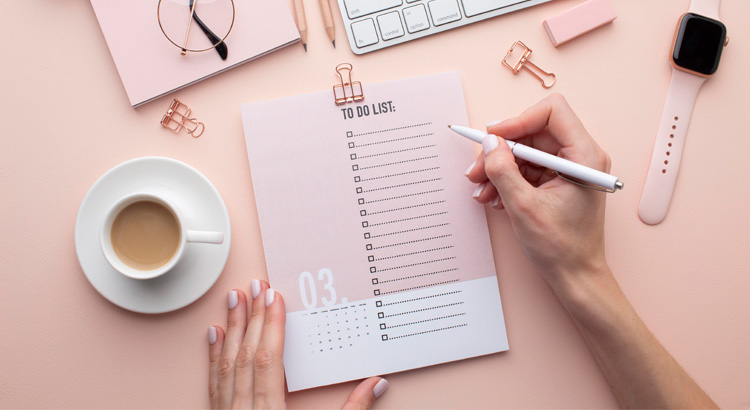 Best to do list templates and tips to get your work and life organized!
Have you ever tried to organize your daily tasks with to-do list templates? It's much easier to maintain than writing everything down on post-it notes. Especially now, when online solutions became more popular, we can save time and keep track of tasks using an easily accessible mobile app.
Why use a to-do list template? How to create a weekly task list template? Which apps are best for tracking daily tasks? Let's find out!
👉 Why use to-do list templates and to-do checklists?
✅ Personal usage
Even if we prefer creative chaos, we sometimes feel the urge to organize our hard work on daily tasks. We make a to-do list while packing for a business trip or a journey with family members, write down things to buy before going for groceries or house chores, take care of younger family member homework assignments, to-do checklist, and ideas for the next few days – to make sure we won't forget any of them.
However, some of us prefer a more organized lifestyle, and this has nothing to do with having a family or not. They plan the entire week, treating each issue as a separate project with tasks. It may seem quite a business-like approach, but let's face it – we all are the managers of our own lives ;).
No matter what lifestyle you maintain, it's good to help yourself a little bit with your daily schedule. Instead of writing down all the plans and ideas on post-it notes, why not use a hand or ready-made template with priority tasks? They not only save time but provide us with a completed yet simple to do list that helps us schedule and manage daily assignments efficiently.
✅ Business usage
Well-performing teams take care of the proper project and task tracking. But instead of producing piles of paper, smart companies decide to go paperless and implement online solutions.
In this case, they choose task management apps that work as to do list templates. They work in the cloud (enterprises often choose private cloud implementation or a self-hosted server) and are easily accessible for each team member. These tools are also available for mobile, so users can keep track of their task list no matter where they are.
Managing a team, maintaining a task list online is just much easier. Create a project and assign people to particular tasks with few clicks, set task duration, and due date, and add attachments.
Apps for business usage are often more complex and offer different views of users' daily performance. It may be e.g. a Kanban board with project status indicators like a daily checklist, a timeline of an entire day, or a Gantt chart.
👉 How to organize tasks?
We all maintain different workflows and have various needs and expectations. That's why hard to say there's one way of task management that will suit everyone. Before choosing the definite one, it's good to give others a try, to find out we'd made a good choice. In the end, it's easier to get more done when using a tool that suits us well ;).
✅ So, what are the best ways to create a top-notch and highly organized to-do list?
Use your manual skills
Perfect for there who prefer scratching the task off the paper and are familiar with crafting.
To prepare a DIY task list, take a piece of paper and draw columns with:
task name,
due date (or duration, goal dates),
priority,
add a checkbox,
spare some extra place for progress and status notes.
Highlight them all.
Customize the template as you wish with a preferred format and use it as a template for the next periods. Create a daily, weekly, or monthly one – one page will be enough. Feel free to use your imagination if you're in the mood for releasing your artist's soul. You can, e.g., use different patterns for each week, month, or occasion.
Besides, if you're more into digital solutions, you can create one in Google Docs or Word.
Printable checklist template
If you prefer ready-made solutions, you can find many printable list templates online. Thankfully, it's not hard to find a decent but free daily to do list template; however, these fancier usually require a download fee.
While looking for, try to find these in PDF format to make sure they'll look the same when printed as the digital version when you download and print them. Such a template can be fancy ones or simple Excel or Word files,
Planner
If you want to keep each task list in one place, I recommend choosing a book-shaped planner. It can be a calendar or notepad-like, with predefined dates or an entirely blank one,
Spreadsheet
For those who prefer more traditional solutions for their weekly to-do list. It seems to be quite outdated, but the good, old Excel or Google Docs spreadsheets still work well when dealing with lots of different tasks. They're printable, so printing them and hanging in a visible place seems to be a good option.
To-do list apps
Perfect for individual use or for your team to keep an eye on the business. They help you keep track of your tasks automatically. Using such an app, you create a list and an entry for each task and then set details like due dates, descriptions, or priorities. With a single click, managers can assign the right people to particular entries.
Most of the tools offer a drag-and-drop feature, so you can freely customize the list. These apps, even the basic ones, are mostly available for web, desktop, and mobile, so you can choose how you want to manage the to-do list that suits you and your lifestyle the most.
As you can see, there are plenty of ways to manage everyday tasks successfully. No matter which you'll choose, you can be sure you're on the right track to declutter your life and organize the chores.
👉 Check also our list of best planner apps
Knowing how much time we spend on various activities is perfect for managing a to-do list. Register your free TimeCamp account and start logging time for your tasks!
👉 How to track daily tasks with time tracking software?
A time tracker maybe doesn't work as a standard checklist template, but it'll tell you way more about your performance than you think.
For example, TimeCamp's tree-like project structure allows you to organize task lists on multiple levels. You can add time entries and assign them to tasks in advance and use a daily timesheet as daily tasks template or calendar view as a weekly task list template. With a personal calendar integration, all the events will automatically appear as separate tasks.
Besides, TimeCamp integrates directly with many to-do list and project management tools and supports you with a comprehensive analysis of your progress.
👉 Where can I find to do list templates?
Luckily, it's not a rocket science to find ready-made, printable free to-do list templates and inspirations for those who want to prepare one from scratch. Whether it's site that offers a project template or a complete app, they're definitely worth giving a try!
✅ Vertex42 To do Lists
"For people who want to get more done."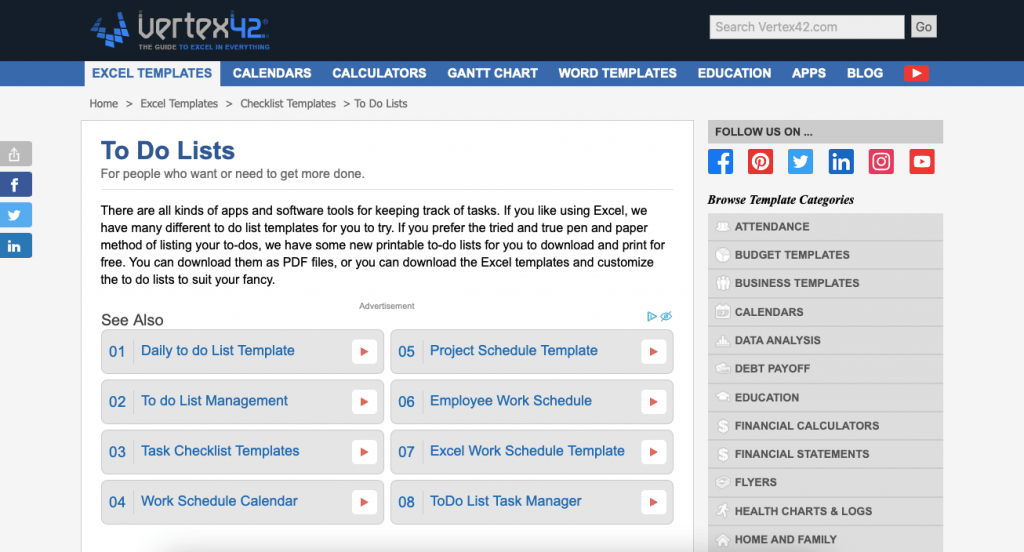 Vertex42 has been provided its users with spreadsheet templates, calculators, and calendars since 2003. You can find there to do list templates Excel, and for Open Office or Google Sheets as well. They also offer comprehensive Excel support, such as tutorials for various advancement levels.
They also offer many free to do list templates that'll help you regain control over weekly tasks. All of them are printable and ready to download in PDF format or Spreadsheet format. Here, you'll find simple yet complete task lists for both personal (and family) and business purposes in the article. Some of them are prioritized, other work as goal trackers. There are also task list templates that use popular management methods, like SMART analysis, Gantt charts, or Kanban boards.
As I mentioned before, all list templates are free to use. Download, print them and enjoy streamlined pen and paper task management.
✅ Microsoft Office Templates
Simple yet complete lists we all know from Office usage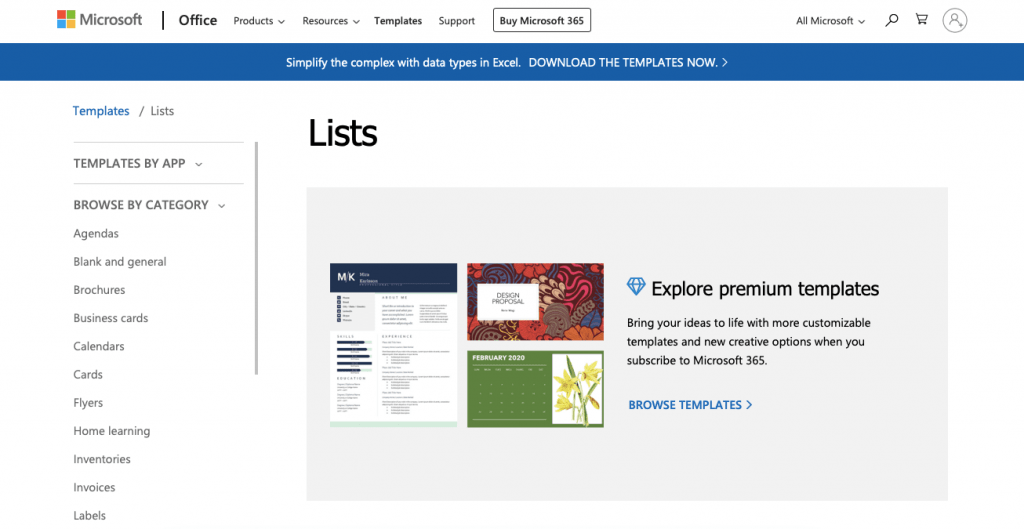 Some of us would say it's not rocket science to create a to-do list in Excel or Word. However, if you're not into these tools or don't want to waste time making one from scratch, you can find ready-made templates in the Microsoft Office marketplace.
On this page, you'll find various types of lists:
occasion or purpose-related checklists,
shopping lists,
event trackers,
chore charts for families, and more.
Each template is printable and use conditional formatting. Download and customize them to keep track of your action items effortlessly.
Most of them are free; however, there's also a premium section available for Microsoft 365 subscribers.
✅ OnPlanners
For those who want not only accessible but also fine templates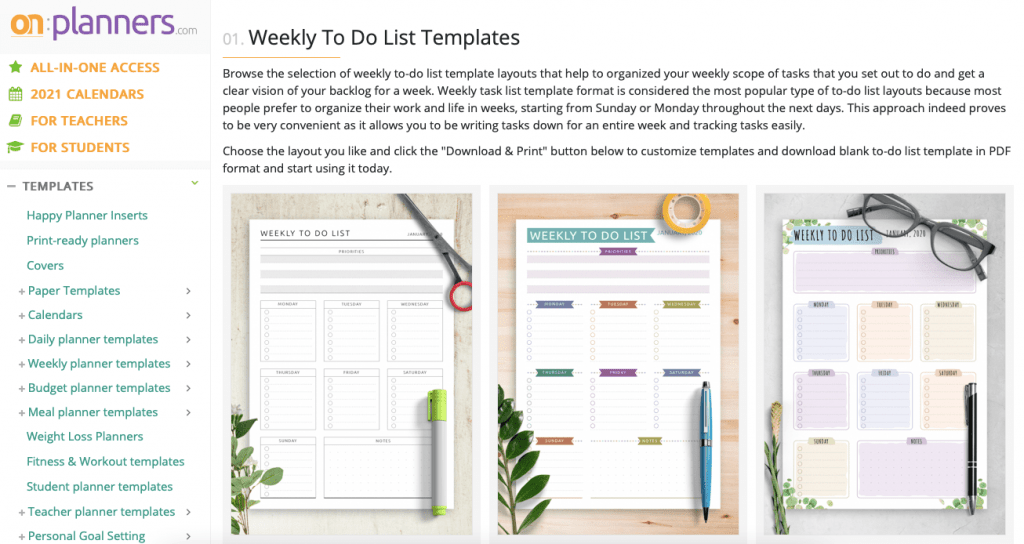 OnPlanners offer a wide range of weekly to do list templates and daily planners or family chores charts. You can use them for multiple purposes – from organizing daily family chores to write down plans for the next week. In case you're more into detailed planning, they also offer daily to do list templates. Maybe the collection isn't big, but they're definitely fancy!
OnPlanners templates are free; however, before download, they require giving them an email address.
👉 Check also our favorite weekly schedule templates.
✅ Printsberry
A variety of to-do lists to make sure you get done your daily and weekly tasks
Printsberry offers a wide range of planner templates and to do list template solutions. Whether you have to manage family-related issues, plan events, or create a pre-trip checklist, their printable to-do list templates will help you get everything done. Some of the templates are prioritized; others have just one column per day.
Besides weekly to do lists, you'll also find a daily free task list template and family chores charts. All of them are available to download in PDF format and printable; you can also customize their formats, like choosing A4, Letter, or Filofax.
Free versions of weekly tasks lists are watermarked, so if you want to get a clear template, you have to pay a small fee. However, they offer affordable packages in their marketplace, like 15 items for the price of the same set that includes 3 items.
✅ 101 Planners
A variety of customizable to do list templates and weekly task lists
101 Planners is something more than a usual list of task and checklist templates. It's a to-do list template creator that allows you to customize your favorite one. First, you have to choose a template (like several columns, background, checklist, the first day of the week, etc.).
Then, you can add your own text or edit the existing one to devote each column to a particular purpose, e.g., the name of the task, notes for progress checking, due dates, etc. Once the weekly or daily to do list template is made, you can download it in, e.g., PNG or PDF format and print it.
All the templates are free to use – download them for digital use or print them straight from the website.
✅ Templatelab
Choose a to-do list template to declutter your life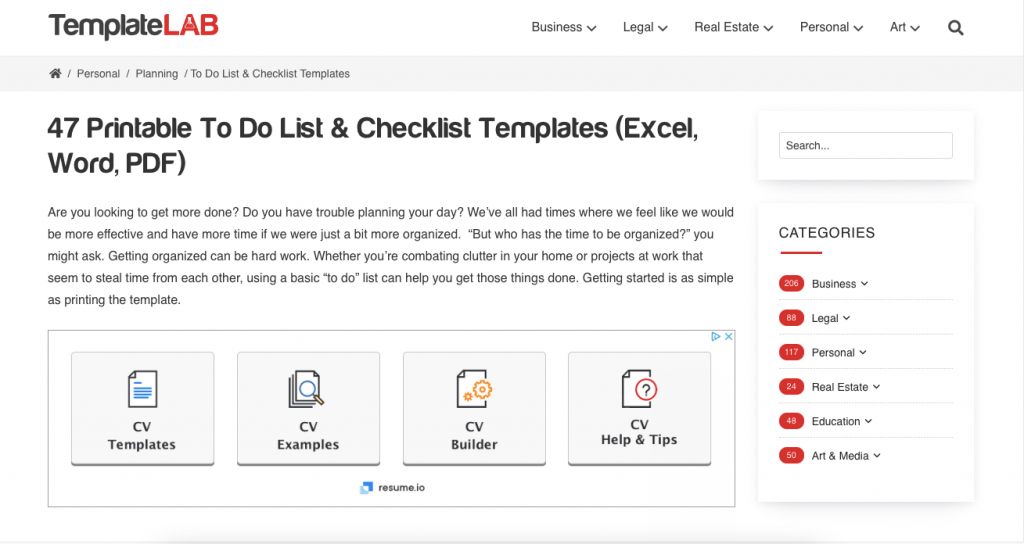 Templatelab offers an extensive list of 47 daily checklist and to do list templates to get your life a little more organized. Most of them are blank, but you can also find some prepared with a certain purpose, e.g., a wedding or Christmas to do list. They're perfect for those who want to keep track of their assignments using spreadsheets.
These templates aren't customizable, but they are printable (ready to download in spreadsheet format). They
✅ Templates by Canva
Free to use templates by popular graphic design platform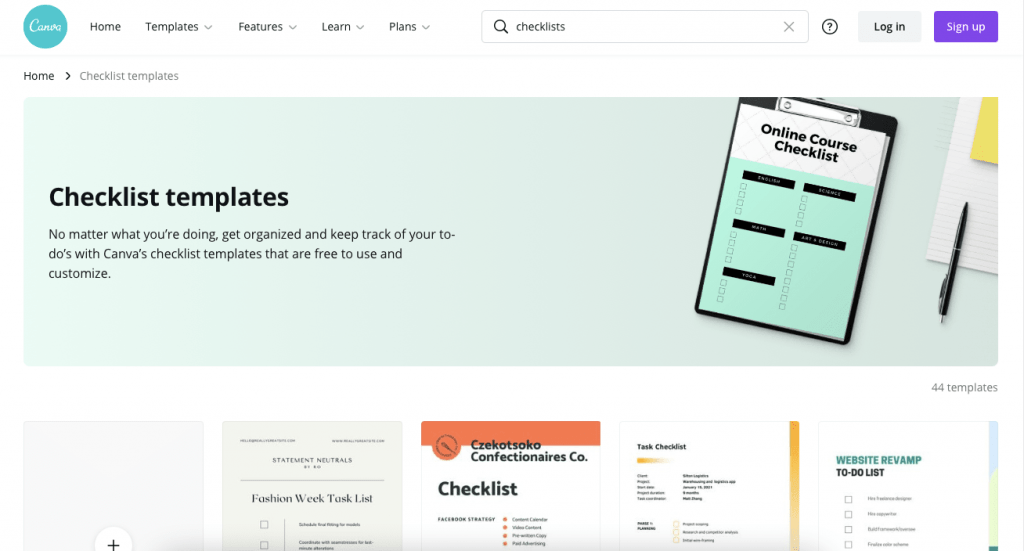 Many of us use Canva every day. Its clear, intuitive interface and wide range of different graphic resources is a complete solution to streamline the simple content design. Good to know this platform also offers to do list templates, such as weekly to do list templates and checklists with priority tasks for various purposes. What's more, you can also create your own one, using the familiar Canva creator.
Like most of the resources, Canva to-do list templates are free to use. Each template is printable, you can download them in PDF format.
✅ Miro
For those who prefer online solutions to create a to do list template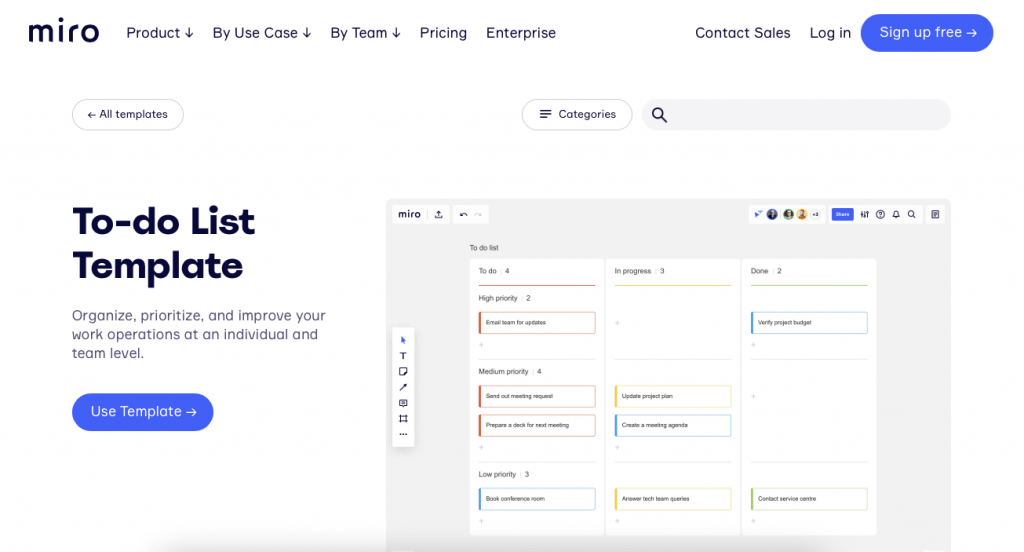 Miro is an online, collaborative whiteboard platform dedicated for teams; however, individuals should also benefit from using it. It's a user-friendly, rich, packed app that you can download for your computer or smartphone, It also offers a wide range of to-do list templates that streamline tool usage and working on a project and its tasks.
So, if you're eco-friendly and want to go paperless, give Miro a try – a to do list template is included in its free plan.
✅ Todoist
To do list app we all know about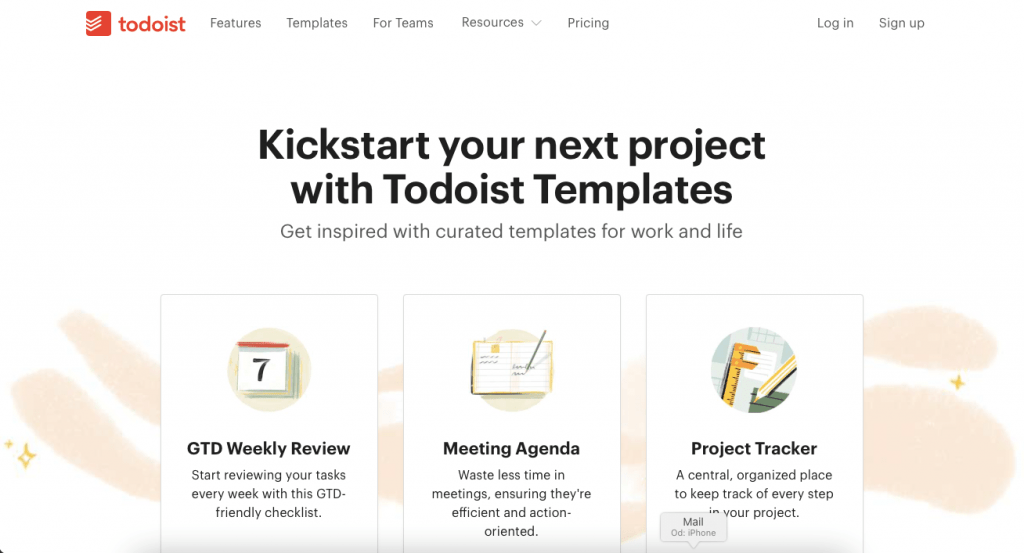 When thinking about personal or business to do list apps, Todoist is the most often a first choice. The tool works as a checklist template itself and helps you make sure your tasks are perfectly organized. Use its web version or download a desktop app; it also offers a mobile one for those who want to manage daily and weekly assignments no matter where they are. Set a priority, add notes for better transparency, check the progress, and mark tasks when completed.
If you need a little bit of help with setup, you can use a template from a long list the tool offers. What's particularly good, they're all available in a free Todoist plan.
Remember that you can track time for your to-do list with our Todoist integration!
✅ Weje To-Do lists and checklists
To-Dos and checklists for teams and solo users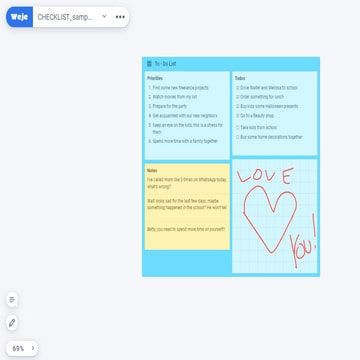 Weje is a free online workspace enhanced with options for team collaboration. It has a templates library where users can pick up some ready-made patterns, like Kanbans or SWOT, fill them in, and share them with co-workers. It's also possible to start with a blank online canvas and supply it with information using cards. For example, one can create a To-Do list containing distinct cards for tasks' details, priority, and notes. All related information can be uploaded or inserted in the list straight from the Web, and it's also possible to draw, put online sticky notes, and leave comments for collaborators in a To-Do.
✅ MasterBundles Planner Templates
Planner template form for managing projects and tasks
The huge selection of a wide variety of products, helpful guides and interesting articles make MasterBundles one of the best marketplaces on the entire digital marketplace. Here you will find hundreds of solutions for different projects. These include presentations, logo,s and templates, font packages, illustrations, icons, cliparts, etc.
MasterBundles planner templates are only high-quality solutions that can help you organize the work correctly. If you are looking for products that are ready for full customization or you need a printed planner version, then refer to this digital marketplace.
A daily, weekly, or even monthly planner can be used for different purposes. A wide variety of designs start from eye-catching visuals for those who enjoy creativity to a calm minimalist style. A huge advantage is that everything is already done for you. You just need to fill in the to do list template and start doing your business. So, browse an amazing planner templates collection by MasterBundles and implement all your ideas into life.
✅ Template.net
At Template.net, all templates are editable to meet your needs and printable for immediate use. You can download blank or premade designs for inventory, personal or work related to-do lists, tasks, checklists, price lists, posters, and more that are Excel, Sheets, or Numbers compatible. These templates for projects and tasks are available in the free version. 
---
Nevertheless you're more into offline or online solutions, having a good checklist template is a must-have when it comes to efficient task tracking. Luckily, the market is full of free printable to do list templates and online apps that are a huge help in proper work and private life organization.
DIY or download a free to do list template with a checklist and find out how to declutter your life in no time!