February 20, 2023
by Kate Borucka
No comments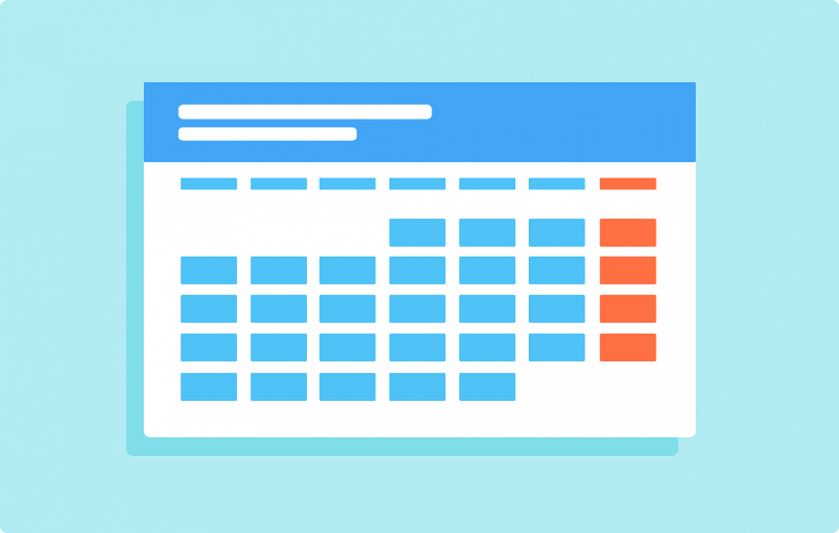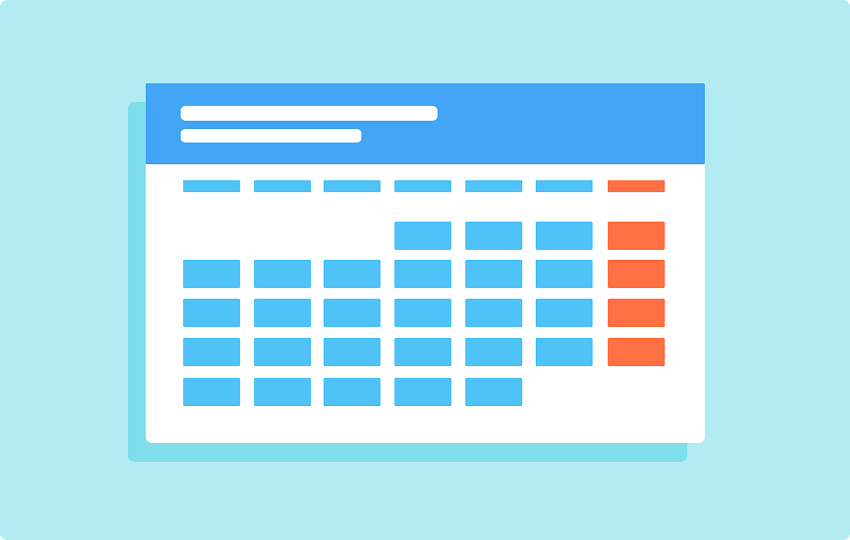 Dr. Seuss said, "How did it get so late so soon?" Did you ever wonder where all your time went and how it happened that you didn't manage to complete all your tasks? If so, you may find time mapping particularly useful.
Effective Time Management With Time Mapping
Even though there are many available manuals and pieces of advice on effective time management techniques, it is still a large problem for many people. This mainly concerns freelancers and remote workers, who work from home. There are many challenges and obstacles to such a work and effective time management is one of them.
Mapping time serves as a great tool for effective time management. Yet it is often mistaken for time tracking, while it has nothing to do with it. However, time tracking can be a part of time mapping, if used in a proper way.
👉 Check also our list of Best Free Time Management Software
Not sure where your time goes at work? Use TimeCamp – a completely free time tracker for unlimited users.
So what is time mapping? It is a map of your tasks, related to your professional and personal life, with the distinction of time blocks. By utilizing the 5 Ws of time mapping, you can gain a comprehensive understanding of your time allocation and optimize your productivity. Time mapping can be extremely helpful in organizing time for emails, phone calls, meetings, amongst many other aspects of work which need to be done.
Time blocking and time budgeting – what is the difference?
When we are on the topic of time mapping, it is worth saying a few more words about time blocking and time budgeting. These are the variations of time mapping that you can come across. These terms are often used interchangeably, which is not entirely correct. Let's sum them up in a nutshell.
Time blocking
This technique is known to be used by the greatest faces of time management, such as Elon Musk of Bill Gates. Essentially, time blocking has the same aim as time mapping. It is all about doing more in a shorter time. Time blocking differs in the way you focus on executing your most important tasks. Firstly, you choose what you will work on. Secondly, you decide when it will happen. Finally, you block off time in your calendar and devote it to that certain task. 
The biggest benefit of time blocking is the fact that it tackles distractions. And by distractions, I mean the less important tasks. Once you have the list of your priorities and the specific time for their completion assigned, you can then easily move on with your workload, leaving the less important activities aside.
Time blocking also improves focus and the quality of your work. Research shows that it takes around 15-20 minutes to fully concentrate on a task performed. If you get sidetracked, it is not impossible to perform up to standards. Thanks to time blocking, you do not jump from one thing to another, as soon as it emerges. This keeps you focused on the tasks you perform.
Time budgeting
This approach treats time according to the saying 'time is money'. You budget your time in the same way as you would your income. You would start by assessing the total time you have in the day. For example, for work tasks, it would be 8 hours. Then you plan the times of all the most important tasks. Finally, you arrange the time for less important activities.
In time budgeting, you will also start with prioritizing your tasks and setting time for the execution of the most important ones as in the case of time blocking. However, you do not focus on performing the most important tasks only. You take care of planning time for every task that needs to be performed. 
Time budgeting helps you keep track of your tasks as a whole. Why is it important? Because it is easy to postpone less important tasks for a long time. However, once they are postponed for too long, they might become even more important than those that initially took priority. Such a pattern causes sudden stress and anxiety. 
Thanks to time budgeting, instead of making things get worse, we acknowledge all of the tasks and perform or constantly remind ourselves about those less urgent as well. 
This technique works well with long-term goals too. For example, setting aside 15 minutes a day to learn a new skill gives us around 92 hours devoted to it per year. Without budgeting those 15 minutes, we probably would not devote any time to that activity and therefore made little or no progress. 
Benefits of mapping time
It is undeniable that mapping time is beneficial for good time management. Let us have a closer look at all the most important advantages that time mapping has.
Get more done in less time
Mapping time is a lifesaver for those who often lose the track of time. You have a task to do within a certain time and you simply do it. Sometimes the tasks in our heads seem like infinity. That is why some tend to postpone it. With time mapping you know exactly how much time you will spend on a task. For example, it is easier to complete a task knowing it will only take half an hour, than thinking it will take God knows how long. You will be surprised to find out that tasks take less time than we imagine, and it will boost your productivity. 
Take control of your schedule
Mapping time requires writing down your tasks. When you have them on paper you will not forget about any of them but you also can make decisions about when and how long to spend doing the activities you planned.
Stay accountable
Mapping time allows staying accountable for the completion of the tasks you take on. You can also effectively cooperate with others and build trust. It is because they know exactly how much time you spent on your projects or tasks. Time mapping helps you develop discipline and a sense of responsibility. You also build habits that will help to achieve your future goals.
Break down your tasks into smaller pieces
Smaller steps give you a more accurate outlook on how long each activity takes. It can help if you need to think on the spot about your day or shift some tasks during the week. You will be able to construct a whole new schedule effortlessly. Also, do you know that feeling when you do not want to start some new tasks just because you leave work soon? If you break the task into parts, you will be able to finish one part and complete the remaining parts the following day.
Find out the dependencies
Mapping tasks and breaking them down also helps you to see which tasks depend on the completion of others. That introduces another type of prioritizing, not based on the tasks' importance but on the order in which they need to be performed.
How to Use Time Mapping?
Everybody has different priorities and everyone can map his or her time in various ways. Either you are a Project Manager or an individual, it all works differently for everyone. Time mapping is a structured system yet you don't have to strictly follow it, it's the map of the time. And if you're in a new area, you never follow a map with precision to a mile. It's the same with time mapping.
Moreover, you can treat time mapping as an exercise and not as an agenda which will dictate your every next step. To start with, you can take a piece of paper, a pen, and different colors of highlighters. To create a time map you have to begin by listing your tasks. List personal and professional tasks. Those you do at work, as well as those you do at home. Then you should group taska into different categories such as work, private life, the most important tasks and the least important ones. While creating such a time mapping system it's important to ask yourself the following questions:
How do I spend my time?

Do I spend it the right way?

What would I like to change in my workday?

How would I like my day to look like?

Is there any particular task I should pay more attention to?
Once you made your time map, see how it works with your day and make adjustments. The more you work with it the better it works. You can see its flaws, how much time you spend on particular activities, whether the blocks of time align with your time map. Also, you can create monthly and weekly time mapping template and fill it according to your personal requirements.
Find a time mapping template for your needs
To get a head start and a better understanding of time mapping, have a look at a few of the templates we prepared for you. To choose a time mapping template that works best for you, have a look at the below activity logs. They will ease you into the start of your journey with time mapping:
https://www.smartsheet.com/free-time-management-templates
https://asana.com/resources/time-management-templates
Time map software 
To simplify time mapping even more, we prepared a list of useful tools that will help you automate your time mapping. After all, who uses pen and paper to fill out a physical calendar in the 21st century?
TimeCamp
Thanks to TimeCamp productivity tracking, you can keep track of your duties at work. This time map software will show you how you allocate your time. Thanks to the time entries, you can draw conclusions and prepare your time map. Just the time map software you need to start improving the quality of your work.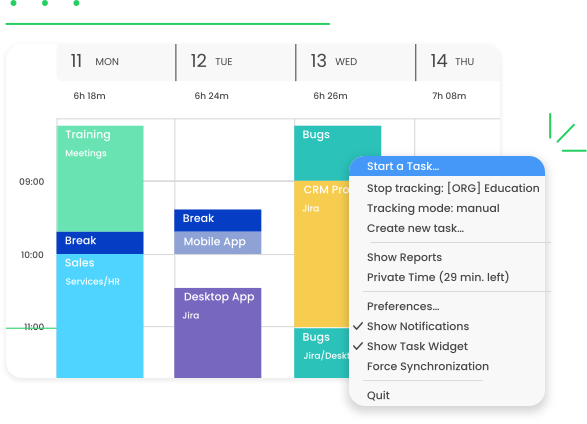 Clockwise
Clockwise till not also help with your time mapping but also with adjusting several schedules. It is then a perfect tool for any type of team. The software will propose the most suitable solutions to any meeting conflicts that may occur. It also provides blocks of Focus Time to achieve better productivity.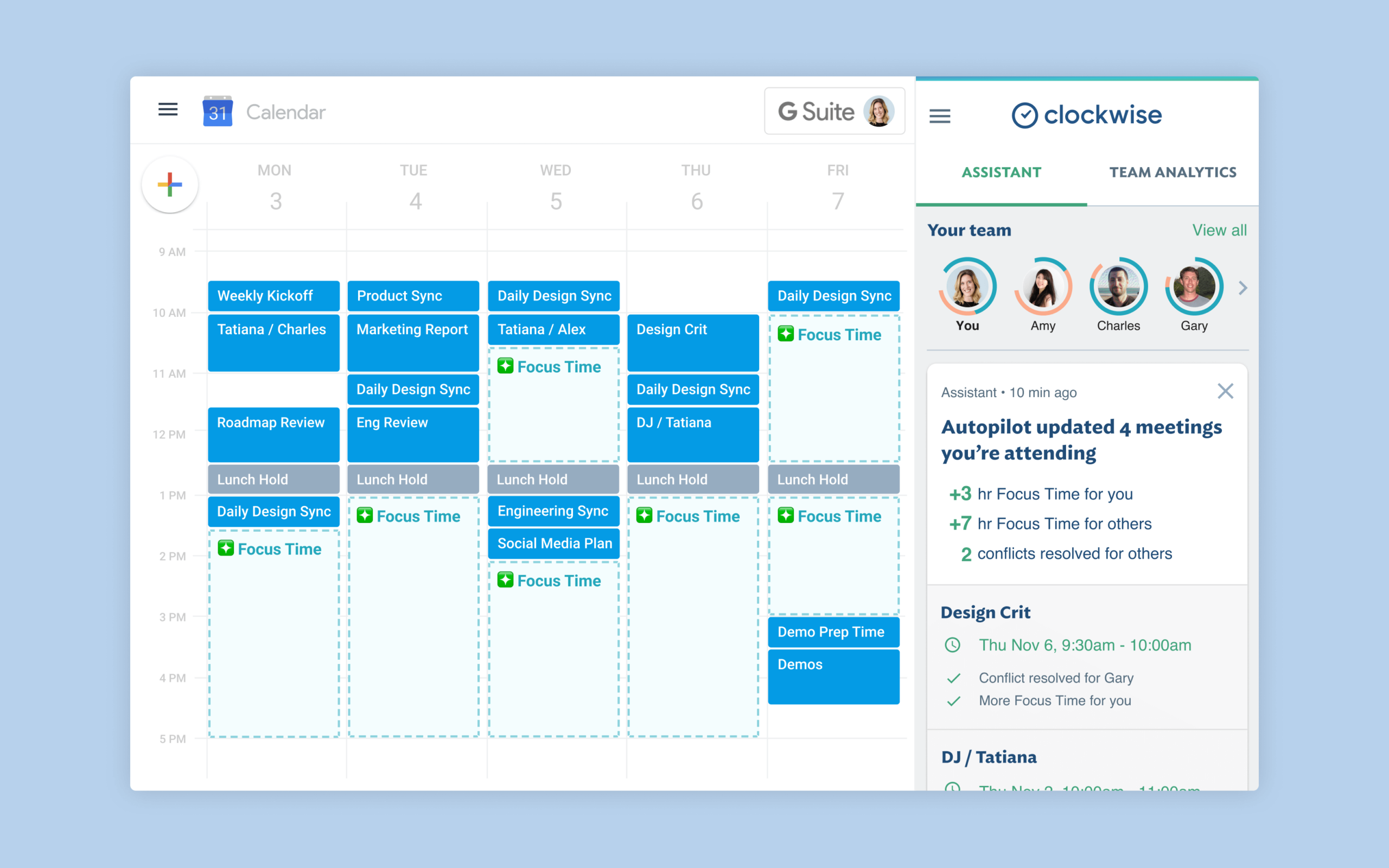 Planyway
As the name indicates, Planyway is a time map software, which helps you plan your daily tasks to get a clear overview of all activities you need to complete. You can mark tasks as important and set recurring events. You can integrate all the boards from tools like Trello and set reminders regarding important tasks, meetings, or activities.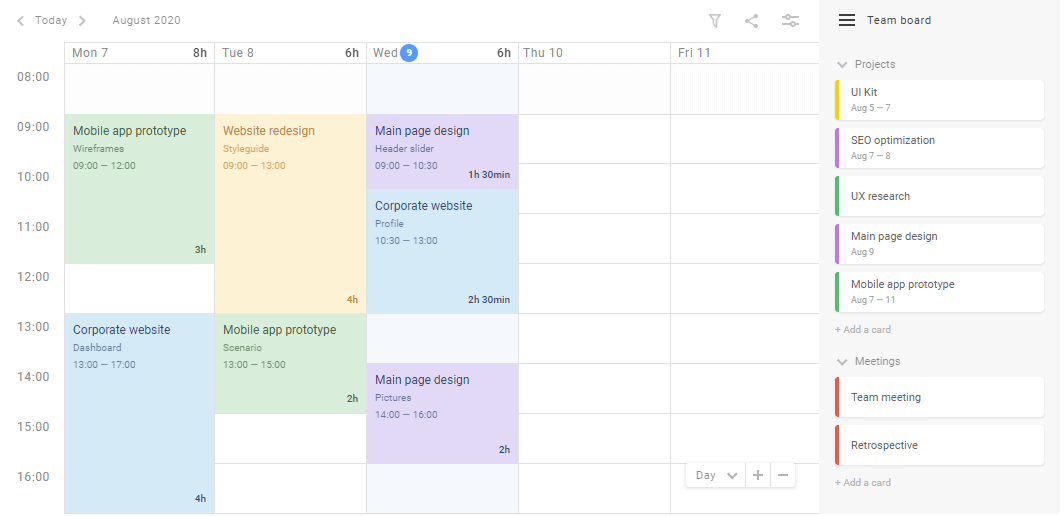 Plan
Plan is a time map software that gathers all data regarding your daily activities from various tools and calendars you use. Then it will correlate your and your teammates' plans including all important projects and tasks. You can view it in the timeline to get a better understanding of where you can fit in individual projects.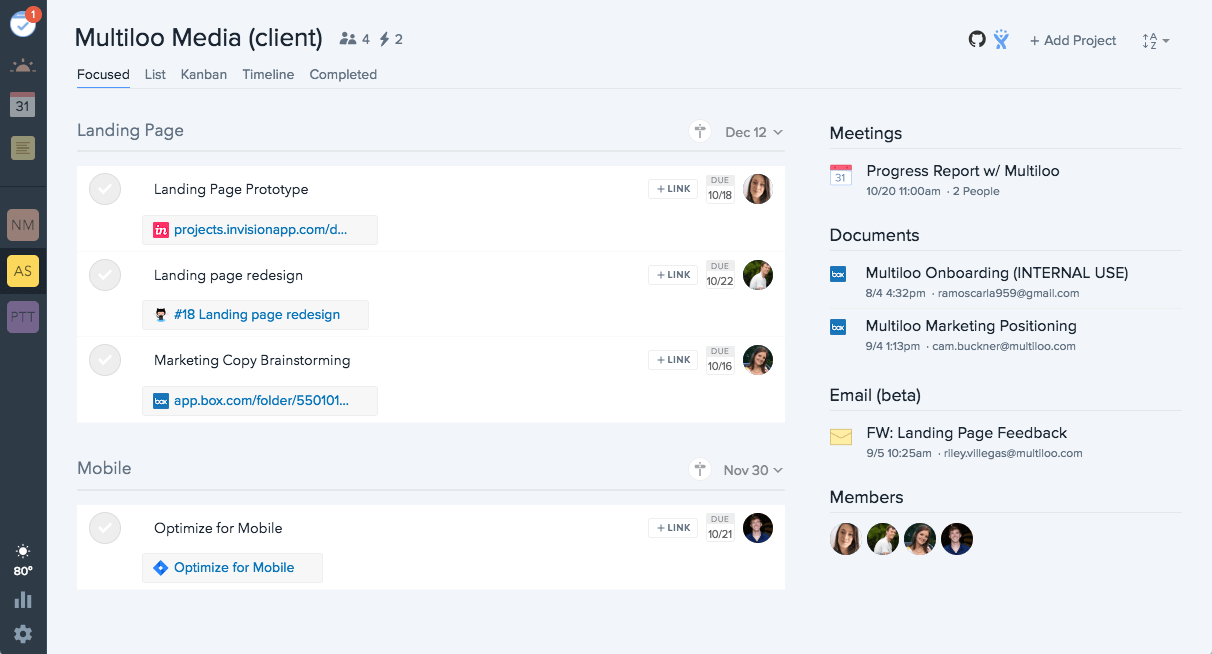 Timely
Timely is well-known for its intuitive and colorful design. Time maps you can create in this time map software are clear and transparent. This speeds up the process of mapping time and adjusting task times according to your goals.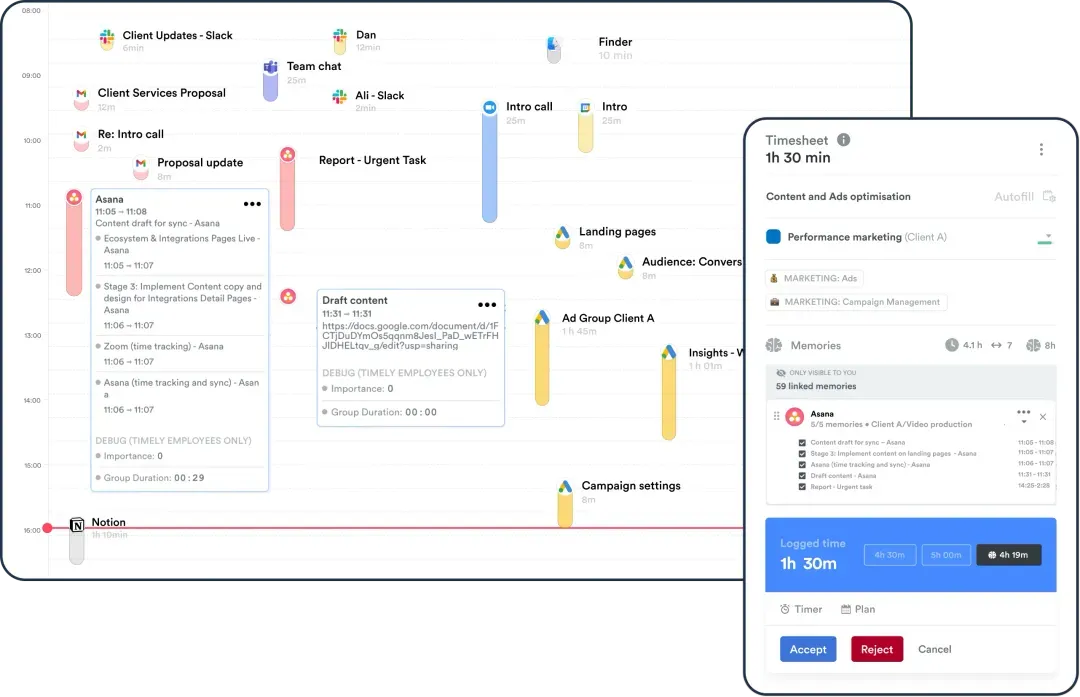 👉 Check also weekly schedule templates!
Conclusion
An example of a time map by Marie Poulin
The technique of time mapping helps to reshape the work day and create a schedule in which you have time to perform all your tasks but also to spend quality family time with the loved ones, or devote time to yourself. It helps to achieve a better work life balance. Most importantly, it is a great tool for companies as all employees can work on their teamwork.
Don't forget to help yourself with special software used in time management, such as time tracking software (which will help you calculate time spent on all activities), to-do lists, calendars, etc. Create your own time map to always stay on top of your work!