12 Daily Schedule Template Ideas
March 13, 2023
by Kate Borucka
No comments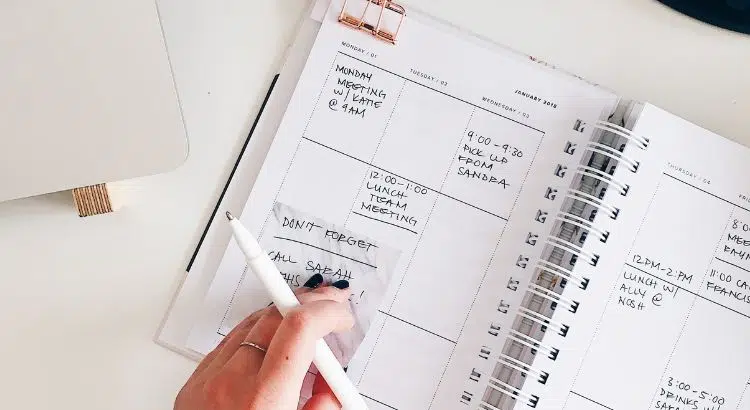 The daily time schedule template can be a great alternative to all the productivity apps available on the market. It is a simple way of planning your day in advance and can be as efficient as using digital tools. (brownshvac.net)
If you're an advocate of using pen and paper methods or like to get creative, we have something perfect for you!
Why Use a Daily Schedule Template?
Using a daily time schedule template on a regular basis can help to organize and prioritize work and different activities to dedicate your time to things that matter most.
When you plan, you define your goals and have a clear vision of what you want to and can accomplish. You get a clear structure of what your work and personal life looks like and what needs to be improved.
Daily schedule with times template can serve as your to-do list, a planner with all the important dates, or a calendar that gives you insight into your whole year. You can just take a look at it to assess your availability and whether you can squeeze more projects into your schedule. 
What is more, you can use it to reflect on your daily successes and failures and work on your goals.
Additionally, it is scientifically proven that creating a daily schedule helps to remember about completing the tasks.
So use a schedule template to improve time management skills, keep track of your accomplishments, and have more control over what you do with your life. 
How Do You Make & Use a Daily Planner?
Making your daily planner is not only easy but it is also fun, so let's focus on that for a few minutes. 🙂
Creating a daily schedule template can be done in three ways. You can buy a calendar with a daily schedule, create your own planner in a notebook or on separate pieces of paper, or use one of many templates available online.
People use daily schedule templates in many ways to organize different areas of life:
A productivity planner to improve efficiency at work
Meal plan to introduce a healthy diet and feel better
Daily class schedule for teachers and students to plan the syllabus and keep a record of homework assignments
Weekly schedule with daily time logs to keep track of work hours
Daily shift schedule for field workers
Professional planner templates with hourly agenda for conferences, meetings, and events
Schedules for kids to organize their activities and education
and many, many more.
And if you are more demanding, you can invest in a calendar with monthly, weekly, and daily schedule to plan your whole year in advance and get more organized.
You can also opt for a dedicated app, but there's nothing better than the smell of fresh paper!
Overall, creating a daily planner template is not difficult. You can adjust it to your preferences, make it a simple table or a detailed outline, use different sizes and colors of paper, and personalize it however you like. You can also attach sticky notes, stickers, drawings, and additional items to keep important notes visible.
There are really plenty of ways to use daily planner templates and you can get extremely creative!
👉 Check out our list of the best weekly schedule templates to organize your week in advance!
What Are The Best Daily Planners?
All good daily schedule templates are also free schedule templates. Luckily, there are hundreds of free options you can choose from. You can download, print, and keep them in your favorite place. Let us present the best daily schedule templates on the market.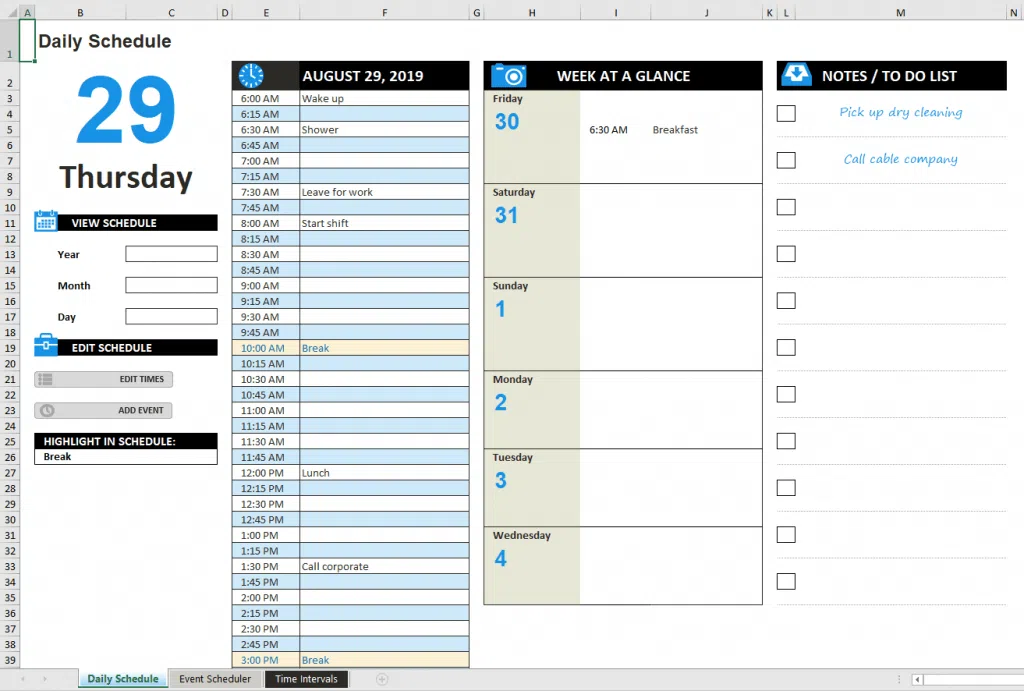 Microsoft offers a rich repository of templates for all occasions. Among them, you can also find daily planner templates.
To supplement your daily planner you can combine it with other templates to help you better plan your day better – calendars, to-do lists, logs, memos, minutes, agendas, or lists. It is all you need to plan a perfect day, week, or even year at home, work, or school.
There are also timesheets and timecards you can additionally use to track time. And with planners and trackers, you can follow the progress of your goals and create a timeline of your project.
You can freely search through all the planners to find your perfect daily schedule example for Excel or Word.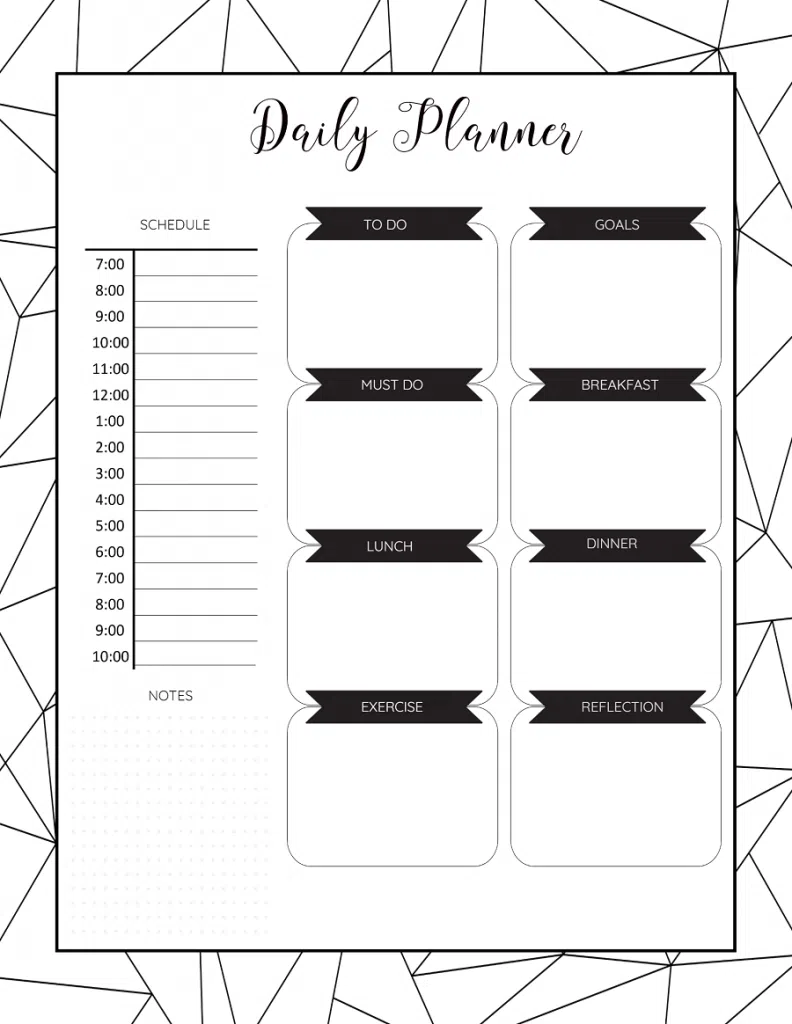 101Planners is a lightweight creator of free printable schedules. It lets you design your own, personalized free daily schedule with times. You have full flexibility in customizing your schedule template.
You can edit text, add date, day, month, place stickers, create space for notes, to-do lists, make columns, add colors, change the border, play with the widgets, create gratitude list and reflection section. Anything you need to make sure your day is properly planned.
101Planners also offers other fully customizable printables: calendars, planners, habit trackers, bullet journals, countdown calendars, binder covers and tabs, checklists, or planner stickers.
You can either create your own schedule or use a schedule example and download it instantly with one click.
Available in: Word, editable PDF, Excel, JPG, PNG, SVG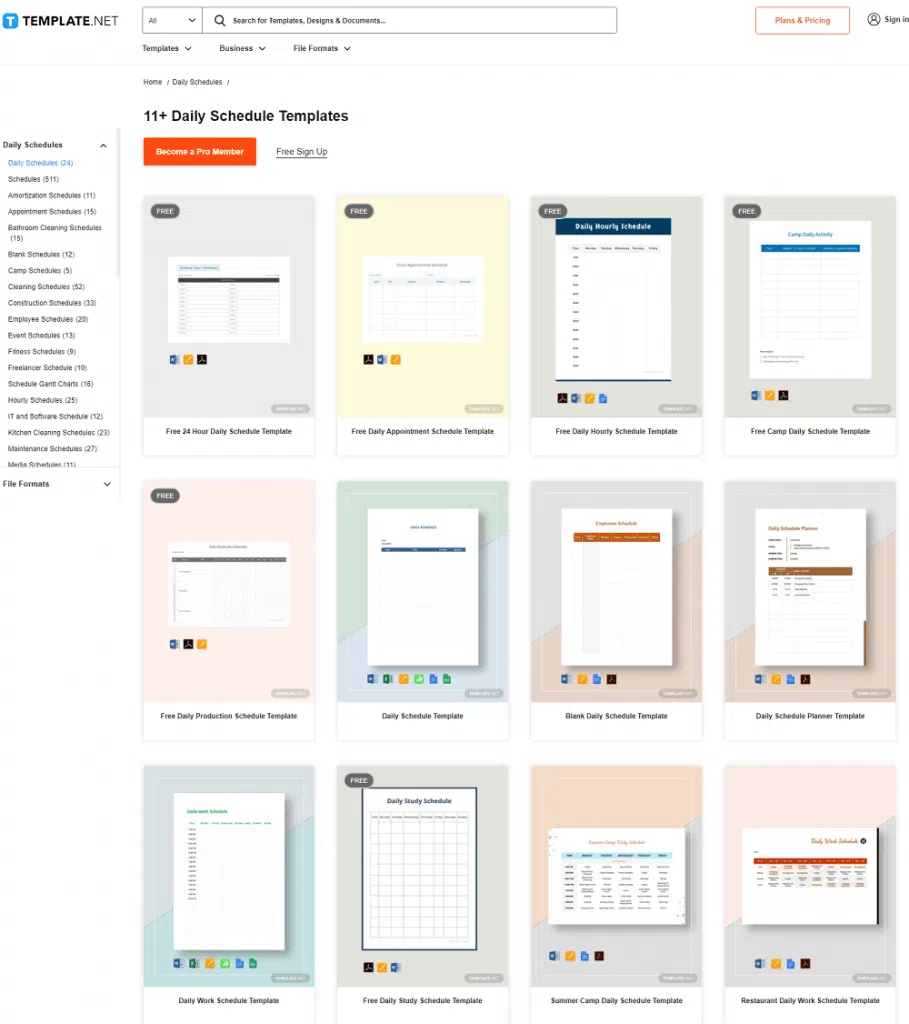 Template is a platform with a huge repository of various templates. That includes editable and printable planners with over 220 types of schedules to download on your computer, phone, or laptop for graphic design.
For a daily schedule template, Template offers customizable planners of different types: appointment template, project schedule, program schedule template, school schedule template, travel plan, event daily planner, daily work schedule template, daily employee shift schedule, and many more. You can easily use it in your daily life when, for instance, you travel abroad and set up the places to visit in Amsterdam in order not to forget anything. 
All Template's planners are simple schedules perfect for minimalists.
Available in: Google Docs, Google Sheets, Excel, Word, Numbers, Pages, Adobe PDF
4. Daily Planners for Google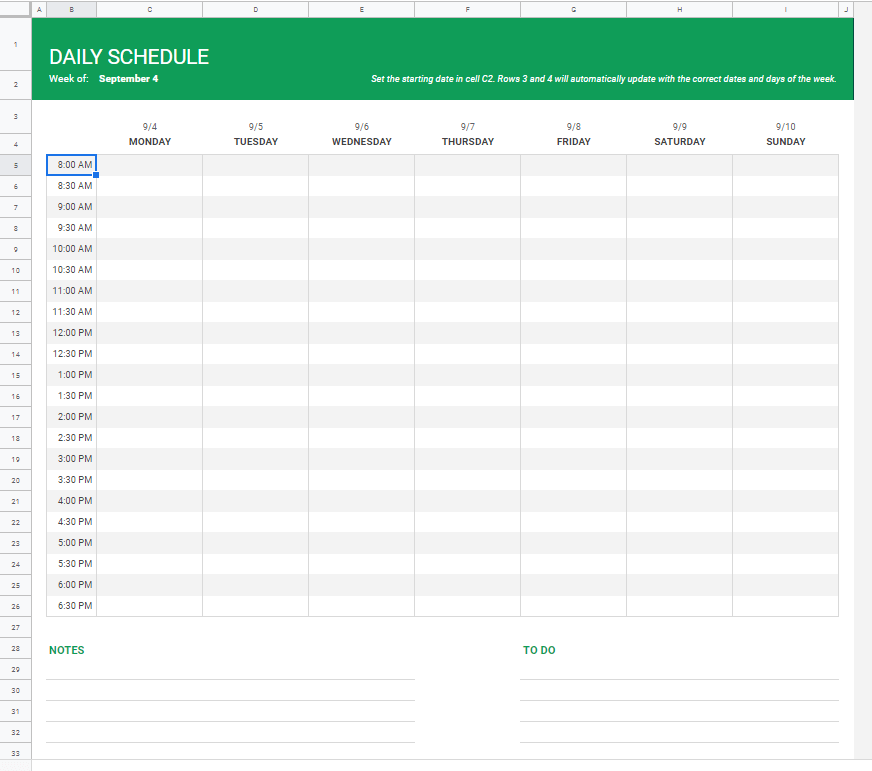 There are not many templates of a daily planner available for Google Sheets. Google offers only one simple schedule with hourly planning. So you can either use the one available, create your own, or check template.net for their projects.
If you want to keep everything easily and quickly accessible, use Google Calendar. It will store all your plans and important dates. You can also make notes, to-do lists, and invite other people to your events.
What is more, Google Calendar integrates with thousands of apps so you can connect your favorite tools to always stay on track.
Use it to quickly edit your plans, download and print all the important dates, and know when the important day is about to come.
5. OnPlanners – Printable Daily Schedule Templates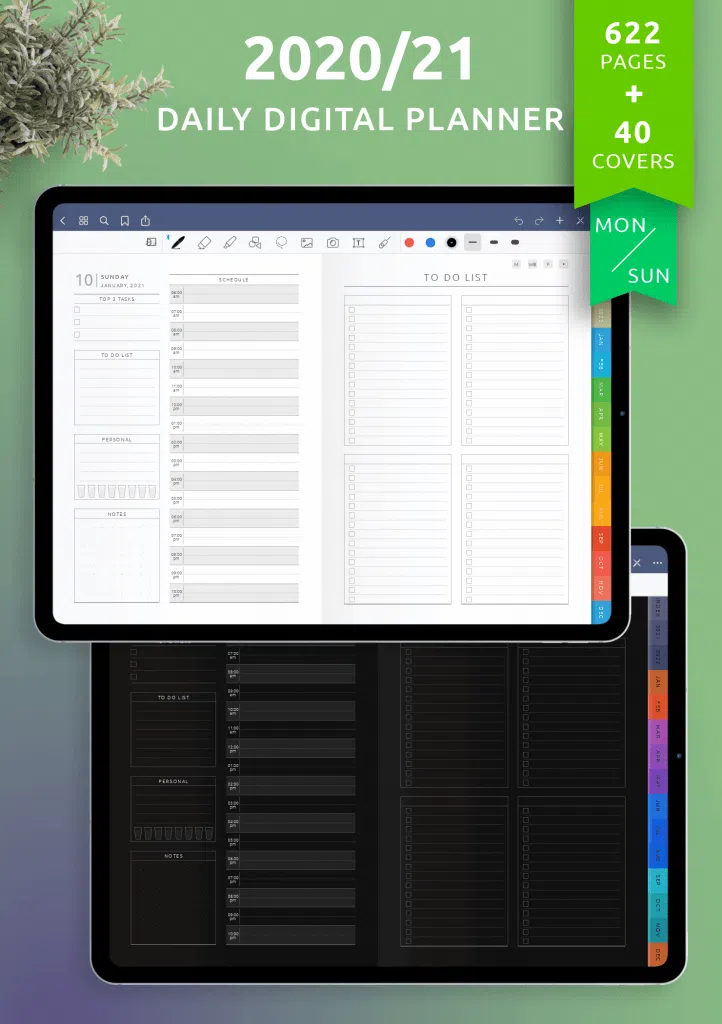 OnPlanners is a website with thousands of universal and versatile templates to plan, organize, and track all your tasks.
Printable daily planners include the following:
Daily hourly schedule planners
Dated daily schedule templates
Full-Size printable daily planners – undated
Daily undated schedule templates
Daily schedule with times and a to-do list
Daily to-do list templates
In this rich collection, you can also find digital planners for iPad or Android Tablet.
All the planner templates work well for tracking your everyday meetings, events, and reminders about the important dates, tasks, upcoming holidays and birthdays.
Every daily planner is available as a downloadable PDF in sizes A4, A5, Letter, and Half-Letter.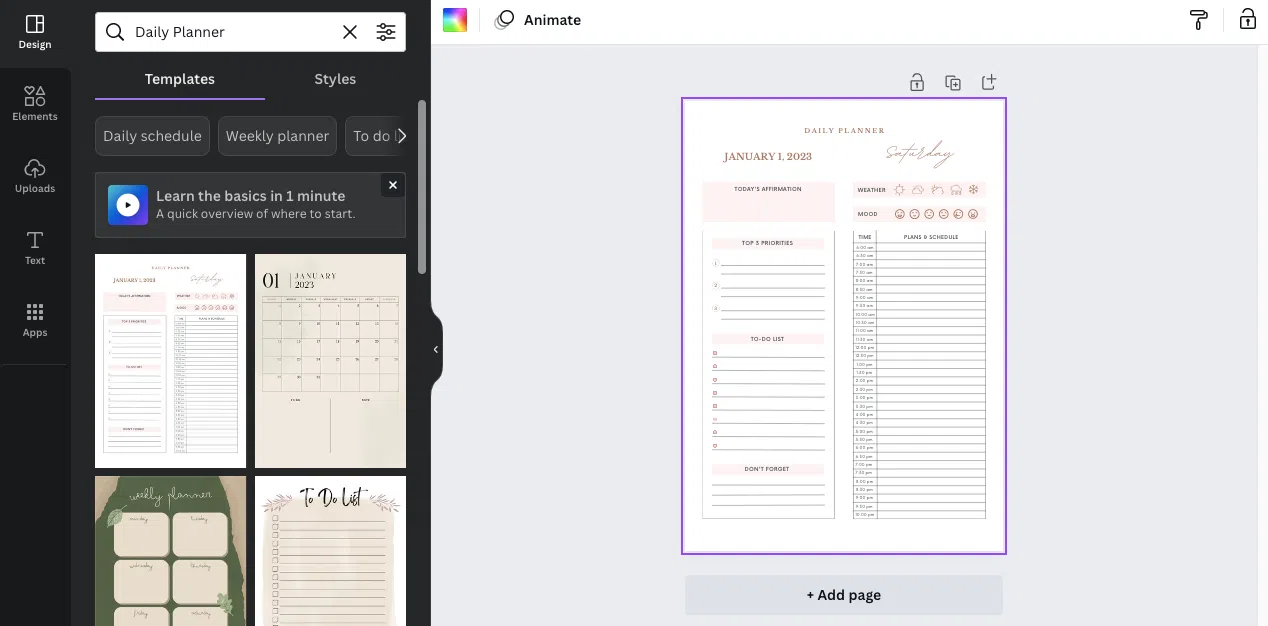 Canva is a widespread tool for creating simple yet effective graphic designs. It is well-known among many illustrators and web designers. It also has a varied offer of daily schedule templates.
Canva's extensive collection can easily be searched thanks to available filters. You can choose a planner or a notebook format. You can also pick the style of your daily schedule with times. There are more than 60 styles available, such as Minimalist, Modern, and Simple, but also Playful, Colorful, and funny.
On top of your daily work schedule template, you can also prepare a schedule example for the whole week, month, or year as well as notes.
The intuitive interface helps you to customize your daily schedule with times with just a few clicks. Creating a daily schedule has never been easier!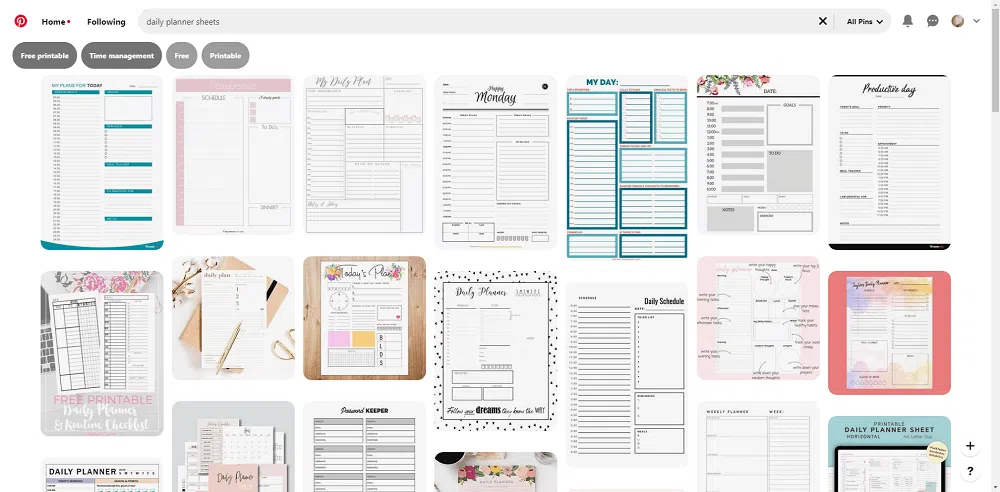 Pinterest is a great place to find various ideas for your printable daily planner template. It is best for those who are bored with having just one template.
The platform gives you insight into the ideas of other people who like to share their work with the world. And there is plenty to choose from. Beginning from simple to-do lists, to free printable daily planners, and ending on entire calendars.
Pinterest is like a labyrinth of concepts that can work as your base for a daily template so do not get lost while scrolling down and searching for ideas!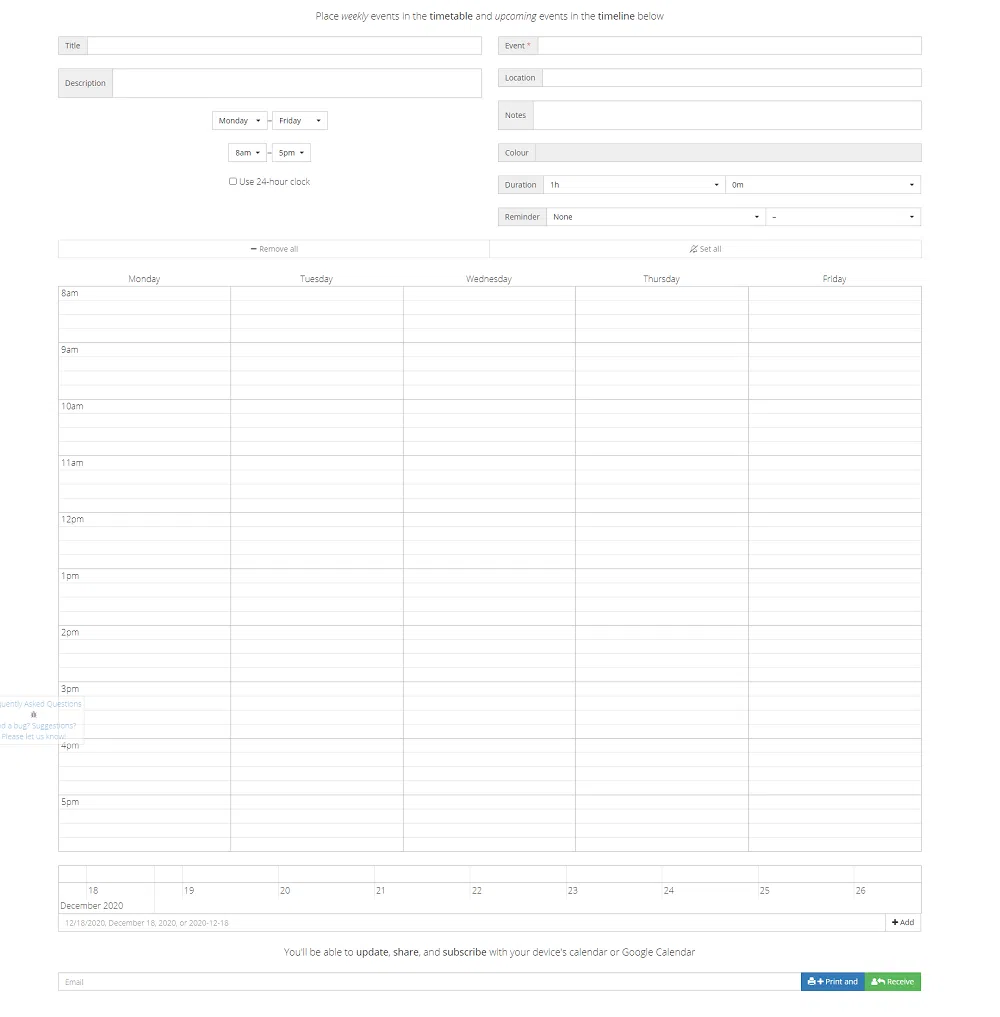 Timetable Maker is perfect for creating a lightweight, classic printable daily planner. It even lets you organize your entire week so you can better manage your time.
You simply enter your events, date, duration, location, add notes, and set the color. You can also set reminders and sync the planner with your digital calendar. And if you need to, you can print it with just one click – you will have a perfect layout for your daily agenda.
Make sure to check it out if you want a simple and clear timetable for any task or event.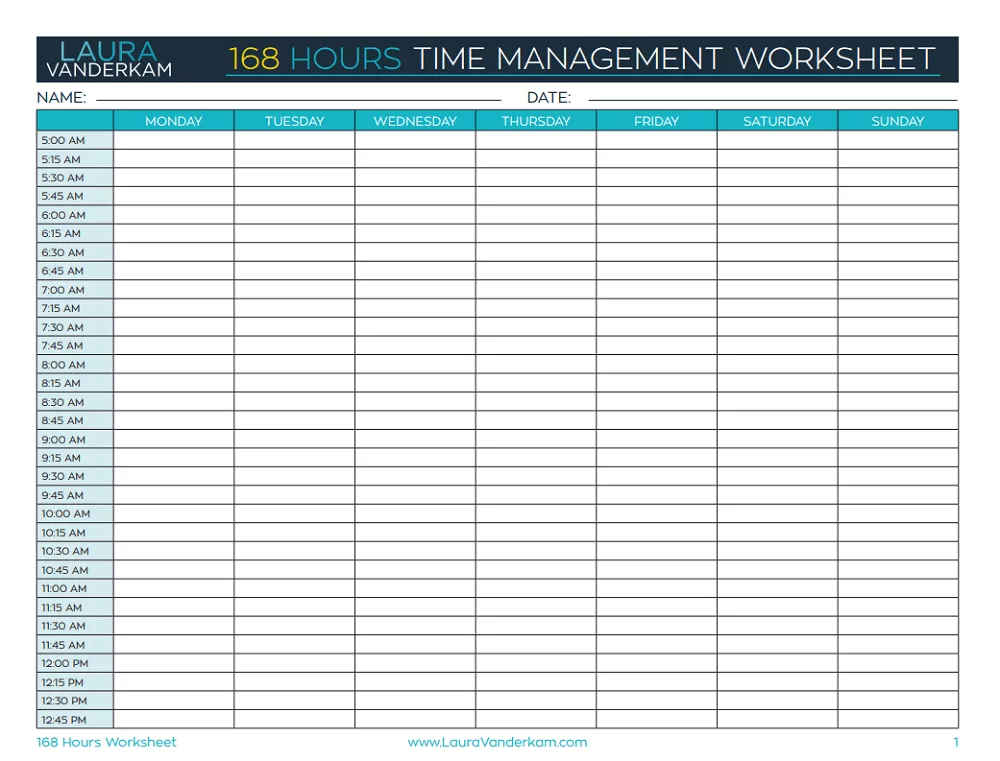 In her book 168 Hours: You Have More Time Than You Think, Laura Vanderkam encourages readers to track their time with a dedicated spreadsheet. It is a printable weekly schedule that can help you organize all your activities through the week and make the best use of your time.
The 168 hours tracking sheet is a great alternative for the daily schedule template. Use it to improve your time management and learn how much time you dedicate to each activity.
It is suitable to track tasks, a project, business activities, class schedule, employee daily and weekly work hours. Use it also to create and follow a daily routine to stay on top of your every day.
👉 Read why we do not recommend using a manual time tracking spreadsheet.
👉 You can read more on the 168 Hours Time Tracking Challenge here.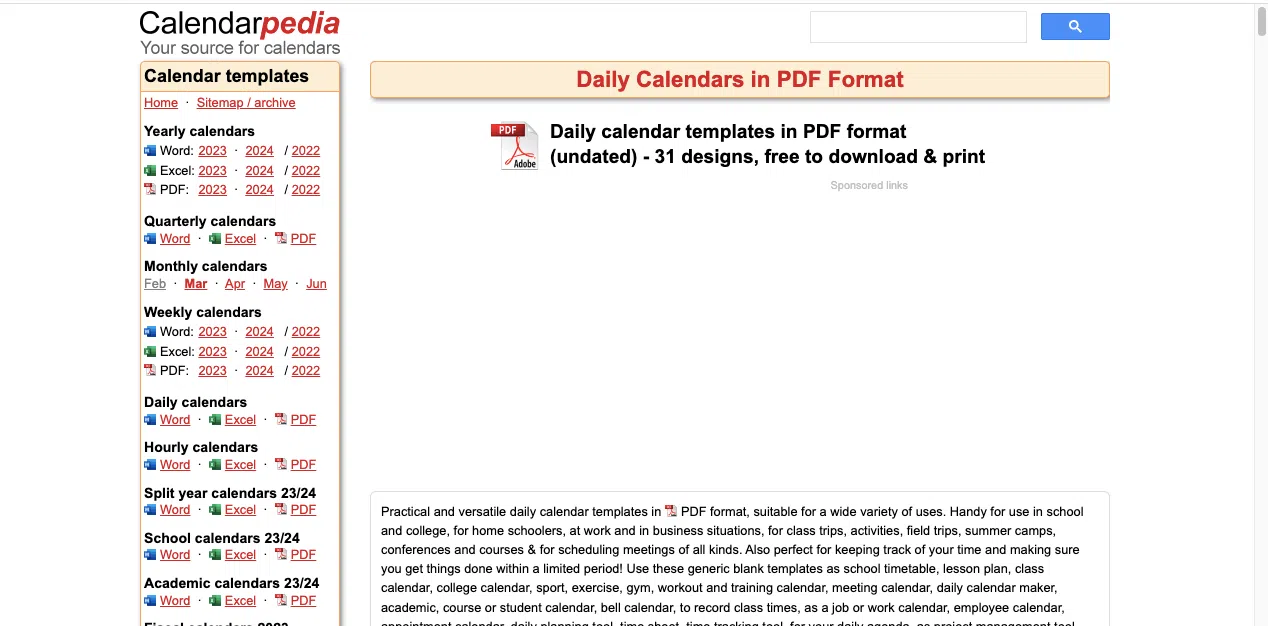 Calendarpedia is a perfect tool for those who do not like spending too much time creating a daily schedule. It offers simple and straightforward schedules compatible with many tools.
It does not matter if you need a daily time schedule or an hourly, weekly, monthly, or yearly planner. You can even prepare a 2 or 3-year calendar! Calendarpedia has it all in the clearest form.
One of the benefits of Calendarpedia is that it is customized according to a chosen country. This means that unique bank holidays, religious holidays, festival dates, and other important dates are included in the schedule. It helps with effective planning of work time as well as leisure time.
Calendarpedia templates are available in many formats, such as OpenOffice, Microsoft Word, Microsoft Excel, Google Docs, and PDF.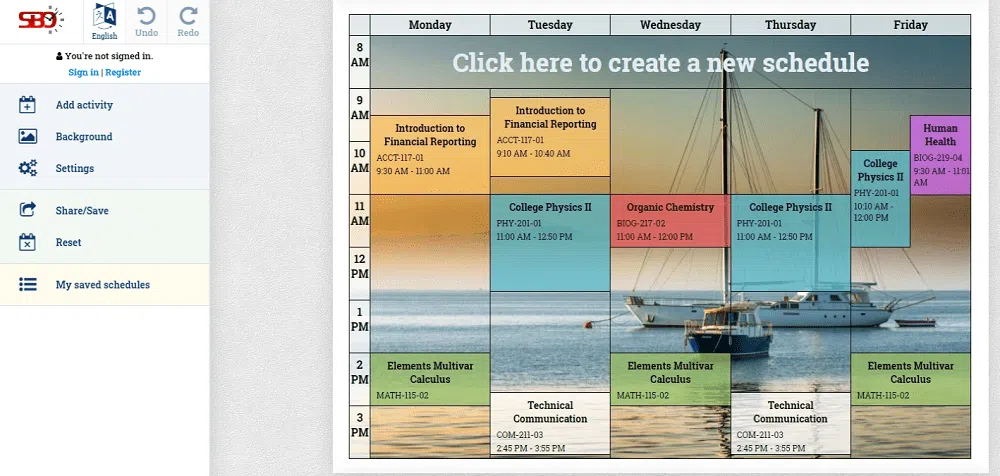 Schedule Builder is a free web application, for creating weekly and daily schedules for any activity. It is easy to use and you can personalize it by customizing the background color and image, text color, showing or hiding dates, and changing the position of time marks.
You can quickly export your schedule in PNG, PDF, or iCal. Or you can save it to the website by generating a private link to manage it anywhere you want, and to share your daily plan with team members, friends, or family.
Schedule Builder is best for creating a daily work schedule template in a plain format.
12. Free Creative Online Schedule Makers
Online schedule makers allow you to create a customized schedule template online and later download it on your computer for print.
Here are some of the online creators that let you make your own template just the way you like:
Such creators are best for creative spirits that like to dedicate themselves to planning their day by more than just outlining the daily agenda.
13. Free Daily Schedule Templates from Smartsheet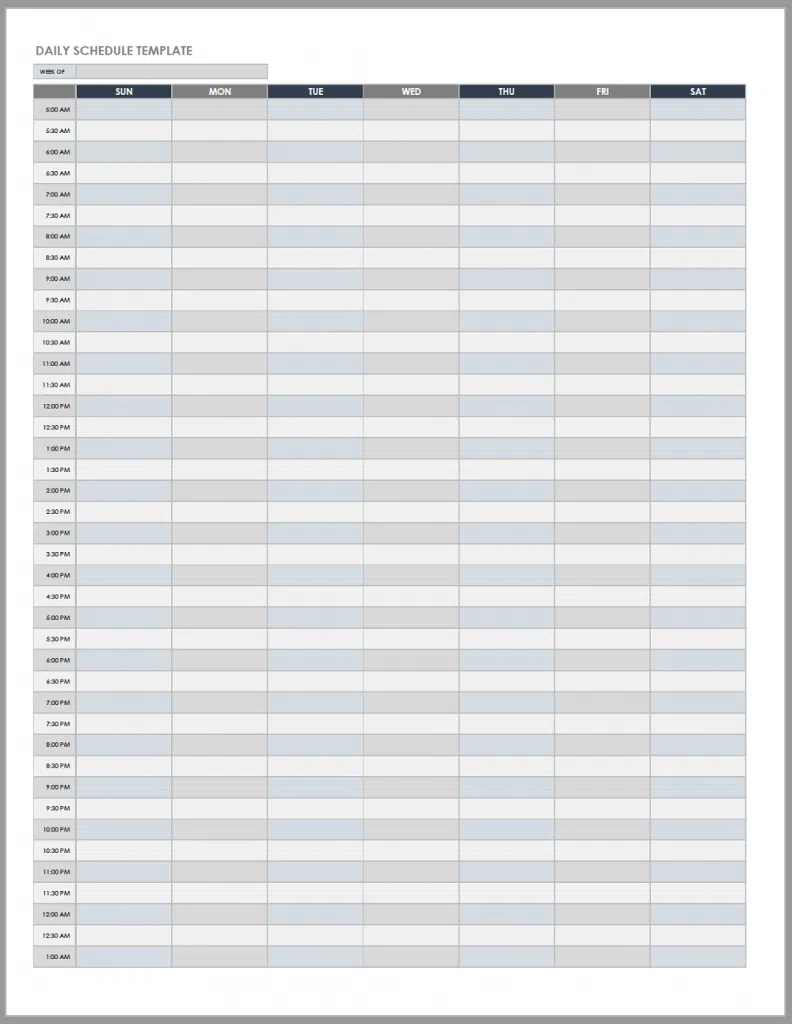 Smartsheet offers two types for daily time schedule templates:
There are plenty of options to choose from.
You can use them to plan work schedule, for school, list routine tasks for your kids, organize and manage a project, tasks, and other professional activities.
The templates are dedicated to plan simple daily activities, weekly detailed schedule, make a to-do list, or keep track of important data.
Available for: Excel, as PDF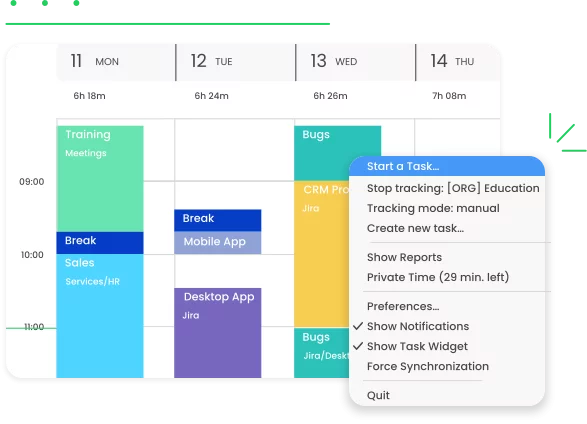 TimeCamp is not a daily schedule template, but let's see why it is a good idea to use it.
It is an automatic time tracking software that can help you better map every day of your work, and, if you like, your personal activities.
TimeCamp time tracker records your time and generates reports for every day and week so you can understand how you work, what takes most of your attention, and better plan every day. Now the best part – it is 100% free!
Here is what you can do with the time tracker:
Automatically track time spent on the usage of apps, websites, and tasks to optimize productivity
View your activity in a weekly and daily form
Have your timesheets filled accurately and approve them with one click (and export them to Excel and Google spreadsheet)
Set billable and non-billable rates
Manage budgeting to assess the profitability of projects and whether you should incorporate them into your daily schedule
Create professional invoices based on time entries
Monitor productive and unproductive activities
Integrate with the most popular productivity apps, communication software, project management software, CRM, and many, many more
You can download TimeCamp as a desktop app or for your mobile devices to carry it with you wherever you go.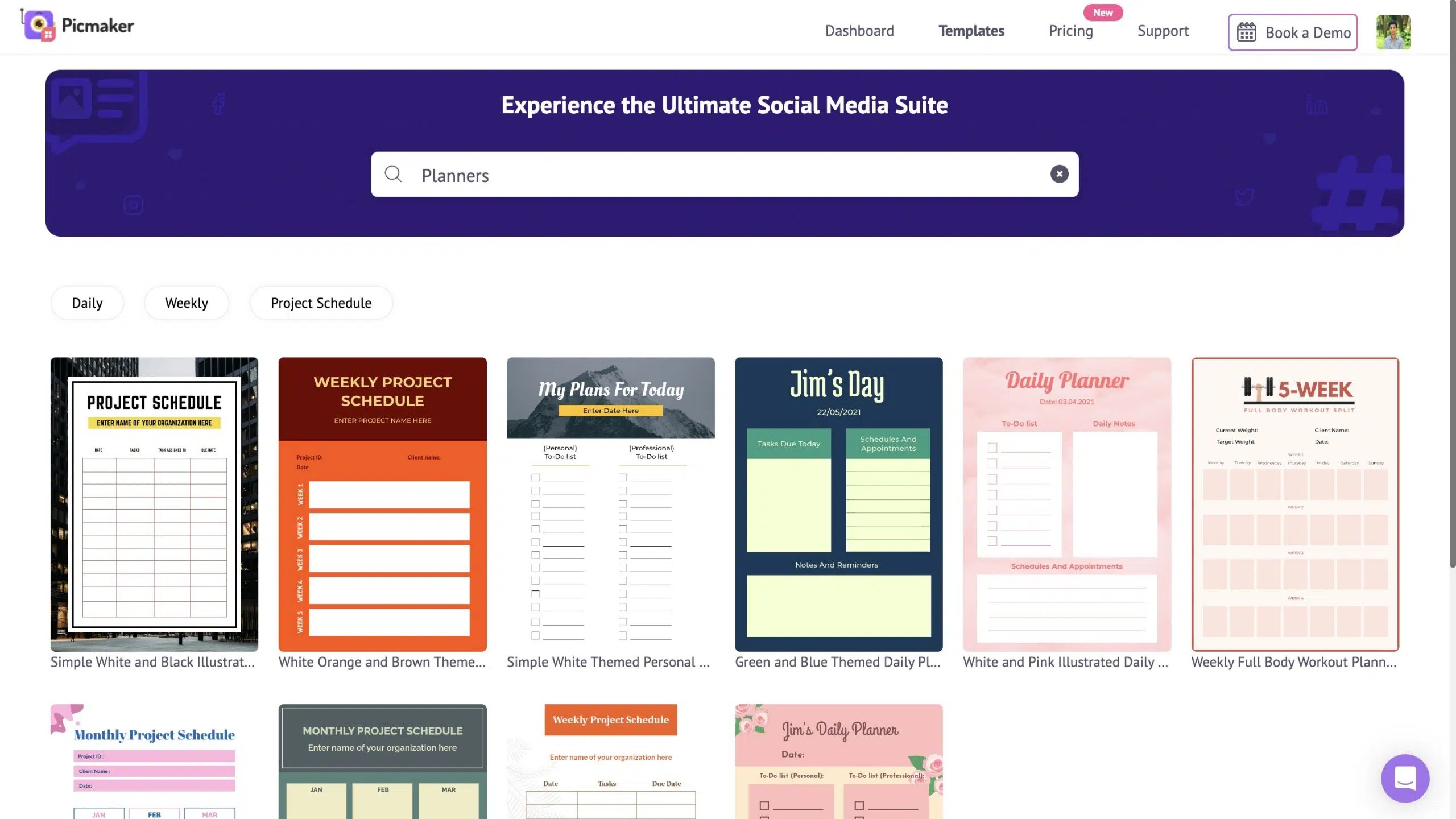 Picmaker is a powerful DIY Graphic design tool offering a wide range of features for creating stunning graphic designs. Like Canva, Picmaker is user-friendly and caters to illustrators, SaaS web designers, and individuals looking to create professional-looking visuals.
With Picmaker, you can access a diverse collection of daily schedule templates, making it easy to plan and organize your tasks efficiently. The platform offers a variety of filters that allow you to search for specific layouts, designs, and themes that suit your preferences.
The interface of Picmaker is designed to be intuitive and user-friendly, ensuring that even those without design experience can easily customize their daily schedules with just a few clicks. This ease of use sets Picmaker apart as an excellent tool for quickly creating eye-catching and effective graphic designs for your needs.
Are You Ready to Plan Your Day?
No matter what form of a daily work schedule template you use, it will help you achieve an ideal work-life balance, be more productive at work, and have more quality time for yourself.
Plan your day in advance to see if you're on track with your plans and goals. Share it with your friends, family, and co-workers to help everyone stay on the same page!
Happy planning!
---
Co-author: Edyta S.
5 out of 5 stars (based on 1 review)