Top 6 Free Payroll Calculators
March 1, 2023
by Kate Borucka
One comment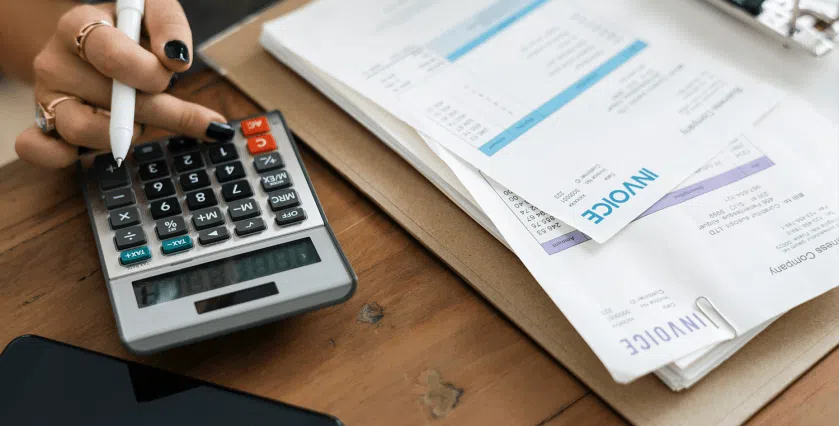 A paycheck calculator app or software is a useful tool that can help to calculate employee's payroll check. Why do you need it? Because calculating payroll can be tricky. You need to incorporate all the costs, including federal income taxes, state and local taxes, as well as all other expenses that you can find on the W-2 form. Also, you need to remember about all other paycheck details to comply with the state or federal rules.
So if you are not good with numbers and need a free payroll calculator online, make sure to check out our short guide on paychecks and payroll.
In this article you'll learn:
What are all the costs of hourly employees to be included in the employee's paycheck
What to consider when calculating payroll
The best free paycheck calculator to help you
The Real Costs of An Hourly Employee
Payroll management may not be easy. Especially, if you hire many people on different contracts or if you own a small business and do not have the HR and accounting department to take care of payroll issues.
When calculating payroll for an employee, you need to think about many elements. These include gross wage, yearly or hourly setup, and all employee-related expenses such as payroll taxes, and overhead costs.
👉 Learn more about the employee cost.
While there's no problem with determining the actual net hourly rate of an employee, there is a number of additional and obligatory costs you need to include. Barbara Weltman writes in her article about a rule of thumb, "the cost is typically 1.25 to 1.4 times the salary, depending on certain variables. So, if you pay someone a salary of $35,000, your actual costs likely will range from $43,750 to $49,000."
She also describes all the mandatory costs that you need to incur when hiring an employee:
Social security, Medicare taxes—the social security tax rate may change each year so it's best to check it regularly.
Federal unemployment tax (FUTA). The FUTA tax rate is 6%, but most employers can take a FUTA credit of 5.4%, resulting in 0.6%.
State unemployment tax, which varies across states and claims experience (the more claims made by former employees for unemployment benefits, the higher your state unemployment tax rate).
Insurance coverage, which may vary with different states, depend on the type of business, number of employees, and other factors.
⇒ For more specific information on tax calculations, you can see the IRS Employer's Tax Guide.
What's more, when you hire employees, you also have to take into account payroll withholdings. These are specific amounts that an employer needs to withhold from employee's gross pay for taxes.
Payroll withholdings include such taxes as state disability withholding, state withholding, federal withholding, SUI payroll state taxes, and other federal deductions and state taxes.
To know more about all federal taxes and comply with payroll tax updates, make sure to check W-2 and W-3 forms. Additionally, for individuals who are self-employed or have additional income sources, they may need to complete an income tax self assessment, where they report their earnings and calculate their own tax liability.
The Most Common Payroll Issues
For the good of your organization and its employees, it is better to avoid payroll issues. Below are the most common payroll mistakes. We will also give you some advice on how to prevent them.
Miscalculating overtime
Turns out it's not as simple as we may wish and there are three most common mistakes that may occur during the calculation of overtime in your company:
Misclassifying exempt employees
As you may already know, exempt employees do not receive overtime pay. However, to be classified as an exempt employee, one must meet specific criteria for one of four groups: Executive, Administrative, Professional, or Outside Sales
Miscalculating hourly wages
It is crucial to know and remember that regular pay includes not only hourly pay, but also: bonuses tied to achieving a certain result or working certain hours, incentives, and longevity pay.  
Miscalculating hours worked
You also cannot forget the most crucial factor in calculating overtime. It is the hours worked. Undoubtedly, every minute spent on work or work-related tasks counts. Activities often overlooked in timesheets are, for example, travel time for worksites, training, working before or after actual hours, or working from home.
Running payroll too late
There is not much to do when you are late with payroll. You should apologize to your employees and make sure not to make any further mistakes while you rush through your payroll. Underpaying and overpaying can be detrimental not only to your business finances but also to your relationship with the employees.
You are required to keep all payroll records for at least three years. In some states even longer. If you have not done it already, be sure to check with your state labor office.
However, legal requirements are not the only reason to keep your company's payroll records. The financial data gathered in payroll is very important for creating budget estimates for the next years to come.
Inaccurate time entries
Inaccurate time entries result in miscalculated work hours. This may cause numerous payroll issues. The best way to prevent these types of mistakes is to put your trust in a software product that can track time automatically. 
How to decrease the number of errors in payroll processing?
One of the most efficient ways to keep your payroll records up to date is to use timekeeping software or payroll software. Time tracking software allows you to automatically track time spent on work.
What Is The Best Payroll Calculator App?
To help you track every second worked, we have created TimeCamp. It is also the best way to calculate the real costs of an employee is to use an accurate salary calculator app. It is a free and effective tool that can make your work easy, especially if you hire many workers or some people work on different terms. Or if you work as an accountant and need to keep track of all the numbers.
To help you make the right calculations, we've prepared a short list of the most helpful payroll calculators online. Instead of using a paid paycheck calculator app, you can use free solutions. Take a look at the top 6 free payroll calculators and choose the one that you like the most: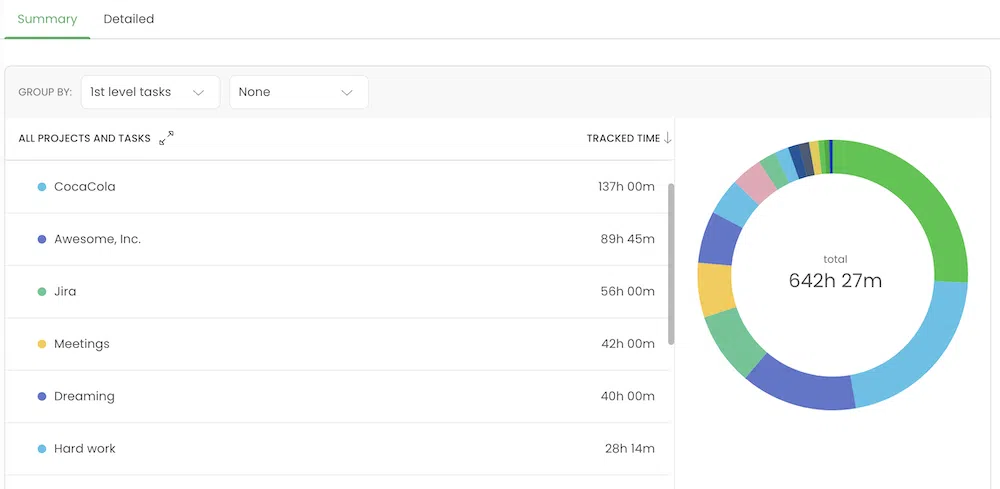 To get detailed, accurate calculations and be able to predict future payroll, expenses, and monitor billable hours, you might want to consider using something more than just a free paycheck calculator. How about time tracking software?
TimeCamp is a free time tracker that helps to improve payroll processes. It makes all the calculations for you, stores all the information about hourly wage, yearly salary, how much money is spent on paycheck work and all projects in the company.
And before you say "no!" take a look at the benefits you will gain from implementing this best paycheck calculator in your organization:
TimeCamp is a free time tracker for unlimited users
To make sure the data is always accurate, appoint one person responsible for timesheet approvals. TimeCamp allows you to lock employees out of this option to avoid mistakes. Moreover, to help you ensure every employee tracks time correctly, TimeCamp offers the approval feature
The app allows you to gather all the data about your budget, net income, different pay periods, or extra income
You can control the budget. When it is exceeded, you always see who exceeds it. This helps in preventing any financial problems
Turn time entries into invoices based on estimated hourly rates
You can use TimeCamp as a timesheet management system; extensive timesheets that you can easily access in the software neatly organize all the data on tracked hours. Later on, you can use the information to determine hourly, special, and all rates necessary, calculate payroll and deduct unpaid time.
No more manual timesheet filling! It is a fantastic solution if your staff has to log their work hours. That means precise payroll management thanks to detailed timesheets
Reports help in tax calculations with precise information on employees' work
Integrations with the most popular accounting and project management software
The attendance function records holidays, annual leaves, and any other types of employee leaves and absences. It is important to deduct the non-billable hours from the payroll. You can easily do it with TimeCamp's feature of marking hours as billable or non-billable.
You can use it as an advanced hour calculator instead of manual time cards
Implementing time-tracking software eliminates tedious work and replaces accounting, timesheet, and payroll management software.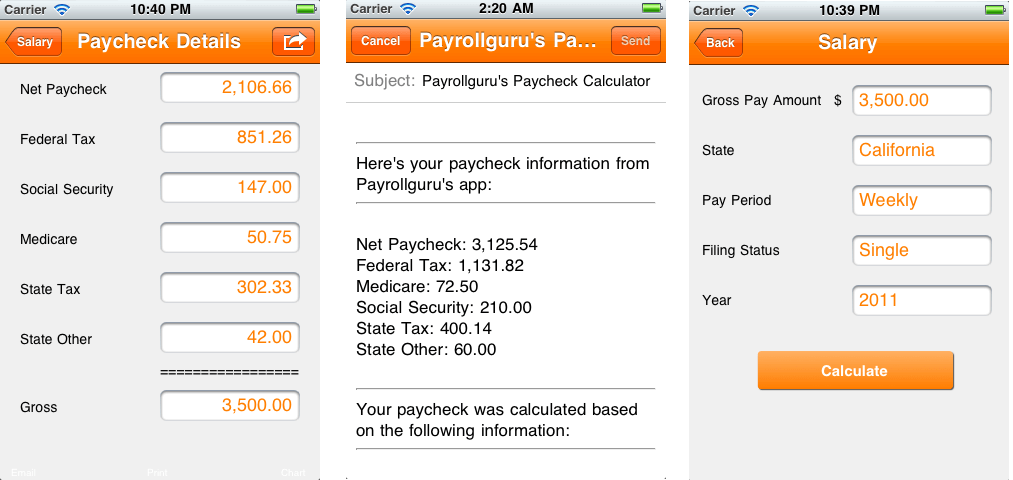 Payroll Guru app is a mobile app that helps to calculate employee's payroll check. It always has updated payroll tax calculations for each year.
The Payroll Gurus created a salary paycheck calculator to easily calculate net paycheck, net pay, and all inputs that are necessary to determine payroll.
The precise Payroll Guru app allows for an unlimited number of profiles so you can add customized deductions for employees who are similarly taxed. It's a good alternative to a paid paycheck calculator app. You can store and edit all the information about employees, including state, pay period, allowances, and deductions.
The app has up to 8 pre-tax and after-tax deductions. It has every previous calculation saved and additionally, can display calculated paycheck as a paycheck distribution pie chart.
There are also a few extra variables related to taxes: federal withholding, social security, medicare, state withholding, State Unemployment (where applicable), and State Disability Insurance (where applicable).
It's a good hourly wage calculator app as well as a salary calculator app for deducting federal taxes.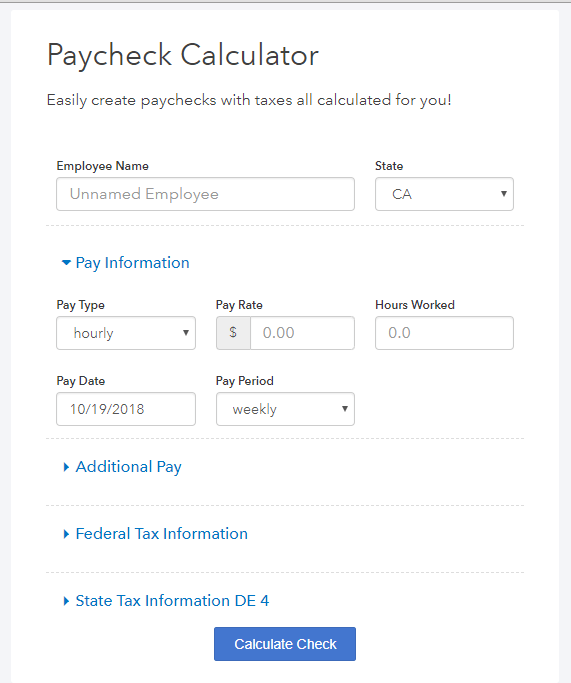 QuickBooks offers a free payroll calculator-free and very simple solution with a single page layout. It allows you to calculate paychecks for your hourly and salary employees. It allows you to calculate paychecks for your hourly and salary employees. It has four parts—taxes, overtime, and commissions: pay information, additional pay, Federal Tax Information, and State Tax Information DE 4.
All these inputs are calculated for you with taxes automatically deducted. You can easily determine net pay and federal taxes.
There are no extra inputs so the tool is best suitable for basic use.
☞ Check Timecamp & QuickBooks integration to track time for payroll directly in QuickBooks and automate payroll process.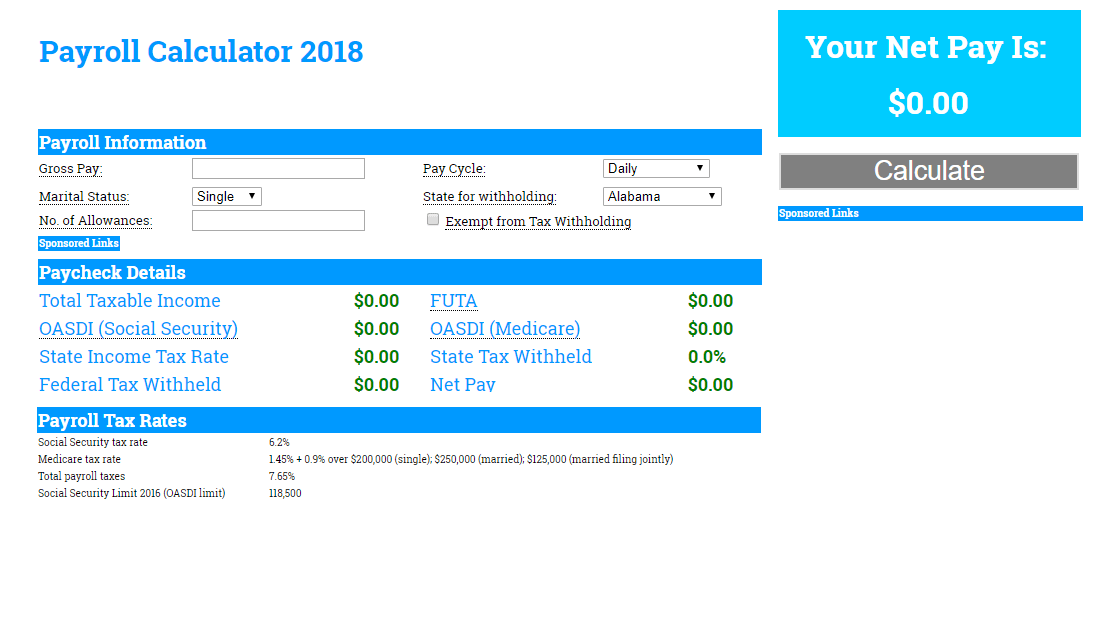 If you're looking for the simplest solution, this will be the perfect fit. It is a neat payroll manager that helps to determine precise rates and costs for US workers. It's important that you can choose the state as state income taxes vary greatly among different states.
It explains all the important information you should know to calculate net paycheck, payroll tax, and whole income. It's an easy-to-use, intuitive, and transparent solution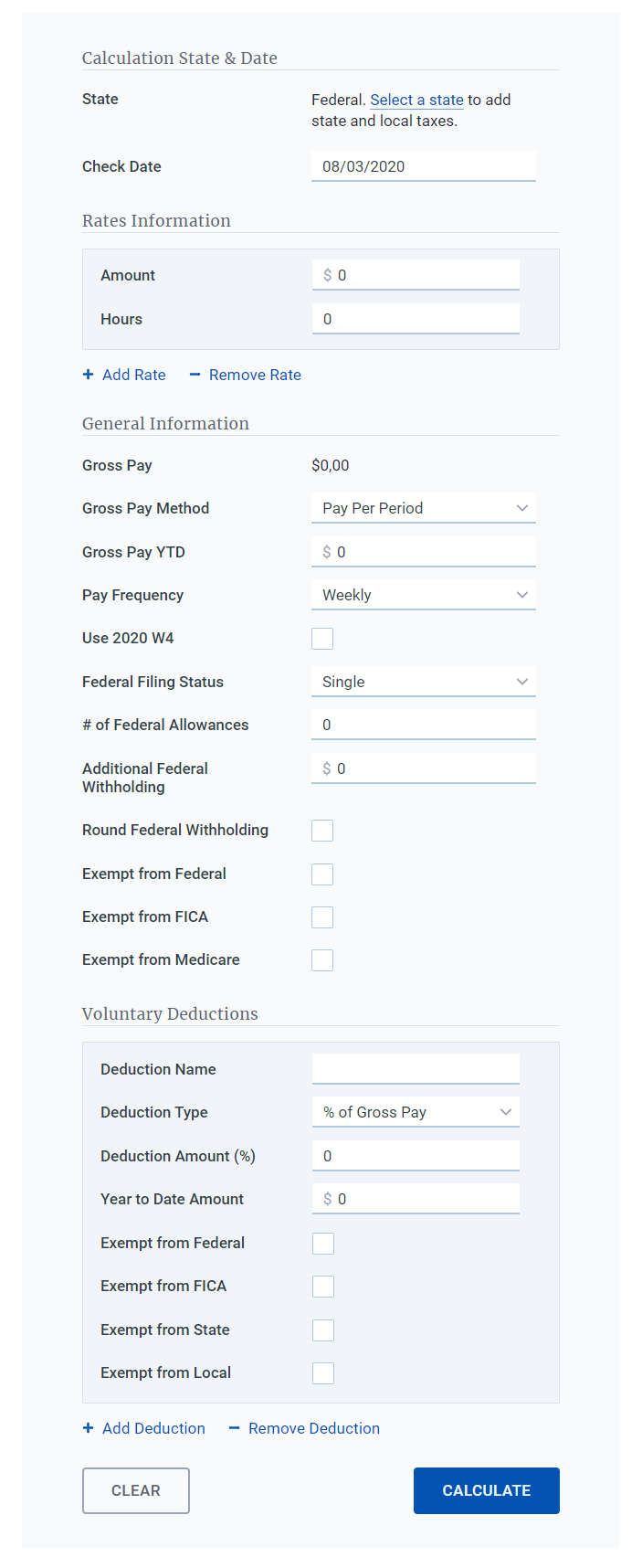 This free paycheck manager allows you to calculate various costs. PaycheckCITY is a simple paycheck calculator that lets you determine different costs thanks to many calculators: Salary Calculator, Hourly Calculator, W4 Calculator, Gross-Up Calculator, Bonus Pay Percent, Bonus Pay Aggregate,  401(k) Calculator, Dual Scenario Salary, Dual Scenario Hourly.
It's a non-paid app that lets you calculate net paycheck for a certain date. It includes a few formulas that automatically determine income completely for free.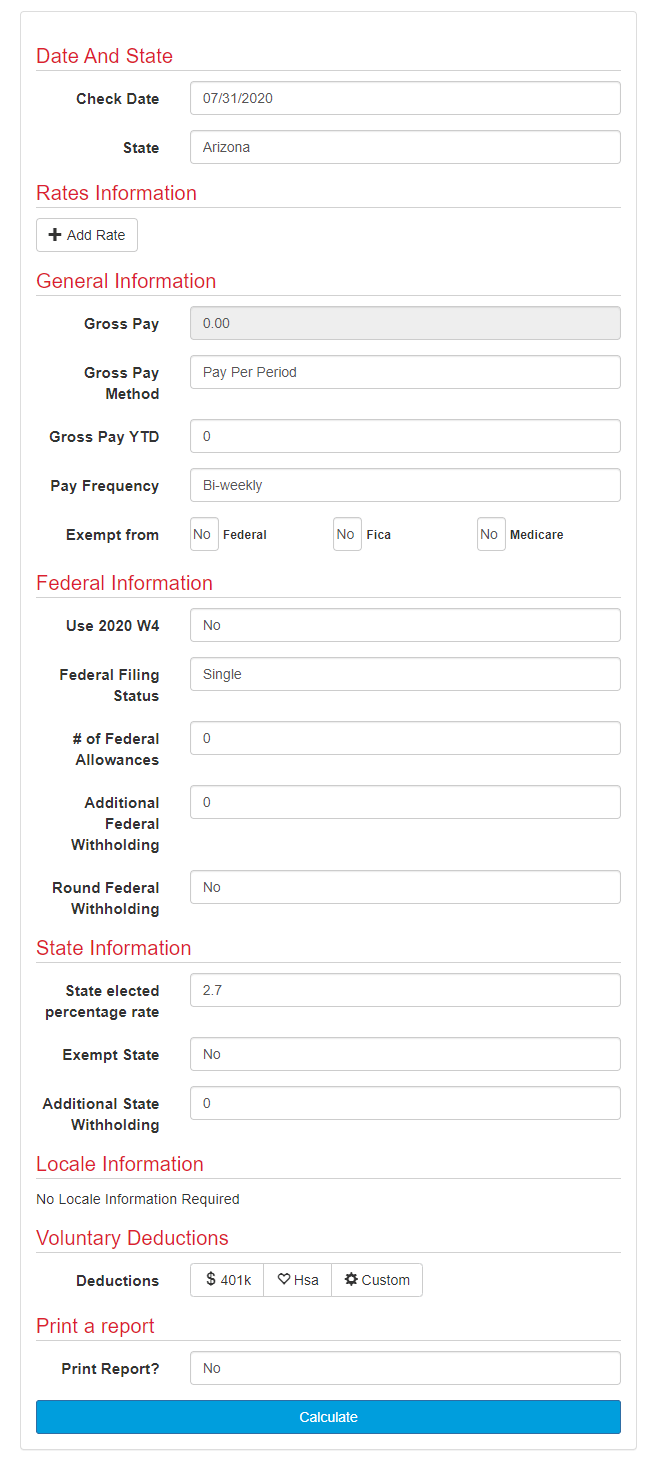 ADP is an online paycheck manager which calculates payroll taxes, manages employee taxes, and facilitates entire payroll processing. It offers different free online payroll calculators. You can check personal salary, retirement, savings for extra money, and investment decisions. Additionally, you can choose from Retirement Calculators & Tools, Salary Calculators, and Paycard Savings Calculator.
The app helps you to do your payroll taxes, and accurately calculate numbers for payroll and paychecks. ADP can help to stay compliant with the state tax, W-2, and make sure all paychecks are done properly.
Final Thoughts
Calculating an hourly rate and other related expenses is important to give your workers a fair paycheck and make sure you are paying all the taxes accordingly. And the right tool can be your personal paycheck manager calculator. Hiring accountants to do the job? Help them process payroll with automatic software.
If you're not sure about the paycheck calculator, you may consider taking legal tax advice or hire a payroll specialist to help you calculate exact payroll amounts and handle payroll-related issues.
Happy payroll processing!
5 out of 5 stars (based on 1 review)