Timecard app – must have for 2023!
May 19, 2023
by Ola Rybacka
No comments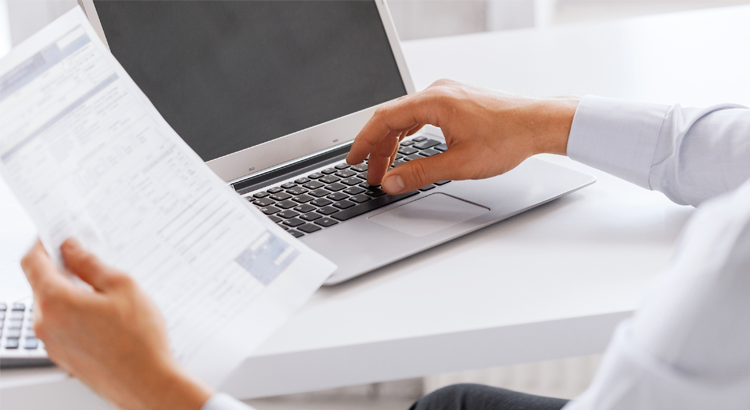 The origins a timecard date back to the 1880s when Willard Le Grand Bundy designed his first time recorder. And despite their old age, they don't lose popularity. According to the TSheets study, 66% of surveyed are hourly employees who need to track their time. That comes with the necessity to keep a record of work hours.
What's the purpose of a timecard app?
A timecard, also known as a timesheet, is just one of the most often-used methods for tracking employee hours.
We mostly associate them with paper timecards that contain information about employee hours, like:
Date,
Start time (time in),
Finish time (time out)
Total number of hours per day,
Overtime hours,
Job description,
Lunch breaks
Eventually – a rate per hour
Each employee receives a timecard to fill out and sign, usually at the end of each month.
But let's face it – manual work hours tracking is just a horrible waste of time. Why waste the resources when you can implement an employee time tracking software that'll fill timesheets for you?
Paper Timesheets vs. Automatic Timecard
Paper timesheets have their limitations. One of the perks of using them is the lack of ability to integrate them with the software you use in your organization. It slows down the workflow and requires a lot of paperwork.
Another disadvantage is the fact that it's easy for errors since all the numbers need to be entered manually. Additionally, employees need to remember the exact moment at which they started and finished work.
Automatic time cards, on the other hand, are a much more convenient solution. Not only can you integrate them with your payroll software and other apps, but also use them on mobile devices, access them from anywhere, and have your information stored in one place, easily accessible to the entire company. You also have flexible timesheets that you can adjust, change, and customize as you need.
And with a time card app, tracking time with the exact whereabouts of employees happens in real-time with up-to-date insights.
Let's find out how TimeCamp, an employee time clock app, can help you reduce the time spent on administrative time-related tasks to the minimum!
Automatic time tracking
Tracking time automatically successfully replaces paper time cards in companies of almost every industry. Both big enterprise bosses and small business owners will be satisfied with how much it simplifies hours tracking and team management in their organizations.
With automatic time tracking in TimeCamp, you can forget about switching between tasks manually. You only need to download a desktop app (Windows, Mac, and Linux versions available), set the right keywords, and let the app do the job. Then turn on an optional activity tracking mode that registers apps you use, websites you browse, and window titles of documents you work on. The desktop app will assign time entries to appropriate projects and tasks based on keywords you set.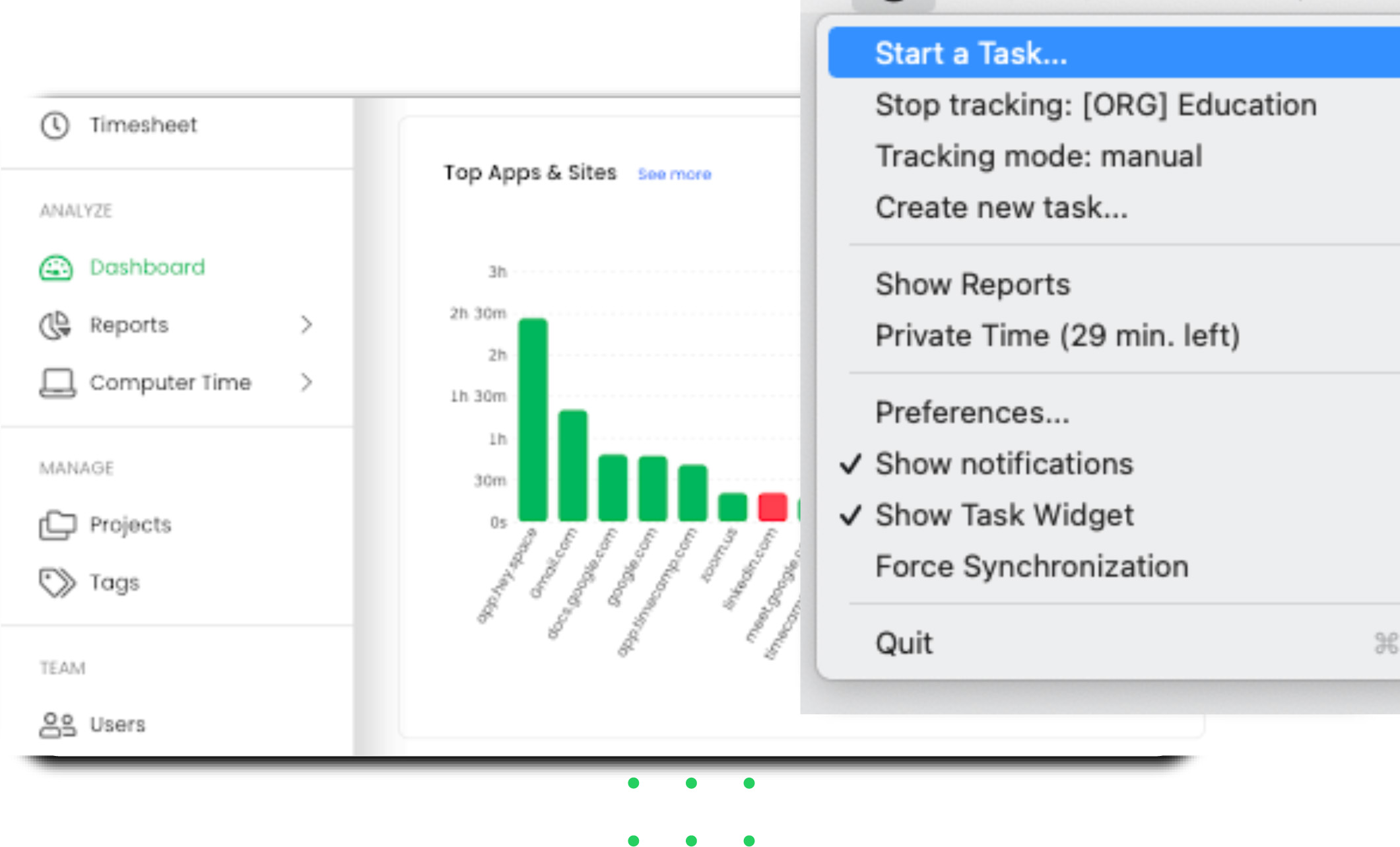 TimeCamp will automatically calculate the number of hours employees spend on their assignments and thus help you streamline the payroll process.
Moreover, you can generate detailed reports of activity to get information about your time and app usage.
Is time tracking software also a timesheet app?
Sure thing! A good employee time tracker like TimeCamp offers a wide range of methods to track employee hours effortlessly, such as timesheets.
You can view your data in three different views:
Day view – a textual timesheet that displays time entries registered for a particular day as a list. In this view, you can add entries manually or track time in real-time, by starting a new timer,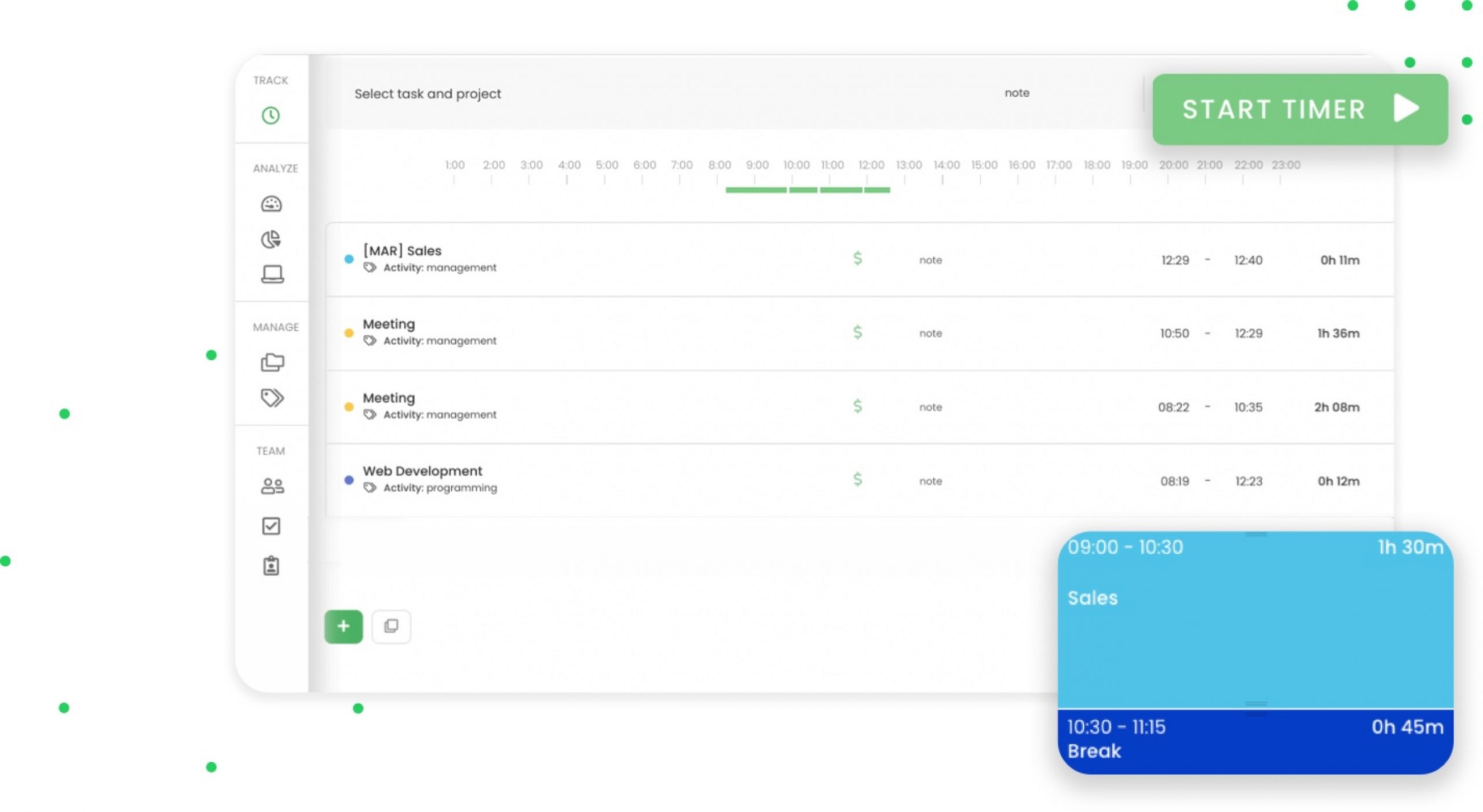 Calendar view – graphical timesheet that looks just like a calendar board. Calendar view also has a start new timer button, but if you prefer adding time entries manually, just find a start hour and drag your mouse/touchpad cursor down to create them,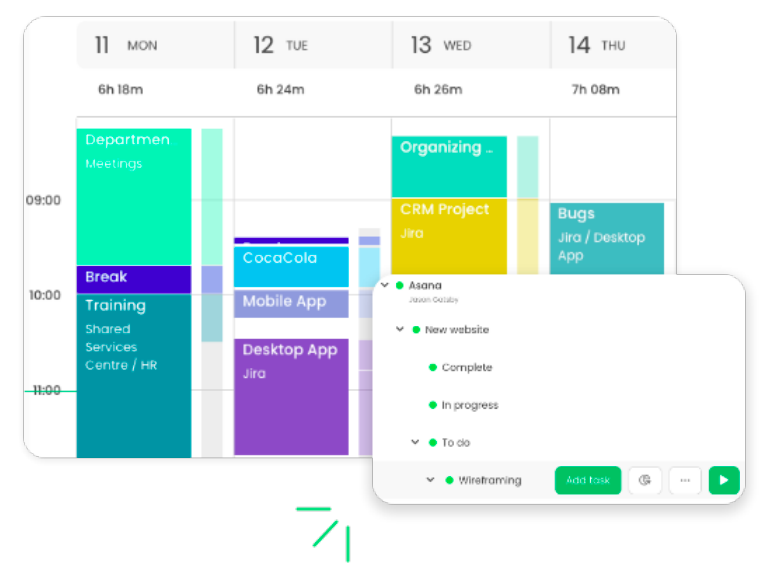 Week view – a new, table-like view that's extremely convenient for those who only need to log working hours for tasks and projects without specifying the exact start/end hours of working on a particular task. Here you only need to select a task and input the number of hours you spent working on it.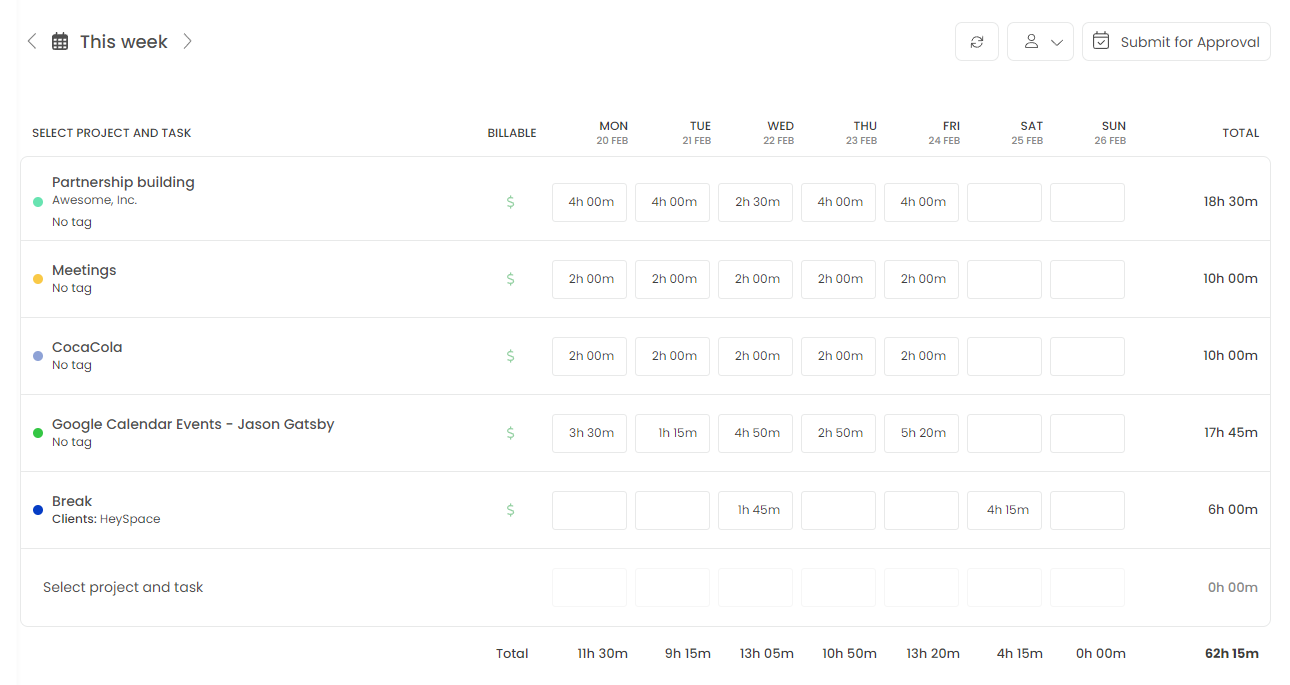 All views allow you to decide if an entry should be included in the general billable hours' number and also add tags. Day and Calendar timesheet app views allow you also to add notes. Use whichever type of timesheet you want a prepare daily, weekly or monthly timecards with just a few clicks!
Timesheet app for simple clocking in and out
Not everyone needs to log how many hours they worked on a particular task, especially those who don't use computers to fulfill their assignments. Many professions require only monitoring of the start and end hours of work. TimeCamp also has a perfect solution for them – a time clock app, also known as Time Clock Kiosk!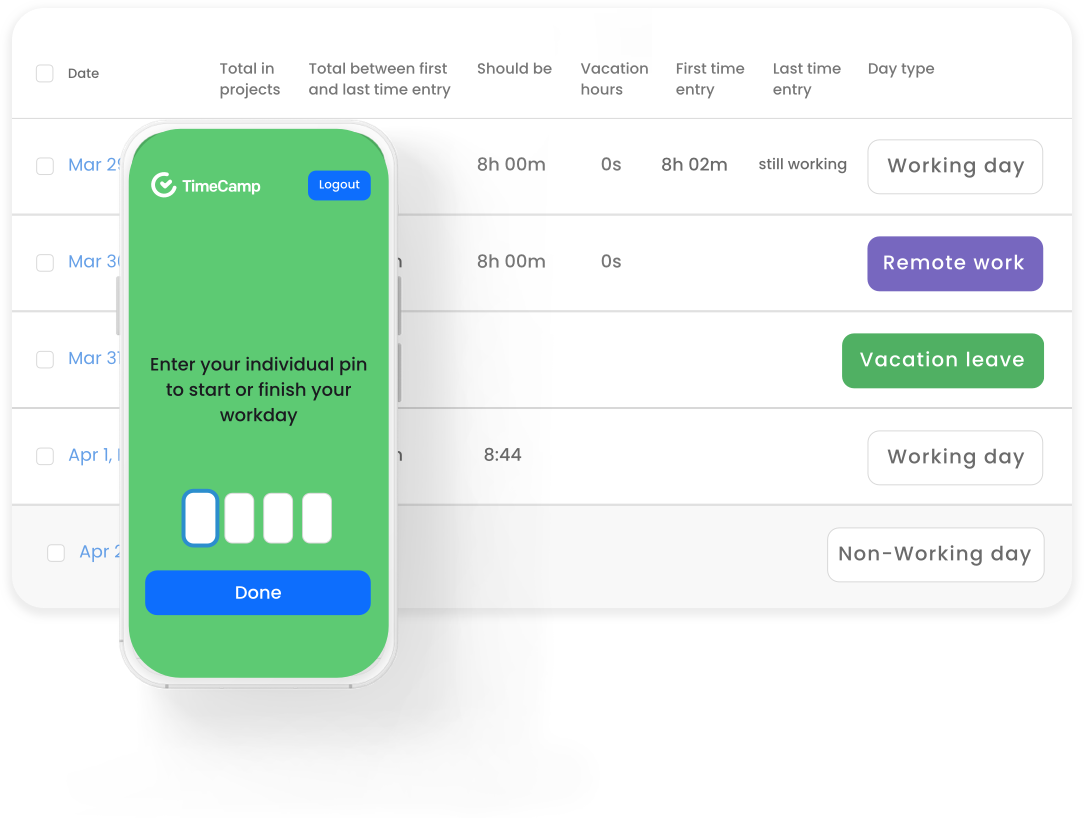 Our Time Clock Kiosk enables simple employee time tracking by clocking in and out with 4-digit PIN codes, unique for each team member. You just need to put a shared device that has an internet connection in an easily accessible place in your facility. Time logged this way will automatically fill your employees' timecards and provide you with accurate records to process payroll effortlessly.
Detailed reporting
One of the most useful additional features of TimeCamp is time reporting.
You can use all the tracked hours to generate reports for easier resource analysis. TimeCamp offers a wide range of report templates for measuring employee accountability, analyzing team time usage, and tracking projects' performance.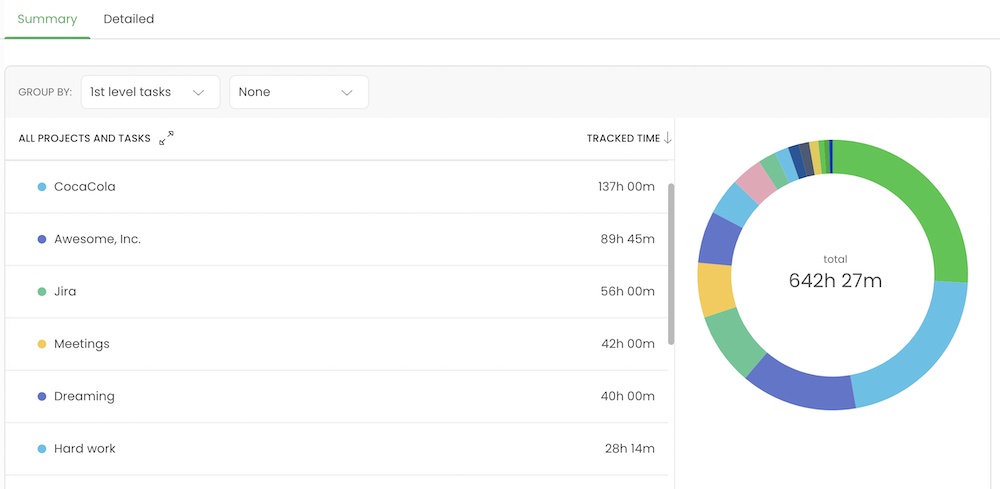 However, if you don't find a template that fits your needs perfectly, you can generate a custom report using a pivot table and drag&drop variables.
Employee Attendance
TimeCamp also supports paperless team management and payroll processes. You can not only track hours spent on tasks with it but also track employee attendance. It's a perfect solution for both remote teams and office workers.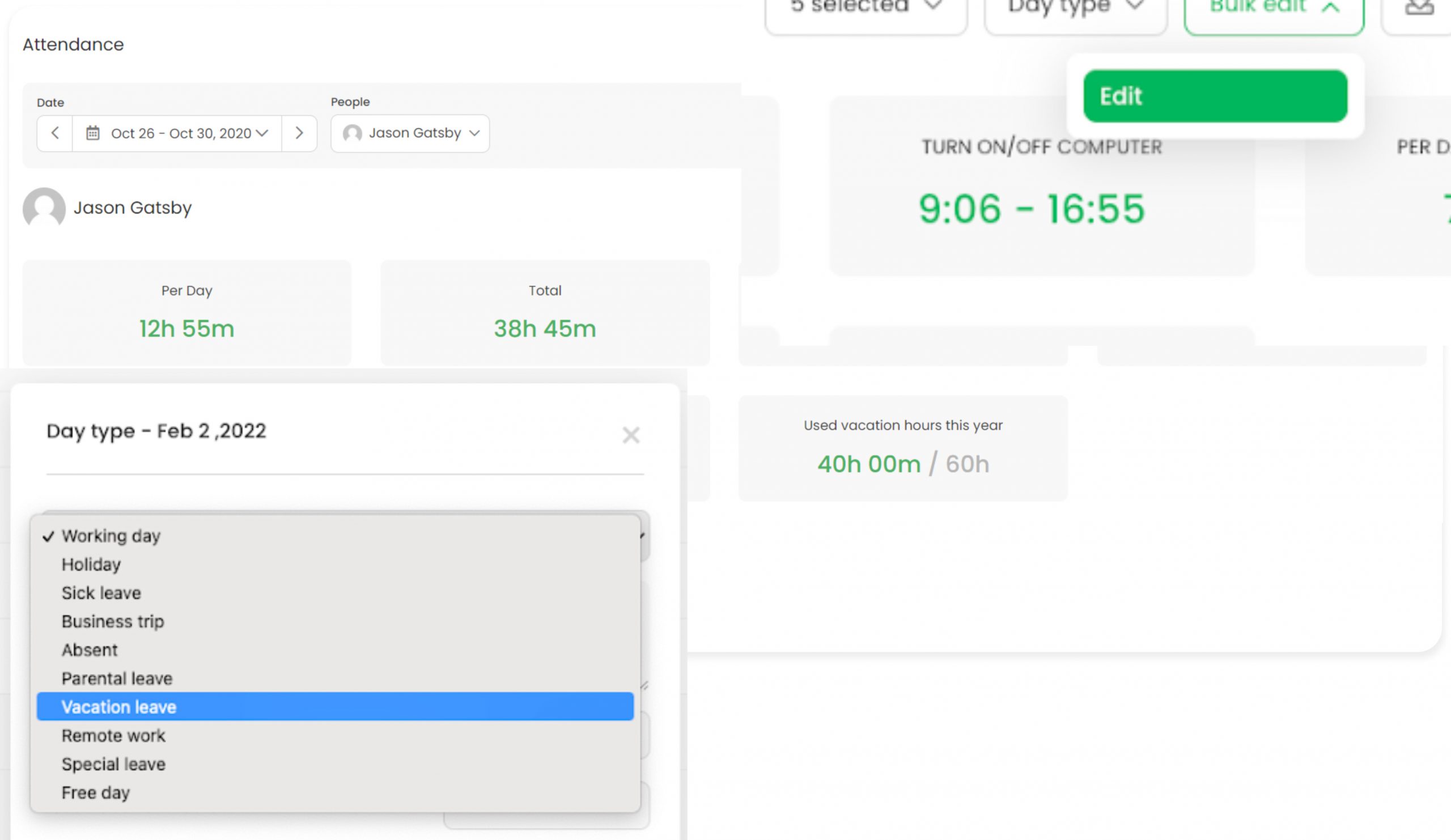 Our time tracking system uses employee timesheets to prepare monthly timecards and pay period lists. The module allows you to track various types of employee absences, mark the day type as remote work, and generate attendance reports. What's more, if you connect TimeCamp with a payroll tool you use, TimeCamp will automatically export your data and help you prepare a payroll https://getzonedup.com/best-nootropics/ list with more accurate timesheets in no time.
How much does TimeCamp timecard app cost?
TimeCamp offers affordable pricing for teams of higher needs:
Pricing
Free

– a free plan of TimeCamp for unlimited users includes all the essentials – accurate time tracking, unlimited projects, a time clock kiosk, desktop, and mobile apps, idle time detection, and many more,

Starter – $2.99 per user per month

, including unlimited tasks, excel reports export, attendance, time-off, overtime tracking (billed annually)

Premium

–

$4.99 per user per month

, including one integrations, billable time, budget & estimates, apps & websites tracking, project archiving, and more (billed annually),

Ultimate

–

$7.99 per user per month,

including unlimited integrations, billable rates, labor costs, invoicing, timesheet approvals, custom user roles, and more (billed annually)
Enterprise – custom pricing; contact sales team for more details
5 out of 5 stars (based on 4 reviews)