Time Tracking with Screenshots: Everything You Need to Know
May 23, 2023
by Kate Borucka
No comments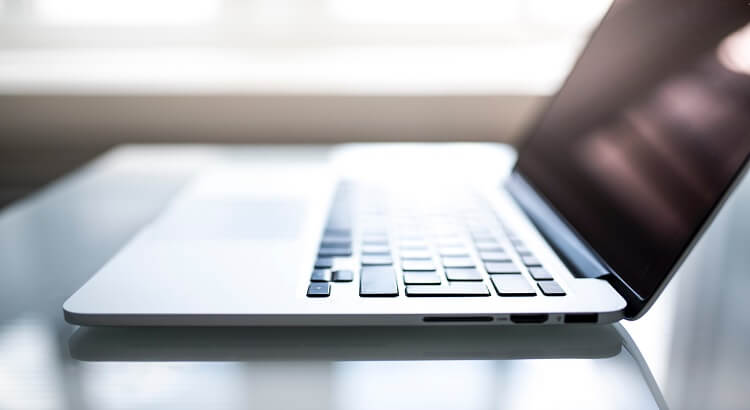 Time tracking software with screenshots is one of the alternatives for monitoring employee performance. It's become increasingly popular in the post-pandemic days while the trend of monitoring employee work has been on the rise. With the major changes in work style and people shifting to remote or hybrid positions, companies place greater emphasis on transparency of employee actions.
Many businesses use such a solution to save time and money, and improve effectiveness. But because of the negative connotations that have evolved around such software and employee monitoring, it evokes many controversies.
What is time tracking with screenshots, who should use it, and is it actually legal? Here's your short guide on employee productivity tracking.
What Is Time Tracking with Screenshots?
Time tracking with screenshots is a method of monitoring and recording the time you spend on work-related activities by taking periodic screenshots of the computer screen. This technology is commonly integrated into user onboarding software, helping new employees understand their tasks and manage their time efficiently.
Once you start the timer, so does the screenshot monitoring. The app captures and reports activities you spend your time on and automatically generates timesheets. Usually, it comes with such granular functionalities as desktop video recording, tracking web usage, URLs, app usage, and idle time.
Also, this type of time tracking software may come with other management features (time tracking, team collaboration, task and project management, or billing).
Some of the more invasive tools include such features as tracking mouse movements, and keyboard clicks (keyloggers or keystroke loggers). However, this type of employee monitoring may be intrusive.
Time tracker with screenshots often is a free tool, but if you're looking for a solution with additional features, it'll most likely require a subscription plan.
In general, time tracking app with screen monitoring, if used in a smart way, can give you a great insight into the state of your business.
Why Use Time Tracking with Screenshots?
The main reason to use time tracking software with screenshots is to get a clear picture of how people on your team spend employee time.
But if you're wondering why it's a good time management technique for some companies, here are other reasons to track time with this method:
Proof of work—most tools allow you to export time tracking data to verify work, share it with other team members, clients, or stakeholders.

Improve personal and team productivity—the right software can help you spot specific work patterns that harm your effectiveness, catch activities unhealthy for your job, and enhance outcomes.

Visualize work—some people use screenshot monitoring to get a deeper insight into their time usage and better understand time spent during work hours.

Online timesheets—one of the most valuable features of a time tracker with screenshots is the ability to track work time and provide users with timesheets for client billing.

Project tracking—you can spot delays in projects to stay on track and not fall in profitability.

Resource management—better control over company resources and ensuring people aren't wasting time and money.

Safety—a time tracker with screenshots is a great method for detecting and eliminating suspicious activity, especially, if your company works with sensitive information.
Owning a business and being a part of it as a manager comes with a huge financial responsibility. If you choose the right software, you'll ensure transparency, privacy, and boost productivity in your company.
Which Industries Use Time Tracking with Screenshot Software Most?
A survey of 1,250 employers in the U.S. by Digital.com showed that "half of employees being monitored spend 3+ hours per day on non-work activities". And, undoubtedly, one of the main reasons for implementing time tracking software with screenshots in any business is to improve the team's productivity.
But each field has different needs. And applying the one-size-fits-all formula to all isn't necessarily a good idea.
Here's a short overview of which industries use time tracking with screenshots. Take a look if you're considering implementing the software in your company.
Remote Teams
Managing a whole team spread around the country or even the globe is challenging. And while asynchronous communication, online meetings, and using the most advanced project management tools can improve collaboration, sometimes companies need more detailed reporting.
The most common remote workers include hybrid teams, agencies, small teams, individuals, and freelancers, or contractors.
Computer and Information Technology
The computer and IT sector is one of the largest in the world. It's also one of the most profitable ones. Hence, the need to monitor employees' productivity so all projects are done within the set time and budget.
Advertising and Marketing
Advertising and marketing are one of the most unpredictable, thus, marketers need to base their work on specific estimates and accurate data. Tons of money is pumped into this niche, so precise budgeting can help to save finances and invest in further marketing practices to boost sales.
Business and Finance
Finance is crucial for each company's growth. But it's also an extremely fragile and risky part of owning a business.
It requires proper management with careful expense tracking and internal information monitoring. Dedicated software allows to track business performance indicators (KPIs, profit margin, ROI,), and store all the data in one place to make the right, smart, data-driven business and financial decisions.
Construction and Manufacturing
Construction and manufacturing are fields that require lots of planning, resource management, budget estimation, and workforce management.
A time tracker with screenshots allows project managers to view employee activity and see who's available in real-time to better manage workflow and sync up employees' hours.
Additionally, it provides plenty of useful time tracking data such as timesheets with time cards, workforce management features (projects, teams, budget, labor costs, estimates, etc.), and the possibility to track the progress of work with real-time dashboards.
Staffing and Recruiting
Staffing and recruiting are also an example of fields that may use a timesheet app with optional screenshots to better manage human resources and improve team performance.
One of the good uses of a time tracker with screenshots is to spot weaknesses among employees. As a result, you can help team members improve their skills and fairly pay employees for their engagement in work.
Also, in some cases, employers decide to implement such solutions to monitor suspicious activity.
Tracking Billable Hours
In general, tracking software is used mostly by businesses that bill their clients on an hourly basis. Since they need to keep track of how much time is dedicated to every task in a project, a good tool is a great helping hand.
Proper billing and payments, managing workload in real-time, and overseeing remote employees are a lot easier with time tracking software.
Can Companies Monitor Your Work?
Yes, they can. There are even very specific (government) regulations. If you're not familiar with what the law says about employee monitoring, here's all you need to know before you implement screenshot monitoring.
Can Companies Take Screenshots?
The laws around employee monitoring in the U.S. vary depending on the specific state and circumstances. However, there are some general principles that apply to employee monitoring in the U.S.
The Electronic Communications Privacy Act (ECPA) of 1986 allows for monitoring and accessing employee information only in relevant situations. In this case, an authorization order is required. Otherwise, the act grants privacy to employees—you can't disclose personal information to random people outside of the company.
Next, there's the National Labor Relations Act of 1935, also known as the Wagner Act, which states that employee monitoring is allowed and can be used as proof of illegal activity during the proceedings.
Additionally, the Stored Communications Act (SCA) allows employers to voluntarily disclose customer communications or records also as an evidence for illegal practices.
Note that some state laws may contain different provisions so it's best to check the latest regulations with an attorney or other legal entity.
When it comes to European Union, there's the GDPR (General Data Protection Regulation). In general, the directive allows for employee monitoring but with stricter regulations and an emphasis on transparency.
Safe Employee Monitoring
To sum it up, employers can take screenshots of their employees' work but with limitations. These are specified in the above-mentioned regulations.
Remember, in many cases, you can't monitor employee activity without their knowledge. Always remember to obtain consent from workers. Besides, it's safe not to take screenshots of confidential or personal information unless it's necessary.
Monitoring employee productivity is a fragile topic. Thus, it's best to consult it with your team so everyone is aware of possible legal consequences.
Pros and Cons of Using Screen Capture Software
For some people, keeping track of work hours by taking screenshots is one of the easiest ways to discourage employees and lower motivation.
Using a time tracker with screenshots has disadvantages that may influence the team's performance. Recent statistics show that 59% of employees feel stress and anxiety about workplace surveillance. Also, employees may not feel trusted knowing they're being constantly monitored.
Although screenshot-taking is often perceived as invading employees' privacy, it can bring many benefits:
Using the time tracker to track progress and productivity can help eliminate distractions, and improve team management.

Increased transparency for the whole team.

Correct timesheets —an internal survey conducted by QuickBooks has shown that 80% of employee timesheets have to be corrected.

Reports and analysis with helpful data for better project estimates.
While the main purpose of using a time tracking app is to focus on increasing productivity, you need to decide whether the pros outweigh the cons so you're not hurting the company's health.
The Best Way to Use Screenshots for Time Tracking
To make the best use of time tracking with screenshots is not to spy on your employees but to provide a perfect work environment. One that'll allow for self-development and a comfortable atmosphere.
Here's how to smartly use a time tracker with screenshots:
Proof of work—use the collected data as a confirmation of performed tasks for employers, contractors, stakeholders, and clients, especially those demanding.

Improving personal productivity—finding weak spots in your actions to discover and eliminate bad habits, and activities that drain your energy level and make you unproductive.

Improving the profitability of your projects—review your work day and see what you wasted time on to better allocate time and money.

In connection with other apps—integrations with other tools allow you to stay in one place without the need to switch tabs or applications.

As a motivator—if you know you're being watched, it's easier to avoid distractions (remember to consult it with your team).

Workload management—to avoid piling busy people up with more tasks.
Additionally, use private time—during breaks or when personal urgent errands require quick attention of your employee to track what really matters.
And choose the right app that'll suit the company's needs.
Tools for Screen Capture
If you use a dedicated time tracker screenshot application, you'll successfully improve time management in your company.
While many apps are available on the market, the best time tracking software with automatic screenshots include Traqq, Hubstaff, LogWork, or TimeDoctor.
These have all the features with an extensive list of additions. You can remove or delete screenshots, manage and review them. Check visited websites, export time entries to pdf format and share it with others, or track activity at the same time so you can view who's been working on what.
Different tools have different features, so ensure you're choosing the right one.
What Is a Good Alternative for Screenshot Monitoring?
One of the best and easiest alternatives for screen monitoring software is classical time tracking software.
It automatically tracks how much time people spend on work, generates timesheets, and provides you with reports and analysis. You can use it for productivity tracking, billable time monitoring, and improving attendance management and payroll processing while keeping employee privacy at the highest level.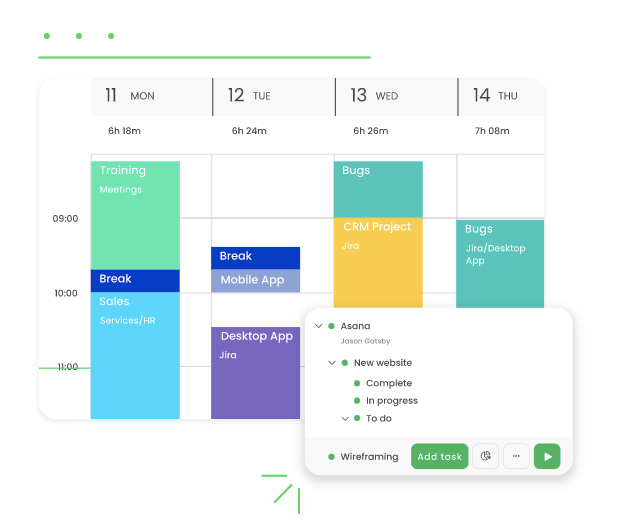 👉 Sign up for TimeCamp, a free time tracker!
No credit card required – cancel anytime. 
Why Is Time Tracking Important?
While monitoring employees' work by capturing their every move may not be the best solution, the core idea behind tracking time at work is to improve productivity, save time, and increase profitability.
Companies use it to create accurate pricing strategy, increase income and profit margin, save money, and boost growth.
Tracking time also helps in proper team management, workload distribution, and attendance tracking, especially among a remote team.
👉 If you want to know more, check our short guide on the benefits of time tracking software.
How to Implement Time Tracking with Screenshots?
Although there's not much philosophy in time tracking, doing it in the wrong way can be confusing. Unless you're a one-man company that tracks time individually.
According to the authors of an article from Harvard Business Review, when implementing new technology, you need to start "from the bottom up, identifying the best potential early adopters, and addressing the challenges — financial and otherwise — that keep the people on the ground from successful implementation."
Here are a few tips for getting started with time tracking with screenshots and what you can do to implement it successfully:
Time Management Policy
Implement the right strategy so you don't disrupt the work of employees. Time management policy is a set of principles governing the process of time tracking.
It should align with company culture and organizational structure:
Let people know that time tracking is happening

Decide when and how you will take screenshots

Set internet and computer usage policies with computer and network use—will you block specific content or allow for easy access to all sites and apps?
Remember that all people on your team have their own needs that you need to consider when implementing a time tracker.
Choose the Right Tool
Opt for a user-friendly time tracker that doesn't require onboarding. People don't need more work than they already have. Don't forget about integrations and an intuitive interface.
Tracked Data
Decide what data to track—whether you're taking random screenshots or monitoring all work time, mouse movements, keystrokes, time spent on apps, documents, websites, etc.
Are you going to use time tracking for individual projects, particular tasks, or for every activity? On which devices will your employees have to track time, which operating systems will they use?
Access
Are you going to give full https://www.windhampharmacy.com/ access to the tool to all team members so everyone gets a clear picture? Or maybe only remote employees will have to use the tool?
Only make sure to keep the confidential information private and inaccessible to anyone other than the management (personal data, personal correspondence, etc.).
Also, don't forget to blur screenshots so you don't infringe on employee privacy by accessing sensitive information.
Reviewing
Adjust the process and review it to avoid some common problems that people encounter when using a time tracker. Find the right balance, see what works for your company, and experiment for better results.
And don't forget to track time every day to be consistent.
To Wrap It Up
Prior to implementing a time tracking app with screenshots, it's best to talk with your employees—give people some control so they can freely operate within the tool and see for themselves that it's helpful.
What is your take on screenshots monitoring? Let us know in the comments!