Top Remote Work Apps in 2023
June 19, 2023
by Ola Rybacka
No comments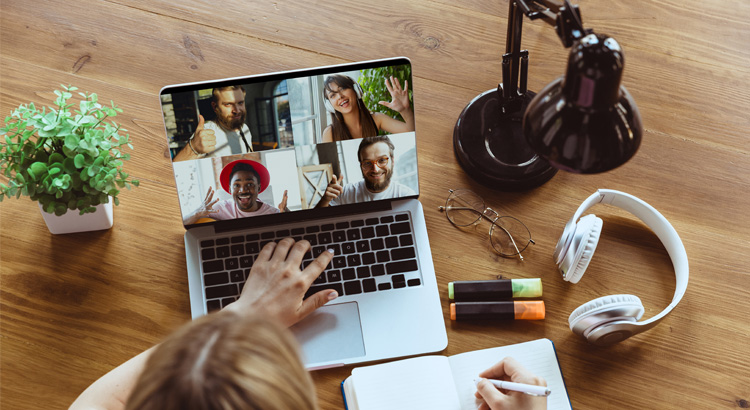 The last three years taught us a lot about working from home, and what remote team management techniques use to ensure the distributed teams a flawless collaboration. According to an Upwork survey, 25% of professional workers will work remotely till the end of 2023 – let's check what remote work apps are still on the top!
Productivity and time tracking
💚 TimeCamp
👉 For: Flawless remote work time tracking, client budgeting, and invoicing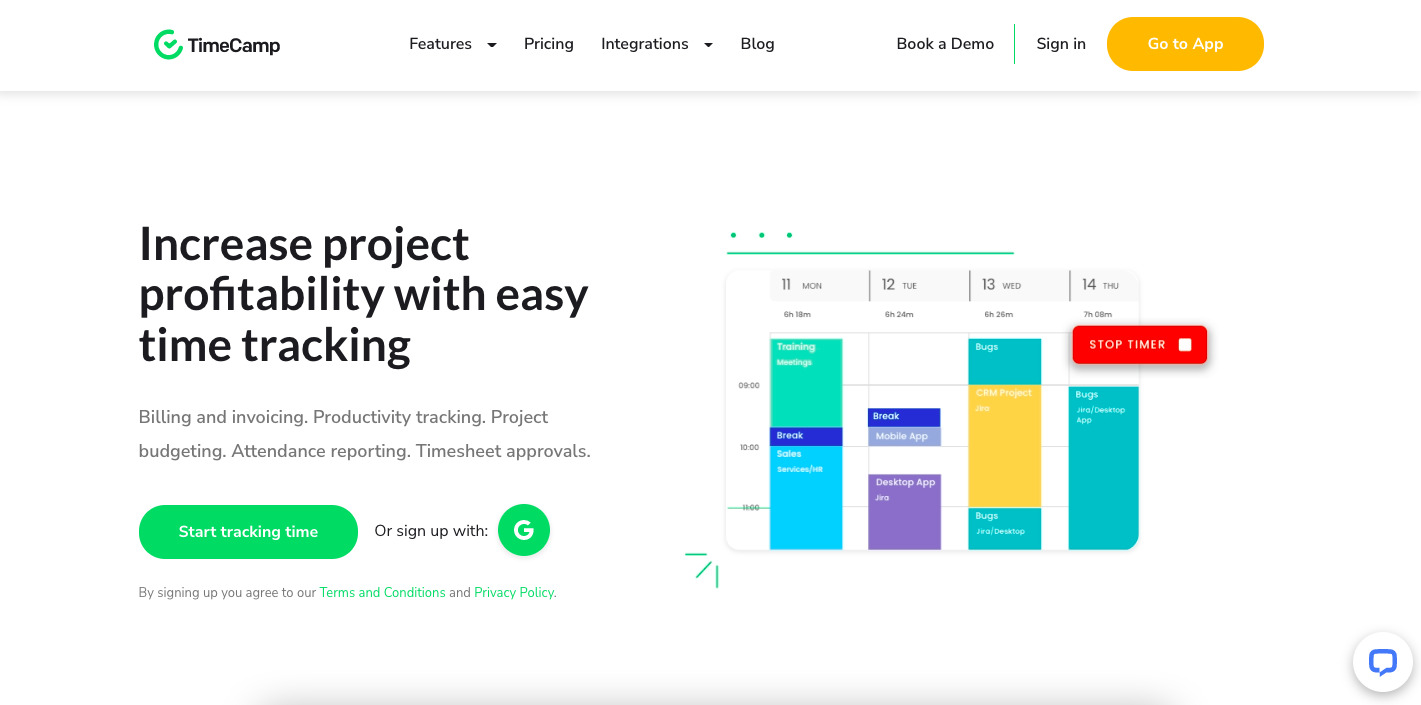 Working remotely often means problems with keeping up to date with the employee attendance, but a solid time tracking app solves that problem, no matter how many time zones your employees are working in.
TimeCamp, time and attendance software and one of the best apps for working from home,  has a wide range of features dedicated to streamlining daily work hours logging and helping you manage remote teams effortlessly:
automatic time tracking – enjoy a seamless timesheet filling using a desktop app that works in the background and assigns time entries to the appropriate tasks automatically,
online timesheets – start a timer or add a new entry manually using a Day or Calendar timesheet; you can also fill your timesheets for an entire week at once using a Week view,
attendance tracking – signing time cards when working remotely is a pain, but with TimeCamp, you can turn working hours into attendance reports for better remote team absence management and accurate payroll,
flexible billing rates – to bill remote workers accurately, no matter the time zones they work in,
reporting – to keep an eye on remote teams' performance and as a support for effortless time planning in project management,
productivity tracking – to let remote employees keep an eye on their own performance, 
30+ native integrations – to track time directly from project management, sales, marketing, accounting tools your remote team uses, 
unlimited users in all plans – if you manage a remote team that just needs basic hours logging feature, choose our free plan that allows you to add as many users as you wish.
💰 Price: Free plan ✅; paid plans start at $2.99 per user per month; a free trial is available -> check full pricing here!.
👌 Available for: web, desktop (Mac, Windows, Linux), mobile (iOS/Android), browser extension (Chrome/Microsoft Edge), time clock kiosk
Forest
👉 For: Focus improvement gamification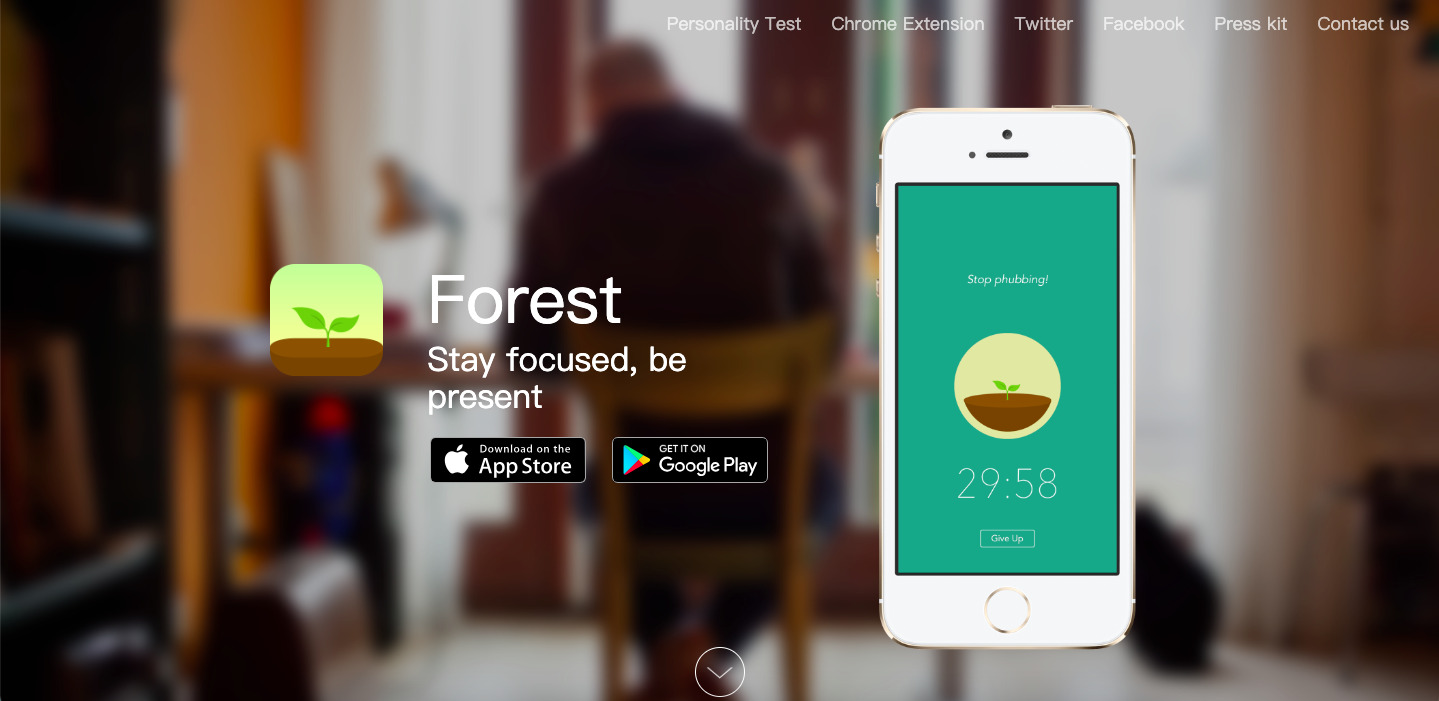 There's one thing that remote work newbies and old-timers have in common and no surprises here – it's trouble focusing. It doesn't need an extra explanation – the home environment is full of distractions, and avoiding them requires a good amount of self-discipline, especially when you usually use the same room to work, eat and relax.
If the ordinary solutions of focus improvement aren't working anymore, try gamifying the experience and choose Forest. Both remote and hybrid teams will definitely have fun using this app, but I'm sure it'll bring remote workers an extra benefit.
Forest allows you to plant a virtual tree every time you want to stay productive, e.g., when you start a new task. And here the fun starts – your perfect focus waters the tree. Once you get distracted and abandon your work, leaving the app halfway, the tree will die. You don't want it to wither too early, do you? You'd better maintain the highest focus level and enjoy the beautiful online forest growing because you doing a good job.
What's more, Forest team members partner with a real tree-planting organization! Each time Forest app users spend their virtual coins, a company donates and creates planting orders. Stay productive and perfectly focused to help protect the planet!
💰 Price: $3.99 (iOS); Free/$1.99 (Android) + in-app purchases
👌 Available for: iOS, Android
Freedom
👉 For: Blocking distractions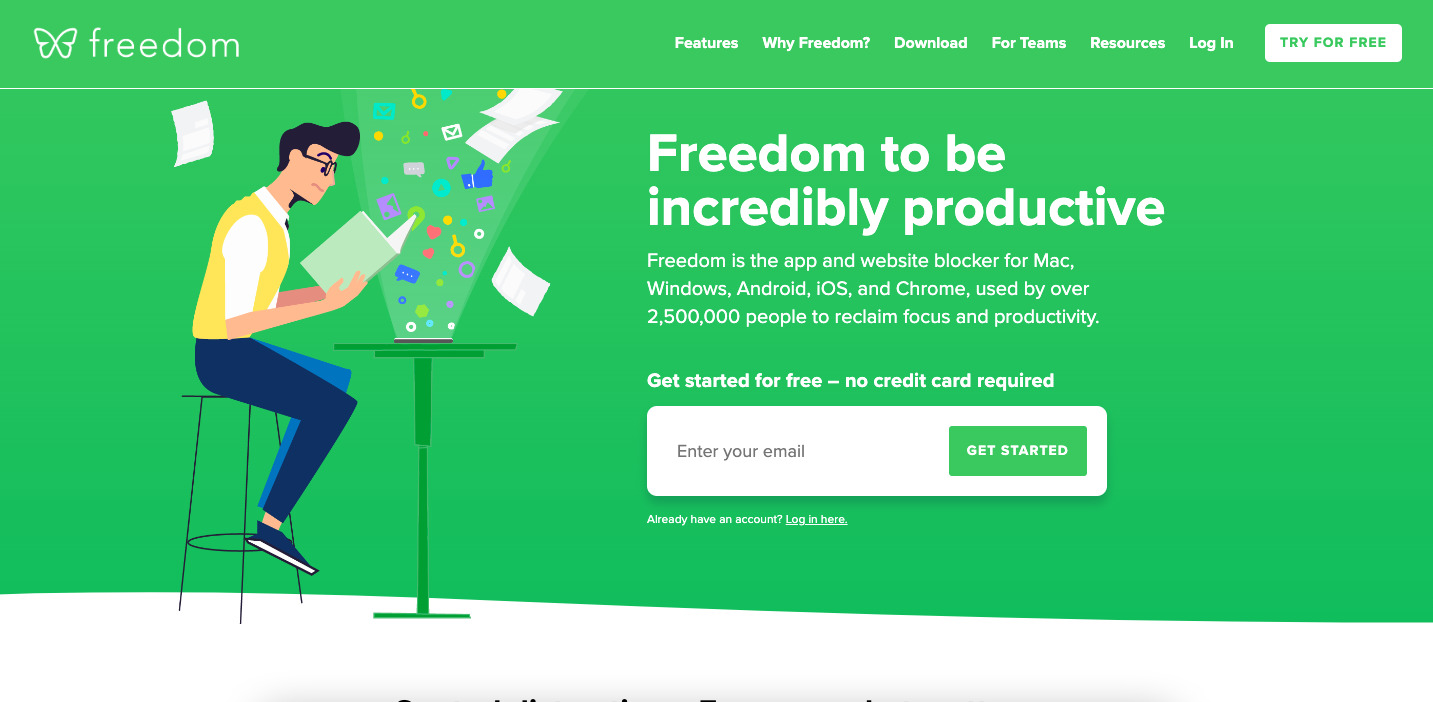 Remote workers know exactly that literally everything can distract them – no matter if it's a social media notification or pets asking to play with them. That's why if it's possible, it's good to limit at least a part of the distractions – and here, the Freedom app comes with a helping hand.
The tool is an app and website blocker dedicated to all the most popular platforms and devices. It blocks the activity you usually waste time on – websites you browse or apps you use, and games you play. But if it's not enough, Freedom also allows you to turn off the internet connection with just a few clicks. What's more, you can use the Locked mode feature to prevent ending a Freedom session when your assignments require being extra productive.
Create lists of apps and websites that should be blocked during particular sessions (or use website exceptions to leave only these websites you really need to use at work and block the rest). You can add as many devices to one Freedom session – the tool syncs perfectly across many devices.
💰 Price: Free trial is available; paid plans of Freedom Premium start at $8.99 per month (or $3.99 per month when billed annually).
👌 Available for: Mac, Windows, Android, iOS, and Chrome devices.
Pomodone
👉 For: Pomodoro focus improvement and hours logging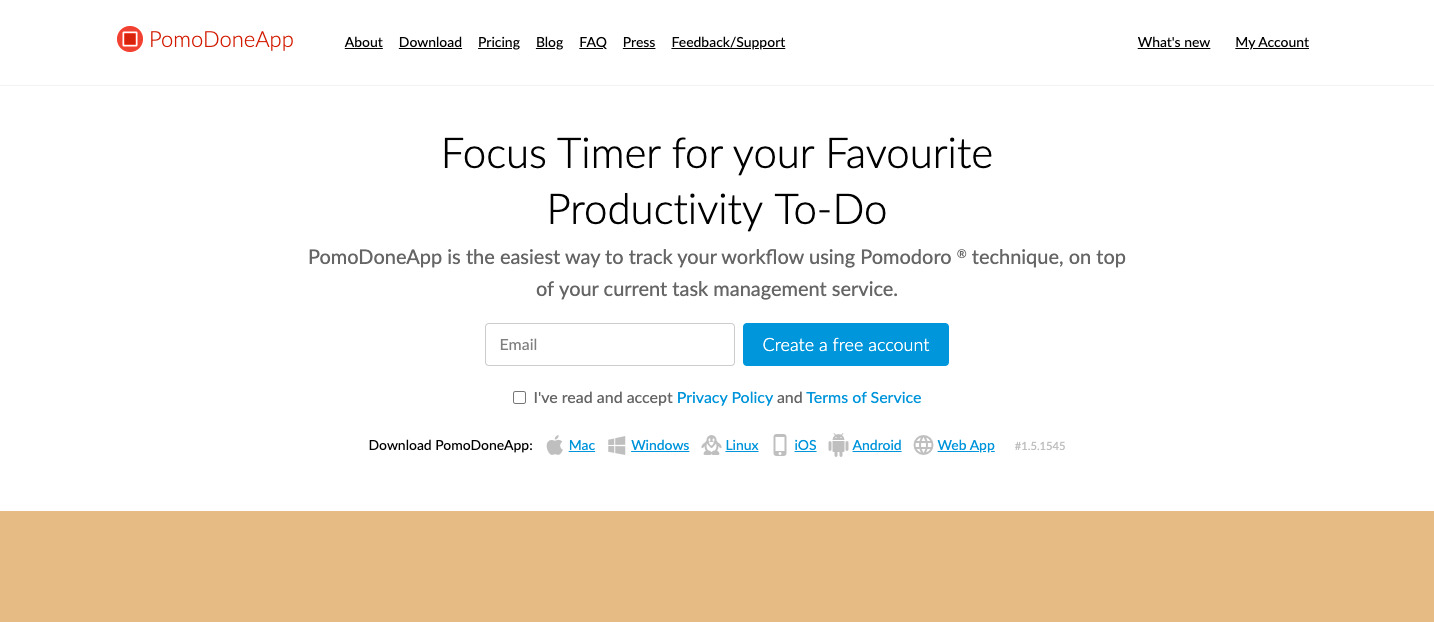 Pomodoro time tracking has been a hot topic recently, especially among remote workers. It's a technique for working in intervals that consist of typically 25 minutes in length, separated by short breaks. Sure, tracking them with a watch is absolutely achievable, but why not automate it with a productivity tool?
Check Pomodone – a pomodoro timer that connects with your favorite task management application. You don't have to create any tasks to use it; just import the project structure from other tools you use and start using the tool. The list of available tools depends on which plan you chose.
If the default interval doesn't match your workflow, you can easily change it to the desired length. Pomodone also offers weekly and monthly mailing reports and tags customization for better task categorization.
💰 Price: Free trial (one week) and a free plan with limited features are available; paid plans start at $4.32 per single month or $2.16 per month when billed annually.
👌 Available for: web, Mac, Windows, Linux, iOS, Android, browser extension (Chrome and Microsoft Edge)
Way Of Life
👉 For: Improving self-discipline and faster goals achievement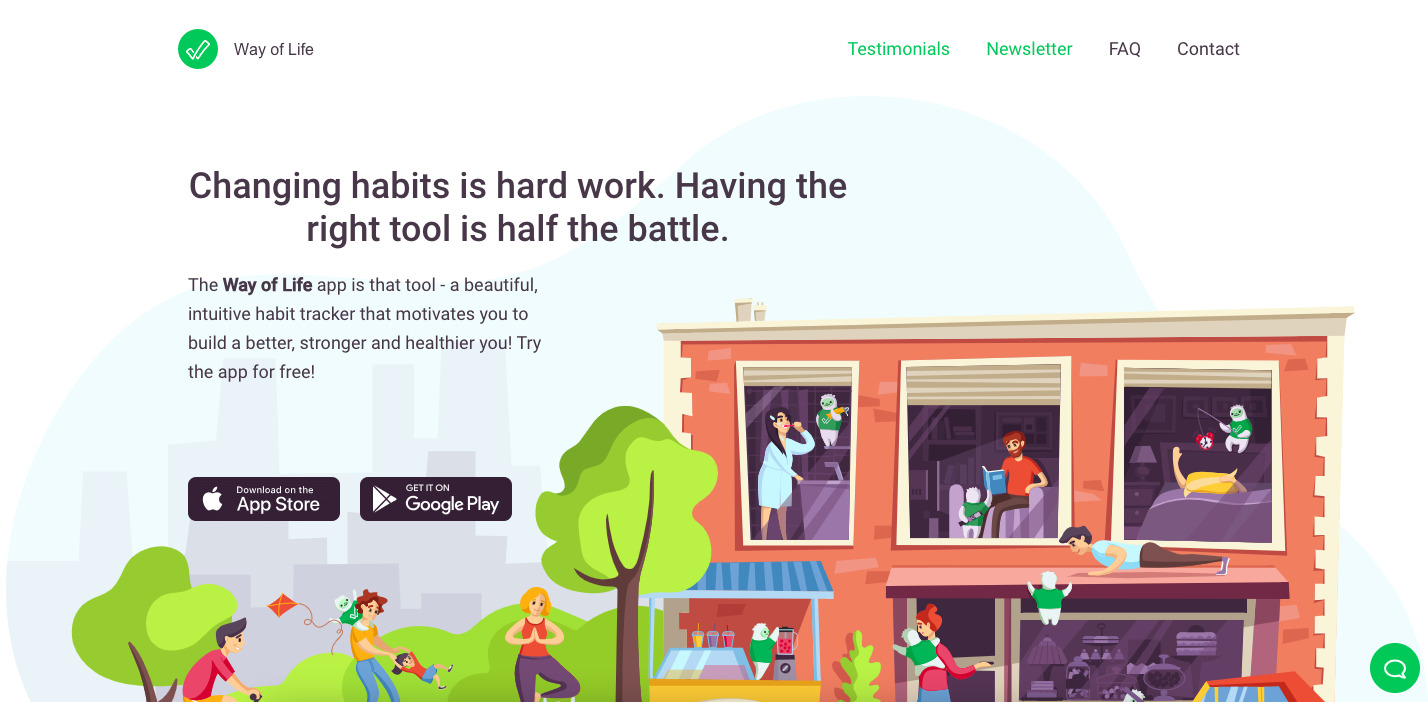 Remote employees will surely benefit from using a good habit tracker – so does Way of Life. The app supports remote work efficiency by supporting you with building good habits and getting rid of bad ones. It's a significant help for maintaining a healthy level of work-life balance.
Way of Life uses a color-coded system to organize your daily routine and sends you notifications to keep you on track with your habits. It also offers notes to let you leave a word or two about what triggered the bad habits or helped you support the good ones. Use charts to indicate positive and negative trends in your performance.
💰 Price: Free plan for up to three habits available; premium plans start at $4.99 per user per month.
👌 Available for: iOS, Android
World Time Buddy
👉 For: time zones management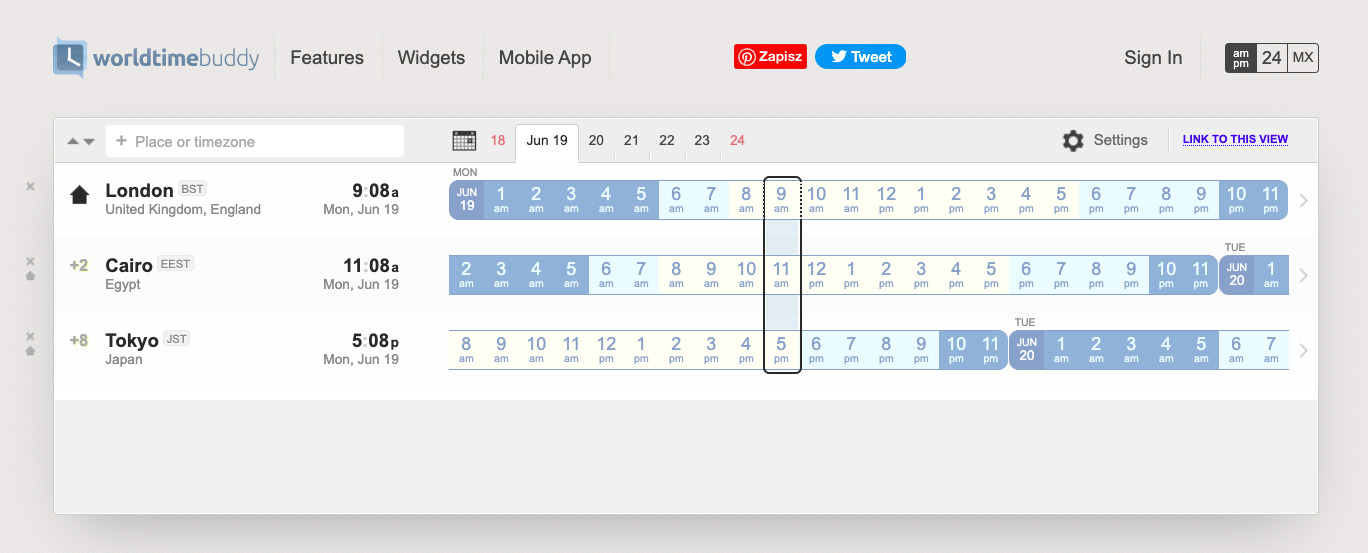 Distributed teams often work from various places around the world, thus in different time zones. To find out if your remote team members are available at work or rather sleep peacefully, use World Time Buddy, a time converter and world clock. It's a simple calculator that allows you to check the time across various locations – just input the city names and see clearly what time it is there; move the cursor to compare the time difference at a glance.
World Time Buddy supports not only the flawless work of remote teams but also helps you track market hours, better plan business journeys, and schedule international meetings and phone calls. World Time Buddy also offers a simple feature for scheduling remote meetings. Signing up isn't required, but if you do, you'll be able to save your locations to keep them handy.
💰 Price: Free
👌 Available for: web, website widget, and mobile app for iOS and Android
Team collaboration tools
Teamwork
👉 For: letting the entire team stay on the same page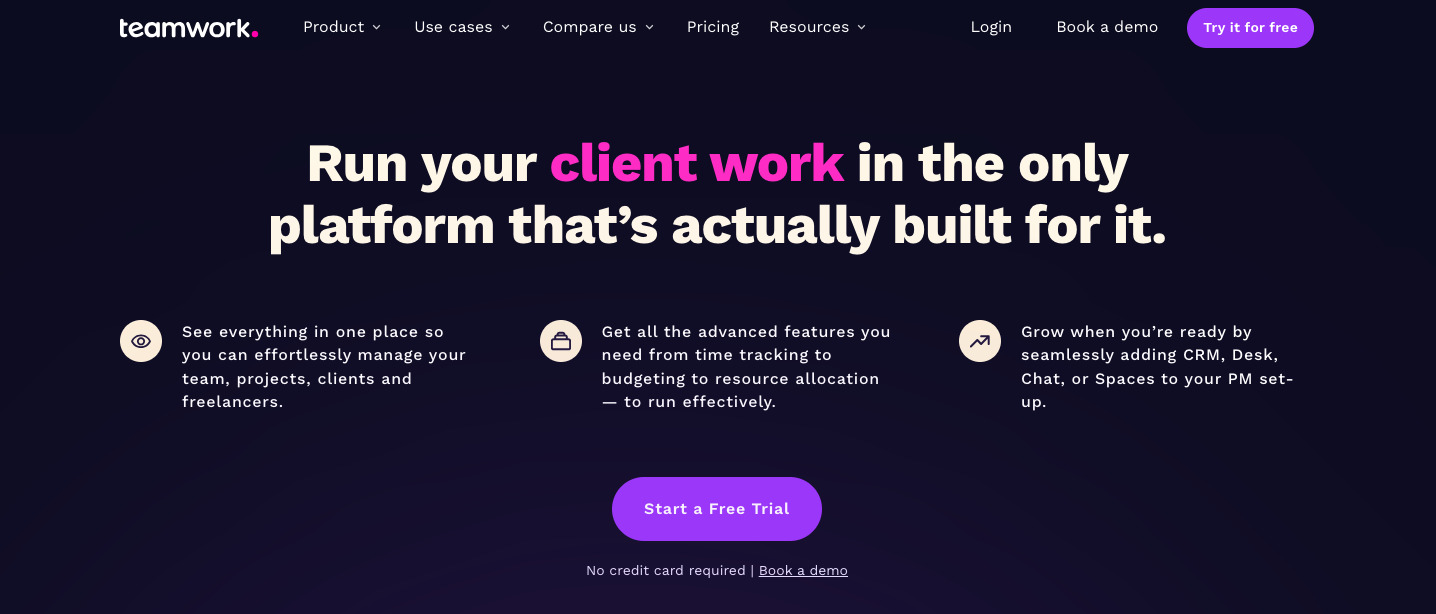 Teamwork is an all in one project management and team communication tool that streamlines remote team collaboration. It keeps you up to date with the team and how heavy the workload is and helps make wiser decisions when it comes to resourcing. Thanks to that, the remote team members' workflow is smooth, and the risk of missing deadlines is reduced to a minimum.
Using Teamwork, you can visualize your project management with the boards, no matter if you use Kanban, Scrum, or other methods, and always be up to date on the project scope and progress. Monitoring the workflow in real-time helps avoid bottlenecks and prevents any potential problems.
Teamwork offers an efficient workload-monitoring feature, by which you can get an instant overview of the capacity of each remote employee, indicated by a capacity bar. It helps you adjust the plans effortlessly in case someone has too much on their plate and offload some of their work onto other team members, to keep the workflow flawless and effortlessly manage projects.
💰 Price: Free plan available for teams up to 5 users; paid plans start at €8.99 per user per month (€5.99 when billed annually)
👌 Available for: web, Mac, Windows, iOS, Android, Chrome, and Gmail extension
🍀 Check TimeCamp and Teamwork integration! 
Slack
👉 For: streamlined remote team communication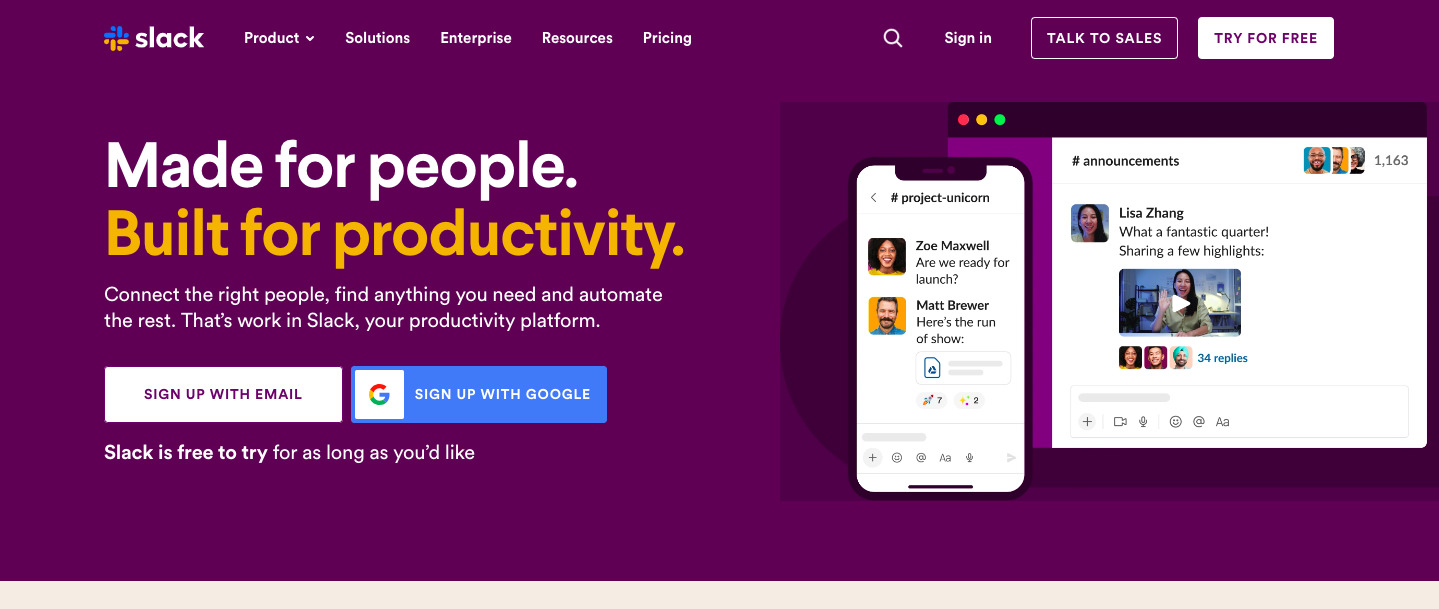 Slack needs no extra introduction as a work-from-home app – it's one of the most widely known instant messaging tools among all the remote work apps. No matter how big remote teams are and from where their members work, Slack ensures flawless team communication.
Using Slack, you can create fully searchable channels for group conversations on various subjects, depending on your workflow. Moreover, if there's an issue but you don't want to clutter the channel, you can invite team members concerned to the group conversations. Of course, Slack also offers 1-1 conversations for maximum privacy.
Recently Slack also enabled voice and video calls called Huddles. The tool now allows you to hold team meetings without using a third party tool. Huddles are customizable with different backgrounds and effects and emoji reactions. Any documents and links shared when using Huddle are automatically saved and available for participants to browse them later.
Remote teams will also benefit from clips, short audio or video clip that come in handy when you want to explain something quickly but don't want to waste energy writing a long message. Slack also offers numerous integrations for streamlined workflow (check TimeCamp for Slack).
💰 Price: Free plan available (with limited features, storage and search history), paid plans start at $3.62 per active user per month (billed annually)
👌 Available for: web, Mac, Windows, iOS, Android
🍀 Check TimeCamp and Slack integration! 
Chanty
👉 For: real-time collaboration and video calls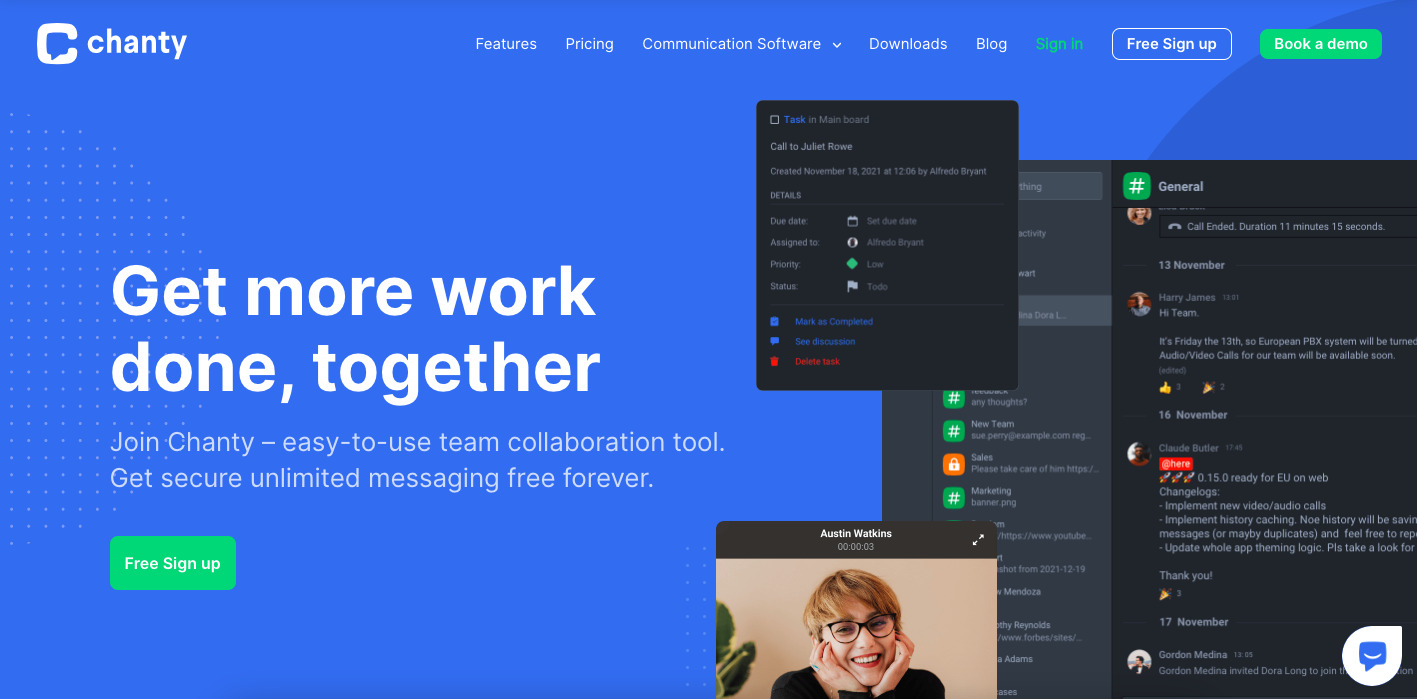 Promising to increase remote team productivity, Chanty is another worth-considering remote team collaboration tool that offers an intuitive and easy-to-use interface. You can easily take advantage of this team chat app – conversations are neatly organized in public, group, or private, 1:1 chats.
Remote teams will be definitely satisfied with unlimited searchable message history, and audio and video chat features, which are perfect for keeping all the team members up to date using one, remote setting.
The built-in task manager that uses the Kanban methodology allows you to turn any message into tasks, all of them neatly organized. Get a quick answer from a colleague or entire team using mentions, pin the messages essential for flawless team workflow, and connect Chanty with others saving time switching between multiple apps.
💰 Price: Free plan available (up to 10 members), paid plan costs $3 per user per month, billed annually; check how it works registering for a free trial.
👌 Available for: web, Mac, Windows, Debian, Fedora, iOS, Android
Discord
👉 For: creating a virtual office for virtual teams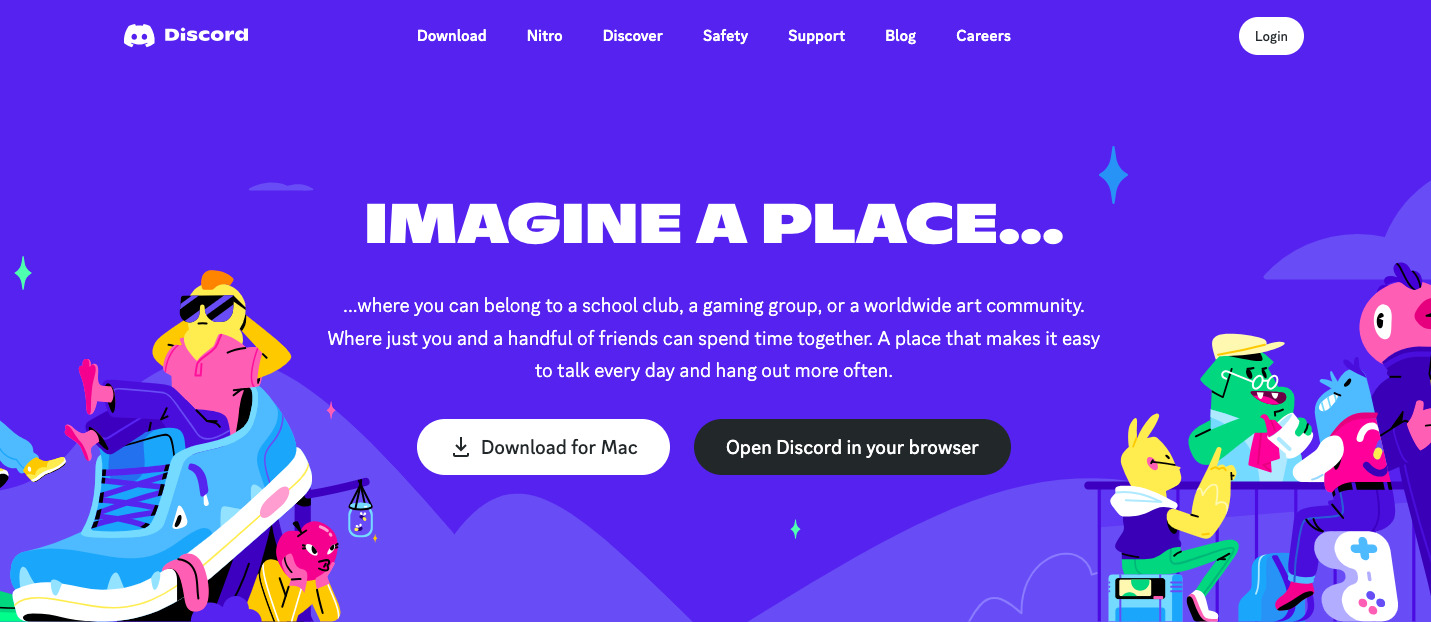 Discord was mainly designed for gamers to communicate while gaming, but the pandemic made it also a perfect alternative to the most often used professional collaboration tools. But it doesn't mean that it can't be used in business. It may turn out that it works better than all the tools, especially for remote teams hiring younger remote employees who used Discord for private messaging so far. Especially, that passionate people develop it for other passionate people.
Discord operates on servers – virtual workspaces used mostly by online communities so far, but now suitable perfectly for business purposes as well. Make a dedicated server for your team and enjoy cool team collaboration that uses personal emojis.
Discord enables chat, voice, and video calls communication. You can freely use the tool as internal communication software and play with it to get the most out of your work. The space divides into topic-based channels where you can collaborate, share links and documents, or just chat with your coworkers about nothing.
💰 Price: Discord is a free app, but to enhance its capacity (e.g. to send larger files, or add more personal emojis) buy a Nitro subscription; Nitro Basic costs $2.99 a month.
👌 Available for: web, Mac, Windows, Debian, Fedora, iOS, Android
Mattermost
👉 For: remote collaboration for technical teams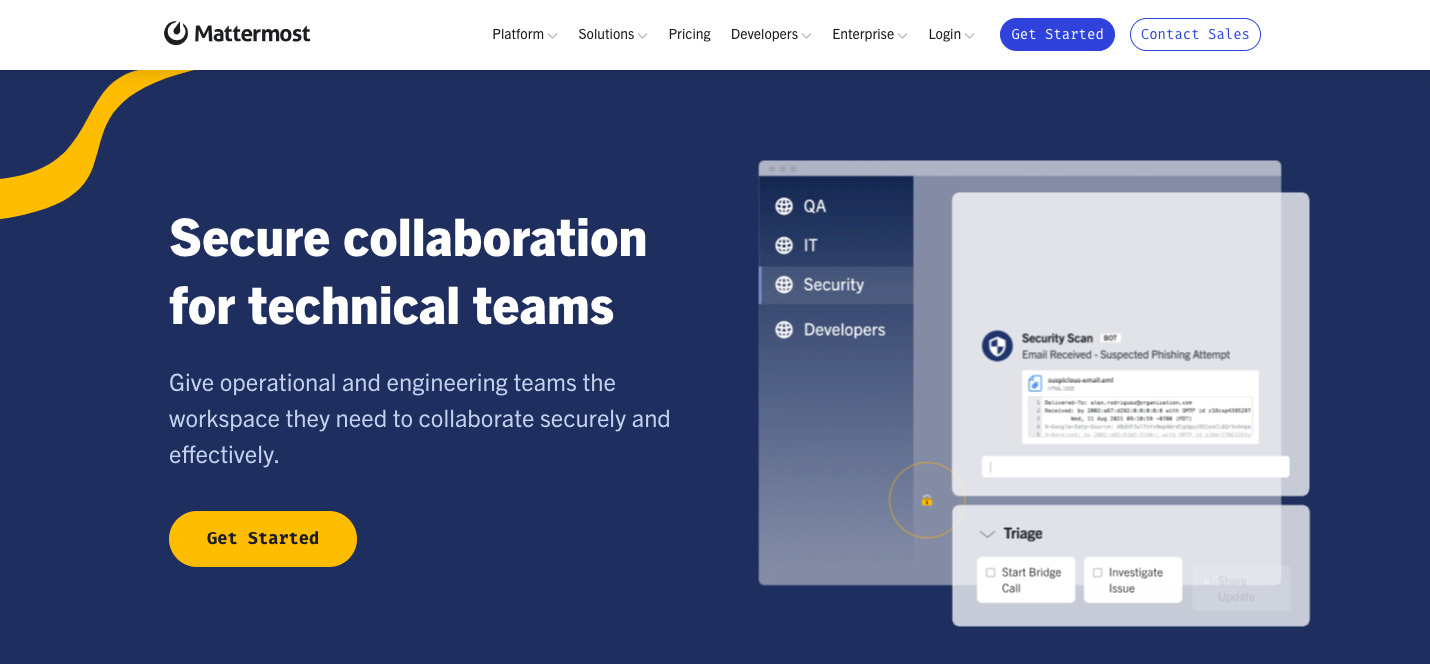 Mattermost is an open-source, self-hosted workflow automation app dedicated to software development teams, which unites your dev team collaboration thanks to 1:1 and group conversations. With Mattermost, you can easily chat with your remote team as well as share and view files. You can fully customize it according to your workflow and team members' needs.
Integrate Mattermost with your favorite business apps to streamline other team communication-related processes. Since it's an open-source software, you can easily run it on your own server and take care of the highest level of data security and privacy. It's also highly customizable – choose from the wide range of integrations it offers or build your own one using its API.
💰 Price: Free plan is available (for unlimited users; only self-hosted); paid plans start at $10 per user per month
👌 Available for: web, Mac, Windows, Linux, iOS, Android
Notion
👉 For: all-in-one software for remote teams organization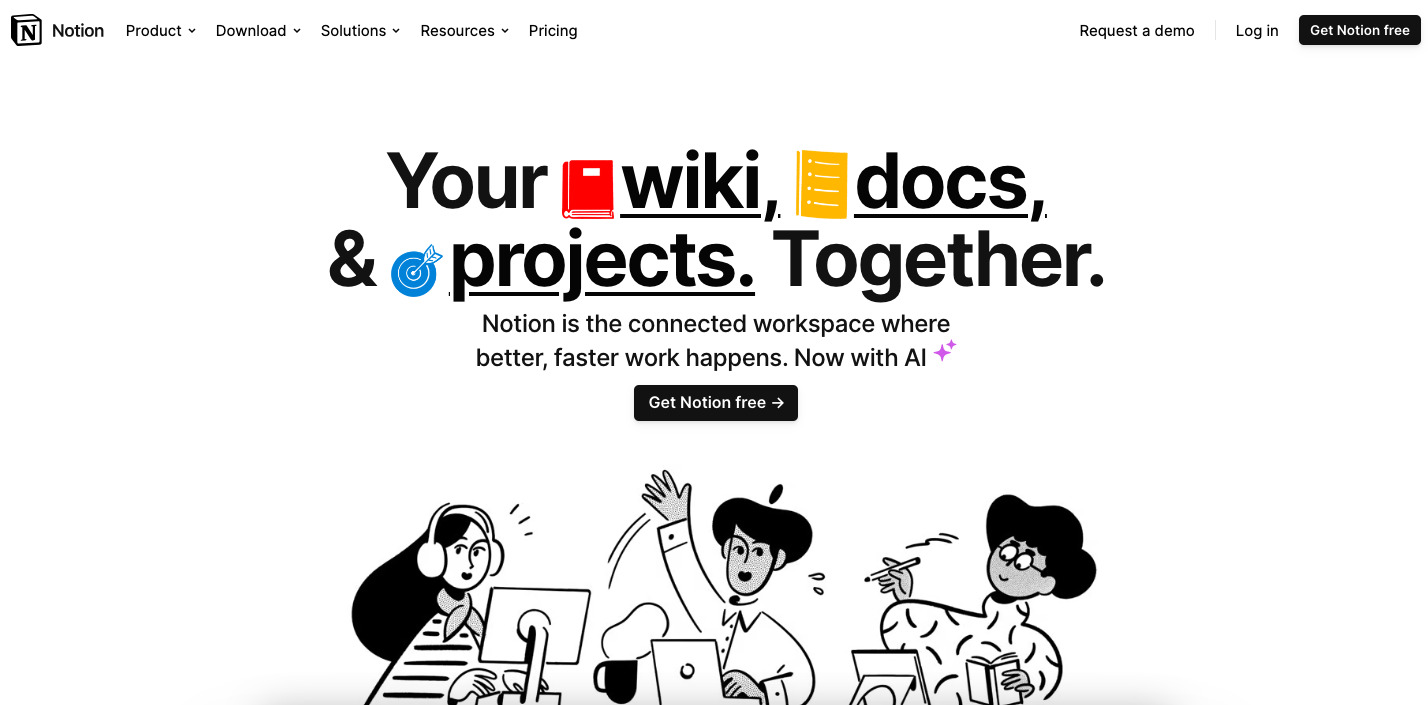 Another widely recognized collaboration app among remote team tools. Notion brings together all the features that are essential to streamline daily remote worker communication.
Use Notion to create wikis – a centralized location for all the knowledge essential to streamline your workflow. Having this information in a nutshell and handy will definitely help onboard new remote employees faster and avoid endless questions about the smallest details. Send them also an onboarding checklist to ensure them a successful start.
Notion also serves as a decluttered project management tool. It gives remote teams a clear overview of all their projects, so they can plan their workload without unnecessary pressure and, thus, avoid missing deadlines or assigning team members with incorrect skills to specific projects.
Among Notion features, you'll also find documents and notes creator that allows you to insert blocks of content like code snippets, math equations, images, videos, mentions, toggles, reminders, and many more. Use the Web Clipper feature to save websites to Notion, available as an extension for Chrome, Safari and Firefox.
💰 Price: Free plan for personal usage is available (but you can invite up to 10 guests to your collaborative board); paid plans start at $10 per user per month
👌 Available for: web, Mac, Windows, iOS, Android
🍀 Check TimeCamp and Notion integration! 
Video conferencing team communication
Zoom
👉 For: all-in-one smart team collaboration platform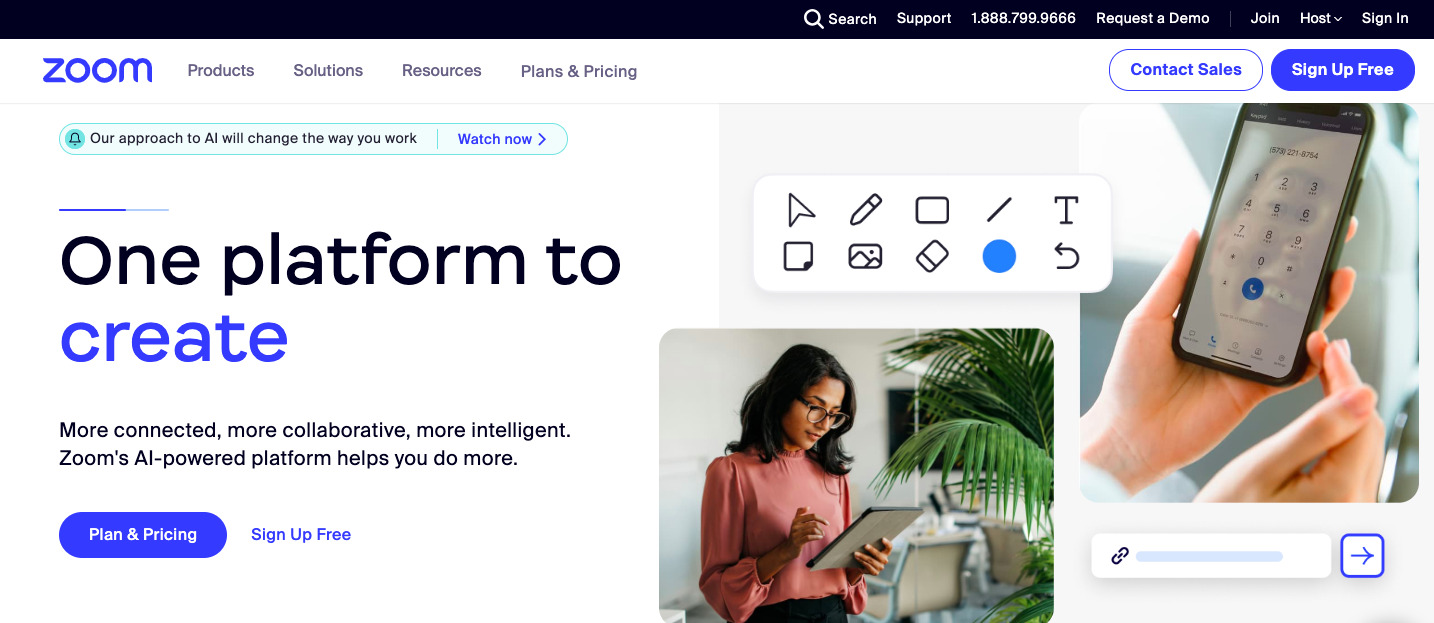 Many people had learned about Zoom during the pandemic outbursts – companies of different sizes and industries, as well as universities and governmental institutions, needed comprehensive remote work apps for video conferencing.
Today, Zoom markets itself as a collaborative, AI-powered communication platform that serves many purposes, from being a virtual workspace for remote teams to organizing events like webinars and online conferences. You can get it now as Zoom One, an all-in-one tool, or as separate products for calling, events and webinars, workspaces, or editable whiteboards.
Zoom One consists of numerous features that let distributed teams communicate and collaborate effectively, like virtual meetings, instant messaging, a cloud phone system (that successfully replaces a traditional desk phone), email and calendar clients, or even a digital whiteboard to take brainstorm and plan collaboratively or to take notes during meetings.
💰 Price: Varies depending if you choose personal, business, or industry pricing. In a business trier, your remote team can get Zoom for free, but features are quite limited, like meetings up to 40 minutes long or 100 attendees per meeting. Paid plans start at $15.99 per month per user. You can also purchase a separate product, like a Phone, Events&Webinars, Rooms, Contact, or Whiteboard.
👌 Available for: web, Mac, Windows, iOS, Android, Outlook plugin
Teams
👉 For: virtual workspace for hybrid or remote team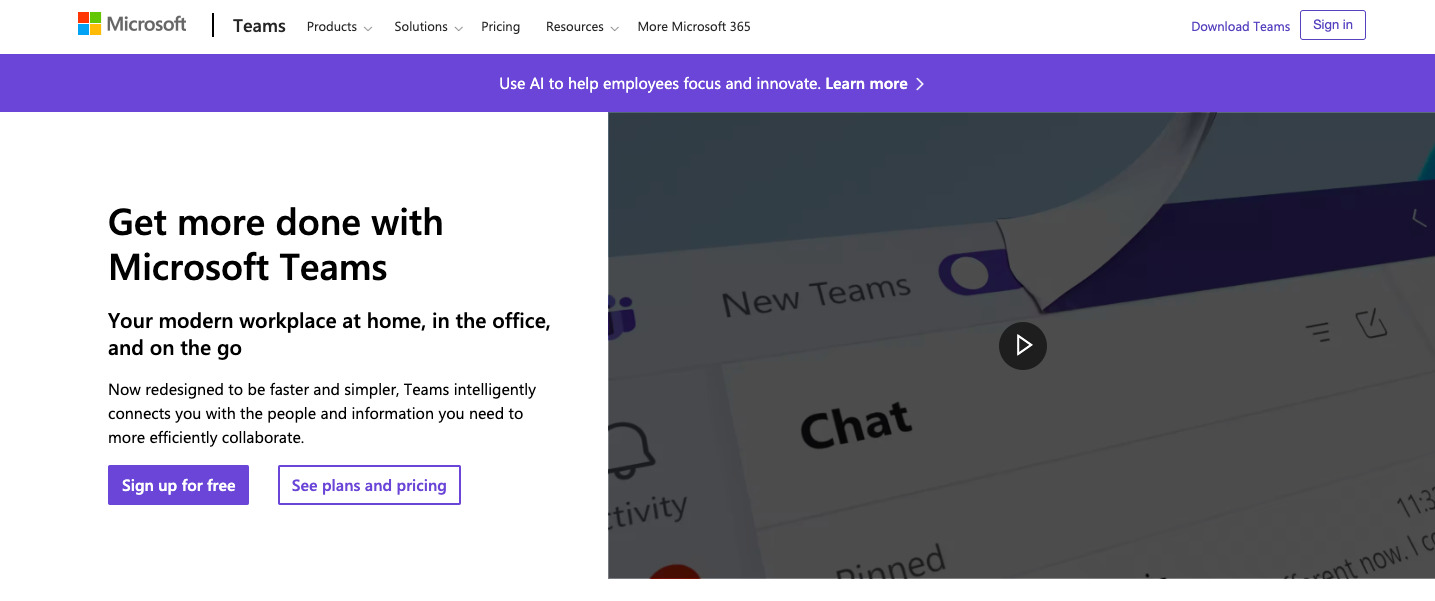 Another collaborative platform among remote work apps, and another one that needs no extra introduction. Microsoft Teams is a collaboration hub that streamlines remote work in companies and institutions of different sizes but also serves perfectly for personal usage, e.g. to contact clients effortlessly.
Microsoft Teams offers a wide range of apps that support the meetings at every stage, from planning to keeping the engagement at the highest level once the meeting ends. Use it as a standard video conferencing tool or replace traditional phone calls with it – Teams Phone service support VoIP calls whether you use the landline, mobile phone, or the Teams app.
No matter where your employees work, they can easily participate in fully interactive team meetings using Teams Rooms. Rooms ensure remote and hybrid teams an effortless collaboration thanks to wireless content sharing, powerful whiteboarding, full scalability, and security risks that are reduced to the minimum.
💰 Price: Depends on the type of usage (business or home); business plans start at $4 per user per month in an annual subscription with automatic renewal. A free plan is available.
👌 Available for: web, Mac, Windows, Linux, iOS, Android
Google Meet
👉 For: shareable audio and video conferences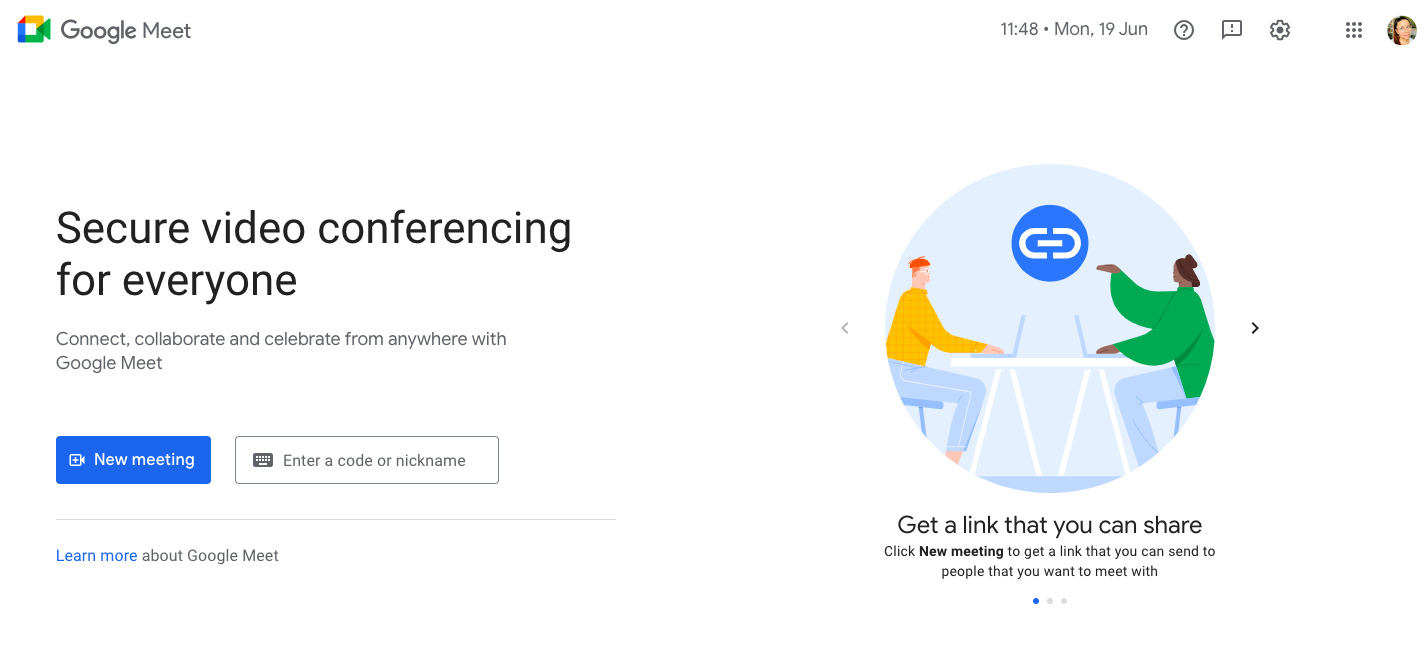 Remote teams that already use other apps for collaboration and just need a simple tool to hold video conferences should be satisfied with Meet. You can use it separately or as a part of the Google Workspace suite. The second choice is more convenient because once you schedule a meeting, it immediately appears in your Calendar, and all the participants are automatically notified.
The basic version of Meet allows you to create safe, interactive meetings for up t 100 participants. Users can raise a hand to attract attention or send an emoji to express themselves without saying a single word. The tool provides whiteboarding with Jamboard.
Google Workspace users will benefit from additional Meet features, like live streaming, polls, breakout rooms, meeting recording, multiple co-hosts, noise cancellation, or even attendance tracking. The number of participants also increases to max 250, and so does the maximum length of the meeting (24h). However, the number of extra features varies depending on the chosen paid plan.
💰 Price: Free option available; the lowest Google Workspace paid plan costs $6 per user per month.
👌 Available for web, Mac, Windows, Linux, ChromeOS, iOS, Android
BlueJeans
👉 For: engaging video conference experience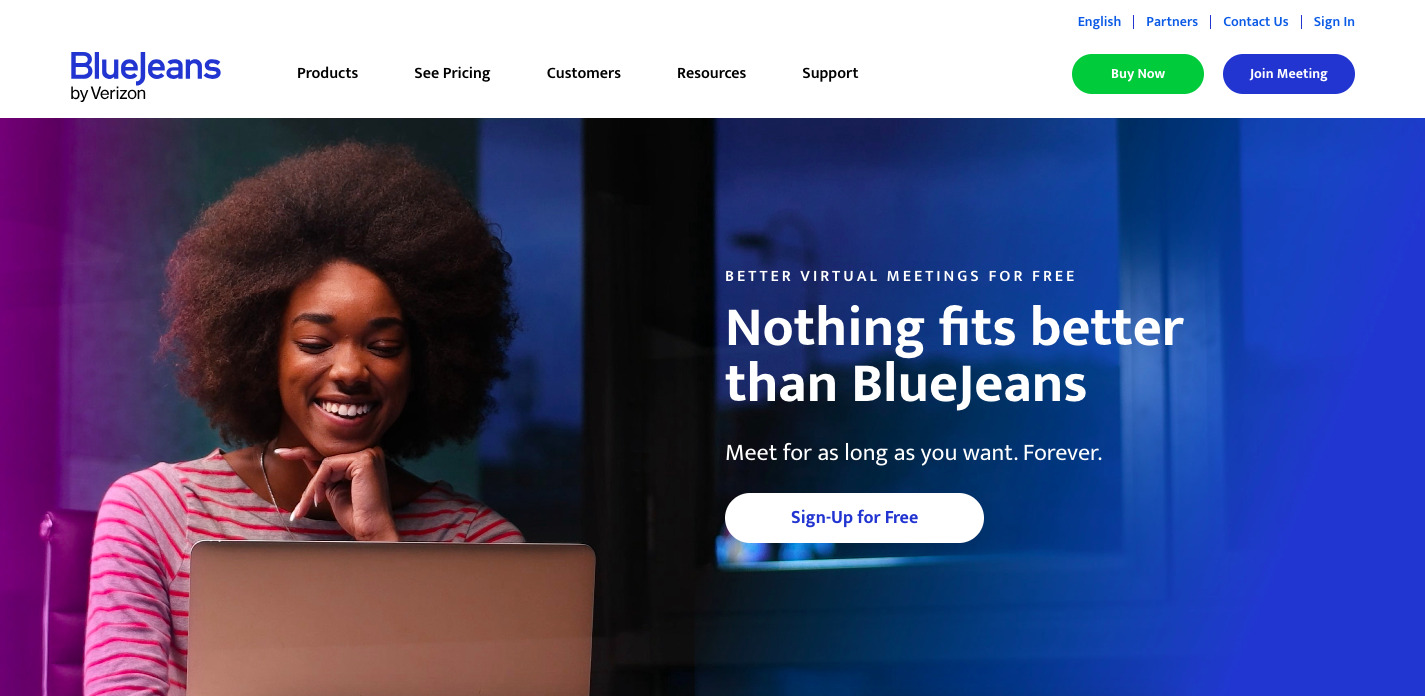 BlueJeans is another virtual meetings provider. It enhances full interactivity, ensuring each remote team the highest quality video conferencing experience. Behind this product stands Verizon, a wireless network operator, so the BlueJeans team promises exceptional video and audio quality no matter the place remote workers are working from.
BlueJeans offers Smarter Meetings, an AI-powered meeting tool that captures the essentials of a meeting and creates highlight reels with automatic transcription to not let the key findings fly away once the meeting ends. Moreover, you can assign tasks and communicate responsibility in-app even if the meeting is still on. You and your coworkers can also access all the summaries whenever you want.
Integrate BlueJeans with Slack and let your remote workers get notified about scheduled or upcoming meetings. Also, once the meeting ends, the highlight reels will be automatically shared to your private channels.
Except for virtual meetings, BlueJeans also offers solutions for webinars, connected conferences, event management, and even telehealth.
💰 Price: Free option for meetings of up to 25 participants available; paid plans start now at $9.99 per host per month (up to 150 participants and 25 hours of recording).
👌 Available for web, Mac, Windows, Linux, Ubuntu, iOS, Android, also plugins for Outlook and Google Calendar
Project management
TimeCamp Planner
👉 For: project management combined with flawless communication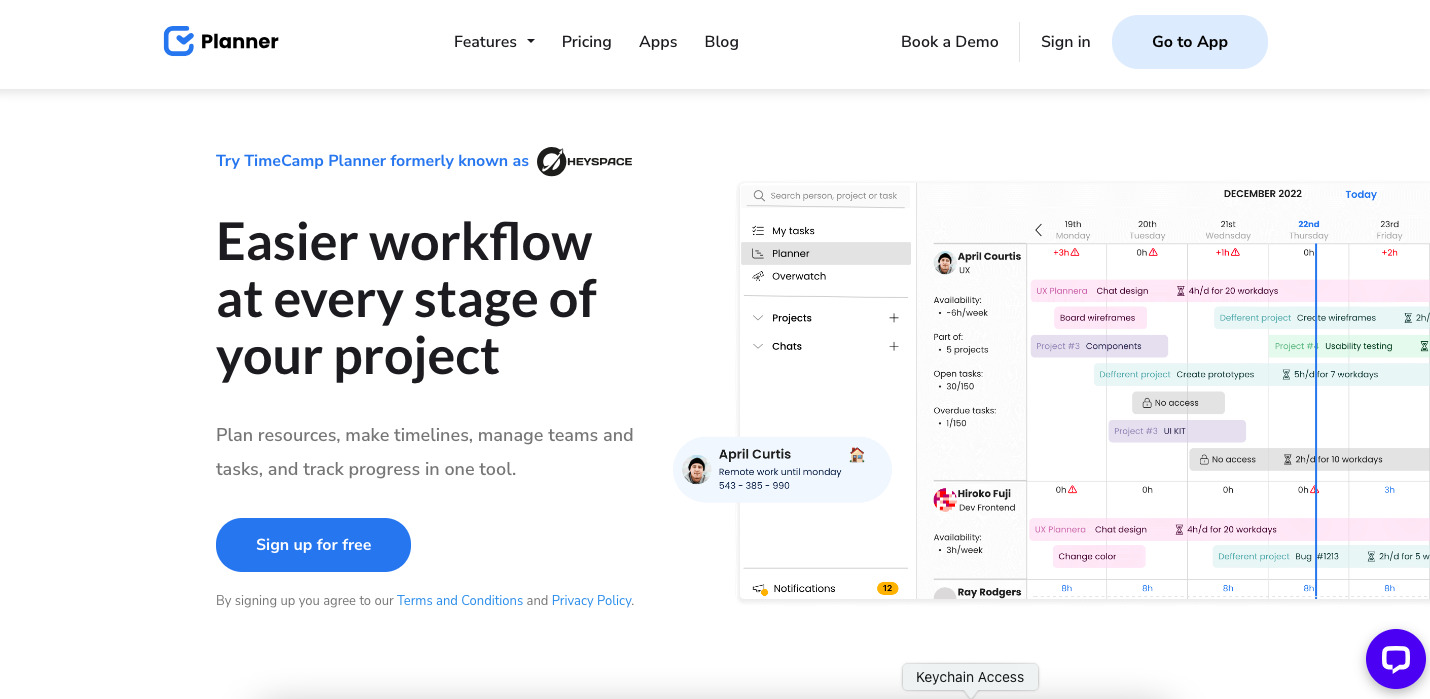 TimeCamp Planner is an all-for-one tool for team collaboration and team communication, which adjusts to the size and needs of your remote team. Create as many spaces as you need within one workspace and manage each project separately to avoid unnecessary clutter.
Planner ensures your team flawless Kanban-based task management with to-do lists, handy project overviews, timelines, and calendar views. With an integrated chat platform, you can easily communicate with all space members or talk to your colleagues in a private or group conversation. Moreover, every message can be easily turned into a task, so you won't miss any brilliant ideas anymore. Besides, you can send a handy chat link to customers or contractors and invite them to collaborate on a project along with your remote team.
Integrate TimeCamp Planner with Gmail and turn every email into task cards in a few clicks. To implement video calls, integrate TimeCamp Planner with Hangouts. To keep an eye on deadlines better, synchronize it with your favorite calendar and get access to your projects from wherever you are with a handy mobile application. What's more, the tool allows you to import your boards from Trello, so you can switch to a new app easily.
💰 Price: Free forever plan and free trial available; paid plan – $3.75 per user per month.
👌 Available for web, Mac, Windows, Ubuntu, iOS, Android
Asana
👉 For: managing complex work easily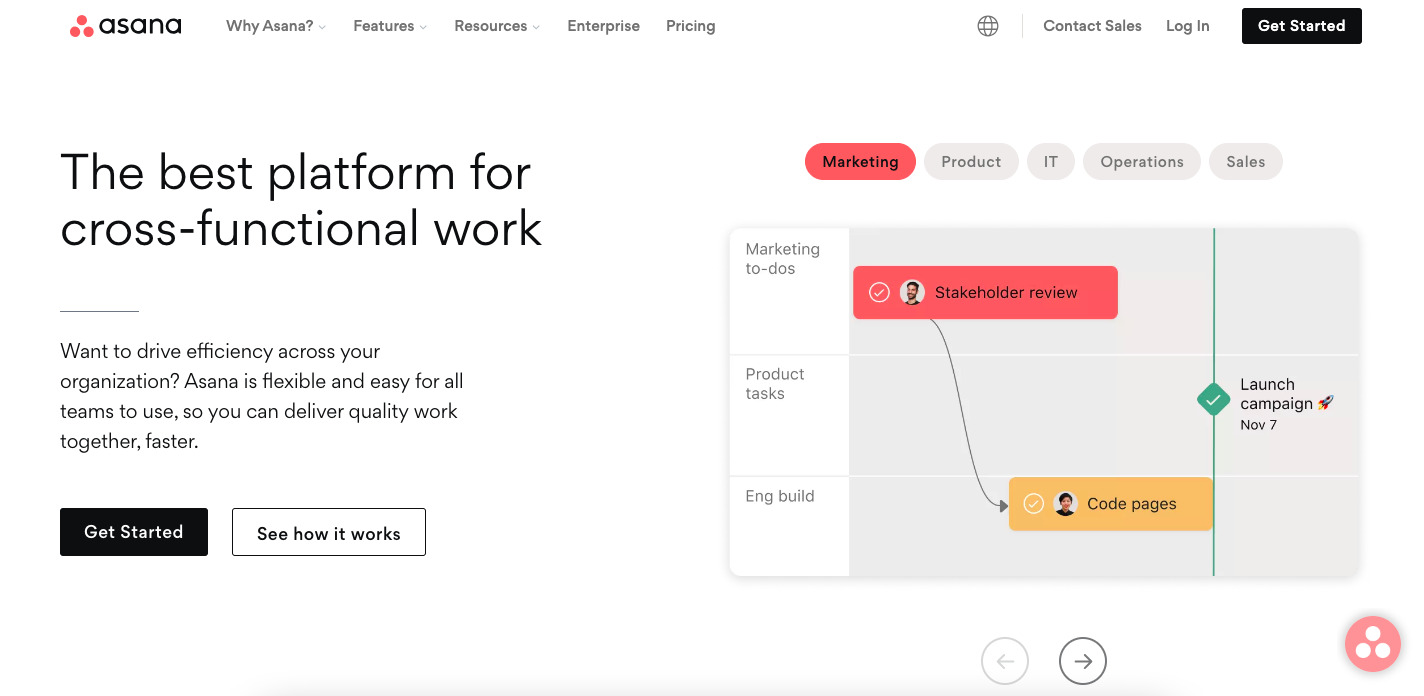 Asana is a comprehensive task and project management suite that allows you to keep all your work and data about your remote team in one place. Using need, you can be sure you have everything you need to maintain a steady workflow and always deliver work on time.
Although it may not be as easy to use in the beginning, just a short onboarding is enough to learn how to make use of the tool for effective remote project management.
You can also treat Asana as an advanced to-do list app with many features. You can organize your work in this free task software the way you need and like, according to the workflow of your team. Your remote employees can easily plan and organize their work and then follow and report updates. In Asana you can visualize the project to make sure things are going the right way and to eliminate risks and negative outcomes.
💰 Price: Free forever plan and free trial available; paid plans start at €13.49 per user per month (billed monthly; when billed annually – €10.99)
👌 Available for web, Mac, Windows, iOS, Android
🍀 Check TimeCamp and Asana integration! 
Trello
👉 For: kanban-based project management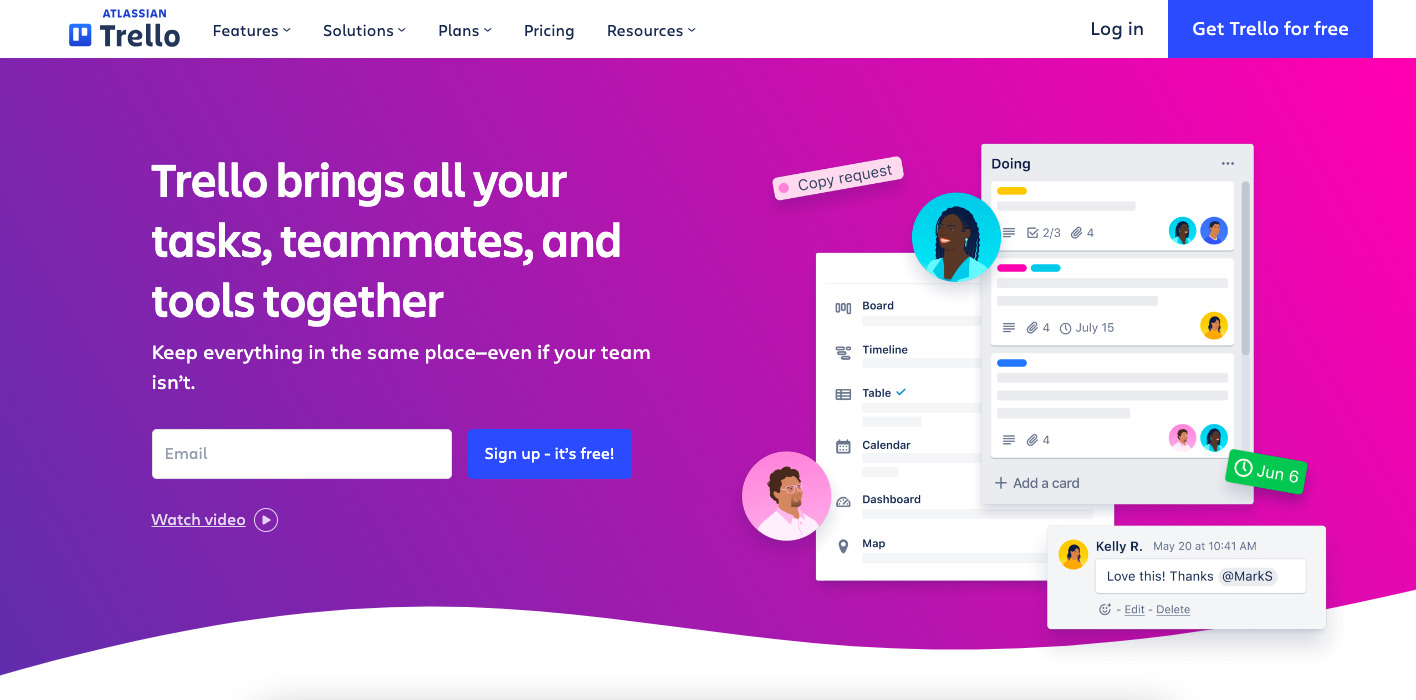 Trello is a world-famous project management tool that uses Kanban methodology. Remote teams, no matter of size, appreciate its transparency and fast setup. It allows you to organize all work in one place in a visual, easily manageable way. It's a simple, easy-to-use remote work tool that lets you plan, organize and work on different tasks and projects in one place without the need to switch tabs.
Trello is a visual board for managing and planning tasks. Even though its design may seem basic, it's packed with many useful features. You can create various boards for different projects or teams within a big team, with as many tasks and to do lists as you need, adjust cards' settings according to your workflow, repeat them for recurring tasks, leave comments on tasks, attach files, and use many other fancy options.
Trello also offers a wide list of power-ups that enhance work and collaboration. Makes sure to automate tedious work and task management in your remote team. Give a try TimeCamp and Trello power-up that provides in-app time tracking to make task management extremely convenient.
💰 Price: Free plan and free trial available; paid plans start at $6 per user per month (billed monthly; billed annually – $5)
👌 Available for: web, Mac, Windows, iOS, Android
🍀 Check TimeCamp and Trello integration! 
Monday.com
👉 For: more visual remote workflow management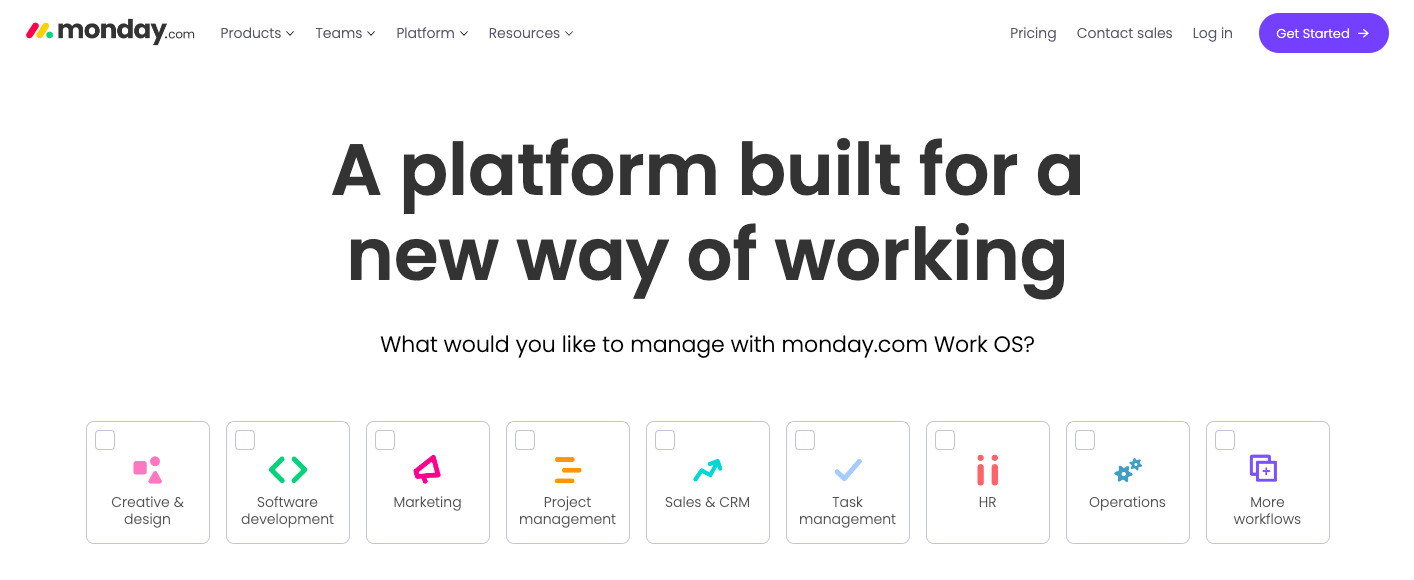 monday.com is another workflow and project management tool, but it stands out with its unique colorful interface. It lets you organize tasks and track work or a remote team in one place, in a pleasing to the eye, more visual form.
Monday offers many different kinds of workflow views, like the most popular Kanban, Timeline, or Calendar, but also Gant charts, forms, maps, and their own main view. You can also track recurring tasks.
With an overview of tasks, you can easily check the team's workload – who's working on what and which employees have free slots, which is extremely convenient if they're working remotely.
Moreover, Monday offers various project management templates for different types of projects and industries (e.g., agencies, freelancers, manufacturing, operations, construction, design, sales, and many more).
💰 Price: Free plan and free trial available; paid plans start at €10 per user per month (billed monthly; billed annually – $8)
👌 Available for: web, Mac, Windows, iOS, Android
🍀 Check TimeCamp and monday.com integration! 
Wrike
👉 For: premium virtual meetings experience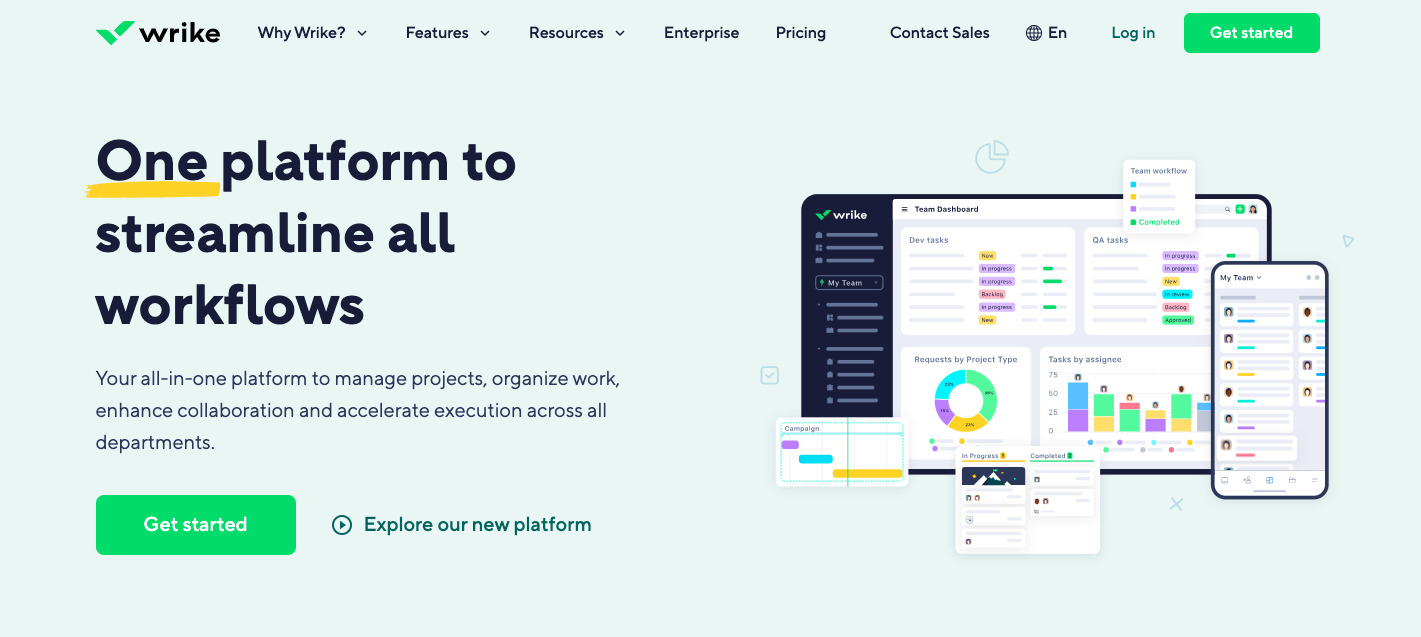 Wrike is another work-from-home app that is a cloud-based project management tool. It's dedicated mostly to teams of 20+, which is suitable for both large enterprises and SMBs. Key features of Wrike are typical for project management and collaboration software: Gantt charts, calendars, workload view for resource management, custom dashboards, and real-time updates help with managing multiple tasks and make the work of the project managers easier. Wrike allows for structuring all processes by managing work in folders, projects, and tasks.
Wrike integrates with a wide range of tools, including SalesForce, Dropbox, Slack, and Adobe Creative Cloud, and offers an open API. Wrike is suitable for anything marketing-related, creative, and large to midsize IT teams. 
💰 Price: Free plan and free trial available; paid plans start at$9.80 per user per month
👌 Available for: web, Mac, Windows, iOS, Android
🍀 Check TimeCamp and Wrike integration! 
Basecamp
👉 For: bringing all the work of your remote team into once place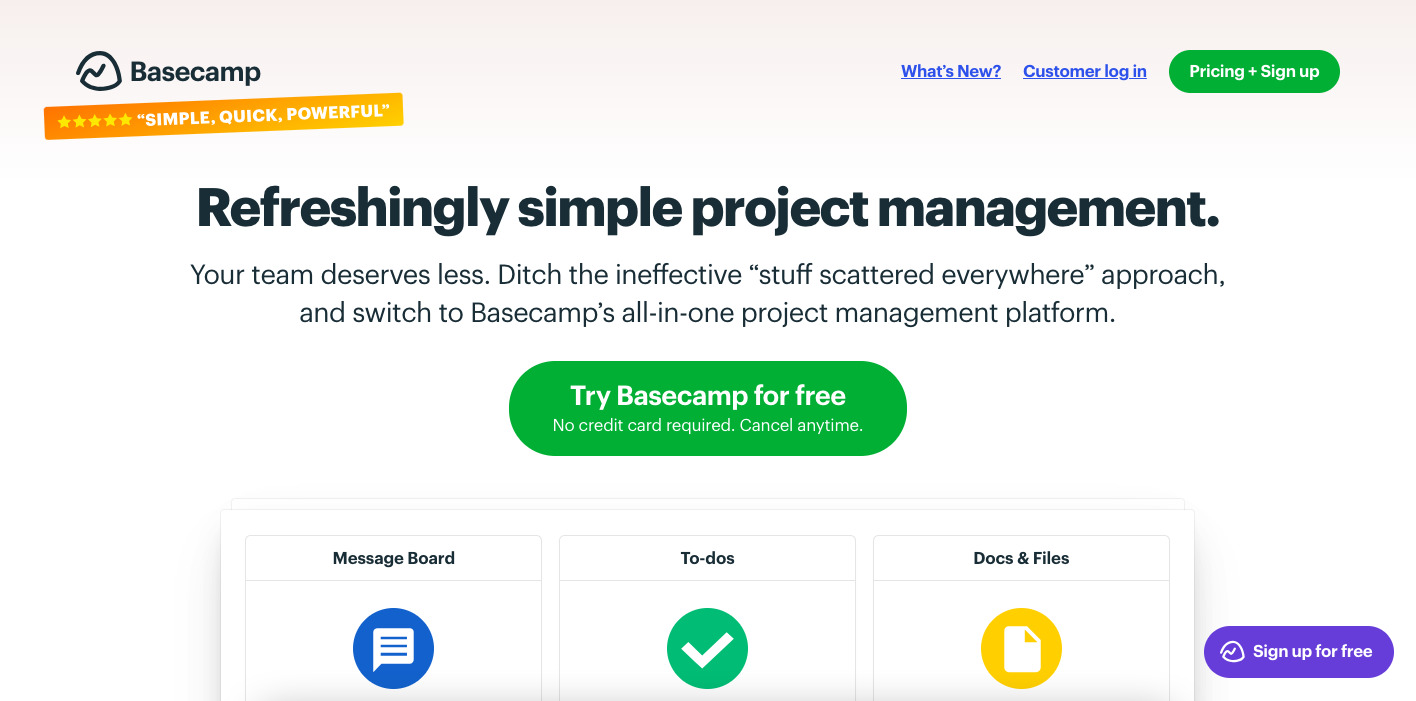 Basecamp is another project management tool that offers a wide range of features that aim to help your remote team get things done on time. It is an intuitive and user-friendly tool that doesn't need extra effort to set it up.
In addition, tasks are presented in the form of handy to-do lists with attachable due ranges and dates; each employee is assigned to tasks they're responsible for. All that has been done to avoid chaos and confusion. The next worth-trying feature of this app is the way how one gets to prioritize and reorder tasks and adjust the system to one's needs.
Basecamp is also perfect for enabling coworkers to share ideas, and proposals, or align reference conversations, which in turn helps you to make sure each team member knows what others are doing as not to double their work.
💰 Price: No free option but a free trial is available; paid plans start at $15 per user per month + free guests (with limited features).
👌 Available for: web, Mac, Windows, iOS, Android
Clickup
👉 For: project management that adjusts to the needs of your team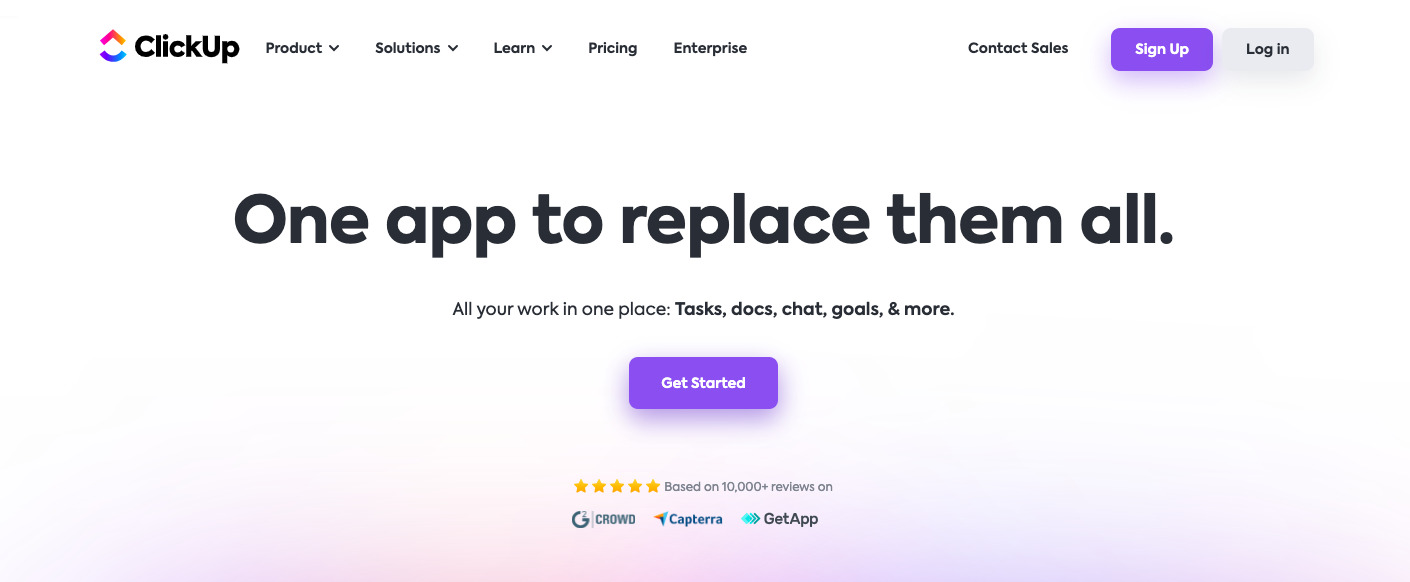 ClickUp is an all-in-one project management tool that brings remote teams together and lets them plan and manage work all in one place.
Your team can collaborate easily and manage large complex projects with the help of a robust hierarchy and 15+ view options. Create custom Dashboards to get a clear overview and valuable insight into tasks, work sprints, projects, people, team goals, and many more.
Reduce the number of tedious tasks with automation and collaborate with your team seamlessly using in-task commenting and collaborative editing using Docs. With ClickUp's customizable templates, teams can make sure they stay on the same page, get a head start on projects, and follow a repeatable process every time.
Clickup offers a variety of native integrations with apps like Slack, Gmail, and Calendly, making it easy to bring all your work tools into one place. Check it out and make sure that even if your team members work from around the world, they always stay aligned.
💰 Price: Free forever plan and free trial available; paid plans start at $9 per user per month when billed monthly ($5 billed annually)
👌 Available for: web, Mac, Windows, iOS, Android
🍀 Check TimeCamp and Clickup integration! 
ProofHub
👉 For: project management and team collaboration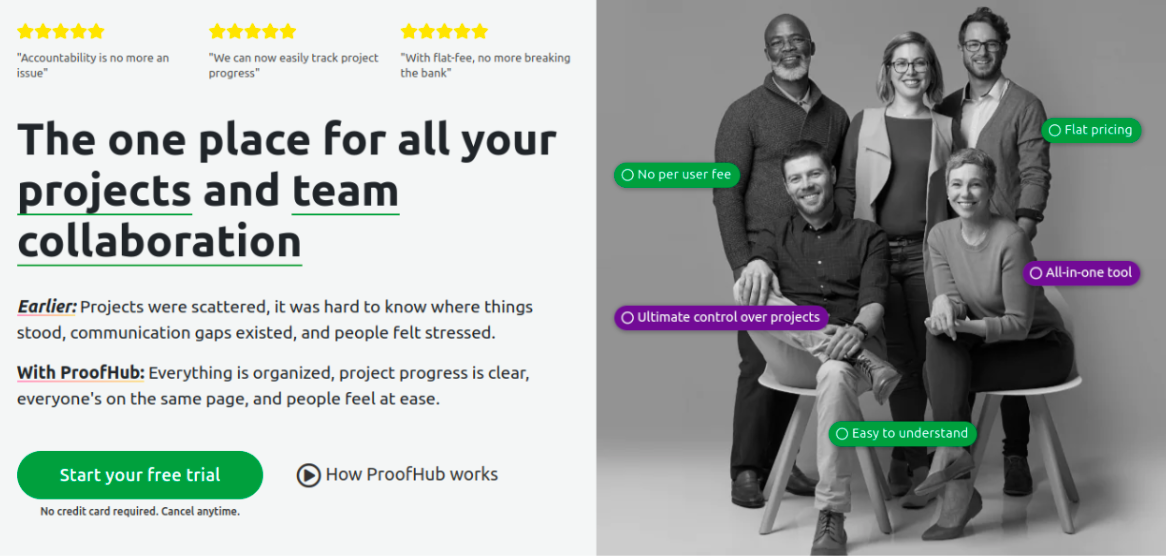 ProofHub is a powerful project management and team collaboration tool that helps remote teams work seamlessly. The app's intuitive interface and comprehensive features make it easy for teams to stay organized, on track, and connected, regardless of their location.
ProofHub's diverse range of project management features empower project managers to plan, execute, and monitor projects with ease. The app offers a comprehensive suite of tools, from task management and time tracking to Gantt charts and Kanban boards. Additionally, the availability of customizable workflows and project templates further streamlines project initiation and ensures consistency across projects.
ProofHub also excels in facilitating transparent and efficient communication within remote teams. Its built-in chat functionality, along with @mentions and notifications, enables real-time communication, ensuring that team members stay connected and informed. Additionally, the app's proofing and reviewing features enable seamless collaboration on documents, designs, and other project deliverables, eliminating the need for back-and-forth emails and enabling swift feedback loops.
💰 Price: 14 days free trial ✅; two paid plans available at $45 and $89 per month with no per-user fee. 
👌 Available for: Web, Mac, Windows, Linux, Android, and iOS.
Meeting management
Fellow
👉 For: an ultimate meeting hub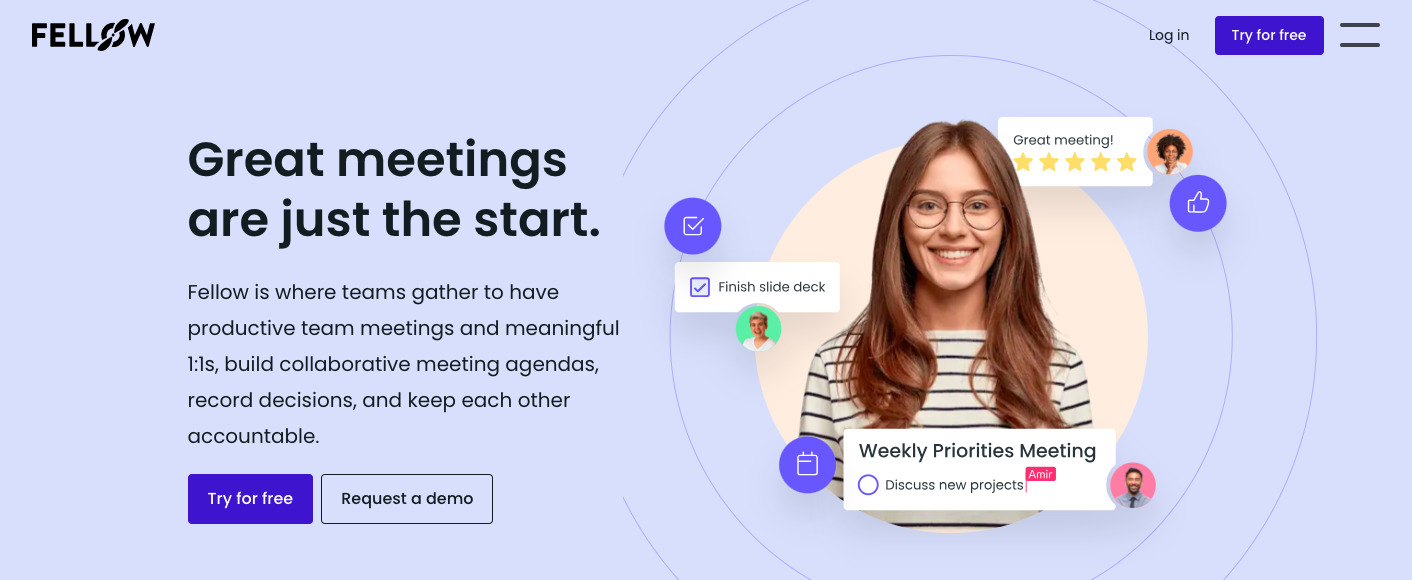 Sometimes a calendar isn't enough to manage remote meetings effectively. But with Fellow, an ultimate meeting hub, everything is clear and in one place – from creating collaborative agendas to delegating responsibilities once the meeting ends.
A wide range of pre-built meeting templates saves you time in planning. But if there's a workflow agenda that has been working for your team so far, you can create a custom template and save it for later to not have to build everything from scratch.
An interactive agenda builder in Fellow helps you prevent the meetings from going off-track due to the lack of direction. It's especially important for remote teams that sometimes struggle with proper communication – but with Fellow, every participant comes to the meeting well-prepared, thus, willing to contribute.
With Fellow, you'll never forget what was discussed in past meetings. It keeps all the previous agendas handy, so you can easily check them and not waste time on something that has already been established. Moreover, taking notes in real-time within the app puts you at ease, and you'll never miss any brilliant ideas anymore.
💰 Price: Free forever plan and free trial available (for teams of up to 10 members); paid plans start at $9 per user per month when billed monthly ($6 billed annually, for teams of up to 50 members)
👌 Available for: web, Mac, Windows, iOS, Android
Calendly
👉 For: easy appointment scheduling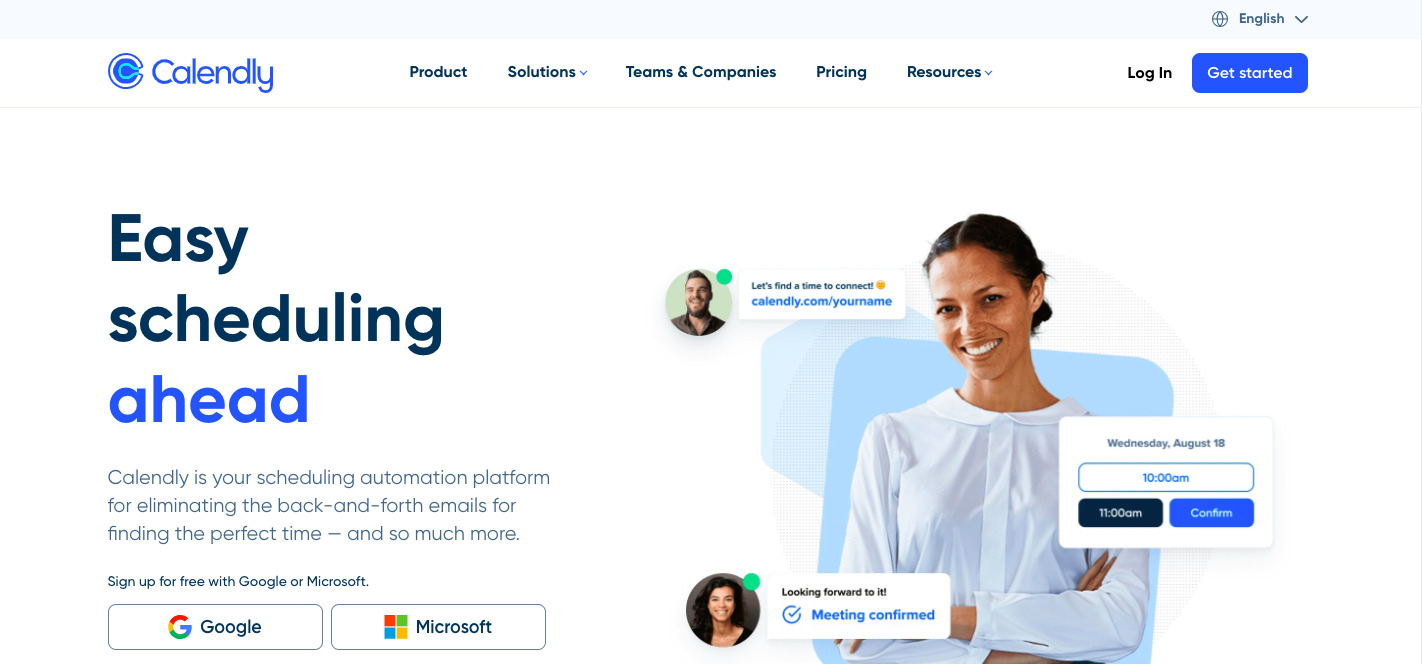 Remote teams that are tired of scheduling appointments via endless email chains should definitely check Calendly. The automatic appointment scheduling tools, such as Calendly, work well as great support for those who spend the majority of their working hours on meetings, no matter if within a team, or with customers.
As a calendar app, it not only helps schedule upcoming appointments but also shows the employees' workload for a person responsible for preparing a work schedule for a remote team.
With a wide range of appointment scheduling options, like availability sharing or preferred times settings, you can easily schedule the meetings without worrying if they would collide with other responsibilities. Also, the tool keeps you up to date with time zones, so you will never invite someone to join a meeting in time when they should sleep soundly ;).
💰 Price: Free option (one calendar) and free trial available; paid plans start at $10 per user per month when billed monthly ($8 billed annually, two calendars)
👌 Available for: web, iOS, Android, an extension for Chrome and Firefox
Hugo (MeetingNotes)
👉 For: creating engaging meetings from scratch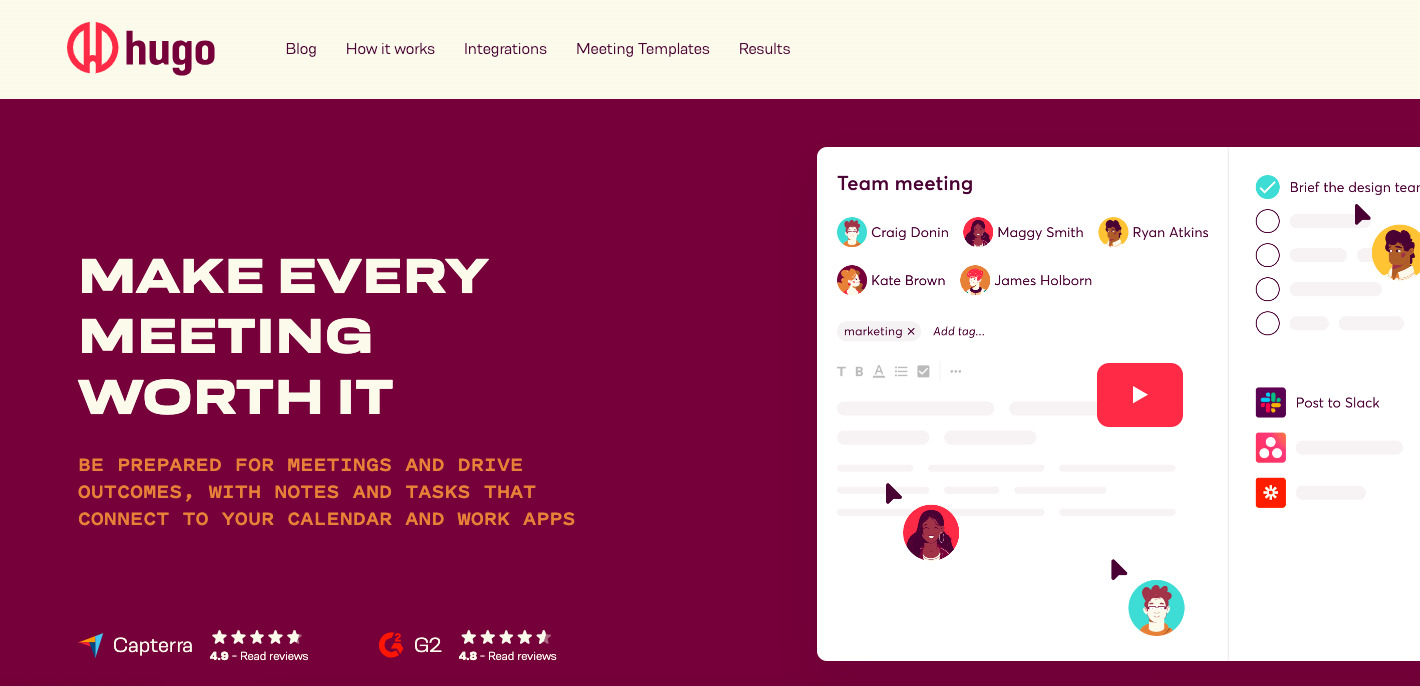 Hugo offers a similar feature set to Fellow – it's another ultimate meeting hub that helps prepare collaborative and engaging meetings, from planning to executing decisions after the meeting.
Using Hugo, you can also choose from 100+ meeting templates to save time on tedious planning. Fill in the chosen agenda template, share it with the participants, and make sure everyone comes to the meeting well-prepared. Every attendee can add their thoughts to the agenda, even if they don't have their own Hugo account.
With Hugo, you can capture all important meeting outcomes and assign work to the right people in no time. Just as in Fellow, you can take notes during a meeting and share them later with all the attendees.
💰 Price: Free forever plan and free trial available (for teams of up to 10 members); paid plans start at $9 per user per month when billed monthly ($6 billed annually, for teams of up to 25 members)
👌 Available for: web
File sharing
Google Drive
👉 For: easy and secure file sharing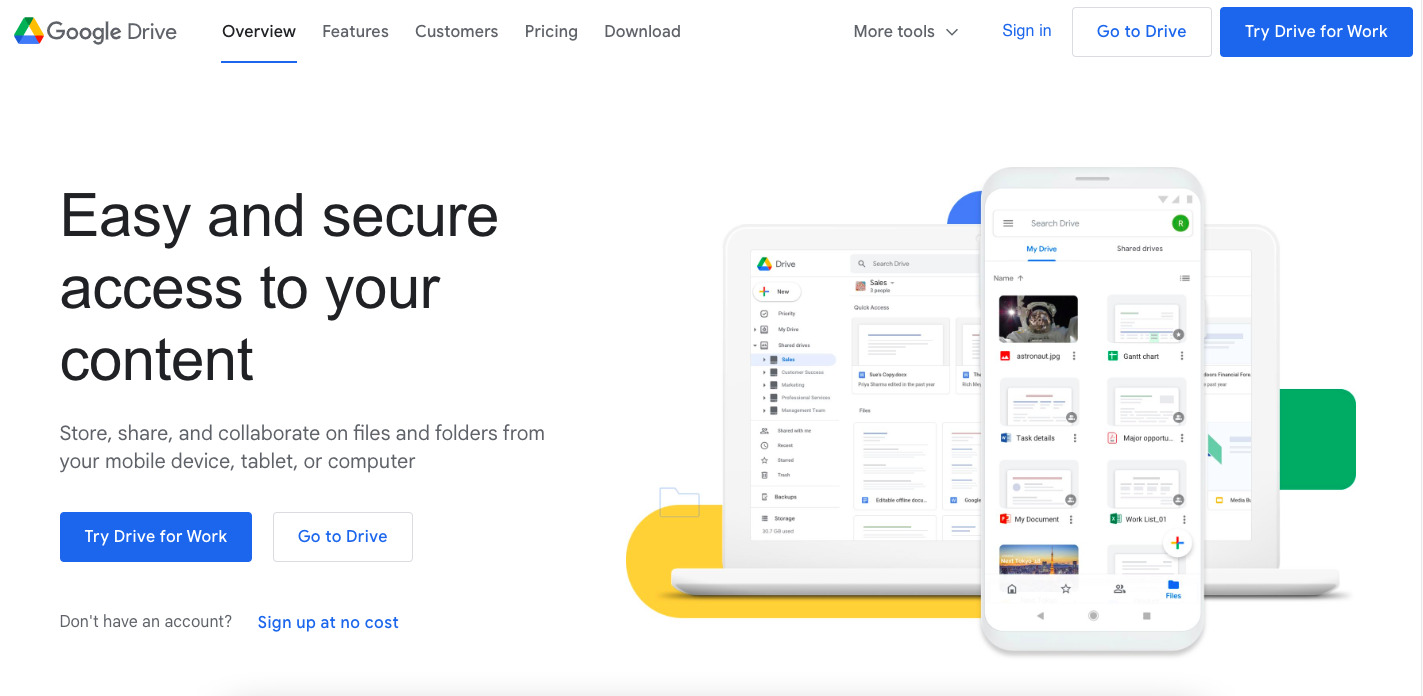 Google Drive is one of the most significant parts of Google Workspace, a comprehensive toolkit of remote work tools for a streamlined workflow. Since Drive is a cloud service, it allows your remote team to access the files wherever they are, no matter what device they use.
Continuous access to the most important data makes remote work more collaborative and engaging. Drive integrates smoothly with other Google Workspace services, so remote workers can easily edit their documents in Google Docs, Keep, Slides, or Spreadsheets. Moreover, Google guarantees your data is perfectly secure, so you don't have to be afraid of any threats.
💰 Price: Personal service is free of charge; a Business Standard license costs $12 per user/month, but it required a one-year commitment.
👌 Available for: web, Mac, Windows, Chromebook, iOS, Android
Box
👉 For: secure and collaborative content cloud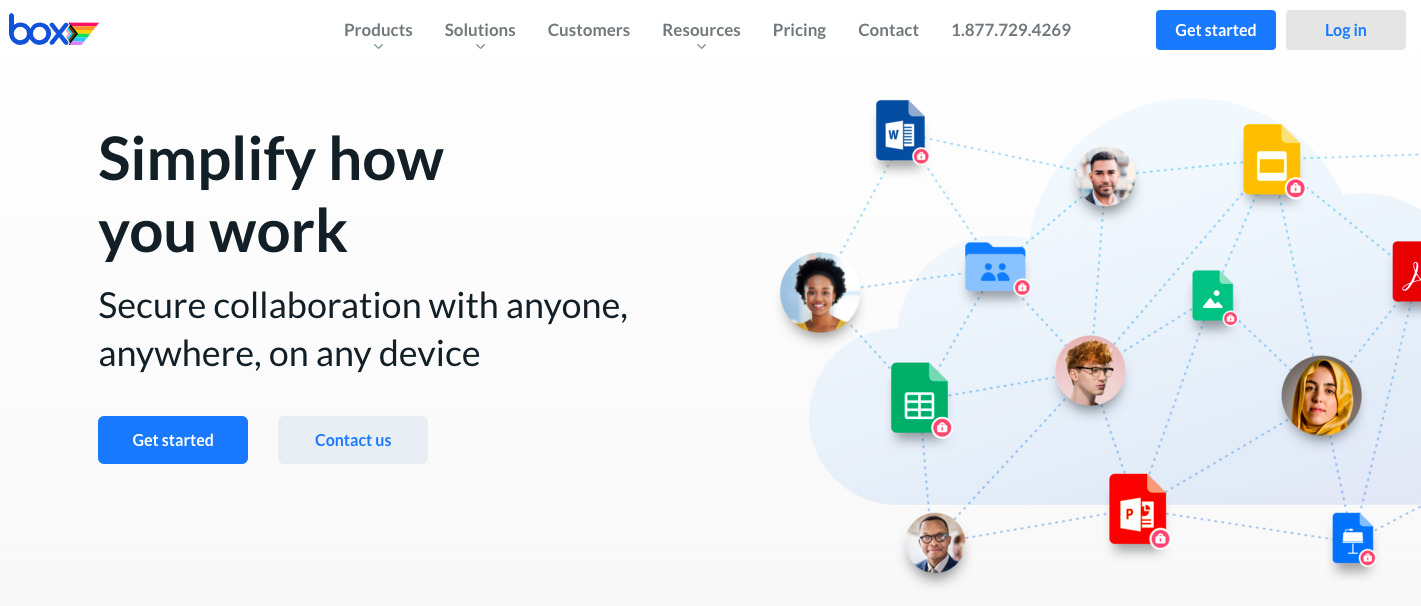 If you're not a fan of Google solutions, check Box. Formerly known as a file sharing service, now it's a comprehensive content hub for smarter and more secure collaboration. Virtual teams can easily use it as their home office and stay on the same page with documents and updates for them.
Besides file sharing, Box also offers features like collaborative whiteboarding, content collaboration, workflow automation processes, or e-signatures.
💰 Price: Free option is available, but for single user only; plans for teams start at 6€ per user per month with a minimum of three users.
👌 Available for: web, Mac, Windows, iOS, Android
OneDrive
👉 For: sharing files and collaborate across all the devices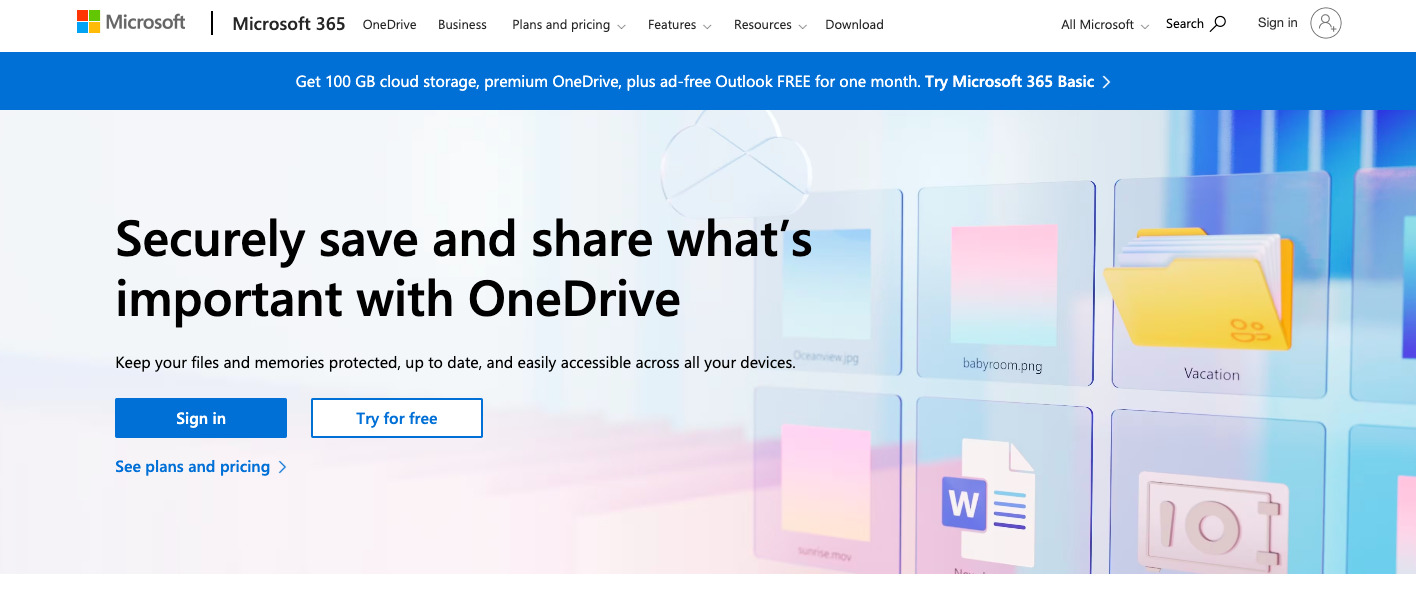 OneDrive is a cloud file sharing service run by Microsoft. It helps remote teams keep their documents organized and stored safely in one, easily accessible place. No security threats, all your files are handy.
If you purchase a Microsoft 365 subscription, you'll get access to other Microsoft apps to collaborate on your files using full versions of widely known tools like Word, Excel, or Outlook.
💰 Price: Free option is available (up to 5GB of cloud storage); paid plans start at $19.99 per year (with auto-renewal)
👌 Available for: web, Mac, Windows, iOS, Android
NordLocker
👉 For: encrypted data storage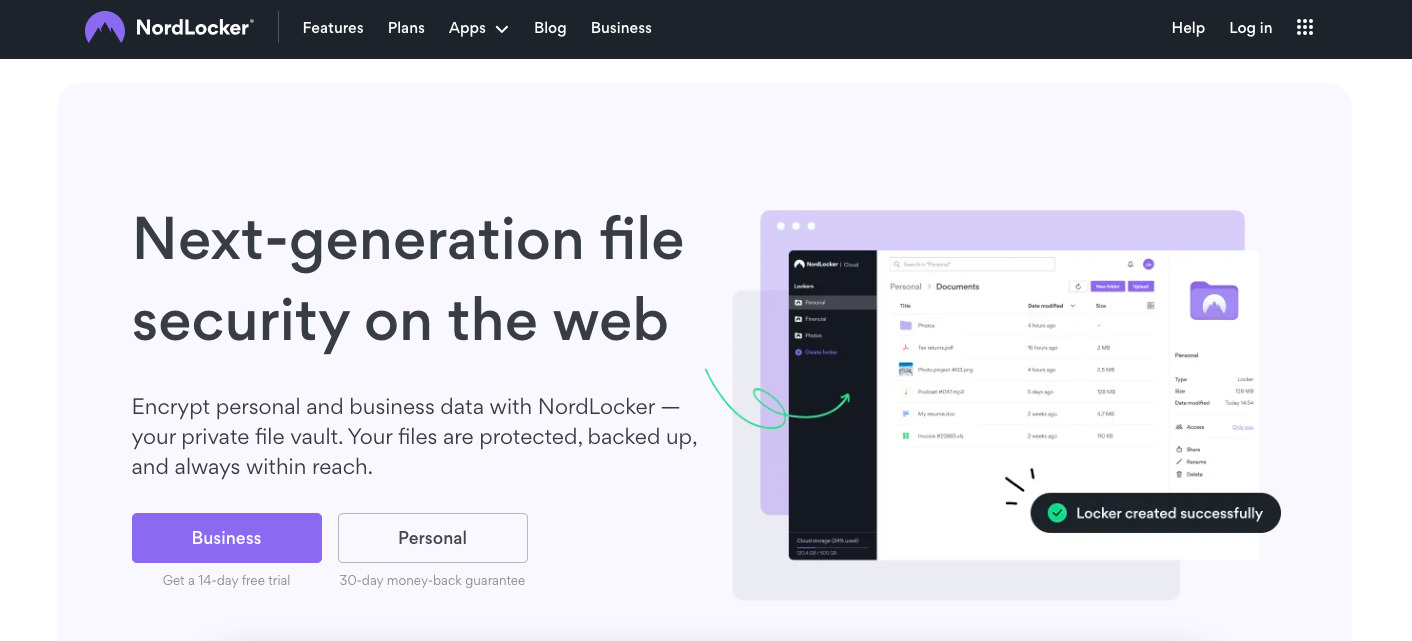 If the workflow of your team requires file sharing with an extra security level, consider purchasing NordLocker. The tool ensures full data encryption, but you can still access your files wherever you and your team members are.
You can encrypt any file, and organize them any way you like. What differentiates Nordlocker from other cloud sharing service providers is zero-knowledge architecture – the tool doesn't know anything about your files and encryption codes.
💰 Price: Free option with local encryption and up to 3GB encrypted cloud storage is available; paid plans start at €12.99 per user per month billed monthly (€8.99 when billed annually).
👌 Available for: web, Mac, Windows, iOS, Android
Marketing and Email marketing tools
SurferSEO
👉 For: collaborative content writing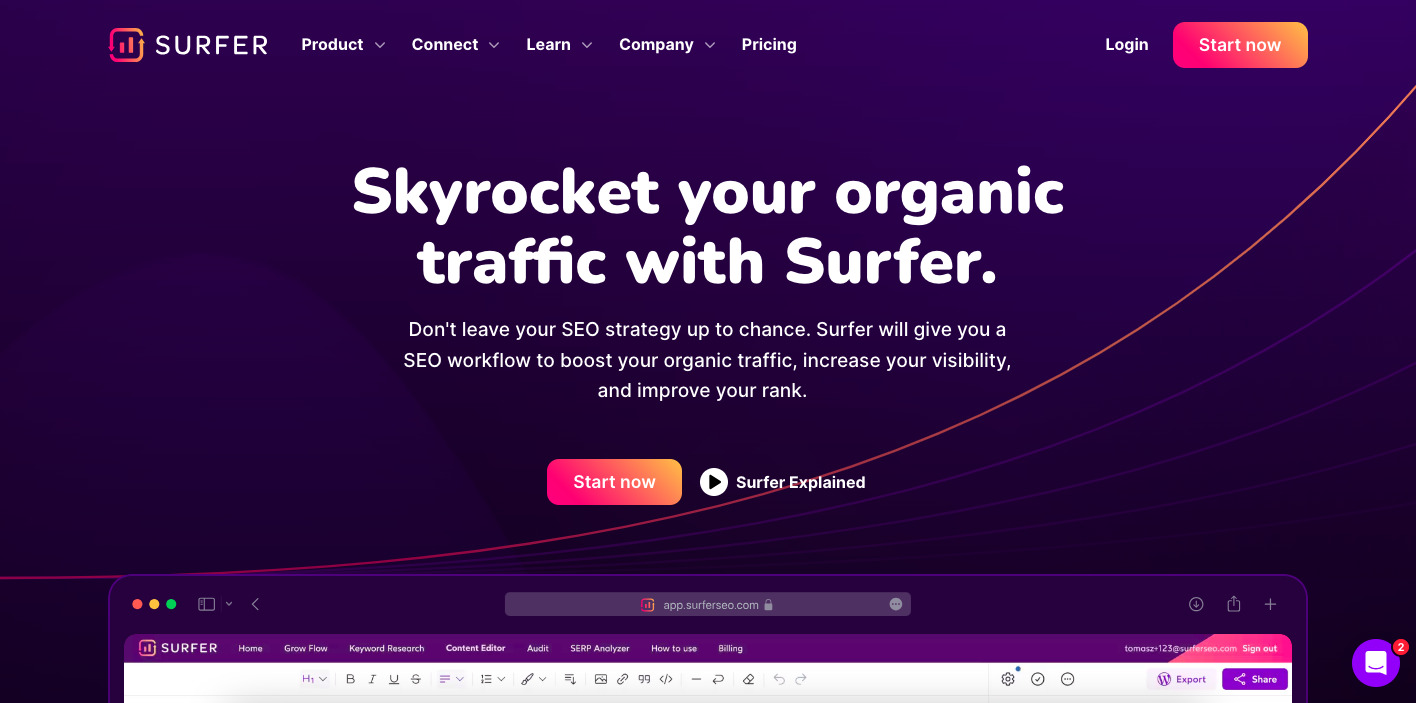 SurferSEO is something more than a content editor – it supports you at every stage of content creation, from research to optimization. As an ultimate SEO and content optimization hub that utilizes AI solutions, it's a perfect tool for marketing teams that hire remote workers.
SurferSEO is not limited to English only – this remote work tool adjusts not only to the style of your writing but also to the language you use. Moreover, it offers a plagiarism checker – use it to be sure your content, whether written by you or AI-generated, is 100% unique.
💰 Price: No free plan available (however, you subscribe for a free trial); paid plans start at $29.99 per month, billed monthly ($19.99 per month when billed annually)
👌 Available for: web, Mac, Windows, iOS, Android
Figma
👉 For: collaborative designing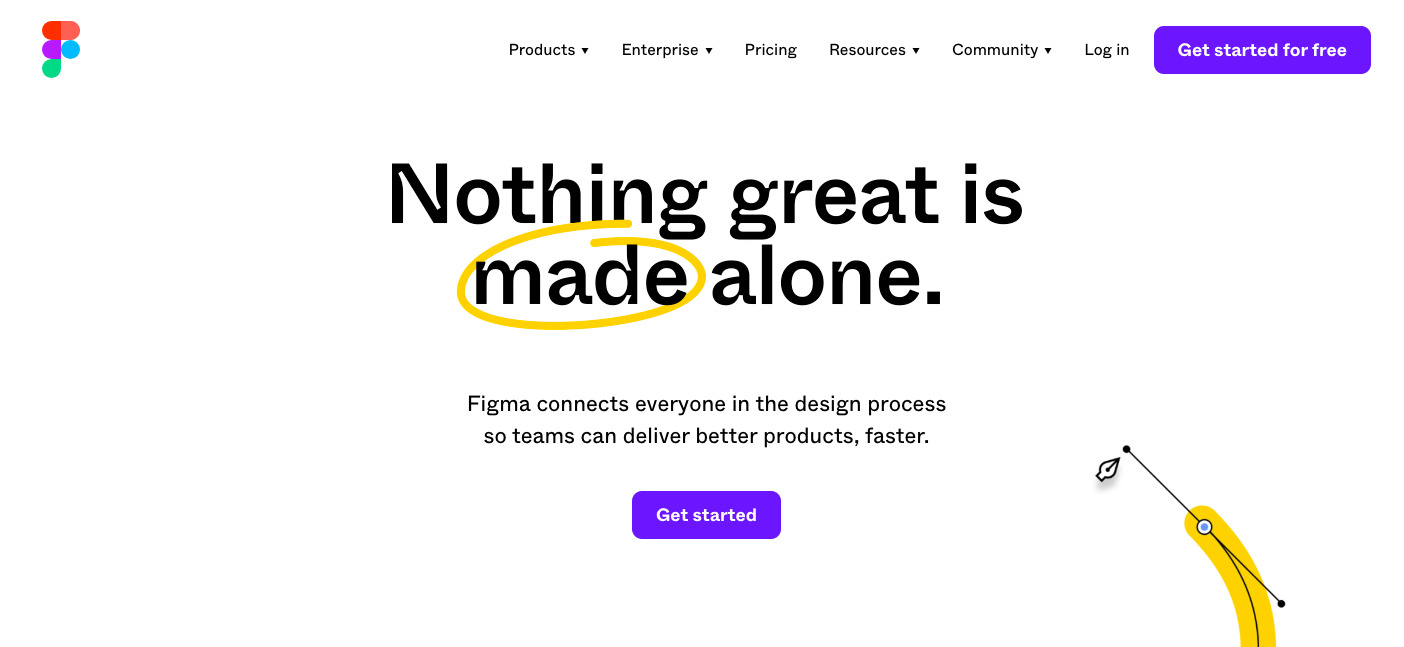 Figma is a collaborative design tool that stores all your designs and supports your remote design team at every stage of the project. With a set of unique features, like modern pen tool, arch designs, and a rich font library, you can fully express yourself through your design without switching to half-measures.
Figma is fully responsive – you can stretch your layouts even in auto mode. Moreover, your designs translate themselves into code, which significantly affects the developer's work.
💰 Price: Free plan (up to 3 figmas) available; paid plans start at $15 per editor per month ($12 per month when billed annually).
👌 Available for: web, Mac, Windows, iOS, Android
Bynder
👉 For: easy digital asset management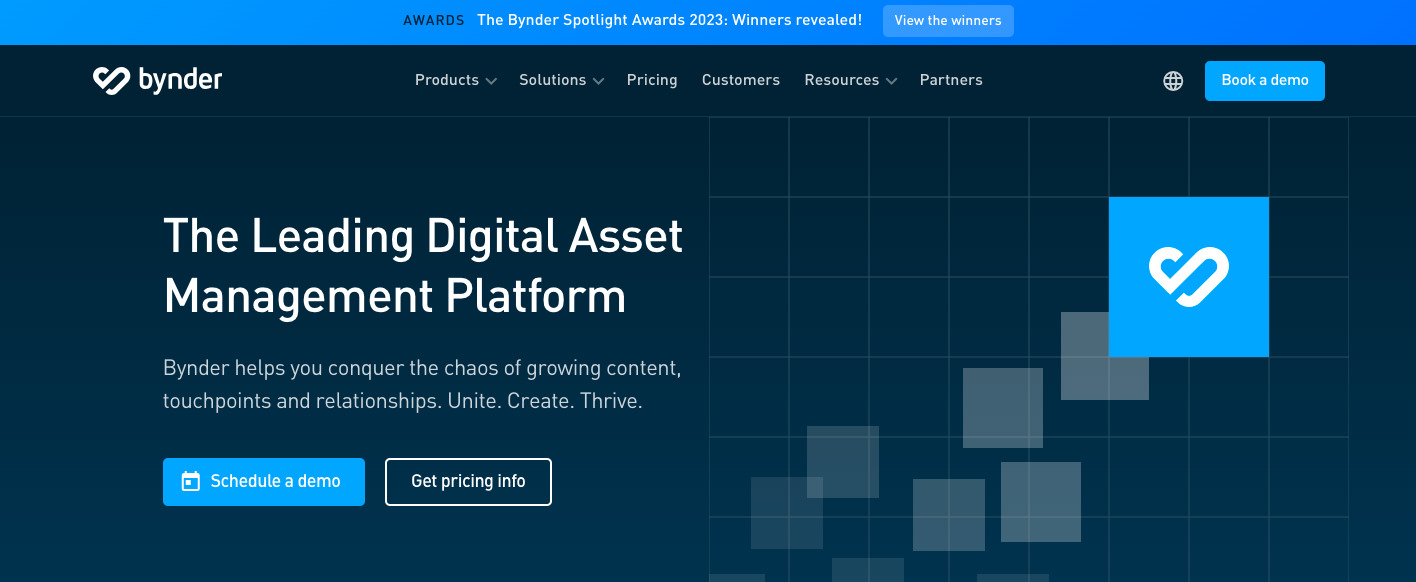 Bynder is a centralized digital asset management ecosystem for your remote marketing team. It helps you organize all your brand assets neatly and lets you access them whenever and wherever you want. The tool provides teams with various user permission levels, so managers can show their employees only the content that is relevant to them to avoid data leaks.
An extra perk of Bynder is Dynamic Asset Transformation, a feature that fully automates the asset optimization process. You can download your content in any format and crop or edit files during the downloading process.
💰 Price: No free plan available; contact their sales to discuss the pricing.
👌 Available for: web, iOS, Android
WordPress
👉 For: web content management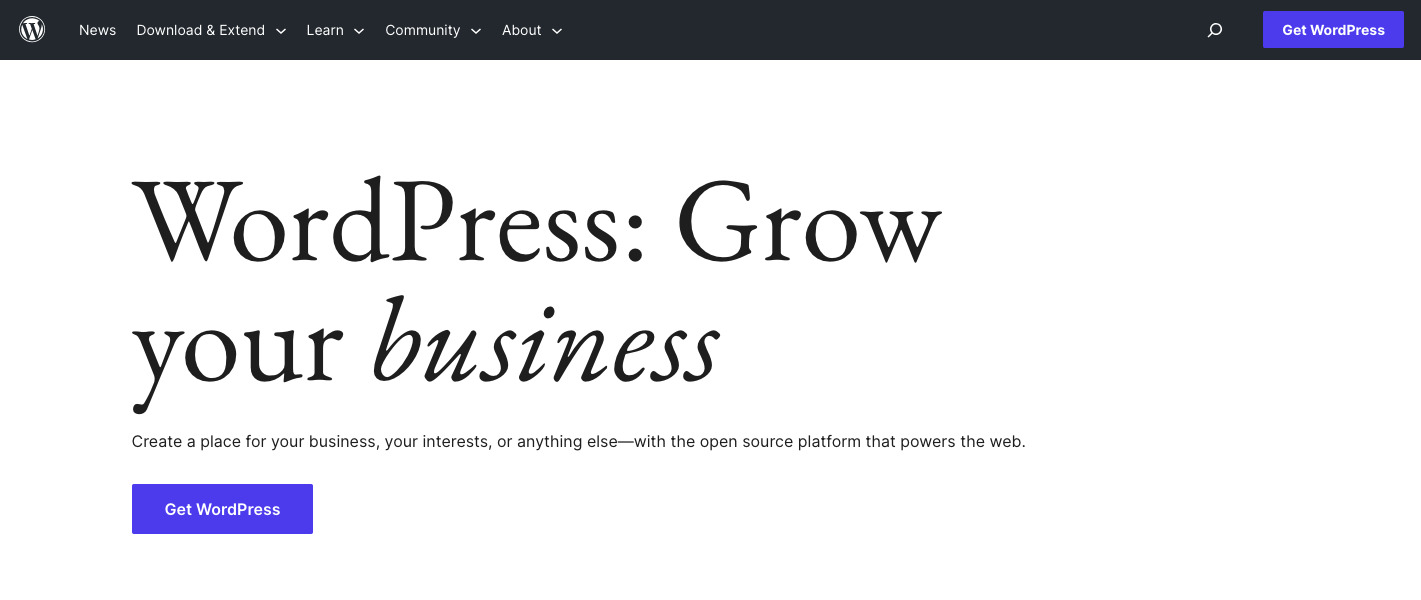 WordPress needs no extra introduction – the majority of websites, regardless of topics, are built using that free open source platform for content management. No matter if your remote marketing team wants to run a website, a media gallery, or an online shop, it offers a variety of tools to store the content in one, easily accessible and safe place.
WordPress is an open-source, community-based solution, so even if you have the minimal knowledge about content management and website building, you can always count on their materials (like customizable templates) and more experienced users who are ready to help. You only need a domain and a hosting server to create and publish websites.
💰 Price: WordPress is free, but domain and hosting costs vary depending on the service provider
👌 Available for: web
Dev tools
JIRA
👉 For: issue and project tracking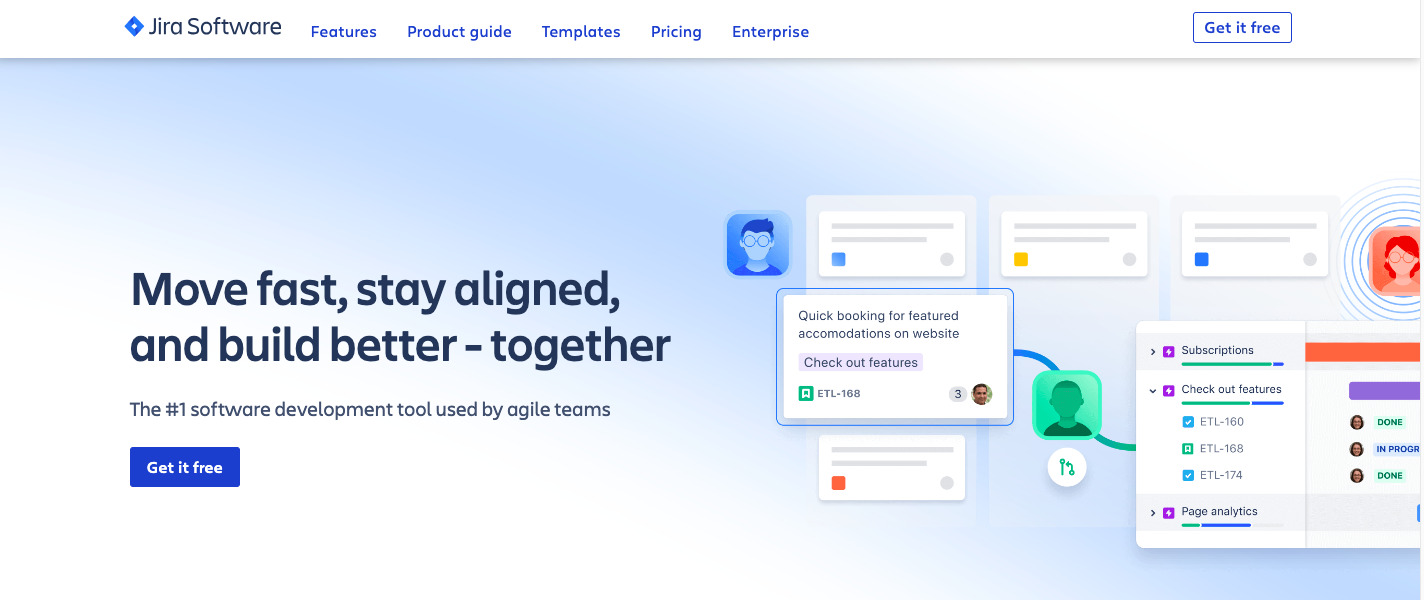 Many devs work remotely these days, and thanks to online issue tracking tools like JIRA, their work is as flawless as if they worked in the office. The tool provides agile teams with interactive roadmap tracking for projects of any size. See your project as a timeline with a clear overview of task dependencies, work items, and releases.
If you work on complex, multiple projects at once, try Scrum View to create sprints and break projects into manageable crumbs of work. Generate rich-data reports to stay up to date with t performance of your team and react on time if needed.
💰 Price: Free plan with limited features and teams for up to 10 users available; paid plans start at $7.75 per user per month.
👌 Available for: web, iOS, Android
🍀 Check TimeCamp and JIRA integration! 
Azure DevOps
👉 For: secure and collaborative content cloud

Azure DevOps is a SaaS platform that creates good DevOps practices and supports agile dev teams with a variety of tools, all in the highest security standards.
Use boards for effective planning, item tracking, workflow visualization, and reporting. With Pipelines, your remote dev team will effortlessly build, test, and deploy with CI/CD that works with any language, platform, and cloud. Azure also offers unlimited, cloud-hosted git repos for advanced file management.
💰 Price: Azure DevOps pricing is quite complicated for newbies, but they promise you only pay for the apps you use. Check the pricing here.
👌 Available for: web
🍀 Check TimeCamp and Azure DevOps integration! 
The remote work apps market is growing stronger, now fuelled by AI solutions. But they're not just fancy apps for working from home – they create an experience of sharing an office for officeless teams. Besides, automation is the key these times, so it would be a waste of resources not to use them to ease the pain of managing a distributed team. 
Do you want to recommend us work from anywhere app you haven't found in this list? Leave it in the comments section!