Budget-Friendly Productivity Tools for Small Business
October 5, 2023
by Kate Borucka
8 comments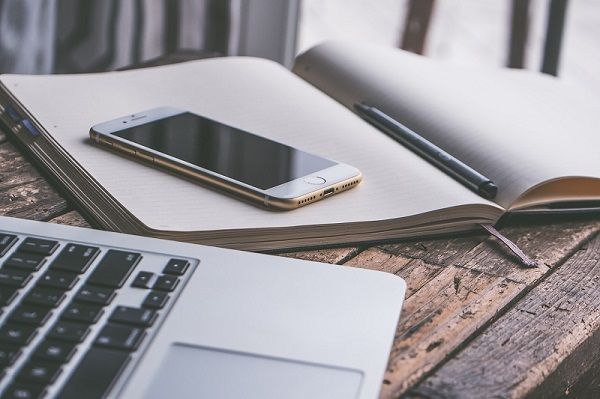 Small businesses may find it difficult to stand out in the market, considering they have to work out their position in the business world. Many also struggle with productivity and keeping the team on the same page, often leading to a lack of success. For this reason, many of them decide to use special tools to automate some of the tedious but important tasks and save precious time for what really matters for business growth.
Today, we present the list of essential cloud-based services and productivity tools for small business. They're perfect for managing projects, streamlining social media management, or administrative tasks. Some of them offer a free plan, consider them if you're a small business owner who has only started an online business and can't spend much on productivity tools.
TimeCamp
Business productivity improvement is way easier with automatic time tracking tools like TimeCamp. Small business owners will surely appreciate how much automated time and attendance tracking helps regain control over time usage and employee absence, especially when managing remote teams.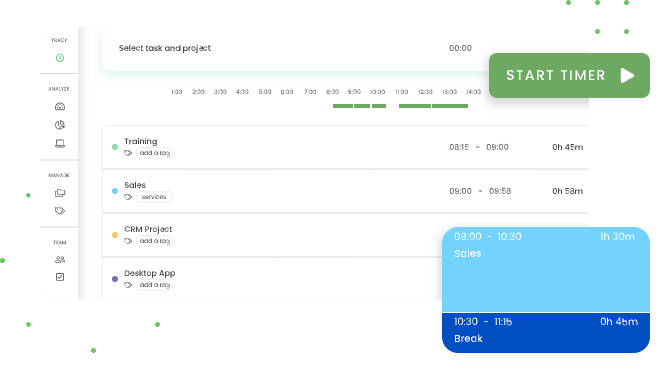 TimeCamp tracks work hours automatically or allows filling timesheets with just a few clicks, even for an entire week at once. Small businesses with a tight budget can choose a free plan with unlimited users and unlimited projects or register for a free trial to try paid features if a free version is not enough. Luckily, TimeCamp offers perfectly affordable paid plans per user per month, so if you find it worth paying for (and trust me, you do!), don't hesitate to subscribe. Businesses with specific needs can contact sales to discuss custom pricing details.
What smart features does TimeCamp offer to support small business owners and help keep businesses more organized?
Generates time-based, rich-data reports that provide priceless information about project progress and performance of an entire team,
Offers budgeting features that help keep an eye on project profitability and make adjustments when needed,
Flexible billing rates that can be assigned to specific projects or users,
Invoicing based on billable time registered for specific tasks,
Attendance module that streamlines absence management and payroll process,
Easy timesheet approval process to keep records paperless and in perfect order,
30+ direct integrations with project management tools, communication tools, collaboration tools, and other apps, e.g., Asana, Trello, Monday.com, Clickup, Jira, Zendesk, Azure DevOps, Salesforce, or Google Calendar and other calendars (adds all your calendar events as new time entries!).
TimeCamp is available for all your devices – as a web app, mobile apps for iOS and Android, a desktop app for Mac, Windows, and iOS, a browser extension for Chrome and Edge (perfect for tracking time for Google Workspace tools, e.g. for Google Drive), or a Time Clock Kiosk. It tracks time with just a few simple clicks and doesn't require extra hours of extensive training.
Choose the best productivity tools for small businesses – start tracking time with TimeCamp!
TimeCamp Planner
TimeCamp Planner, formerly HeySpace, is a free task management software with extended chat features known from Slack. Combining these two together in an app that works for multiple devices makes team collaboration way easier – there's no need to jump between tools to manage tasks and communicate effortlessly. It's a perfect alternative for complicated tools like Microsoft Teams.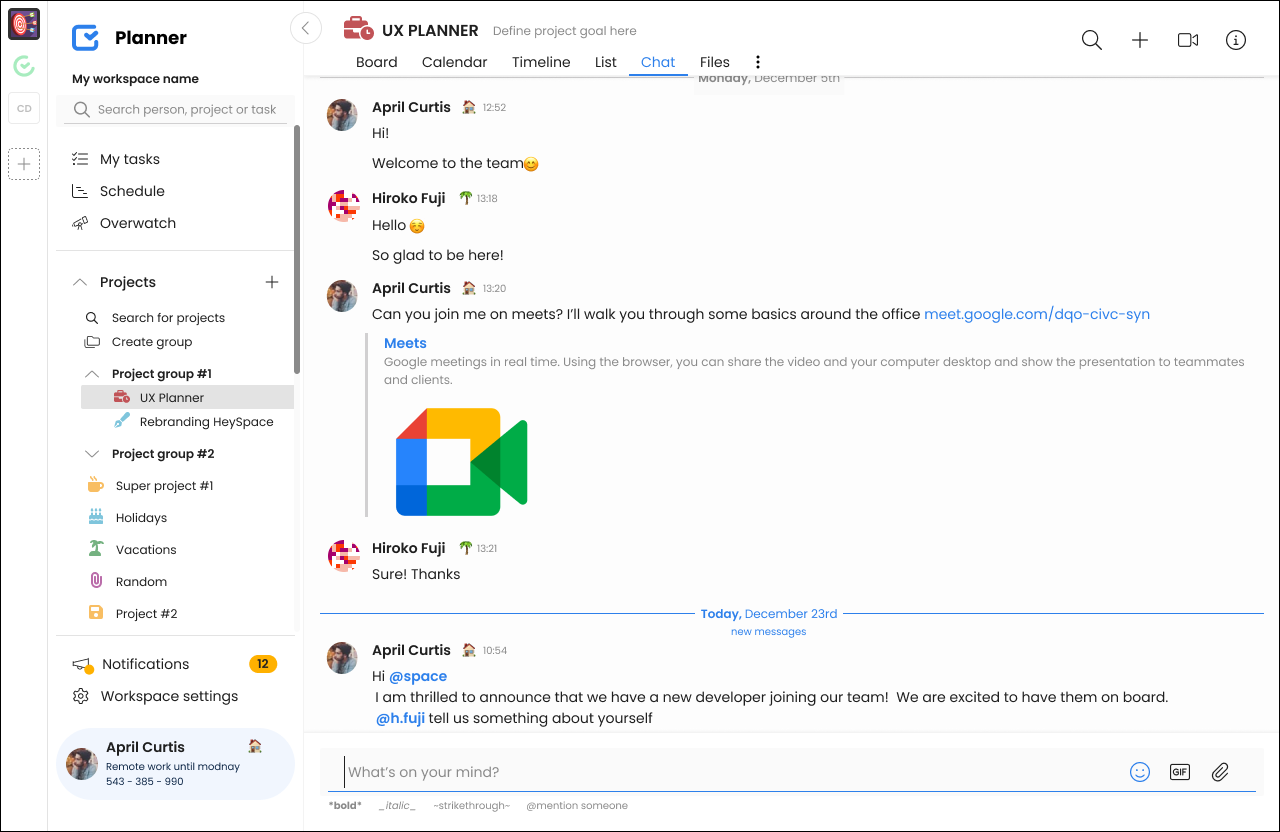 With this project management tool, you'll create a transparent, Kanban-based task structure for all projects and assign tasks to proper team members. Moreover, it allows turning all messages into tasks, so you can be sure your team won't miss any important ideas anymore.
TimeCamp Planner benefits your online business by serving as a tool for daily task management but also for other purposes, like managing content created for blogs and social media channels (social media posts, visual updates, etc.) or account management.
Key features of TimeCamp Planner:
Team collaboration with Kanban-based task management and messaging,
Files sharing (save files in a task view!),
To-do lists,
Project management and planning,
Routine tasks (recurring),
Various other task views, like Timeline or MyTasks,
Scheduling,
Estimates,
WIP limits and many more!
TimeCamp Planner offers a free version so you can manage projects and complex tasks, create to-do lists, or keep all your notes handy for free, all while increasing the company's productivity.
LastPass
LastPass will save your life if you have many accounts on different sites. It is a tool that stores all passwords to any account you have ever created. And it doesn't matter if it's your bank account, e-mail, or social media profile. The problem of losing or forgetting your passwords is no longer an issue. With LastPass, you can easily manage your passwords, remove inactive, and add new ones. You can also check out an in-depth review of LastPass here.
Canva
If you own a small company and don't have the funds to hire a professional graphic designer, Canva can serve as your personal one. It is a website where you can create free graphics (the premium version requires a fee). And it offers tools necessary for creating logos, banners, and even resumes. This tool is especially useful if your business has a blog that needs graphic content such as collage, background, or infographic. However, if you are looking for more advanced features or want to avoid paying the subscription fee, Wepik may be a better option.
Mention
This tool is your personal social media management spy. It reports what's happening on social media by letting you know who and where talks about your company. Thanks to it, you can easily learn what the customers like about your product, what they would change, and where your business is located among the competitors. Use the mention to improve your results and achieve success.
Pocket
How often have you come across interesting web pages, online courses or articles but didn't have the time to read them and then simply forgot them or couldn't find them anywhere anymore? You don't have to worry about it anymore. Pocket enables you to save any article you come across and serves you as a note taking tool. You can return to it anytime and find inspiring ideas, for example, for your company's blog.
Hootsuite
If you have a problem keeping up with managing all your company's social media, Hootsuite will be your savior. It's a tool that helps you be in control of all platforms in just one place. You can easily schedule the sharing of your posts. This software also eases monitoring of all your social media platforms so that you always know what's happening. You can also try a cheaper HootSuite alternative.
Slack
Communication is one of the most important aspects of business growth. And it can be problematic even for a small business that doesn't hire many employees. Slack will improve the communication between you and your team, especially the remote team. It's a simple tool in the form of a chat where you can create groups, share files, and any other information important for the business. Slack is the best way to pass on urgent news and ensure everyone will receive and respond immediately.
Habitica
Habitica is a useful productivity tool that encourages you to create new habits and become more efficient.  It is one of the best time management apps to improve your project management skills and achieve your goals.  It is also available on Android and IOS. It comes with a bunch of integrations and one of them is Habitica time tracking integration with TimeCamp. 
Creatopy
Creatopy is an intuitive and user-friendly visual production platform. You can learn its tricks quickly, with no design skills required. The generator feature makes this tool unique, allowing you to replicate the same design simultaneously in at least 18 different sizes, and save time. You can use its animation features and add movement to your designs, choose from an extensive foto and video stock library, or add music to your visuals.
Teamwork comes in handy with Creatopy's collaboration feature, taking out the hassle of sending back and forth tons of emails. Plus, staying on brand is easy with the platform's brand kit feature, allowing you to add all your brand elements, such as logo, typography, and branded color palette, to have all elements at hand whenever needed.
Procreate
Procreate is another graphic design tool with various creative sets, design modes, and filters. Its features include quick shape and a layering system to sketch non-destructive designs.
Let's not forget about the brush engine, too. This peculiar functionality of Procreate has given it a headstart in the design market. You can easily access thousands of brushes, like watercolor and line art, to create realistic designs for your content.
With the various brush sets for Procreate, your design team will find it much more efficient to design infographics, relevant visuals, and mockups.
Procreate doesn't offer a free plan but an affordable one-time fee of around $50.
Attention Insight
Attention Insight is a pre-launch analytics tool that enables marketers and design teams to improve design performance. Our AI-powered algorithm assesses design element visibility with 90% accurate heatmaps compared to real eye-tracking studies but without data collection.
Choosing the right business productivity tools saves you even a few hours per week on various administrative tasks or creative processes. Even though sometimes they require spending a few dollars on a subscription, you'll surely notice a nice return in a more productive team. Worth it!