Device for time tracking – how to use it?
October 4, 2023
by Kate Borucka
2 comments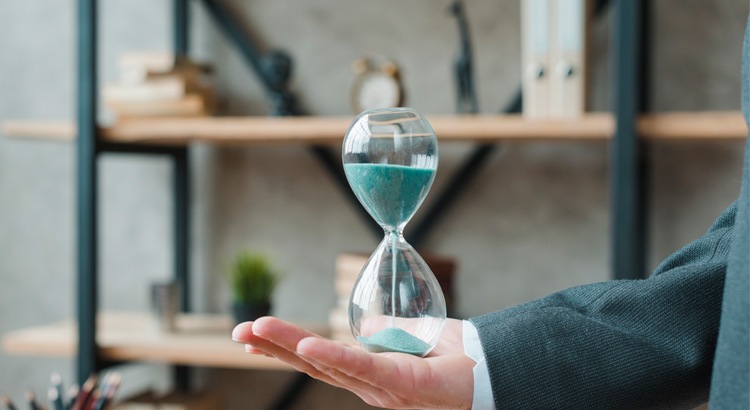 Various industries require more specified ways of tracking how much time employees spend on different tasks than just a web app-based online time tracker. Companies that hire field workers, a mobile workforce, or other professions whose responsibilities don't require using a computer or tracking time for a specific task could use help from using stationary time tracking devices.
Have you ever wondered if time tracking can be fun? The marketplace dedicated to time tracking and time management does not have to be boring at all! After all, it's not all about filling timesheets and managing attendance. There are plenty of tools built for that purpose.
Let's check what are currently the most popular tracking device options!
Time Clock Kiosk by TimeCamp
TimeCamp offers a variety of ways to measure employee hours and track their attendance. One of them is a Time Kiosk, a simple time tracker that requires only a shared, physical device like a laptop or tablet placed somewhere in your facility and unique, four-digit PIN codes. It measures time spent between clocking in and out and automatically fills timesheets with work hours. And what's best, Time Clock Kiosk is a part of the free plan, so you can track employee hours effortlessly without being charged an additional fee.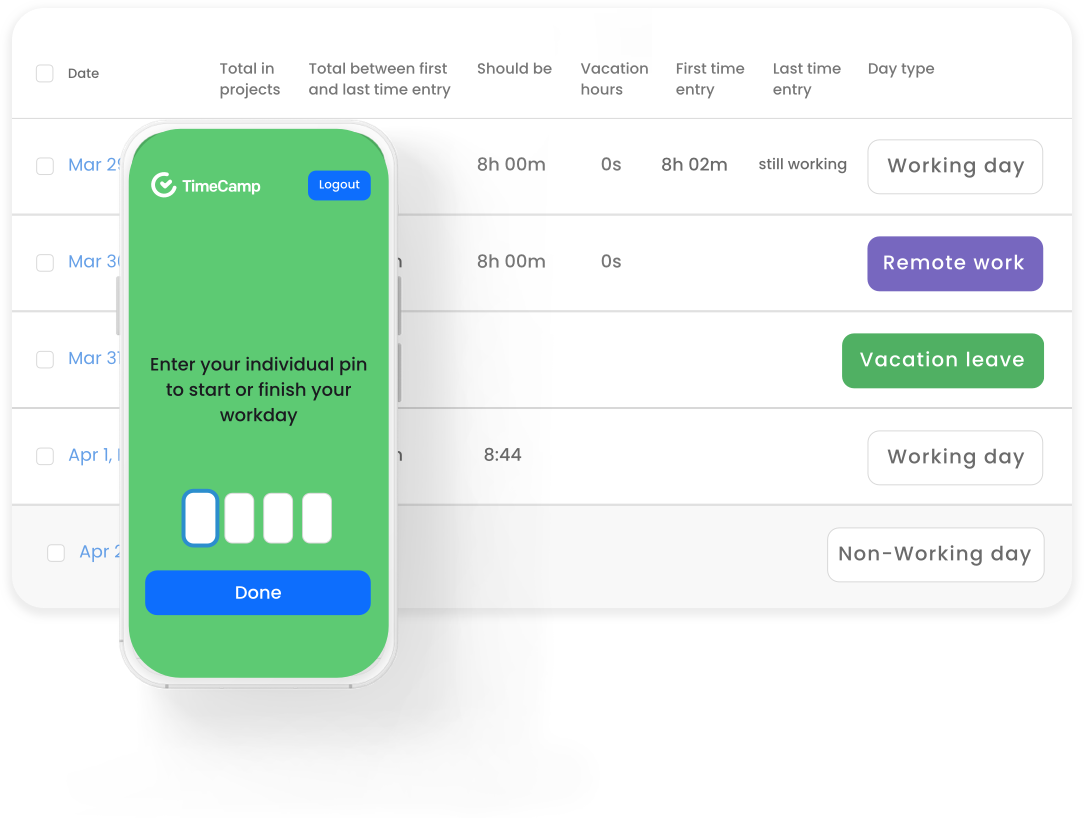 What else does TimeCamp offer besides exceptional, automatic time tracking features?
intuitive timesheets with a weekly view that allows you to submit work hours for an entire week at once,
Robust, visual reports based on time data (various templates available, also custom ones for more specific reporting needs),
Attendance management with detailed attendance reports (great support for payroll integrations), time off, overtime tracking,
Billable hours and flexible billing rates,
Task-based invoicing,
Timesheet approvals,
30+ direct integrations with the most popular project management, sales, accounting, or dev tools, like Asana, Trello, JIRA, Azure DevOps, Salesforce, Zendesk, monday.com or Clickup,
and many more!
Use TimeCamp as a web app, mobile apps, or desktop app with automatic time tracking, or as the aforementioned Time Clock Kiosk. Get it for free or subscribe to a paid plan – prices start at only $2.99 per user per month!
Gather time data as you wish, using time tracking for various devices. Try TimeCamp for free for 14 days!
Polygons: TIMEULAR tracker, TIMEFLIP2
You may already be familiar with the most popular systems for time management, such as biometrics or touch screens, which require an employee to swipe or touch an identity card. You might even use them in your company as many organizations decide to implement them to manage employees' attendance. However, not many people know they can manage time using the polygon – a small yet efficient device for time tracking software.
Timeular tracker or TIMEFLIP2 are physical time tracking devices in a small polygon customized and managed through a desktop app or mobile apps for iOS and Android. Choose from a thousand different activities and assign tasks to the side. Leaving one or more sides of a polygon empty will open the app, allowing you to select what you want to track time for.
They are very simple to use and work in a few simple steps:
You assign different activities to each of the sides of the device, for example, e-mail, time for social media, working on a project. You can either draw or put stickers on it.
To begin tracking time, you have to place the polygon so that it faces you up.
By connecting to your phone or computer, the device works as your time tracking tool and shows you a timer for a task assigned.
Everyone, small and large businesses and different types of organizations can use this physical time tracking device. Yet, it may work best for freelancers since equipping the entire office in the polygon might consume too much of a budget – a single polygon costs around €60 without taxes. Luckily, online time tracking tools like TimeCamp offer basic time tracking for free or in easily affordable subscription plans.
👉 Check Time Tracking Software for Freelancers
Why Should You Use Alternatives for Time Tracking?
Of course, the polygon is a device for time tracking which can bring numerous benefits. There is no doubt that using it is fun, easy, and stimulates creativity. Also, it is a tool which is the result of advanced technological progress in the field of time tracking.
 While some may think of it as a gadget, it has many benefits. Take a sit, flip your polygon, and take a look at the great list of advantages!
First of all, it's important to point out that polygon can be easily integrated with various apps and tools. Because of that, you can effortlessly combine them for efficient time tracking.
Reports are created based on your activities. You can freely flip the device for time tracking, and every flip will be recorded.
Since the polygon is somewhat a mobile app which can be taken anywhere.
Polygon will track your time even if you're offline (so do time tracking apps like TimeCamp).
Which Device for Time Tracking Should You Choose?
Even though polygon is one of the most interesting time tracking devices, which not only helps to smoothen work but also makes it more enjoyable, it lacks some crucial features. The tool is a perfect match if you are a freelancer looking for a fun gadget. However, if you need more, you should consider using a good time tracking software, such as TimeCamp, that, as mentioned before, offers features like budgeting, invoicing, reporting, or GPS tracking with geofencing.
10+ Best GPS Tracking Apps With Timesheets
With the proper time tracking software, you can not only track work hours but also manage non-billable and billable hours, create invoices, allocate resources, and maintain the highest level of project management. Polygon helps to personalize activities, but when you use a time tracking app, time and task management becomes easier and more professional. Thus, the ideal thing would be to use both tools interchangeably.