How to Automatically Track Employee Vacation and Sick Leaves?
October 11, 2023
by Kate Borucka
No comments
Vacation policies around the world sometimes differ quite drastically. There are still employers who don't provide paid vacation time for their employees, even after years of service and without any serious failures. But no matter the country, automatic software makes tracking paid vacation days much easier. Check how to implement it and adjust to your company's vacation policy!
Vacation policy in US
The state law and federal law in the US still don't provide official regulations for paid holidays, vacation time, or sick leave that would guarantee the employees paid time off. Employers may offer PTO in the employment contract details, but the number of days often varies by profession, industry, or the good will of the employers themselves.
According to stats published by Forbes:
The average number of paid vacation days workers receive is 11; it increases to 15 days of vacation after 5 years of service and to 17 days of paid time off after 10 years of service,
Full-time workers in the US get eight days of sick leave per year on average (six days of sick time for part-time employees and even ten for union workers after one year of service),
Federal workers receive 11 annual paid holidays, while the average number for other workers is 7.6 paid holidays (the most popular are Labor Day or Independence Day),
The average number of paternal leave weeks (for both women and men) is eight weeks (however, many employers still don't offer paid leave per child).
Numbers are surprisingly low, especially in comparison with European countries, e.g. Poland, where full-time employees receive 26 paid days and are entitled to 13 paid holidays after 10 years of continuous employment. Still, some of the US workers use all their earned paid time off only partially or avoid taking vacation entirely.
Federal law also mentions that federal workers receive a lump sum for unused vacation days, regardless of the reason for contract termination. The "Use it or lose it" policy is mostly illegal.
Consequences of skipping vacation days
According to data provided by Qualtrics, the average number of unused vacation days per US employee is 9.5 days per calendar year. Given that, as mentioned before, a full-time employee receives 17 days of the maximum amount of vacation days, half of it often remains unused.
Skipping one or two days doesn't harm that much (e.g., if an employee fails to organize their work to use their entire annual leave or just prefers to receive compensation for unused paid vacation days and increase their final paycheck) but avoid taking at least a full week of vacation during the year can result in serious consequences for health and the stability of personal relationships, especially if a person also skips the daily rest after eight hours of work.
What are the consequences of skipping vacation leave?
Increased fatigue but problems with sleep (mind is constantly focused on work-related issues),
Increased amount of stress that leads to a higher risk of heart, cardiovascular, and mental diseases,
Difficulties in separating personal life from work-related responsibilities and creating a healthy balance between time spent at work and time off,
Valuing work over personal relationships and thus skipping important family events, like partner's and children's birthday or anniversaries,
In the worst cases, death caused by overworking (like karoshi in Japan).
An overworked employee can cost you more than including paid vacation time in an employment agreement. 
Employer benefits of offering paid employee vacation days
There's no use for the employee who doesn't receive paid vacation time or who avoids using even a single of their paid vacation day, fearing for having steady employment. Vacation pay and respecting annual holidays is a must if you expect a maximum or at least acceptably decent level of efficiency from your staff.
An employee who's guaranteed at least two weeks of vacation pay straight has enough time to rest and regenerate energy. A refreshed mind and body guarantees a higher level of focus and improves creativity.
However, make sure to include compensation for unused vacation time in your company's vacation policy. Some of full-time employees simply refuse to take longer vacations in favor of receiving higher paychecks at the end of a pay period.
Tracking Employee Vacation and Sick Leaves
No matter the case, you have to keep track of your or your employees' vacation and sick leaves. This will help to keep a hand on absences. You will also be able to allocate resources properly, keep the workflow organized, control payroll, monitor employees' productivity, and make sure all financial aspects are managed accurately down to the penny.
There are two ways to track employee vacation and sick leave. You can do this manually or automatically. However, the latter is much easier. It helps to save plenty of your time but also does all the tracking and data gathering for you. Manually, you have to enter all the information into a spreadsheet and be careful not to make any mistakes as they may be fatal to your budget.
You can easily track employee vacation and sick leaves with TimeCamp, automatic time tracking software that also offers an attendance module that eases the payroll process.
How to track vacation time with TimeCamp?
Using time tracking tools to track employee vacation and sick leaves is much more beneficial and convenient than the manual method.
Why? Because combined with time tracking, it helps to see clearer who is on vacation or on sick leave.
To begin with, in TimeCamp, these functions are correlated with each other for easier time tracking and absence management. TimeCamp provides the ability to manage not only vacation or sick leaves but also holidays, business trips, remote work, and special leave days for you and your team.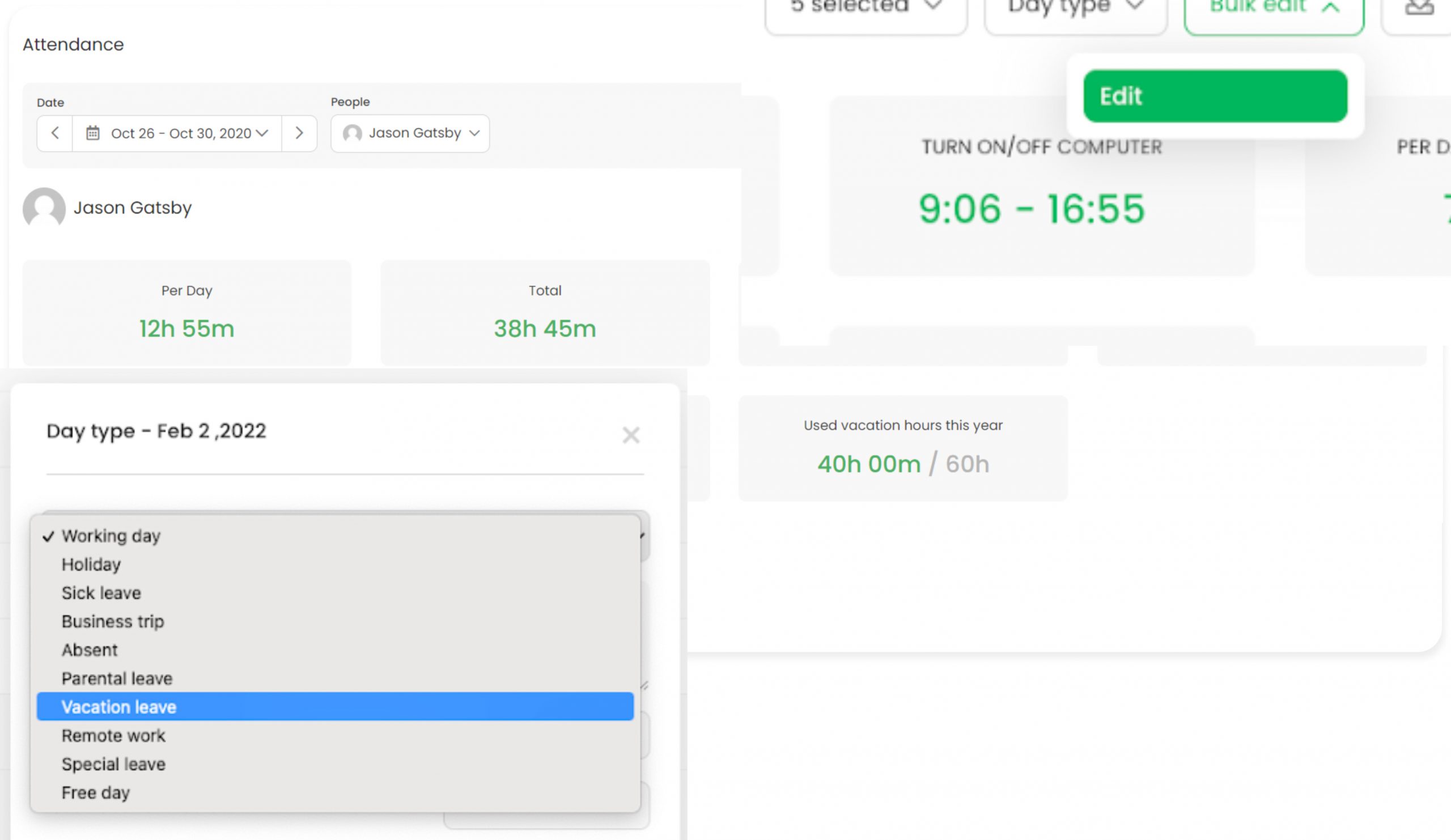 Follow these easy steps:
To track employee vacation and sick leaves, you have to enable it in the attendance module, which you can find in the add-ons section (it's really easy to find it in settings).
Then, choose the group from your users' structure to which the established vacation policy (see the image below) should apply,
Define if the attendance module should be based on the computer activity data from the desktop application or timesheets (choose timesheets if you track employee time with Time Clock Kiosk),
Define the holidays. and choose the holiday task – once entered in your timesheet, the entire day will be marked as a holiday,
 Set up the default workday length (e.g., eight hours),
Define how much vacation your group should receive (e.g., four weeks).
As simple as that! It doesn't require much effort, just a few clicks, and it saves time but also enhances work. Make sure to use the feature to track employee vacation, sick leaves, and other forms of absence.
The feature was created to make work easier and to precisely track time of work and every task and project. After all, vacation or sick leaves are part of the processes taking place in the company.
Summing up
It's way easier to build a good relationship between employer and employees if the details of employment are fair and include employee's needs. Paid vacation time is a must if you care about your staff and don't make them choose between ensuring their families a steady income and having a decent amount of rest.
Once a fair vacation policy is established, choose an automatic solution to execute it. Register employee work hours with time tracking software and track vacation time and paid holidays to calculate accurate paychecks.
Don't waste your time tracking attendance manually.
Be smart and choose TimeCamp!