Case Study: Implementing Podio&TimeCamp to Team's Work
April 16, 2014
by Jakub Szyszka
No comments

How Podio & TimeCamp Integration helped one advertising agency make their work simpler and more profitable?
Prologue to Podio Time Tracking
Here's the story: CertAdvertising Agency received a next contract. This one was from the Certain Shipping Company. Their task was to build a new website and create a fresh visual identity.
The project was pretty extensive and required an engagement of a sizable group of people. Further, as the Certain Advertising Agency was so good at what they did, they had many more assignments at the same time. Little chaos began to creep into their business.
[SEOINS][SEOINS_CONTENT]Check our time tracking offer for agencies: time tracking for agency industry[/SEOINS_CONTENT][SEOINS_ICON][/SEOINS_ICON][/SEOINS]
What Did They Need?
to simplify and organize their work
knowledge of where the time has been allocated
What did they want?
accurate project management software
easy and effortless time tracking tool
What did they fear?
if anyone would know how to operate them
if people would remember to use them
Their Experience
Up to this time CAA was using ordinary spreadsheets for tracking tasks down, therefore a lot of assignments were unclearly noted and very chaotic. What's more, teams didn't have the oppurtunity to communicate each other regularly – there were a lot of situations, when someone was working on someone else's task (while it wasn't his or her duty!), and nobody knew about it. It was such a waste of time and a disorder. They decided that it was the right time for a positive change.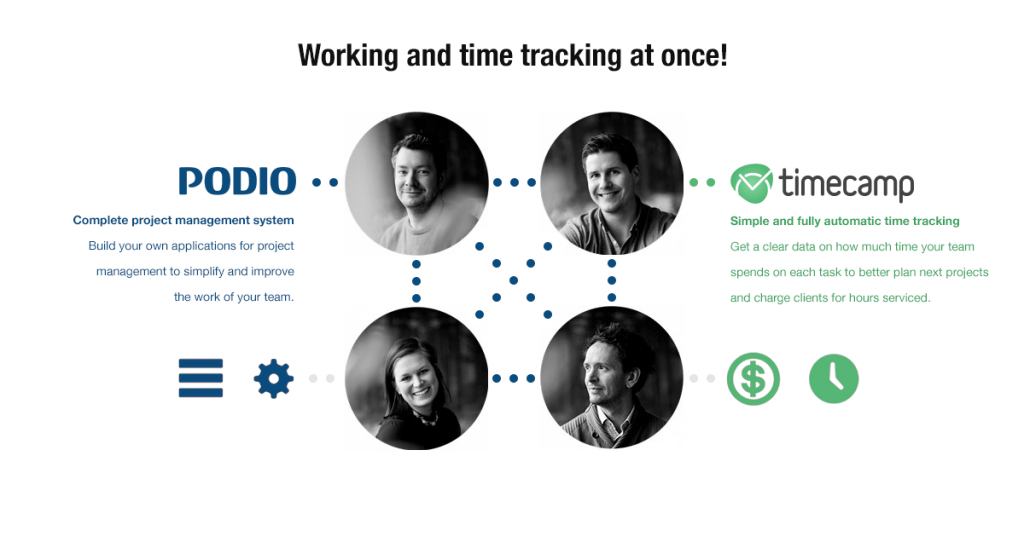 Chapter one: Podio
From the variety of project management tools they chose Podio and that's how the big cleanup has started. All actual projects were based on a simple structure, showed on a Certain Shipping Company (CSC) project example:
1. At first, CAA created a workspace – a place where all tools and workers involved to each project are contained. Here's where employees can see other's tasks and track the progress of each of them.
2. Secondly, they picked an accurate application to manage every kind of work activity from the app store. In the case of CSC they chose the web app development pack, which includes tools useful to coordinate the web development process, and also projects, meetings, expenses, etc.
3. In those applications they put a number of items, like ex. "CSC new logo" or "Layout suggestions". Each item contained a few tasks to accomplish. The team's manager selected descriptions, due dates and labels to tasks, and assigned them to particular employees.
4. Thanks to Chat and Following feature they could see each other's progress and communicate all the time. Everyone knew what they had to do. Wide transparency helped them to work more efficiently.
Chapter Two: TimeCamp
However, despite all new system's advantages, CAA manager still couldn't measure who has done how much in this – ordered in fact, but still – ocean of tasks. He also wanted to have a precise data about time spent on specific projects – which was highly demanded to estimate budget for future contracts. After the work organization, the time has come. They had to start managing their time.
TimeCamp is a simple and effective time tracking software, which can be easily integrated with Podio by plugin for Chrome. CAA manager decided to start using TimeCamp with Podio to have a clear image of project and time management inside his company. So the time tracking began.
1. TimeCamp measures the time spent on each task in a few different ways: from manual where employees can fill their timesheets manually, to fully automatic time tracking basing on unique keywords assigned to each project and task. When the tool is integrated with Podio, there's a timer icon on every task. Employees learned to start it at the beggining and at the end of doing every task very quickly and, what's the best, there was nothing more to operate.
2. Each member's time dedicated to work was precisely monitored and shown in a clear, accurate reports. On this basis the CAA manager knew how to share pays among his employees, who to promote, and who to motivate more. He also received precise data of time spent on each project, so he could estimate how much the next errands for his clients, who CAA bills for hours worked, would cost.
Epilogue
Podio & TimeCamp integration turned out to be a real, powerful solution for CAA business' problems.
Benefits
Using Podio & TimeCamp integration means:
clear workspaces,
improved communication inside the team,
easy to learn and use,
clear time data,
everything kept in one place and time.
The power of the project management and time tracking AT ONCE.
Giving CAA an easy workspace and precise data about time and tasks management Podio & Timecamp improved their efficiency and made their work much more simple and profitable.