How We Unleashed Positive Vibrations Between Us and Our Business Partners
July 16, 2014
by Jakub Szyszka
No comments
A few days ago our team has performed an unordinary marketing action. I wrote "marketing", but right now I'm not quite sure if it's the best term. What happened between TimeCamp and our partners from Xero (we integrated our apps) was pretty far from materialistic concepts which are associated with the word "marketing".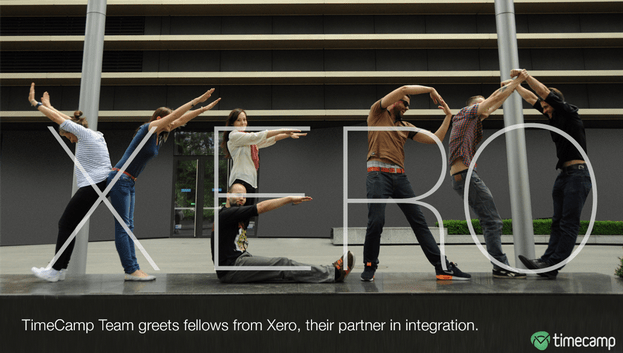 What we wanted to achieve was a true, friendly relationship with the Xero People we integrated with. Literally. Our big inspiration came from Bryan Kramer, author of Human to Human marketing approach. According to Bryan, the most valuable thing for people in any business connections is:
"(…) an undying relationship with a person or people at your brand who made them feel uniquely special."
We must stop being as dull, boring and sad marketers as we've been – this was our feeling. – We have to try something crazy and seemingly unprofitable like H2H!
So what we did next?
Not thinking too much, we took a camera and started hanging around nice places in our city Wroclaw (for background of our action we have chosen a nineteenth-century opera and well-designed shopping mall in the heart of the city). Next, we started taking photos of our funny, happy faces, holding colored sheets of paper with personalized greetings for 120 ladies and gentlemen of Xero.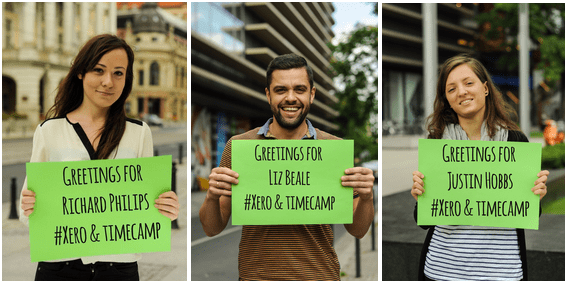 First, we wanted to greet them all, but we found out that Xero has a real army of workers, so we agreed 120 would be good enough. Next, we invited them on LinkedIn and sent them pictures. It may sound naive, but the only benefit we were expecting was their good humor. And we made it!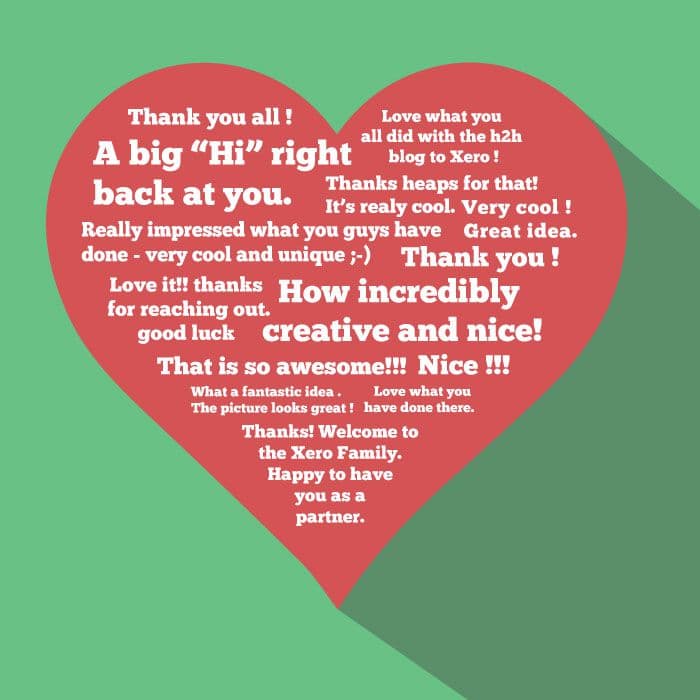 Our lovely 'Feedback from Xero' graphic 🙂
Xero's feedback was fast as lightning and shocked us with it's positive energy. Let me paste here a few of tens poignant replies:
Johnny McAvoy :Thanks Marlena. Very cool what you guys have done. We'll keep you in mind when speaking with our global partners and end-users 🙂
---
Colin Crowley-Crean :
Hey Jan!
Thanks for reaching out!
What a fantastic idea, the pictures look great, I have sent the link around the office and sure enough it has people smiling 🙂
Cheers,
Colin
---
Janna Twydle :
Very cool! Great idea – there's a few people talking and sharing photos around the office today 🙂
Thanks for the greeting!
Janna
---
Rebecca Laut :
Hi Magda
Loved your recent blog on doing human to human business. Looking forward to having a demo of TimeCamp.
Best regards
---
Anna Cochrane :
@timecamp Love what you all did with the H2H Blog to @Xero! So cool & I feel previleged to be included 🙂 #special
Honestly, in the wildest dreams we didn't expect such touching feedback.
So, whole action with Xero teached us that:
– H2H marketing is not an abstraction at all. It's super-wise approach to building relations, that really works;
– it's worth to devote time and strenghts for something obviously nice, but not obviously profitable;
– integration of software can be and even should be an integration of people who create it. People love to be noticed and recognized. ( I have to admit that I read replies from Xero team from time to time, to feel better 🙂 );
– don't fear to do something new and uncommon in your business;
– don't count on material benefits. It makes your business relations so artificial. I assures that true, human relation with partners won't let you die of hunger 😉 Just be patient and honest. It will do.
Do you like our new approach? If you do, feel free to share and comment. We'd love to know your thoughts!
We also have time tracking integration with Xero.