Draw Your Time Entries with New Graphical Timesheets
August 1, 2014
by Jakub Szyszka
No comments
Having in mind that timesheet software and graphical timesheets are a very helpful feature for a group of our customers, we spent last weeks working hard to improve their usability. We wanted to make them more plain and intuitive than they were before. More convenient for the users. Today we are finally ready to launch them. And let you check them out.
But first, let me get you through changes we have made.t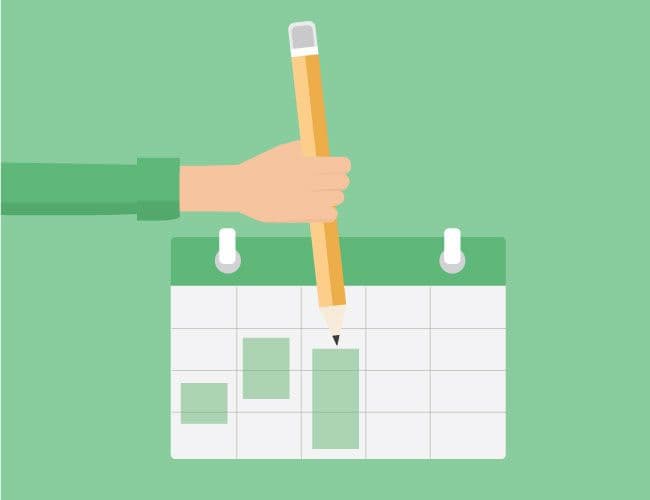 New design
If you have ever tried our graphical timesheets, first thing you will notice is the view. It's fresh, modern, nice and more clear.
Talking to our clients we realized that many of them consider time in the terms of calendar. That's why new graphical timesheets look even more like a weekly timetable than the Excel spreadsheet.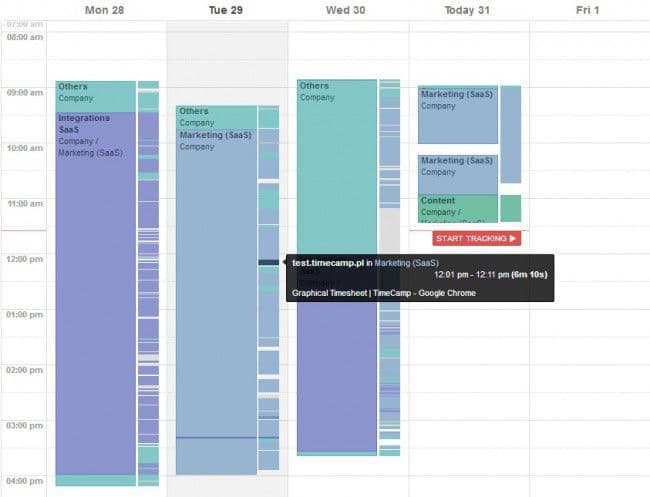 It is more entries oriented. The left column is no longer activities one. Now you're gonna find there blocks of projects you were working on during the day. Computer activities were moved to the right.
We are aware that your job may require switching between different tasks and coming back to the previous one in a while. Our aim was to present your entries in the most clear way. So besides more visible blocks we added different colors for your projects.
What is more, all activities assigned to each task take the same shade. It shows what tools are the most useful for what kind of projects.
Looking for a perfect timesheet app? Give TimeCamp a try. Sign up for a free trial right now!
Bigger functionality
Probably when you think about time tracking, and every possible method you may use to do it, you want it to be as much effortless as possible. To make this happen, we added few solutions that make our graphical timesheets more user-friendly.
Edit all of your entries
The most significant change is the editing ability that was missing in the first version. Now you can correct every single entry – change the time frame, add notes or remove it in the case you have made a mistake.
Draw your timehseet with just few clicks
Few clicks are enough to add a new record to your timesheets. Just click, drag, pick the data and release.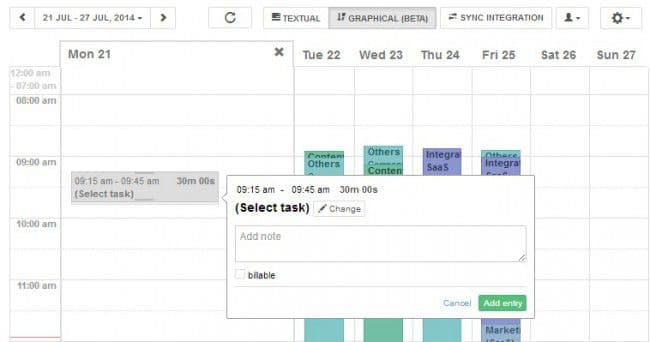 It's like drawing colorful blocks for your time entries. In our opinion it's quite great user experience.
Track time directly in the graphical view
You can also run the timer directly in the graphical view. Just click on "Start tracking" below last entry and pick the task. Now you can focus on your job. TimeCamp will do the rest.
Don't miss any entry with activities column
We haven't forgotten that for many of you it is very difficult to remember everything you were doing. Especially if you are a very busy person. We thought that the activities column may be very helpful.

It is connected to the desktop application so once you install it on your computer it registers all activities taken during the day. This allows to easily recall what kind of projects or tasks you were working on in the given time frame.
Please, note that if you do not use desktop application the right column will not be visible.
Check the new version and log into your account. Check our tutorial to learn more about how to use it.
We hope that it will make your work and life easier. One more thing, do not hesitate to share your opinion with us.