10 Questions about Work and One Private with… Łukasz Żelezny
November 13, 2015
by Jakub Szyszka
No comments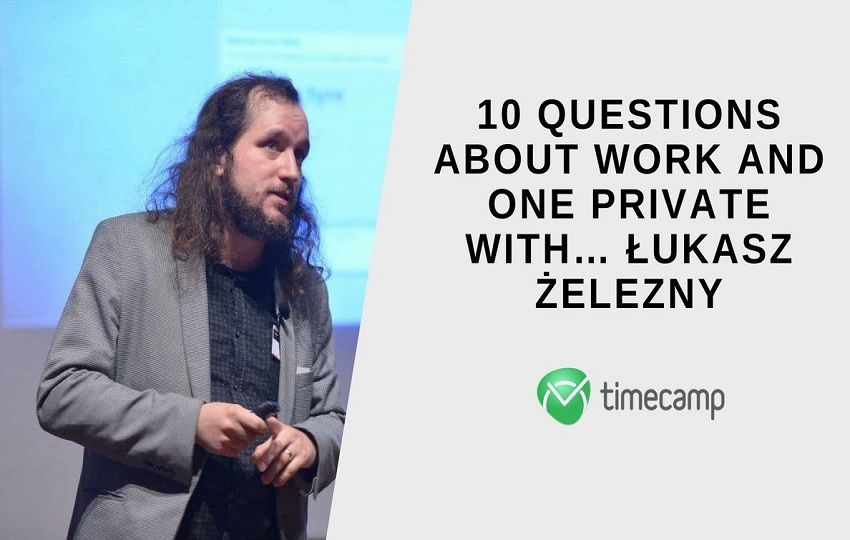 Today we're talking with Łukasz Żelezny, Head of SEO in uSwitch. Keep reading to get amazing and useful tips on marketing and SEO!
We're living in a time when Internet is commonly available.  Many people are interested in issues like content marketing, social media advertising, SEO, etc. What made you to work in online marketing?
Łukasz Żelezny: A long time ago I was a drum and bass DJ. I had dreams of playing in clubs, but because I was from a small city in Poland I didn't have many opportunities available to me. Instead of moving, I created a website. I figured that if I could rank on the first page of Google for the 'drum and bass' keyword, people would begin to find me. So I built a website, performed SEO and link building on my own site, and it wasn't long before I had a top five search position. This was in the late 90's. However, years later I had to find a new way to pay my bills. Seeing the success I had on my personal website made me want to do the same for others. That's how I got into SEO professionally.
If you had to step up to the plate in a short period, e.g. 3 months, what would be, in your opinion, the first thing to do?
Łukasz Żelezny: SEO is a long term strategy so I'm not sure I'd feel comfortable recommending someone to try and do a full campaign in this length of time. That said, there are things that can be done in the early days to improve your chances later on. The first thing I would recommend is to focus on your website. Make sure it has a clean build, and good content. Then you can perform on-page optimisation. Add a sitemap, sort out your permalinks, add SEO plugins, and make sure you have unique content. Once you have a good website, then you can start building backlinks.
You 're travelling abroad a lot. Have you ever noticed the differences in thinking about marketing and SEO in various parts of the world?
Łukasz Żelezny: This is something that I'm really interested in at the moment, and something I've been trying to learn a lot about. From what I have seen so far, it's important to know your user base. Although in the UK and in the US, we use English and predominantly use Google as a search engine, this isn't the same everywhere. Take China for instance, their main search engine is Baidu. Russians almost exclusively use Yandex. You have to look at the people first and foremost and until you understand them, you won't have much luck with SEO and marketing abroad.
How do you draw e-marketing inspiration? Could you recommend us your favourite sites?
Łukasz Żelezny: Every single day I read websites, social media, and RSS feeds to stay up to date with what is happening in the industry. Search Engine Journal, Search Engine Watch and Moz are three of my favourite sites that I make sure to read each day. I also follow marketing experts on Twitter. I like reading their tweets, and will also check out the links of things they share if they look interesting. I'm always open to trying new things, and especially like reading articles that have stats and research to back up what the author is saying.
What are the most helpful marketing tools and why?
Łukasz Żelezny: I use lots of marketing tools but I do have a few favourites. If you're looking for ideas for content marketing, you can't go wrong with Hubspot or Linkdex – both of these will supply you with more than enough ideas for great content. If, however, you're a seasoned marketer and you want to run an outreach strategy, build backlinks, check out the best keywords to use, or see what your competitors are doing I recommend using Majestic, Ahrefs, SEMRush, Searchmetrics, and Buzzsumo. These are more specialised but should be in your arsenal.
Choose 5 most important things which allow you acquiring valuable website traffic.
Łukasz Żelezny: 1 – Content. You absolutely have to have good, unique content on your site that is written for the readers. Don't focus on keywords and Google, instead make your website a good place to visit.
2 – Synergy between SEO and PR department – If these aren't working together, you'll never know how well your outreach strategies are working and will end up sending out mixed messages.
3 – Calendar of Events – I like to know what is happening in the future regarding conferences, business meetings etc. The more you know, the more you can share with your audience in advance.
4 – OnPage optimization – This goes without saying. Your webpage needs to be optimised for SEO so that Google knows how to index it correctly.
5 – Social media links – If you can get your visitors to follow you on social media, you'll have more chance of them returning to read your website in the future.
What was the most interesting e-marketing case study you have ever heard about?
Łukasz Żelezny: There's one case study that has stuck in my mind ever since I heard about it on Moz. What had happened was basically Moz had written a beginner's guide to SEO and at the time they weren't receiving any organic traffic for it. However, a short time later, Smashing Mag tweeted a link to the guide to their followers. What followed was a huge spike in traffic for Moz, followed by regular traffic for their keyword ever since. This may just be a small thing but it showed me the power of Twitter, and this is one reason why I use it so much myself.
Could you tell us about creative ways to gain natural links?
Łukasz Żelezny: I think some of the best ways to gain links are by attending events and conferences. You don't even have to attend events in person – speaking on a webinar or a roundtable is usually enough to get a bio about yourself published along with links to your website and social media pages. The benefit of doing this is that the links aren't only natural, but they're also usually high authority and you're being listed with other experts in your industry – this is the exact kind of thing Google loves.
What do you predict for the future of SEO? Which path Google is going to take?
Łukasz Żelezny: Considering how many people are using ad blockers these day, I see a bright future for organic search. PPC advertising has its place, don't get me wrong, and it can be a great form of marketing to use in the early days of the site. But search engine users are now so used to where the ads are placed on a site that they often skim through them in the hopes of finding what they need in organic search. The amount of people using ad blockers is only going to increase, and with this Google will have to switch their focus to organic.
Give us away – what is your recipe to become a good SEO specialist?
Łukasz Żelezny: I think the main thing you need to do is have a true interest in the industry and be able to read a lot. I've said it times, SEO is not one of those industries where you can learn your skills and then relax. The way things are done is always changing so you have to read, read, and read some more to keep your knowledge up to date. It can also be useful to attend conferences to exchange knowledge with others.
Another thing I like to do is my own experiments to see if I can find better ways of doing things. Usually this is done outside of my normal work hours, but I've come up with some great tips of my own over the years doing this.
What are your dreams and plans for the future?   
Łukasz Żelezny: I really like what I am doing at the moment, and love being involved in SEO. However, I would love to find a way to do my job whilst being able to travel the world. At the moment, my wife and I travel whenever we can but usually I have to squeeze in a weekend away or try and explore the regions of the conferences I attend. I would love to work from Hong Kong for a week, and then decide to take a flight to Cambodia and work from there. A week later I could be in Argentina. I have the mind to be able to work whilst I travel, and this would be my ideal scenario.
Lukasz Zelezny is the head of organic acquisition at uSwitch.com, a UK based price comparison website with offices in London. Leading his team, he is responsible for the uSwitch.com brand's organic visibility, conversion rate, traffic and engagement. Lukasz is a hands-on person, he spends lots of his time keeping up to date with the changes in the technology of online marketing.
Lukasz started his career in 2005 and has since been responsible for the organic performance of a number of companies including HomeAway, Thomson Reuters, The Digital Property Group and Fleetway Travel.
He is a graduate from the Silesian University of Technology with a BA in Marketing.
Twitter: https://twitter.com/LukaszZelezny
Linkedin: https://uk.linkedin.com/in/seomanagerlondon