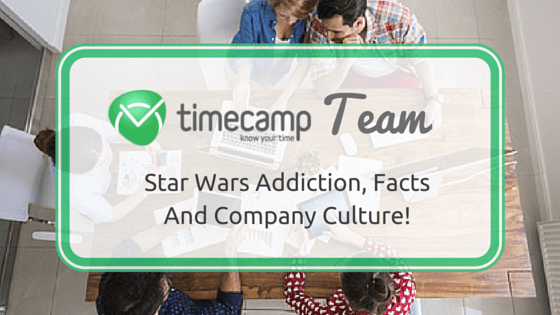 One of company's success factors is solid team full of superb and fresh ideas. However all the members are different – their characters, opinions and point of view – they have to know how to compromise and work together effectively.  The right communication is also important,  because every single misunderstanding causes then lots of problems, easy to avoid if people can talk with each other. 
TimeCamp Team Members know how to succeed!
TimeCamp was founded in 2009. We started as one person company plus seed capital investor. Today we have 16 people working hard to make TimeCamp better.
We help professional B2B service companies bill their clients, manage profitability of projects, earn more, manage employees attendance and save time doing this (with their current workflow). We also help successfully implement time tracking process. Instant, reliable, integrated, easy to learn.
What is our goal? We are aspiring to be number one time tracking app for B2B companies in the world!
Our offices are located in:
in Los Angeles, CA, USA,
in Wrocław, Poland.
We are Star Wars geeks and we are proud of it! That's why we decided to show our team to the world with SW-based infographic! 

Our Company Culture success is the bedrock on which everything else is built!
TimeCamp's Major Customer Service Commandments
You build great product that customers would love
You make great customer service
You provide positive emotions to our clients, make them smile
You seek to understand our customers
You use your own judgment to make priorities: client > company > self

Examples of practical outcomes
Company-wide bonuses around client success

Visibility about customer success metrics in all hands and meetings

Cross-functional initiatives to drive customer success in the product, in operational processes and in the sales cycle
Focus on outcomes and results
You get things done and ship

You want to deliver on results but never take them too seriously

You know that results matter more than the hours we work, where we produce them, how much vacation we take

You accomplish good amounts of important work

Act in the company's best interests. You behave like an owner of the company. You now what is needed now to move company to a new level

You smartly separate what must be done well now, and what can be improved later
Examples of practical outcomes
Compensation should be about external market value, not internal parity
Be agile, value the time, don't be perfect
You know that speed in project is important

You know that flexibility is more important than efficiency in the long term

You have a bias-to-action rather and avoid "analysis paralysis"

You are terrified on working on wrong things, because it is a waste of time

You know that change is constant

You value the simplicity and strive for it (you have to take complexity out)
Examples of practical outcomes
Make experiments good enough but not perfect, write them down

Respect deadlines, even the cost of quality

Always fix twice: the problem and the cause. You identify root causes, and get beyond treating symptoms, so you save time/focus in the future
Be professional, keep high standard
We're a team, not a family (we are like a pro sports team, not a kid's recreational team)

Decisions are made not by popular vote
Learn
Be better at your role, self improving. Strive to be at the top 20% of global candidates (A player)

It's a place you come to grow, not only work

Learn also about: time/tasks/projects management, decision making, communication, emotions management, the way of thinking by great people
Examples of practical outcomes
Share with others what you learn (with your team, with our customers, on the blog)

Read books and blogs from leaders in their fields

Unlimited free books program
Human Place
Everyone is positive

You treat people with respect, independent of their status

We t

rust ourselves – we don't have many procedures and policies, use good judgment

Ideas before hierarchy

You are quick to admit mistakes

Best managers focus on context rather than control

We can have wonderful arguments

Titles are not very helpful
Examples of practical outcomes
You have 10% of private time to rest, talk with your colleagues and refocus

Nobody is blaming you for the mistakes, if you don't make them twice