15 Inspiring Leadership And Management Quotes!
March 29, 2017
by Ola Rybacka
5 comments
The best lessons about the most important things in our lives usually come from the experts. It is no different from leadership and management! A good quote can be more meaningful than a super long essay, that's why I prepared for you today some thoughts from people who have been there, done that and their experience is impressive.
See also: 20 Productivity Quotes to Get Super Motivated Right Now!
15 Inspiring Leadership And Management Quotes!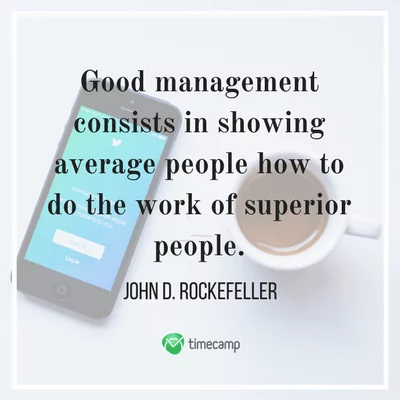 Good management consists in showing average people how to do the work of superior people.
John D. Rockefeller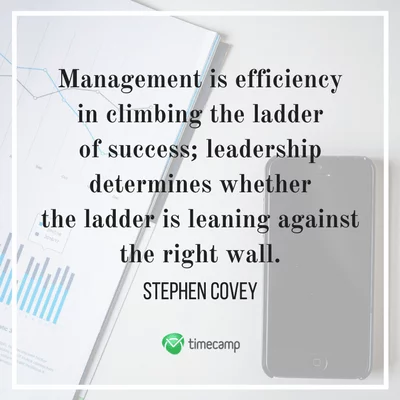 Management is efficiency in climbing the ladder of success; leadership determines whether the ladder is leaning against the right wall.
Stephen Covey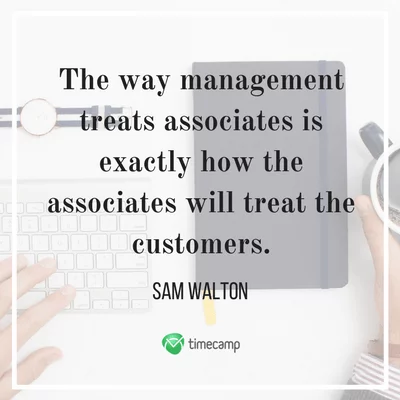 The way management treats associates is exactly how the associates will treat the customers.
Sam Walton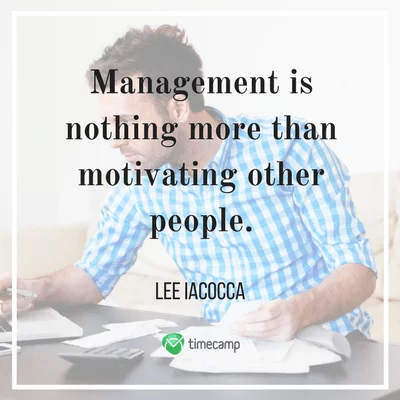 Management is nothing more than motivating other people.
See also: Learn how to motivate your team with the Top 10 Time Tracking Software With Desktop App
Lee Iacocca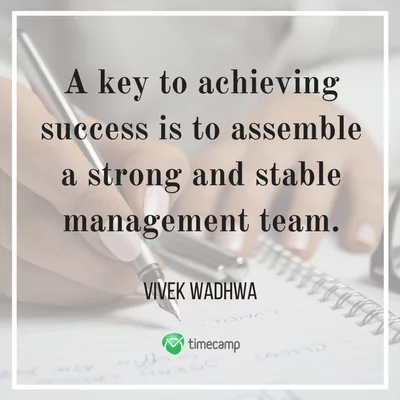 A key to achieving success is to assemble a strong and stable management team.
Vivek Wadhwa
Fit no stereotypes. Don't chase the latest management fads. The situation dictates which approach best accomplishes the team's mission.
Colin Powell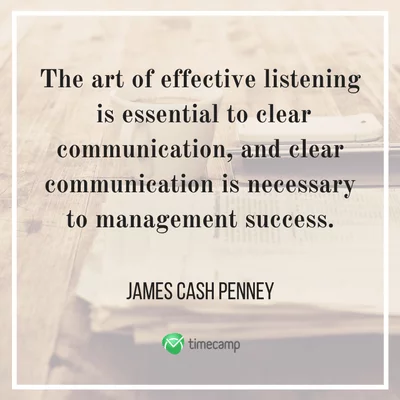 The art of effective listening is essential to clear communication, and clear communication is necessary to management success.
James Cash Penney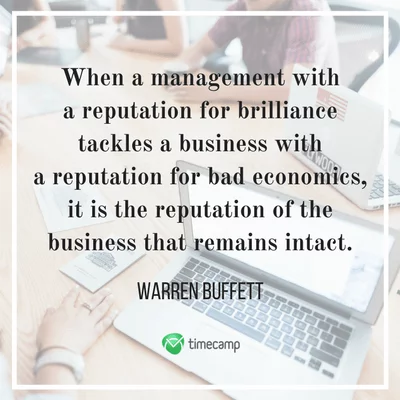 When a management with a reputation for brilliance tackles a business with a reputation for bad economics, it is the reputation of the business that remains intact.
Warren Buffett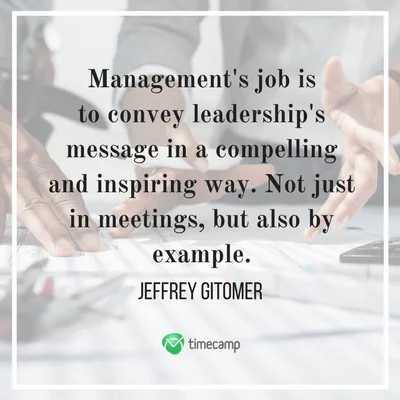 Management's job is to convey leadership's message in a compelling and inspiring way. Not just in meetings, but also by example.
Jeffrey Gitomer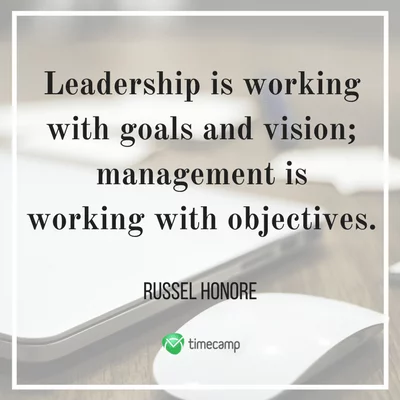 Leadership is working with goals and vision; management is working with objectives.
See also: Get your objectives clear with the Best Free Time Tracking Software for Freelancers
See also: What Most Businesses Get Wrong About Company Culture
Russel Honore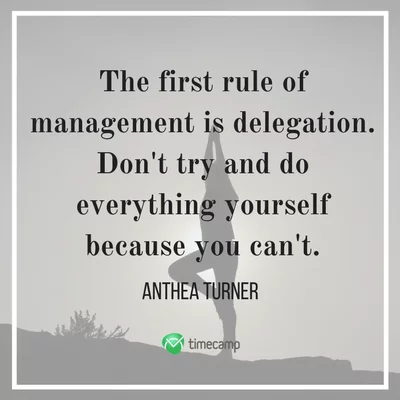 The first rule of management is delegation. Don't try and do everything yourself because you can't.
Anthea Turner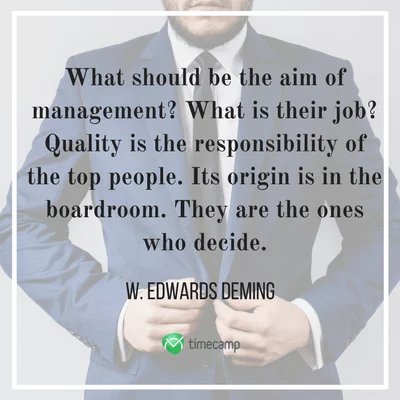 What should be the aim of management? What is their job? Quality is the responsibility of the top people. Its origin is in the boardroom. They are the ones who decide.
W. Edwards Deming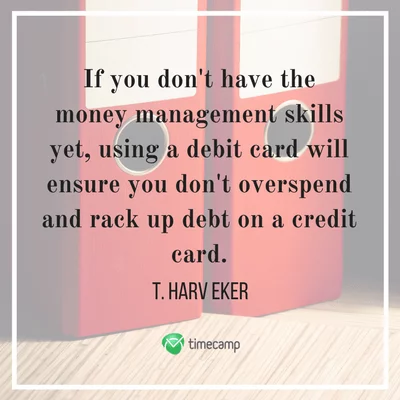 If you don't have the money management skills yet, using a debit card will ensure you don't overspend and rack up debt on a credit card.
T. Harv Eker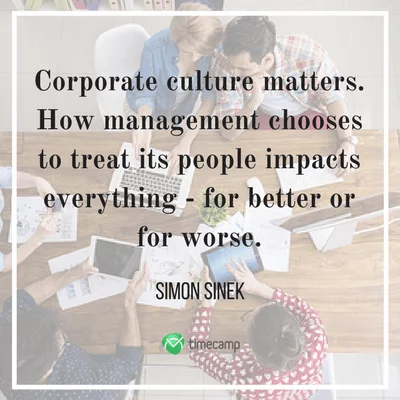 Corporate culture matters. How management chooses to treat its people impacts everything – for better or for worse.
Simon Sinek
Profitability is coming from productivity, efficiency, management, austerity, and the way to manage the business.
Carlos Slim
👉 Check also our article: 25 Brilliant Productivity Quotes To Move Your Ass!
Leadership And Management Inspiration in Real Life!
Management quotes don't have to be only about words. They can be about numbers. Why? Because numbers and a detailed insight into them in the work of a leader and manager can inspire to take action and boost productivity as well as strengthen the inner will for making a change.
With TimeCamp you can easily control these numbers and make any changes you want. Add, subtract, multiply, control and adjust according to your needs to always stay on top of your work. Because leadership and management are about working with people and making sure things work properly. And that's where TimeCamp comes with aid.
Don't lose any more time on exhausting paperwork and always get inspired by regularly following your team's progress.
See also: Top 10 Time Tracking Software for Linux