Don't Get Lost In The Business Jungle – Find Your Way With TimeCamp!
August 28, 2017
by Jakub Szyszka
No comments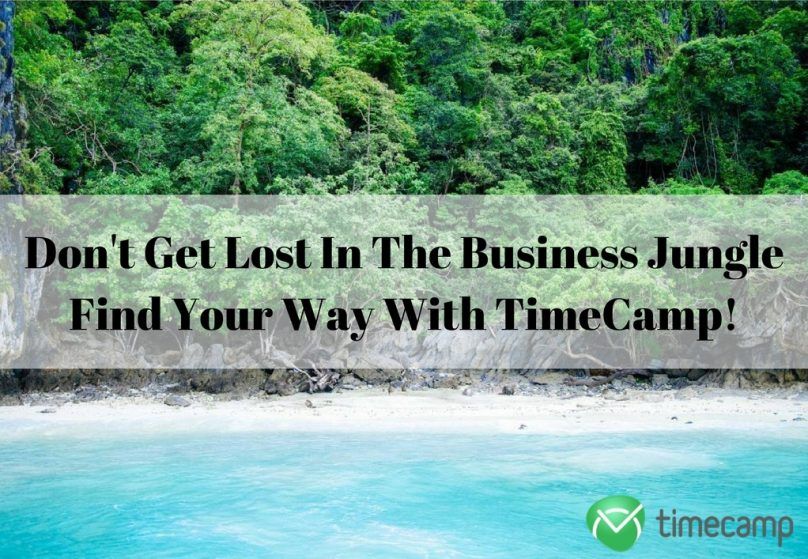 The business world is the world of a constant struggle. It's the jungle where only the strongest survive. Some business people make use of the attack technique, aggressively promoting their products on the market via vociferous and gaudy advertisements or undermining their competition in one way or another, while others choose to invest in tools increasing the productivity of their companies, especially when their businesses are relatively small.
The market offers plenty solutions which main aim is to improve efficiency. Among those most recommendable is TimeCamp, further discussed in the articles:
How Can A Company Benefit From Using TimeCamp, Five Amazing TimeCamp Features You Need To Know About, and Everything You Need To Know About TimeCamp!
TimeCamp is a task and time management software dedicated to those who wish to monitor the work of their employees on their computers, whether they spend time in the most efficient way, which helps check who works hard, who lounges around and by identifying the unproductive hours, enables to plan the work in a more effective way.
It's possible thanks to the fact that the tool is rich in numerous handy features. First of all, the solution is equipped with graphical timesheets, which are considered to be a brand new, calendar-like way to track a computer user's time. Thanks to this feature, one is granted the possibility to quickly and easily add time for specific time frame during the desired day.
Graphic timesheets make possible:
Real-time automatic time tracking – an easy timer that can be used for current day, click "start tracking" button, and it will gather the data on your computer activities until you turn it off,
Adding new entries – Fill out the columns with the necessary information and modify exact times in the editor panel,
Comparison of employees' working time – the program monitors the productivity at work, providing the incentive for motivational remuneration,
Mapping the structure of customers, projects, and tasks – you add projects in TimeCamp and assign categories of tasks to them. This is particularly important in the case of long-term projects.
More on timesheets can be found here.
Moreover, TimeCamp offers the automation of work. TimeCamp has a desktop application at its disposal, thanks to which users can track time of their projects automatically. The process is based on keywords which can be assigned to each task, enabling users to set TimeCamp to track them the way they wish it to. TimeCamp's agent searches for keywords in window titles, URL addresses, or files names.
To learn the basics, visit TimeCamp's knowledge base.
The other valuable feature of the tool is computer time dashboards, supplying the user with the possibility to categorize and automatically calculate the productivity of their employees' time spent at the computer, and – optionally – set up a way to account for time spent away from their computer as well.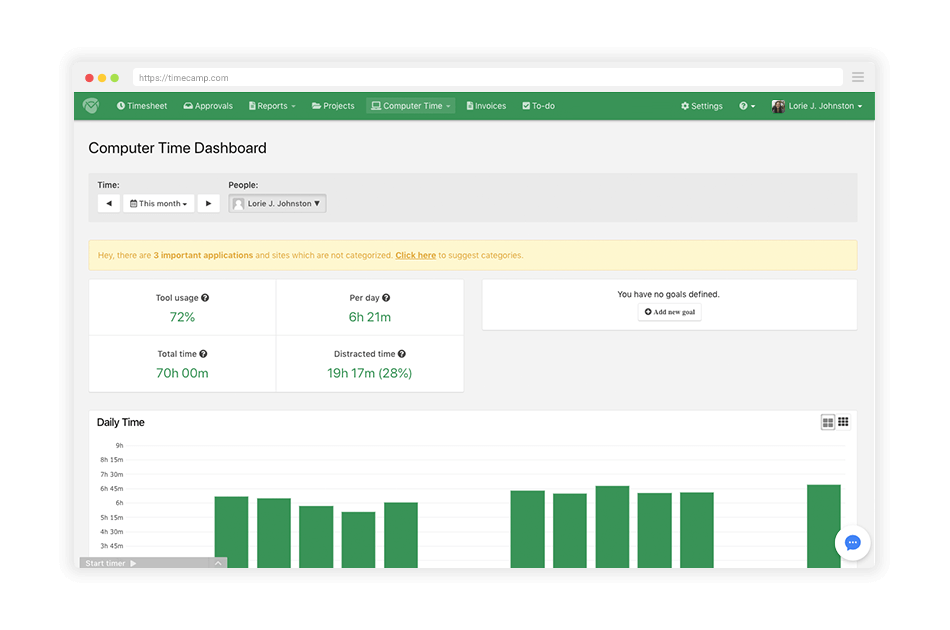 More on dashboards on the website.
Integrations and Add-ons
Irreplaceable are also TimeCamps' integrations and add-ons. Why should you create your own task structure while you can import the one you've already created in your favourite project management system? Choose one of TimeCamp's  available integrations and enable it in your TimeCamp settings. In most cases, your task structure will be automatically updated every hour. Some of the integrations do update instantly.
More on the matter can be found here.
The last of most desirable facets of TimeCamp is the possibility to invoice. The solutions' Invoicing system supports one with when they need to easily issue invoices to their customers, and those are either based on the time they've measured for projects and tasks, or by creating a blank document. Inestimable is the possibility to send invoices to one's customers directly from TimeCamp via email, or generating a public link or download them as PDF files and later share them however one wishes to with their contractors.
To find out how to set and generate your invoices, visit our website.
Monitoring the Work
If you have doubts whether TimeCamp may spy your company, we may assure you it does not. The tool does not collect any sensitive information on its users. It only supports one when they wish to better control the use of time for selected periods and efficiently manage it.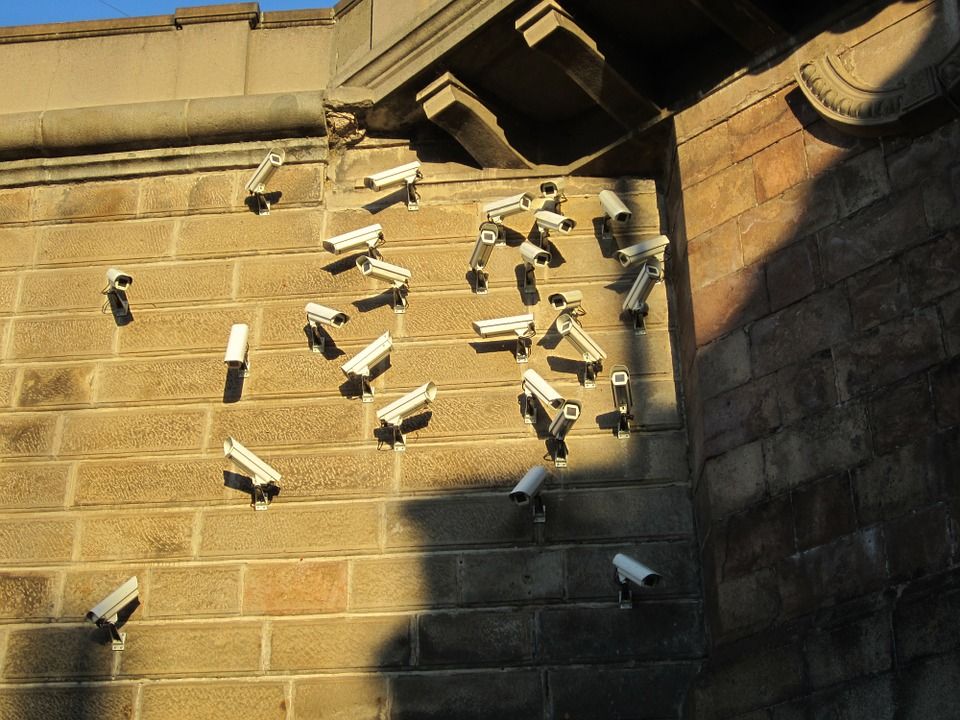 Similarly, Time Camp does not serve as a way to invigilate people. The idea behind this solution is, primarily, to control the flow of time and scrutinize the gathered data so the work can be readjusted and, therefore, the performance of the team is enhanced.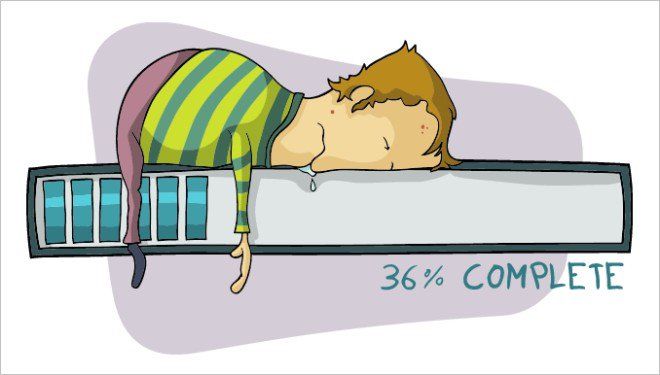 Finally, if you are worried that the app may slow down your computer − just stop. TimeCamp runs smoothly in the background and does not burden the system. Every five minutes a few kilobytes of data is sent to the main server, the amount so small that it does not even disrupt the lowest networks.
Don't allow your small business to fall victim to business predators. Increase your company's productivity, choosing TimeCamp.