4 things that increased the number of users who registered on our website from 50 to 200
October 1, 2017
by Pawel Kijko
2 comments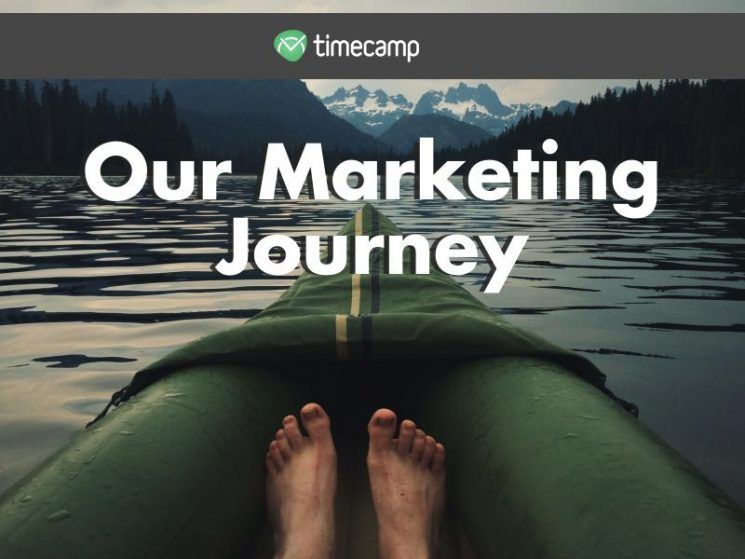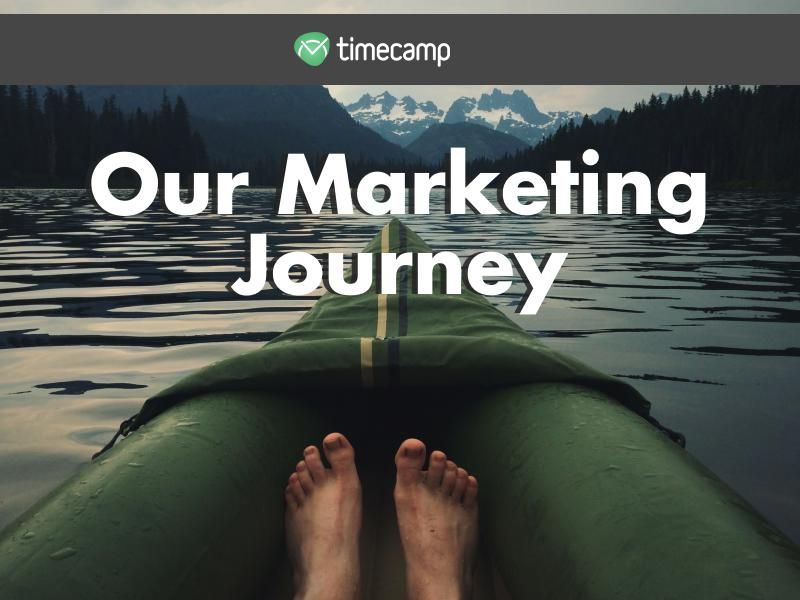 It is now time to present our summary ─ we have expanded into global markets in the last two years and acquired customers from more than 70 countries. How did we achieve this? Of course, thanks to an excellent product which we continuously work on as well as developing and analyzing feedback from the market.
Today, however, we would like to share a few methods which helped to raise our marketing to a higher level. They concern several correlated areas of promotion: SEO, marketplaces, content as well as marketing.
SEO – imitate your competitors, be better than them
We are constantly optimizing our website to make it faster and more readable. We adapt its elements such as images, pdf files, internal navigation elements to what we read about on the websites moz.com/blog, searchengineland.com, searchenginejournal.com or webmasters.googleblog.com, or we just know what needs improvement from our own experience, the work on various projects. We are so effective that it can be said that the vast majority of our customers find us via the Google search engine, regardless of the country they come from, which accounts for less than 90% of all sources of registration on the website. Here I have to admit that our foreign language versions of the pages fulfill their role.

Growth Rate of Visibility (for timecamp.com included in Google Search Results in the USA), source: semrush.com
Content marketing supports SEO but also fulfils another role
How to promote your software? Having in mind the value of high positions and the importance of links in search results, we try to conduct our marketing activities in such a way as to obtain as many links as possible while promoting our application. One of the actions which has caused a significant increase in the number of links directing users to our website was the annual list of Best Project Management Influencers from Management Industry. Two lists which have been published so far are based on our research (each team member has their favorite influencer) have brought us over 100 valuable backlinks from websites dedicated to management, productivity, with very high Trust Flow or Citation Flow ratios. Although our main goal is to build a high quality list of people who are involved in teamwork organization or productivity in general, the fact that others are eager to link to it means that it is worth investing in content. Our posts have been linked by such websites as NBC News or Neil Patel, which motivates our marketing to work more intensively.

The quantity of linking domain, source: majesticseo.com
Although the methods we have used to obtain many attractive links redirecting the Internet users to our website are numerous, the main of the mare has been described in the following post. Here are their examples:
Summaries of Applications With Similar Functionality
Broken Links
Reviews
Guest Posts
Sharing Knowledge
Infographics
Promoting a Career Website or Publishing Ads With Link in The Content
Our App's Integrations With Other Software
Press
Asking For a Link To Us
Markeplaces – these are not only paid ads
Although we take care of our expositions in marketplaces, we do not buy advertisements there. We try to take care of the description of our product as well as the number and quality of its reviews published there. Our first computer activities focused on the exposition in 150 Websites To Promote Your App. Soon, however, we noticed that one marketplace was particularly important to us, because it often appeared in search results for keywords which we considered interesting. That is why we increased the number of positive reviews of what we wrote on the blog. The practice of working on the positive image of our tool at marketplace has led to several consequences. Among others, Google has included a link to our subpage directly in the search results at Capterra, which has generally contributed to increasing the number of visits to timecamp.com (CTR). By the way, it seems that Capterra itself has improved its visibility in search results for the time tracking software industry.
Additionally, thanks to the recommendations of real users, we had a large number of testimonials, which we could boast about, and I don't need to convince anyone that it is useful in the work of a marketer.
Our software has already installed a typical Net Promote Score, i. e. a tool for getting feedback on our application on the basis of a pop-up window. Besides adding a comment, the user can also rate the app on a scale from 0 to10. The higher is the rate, the more satisfied is the user. Thanks to this, we are able to automatically download data about the most satisfied users (evaluating us from 7 to 10). A large e-mail group has been created, which we asked to leave a positive opinion in selected marketplaces.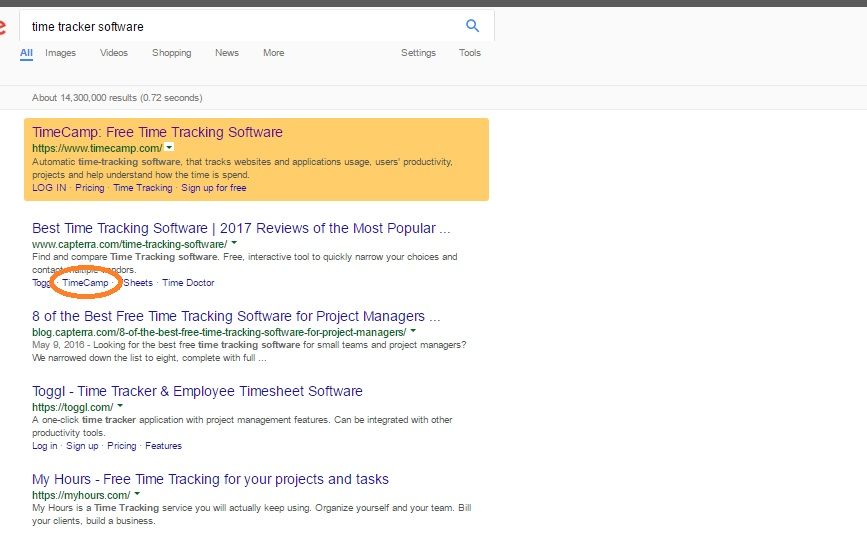 Increasing the exposition of a phrase "TimeCamp" on the first page of search results, source: semrush.com
Listen to customers, marketing must lead
Building distribution channels, promotion, SEO, and content are not only areas where a member of the marketing team has to find themselves in. They should also be able to listen to customers – the benefits of using TimeCamp or the problems they have with our application. That's why we are actively involved in interviews with our customers. So far, we have talked with customers from industries such as accounting, marketing, engineering, or consulting about the widespread use, application and the work with our product. In addition, we follow our support conversation history to be us up to date with the problems of our customers. Taking this measure, we make sure our marketing not only focuses on winning new trials but also travels with customers while they get to know our tool better. The results of interviews, chat support analysis, inspired us to make blog posts, develop Knowledge Base, and improve SEO.

Decision making processes in our customers' companies resulting from the use of time tracking through TimeCamp.
Only marketing that is able to understand the customer of the product is able to build good, converting links to one's website. Promote one's brand on social networks such as Quora or Twitter. To understand our customers we from time to time ask them few questions to prepare a testimonials. This helps us better serve them and create better content.
The continuous upwards trend
Within two years, we have observed a steady increase in traffic, which is closely correlated with the number of subsequent registrations on the website (subscriptions for the trial version of our program).

Traffic on the website (dark blue line) vs. the number of registrations for the trial version of our program (light blue line) over the last two years source: Google Analytics
Although our software has been on the market since 2009, the real growth dynamics achieved by Monthly Recurring Revenue (MRR) started when we implemented our long-term marketing strategy. It focuses mainly on improving traffic on the website and supporting the development of our brand.

Increase in MRR obtained in the last 14 days, source: own compilation
Finally, I would like to emphasize that the main vision of our company's development is to focus on the development of the product by examining the customer needs, creating friendly and key functions in our product, so that they meet 100% (or even more) expectations of our customers.