Stay On Top of Your Work With Shailesh Thaker! [PODCAST EPISODE #5]
January 17, 2018
by Kate Kurzawska
No comments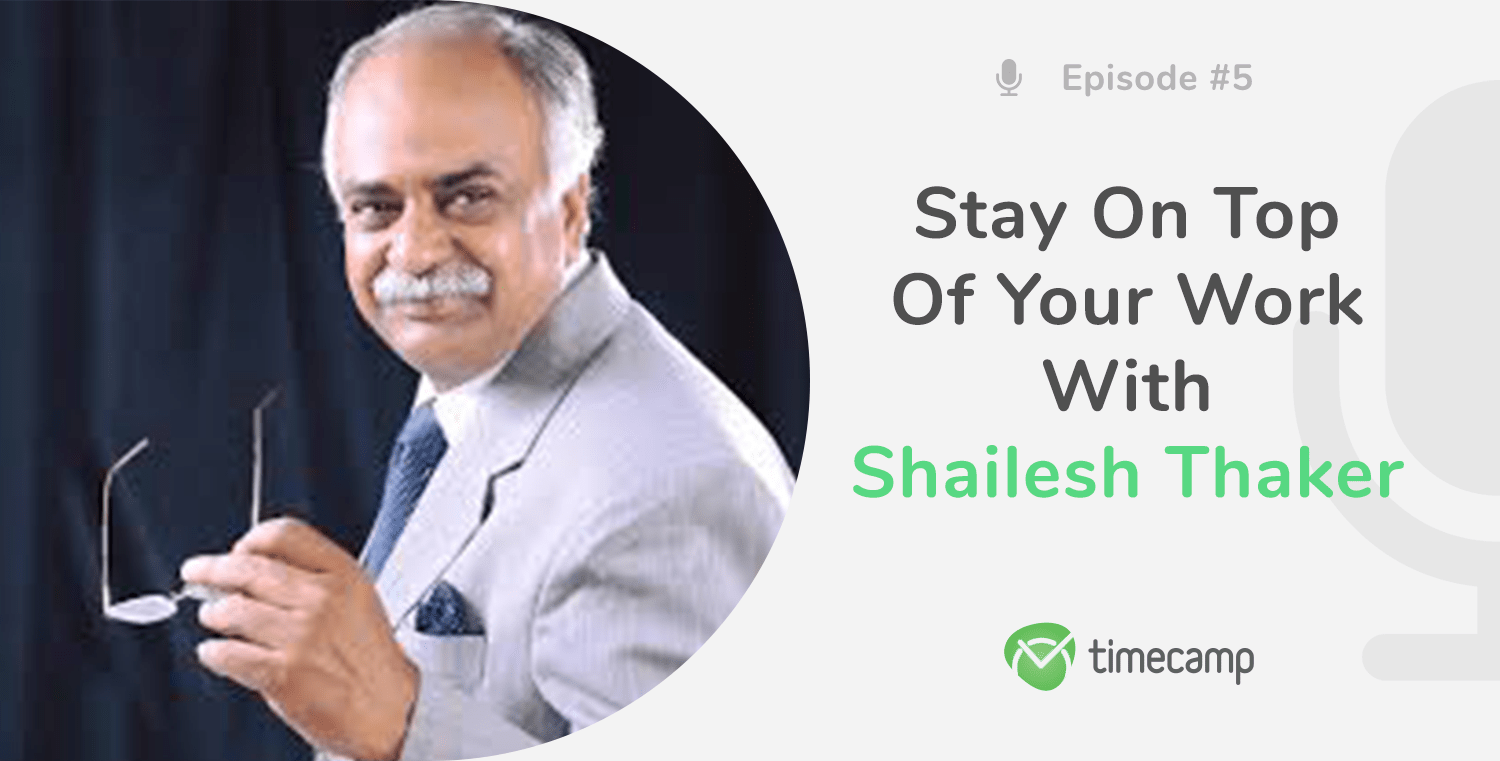 Stay On Top of Work With Shailesh Thaker!
We're back with another episode of our podcast on how to stay on top of your work!
Dr. Shailesh Thaker was my guest this time and we talked about how to make a team management successful. Why is knowledge more important than diplomas and degrees? What factors should a successful company be driven by? Find out in today's episode!
Are you an iTunes user? Listen to the podcast here! 
Podcast Transcript
Kate: Welcome back to the series of podcasts Stay On Top of Your Work and today my guest is Shailesh Thaker. Hello Shailesh, how are you?
Shailesh: Fine, very, very fine wishing you a happy life, in 2018 always have new challenges, new works, new commitments. That's absolutely a great time. And to be unstoppable in the coming year. So wishing all best of the years, to the listeners, and to the people who are working on improving themselves. Good luck to all of you
Kate: Thank you! For the beginning, can you say a few words about you? What do you do and what are your professional interests?
Shailesh: I have a basic catalyst in India. I join companies as a cheap mentor who grows people, removes disrespect practices in the company, enhances practices and policies in the company for a company to be a very positive place where everybody wants to work and nobody want to quit the company because it's absolutely full of happiness, full of satisfaction, full of pleasure. So nobody wants to quit. It is like in a family. And nobody wants to quit the family. The rules which are primary to family are now the most set at the company level. Slowly company starts growing. Looking to my experiences in my life, all companies had grown from 100% to 1.000% during the life. So what is the rule that points to practices of knowledgeable company? It is being humble and patient right now. I have my Ph.D. in Cognitive Psychology and then I had earned my certificate in learning development. I have written couple books. I used to write my blog so that everybody can report to me nearly every day, every time. And it's difficult to me to also reach to those people so I keep on writing my blog, it is open to you, it can be found by Google. So people are regular readers of the blog I have benefited to their blog so that is my contribution to others. Because someone has to keep the job alive – selfishness and self integrity. So I have drawn a line, I keep on contributing the blog as open for the regular readers across the globe. And more what is on increase are readers who are traveling, visiting, reading, and providing feedback to the blog. So I am enjoying my work.
Kate: Let's talk about management. As a proclaimed management guru, what advices can you give to those entering the management world, either when it comes to work management, project management, or team management, or management in general?
Shailesh: The management is a very wide topic. But I would love to explain 3 areas. The first is the management. If you want to enter the management world you need to be passionate. You need to love knowledge. There's no need on thinking constantly. If you're thinking constantly, you're overloading. And then you'll be tired with thoughts. You need to be self-doing person. If you want to be self-doing person, you need to be passionate. If you want to enter the management world, be passionate, love knowledge and keep on doing work for years in life. That allows to understand. Keep on doing by years and let the world benefit your knowledge. Sharing it with the people who want to enter the management world. For managing people at the workplace, be ten times bigger than what is expected from you. Whether it is a customer, or a team, or a company, colleagues. Your ratio could be ten times bigger than what is expected from you. And for management of a team – make a team building, team management. I would love to give you 5 rules here. Rule number one is prepare for sacrifice. You have to sacrifice. Two is, tell it to people.
Because there are a lot of things in the team for sharing and communication. So you need to call it to people. You need aggressiveness in your particle. Aggressiveness is to be demonstrated by rule. Another one is challenge your team. Challenge is the long lasting truth of the globe. There's also balance. And the last rule for the team management is to be sententious. Focus on strength, enhance strength. Strength will help you in winning the game. That is what will work for a team management.
Kate: So when it comes to management, how can a company achieve success? How is it connected to company's progress and benefits?
Shailesh: Company could be benefited a lot but company needs to have four principles. The first one is that a company has to love principles. Company has to love principles, rules, and values. If you want to make a lasting company, a lasting organization, you need to love principles. Love values, like customers' satisfaction, customer delight, honesty, colleague consciousness. My humble advice to the audience of the blog is to love principles and values in life. And add values to yourself. That is my message to the company.
You can never do a business which is attacking the planet. The spirit is given to you by your grandfathers, grandparents. Grandparents have opened you a great planet to live on. Therefore, it is a great planet open to the managers. You need to be good with the Earth and don't have business which is against the Earth. And have business which is good to Earth. Focus on satisfaction and discovering a talent. A talent which is an organization we need to satisfy. To remove this negative impact of organization that's affecting our productivity, and affecting the profit of a company. Another rule of a team management is to love technology. In any business. Whether it's an agency, a cash business. World could come closer with help of technology. It is the key for a company. To grow. And I believe that these principles have a great value and have an impact on the development of a company.
Kate: In today's world technology makes work smooth and easier. It is connected with the use of special tools and software, such as TimeCamp – time tracking software. What do you think about the use of such tools in leadership and work management?
Shailesh: You need to love technology. Leaders love technology. And I think that technology, next to the kids, is going to play a great role in the light of the mankind. So we have to love technology in the business. And I think it could create metrics, and wonders. We're in the era of language of research. Reason is the language. And if you go with reason then you go with logics, answers, difference. It is not agreed with the anger, blaming. Let the reason speak when you speak in the company. And in silence and presence is the combination of a leadership. Be silent and work. Let those work with reason. Let the reason speak for you. That could be the leadership in my eyes working in the company. And with that the company would steadily grow.
Kate: So when we talk about leadership, it is also connected with team management. How can developing skills in a team, talent acquisition, and the proper team management help in managing the company? Does it have any positive facets?
Shailesh: My point it is: three aspects. The first one is the enhancement. World is moving so fast. World never comes into change and never seen change. The speed which world is working at today is amazing. Absolutely amazing and awesome. I now can see it in my life. Not me, but that the world has never seen the speed. So, leaders love speed. Speed is the truth of the new world. Whatever is new today would be completely outdated after several years. That's the speed of the change.
The next one is skills, to love skills. Skills will be enhanced and you could not go in the entire life for the same skills for next 30 or 40 years. No. The idea is one, you need to update with a lot of new skills. You have to enhance your skills. And hard skills and soft skills will not be required now. They will not lead a team. Take only one skill. How to become good at many skills also. So hard skills or soft skills? And the multisoftskills in you then you could be a successful leader. You have to believe in your team. Don't go into analyzing the people. That's now your work to do. Love the people. Let the people joining you, work with you. Believe in the team. And focus on team. Focus only on strengths, not on weaknesses. None is completely worthy. Don't focus on weaknesses. Everyone is also carrying weaknesses. Weakness is too hard for us. Weakness is dark, strength is light. Love team, focus on strengths, skills, and enhancement. And most important is that reason is the language of the world. We are yet to start 22nd century. Lots of new inventions are coming and they are all, more or less, connected with the 22nd century. 21st century is going to be outdated. So we are yet entering 22nd century and while entering, will you use the language of reason? Even object you create without reason will have no value in my eyes. Actions which are not made with reason will never be appreciated in any organizations. So, focus on research, strength, team, and skill enhancement. These will certainly help organization, a team.
Kate: When we talk about all these things, it's good to have certain strategies. What strategies are good in developing a new project or product that a company can use?
Shailesh: I believe that network is the most important factor. Believe in network. Maintain network and enhance network. In work people have network. Network will be the biggest factor in it. Two, as I said earlier, love technology. None can replace technology. Whether you become a slave of technology, or technology becomes a slave of you is efficient. I also realize in my life that every seven years is being replaced. Technology makes the world small and close. And you have to learn technology every 5 years because it is also to be updated every 5 years. So always keep learning. We are in the era of learning and relearning. This is the era when one has to learn, relearn. Applying those learning in the world place is the true meaning of all learning. Applying those learning and skills in career and creating research in the company which will bring big revenue than expected. And then the company and the team might be all useless by then. And that's the real developing issue, personal leadership
Kate: That's really inspiring, thank you. The last thing! The name of our podcast is Stay On Top of Your Work. This is also TimeCamp's slogan.
What is your advice on this topic and what ways of staying on top you use in your work? 
Shailesh: Well, I think one has to be focused in life. Focus on future. Love future. Leaders love future. Love tomorrow. Even if you're lost today, everything else doesn't matter. The hope is not lost. So love tomorrow. I would love to be humble to the audience of this blog – worth being hard-working. Nowodays, there's a debate going on, on hard work vs smart work. But I believe in hard work. There are a lot of big people I've seen in last 2.000 years who came up with only hard work. Then, avoid gossiping. Gossiping is useless and not productive. And people keep on bringing gossiping to the workplace, in the organization, on the date, at collage. It is negative, it is no helping. Delete it from your life. Delete it from your persona. So hard work. And delete gossiping. That could be a good sta? One more I would recommend is smiling and being silent. Always keep smiling. World is expecting more smiles from you. Even if you disagree. If you are hurd, Keep silence and you'll smile. Smile can make the distance short between any people in the team. So keep smiling and keep silence. Even if your boss fired you, if your family member spite on you, listen and remain silent and they will come and realize their mistake. But this is what I'm sharing with you to be a role model in your life. What impressions could you leave behind you? What could be your footprints? I think inspiring, smiling and creating your footprint is my foundation.
And the most important aspect which I came across in my life is that the intelligence and certification plays an important role in the life but at the same time speaking intelligently also plays quite a big role in the life. And I learn from streets to say "yes." Don't say "no." Say yes to the people, to the team, boss, company, family and people around you. Even if you disagree. This is most important. Say yes t the yes, love yes. The last, most important factor is the positive emotions. Enthusiasm, joy, love, commitment to your team, product, boss, your own self. I think this attitude and this enthusiasm will certainly help you. We have a very competitive nature. Each of us is struggling. Each of us is spiting. Each one is thinking about the growth, self-development. And life is also becoming harder Of course, we make it hard. Living is easy, we make it hard. But this thinking, this belief and these emotions will help anyone.
I would love to end this by saying that I believe in these 5 principles, in planet principles, people, and most important, politeness. Despite hate and create wonderful organization.
Thank you all for listening and in participation in this program.
Kate: Thank you very much! It was my pleasure to talk to you!                                    
You can find more info about dr Shailesh Thaker below. Also, make sure to check out our previous podcasts before we come back with another one and read the article on top project management influencers of 2017.
Thank you once more. Have a nice and productive day! Until next time.
Thanks for listening!
---
Here's where you can find dr Shailesh Thaker. Follow him on social media to always stay updated to the latest news from him!
Twitter || Facebook || LinkedIn || Email: clo@trainingguru.org || Website
---