TimeCamp Interview – Amber Gray, Founder & CEO of Trusty Oak
May 29, 2018
by Kate Kurzawska
No comments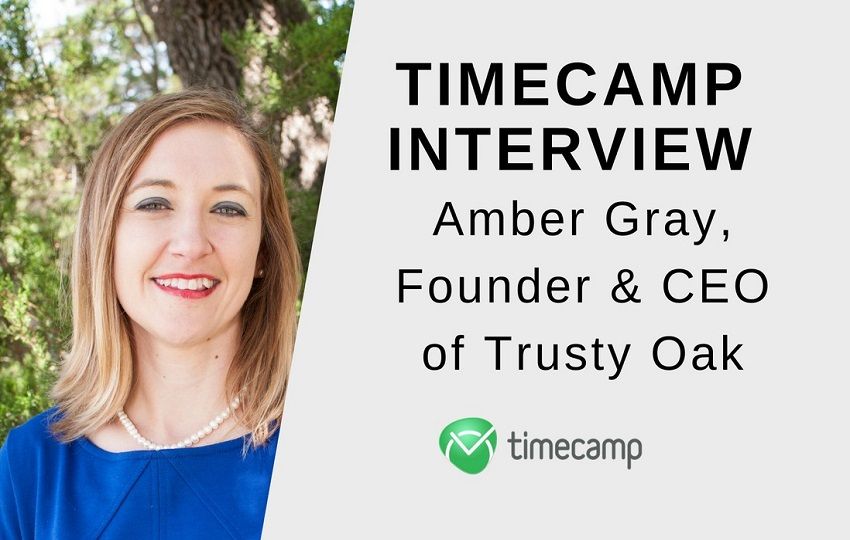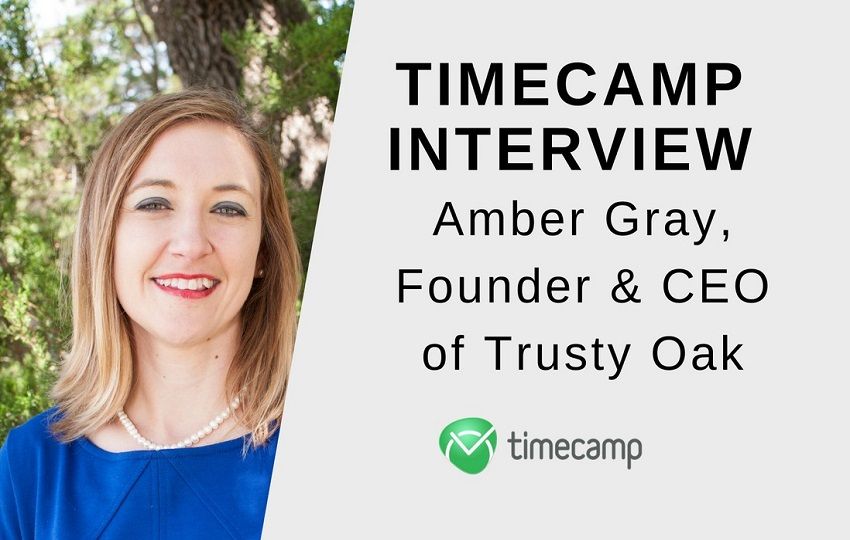 Being an entrepreneur is not an easy task. It is challenging, especially in terms of balancing your team and clients' needs.
Our customers, who are entrepreneurs, achieve real success with TimeCamp, time tracking (and not only!) software. Today, we bring you an interview with Amber Gray, Founder and CEO of Trusty Oak. Amber shares her experience with TimeCamp and how it helps her in managing the budget. Check it out to find out how Amber uses the software in her work!
Can you tell us about your daily routine at work? How do you organize it?
I'm a big fan of time-blocking and generally organize my daily routine on my Google Calendar. I use a scheduling app that is linked to my calendar, so sales calls can be automatically scheduled on my calendar. To keep some level of control over my own time, I have repeated daily and weekly events on my calendar for working on my business.
Business development follow-ups (running through a checklist of tasks in my Hubspot CRM);

Social media engagement;

Personal/professional development;

Writing "Thank You" cards;

Content planning and writing.
I also use a couple of other tools to stay on top of tasks for both internal and client tasks. Trello is my go-to project management tool for client work and Momentum Dash is a cool Chrome extension that I use to plan my day after reviewing my calendar. Momentum plays a big role in keeping me organized on a daily basis.
Thanks, great response! Actually, we have
Trello Power-Up Time Tracking
so you can check this combo too. Next question, if you were to advise a beginner entrepreneur who starts his/her first day as an employer, what would it be?
My advice to a new employer would be to prioritize building trust with your team. Trust is the currency that matters most in business. The name of our company is inspired by the teachings of Stephen M. R. Covey. In his book, The Speed of Trust, he states that when trust is high, speed goes up and cost goes down. And conversely, when trust is low, speed goes down and cost goes up. Learn how to extend trust incrementally and delegate. I believe this is the key to growing a successful, thriving business and maintaining a healthy company culture.
How did you find out about TimeCamp?
I found TimeCamp after several months of searching online for a time-tracking software for our team of virtual assistants. I sat through demos and signed up for trials for a number of other applications, but each failed to meet our needs for reporting and budgeting. Just when I was starting to think there wasn't a tool out there that did what we needed, I came across TimeCamp in a Google search.
My initial review of the software looked hopeful and after signing up for a trial for myself and a few teammates, that hope quickly evolved into excitement!
How do you use TimeCamp – is using our software beneficial to you and in what way?
Not only does TimeCamp provide the reporting and budgeting functionality we need, it has drastically improved our processes for time tracking, reporting, and client service. Having the option to export reports online via live links that update in real-time makes it easy for us to keep a higher level of transparency with our clients.
Additionally, our business model requires us to keep a close eye on the time budget for each of our clients. Clients pre-pay for a package of hours, their virtual assistant tracks time minute-by-minute, and when the time is gone, the client has the option to buy another round of time. Before using TimeCamp, it was difficult to keep up with the budgets for each client and sometimes we would work over the budget or miss an opportunity to sell more time.
With TimeCamp, we get email notifications when we have exceeded 80% of the budget for the package of hours. This is our reminder to provide our client with an option to purchase more time before they run out. Now we are getting paid faster and rarely exceed the budget.
And one more thing – TimeCamp saves me hours of time formerly spent on preparing payroll.
Who would you recommend TimeCamp to and why?
I would highly recommend TimeCamp to companies providing services that are project-based or billed hourly and who have a need for budgeting time. Other time-trackers I've explored do not provide the same level of customized budget planning.
I read on your blog that you have over 8 years of business experience. Do you have any pieces of advice for us that could help us in the future?
Increase trust and learn to delegate. Look for tools and processes that provide transparency within your team and with your clients. Automate tasks that are transactional, but never automate relationship-based services.
---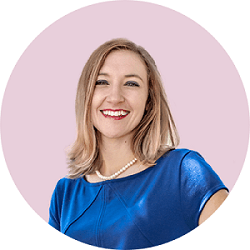 ABOUT AMBER
Amber Gray is the founder and CEO of Trusty Oak, a U.S.-Based Virtual Assistant Services for busy entrepreneurs, authors, and creative teams. Trusty Oak is a flexible, dependable, and affordable alternative to hiring administrative or marketing employees.
You can find her on Twitter, Instagram, Facebook, and LinkedIn
[relatedposts]