Stay on Top of Your Work with Magda Urbaniak! [PODCAST EPISODE #31]
July 18, 2018
by Kate Borucka
No comments
Another Wednesday, another episode of our podcast! Are you ready for another dose of great tips?
Listen to #31 episode to learn how Magda manages her time at Brand24 with passion for marketing and… tractors!
Enjoy and let us know in comments what are your thoughts on today's episode!
 You can also find us on iTunes!
Podcast Transcript
Kate: Welcome back to "Stay  On Top Of Your Work" podcast. This is Kate, your host, and today we're going to talk a little bit about brand management and a little bit about tractors because my guest is Magda Urbaniak, brand manager at Brand24, but also the founder and CEO of Tractormania.pl. Hi, Magda! It's a pleasure to have you here. Thank you so much for joining me here.
Magda: Hello everyone. Thank you very much for having me.
[00:00:40 – 00:02:18]
Kate: It's fun. So, for the beginning, I'd like to ask you if you could say a few words about yourself. Who are you, what do you do, and why are you interested in tractors?
Magda: Okay… I'm quite surprised that we're talking about tractors, also I'm very happy that you mentioned that. So speaking about myself… As you mentioned, I work for Brand24 as a brand manager. What I'm doing, mainly, is running our marketing for our company, but also I'm trying to improve, maybe speed up, our global communication along with our team. So our main goal is to raise brand awareness of Brand24 for a global market. What I'd like to think, we are doing quite well. Yes, so actually this is what I'm doing for Brand24.
And when tractors. Oh my God… We have just 30 minutes, I don't know if we have time for that. Long story short, I just had an occasion to spend some time with people who are very instructors, so they once they shared their stories with me, I thought that, because I am PR person, I thought that the image of the countryside, of agriculture and tractors is way, way different, that it's in, you know, in real. So I decided to run a blog to explain people how cool is agriculture and also I fell in love with tractors, because they're awesome machines. So, yeah… So after Brand24, I ride a tractor, sometimes I write a blog.
[00:01:19 – 00:04:09]
Kate: Awesome. That sounds amazing. I would like to talk about tractors a little bit later. But for now… You partially explained what do you do for Brand24, but what, as the entire company, what do you do at Brand24? Because people love you and you have really great reviews. So, what do you guys do for other people?
Magda:  You know, we took a lot of things. I mean, I speak for marketing, customer sucess, team. Actually, for everyone who's working for Brand24, because it's a teamwork in every sense of that meaning. "What do you do?" You know, we have to divide, I guess, our brand image here, in Poland, and our image on global. In Poland, we are well-known, let's say. I think that brand recognition is quite high, I mean, especially in the marketing industry. We all obviously wore cards to an even stronger position, here, in Poland. Talking about global, I'm super proud to say that our brand awareness is raising very fast in last 3-4 years. "What do we do?" I think that we should provide a cool product, but, obviously, we're not the only one on the market.
We're trying to educate people, we try to explain them that's we can solve their problems. I mean, we do not push our product itself, we try to educate people, help them, solve their problems and we try to emphasize the fact that Brand24 may have be here. So, yeah, I would say that what do we do to make people like and use Brand24 is to show them how their lives can be better with our tool.
[00:04:10 – 00:06:40]
Kate: Okay. So, what's the secret behind the company's success? Do you have any strategy, tools, methodologies or anything like that, or is it just a teamwork?
Magda: No. Teamwork is very important thing in here but it's not only one that works for us. I mean, we have to say that we're trying new things all the time. I mean, we see that some practices are working very well. For me, personally, it was a marketing and I see that number of mentions, number of articles, number of interviews, that we have on global market and, mainly, they are for free, like 97% of those mentions are for free. Let's say, for free, because it's our work to make people feel happy about Brand24 and say it loud in social media, on blogs, forums and so on.
What I say we're trying to combine the things that we see that work for us. It was a marketing from my perspective. But also we're very active on Quora, we're very active on our blog, which is working very well for us from marketing and communication perspective, but we're still trying to figure out new ways that can work well. Lately, again from my point of view, it was landing page that I've found out that people are looking for some phrase that Brand24 can solve, let's say, can reply to those needs, like "How to find an influencer?" or "How to manage our reputation?" So, we're trying with landing pages, for example, in general view, I would say that content marketing, well-planned content marketing is what works very, very well.
On the other side, we have to remember that tool has to be working well. So we can tell people that Brand24 is cool and it will help you with so many things about you brand, but, still, our front end and back end is working all the time, so people will come to us because we make some shout out. The product will work well. So, again, this is teamwork, but we're trying to do something new every month.
[00:06:41 – 00:08:51]
Kate: Okay. That sounds really good. So it's basically about our being also innovative.
Magda: Yeah. We have to be, you know, how to say it… In this branch, it's impossible to not be innovative. Sometimes, we're trying things that we have 0 proof that it will be working, for example. So, yeah, I will be back to my experience, because it's obviously easier for me. So the branch report last year which was the first edition this year, was the second edition of our report about top 100 influencers. It gave us… Obviously, we've got some clients thanks to this report, but we've got tons of publication about it. So people… People knew who made this report and it gave us big, big publicity on the on the market.
But to be honest, we didn't know how to do so. I mean, we're trying our best to make this report as professional as we can. Last year was, I think, it was very good. This year we've even improve that, but…  It was the very first time that we try such a thing here, in Brand24. When we went to social media marketing world this year, in San Diego, I contacted a lot of influencers. It was fantastic experience because almost all of them knew us thanks to this report. Obviously, I conducted them in the Internet, so it wasn't only report, but they all heard about it and was way, way easier for us to make some deals with them.
Also, we've got a huge interest in our target group thanks to this report. So, yeah, this is the one example of things that we try for the first time and worked well. Obviously, there are some things that we are trying and, well, there is not success in every time, but thanks to that, we're trying new things, we see what can work well, and we definitely have to try something new. Yeah, we're growing it also. There's not a way.
[00:08:52 – 00:12:08]
Kate: Yes, trying is good. So, how, according to Brand24 but also according to you, can we create a successful brand?
Magda: This is a general question… I think that there are so many ways that we can use such a way. What I want to emphasize here that, obviously, do recommend using Brand24, but you will have to know what is social listening in the first place. This is something more than media monitoring, which is not that obvious term for people, too. So, we have to think about what people say about us, what people like, what they dislike, what they hate even. So, one way to use brand media monitoring and social listening to track all mentions about us, about our company.
The second thing is to track mentions about our industry. For example, if you have a restaurant, so you can track, for example, mention which starts with "Can anyone recommend a restaurant in Paris?", for example, or, I don't know, in Warsaw, or wherever is your restaurant. So you can see how many people are looking for something, for some service that you can provide because there's some… I think… is some… It's not an issue… This is sometimes a challenge to explain people, especially for smaller brands, that you don't have to be like a Air France or some other huge brand to track mentions about you. Because checking mentions about yourself is the one thing.
The second thing is truck mentions about industry, because people share their needs a lot time. Brands just ignore it, those mentions. It's huge potential in the Internet to interact with people who trying to get some recommendation. They send queries, they want to have any opinion on, a recommendation about something and it's super easy for brands to go there and interact with people. It doesn't have to be trying to brag about ourselves. Sometimes, about helping people and they will go back because they feel like "Okay. This brand really care about me."
Third way of using social listening to grow up good company is to track our competitors. This is not that may be clear for some people, but we can do that and we should do that, definitely, to see whenever people like in our competitors, about them, so we can, maybe, improve something in our company, or, maybe, what people dislike about our competitors, so we can provide them that solution or we can help them. So we have to also have a picture about what people think about other companies. It doesn't have to be our direct competition. Just we have to feel the needs of the people and, believe me, they shared their needs a lot of time every day on the Internet.
[00:12:09 – 00:15:19]
Kate: So once we have all that information about mentions, about our company, what can we do with that information?
Magda: It's a good question, because sometimes we have good data and if we feel like "Okay, that's cool.", "Looks awesome.", or "Looks not that good. Let's skip this data." I trying to explain people that reacting to mentions is the one thing and it's super important, it's crucial, and we have to do that every single day. But the other side of social listening is gathering a lot of data. So after one week, two weeks, months, I don't know, a year even, you can take a look at your data, you can see how many positive mentions you've got, how many negative. And if it's, for example, 18 to 20 – okay.
This is automative tool, I mean, don't demand filter you can think that this is not a lot of negative mentions, maybe sometimes they're not really negative, But if you have 50 to 50 positive or negative mentions, it shows you that, okay, people don't like something about your brand. I don't think is helping ourselves is trigging or improving our marketing or PR strategy, because you can easily see where are the people who are looking for something that you can provide, or talking about you.
For example, I don't know, some marketers I feel like they've heard that "Okay. We have to put  money on Facebook, because everyone does that." But when you go to the project, you see that your ally is between Arlington or, I don't know, maybe on some groups that you had no idea about. Another thing is that you can track people who are most influential in your branch, you can engage them, you can talk about them, why they mentioned yourself, or why they talking about something related to your brand, you can thank them whenever they said something nice, or you can explain something when they complain or something like this.
We have also something is a very cool feature. When you scroll our dashboard, you can see cloud of work, also see what are other words that people are using often when they type this very particular word that you set a project for you. It also shows you what is the atmosphere about your company. So, I'm totally aware that it's not that clear for the people who are playing with social listening tool for the first time.
That's why I think, I'm sure that educating about this one is super important because it can bring us a lot of this very important data for our brands.
[00:15:20 – 00:17:39]
Kate: Well, that's a lot of information and it's a good information, of course. What do you think are the most common mistakes people do when creating a brand?
Magda: From my perspective, and now I am I talking about my perspective when I see my friends are creating companies and when I see companies on the market, that people are so focused on their own tool, on their own service that they don't monitor their environment.
I mean, they feel like "Okay. I can do something awesome I know people need it." But they don't examine the market, they don't ask people what they need. Okay, maybe they need something, for example, this thing about the day needs some nice cups for coffee, right? But anything like "Okay. I can create one. My cups are the best. They're sweet, they cool, they very instamigrable…
I don't know this word, but I've heard that if something really fits the Instagram.
Doesn't matter. But you get my point. But you don't check that if there's any other companies. Maybe they… this people want cups for coffee because they feel like it's cool, but there are some other suppliers that do that for years and they prefer them. Maybe your prices are too high comparing to others, maybe it's right that the price are so high, but you have to think why people should buy your product. So, I think it's also… this is very general question, so I'm trying to point out one thing that I feel like people skip in the strategy.
They are thinking a lot about what they can do for the people but they don't think what exactly people want. Maybe there sometime during the year that they want that product more than in other time, maybe you think, I mean, you should think about the location or specific language that you have to promote. So, my conclusion for the questions – that people are too focused on themselves and their product or service than on the customers.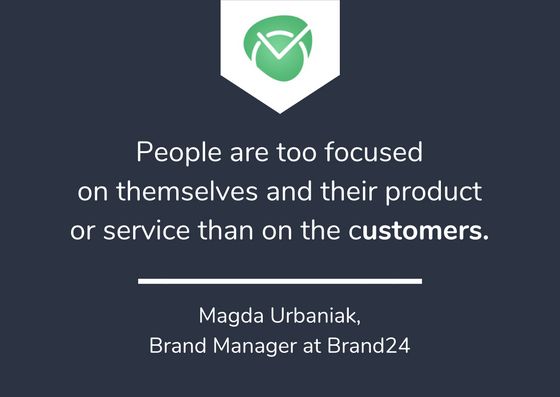 [00:17:40 – 00:20:01]
Kate: Okay… So, are there, maybe, any good practice this and tools which should we use when creating brand image in social media? Or maybe not really? Of course, beside Brand24?
Magda: Yeah, sure. Obviously. I'm thinking about other tools. I think that we can try with scheduling tools that will help us to manage our profiles. Because, you know, I also know people who are solopreneurs and they are working on something else at their social media presence. But it's also, at the same time, very important for them to have this presence and it has to look good. What I do recommend is to create a social media strategy that will be implemented with time, and you can schedule all posts that you will publish in one place for all platforms. So, I'd recommend to use those tools.
Yes, social listening we also mentioned. You know, I'm thinking aloud. Maybe Google Trends? I don't know but lately, I'm using all the Google trends and I really like this tool, platform maybe, rather, but also helps me to see whenever people raise in their talks more. Also, I curate my content to the insights that I've got. I would say that we have to have tools that will do something for us, like I said, social media management tool.
Another hand, the tool that will give us the insights what people are interested in, what they are talking about, and trying to combine them together in our work. I mean, obviously, we have to use our brain at the end of the day and, actually, during all the day. But let's try to use those tools smart. Other thing is that I feel like people sometimes think that tools will do the job. Tool is just a hammer and it won't… It helps us against increase some work, but we have to know why we use that tool, what exactly want to get from them and let's do that.
[00:20:02 – 00:23:48]
Kate: Okay. I have to switch to the more creative part of the podcast and talk a little bit about tractors, because you are extremely interesting person because of your passion for tractors. I'd like to ask you if you somehow combine what you learned at Brand24 into your work with tractors, or not really?
Magda: Very interesting question. Yeah, I've got a lot of thoughts about what works in Brand24 and what works for my tractormania thing and my conclusion is that what works for Brand24, doesn't work for tractors. But also is very interesting, because some people claim that some solutions doesn't work anymore because they don't work in the technology industry. And this is space for me to say like it's not exactly what you're saying, because, for example, some practices that are totally, let's say, old-fashion in technology industry, works very well in tractors, let's say, tractors wise-environment.
I'm trying to think what's is similar… I think that it's common for every sector that we are growing more and more social media. I feel like something that work also good for tractors, I mean, magazines, they have to make some room for Internet. And some companies in the agriculture industry doesn't understand maybe yet that people prefer to looking information in the Internet. Actually, this is why I manage to raise my blog, because farmers, because my audience are mainly farmers, which I love, they decided they prefer looking for solid information about machines, also entertainment, because there are thousands of authors on YouTube that people can imagine sometimes.
You know, I'm super-surprised, because when people at some conferences, for example, from… not YouTube but this company that helps youtubers to stand out… Oh my God, I forget the name… But I like them a lot. I mean, they mentioned that they work with farmers-YouTubers and people laugh. I was quite mad because though like "Come on, guys! You feel like there's no camera or Internet on the countryside?" So, you know, there's so many stereotypes that are working in tractor industry that I'm trying to fight with.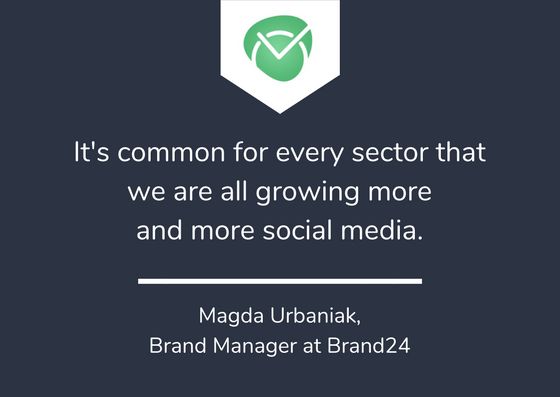 But if going back to your question – is there anything common? It's hard to tell, you now… I feel like they're both super-innovative, but it's hard for people who are not working, runs tractors, let's say, that it is in agriculture but it is. I bet that tractors that are produced right now are way, way more innovative than most of our cars when it comes to technology and so on. I know that for people it's hard to imagine that tractors have air-conditioned and TV, but…Yeah. I would say that they both super-innovative, even it's hard to imagine.
[00:23:29 – 00:26:13]
Kate: Nice. It's good to know. I'd like to ask you, also, what inspires you in your work and what books do you read?
Magda: Okay. So, maybe I'll start with books. So, my room is filled with books about, it's no surprise, it's marketing and PR because I write for PR and I'm PR person. I am digging into marketing for 3 years now, so it's… yeah… it's so mainly books about something that can help me develop my skills. Recently, I read the book, Pathleen book. Because it was published in Polish, and I feel like it's… yeah… it's easier for me to this kind of book read in Polish. Another side, I have some biographies because I love them as this is what I read, mainly, and what inspires me.
I am I in a surprise, but what really motivates me it's… data. And I'm surprised because I was super… I wasn't a huge fan of trying to measure everything. I thought like, "Some things we have.. had just feel, they have to get some insight, but you cannot measure everything." And now, when I combine some tools, for example, I combine HeapGru with analytics, I can see so many numbers and, you know, it fascinates me sometimes and it's not only because it works. Sometimes, it doesn't work at all and it's also a surprise.
So, yeah, I would say that digging into numbers and seeing that's something that I do brings some solid numbers. Yeah, I would say that that motivates me, but also I have to say that I really like the team that we work in and I think that some conversation the people who are drawing ideas help me to feel like, okay… It's creative team. I feel like the spirit is very good and it's simply nice to work with them. So, yeah, I I would say that both thing, that human aspect and numbers.
[00:26:14 – 00:27:53]
Kate: Okay, that's nice. My last question will be how do you stay top of your work, and how do you manage your time and work and daily duties?
Magda: Managing my time, it's super challenging, to be honest, for me. This is something that I work on constantly but I use two tools for that. One is Trello and this other tool is Toggl. I used Toggl because I felt like I had so many tasks, or it wasn't even so many tasks, it was just. I don't know, three or four task for a day, and in the middle of the day, I so that I am just in the middle of the first task. I was so disappointed and I thought like "My God… This is me?" or "What's happening? Why I cannot accomplish as many tasks as I as I wanted?"
I figured out, thanks to Toggl, that I I didn't plan my time well. I mean, I thought like "I spend 15 minutes on my emails every day at the morning," and thanks to Toggl, I found out that it is two hours. And there were more surprises like this… So, it helps me to show how many time I spend on a task and I improve my planning for the future. And, obviously, I keep my Toggl. I open it and every day in the beginning so I can scale somehow my day. And, yeah, at the end of the day I see how many time I spend on each task and which of them I accomplished. So, yeah, tools, tools, tools.
[00:27:54]
Kate: Fantastic, because TimeCamp, as you may know, is also time tracking software, so I encourage you to try it out. It's really great.
Magda: Okay. So you mentioned… I mention the competitor, so you guys can feel like I'm super-honest in this podcast, but I, yeah, I will try it for sure. So it's nice to hear there some option and I will give a try.
Kate: It's nice to know that someone uses time tracking software. It's very cool.
Magda: Yeah. That's true.
Kate: Okay. Magda, thank you so much for the interview. It was my pleasure to talk to you. It was really fun. Thank you very much.
Magda: Thank you very much for your time. Bye-bye.
Kate: Bye-bye.
Thanks for listening!
---
Connect with Magda
Twitter || LinkedIn || Website
---