Why Use Free Task Software?
Tasks are part of our work and private life. But with all the distractions and responsibilities we have to deal with, making sure all tasks are completed properly may be challenging. It's easy to get confused and lose track. That's why it's important to organize all assignments. And using a free task software can help you do that.
There are numerous apps that help to manage tasks. Some of them are simple to-do lists, others are extensive software including project management features. Of course, when you're choosing such tools, you should consider such aspects as the industry you work in, the business model of your organization, whether you work as a freelancer, remote worker or in the office, and what types of features you'll need to address all your business needs. Think it through because not every task software will be good for you.
Nevertheless, using such apps has only benefits. It helps to organize and schedule work, keep you updated on the task or project's progress, optimize processes, and automate work. If you haven't implemented the software yet, it's high time you did.
Take a look at our list of 5 free task software which can tremendously enhance your work. What's more, you can integrate them all with TimeCamp, our time tracking software, for even better results.
HeySpace is an innovative and intuitive task management software with chat. It is somewhat a combination of Slack and Trello but with more advanced features. It not only helps in managing projects and team but also improves communication and processes taking place in an organization. Here are the most important features:
Thanks to its design you can see three boards in one place – your team and spaces (different channels), chat, list of cards with tasks.
You can easily convert part of your conversation into a task.
The board with tasks allows you to see all projects in one place.
Every task can be adjusted – you can set date, assign people to it, add tags, description, files, comment on it. All to keep you updated on task progress.
The feature of workspaces allows you to create many spaces, if, for example, you work for various organizations or have different clients.
Pleasant and intuitive interface.
HeySpace gives you space to freely and smoothly organize tasks and projects. You don't have to switch between apps and tabs. You have everything in one place!
Take your company to another level.
Sign up for HeySpace today!
MeisterTask is an online project and task management tool designed to be as helpful as possible in the project management process. With the tool, you can monitor the progress of your projects or help the team members to collaborate with each other seamlessly. Its main features include:
Kanban projects boards that adapt your workflow
Project monitoring
Task management
Smart automation for efficient work
Integrations with other project management and task management applications such as Google Drive, Slack, Dropbox or GitHub
This software provides the approachable and productive environment to you and your team. It combines the elements of project management, collaboration, and task management. You can use it to quickly create projects for team members, and assign task effortlessly. The tool helps you to monitor all the phases of project implementation. MeisterTask has free apps for iPhone, iPad, macOS and Windows.
Price: Free for up to two integrations; $9 per user per month for more reporting and integrations features.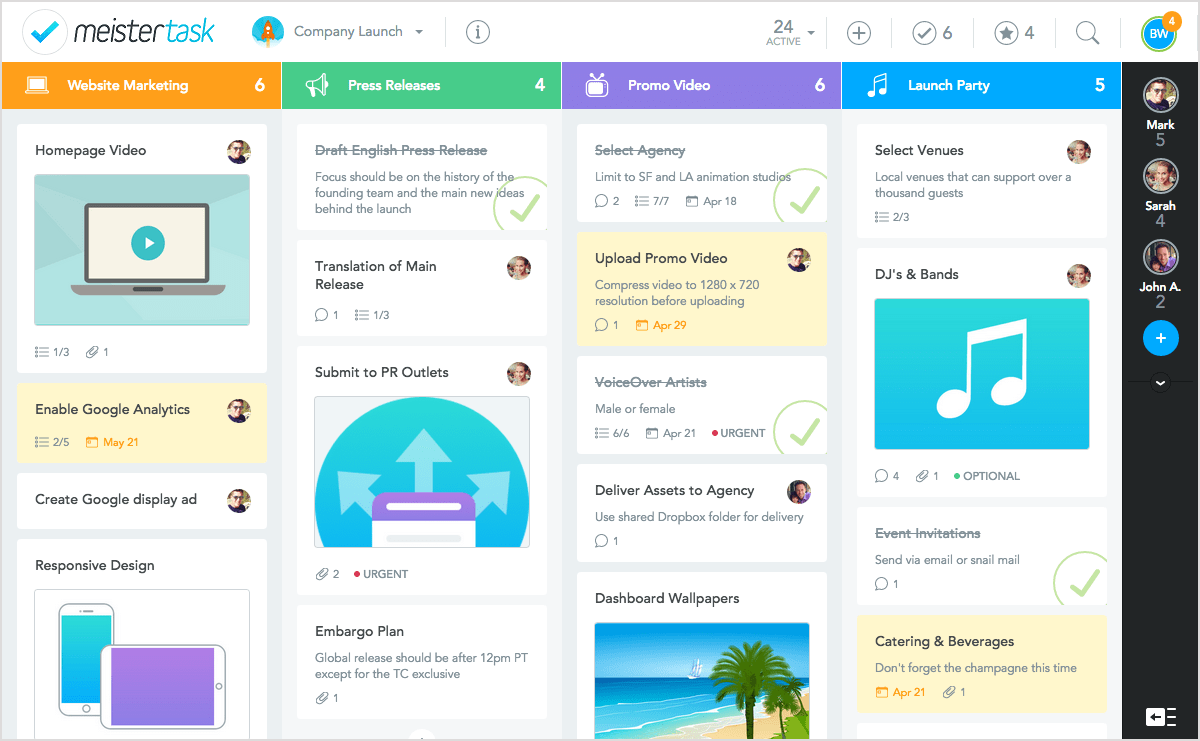 See TimeCamp integration with MeisterTask 
and integration with MeisterTask via Zapier
Todoist is a to-do list app and task manager. You can get all your tasks out of your head, put them in Todoist, and the app will keep them for you. This free task software allows you to prioritize your tasks, give them different categories, assign people to them, and set due dates. You can also monitor your productivity and measure performance. There are also numerous integrations available.
With Todoist, you will finally keep the peace of mind and make sure all your tasks are under control.
Price: Todoist is free for projects and tasks. For additional features, like reminders, filters, labels, and templates, users must pay $29 a year.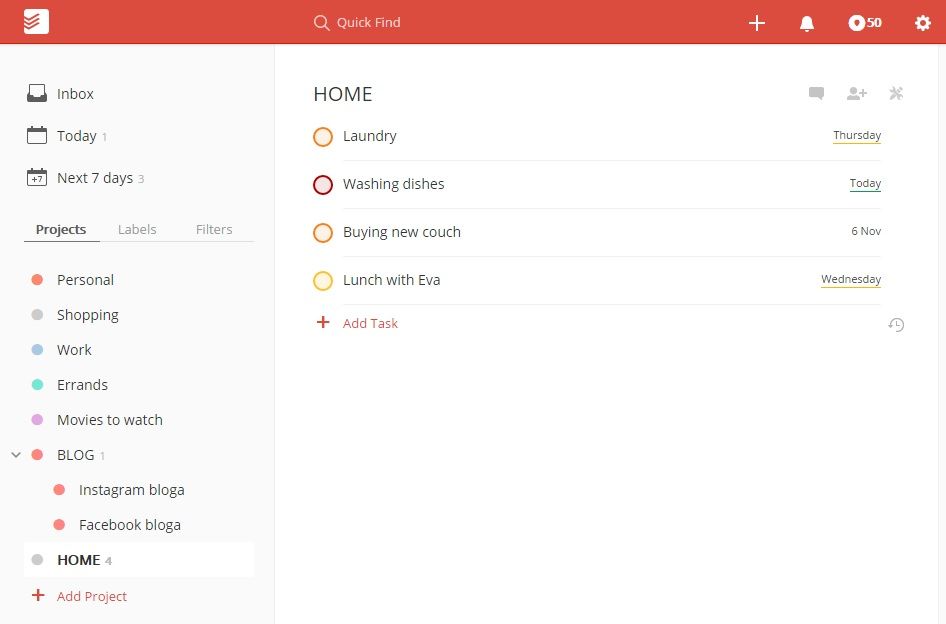 See TimeCamp integration with Todoist
Trello is one of the most popular and best free task software for everybody. You can use it on your own or with your team or even the entire company. It allows you to organize all tasks and projects in one place in a transparent way. 
Trello is a visual board for managing and planning tasks. Even though it has a simple design, it has many useful features. You can create different boards for different teams, adjust cards settings, repeat them for recurring tasks, comment on tasks, and use many other fancy options. Trello has a wide list of power-ups which help to enhance work and collaboration.
And the big TimeCamp and Trello power-up make task management extremely convenient!
Price: Free for unlimited projects and users. Users may choose to purchase Trello Gold to up their card attachments to 250MB. Businesses may opt for Trello Business Class, which costs $8.33 per user per month, paid out annually.
See TimeCamp integration with Trello
Asana is a task and project management software which allows you to keep all the data in one place. It's best for teams who need to keep a steady workflow and make sure deadlines are always met. Your team can easily organize and structure their work and then follow and monitor it. In Asana you can visualize the project to make sure things are going the right way, eliminate risks and negative outcomes before they even happen.
It's a fantastic tool for any type of team. What Asana says is, "with Asana, your crew can shoot for the moon, and get there. All it takes is one small step…"
Price: Free to $9.99/user/month and up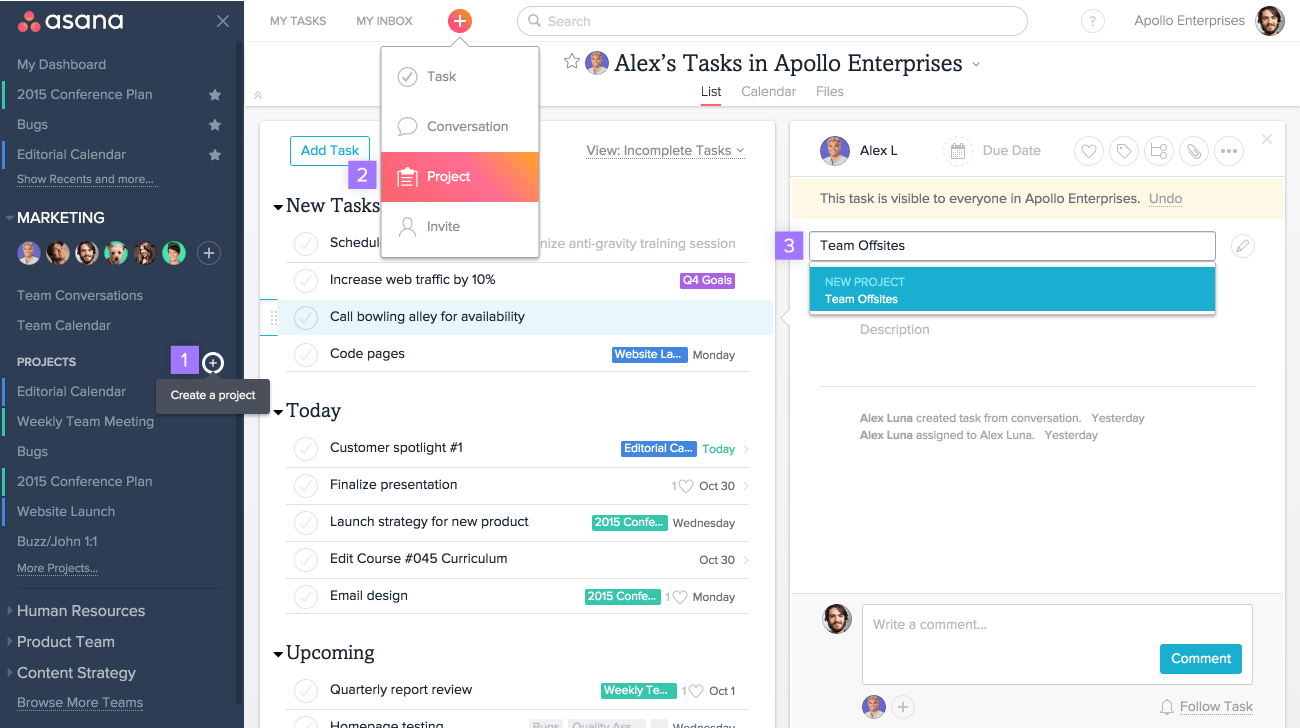 See TimeCamp integration with Asana
Related posts