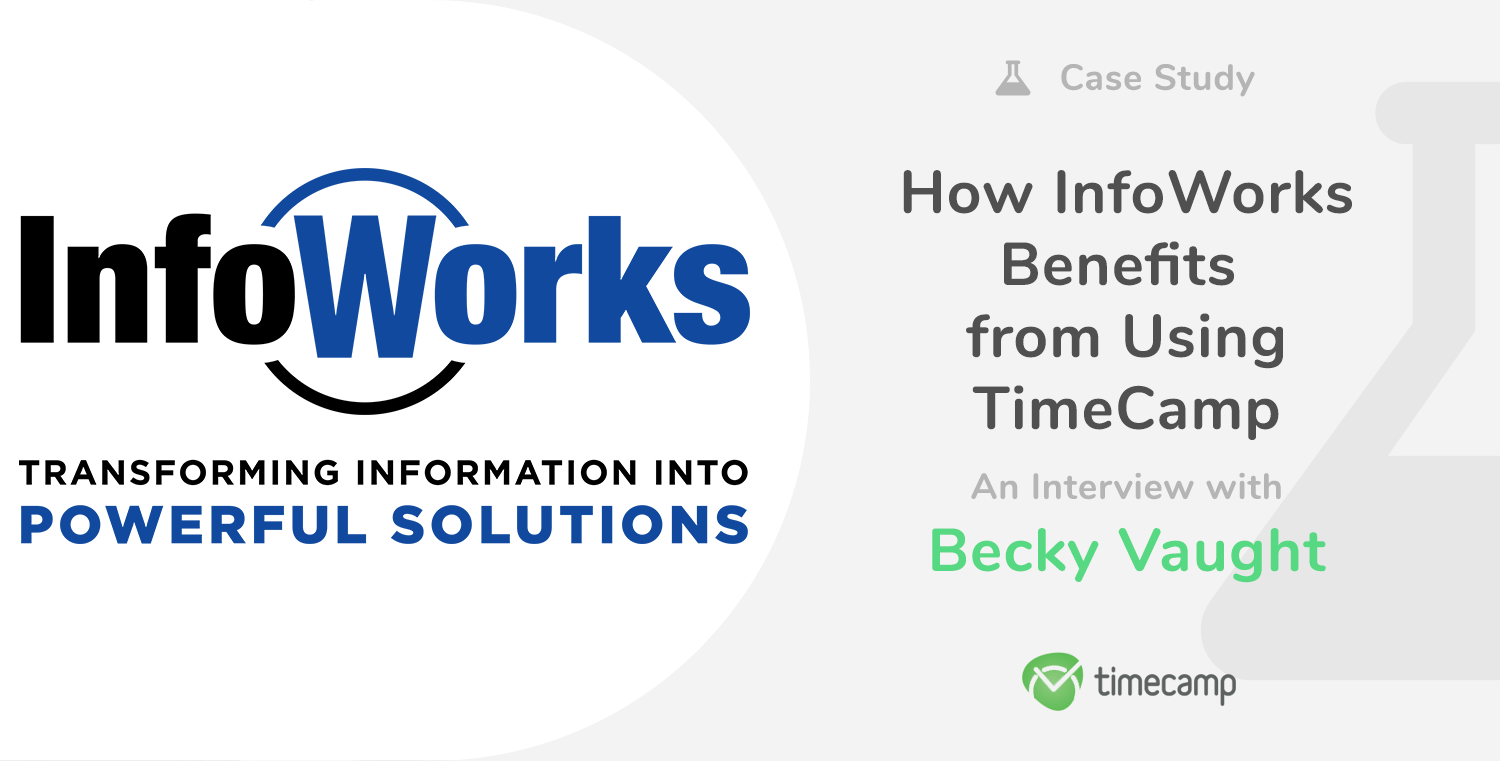 TimeCamp is used by customers from all over the world. Small, large businesses, and freelancers find the tool helpful. And we want to constantly improve and work on our software to provide you with the best possible solution. To help our customers become more profitable, accountable, and productive, we want to know their opinions and problems. But we are also happy to hear good words from our customers. That's why we share your stories. We want to learn from your experience and show others how they can benefit from using TimeCamp.
Case Study: How InfoWorks Benefits from Using TimeCamp – An Interview with Becky Vaught
Read our interview with Becky Vaught from InfoWorks and find out how the company uses TimeCamp,
and how our software helps them in their daily work.
How did you find out about TimeCamp?
Our company utilizes a custom-built, time-tracking system for our weekly timesheets, invoices, and expenses. As a B-2-B consulting firm, our invoices are sent to the client in the best way that fits their needs. One of our clients needed our invoices to represent the number of hours an employee worked per work item; whereas, our time-tracking system only provides the number of hours an employee worked per project. I began searching for a web-based tool that could provide that level of granularity, which is how I came across TimeCamp.
How had your company been operating before you implemented TimeCamp?
Our business still operates relatively the same as it did before we implemented TimeCamp. What has changed, is our ability to adhere to our client's wishes and delight them with minimal customizations to our existing time-tracking system.
How do you use TimeCamp – is using our software beneficial to you and in what way?
At the beginning, we utilized TimeCamp for its basic time-tracking capabilities and would then pull a custom report and manually match it to what an employee entered in our time-tracking system. This process was painful for all parties involved and caused several hours of additional work to ensure each system matched. We created a custom API that integrates directly with our time-tracking system and TimeCamp. In addition, we created a tool (we dub, TimeCamp Helper) that allows a project lead to quickly insert the list of their work items at the appropriate hierarchy needed.
How does using TimeCamp affect employee productivity?
Honestly, TimeCamp is an extra step for our employees. However, the benefit of having this web-based tool far out weighs the additional step. If we didn't have TimeCamp, we would have to track work items in Excel and no one wants that.
Which features do you find most useful and why?
The entire reason I chose this tool was because I could add work items in a hierarchy (e.g, Project -> Sprint -> Product Backlog Item -> Task). If TimeCamp couldn't meet that basic need, we would have chosen a different tool. Since we've started using it, I have found some additional features that are super handy: graphical timesheet view, custom reports, and the ability to view/edit anyone's timesheet as an Admin.
Did you have any problems implementing TimeCamp?
No, I didn't experience any issues implementing TimeCamp.
Can you imagine working without TimeCamp now?
I can't, honestly. We now have 48 users utilizing TimeCamp and several project managers who manage their project's work items on their own, which was the dream really.
Do you have any pieces of advice for us that could help us in the future?
As an admin, I'm usually the first to hear if TimeCamp is experiencing issues. Many times, the issues resolve in time, but sometimes I have to reach out to TimeCamp support. It would be nice to receive notifications via email from TimeCamp when you are going live with a change/hot fix. It would be nice to be on the front end of any problems/changes.
---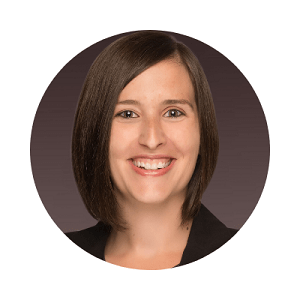 ABOUT BECKY
Rebecca Vaught is an Operations Analyst at InfoWorks. She's been at InfoWorks for five years and has worked in a variety of roles. She started out in a dual role consisting of project-specific work and internal, operational work. She transitioned to consulting work for a healthcare client two years ago which leveraged more project management and business analysis skills. She's now in an Operations Analyst role which focuses on executive reporting and integrating disparate systems and web applications to reduce duplicate, manual data entry.
Connect with Becky: LinkedIn || email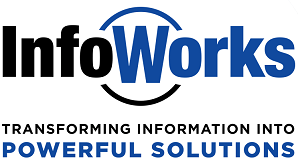 ABOUT INFOWORKS
InfoWorks provides total solutions that consider and impact your entire business. They combine the right core competencies with diverse expertise and deep industry knowledge spanning across analytics, management, and technology for many of the largest companies in the Mid-South. They will tailor strategies focused on getting clients into new revenue streams, create technology solutions that help leapfrog competitors, provide role-based work to augment your existing projects, and work with company leaders to create metrics and dashboards that enable data driven decisions all to drive successful, lasting results. With our 20+ years of experience, they have amassed a diverse mix of people from industry veterans to new and fresh thinkers with the agility and experience to help you navigate the unknown and maximize positive impacts on every level. For more information, visit www.infoworks-tn.com.
Related posts