Real-time location tracking apps are on the rise. Many employee monitoring tools already have the feature of real-time location tracking. Some are even designed specifically for tracking employee location. That's not surprising at all. In the era of remote work, which allows people for flexibility, it's common that they often change location. But some jobs require often travels. There are truck drivers, salespeople, or employees who are often on the road because of work duties.
Hence the increase in using real-time location tracking apps. Integrating such a tool with the already used software has many benefits:
automatic location update
detailed location history
source of important data on employee's activity
ease of use
integration with other tools
All that can help in workflow management, scheduling, resource management and allocation, and overall project management. It can also largely optimize and automate work.
So which app should you choose? Many options are available, but not all of them are worth considering. Interactive maps are the most common choice. But having a map is not enough. While it can help in navigation, it doesn't bring any benefits to the business.
Luckily, there are tools which are more than just a map. They have useful features perfect for demanding users. Here are the 5 best real-time location tracking apps!
Spyzie is a user-friendly real-time location tracking app. It is a professional monitoring solution provider specializing in tracking and monitoring tools for smartphone users. It's a simple software but has many practical features. With Spyzie you will be able to monitor employee current location and their phone activity.
The great thing is that you can use Spyzie not only for business but also for personal needs. It's also designed to protect kids from online threats and make sure they are always in safe places.
Main features:
GPS location and Geofencing
Tracking the Target`s locations via Wi-Fi hotspots
Apps activity
Monitoring phone calls
Monitoring communication apps
Supports iOS and Android, available on the Cloud
Pricing:
iOS – $39.99/month
Android – Premium Edition (With Restricted Functionality) starts from $29.99. Ultimate Edition (With Full Functionality) starts from $39.99/month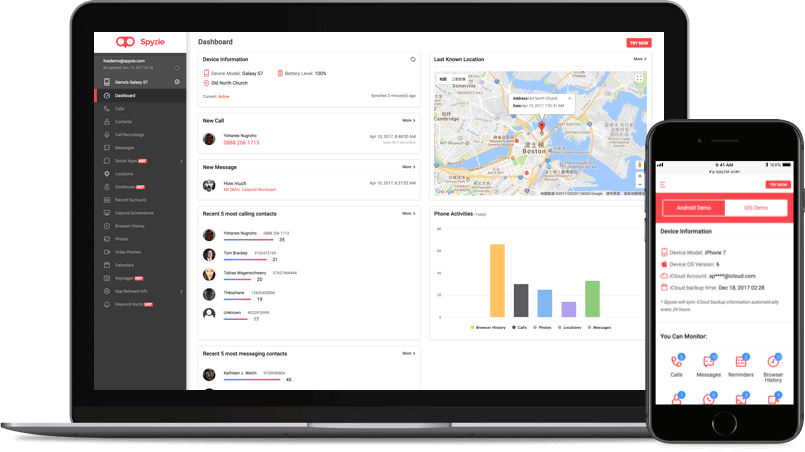 Hoverwatch provides a solution for employee monitoring which helps managers and leaders to secure their commercial secrets and intellectual property without oppressing employees.
This app is a simple solution for employers who want to track what their employees do at work. It works best if your employees use phones provided by the company. Additionally, if you use it as a "spy", the app will work in a stealth mode and track your employees' location (and activities) without disturbing them at work.
Main features:
Phone tracker uses Wi-Fi signals, cell towers and GPS to track the location of the monitored device
Tracks to-do lists
Screenshots
Phone internet history
Contacts and message history
Pricing:
Personal – from €

24.95/

month/track 

1 Device

Professional – from €9.99/month/Track 5 Devices
Business – from €6.00/Track 25 Devices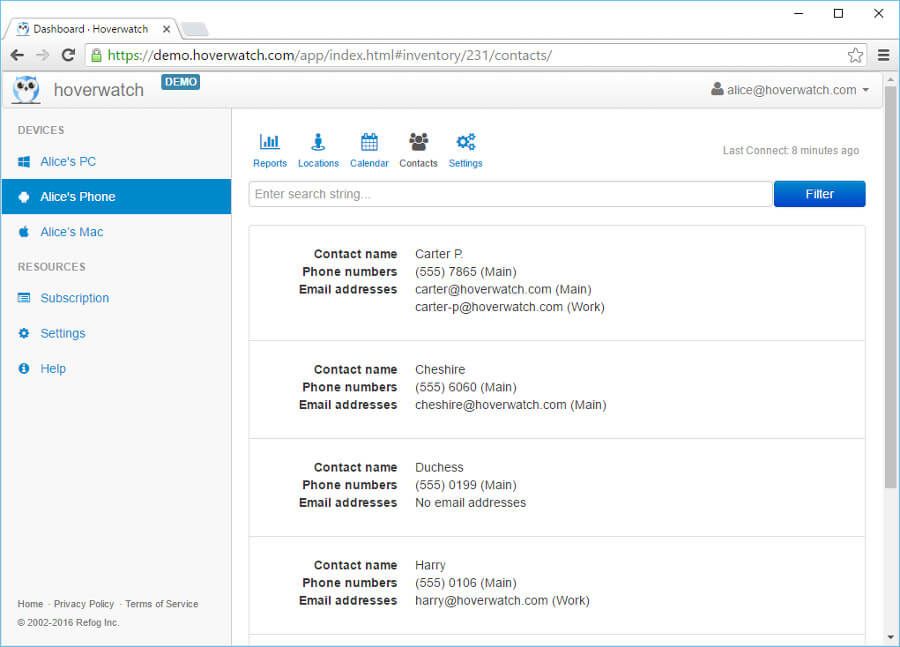 TSheets is known mostly as a time tracking software. It provides detailed reports on employees' activity, regardless of their current location. But TSheets has more features than a simple real-time location tracking apps.
It's suitable for a small and large team, for those who often travel as well as for remote workers. With TSheets every manager can monitor employees' activity and location. If you need advanced software with extensive features, TSheets will be a perfect choice.
Main features:
GPS location tracking – real-time insight into who's working on what and where
Real-time coordination – GPS shows which employee is closest to the next job site so you can assign them appropriate tasks
The mobile app log and updates employee's location throughout the day
Convenient time tracking with the mobile app
Scheduling
Employees can clock in and out in real time and enter their time manually,
Advanced time tracking features enable your employee to customize time entry for fields, projects, and tasks
Pricing:
Free for one user
$5 per month for 2-99 Users per user + $

20

 base fee per month 
$5 per month for 100+ Users + $

100

 base fee per month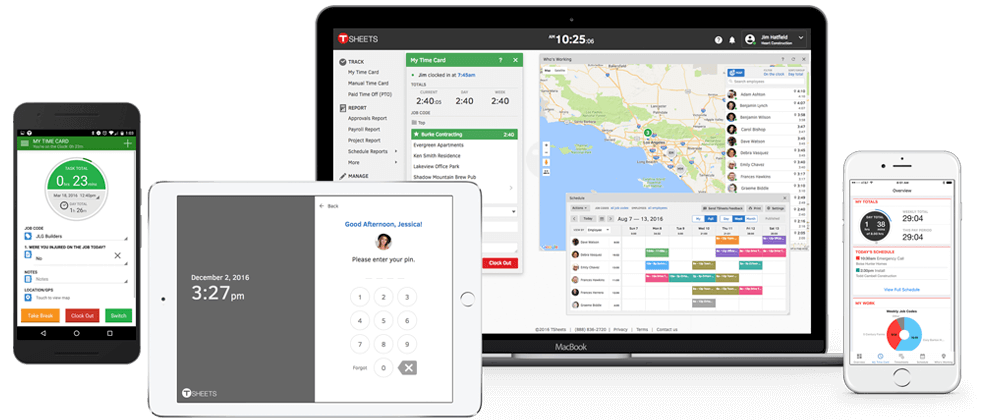 With GPS tracking feature and Trace Mode feature, TheTruthSpy can help you trace company's vehicles, transport employees to anywhere in the world. TheTruthSpy can help you make sure they arrive to target place safely and on time. You can see your employees' location, and phone history with just one click. It's somewhat a spy software but it's also a great real-time location tracking app for those who need a basic solution that would allow them monitoring employees work. All without disturbing them.
Main features:
GPS tracker with detailed information on location and road traveled
Location history
Internet browsing history
Contact history
Installed apps history
Pricing:
Standard – $21.99/month
Premium – $25.99/month
Gold – $30.99/month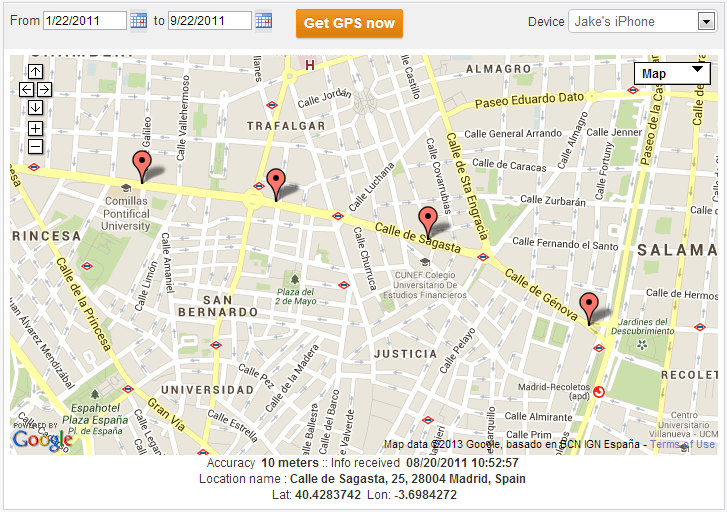 Hubstaff is one of the most popular time tracking software. But it also has the feature of location tracking which makes it a simple GPS time clock app. Hubstaff is a great software for monitoring work of employees who often change their location and travel on a regular basis. They can easily clock in and out with just one click and provide you with insights into their work
Main features:
Mobile time tracking to track employee hours in transit and time at the destination

Location monitoring – tracking through GPS, web-based reports

Online timesheets
Team dashboard
Reporting
Numerous integrations
Pricing:
Free – 1 User

Basic – 

1 User – 

$5/ month

Premium – 

1 User – $

10/ month
See the comparison between TimeCamp & Hubstaff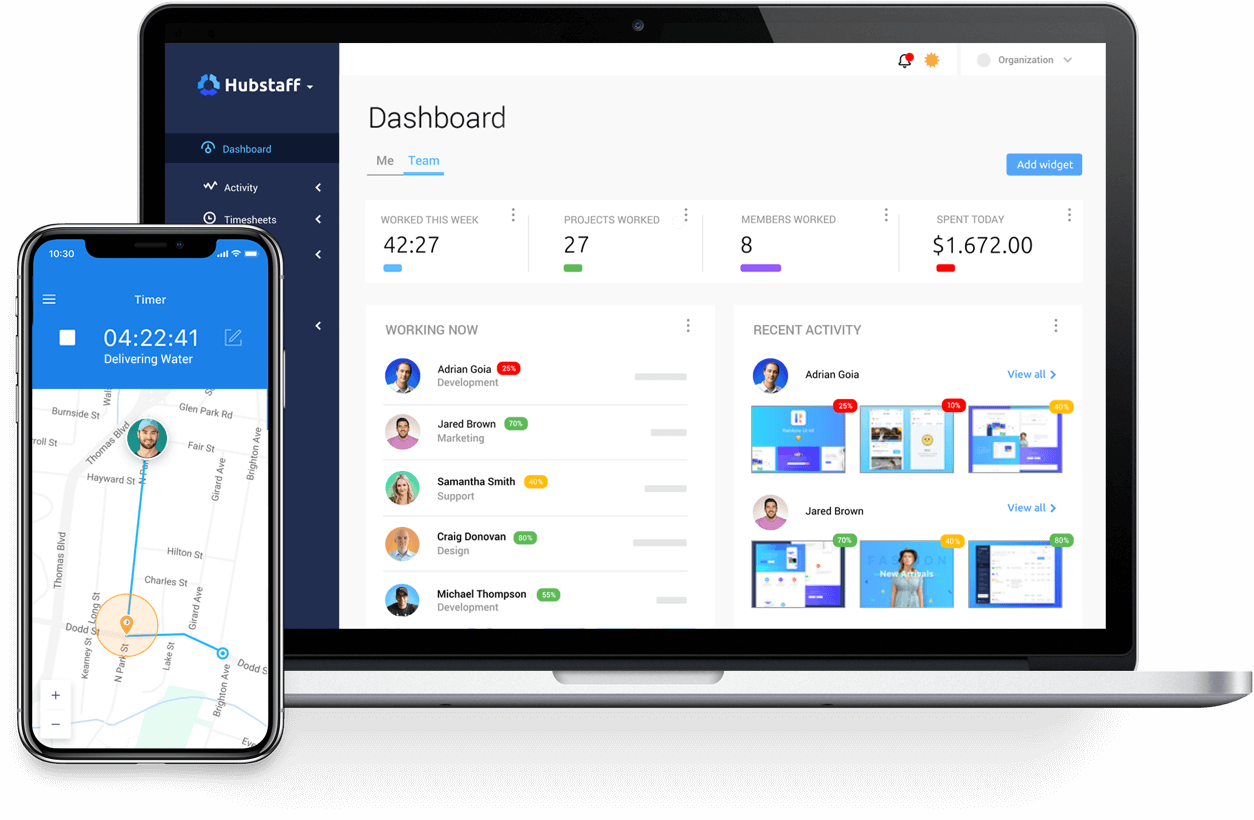 Summing Up
There are many real-time location tracking apps. Some are simple, others are complex and may be part of something bigger, such as Hubstaff or TSheets. Whichever solution you go for, make sure they address the needs of your business and your employees. And remember, don't use such software to spy in your employees. Respect their privacy and their rights. Collaborate with your team to achieve the best results.
Related posts