TimeCamp is now redesigned!
As many of you probably know, TimeCamp wasn't pretty. Like one of our users stated on Capterra: 
"TimeCamp is very straight forward and powerful. It shows. It's UI is not filled with the typical "eye candy" some sites have as a means to hook you into their product". 
We know that ease of use, flexibility, and simplicity of the graphic design of TimeCamp for many are it's biggest advantages. However, we hear the voices of all those who don't like the lack of "eye candy". We accepted the challenge of designing a clear, bright and pretty UI, without being distractive. 
Today we announce the new design of TimeCamp's web version!
Why redesign TimeCamp?
Freelancers, agencies, businesses big and small, all use TimeCamp to increase productivity, prove their hard work to their clients and bill them accurately since 2009. TimeCamp has been evolving and growing, together with our customers for ten years now! We took it as a great opportunity to show our users that we listen to their feedback and redesign our web app.
TimeCamp is now pleasant to look at… 
TimeCamp is a clean, easy to use software with barely any learning curve at the beginning. We wanted it to stay that way and at the same time to refresh the interface with a more modern look. Bright backgrounds and crisp elements of UI are working well with colors available in TimeCamp projects and tasks.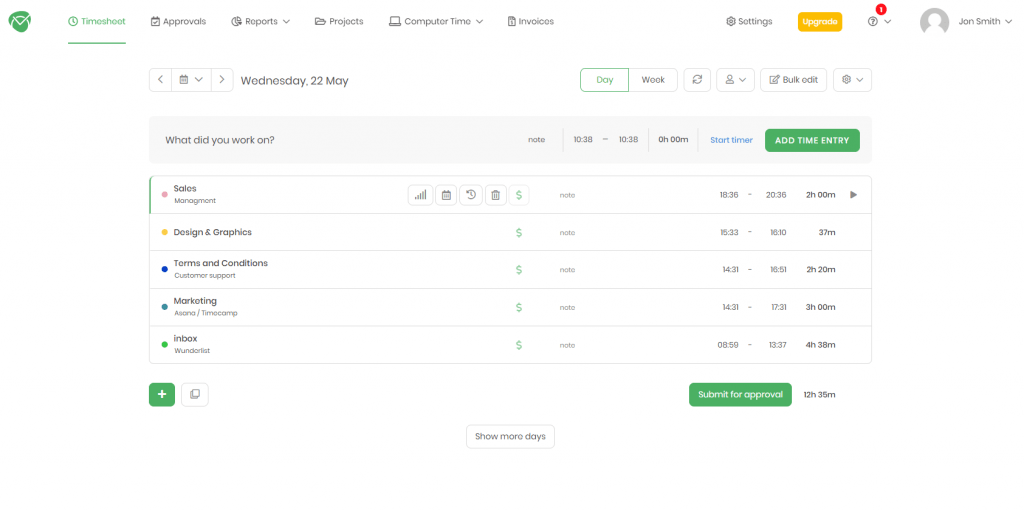 …and also even easier to use! 
We've fixed a lot of minor, and some major UX and UI bugs in the projects module, graphical and day timesheet, as well as in the new color feature. Improved functionality will allow project managers to assess the team's workload and productivity with greater certainty. Moreover, improved readability of the software will contribute to making your time management easier. 
However, there is one thing you should know about TimeCamp new design – it looks best when you check it out yourself, so don't hesitate and log in to your account or sign up for a free trial 😉
Thank you!
Many thanks to all of you who left feedback regarding TimeCamp's redesign. We are also extremely grateful to all of our customers who write to our support team with suggestions on TimeCamp's development. We read all of them and plan our future operations and updates taking them into account. 
We couldn't do it without you. Thank you!