Our perception of career has changed over the last years. Especially, among Millennials and Gen Zs who now constitute almost 50% of the world's population and are the major workforce. These generations need more freedom and flexibility and are not afraid to look for new opportunities.
All employees, no matter what generation they belong to, want to work in a friendly environment where they don't have to stress about their job. In particular, when it comes to finances. People tend to change jobs more often for one simple reason – money.
As a result, companies experience a higher turnover rate and need to take extra efforts to provide their employees with stable and well-paid jobs. Because a happy employee is a productive employee.
According to a survey on corporate Health & Well-being from Fidelity Investments, financial security programs are the third-most-popular offering from well-being programs.
What Is Financial Wellness?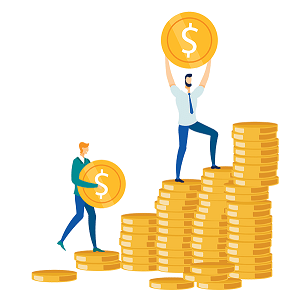 Financial wellness means to be fiscally healthy. It means that employees know how to manage money. They are able to establish short-term and long-term financial plans, know how to smartly spend money, invest and save it.
But whether an employee will achieve financial stability depends also on the employer.
That's why it is so important for a company to take care of its employees. Apart from benefits or 401k plan, it's important to provide employees with the right tools and give them access to sources such as courses and special training.
Why Is Financial Wellness Important to Employees?
Currently, Millenials constitute the majority of the workforce. And it's commonly known that this generation has some serial financial issues, including debts and student loans. When it comes to Gen Zs, who are now entering the market to become another large part of the workforce, they learn from the mistakes of the previous generations and place a strong value on financial wellness.
Both of the generations are looking for stable jobs that would give them financial security. That means they are more willing to change a job if offered a higher salary.
What's the Impact on the Workplace?
In a survey conducted by APA, 62% of surveyed consider money as a perennial stressor. And there are numerous studies on stress and its relation to productivity.
Stress about fiscal problems causes employees to lose focus and is the no.1 distraction from work. Also, when people are stressed for a long time, they are prone to experience health problems such as anxiety, depression, or sleeping disorders. This leads to absenteeism, lack of motivation and a decrease in overall productivity.
When employees have financial stability, they are happy. And when they are happy, they are motivated. The financial wellness of employees means a happy and productive workplace. And what follows, strong and stable business with a steady income.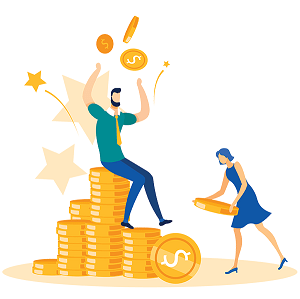 What's in It for the Employer?
The trends related to financial wellness – shift in career perception, unstable job positions and frequent jobs changing, absenteeism is not valuable for the employer at all.
Companies need to face the problem of high turnover rate, higher costs of hiring new employees, and other expenses related. High turnover usually means the loss in the budget. Hiring new employees means spending more money – more work for HR department and more money spent on its processes.
Creating financial security programs results in motivated employees, the ability to hire and maintain top talents, and creating a happy and satisfying work environment. If, as a project manager or a leader you will take care of your employees' financial stability, it will result in better work performance
Financial Security Programs
Employers use different means to provide financial stability for employees. The most popular and effective are financial security programs which are part of well-being programs.
Education Programs
SHRM's Financial Wellness in the Workplace Survey, sponsored by McGraw-Hill Federal Credit Union, specifies several ways in which companies can educate their employees on financial wellness:
Seminars during work hours using outside speakers

Seminars lead by trained in-house staff

Mandatory seminars or training

Paper resources (pamphlets, handouts)

Seminars outside of work hours

New-hire employee orientation

Self-directed e-learning

In-house newsletter

Employee assistance program (EAP)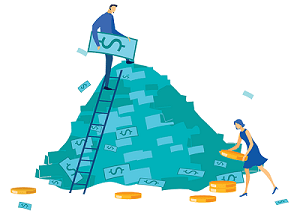 It's always a good idea to mix various ideas to provide the best solution adjusted to employees' needs.
Every project manager or a leader should have in mind that the fiscal health of a business depends also on the financial stability of its workforce. So helping them to build awareness and extend education is one of the easiest ways to contribute to the company's success.
Long-term Programs for Employees
These programs have different forms and depend largely on the business and the sector in which it operates. They bring many opportunities both for the employer and the employee. As more of them emerge, it's becoming even easier to opt for the adequately optimized solution:
Companies partner with local institutions to provide their workforce with training and courses. Their aim is to help employees master skills and gain new knowledge that would give them better job security.

Some businesses introduce

student loan assistance

to their younger staff to help them pay the debt.

Another form of aiding employees is through hiring financial assistants

The most traditional form of financial wellness programs is financial benefits.
To Wrap It Up
It's worth investing in financial wellness programs as they will provide stability of your business. Employees will feel appreciated and motivated. That will translate into higher productivity and better results.
What are your thoughts on financial wellness and work performance? Let us know in the comments!
Related posts