7 Best Real-Time Trackers With GPS
September 13, 2019
by Kate Borucka
No comments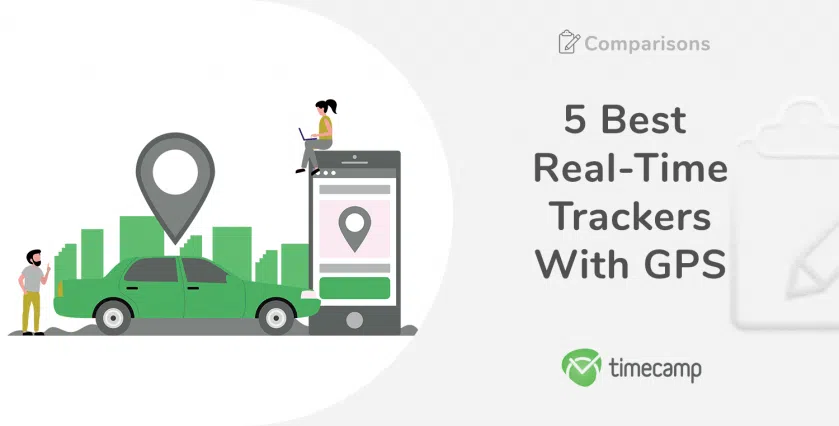 Real-time trackers with GPS are gaining more popularity in today's world. They're used by small and large companies, various professionals, and individuals. Everyone finds them useful. No wonder, this superb invention helps millions of people around the globe to save hours on commuting and conveniently get to the desired places.
Whether used separately, as a vehicle tracker, or as an integral part of a larger software, real-time tracker with GPS is a must for many enterprises. Without it, it's impossible to plan and schedule, organize workflow or manage a fleet, and monitor employee activities. Sometimes a tracking device is necessary to properly administer work and run business. But it's important to select tracker that addresses your needs. Otherwise, working with it will be ineffective.
Also, having Google maps, vehicle tracking, or a simple GPS tracking device is not enough, sometimes you need something more. That's where a dedicated tracker comes in handy.
What is the best real-time tracker with GPS? There are numerous small apps, advanced software, and electronic GPS vehicle trackers. We've compiled a list of all of them so you can choose whichever you want. Here are the 7 best GPS trackers!
CONTENTS
1. TimeCamp  — best tracker for attendance monitoring with GPS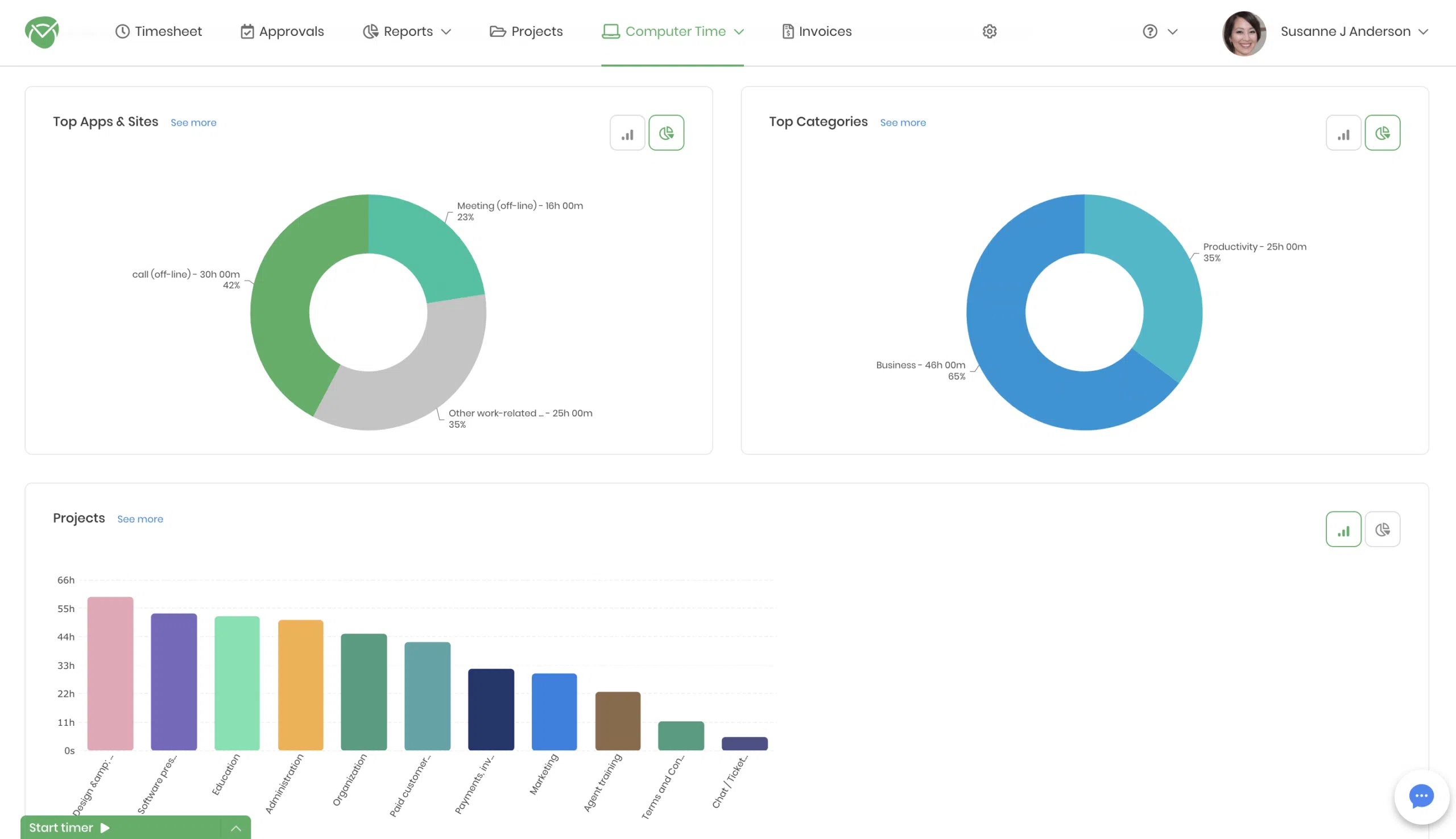 TimeCamp is a 100% free time tracker for unlimited users. It's one of the most advanced time tracking software on the market. If you're looking for a tool that will help you save time and money (and battery life of your phone) it's the right choice!
TimeCamp allows you to track your employees' work to improve workflow, communication, and collaboration in your team. Our GPS tracker provides you with the location updates of your staff to give you insight into their activities when they work outside of the office.
Additionally, TimeCamp features make it a great centralized system for project management. It has all the necessary components you need to always stay on top of work and be ahead of your competitors (even on the road)!
 Main features:
Automatic time tracking in the real-time with comprehensive and detailed reports
Accurate timesheets to know when and how your employees work
Monitoring employee activities by categories, including app and website tracking
Monitoring productive and unproductive activities
Tracking hours by tasks and projects to know what your employees are working on and what's the projects' state
Attendance management to keep track of vacations, leaves, absences, and more
Budget monitoring
GPS – (NEW feature!) can serve as a vehicle tracking device to help you localize employees
Integrations with the most popular software for project management, accounting, CRM, productivity, and more!
Available for:
Pricing:
Free – free for unlimited users
Basic – $5.25 per user (billed annually)
Pro – $7.50 per user (billed annually)
Enterprise – custom pricing
Learn more about GPS time tracking during 30-minute demo!
2. Hubstaff  — best simple GPS time clock app for employee tracking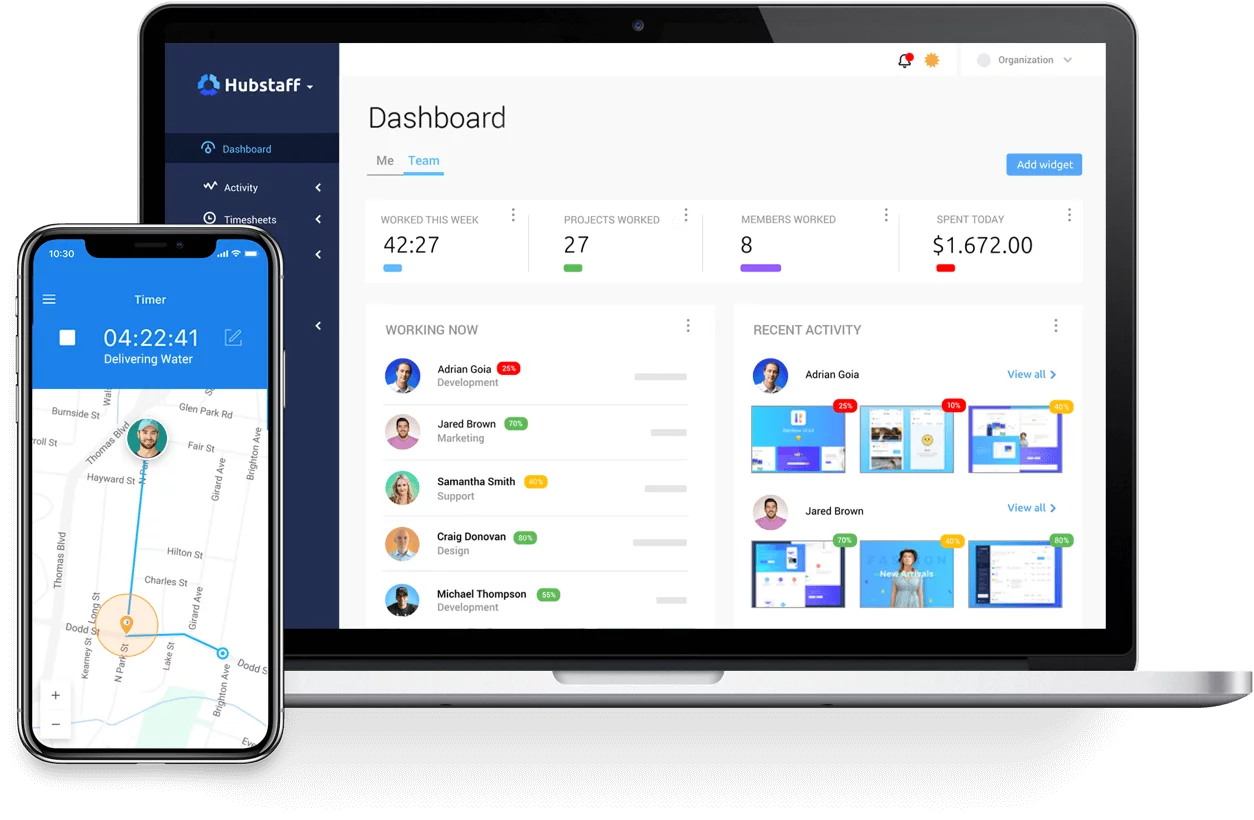 Although Hubstaff is a time tracking software, it offers a real-time tracker with GPS, so it can be used as an advanced attendance app. It's perfect for people who are looking for a tracker that is an integral part of an employee tracking software. Hubstaff is easy-in-use, doesn't require onboarding, and provides a comprehensible and transparent solution for project management. The software can be used by teams of any size, working in all types of industry, as well as freelancers.
Also, Hubstaff It keeps your battery life in normal condition. And it's a suitable vehicle tracker for employees who don't work in the office.
Main features:
Mobile app to track employee hours in transit and duration at the destination
Location monitoring – tracking through GPS, web-based reports
Online timesheets
Team dashboard
Reporting with detailed information on employee activities
Numerous integrations with other apps
Available for:
Android
iOS
Desktop app
Chrome
Pricing:
Free – 1 User

Basic – 

1 User – 

$7/ month

Premium – 

1 User – $

10/ month

Enterprise – $20/use per month
See the comparison between TimeCamp & Hubstaff
3. GPSWOX  — best GPS tracker with interactive maps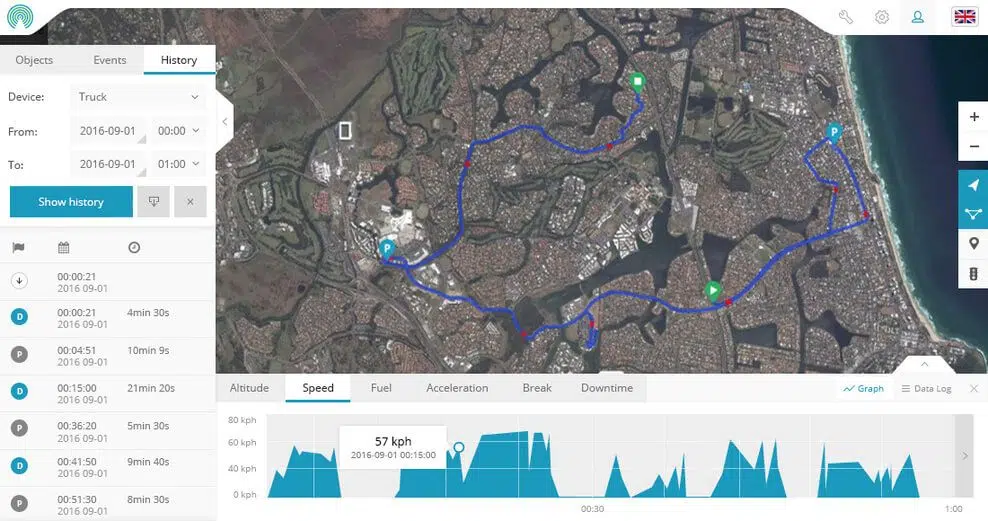 GPSWOX is an advanced solution for those who need a professional GPS tracking system. It comes with a variety of exhaustive features. The platform has everything you need to track the location of employees with GPS. It's a powerful tool that will track every type of car, family members, pet, bike, even your rollerblades, and skateboard! If you're looking solely for GPS tracking system, GPSWOX is the right choice.
Main features:
Real-time location tracking
Geo-fencing alerts: get on-time alerts to when users are entering or leaving pre-defined zones, such as a school, place of work, home, or any other area you want to designate
Driving behavior: discover if the user is speeding or participating in other bad driving behaviors, and help correct it by presenting them with the proper information
Fuel monitoring: you can also use this GPS vehicle tracking software to see how much fuel is being used and how much is left, helping you to prepare for your trips better
Added sensors: extra sensors including adding camera sensors, alarms and more
History and reports
24/7 customer support
Available for:
Pricing:
Free for 1 person
Lite – for 1 user – €2.99 / month
Basic – 1-5 users – €9.97 / month
Pro – 1-50 users – €49 / month
White Label – from 1 to unlimited users – From €99 / month
4. Spyzie  — best tool for tracking devices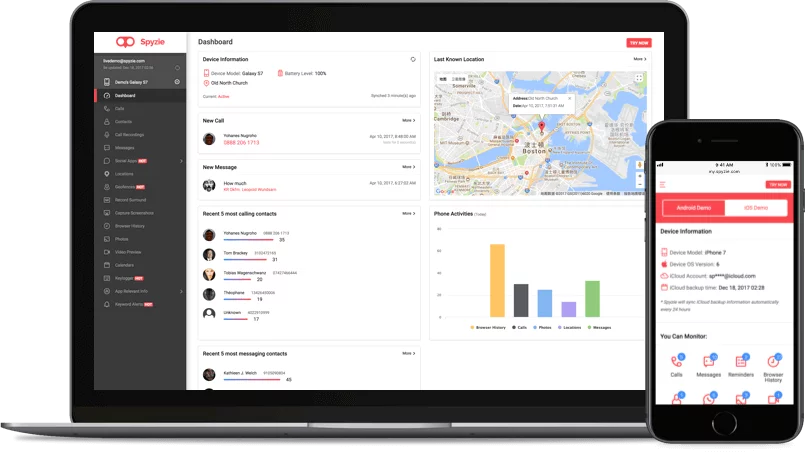 Spyzie is a little digital spy for mobile devices. Only that its purpose is to help employers and employees. It's most suitable for employers who deal with sensitive data and want to make sure employees are not breaching security protocols and the organization's rules and regulations. Use it if your employees use company phones outside work to keep a hand on all important data.
It's also a great tool for parents who want to protect their kids from the negative aspects of owning a phone. You can use it as a vehicle tracker or phone tracking device to keep employees safe, as well as to know when the phone is when it gets stolen.
Main features:
Route history to track the past locations of the device and the path taken by the user
Tracking current whereabouts of Android devices to monitor the real-time location of a device to know the exact whereabouts of the targeted user
Geofence feature
Tracking messaging and phone calls
Available for:
Pricing:
Ultimate Edition (With Full Functionality) from $49.99
Premium Edition (With Restricted Functionality) from $39.99
5. Linxup  — best fleet GPS tracker & management app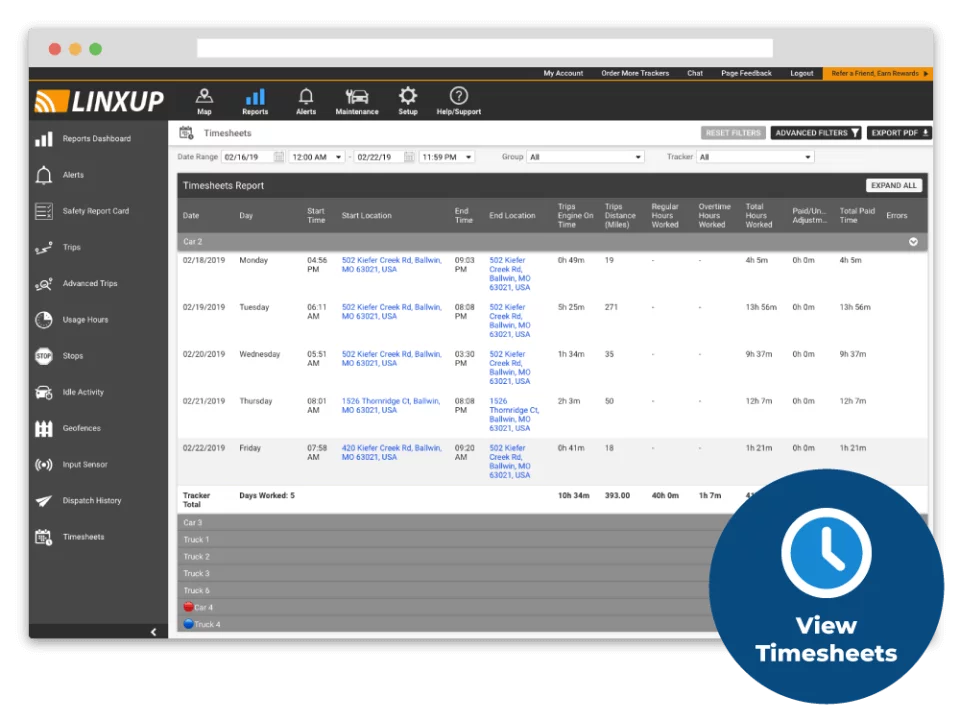 Linxup is suitable for organizations that need to monitor the location of fleets, be it small or large businesses. This real-time tracker with GPS helps to manage fleets of any size, report on their status, and track work hours to improve field productivity of your team. So it's not only a GPS tracker but also great workforce management software for your team of drivers. It gives you all information on traffic, assets, and vehicle moving.
With Linxup you can track different types of vehicles, assets, and valuables – anything you want.
Main features:
Real-time GPS tracking
Fleet updates on movement along with current traffic conditions
Driver safety report with safe behaviors
Alerts for key fleet activity
Detailed reports on vehicles' activity
Tracking maintenance schedules
Diagnostic Trouble Code Monitoring (DTC) informing about issues with the vehicles
Automated Fuel-Tax reporting add-on
Time reporting
Cold Chain Monitoring and Temperature Sensors
Available for:
Pricing:
Pricing depends on the type of the device you choose
6. TSheets  — best GPS tracker with timesheets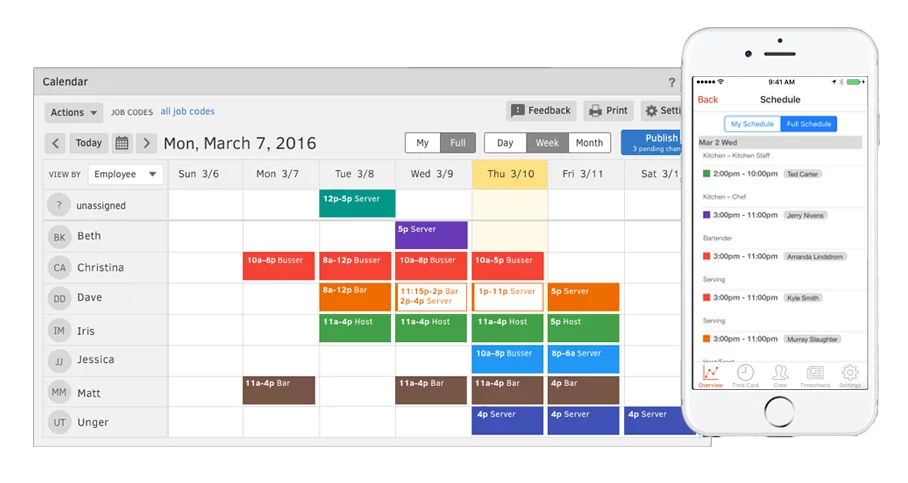 TSheets is known mostly as a time tracking software. It provides detailed reports on employees' activity, regardless of their current location. It can work well as a timesheet app that also provides information on people's activity and location. Thanks to it the entire team can easily streamline work. It's suitable for a small and large team, for those who often travel as well as for remote workers.
With TSheets GPS tracker every manager can monitor employees' activity and location.
Main features:
GPS location tracking – real-time insight into who's working on what and where
Real-time coordination – GPS shows which employee is closest to the next job site so you can assign them appropriate tasks
The mobile app log and updates employee's location throughout the day
Convenient tracking with the mobile app
Scheduling
Employees can clock in and out in real-time and enter their working hours manually,
Advanced time tracking features enable your employee to customize entry for fields, projects, and tasks
Pricing:
Free for one user
$5 per month for 2-99 Users per user + $

20

 base fee per month
$5 per month for 100+ Users + $

100

 base fee per month
 7. Turtler — best GPS tracker for field staff management
 Turtler is an advanced private and secure location sharing solution with GPS. It's best for sectors such as construction, field workers, special events and performers, public and private transportation, logistics, farming and wildlife management, sales, and all people that operate outside the office.
Turtler's GPS Data and Statistics highlight useful patterns, blind spots, inefficiencies, and opportunities for you to learn from and improve.
Structured admins and workforce hierarchy let you precisely organize and synchronize workflow. Turtler is one of the best location sharing and GPS solutions for demanding users. It also works great as a vehicle tracker for those who want to keep track of their fleet and crew.
Main features:
Sharing location with clients
View your teams in real-time and manage viewing rights
Automatic timekeeping – employees can clock in by schedules or location
Timekeeping auto logs worker's period spent at each client job site and syncs easily into major accounting software
GPS triggered alerts
Newly added customer locations can be auto-assigned based on region, closest current staff and more
You can make custom geofences for job sites, office locations, sales regions, work corridors and more
Pricing: not provided by the vendor
What Is Your Favorite Real-Time GPS Tracker?
There are many benefits accruing from using the GPS tracker, such as improved fleet performance, better customer service and workflow, increased driver safety and lower costs. But it all requires the use of a suitable tracker. So remember to use the one that will complement your current software and fit into business strategy.
What is your favorite best real time GPS tracker? Let us know in the comments!
✍ Last updated May 2020