The Best Employee Monitoring Software
September 5, 2019
by Kate Kurzawska
One comment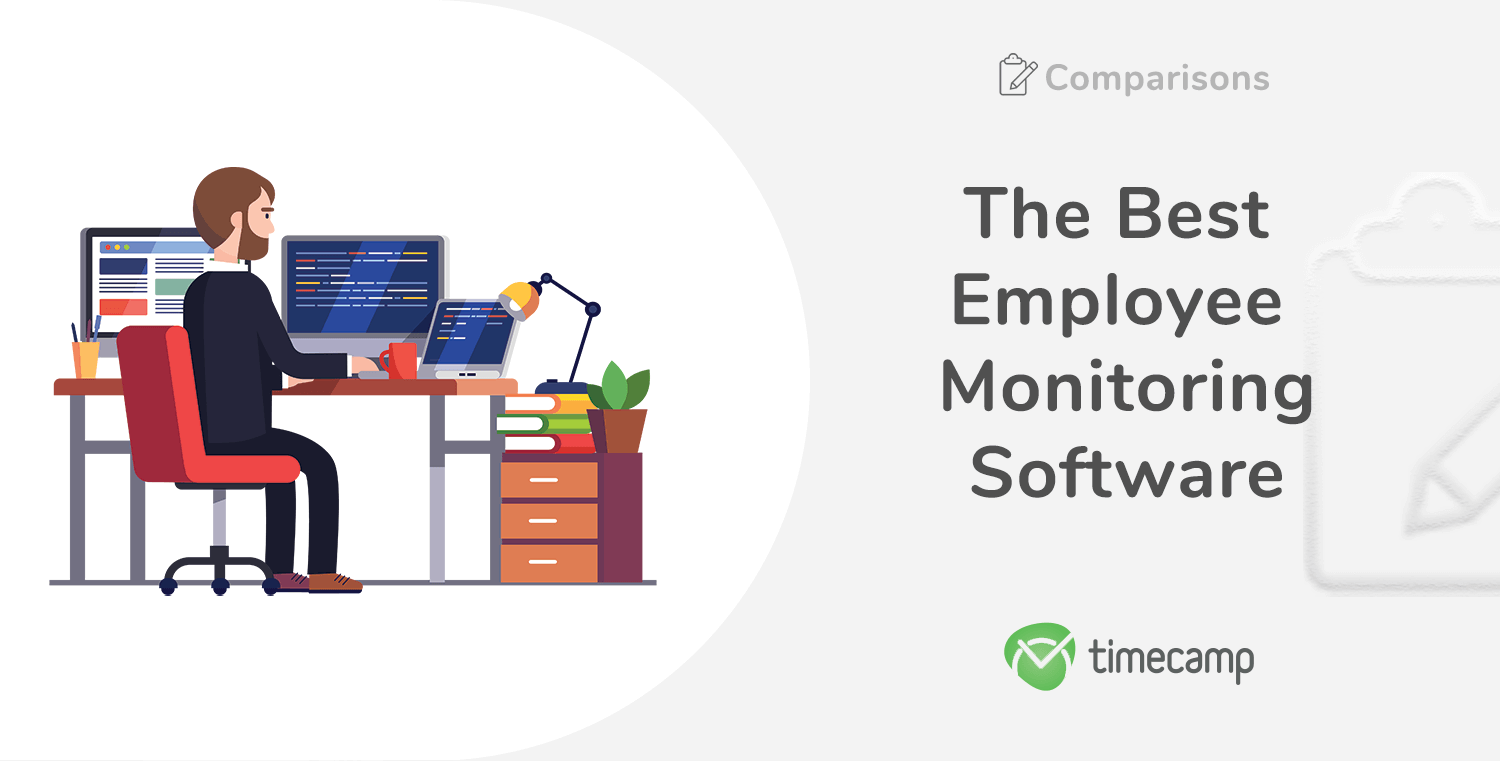 From keystroke logging to video surveillance – employee monitoring has different forms. But recently the most popular and effective is employee monitoring software. It is a popular form of boosting employee productivity and maximizing profit. It's also a practical method for preventing frauds and internal crimes within an organization.
However, there is considerable controversy surrounding the subject of employee monitoring software. That's because if used in an inappropriate way, it may bring more harm than good. Remember, employee monitoring will work only if it's based on mutual trust. You cannot spy on your employees and expect them to be happy.
What to Look For In Employee Monitoring Software?
If you implement the wrong software, it will bring more harm than good. Fancy-looking interface and modish features are not necessarily an indication of innovativeness and functionality.
Choosing the right software will bring many benefits to your business:
Increased employee productivity
Work automation and optimization of repetitive tasks
Fraud elimination
Internal and external safety of the organization and its employees
Saving money on employee retention
A good employee monitoring software should be equipped with activity tracking feature, allow your employees for flexible work, and make them feel that they are benefiting from it.
The market of software for tracking employees' activities is vast and diverse. Yet not all apps fulfill their role. To help you implement a suitable tool for your business, we've compiled a list of 9 best employee monitoring software:
1. TimeCamp
2. ActivTrak
3. Hubstaff
4. TimeDoctor
5. DeveLoop
6. Kickidler
7. Teramind
8. Pivotal Tracker
9. WebWork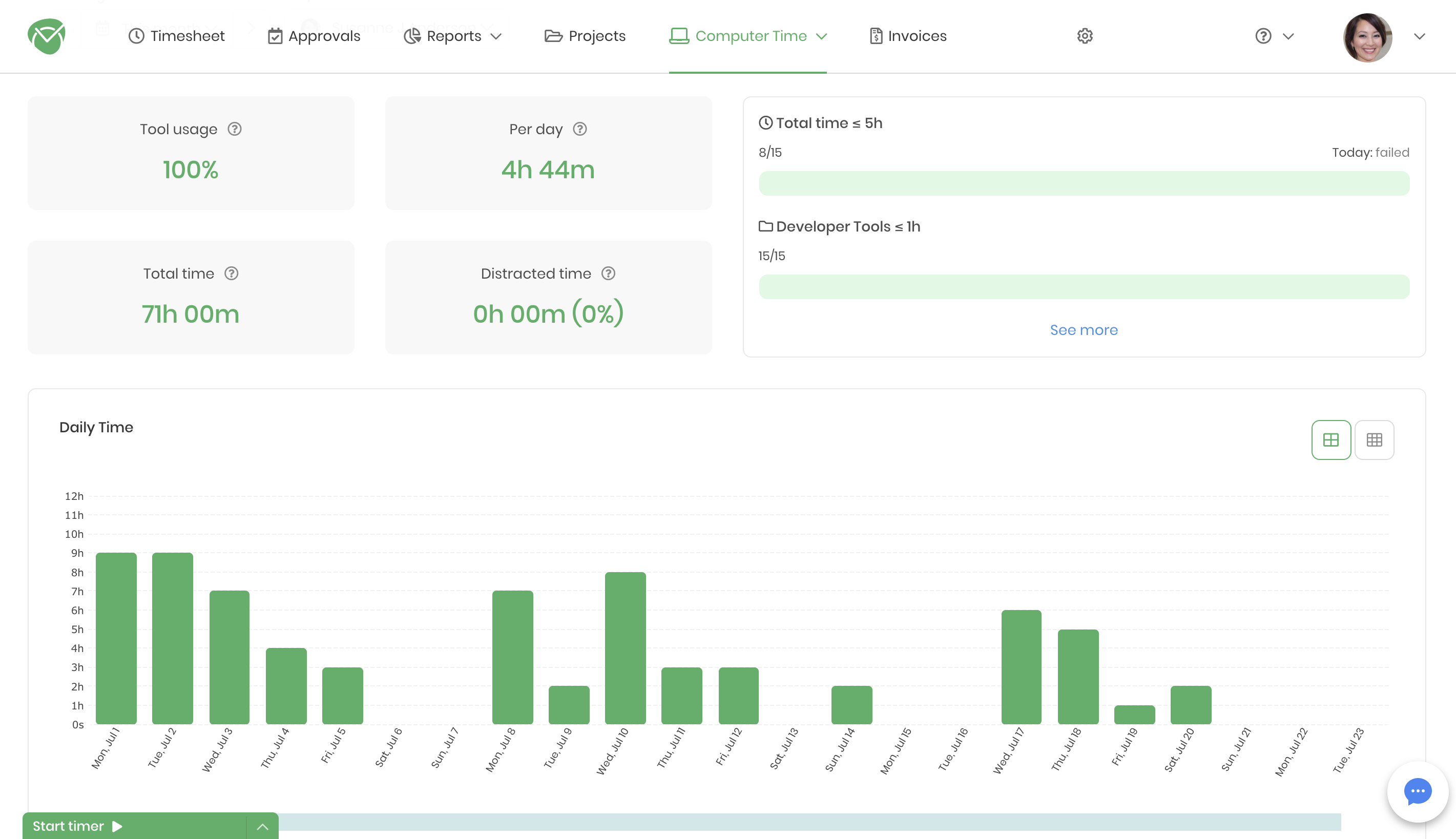 TimeCamp is a time tracking software that automatically records all activities of your employees up to the second. All data is captured by the software in the form of detailed reports and timesheets. You can learn how your employees spend their work time, when they are most productive, and what activities take most of their time.
With TimeCamp, your employees can become more productive by maximizing time spent on efficient activities, and your business can increase profit by tracking the stage of projects and financial goals with the feature of budgeting.
Your employees will keep their privacy and you will receive real-time information on your company's health.
Main features:
Comes with a wide range of platforms. The tool is available for Desktop (Windows, Mac, and Linux, and has native mobile apps available for iOS and Android to help users track their time regardless of location
Automatically records time usage of each application running on your computer with the handy desktop app
Measures the working time by particular categories
Records the time spent away from a computer – detects the idle time
Monitors productive and unproductive activities
Budgeting reports show actual vs. estimated time.
Invoicing and budgeting
An extensive list of integrations with popular project management and productivity software
Pricing:
Solo (for one user) – free
Basic – $5.25 billed annually
Pro – $7.50 billed annually
Enterprise – custom pricing
[SEOINS][SEOINS_CONTENT]Get the best employee monitoring software – sign up for TimeCamp free[/SEOINS_CONTENT][SEOINS_ICON][/SEOINS_ICON][/SEOINS]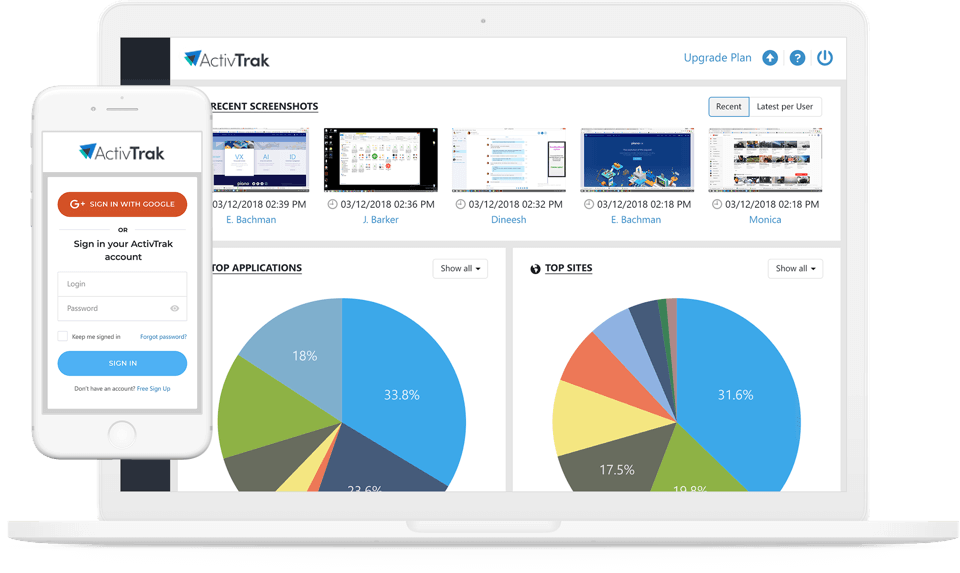 ActivTrack is an employee monitoring software for demanding users. It's a powerful tool that can provide you with valuable, meticulously detailed information. ActivTrak is an easy-to-use, employee behavior analytics software. It helps to understand how employees work by tracking their activities.
ActivTrak combines two important elements: productivity analysis and threat analysis. The two features can help your staff work productively and will keep your business safe from cybercrime and internal perils.
Main features:
Real-time activity monitoring
GPS tracking
Numerous categories of tracked activities: measuring productive and unproductive activities, top websites and applications, website history for subpages, Top Users and Top Groups, 
Searching by filters
Alarms for assessing risks within the organization
Stealth mode – employees don't need to know you're monitoring their work
Triggers for alarms and unproductive activities
Time tracking
Screenshots
USB tracking
Reports
Pricing:
Freemium – free up to 3 users
Advanced – $7.20 per user / per month with Annual Сontract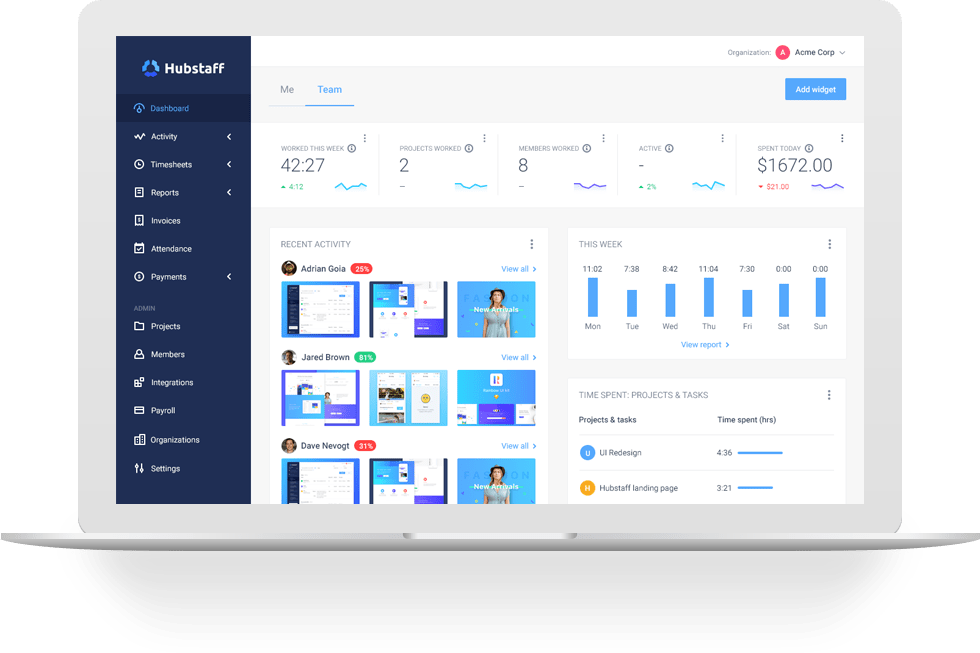 Although Hubstaff is a time tracking software, it's also a great tool for monitoring employee's activity. It's one of the most popular software used for employee tracking due to its simplicity and ease of use. 
Hubstaff is universal, perfect for teams of any size as well as individuals. It's also good for remote employees and those working in the field. Its features make it painless to manage workflow, record working hours and all activities performed on the computer.
Main features:
Easy time tracking in the real-time
Screenshots
Tracking activities with distinction to tasks and projects
Websites and app usage tracking
Employee productivity tracking
Timesheets
Daily, weekly, and calendar views
GPS tracking
Integrations with most popular productivity and project management apps
Pricing:
Free for 1 user
Basic – $5 per user per month (paid monthly)
Premium – $10 per user per month (paid monthly)
Fully customizable, TimeDoctor is the best employee monitoring software for demanding users who need detailed insight into employees' activity. It monitors the usage of apps and websites so managers can see how their teams are spending their time during work.
At the same time, employees can use the app to boost their productivity and better allocate their time. TimeDoctor is a first-class software for proper resource allocation and overall project management.
Main features:
Time tracking with distinction to tasks, projects, people
Time Doctor will monitor employee internet usage during their work time. When it is detected that excessive amounts of time are being spent on YouTube, Facebook, or browsing other personal websites, Time Doctor will give those users a nudge to check if they are still working
Website and application monitoring
Screenshots
Ability to give clients access to Time Doctor
Payroll management
GPS tracking
Range of configurable options available
Integrations with the most popular apps
Pricing:
$9.99/month per user with free 14-day trial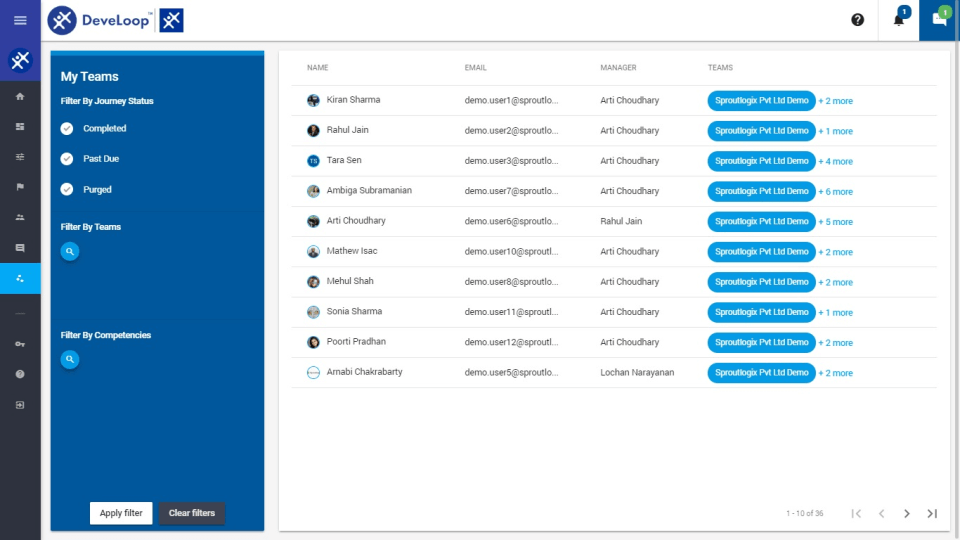 Dedicated to employee development, DeveLoop is the best employee monitoring software for managers who want to align employee skills to the business. It is a robust analytical tool immensely helpful in finding skill gaps and providing employees with relevant feedback on their performance.
DeveLoop is an advanced solution that uses AI, Behavioral Science, and Data Analytics, to create an ALX  (Adaptive Learning Experience) to improve employee productivity and increase ROI. 
Main features:
Activity monitoring and productivity analysis
Feedback management
Performance management
Individualized Learning Journeys customized to each employee's developmental needs
Smart Nudges, Reminders and 360-degree feedback to push learning and keep employees growing
Integrations with external software
Available as a mobile app for iOS and Adroid
Pricing:
Not provided by vendor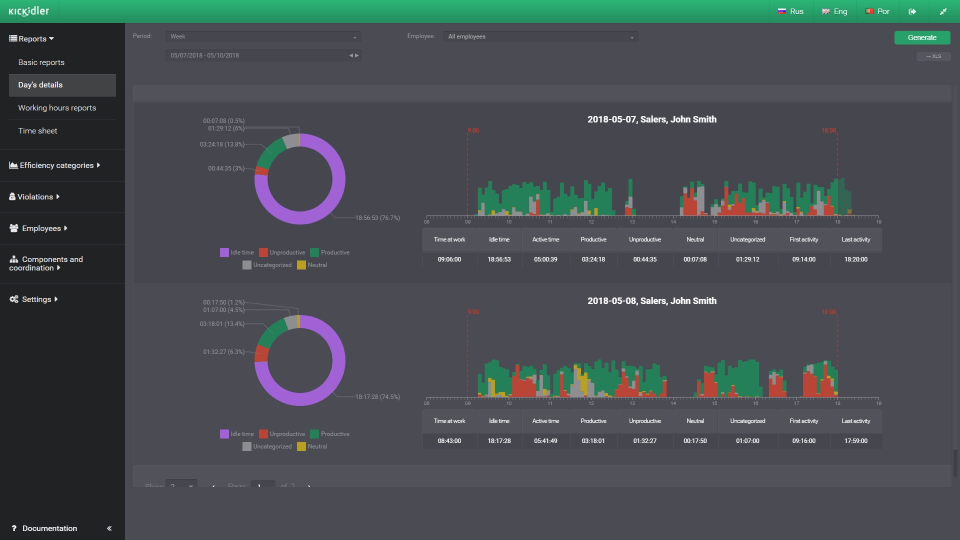 Kickidler can be used as a time tracking and employee monitoring software. Its features allow managers to track every detail of employees' work. Vast reports provide complete insight into all activities and make it easy to analyze productivity and performance in your business. Kickidler also helps in monitoring violations and employee negligence. It's a perfect employee monitoring software for people who like exhaustive data, statistics, and figures.
Main features:
Automatic time tracking with timesheets
Real-time reports
Employee productivity reporting and analysis
Employee violations recording
Screenshots with recording
Remote PC access with remote keyboard, mouse and clipboard control
Keystroke logging and monitoring
Comprehensive and detailed reports
Stealth mode
Pricing:
Pricing starts from $2 per month per license
Teramind is one of the most popular employee monitoring software. It's a fantastic surveillance and security tool as it helps to detect malicious behavior and threats to your organization. This robust solution will keep track of your staff's activities. Additionally, it boosts employee efficiency and automates work.
Main features:
User activity monitoring
Use behavior analytics – customizable alerts with full audit trail and video recording of all user actions
Industry-defining DLP features such as OCR, fingerprinting, and content discovery to prevent malicious or negligent data exfiltration
Monitoring employee activity with customizable reports to identify team, department, individual level productivity, social media use, time spent on projects, apps, and more
Compliance with law, GDPR, PCI, HIPPA, and more
Risk detection and blocking unwanted employee behavior
Pricing:
Cloud – starts from $60 per month for 5 users (with a free 7-day trial)
On-premise – starts from $60 per month for 10 endpoints (with free 14-day trial)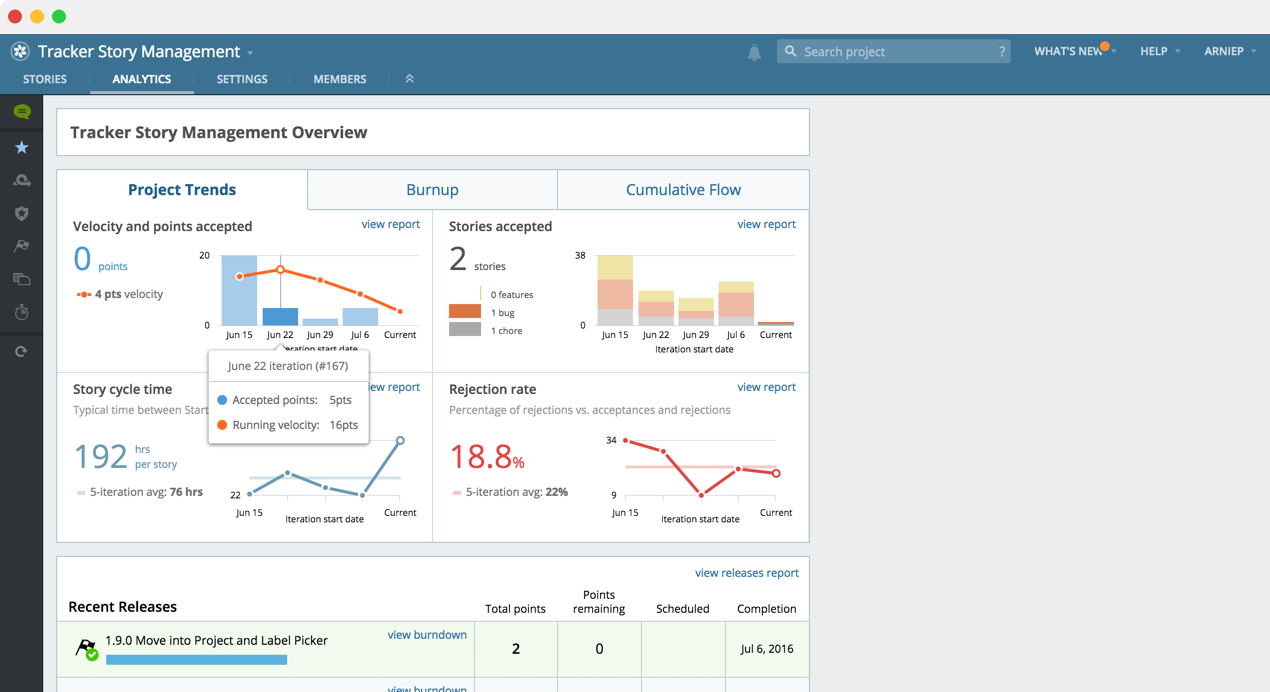 If you're looking for a software that enhances workflow and would help your team work better, Pivotal Tracker is the right fit. It tracks employees' activities and performance so everybody can get insight into each other's work, project status and workflow. People can create so-called stories at different stages of projects and set off right where they want to with their work.
Pivotal Tracker is a great software for people liking flexibility who want to be more productive and improve communication and collaboration by agile management.
Main features:
Drag-and-drop stories
Workspaces with the view of entire projects
File sharing
Mentions @ and stories following
Tasks
Project history
Search
Labels
Integrations with numerous external apps
Pricing:
Startup – starts from $12.50 per month (paid annually)
Pro – starts from $62.50 per month (paid annually)
Enterprise – custom pricing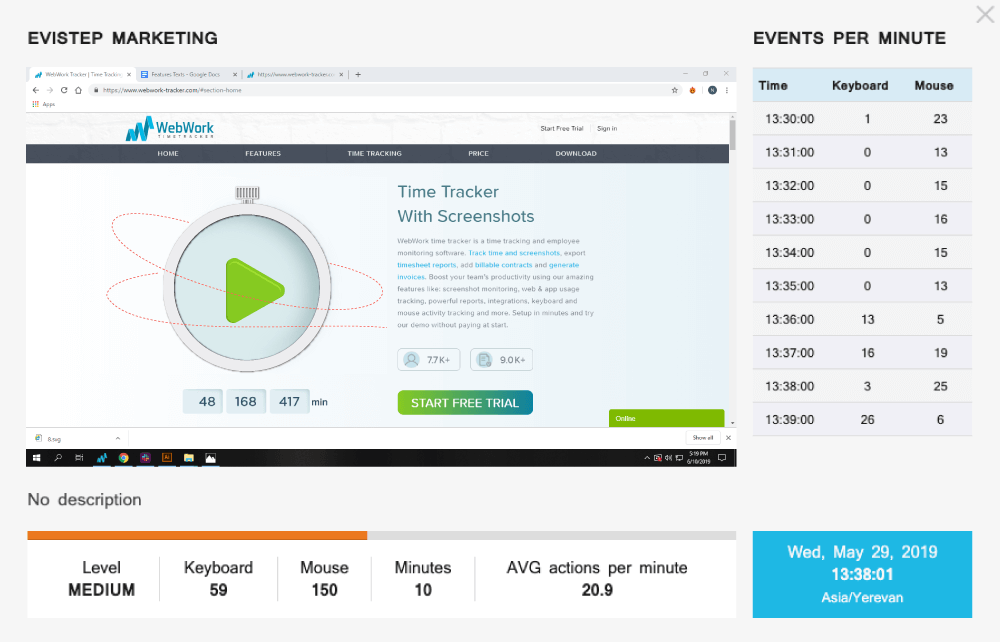 WebWork is great for freelancers, teams, and employees of larger businesses; for people who like straightforward solutions. It's a simple but effective tool that doesn't invade employees' privacy. It has all the essential features to monitor employee activity and track time. You can acquire extensive data about your staff's activity and help them become more productive. 
Main features:
Automatic time tracking with reports
Screenshots
Activity level tracking by keystrokes and mouse clicks
5 user types with different permissions and roles
Tracking websites and apps
Tasks with checklist and Kanban board
Invoicing and billable hours
Activity description
Pricing:
$2.99 per user/month with a free trial
Conclusion
It's worth to mention that employee monitoring software is often confused with time tracking software. Yet they are not the same. However, they oftentimes have similar features. Only that time tracking apps are aimed at improving employee efficiency and increase revenue, while employee monitoring software is often used to prevent malicious activities and internal and external threats.
No matter which tool you choose, remember that they are all distinct and serve different purposes. Pick the tool that meets your business model and requirements and you will find out how many benefits you'll gain!
What are your thoughts on employee monitoring software? Do you approve it, or maybe you think employee monitoring is unethical practice? Let us know in the comment section below!
[relatedposts]