The Best GPS Tracker for Employees – Track Your Work Anywhere You Are!
September 20, 2019
by Kate Borucka
No comments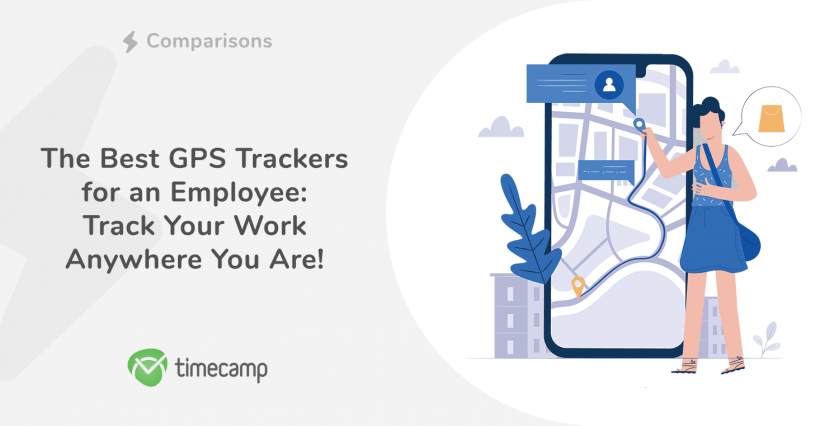 GPS tracker for employees is gaining popularity in various industries. Whether used as an integral part of project management software or a separate app, GPS tracker for employees helps to monitor staff's location and automate attendance-related processes. If you don't know which software tracker to choose, check out our short and comprehensive list of the best GPS trackers for employees.
TABLE OF CONTENTS:
› Why Use GPS Tracker for Employees?
1. TimeCamp
2. ClockShark
3. Mitrefinch
4. ExakTime
5. Aware360
6. Spyzie
7. Hubstaff
8. Boomr
Why Use GPS Tracker for Employees?
Using GPS tracker for employees is becoming more common practice for many businesses. It's an effective way of monitoring employees work. Especially, when it comes to fleet management, remote workers or employees who travel on a regular basis. There are plenty of reasons and benefits to using GPS tracker for employees but the most common include the following:
Increased productivity – GPS tracking allows to properly plan routes, observe traffic and changes on the roads in the real-time, and faster deliver employees' work or meet with clients
Work automation – GPS tracking software automatically generates reports and all the data on employee location, no more manual timesheets filling!
Transparency -tracking location with GPS allows everyone on the team have the insight into each other's work and know projects' status
👉 Learn more about creating transparency in the workplace
Proof of work both for the employer and the client in the form of real-time reports and timesheets
 GPS tracker for employees helps to eliminate paperwork, improve workflow and project management.
Don't waste anymore time and check out our list of the best GPS trackers for employees!
Learn more about GPS time tracking during 30-minute demo!
👉 For more specific informations about GPS time tracker check our article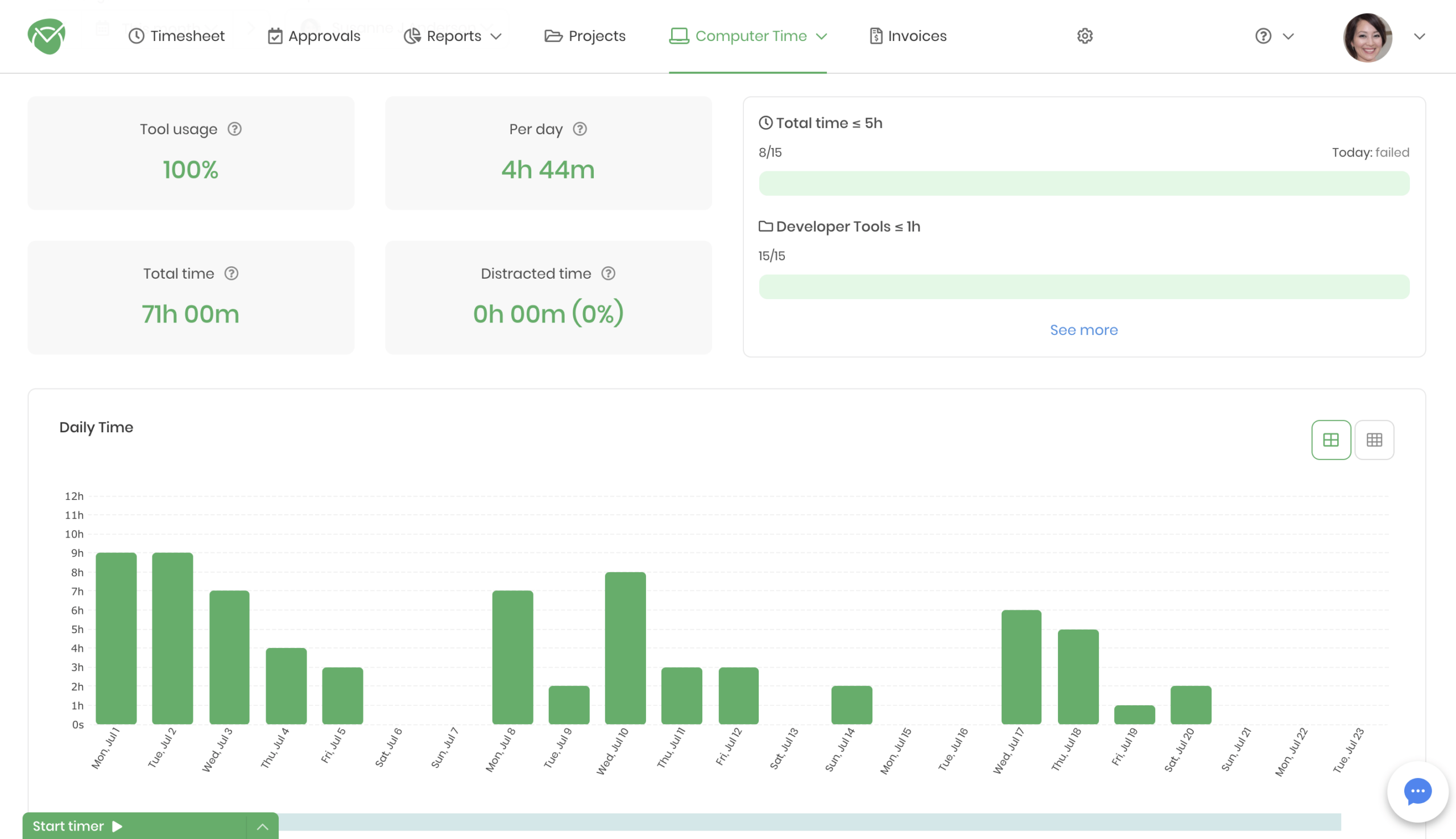 TimeCamp is one of the most advanced time tracking software on the market. If you're looking for a tool that will help you save time and money, it's the right choice!
TimeCamp allows you to track your employees work to improve workflow, communication, and collaboration in your team. Its automatic tracking features make it a great centralized system for project management. It has all the necessary components you need to always stay on top of work and be ahead of your competitors!
 Main features:
Automatic time tracking in the real-time with comprehensive and detailed reports
Accurate timesheets to know when and how your employees work
Monitoring employee activities by categories, including app and website tracking
Monitoring productive and unproductive activities
Tracking time by tasks and projects to know what your employees are working on and what's the projects' state
Attendance management to keep track of vacations, leaves, absences, and more
Budget monitoring
Attendance tracking
Integrations with the most popular software for project management, accounting, CRM, productivity, and more!
Available for:
Pricing:
Free – $0 for unlimited users
Basic – $6.30 per user (billed annually)
Pro – $9 per user (billed annually)
Enterprise – custom pricing
So excited to inform GPS tracking in TimeCamp has been launched!
Learn more about GPS time tracking during 30-minute demo!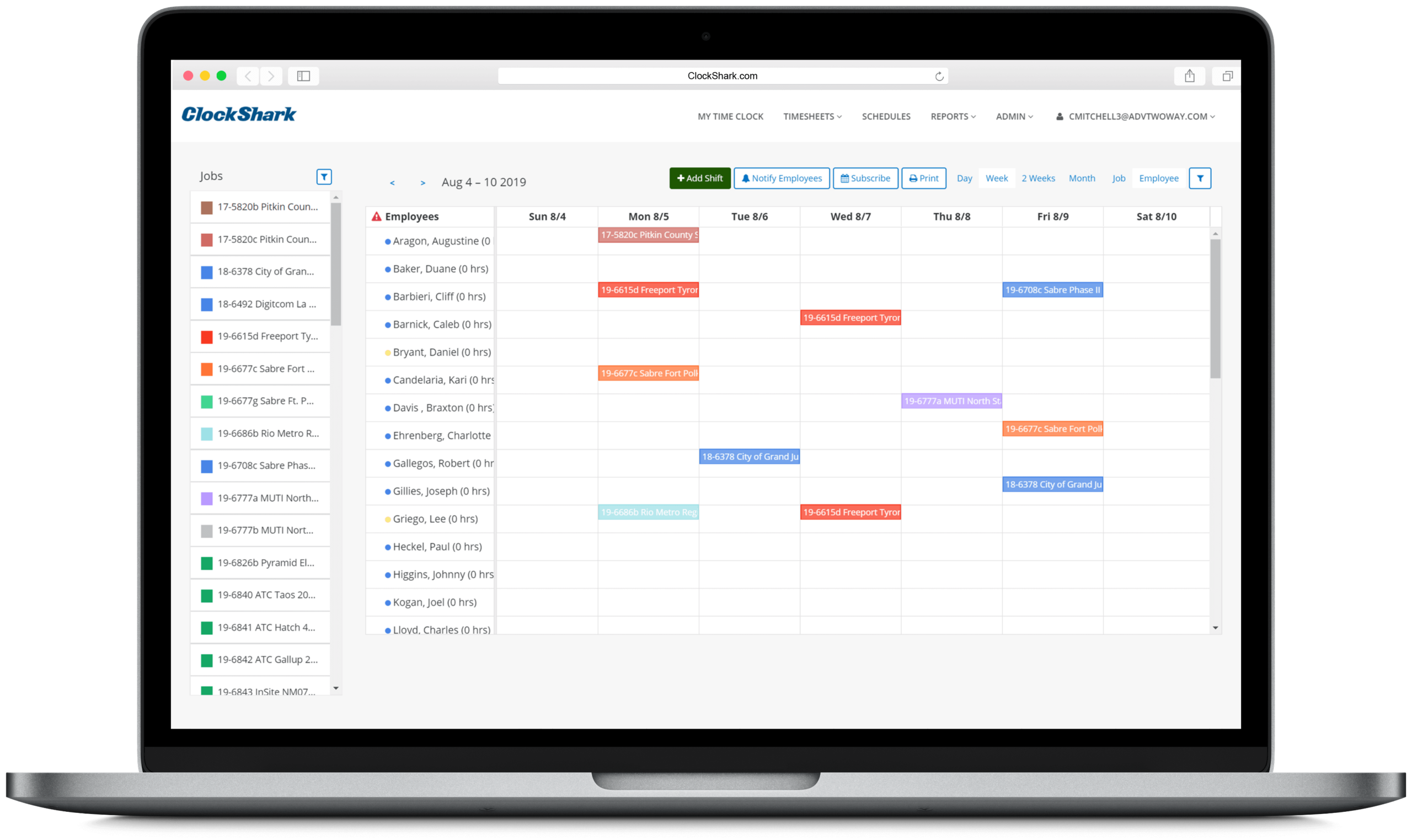 ClockShark is a robust GPS tracker for employee working in every type of business. It's suitable for individuals, small and large teams, freelancers, remote workers and everyone who wants to keep track of their work. The software comes with a variety of features which help not only to keep track of employee location but allow the staff to keep a record of their work and schedule jobs.
Main features:
GPS tracking
Time tracking with timesheet approvals
Scheduling with the drag-and-drop feature
Web punch clock which allows you to conveniently clock-in and out of your job
Kiosk time with facial recognition
Advanced job costing controls
Third-party integrations with the most popular software: QuickBooks Online, QuickBooks Desktop, Run Powered by ADP, ADP Workforce Now, Xero, Sage 100 Contractor and Zapier
Available for:
Pricing:
Basic – $3/mo per person +$15/mo base fee
Standard – $5/mo per person +$25/mo base fee
Pro – $8/mo per person +$45/mo base fee
Includes 14-day trial with all Pro features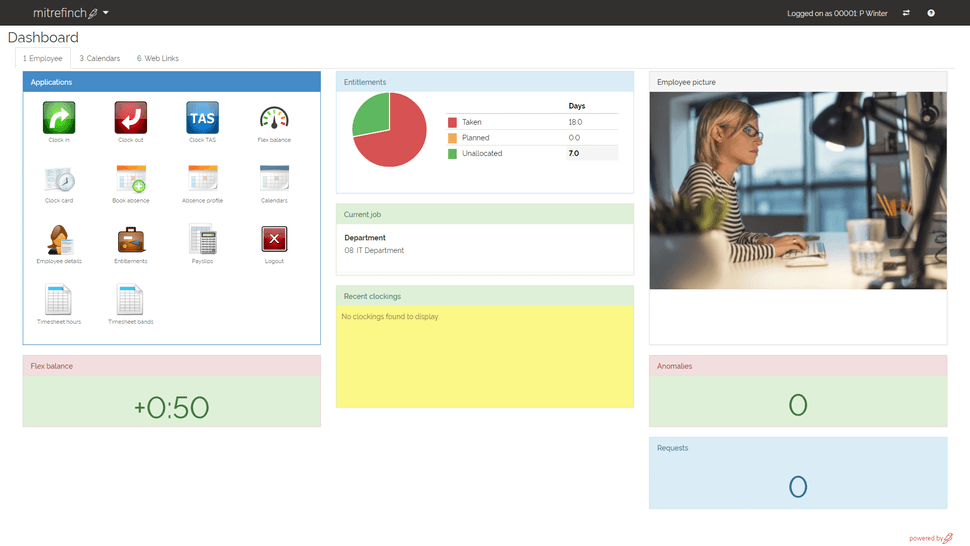 Mitrefinch is time and attendance software that helps to keep transparency in the workflow. The process of implementation is tailored to your organization's needs. A customized, in-depth consultation helps you identify exactly what you need the software to do. It's a fantastic solution for managers and employees who need a very specific, personalized software.
Main features:
GPS tracking
Time tracking
Leave management
Attendance tracking
Advanced employee scheduling
Clocking with different options – web-based clocking, biometric time clock, text alert clocking, land-line clocking, mobile clocking, and desktop reader
FMLA tracking
Available for:
Pricing:
Custom pricing depending on your needs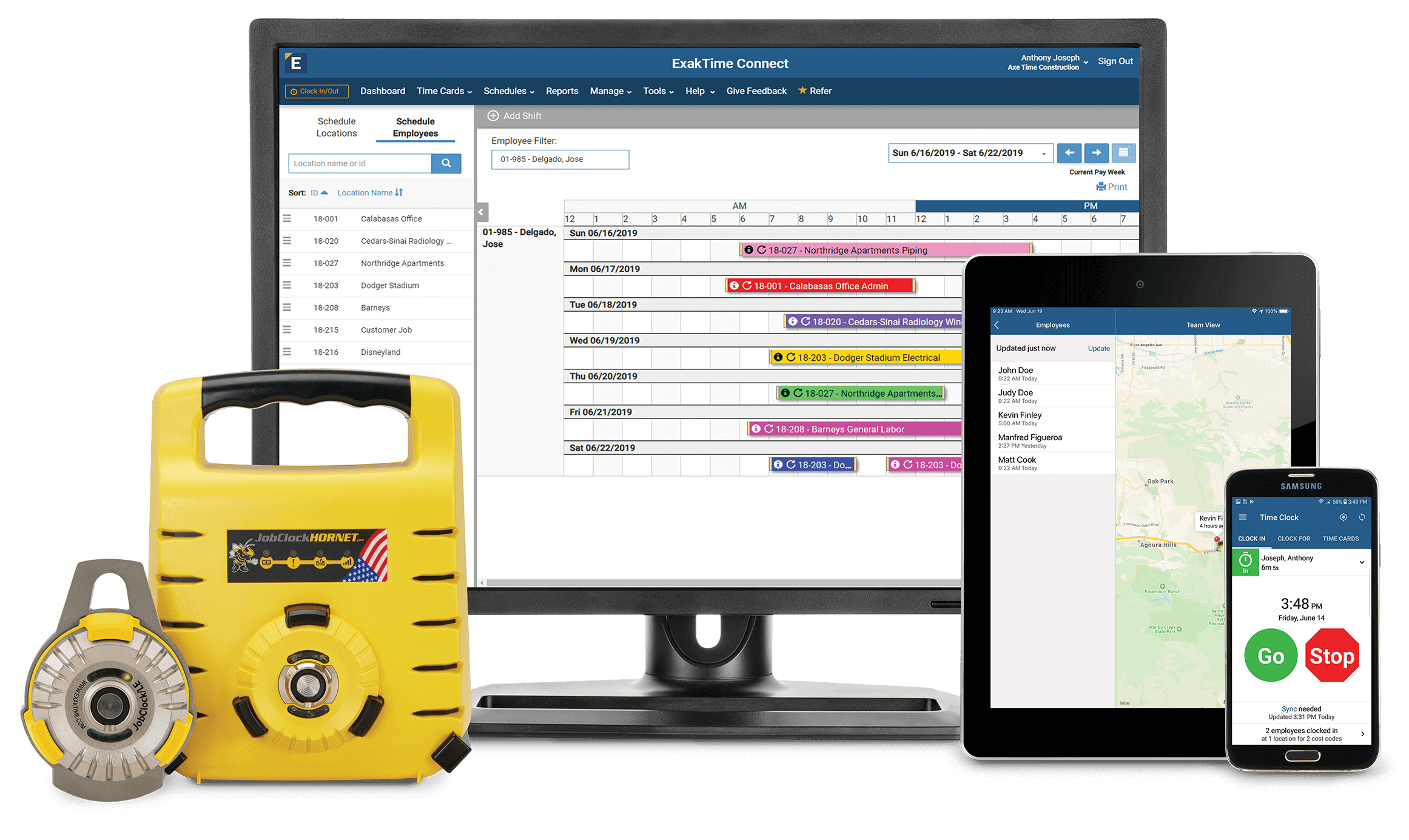 ExakTime is the best GPS tracker for employees who work in the field. It's a web-based solution allowing you to eliminate tedious and time consuming manual timesheet filling. The software automates the work, helps to manage attendance, and schedule workflow. It's simple in use and goes with a variety of helpful features.
Main features:
Portable time clocks- rugged time clock
Online and offline automatic time tracking
Ability to connect ExakTime to your favorite payroll system, such as Quickbooks, Sage, and many other tools
Powerful GPS Touch Detail Report provides a detailed list of who clocked in on or off-site and their exact distance from a designated Geofence
Photo ID verification
With Mobile Time Cards, workers can view their total, Regular, Overtime 1 and Overtime 2 hours for the week in addition to daily totals
Equipment tracking (tools, materials, etc.)
Available for:
Pricing:
Free 30-day trial
Not provided by the vendor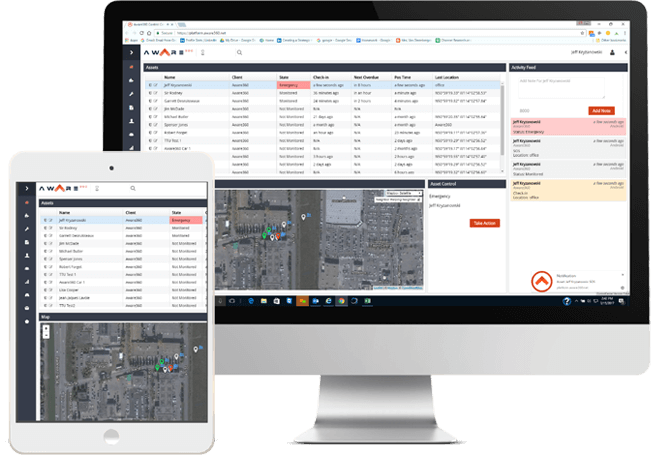 This GPS tracker for employees is a remote monitoring and safety solution for lone workers. If you care about your employees and are concerned about their safety, Aware360 is the right choice. The tool is particularly helpful and different from all typical GPS app as it helps to early identify and notify of risks and events to a trusted response center.
Main features:
Real-time data
Agile API – you can connect your favorite app to Aware360 and build custom integrations
Online and offline tracking
"Neighbor-helping-neighbour" feature identifies others in the area who might help, whether or not they work at the same company
Monitors in-case of accidents or emergency, giving employers tools to manage their traveling workforce
provides the latest wearable technology to action a specific response should a health concern arise
Available for:
Pricing:
Not provided by vendor
6.  Spyzie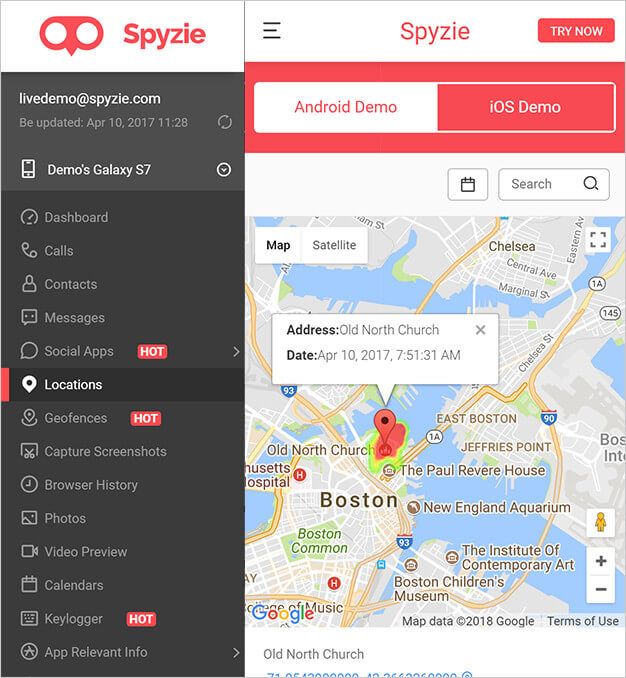 Spyzie is a user-friendly GPS tracker for employees. It is a professional monitoring solution provider specializing in tracking and monitoring tools for smartphone users. It's a simple software but has many practical features. With Spyzie you will be able to monitor employee or your current location and their phone activity.
The great thing is that you can use Spyzie not only for business but also for personal needs. It's also designed to protect kids from online threats and make sure they are always in safe places.
Main features:
GPS location and Geofencing
Tracking the Target`s locations via Wi-Fi hotspots
Apps activity
Monitoring phone calls
Monitoring communication apps
Supports iOS and Android, available on the Cloud
Pricing:
iOS – $39.99/month
Android – Premium Edition (With Restricted Functionality) starts from $29.99. Ultimate Edition (With Full Functionality) starts from $39.99/month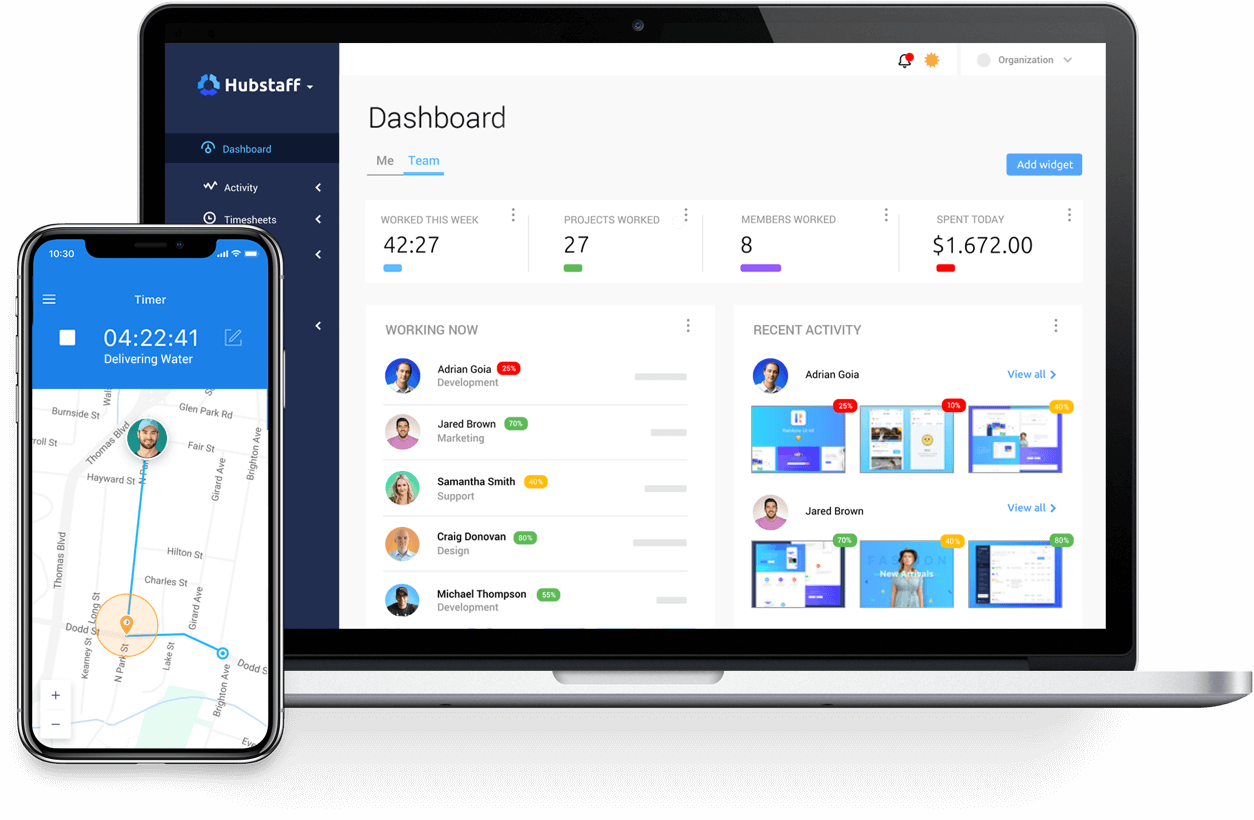 Husbtaff is a time tracking software, but it's also a good GPS tracker for employees. It's a fantastic tool to monitor productivity and overall activities at work. It's a simple solution with many useful features. It can help you understand how you and your employees work as well as automate small activities related to paperwork.
Main features:
One-click time tracking in the real-time
Reports and timesheets with approvals
GPS tracking with Geofence
Timeclock apps available as iOS, Android, Mac, Linux or Windows apps
Setting up different pay rates
Employee attendance tracker and staff scheduler
Available for:
Android
iOS
Desktop app
Chrome
Pricing:
Free – 1 User

Basic – 

1 User – 

$5/ month

Premium – 

1 User – $

10/ month
See the comparison between TimeCamp & Hubstaff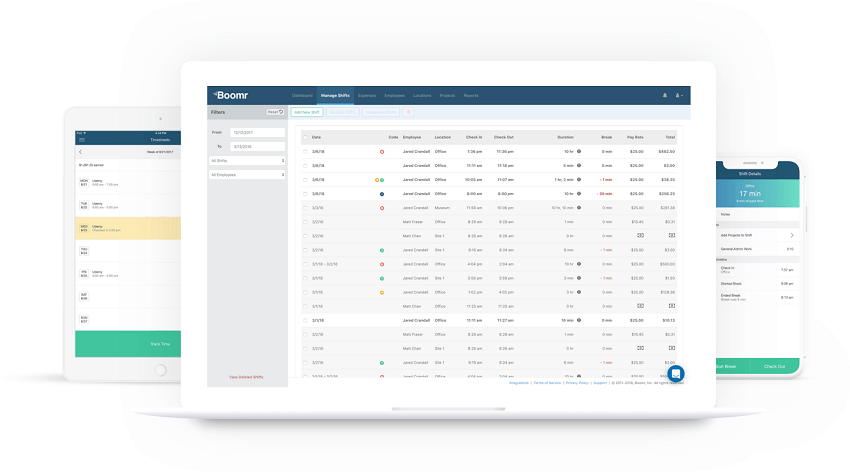 Boomr is a perfect solution if you need a timesheet and workforce management app in one. You can track time, manage payroll and workforce. These three components make Boomr the best GPS tracker for employees who want to keep a record of their work. It provides you with all the necessary information on employee's work without the need of using three different apps.
Main features:
Geo-stamped timekeeping
Built-in team messaging and communication
Timesheet payroll
Overtime tracking
Real-time GPS location tracking
Integrations with payroll and accounting tools: Freshbooks, Quickbooks, Xero, Paycheck, Sage, BabmbooHr, Namely, and others
Compliance with federal & state labor laws
Pricing:
1-month free trial
Standard – $5/Month Per User + $20 BASE FEE
Business – $9/Month Per User + $45 BASE FEE
Conclusion
It's worth to mention that GPS tracker for employees is helpful in keeping an eye on your employee. And not, as it may seem, to spy on your team but to keep them safe. No matter which software you decide to choose, remember that it will help you protect them and increase productivity and transparency at the same time.
What are your thoughts on GPS trackers for employees? Do you have your favorite app? Let us know in the comments section!