Unless you've been living under a rock for the past 20 years, I'm sure that the term 'rebranding' does ring a bell, at least giving you a vague idea of what it is. 
According to The Economic Times, rebranding "is a process of changing the corporate image of an organization. It is a market strategy of giving a new name, symbol, or change in design for an already-established brand."
So it sounds like quite a straightforward process. On the contrary, it's a tough one. But more on that later.
Let's start off with:
Why TimeCamp is rebranding?
Well, first of all, we want to have a unified brand message. We recently did an internal audit of all the marketing materials, presentations and promotional graphics we've ever created.
What were the results? Well, to put it simply:
A lot of different looking stuff and not a lot of consistency…🤯
I'll spare you the screenshots since we don't want to freak you out, but trust me, some of these look really bad.
Second of all, although we're happy to consider TimeCamp as an established business, we're still kind of struggling with finding out a congruent messaging to our clients. This comes as also due to having multiple types of clients that express completely different needs. Therefore, we kind of tried to portray TimeCamp as a 'one-size-fits-all' solution for every type of business: small, medium, big and enterprise-level.
And I'm pretty sure you already know that this approach never works.🤷🏻‍♂️
Never.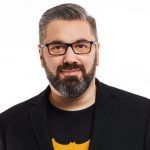 So, how we've approached rebranding TimeCamp?
By all means, it's nothing easy, as we're still in the midst of this process. It all started off in August with a full-day workshop with Paul Skah, a renowned marketing consultant and brand builder who worked with well-established companies like HBO, Sony, and Orange. 5 hours in, some pizza over lunch and we were stunned to have some of our misconceptions about branding blown out of the water:
Who's working on it?
Well, we the people of TimeCamp 👨🏻‍💻🤝
More precisely, it's a company-wide effort where each and everyone's input is taken into consideration. As for the leading forces of this project, the credit goes to the Product, Marketing and Sales team. Since they are most often in touch with prospects, customers, and media people (out on the 'frontlines', so to speak)
You can think of it as a power trio or if you're a huge NBA fan🏀 you can go with 'the Big Three'
What's next?
The archetype-centered rebranding usually starts with, well, choosing the archetype you want to build around. Next, you create it's brand heroes, stories and it's unique naming.
"What, unique naming? What's the purpose?"
(Hint: ever wondered why your iPhone has Siri rather than something like "Apple personal voice assistant"?)🤔
How much TimeCamp will change?
That's a good question! As of now, we might just guess that probably quite a lot from the visual side. What will definitely not change is our quality product and focus on delivering you the best tool to properly track time for your projects and activities.
Summary
Basically, rebranding is a process far more complex than just updating your company's logo. 
We're treating this as a sort of an announcement, that basically we're changing and it'll be a long and complex process, but we're super excited to be a part of that. We'll keep you updated with any news!
Did you have any similar experiences with going through a rebranding process? Let us know in the comments!
Take care!
PS. If you want to learn more about properly building or rebuilding your brand, be sure to check this great book called 'The Hero and the Outlaw". Last but not least, be sure to also check Paul's website to get a ton of branding and general marketing insights!
Related posts