New in TimeCamp: Track Your Time With Tags!
October 19, 2020
by Kate Borucka
No comments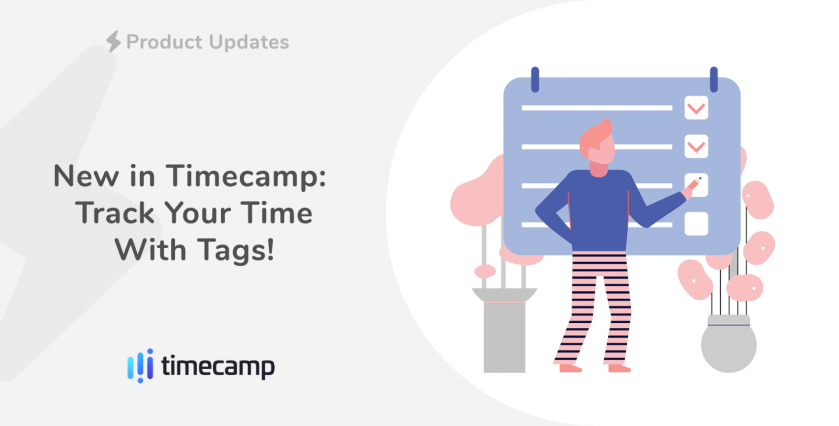 One of the biggest problems in managing projects with a time tracking system is structuring work and organizing projects so that it's easy to navigate within the network of connections and clearly see dependencies.
That includes the ability to quickly and easily search through reports and to track more specific categories for projects. All that information is necessary to know what's happening in the organization, not only for the managers but also for the employees.
One of the ways to squeeze out more granular information about projects is to use tags.
Read also about our latest improvement: New in: TimeCamp for Apple Watch!
Tags in TimeCamp
Tags are a new feature in TimeCamp. They allow you to structure projects and easily manage your data. They're not just simple labels but an advanced feature that lets you flexibly adjust the software and project structure to the way you want to track your time and organize projects' data.
TimeCamp has the most comprehensive tags feature. With tasks and projects, they provide a multidimensional time tracking system and reporting to have more granular data about your projects.
Here's what you can do with tags in TimeCamp:
Assign tags to time entries

Filter reports and see how much time you spent on each tag (except Custom reports and Detailed reports where you can include tags directly in the report)

Define the list of tags. You can also define a specific list of tags that will be available for a particular project or task.

Assign tags to tasks and projects permanently/Fixed tags for tasks and projects

Limit tags to a specific group of people (teams, departments)
To learn more about how to enable tags in TimeCamp, read our guide in the knowledge base!
How You Can Use Tags
Many people like to have a specific project hierarchy for more in-depth insight into different criteria and get more data. Tags can help systematize the entire team workflow and improve reporting.
You can use tags in TimeCamp in numerous ways:
Tags as clients 

Tags as an activity type (design, management, meeting, programming, etc.)

Tags as a stage of work (in-progress, complete, on hold)

Tags as a type of work

Tags as a priority (important, not important, critical)

Tags as location marking for employees who work in different locations

Tags as administrative activities (overtime, holidays, day-off, etc.)

Tags as a subproject for projects

Tags as a form of a short note to a task or project
There are many ways you can manage tags. You can flexibly adjust them, assign to different teams, make separate categories to reflect the organizational hierarchy in your company.
What Are The Benefits?
Even though it seems like a small thing, tags are a powerful feature. They help to expand the reporting structure by adding another layer of information. In that way, it's much easier to categorize or divide projects and reports.
Moreover, tags give you additional time insight into projects.
Check how else tags can help you and what benefits they bring into work:
Easy filtering through all your reports and activities

Structuring the projects with clients

Classifying the type of work

Adding adjustable attributes in the form of tags to a project's subproject or task

More detailed and informative reports for the employees and clients
Tags can work wonders if you create the right system of using them in your team. You have full flexibility to track your time with TimeCamp labels. All you have to do is to turn on the add-on and watch your business grow.
Conclusion? Tag Your Time!
With tags, you have a multi-layered reporting system with all the information about your projects—stage, clients, team's activities, and anything else you want to. So make sure to check out the feature and let us know how it works for you.
Happy tagging! 🏷️