Learn How to Set SMART Goals With Template!
February 9, 2021
by Kate Borucka
No comments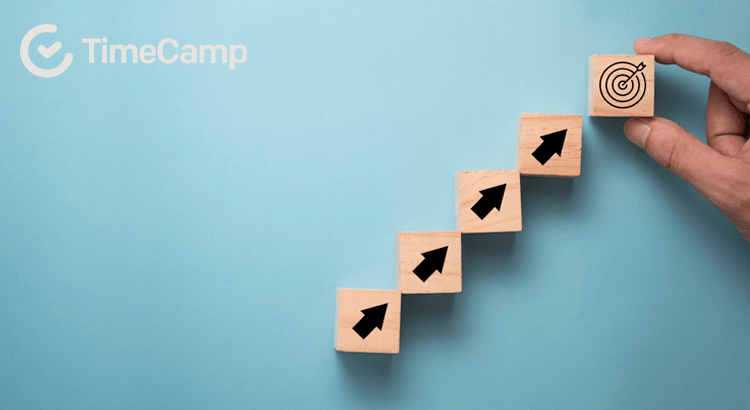 Setting SMART goals can help focus on achieving your aspirations, ideas, and get closer to your life plans. It's one of the most popular and effective goal-setting practices.
If you're wondering what SMART goals are, why, and how to set them, you're in the right place! Check our guide for effective tips and helpful templates.
What Are SMART Goals?
SMART is an acronym that stands for Specific, Measurable, Attainable, Relevant, Time-Bound. Let's see what it means in detail:
Specific: It's the first step in the process of goal-setting. It's when you define your goal. It has to be clear, concise, and significant so you know exactly all the Ws – what is the goal, why do you want to achieve it, who will participate in it, when will it happen, where will it happen.
Measurable: in order to achieve your goal, you should be able to monitor and assess its progress. You can do it by using metrics, numbers, or smaller tasks that will indicate advancement.
Achievable (or Attainable): your goal needs to be realistic; something that you can stretch yourself for but not too far.
Relevant: a goal should align with the company's projects and tasks, and long-term plans. It'll help to grow the business and strengthen your role in the team.
Time-Bound: a goal shouldn't stretch too much in time because it'll be harder to achieve it. Instead, it should have a time-frame with a specific deadline.
Make your goals SMART with the right metrics.
Sign up for TimeCamp!
Quick Examples
To give you a quick overview of what a SMART goal can be, here are a few examples:
Improving traffic on your blog by 50% in the next three months and increase the conversion rate.
Get promoted to a Project Manager role by participating in training, expanding knowledge, and becoming a certified PM within the next six months.
Landing a better job next year by developing new skills, relevant qualifications, and updating your resume to include all the necessary elements or consulting with executive resume writers.
Increase the number of registrations in the next four months by adding relevant CTA buttons to existing and new content on your blog, and creating targeted landing pages.
There can be as many examples as people and it's important that you set the goals based on your current role in the company, business goals, personality, and resources.
Why Settle SMART Goals?
SMART goals have great value. It's one of the most effective methods of goal-setting. They help to keep the team together, create a common purpose, increase trust and collaboration.
But there are many more reasons to plan this type of goals:
To determine what you want to achieve in your personal and professional life
It helps to define the mission and vision of your business
Goals motivate and help to keep you focused
It can help you decide how you want your career to look like (check our post about career goals examples)
You have a higher chance for success by realistic assessment of risks, challenges, and opportunities
It helps to align vision and plans so teams can focus on a common purpose
Goals are like a bridge to a golden castle standing on an island—you can torture yourself and try to swim through the rough waters, or build a catwalk to achieve the destination with no effort.
👉 Monitor your efforts with a goal tracker.
How to Set SMART Goals With a Template?
Setting SMART goals is possible in two ways. You can create a document and set goals by writing them down, either on a piece of paper or in a digital form in a doc, to-do list app, task management software, or note-taking app.
Or you can use a free SMART goals template. It'll help you make a realistic action plan to map and track successful personal and work goals. The templates usually go with guidelines and tips on how to set and achieve SMART goals. So if you're new to this form of goal setting, you won't find it difficult.
Here are the best templates for setting SMART goals, easily pursue them, and achieve anything you want!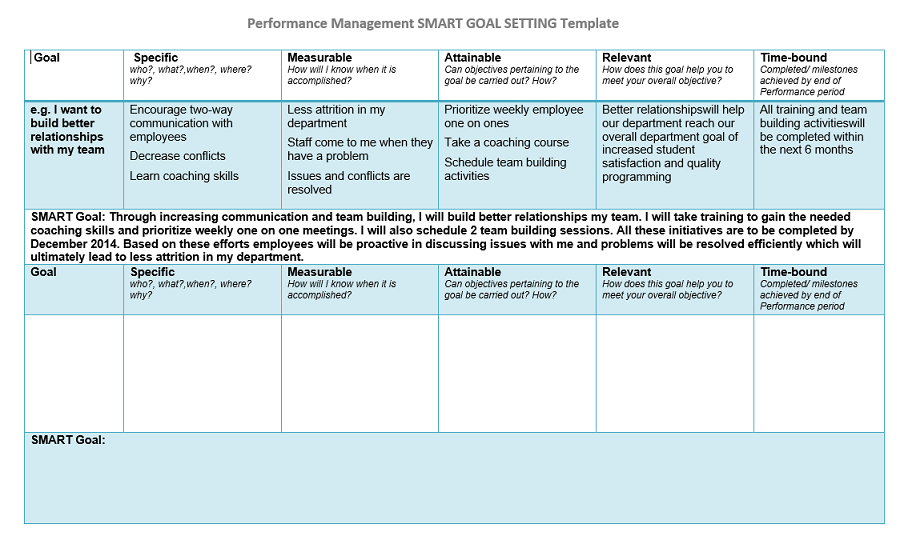 TemplateLAB offers 45 SMART goals templates. Every template has a worksheet form so you can better set goals and make sure you're working on achievable objectives.
Every SMART goal has a short explanation of the most important definitions, guidelines, and tips that will make it easier to understand what you want to achieve.
You can choose from different templates – for employees, students, teachers, salespeople, for work and project management.
Using the SMART goals template from TemplateLAB will give you a clear framework for defining and managing your goals.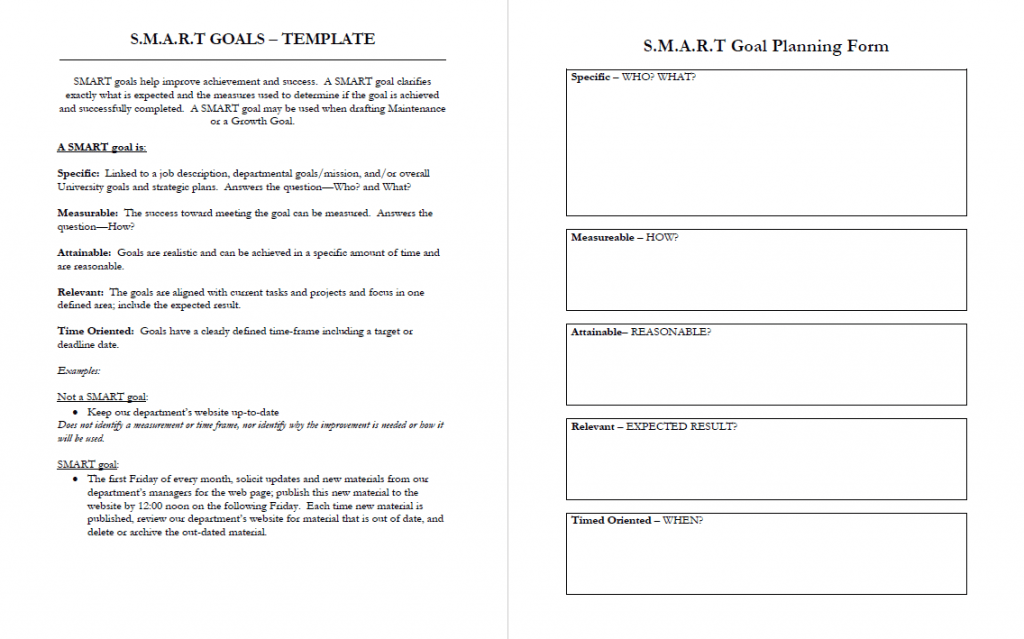 This is a simple SMART goals template that will help you prioritize tasks and define an action plan for your work, business, or personal life.
It's best for those who either start their journey with setting goals or need a lightweight template to determine relevant and time-bound goals in a simple way.
If you're looking for a minimalistic SMART goals template for Word and Google Docs, it'll be the right fit.
This template from PeopleGoal helps you to define one goal and expand on it with the SMART attribute so it's specific, measurable, achievable, relevant, and time-bound.
Additionally, you can track your SMART goal progress, determine obstacles and what support you need to overcome them, and note measurable milestones.
Smartsheet SMART goals template is a free, simplistic, and straightforward example on how to set goals.
It has several questions that will aid you in writing down what you want to achieve. Additionally, the comprehensive guide will show you realistic examples so you can progress toward achieving success.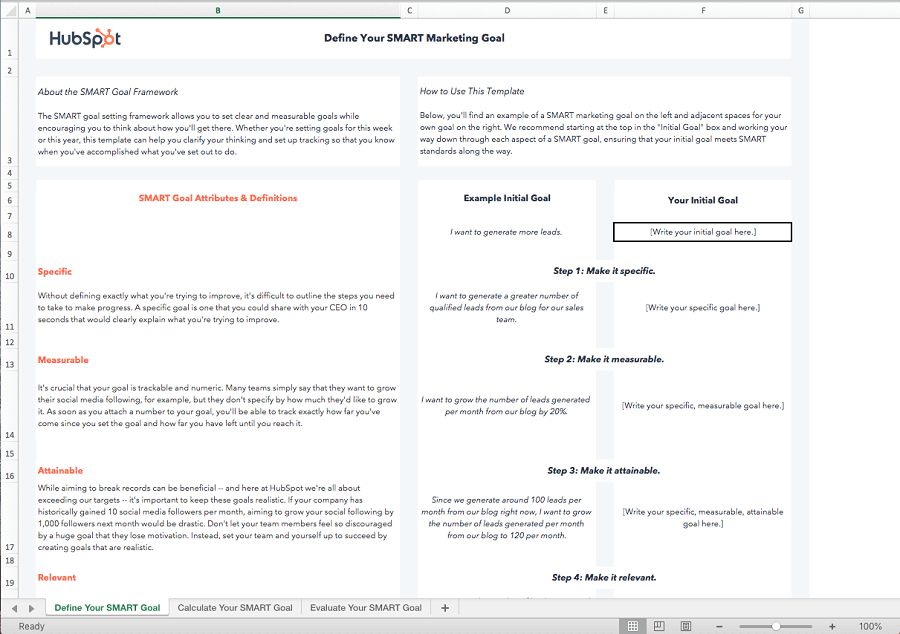 This SMART goals template is for setting marketing objectives. It includes worksheets for defining, calculating, and evaluating your SMART goals.
It's a great SMART goals template for setting specific, time-bound plans to obtain better marketing results.
The template is divided into three sections (Define, Calculate, Evaluate) that will lead you through the process of goal setting to make sure you're achieving the desired objectives. However, it's an advanced worksheet best for people working in marketing and knowing what numbers they want to see in monthly traffic or conversion rate.
Brian Tracy is a popular author of Earn What You're Really Worth, Eat That Frog!, or No Excuses! On his blog, he teaches how to use SMART goals to maintain willpower and achieve success in personal and live task.
His free template comes with a comprehensive guide on how to write SMART goals. There are also examples and bonus exercises to plan and achieve anything you want.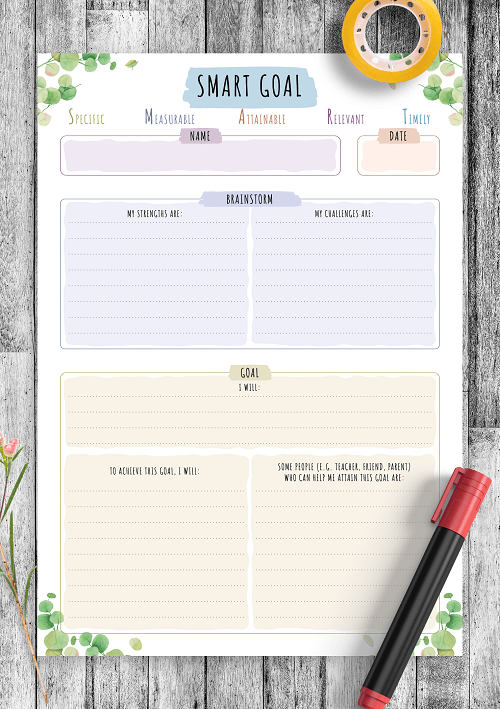 OnPlanners offers printable goal setting forms in several configurations, all available to download in the pdf format (and if you have more than one file, use PDF combiner). You can choose from colorful sheets, or simple black and white versions.
On the website, you'll also find other templates such as daily, weekly, and other planners, habit trackers, to-do lists, calendars, and many more. You can use them as a supplement to your SMART goals template to track progress and keep all your tasks time-bound.
👉 Check also our favorite weekly schedule templates!
On the 101planners website, you can find free goal setting template printables with action steps that will help you set your goals step-by-step with action steps.
They're available in black and white or color in fillable pdf, Word, or Excel format. You can also adjust them directly in 101Planners' editor and personalize with additional elements, stickers or colors.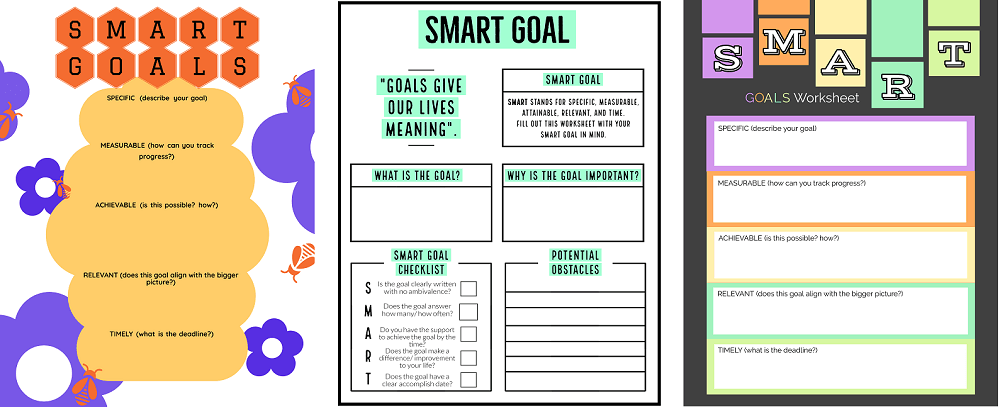 Here, you'll find colorful and creative templates for setting goals in a more creative way. You can either explore free professionally designed worksheet templates, or create your own original design from scratch.
It's a fantastic way to write SMART goals just the way you like—with or without colors, with the layout you prefer, animations, fancy background, icons, images, and more. It's a way to get creative with goal setting!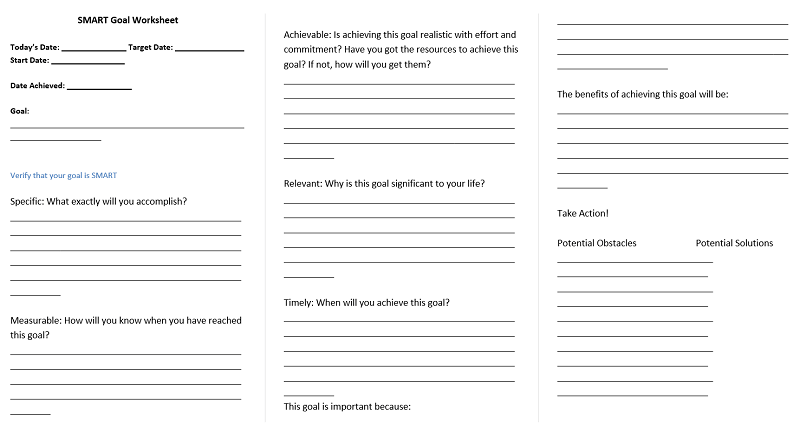 If you need SMART goals template for Excel and Word, you'll find something for yourself on Doctemplates.
These are simple, printable worksheets for writing life plans. They come with handy guidelines and important questions to effectively reach personal and work goals.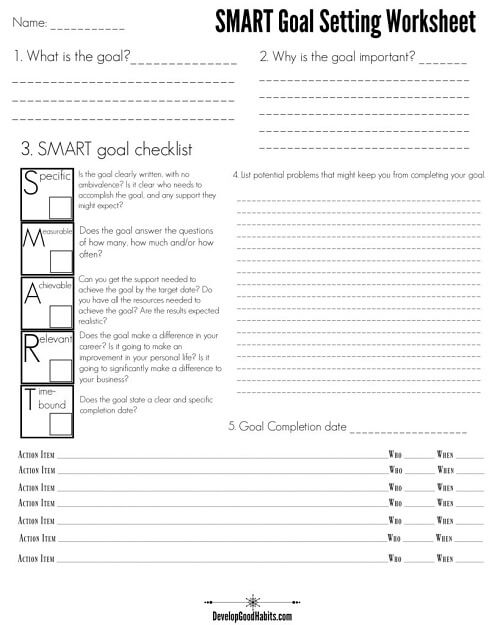 Develop Good Habits gives you 4 free SMART goal setting worksheets and templates—for individuals, setting multiple goals with multiple steps, a sheet for kids, and a simple worksheet for minimalists.
They all have a clear structure, are easy to use, and can be used interchangeably just the way you want and need to.
➭ And here are additional 11 templates to set and track goals.
How to Track Your Goals?
To achieve success with your goals, you need to track them. That way you'll know if you're moving in the right direction, what obstacles are on your way, and you'll stay motivated to reach the ultimate objective.
Defining your SMART goal is one thing but you need to actively work to reach it. Here are a few tips on how to track your advancement.
1. Break your goal into smaller tasks
If your goal constitutes multiple subgoals, it's a good idea to divide it into smaller chunks. Take one step at a time, it'll be easier to slowly cross the items from your list rather than do everything at once.
It's particularly important if SMART goals are part of your project management strategy.
2. Track daily progress
If you track the daily progress you'll know who does what, when, and how. Depending on what you want to achieve with your goal, there are many ways to monitor different steps of your SMART goal.
You can do it by using dedicated apps such as time tracking software, task, or project management apps. Reporting on key metrics will give you real-time visibility into the progress of your work.
Track the daily progress of your SMART goals.
Sign up for TimeCamp for free!
3. Schedule your time
Creating a schedule is one of the best ways to plan your short-term and long-term goals.
Use time tracking software to understand how you work, and what takes most of your time, so you can set a goal that's realistic and time-bound.
4. Use a dedicated app or journal
There are several apps that can help you
Habit and goal tracking apps
Time tracking app to monitor deadline
Task management app
To-do list app
Note-taking tools
Mind mapping app
Or if you prefer, you can write your progress in a journal.
5. Reward yourself
It's important to celebrate the wins, no matter how small they are. It'll keep you motivated and want to push forward.
What's more, it's scientifically proven that rewarding yourself is good for your brain.:
The theory of operant conditioning is a psychological concept that suggests that we learn through reward and punishment. Specifically, this theory states that when behavior is followed by a pleasant outcome, we are more likely to repeat that behavior (because we want to repeat this pleasant outcome!). This is called positive reinforcement.
How Do You Set Goals?
Setting goals helps to keep consistent project tasks, and improve collaboration in a team. It's also a good way of holding yourself and your team accountable, improving visibility into team priorities, and making sure things go in the right direction.
What is your favorite way of and tracking goals?