6 Best RescueTime Alternatives in 2021 (Pricing & Reviews)
September 14, 2021
by Lorea Lastiri
No comments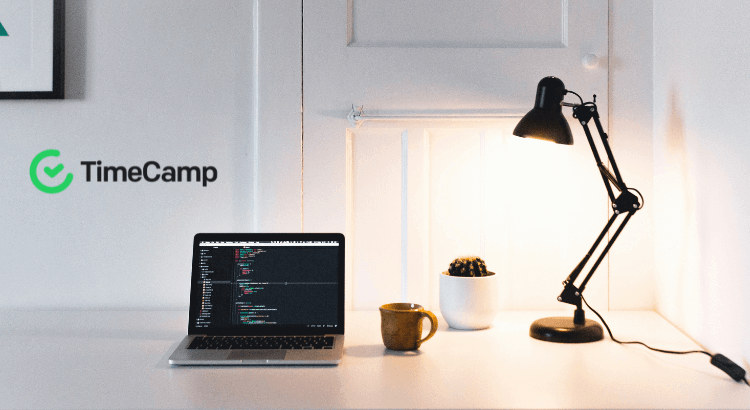 Many successful business owners and freelancers use project management tools to manage their tasks. Whether it's a small or large project, you can work more efficiently with an adequate time tracking app.
RescueTime is a favorite time project management tool for many, and several organizations use it. It has a great time tracking software that is easy to use. It also helps to block distractive sites and unproductive applications. Regardless, it's not perfect.
Apart from time management, RescueTime is not useful for much. It has limited features and does not allow integration with many work and time tracking tools.
Also, it doesn't include payroll and invoicing automation. So basically, to get any real value, you'd have to use additional productivity tools alongside RescueTime.
Keep reading as we'll be taking a closer look at these RescueTime alternatives and their key features!
1. TimeCamp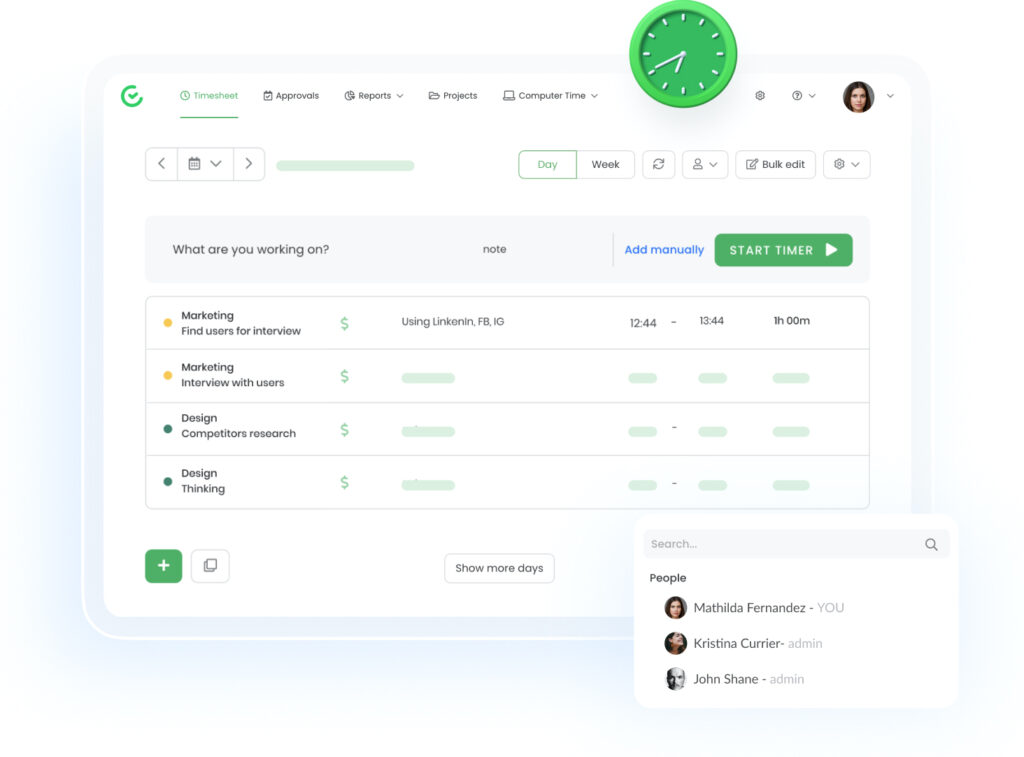 TimeCamp is a top-rated time tracking and productivity management tool. It is the overall best alternative for RescueTime and performs several functions. You'll find all the features you need in proper time tracking software, such as; screenshots and website monitoring in one platform.
Employers and project managers mainly use it to monitor their workers' activities and track time. It has both automated and invisible time tracking that is suitable in the office space.
So you can keep an eye on your workers even if they're not physically present. It also allows you to block distracting websites and applications from your office hardware.
Also, TimeCamp has the most extensive connectivity of any time-tracking tool and can integrate with more than 50 apps. It allows you to sync with other work tools and productivity software that you use. So you can enjoy easy time tracking directly from these apps.
You can also offer your clients access to your timeline and timesheets to give them regular work updates. It can also help you track your budgets and manage payrolls/invoicing.
Overall, TimeCamp is the ultimate time-tracking and project management software for businesses and many employers.
Sign up for TimeCamp - a great RescueTime alternative
Key Features:
Provides timely and detailed reports/analysis
Offers chrome extensions for Windows and Mac desktop app
Tracks performance and monitors inactivity
Creates payroll and automated invoices for clients
Attendance and Time Tracking
Allows offline and screenshot monitoring
Assists with project budgeting and finance control with expense tracking
Pricing
Free plan – Free and supports unlimited users on either the mobile or desktop app. But it only has limited time-tracking features.
Basic Plan – Monthly plan costs $7/user, and the yearly plan costs $6.30(monthly) per user.
Pro Plan – Monthly plan costs $10/user, and the yearly plan costs $9/user per month.
Discounts and negotiable prices are available for non-profits, universities, and enterprises.
Pros
The mobile and desktop apps are effective and available on most platforms, including;  Windows, Mac OS, iOS, Android, and Linux.
It has comprehensive integration & add-ons features that support over 100 web applications, including Trello and Asana.
It creates powerful and intuitive reports that you can easily share with clients as PDF, CSV, and Microsoft Excel files. 
It ensures both your and your employee's privacy with strict controls and limited access.
It enables you to track time and monitor your project tasks in real-time. 
It works effectively in both small and large companies.
Cons
It is best suited for businesses rather than freelancers.
You can only access its full features with a paid plan.
Customer Ratings
4.7/5(532 reviews)
Another RescueTime alternative for businesses and employers is Hubstaff. You can use it to improve your time management skills and track time.
Project managers and employers also use Hubstaff to automate tasks and ensure that actual work is being done. While it has a great time tracking feature, Hubstaff focuses more on maximizing productivity. It has a specialized automation system with valuable features like employee scheduling, payroll automation, invoicing, and project budgeting.
These features perform tedious, time-consuming tasks so you can focus on other productive tasks.
As a time tracking tool, its scheduling features are also centered on boosting productivity. You'll be able to identify the actual time spent on projects and the time-wasting habits.
Hubstaff is a great work tool, and it can be used by anyone, especially service companies or in-office teams with multiple custom projects.
It's also a reliable way for business owners to generate timesheets and track employees. Ultimately, it will show you a clear and visual report of time spent on tasks with areas for improvement.
Key Features
Offers employee monitoring features like URL tracking and periodic screenshots
Uses GPS-geofencing in place of timesheets to track on-site field employees.
Integrates with business work tools like Salesforce, Jira, Quickbooks, etc.
Employee Scheduling with timesheets functionalities
Attendance tracker and keystroke monitoring
Pricing
Free Solo Lite plan – The free plan supports only one user with time and activity level tracking. 
Paid Plan – Begins at $7 per user for a basic monthly plan. The premium plan starts at $10/user for monthly payment.   
Pros
It offers you standard time tracking with a comprehensive productivity management system.
It's great for tracking time as well as monitoring work performance
It handles tedious daily organizational tasks so you can focus on more important projects.
It's suitable for project managers in large team organizations.
Cons
Its analytic reporting is limited and not very clear.
It does not come with its stopwatch, so you'll have to install one on your desktop.
It's not user-friendly, and the interface can be challenging to navigate.
Customer Ratings
4.6/5 (1.1k reviews)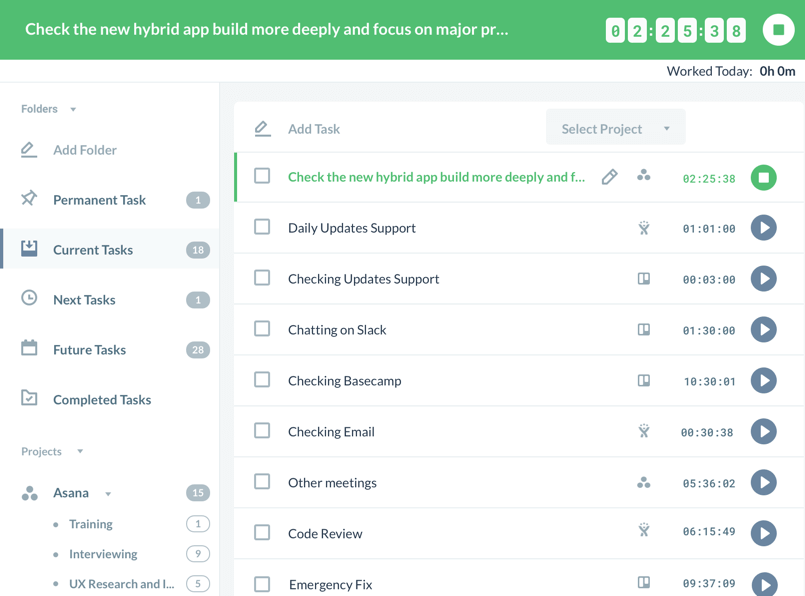 If you're looking for a robust time tracking solution with included monitoring factors, you can consider Time Doctor.
Just like Hubstaff, Time Doctor is a time tracking app that focuses mainly on monitoring employee productivity. As a result, it is primarily used by companies with a large employee base, including remote teams.
Time Doctor is an excellent alternative to RescueTime and a widely appreciated employee monitoring tool. It helps supervise multiple projects. Managers use this software to closely inspect their staff to ensure that tasks are carried out properly. You can also use it to rate your employee's work performance and track employee time.
In addition, Time Doctor helps you improve your team's time management with accurate project tracking. For example, you can identify and block distraction sites and apps that encourage time waste.
It also includes an automatic inactivity monitoring feature that pauses the timer when there has been no activity for a while.
With Time Doctor, you'll not only enjoy easy desktop time tracking, but you can also conduct regular inspections on your employees' work performance. It is a good productivity monitoring tool to help you with your professional tasks.
Time Doctor doesn't only have a desktop version; you can also use it on all your devices.
Key Features
It comes with a distraction management feature to identify and block unproductive sites
Provides detailed daily timesheets, weekly and monthly graphs
Automatic time tracking platform and inactivity reporting
Provides clients' portal log-in
Includes payroll and integration management tool
Pricing
There is a free version before the fixed-cost plan begins. Time Doctor offers a 14-days free version for first-time users. After the free plan, the fixed costs plan starts at $7 per user for monthly payment.
Pros
It provides well-developed mobile apps for IOS and Android devices.
It offers offline monitoring with optional screenshots.
It is available on several platforms and supports Windows, Mac, and Linux operating systems.
It allows you to share timely reports with your clients to promote transparency.
You can customize the monitoring tools to determine productive and unproductive sites.
Cons
The interface and setup can be confusing for first-time users.
It has a complicated system, so it's not easy to make changes or customization.
It is mainly for employers with a strict monitoring approach and is not built for group teams.
Customer Ratings
4.54/5(371 reviews)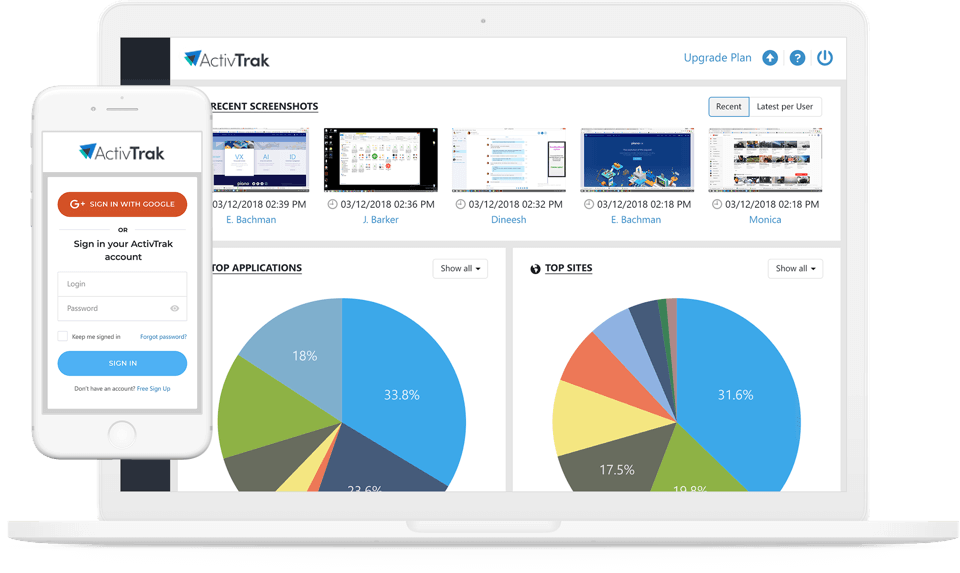 ActivTrak is also very useful for tracking time. It allows you to track time, efficient task management, and monitoring worker productivity. It also provides you with block features for unwanted and unproductive websites.
If you're a project manager looking to keep your team members in check, monitor progress, and track employees, you can try ActivTrak.
Although it is quite similar to RescueTime in terms of time tracking, it includes other functionalities. It is also available across several platforms and is easily accessible.
As a productivity app, it is a great tool that provides you with a way to monitor your personal or group work performance and helps to boost productivity.
It offers you a fresh outlook on your work pattern and at the same time helps to improve time management. You can also use ActivTrak to manage your payment and billing plans simply and effectively.
Key Features
Screenshots and video playback for employee monitoring
Supports scheduled and invisible monitoring features
Provides distraction management features and project tracking
Offer built-in storage and expense tracking
Available on several platforms and allows for web, mobile, or desktop time tracker.
Pricing
Free Plan – supports three users with only 3GB storage capacity.
Advanced plan – starts at $7.20 per user with only monthly payment options
Pros
It is user-friendly and has a simple setup
It enables you to protect your privacy with its screenshot redaction and scheduled monitoring features.
It helps you to classify websites into productive and unproductive categories.
Cons
No mobile app or integrations with other software
Distraction blockers are not very secure and can be easily breached.
It does not support custom tasks and project setup
Customer Ratings
4.5/5 (153 reviews)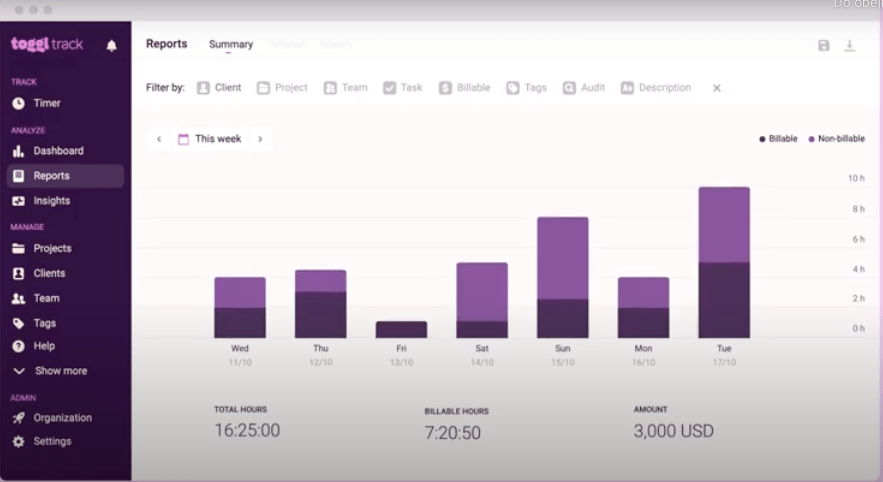 Toggl is a cloud-based time tracking software that is available on both mobile and desktop devices.
Although most of its features are similar, it has a different concept and is another alternative to RescueTime. It comes with multiple functionalities, and it's pretty straightforward. It's a simple tool you use to track time spent and improve your time management. It has a built-in timer that you can control with manual and automatic settings.
Unfortunately, it does not have many advanced features, like website and application data, that even RescueTime has. However, it still has some added functions.
Toggl allows you to set up custom tasks and create projects. It also provides browser extensions for time tracking.
Unlike RescueTime, it supports integrations with multiple productivity platforms, which is an important feature. Meanwhile, it doesn't offer many functions in terms of productivity monitoring.
Key Features
User-friendly time tracking and task manager
Detailed and robust reporting features
Inactivity reminders
Labor and profit budget comparisons
Integration with several popular time management software solutions
Pricing
A free plan comes with limited features supports only one user.
Paid plans start at $10 per user for monthly payments
Pros
It has a simple, user-friendly interface for time tracking and is very easy to use.
It offers you accurate reports on your time usage and general productivity.
It uses graphs and charts to create a clear and visual report system.
It is suitable for small companies or freelancers that aren't tech-savvy.
Cons
It has limited features and does not include any productivity monitoring capabilities.
Cannot generate payrolls or invoices for multiple clients.
Can differentiate manual time entries from real-time tracking.
Customer Ratings
4.6/5 (1,456 reviews)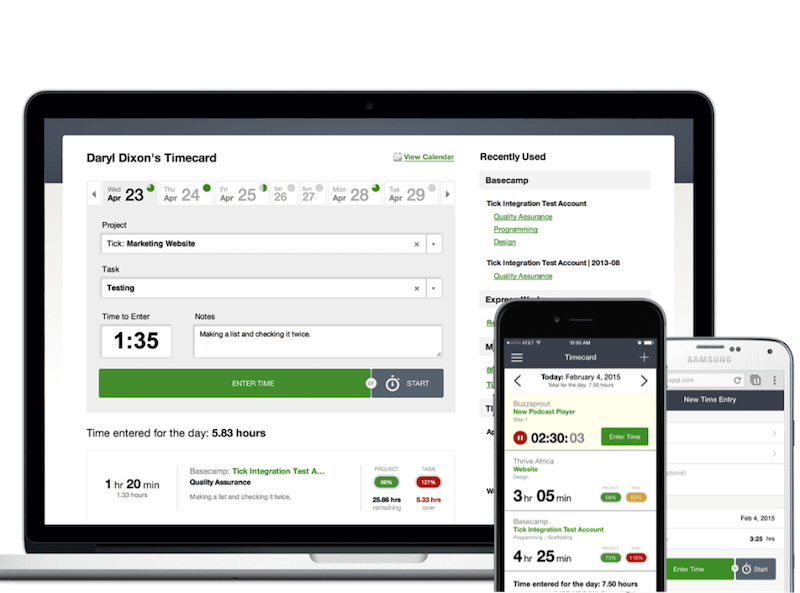 Tick is a standard time tracker, and it is not much different from other time tracking apps. It helps you to stay focused and work on tasks within the allotted time.
However, the 'per project pricing' feature on projects and tasks sets it apart from other time management tools.
Most time trackers either time up or time down to discover how long you're spending on a particular task. With Tick, you'll find a different mode of operation. Tick has advanced features that allow you to set a time budget and generate reports for a specific task, unlike other timers.
So as you're working on specific tasks, it automatically tracks your progress during work hours, and you can see how much time you have left.
In addition, you can use Tick for your team projects and tasks to collect data on how much time you spend on a project.
Time budget is better than manual time tracking so that you can bill clients on customized hourly rates. It also has billing and payroll features that enable you to turn reports into invoices you can send to your clients according to your work hours.
It is also cheaper than other RescueTime alternatives, especially for large team members working on minor tasks.
Key Features
Useful time-tracking and timesheet reporting
Creates time budgets for projects and tasks
Allows cross-platform usage on mobile, desktop, tablet, and watch devices.
Solid integration with other work tools
Pricing
Check out its special per-project pricing structure below;
Free for one project
10 projects –  $19/month
30 projects – $49/month
60 projects – $79/month
Unlimited projects – $149/month
Pros
It can help you create custom projects
Can easily run multiple timers within the same period
It enables you to send email reports as invoices to your clients
It will help you track multiple projects and complete tasks on time
Cons
It doesn't have any performance monitoring tool and has light features
It doesn't support offline time tracking
It's not a comprehensive time tracker and mostly unsuitable for major business companies
Customer Ratings
4.5/5 (1420 reviews)
Conclusion
While RescueTime offers you proper time tracking with detailed reports, it's still quite limited. That's why we have compiled this list of the best RescueTime alternatives of 2021 to help you with your search.
However, the best time tracking apps are those that are most suitable for your business.
If you're looking for a comprehensive time tracking software with several functionalities and features, we recommend TimeCamp. As a more effective alternative to RescueTime, it's easy to use, and you won't need to install additional support tools.
In addition, it offers you a strong integration with multiple work tools so you can efficiently manage your projects on a single platform.
Sign up for TimeCamp right now so you can start working on your projects with a new approach.