PTO tracking software – why do you need it?
January 20, 2022
by Kat Ciesielska
No comments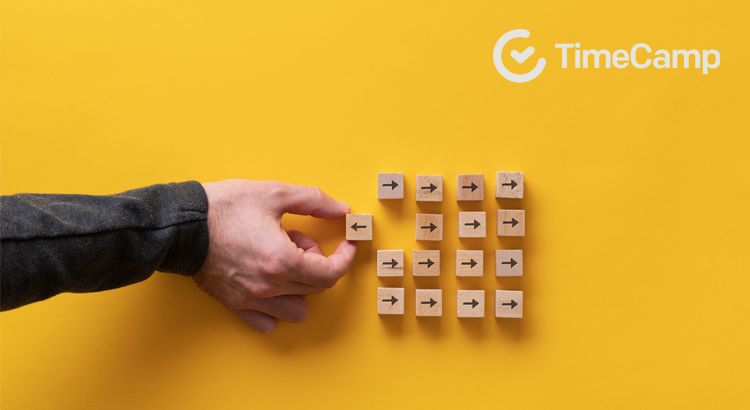 Vacation time tracking software or PTO management software is getting more popular. Not without a reason! PTO tracker software makes everyone's life easier. A lot. If your HR processes employee vacation tracking manually or with spreadsheets… you definitely need to read this article. I'm serious. Because you're probably just losing money now.
What is PTO tracking software?
HR departments just love paper forms. Or, at least, everyone besides them thinks so. People management is a must in every company, even in a small business, yes. But it can be easier and… cheaper than it's been in the past.
Depending on company size, employees' leave management takes a lot of time. HR staff needs to collect all time-off requests, track time off, count employee time at work, collect data and improve PTO policy.
And these are just some of the HR tasks. Leave requests are not the only thing they need to take care of. Recruitment, performance management, eventual issues between employees, smart integrations (especially during COVID-19), motivation. And more, especially in larger businesses.
It's a lot, so even medium-sized businesses with less than 100 employees hire few HR professionals. The right tracking software is an answer for all these time-consuming tasks. PTO management tool is a perfect solution to track employee absences, including PTO and TOIL.
Automated time-off management saves all the time when HR inserted data manually. And if you choose wisely, you will have not just a PTO tracking system but complex time tracking software to boost productivity in your organization. You can make all employees' work-lives better.
PTO software doesn't mean that's just HR software.

What is PTO and TOIL?
Before we move on to PTO software, you need to understand fully these two terms. If you're not familiar with them yet, read carefully.
Paid Time Off (PTO)
PTO stands for Paid Time Off. But what does it actually mean? This is free paid time off that employees take because of vacation, sick leave, federal holidays, family leave, maternity leave, and paternity leave
Loosely said, Paid Time Off is all the time when employees are not working, but the company still pays them for that time.
Time Off in Lieu (TOIL)
Time Off in Lieu is a time off that an employee earned for some other reason, for example, because of overtime work. It's often called compensatory time or simply comp time.
However, you need to remember that in most of the states (and European countries) it's illegal! Check our article about comp time and play fair.
When TOIL can be fairly given is, for example, some competition between employees. Why not give an employee time off as a reward for great results? That's an idea!
PTO requests
PTO requests are just formal time off requests from employees. They inform about the requested timing and the reason for the time off.
Depending on this, an employer may accept the request without any concerns or ask an employee to change the dates. If it's a long vacation request, for example. Cases like maternity or paternity leave, death in the family, getting married, etc. are a bit different.
What are the most common problems with PTO tracking?
As you see, PTO tracking is not so easy. There are many situations where employees fill time-off requests, and the HR department needs to analyze and track all of them. Documentation should be easy to access and kept properly, in case of some officials would like to check it out.
Employee PTO, like many other things in business, has some regulations. Besides every organization's PTO policies, there are state norms.
Proper time off tracking is a must. As well as keeping historical data for a certain period of time. Also, all hours worked by employees need to be stored somewhere.
Smaller companies have it easier when it comes to collecting data, but it still takes a lot of time. Manual processing is also risky because of human-based mistakes. Even the best HR professionals are just humans. A simple PTO calculator is not much better, neither.
When they track PTO without the help of any automated time-off tracking software, they can make a mistake. It's natural.
Benefits of PTO time tracking software
Easy attendance tracking
Forget about counting employee hours manually. Right PTO software tracks all employees' actions, including productive time and unproductive time. One slight look and you know everything.
Improving approval process
Turn on automated approved time, or just make it easier for employees and managers. Best tracking software proposes options that suit businesses from many different fields.
Saving time associated with manual processing
If you hire many employees, processing manually is just an ineffective nightmare. PTO software saves your time and your money. It's also easier for employees, especially those who work on more flexible timelines.
Centralized data stacking
Keep all your data in one safe place. Play with date ranges, create reports, and just enjoy the clarity of it all. Find information about your employees faster than ever.
Best PTO tracker software
Almost all PTO tracking tools are cloud-based systems. Some of them are focused just on attendance and vacation tracking, some are more complex. Some offer efficient reporting tools, the possibility to manage time-off requests almost automatically, employee self-service, payroll system, scheduling meetings, mobile app version, and much more.
The right PTO software will extremely boost your productivity, not just in the HR department. Let's take a look at 3 great systems.
GoCo Employee Management Software
Best for simple time-off management
GoCo is a pretty well-known time-off tracking software that really helps to simplify vacation tracking. It sends instant alerts via its GoCo platform inbox when employees make PTO requests.
You can approve or decline time off requests, manage eventual calendar conflicts, and your people have easy access to employee PTO balance information. There's also a possibility to manage unlimited PTO policy, separate Paid Time Off from other types of leaves, and more.
When it comes to PTO software, this one is a really nice functional system.
Pricing: starts from $5 per employee per month. It's flexible pricing, depending on your needs and situation.
👉 Check also our article about time management software
Kissflow HR
Best for managing complex HR procedures
Kissflow HR cloud software is a complex solution for HR departments. It offers a leave management tool, where you can track and manage leave requests at the company. You can accept or decline request time-off forms, and store them in one place.
But that's not everything because this software lets you with adequate staffing too. It also offers an applicant tracking system, employee onboarding, and offboarding. There's also a time tracking option, which is pretty well-designed.
One of the most known features of this app is the possibility to create flexible workflows.
There are few pricing options available, but you should remember that the cheapest ones don't offer complex support (just live chat).
Pricing: starts from $9.90 per user. No free version, but a free demo trial is possible.
Best for easy PTO tracking & complex workforce management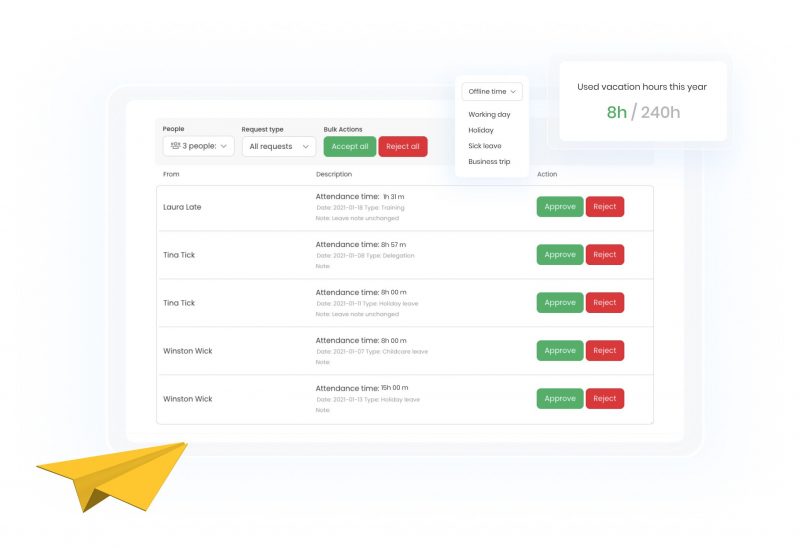 PTO tracking is significant, but actually, it's just a part of time management in a company.
TimeCamp is a time tracking software that helps you with organizing your business in general. You can use it as a PTO tracker, and it also helps with invoicing, budgeting, boosting productivity, and making strategic decisions.
It's a real robust platform, perfect to manage all employees: also these working remotely and in more flexible timing. You will always know what your employees have done so far, what tasks are hard for them, and what applications distract them.
All information is served in pleasant to read reports. Data will help you to boost your workforce management in the most efficient way possible.
Pricing: free PTO tracking software & general time tracking system version available.
Conclusion
Tracking PTO is one of the most important tasks for the HR department. It's not just required by some law regulations, but it just makes everything easier.
Employees need to understand your business PTO policy, so they can feel safe. Good policy can even improve employee engagement 😉
The right PTO tracker will help your HR professionals to work better. You will save their time and your money. Forget about google calendar and start modern PTO tracking today with a free time tracking TimeCamp plan!