15 Best SaaS Affiliate Programs
May 4, 2022
by Kat Ciesielska
No comments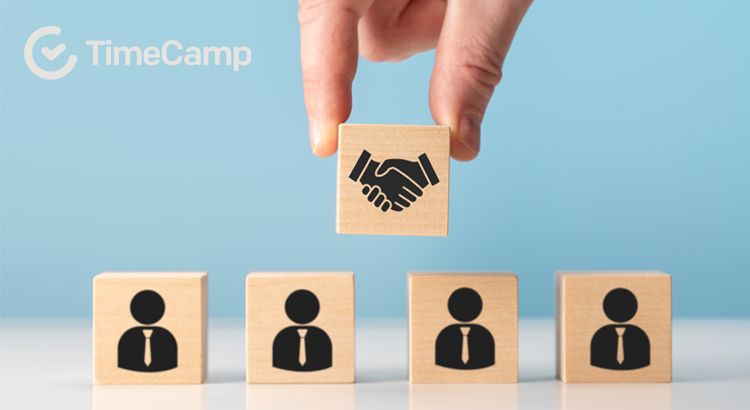 SaaS affiliate programs are one of the best ways for generating passive income. If you run a blog, YouTube channel, TikTok, or Instagram profile, engaging in affiliate marketing is a great deal for you. Not doing it at all is just a waste of money for you, to be honest.
But SaaS affiliate programs are not exclusively for bloggers and influencers. If your business niche is similar to possible affiliate partners, you should consider it as well. Simply use other SaaS companies' affiliate programs as a part of your cross-selling strategy. You can even run your own affiliate program and enjoy its benefits in both ways with your affiliate partners.
Another idea? If you're a specialist in your field, and you run courses for others, you can recommend the best SaaS to your students and earn some money on it. They ask for recommendations anyway, right? Choose the SaaS affiliate program that suits your standards. You will help your students and yourself.
I believe that's enough to make you think about engaging in some SaaS affiliate programs already. If you're completely new to this – especially if you're not familiar with SaaS – keep reading.
If you already know that affiliate marketing is for you, but you're looking for the best options, skip to our list of the best SaaS affiliate programs now.
What is SaaS?
Software as a service (SaaS) is a popular way of selling software these days. Instead of buying some program on CD, you pay a monthly or yearly subscription. Depending on your plan, you get fewer or more features; so you can select just the elementary one for the beginning.
Developers are constantly working on their software, and usually, they are more than happy to listen to their customers' opinions and suggestions.
If you run a corporation, there is an option to customize the solution in an enterprise paid plan. That's something that couldn't happen before the SaaS era.
What is affiliate marketing?
Affiliate marketing still sounds to some people like something wrong. Because of its high similarity to MLM, mostly. And as the majority of us know, there used to be massive scams in this field. But don't worry.
The idea of earning money on affiliate marketing is to promote something you believe in while doing your normal work. It can be some of the SaaS companies you use for your daily work, it can be software that supports your own program or something else.
Just anything that naturally suits you and your business.
That is why I recommend you to choose the affiliate program carefully, so you can feel good about promoting it. It's better to give it some time, check your options, and then decide.
How to select the right SaaS affiliate program?
Becoming an affiliate marketer is one thing. But to become a successful affiliate marketer is more tricky. Nice monthly payment is possible just when you pick the right SaaS affiliate program for your online business.
If you pick the wrong one, you will not just fail in the affiliate marketing business itself, but you can also lose customers – if they think that you trick them into something.
Put attention to the factors below before accepting any affiliate partnership.
Brand
Good affiliate program conditions are not enough. It is nearly impossible to convince your customers to use software from a brand that has a bad opinion. Or no opinion at all.
The situation involving Nestlé, Auchan, and other companies staying on the market where they should have not stayed, clearly has shown it. People's voice does matter more than ever. And that's good.
That is why, before accepting any SaaS affiliate program, check its review online. Make your research, it's worth it. If it seems popular and appreciated by users, that's already a huge advantage.
Remember to check if its users are from the market that you're also interested in. There's no use of the best SaaS (Software as a Service) if it's dedicated to Spanish-speaking users when you're focused on the US.
Avoid any affiliate programs from completely unknown parties.
Commission
The standard in SaaS affiliate programs is around 20%. It all depends on the subscriptions' length, the product itself, the company's strategy for partnerships, and of course – they will fairly reward you for your work. Because even at some point engaging in affiliate programs gives you passive income, you need to work your… head for it. In the beginning.
Every paying customer is a profit for your partner, so don't forget about it. Imagine yourself as a salesperson working just on commission. 20% sounds ok, but 10%? If it needs a lot of effort from your side and the price is not high… then I'm not so sure. Unless it's a really popular software company.
And remember: probably you will be speaking with a dedicated affiliate manager at some point. Don't be afraid to ask for a higher fee. Negotiating is never a crime.
Summary: higher than 15% is your goal. Excluding extremely expensive SaaS programs.
Cookie duration
What does cookie lifespan have in common with SaaS affiliate programs? Well, a lot. At least if you're really interested in making money. As a short reminder, cookies are pieces of the data – including also unique identifiers – that a web server sends to your browser when you visit some website. Then, it can be sent back to the server.
They are meant to track users' behaviors, and monitor them, mostly for marketing purposes. Thanks to them, you see a welcoming back push-up when you enter your favorite e-commerce, for example. Because you're not a stranger.
You want the same for your affiliate link. The client sees it in your email marketing campaigns, clicks it, and… does nothing. Because most of us don't decide on SaaS programs so fast. We need to think.
When a client comes back a few days later, ready to make a purchase, you want them to be recognized as referred by you.
That is why a long cookie lifespan is good for you. Short is a completely a waste of your time, recourses, and patience. What is long, and what is short in this case?
Cookies' duration starts from 1 and ends on 100 days. When it comes to SaaS affiliate programs, everything in less than a month is risky for you.
Summary: minimum of 60 days will be sensible.
Allowed marketing channels
The terms of affiliate programs may highly restrict the way you can promote them. It is essential, especially when you will make affiliate marketing an important part of your income. If vendors ban paid traffic, you need to figure out another way to promote the product. If there are no restrictions at all, it may be a bad sign, too.
There will be plenty of suspicious places where the offer is active.
Affiliate dashboard
A dedicated account manager is one thing. To make your life easier, you should be able to use a comfortable and sensible affiliate platform.
Make sure that you have easy access to reports, and resources (marketing materials like banners, mail templates, screenshots, presentations, video demos, etc.). The option to create custom links is a must.
A good affiliate platform should also have access to PayPal or Stripe, so you get your money in a safe and comfortable way.
Best SaaS affiliate programs
There are plenty of SaaS affiliate programs that you can engage with. As I mentioned before, attempt to choose something that's close to your niche or works well with it. Start by picking up to 3 programs before you jump fully into affiliate marketing.
List of the best SaaS affiliate programs to choose from:
TimeCamp
SEMrush
Adobe Creative Cloud
Canva
Thinkfic
Udemy
Shopify
BigCommerce
Amazon
AliDropship
HubSpot
Zoho
Sumo
GetResponse
Livechat
1. TimeCamp Affiliate Program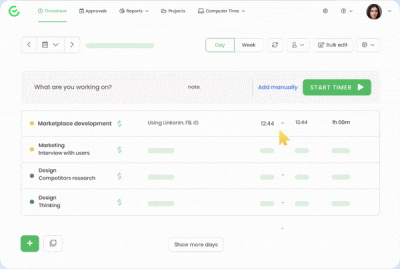 Brand: very popular – check reviews on G2 or Capterra and see by yourself. Plans are created in such a way, that the user is likely to pick a paid one after a free trial. This is why TimeCamp's affiliate program is worth trying.
Niche: TimeCamp covers the niche of time tracking – essential after the pandemic when companies have changed their way of working. Most organizations have switched to a hybrid or 100% remote model, even if offices are open again.
It allows them to hire experts from the whole world and save office rental costs. Because they still need to manage their employees and projects somehow, TimeCamp is the perfect solution.
It's also a great tool for freelancers and small businesses. Users have many great options. Some of them are automated time tracking, attendance management, budgeting, invoicing, and project management. TimeCamp also offers multiple integrations to create a perfect, personalized work management system.
If you want to know more, check how TimeCamp works.
Market: global. Software is available in English, Spanish, Portuguese, and Polish. Soon there will also be a German version. It's dedicated to freelancers, small businesses, and corporations from all over the world. Most businesses benefit from it as long as their employees use computers for daily work.
Commission: 30% lifetime – each time a new customer from you renews their TimeCamp subscription. It is not the highest possible fee to find in the SaaS affiliate program, but it's one of the highest when it comes to lifetime commissions.
Cookie length: 90-day cookie duration.
Marketing instructions: TimeCamp allows paid search traffic, but prohibits the use of branded keywords (there's a list of negative keywords to exclude in your paid search campaigns).
Extra perks: TimeCamp uses the very popular affiliate partner portal PartnerStack. It's safe and very comfortable to use. You have access to reports, payments via PayPal or Stripe, and marketing materials (banners, email templates, screenshots, presentations, video demos, and more). You can also create custom links and dynamic links. The affiliate manager is always happy to help if you need his assistance.
Join TimeCamp Affiliate Program now!
2. SEMrush Affiliate Program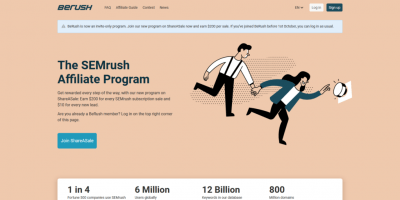 Brand: very well-known. It's one of the favorite tools for marketers from every business. When it comes to SEO, PPC (pay per click) advertising, and social media marketing, that's a solution you want to use. SEMrush is not just popular but also has a superb opinion, so no need to worry. It's definitely one of the most popular affiliate programs.
Niche: tools for marketers.
Market: SEMrush will work perfectly for freelance marketers, huge marketing agencies, and in-house marketing teams. Every online marketer can benefit from it.
Commission: $200 for every new sale, $10 for every trial, and $0.01 for every new sign-up. You can earn around $160 per month on average if you're a fresh affiliate marketer. As they claim, some of their affiliate partners make even $2845 per month. Sounds good, right?
Cookie length: 10 years. Yes, I mean years. That's pretty comforting!
Marketing instructions: it's forbidden to promote using the following means: provision of leads obtained other than through intended consumer ("End User") action (e.g., through the use of phone books or similar such compilations of personal data); use of fake redirects, automated software, or other mechanisms to generate actions; Actions that are not in good faith, such as those using any automated device, robot, Iframes or hidden frames; or the use of incentives to procure Actions from End Users.
Extra perks: SEMrush gives its affiliate partners access to many marketing recourses like e-books, banners, or widgets in over 10 languages.
To apply for their affiliate program: learn more.
3. Adobe Creative Cloud Affiliate Program
Brand: well, who doesn't know Adobe? It's a standard in digital marketing, and it can be a great content marketing tool as well. And when it comes to Adobe Creative Cloud, it's getting more and more popular as well. Let's be honest, that's a brand that you can rely on.
Niche: design, content, photography, web design, social media, illustrations. Everything for the digital content department. You can decide on one product, e.g., Photoshop, Illustrator, Adobe XD, Dreamweaver or choose a complex plan with all the programs.
Market: designers, photographers, graphics, illustrators, and even social media specialists who prefer to keep everything in the cloud. Adobe promises that all the tools work much better and faster than casual ones. It's a great solution, especially for companies that hire many different people from the content department. That's a great SaaS affiliate program if you're blogging about design.
Commission: 85% of the first month (monthly subscription and yearly subscription paid monthly) and 8.33% of the first year (yearly subscription with one-time payment).
Cookie length: 30 days.
Marketing instructions: you can do almost anything as long as you're not breaking the local law, and you're delivering quality content.
Extra perks: this affiliate program offers many ready-to-publish banners, and text links, exclusive promotions, up-to-date information on new releases, daily reporting, product level, and more.
To apply for their affiliate program: learn more.
4. Canva Affiliate Program

Brand: very popular among online businesses. It is really hard these days to find someone who doesn't know Canva, and I don't mean people from digital marketing. However, not everybody feels that they need anything more than a free plan. Many believe that Canva is good for easy projects and if it's not enough, a better idea will be to subscribe to Adobe Creative Cloud. They seem to forget that Canva is much cheaper than Adobe. For many companies, it will be perfectly fine to choose its Pro plan.
Niche: creating for everybody. Unlike Photoshop or Illustrator, Canva is simple to use. You don't need to spend hours learning about its possibilities. That's a program available for beginners in design, right from day one.
Market: small, medium, and even big businesses from all over the world. Especially useful for the content department, including the social media team and bloggers. It is also really useful for these new business development managers who need to create their own sales materials.
Commission: 80% of 2 first payments if the customer picks a monthly payment. 25% in case of a yearly subscription.
Cookie length: 30 days.
Marketing instructions: there is no need for you to have a blog or a website. There aren't many special requirements in this affiliate program, as well, besides the standard agreement. Feel free to share your affiliate link!
Extra perks: if you turn a user of Canva Free into a paying user, you still get a commission. It doesn't matter that they are already registered. There is access to guides and a simple dashboard. You will also be a priority for Canva support.
To apply for their affiliate program: learn more.
5. Thinkfic Affiliate Program

Brand: you may not know this platform very well yet, but Thinkfic is a SaaS company that has really decent reviews so far. It is worth giving it a chance, especially since they have a pretty decent affiliate program.
Niche: online courses-creating, learning. Thinkfic allows you to create your own courses. You can lunch a live course or focus on videos. What's interesting is that you have the possibility to create a website, so you are the fully independent creator, and that can be a core of the business. Definitely worth trying.
Market: content creators, couches, teachers, online instructors, small online schools, or professionals who want to grow their personal mark via teaching. It can also be not a bad idea to create a storage of know-how in a big company.
Commission: 30% lifetime recurring.
Cookie length: 90 days.
Marketing instructions: standard agreement.
Extra perks: user-friendly dashboard, marketing materials, dedicated support.
To apply for their affiliate program: learn more.
6. Udemy Affiliate Program

Brand: you could not know that Udemy has an affiliate program, but for sure you know the brand itself. It's pretty popular in Europe and in the US, so you will not need to explain it to potential customers.
Niche: learning. It's extremely popular among developers and marketers, but you can learn much more on Udemy. There are courses that cover sales, design, art, business management, neuromarketing and more.
Market: definitely global. It won't be a lie if I say that anyone can find something for them on Udemy. That's why this is one of the best SaaS affiliate programs to engage with.
Commission: 15% until $5.000. If you really know how to sell online courses and manage to drive more, there's an option for a higher fee.
Cookie length: 7 days, which may seem pretty low, but in this specific niche, it can be enough.
Marketing instructions: you can choose from thousands of courses available on Udemy. Some of them are pretty known already, and it won't be easy to earn any money, but there are also many pearls hidden deeper. Search them, promote them, and you're a winner.
Extra perks: affiliate marketers get access to marketing materials and unique referral link creators, and they have special discounts for courses. They also have an opportunity to get access to extra materials before anyone else.
To apply for their affiliate program: learn more.
7. Shopify Affiliate Program

Brand: anyone who has ever had anything in common with e-commerce, knows Shopify, let's be honest. Competition is getting stronger every day, but that's a brand that you can rely on. This SaaS affiliate program is one of the safest on the market.
Niche: e-commerce platform. Good for small businesses and for big companies, available in many languages.
Market: fresh and advanced entrepreneurs, including drop shippers. If you have a blog or a channel where you teach people how to become successful entrepreneurs, that's a great affiliate program for you.
Commission: 200% from every new merchant.
Cookie length: 30 days.
Marketing instructions: you need to accept the trademark usage guidelines, and you need to be already familiar with Shopify or similar platforms. You also must have an established audience already.
Extra perks: besides marketing resources, they offer priority support for your own Shopify store, extra bonus for any referral that purchases Shopify Plus. That's an affiliate marketing program worth starting, for sure.
To apply for their affiliate program: learn more.
8. BigCommerce Affiliate Program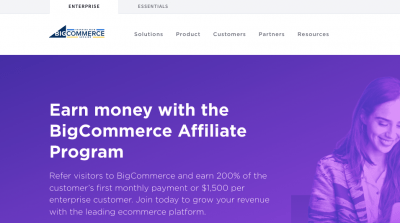 Brand: maybe it's a bit less popular than Shopify but right to WooCommerce it's a pretty big competition. Users like this solution, so there is no fear to engage in its affiliate program. For all the people hunting for something else than Shopify (and trust me, there are plenty of them), that's a good proposition. That's a better opportunity than Shopify itself because most of the people, willing to subscribe to the first one, won't use any links. They already know the brand enough to search for it.
Niche: a platform to create your own online store.
Market: small and medium businesses mostly. Huge e-commerce companies are still more likely to choose PrestaShop or Magento and set up them on dedicated servers or clouds.
Commission: 200% of the customer's first monthly payment, or $1.500 per enterprise customer. The most popular plan is $79.95 which gives you $159.9 per new sign-up.
Cookie length: 90 days.
Marketing instructions: –
Extra perks: BigCommerce gives you access to their marketing materials like banners, email templates, and more. They also provide a dashboard where you can check your earnings, and track performance. Dedicated affiliate support will help you in creating the best strategy for your affiliate sales.
To apply for their affiliate program: learn more.
9. Amazon Affiliate Program
Brand: there is nothing closer to our everyday life than Amazon these days. Some previous brands are well-known in a business environment, but this one is definitely known by everybody. No matter what their job is. That's the reason I put Amazon's affiliate program here – even the commission and cookie duration don't look so appealing.
Niche: all affiliate partners will find something good as we talk about the Amazon e-commerce platform and its products. In this case, you don't adjust. You choose.
Market: US, many European countries (more and more).
Commission: 1-10% per referred customer.
Cookie length: 24 hours.
Marketing instructions: you will promote products that are available on Amazon. That's why it's best if you're an influencer or a blogger.
Extra perks: easy link-building tools. You can earn a commission on a customer's entire cart and for free trial sign-ups.
To apply for their affiliate program: learn more.
10. AliDropship Affiliate Program
Brand: here is another very popular affiliate program. Alibaba is strong competition for Amazon, and it's thriving, let's be honest. This affiliate program is also worth checking because of its high commission.
Niche: dropshipping. It's still popular and probably won't stop. The idea of e-commerce without renting any storage is appealing to many.
Market: global.
Commission: 30-50% depending on the product (plugins, themes, stores, and services).
Cookie length: 30 days.
Marketing instructions: standard agreement.
Extra perks: instant approval process, content templates, promotional tools.
To apply for their affiliate program: learn more.
11. HubSpot Affiliate Program

Brand: one of the most popular CRM worldwide. When it comes to online business, HubSpot was one of the first decent tools for sales management. Definitely, HubSpot affiliate program is worth trying.
Niche: they have tools for marketers, salesmen, operation managers, and developers.
Market: global.
Commission: 15% recurring (up to one year) or 100% flat rate (first month's revenue).
Cookie length: 90 days.
Marketing instructions: they encourage sharing an affiliate link in blog posts, e-mail newsletters, banner ads, and other digital content.
Extra perks: no minimum sales, many marketing recourses to use, dedicated affiliate team.
To apply for their affiliate program: learn more.
12. Zoho Affiliate Program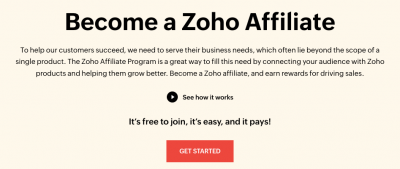 Brand: another SaaS company that most people in online business know very well. Zoho offers not just CRM. They also offer a marketing automation platform, finance program, IT management tool, HR platform, and more. There's plenty to choose from.
Niche: an operating system for businesses. Just using Zoho products, you can cover most of the operational activities in the company.
Market: originally from India, but now they are fully international.
Commission: 15% recurring commission for the next 12 months if the new subscriber pays at least 90 days.
Cookie length: 30 days.
Marketing instructions: you cannot be affiliate partner and consulting partner at the same time; you can't sign up using your own affiliate link; the rest is pretty standard.
Extra perks: no minimum sales, the sky is the limit (no maximum commission), extra Zoho credits for referrals, marketing assets, dedicated team to help you.
To apply for their affiliate program: learn more.
13. Sumo Affiliate Program

Brand: The Sumo affiliate program is called Boost. It's been in top SaaS affiliate programs for a while already. It's a good brand, liked by many people, and nice to engage with, no matter if you're an organization, or you want to do this solo.
Niche: Sumo offers a great customer engagement platform, good for medium and big organizations.
Market: international. Mostly retail, banking & financial institutions, government offices, education, and health & wellness.
Commission: up to 25%
Cookie length: 60 days.
Marketing instructions: standard agreement.
Extra perks: marketing materials, affiliate program training provided, payment within 15 days.
To apply for their affiliate program: learn more.
14. GetResponse Affiliate Program

Brand: pretty well-known and liked by users, so you can surely trust this SaaS affiliate program. It's not simply an email marketing platform, but a complex marketing software.
Niche: marketing tools and lead generation. Keeping relationships with customers.
Market: global. For the small, medium, and big companies interested in great c marketing.
Commission: $100 (bounty affiliate program) or 33% (recurring affiliate program).
Cookie length: 120 days.
Marketing instructions: deep links are available, you can join both affiliate programs.
Extra perks: real-time reporting, special discounts, marketing materials, guides.
To apply for their affiliate program: learn more.
15. Livechat Affiliate Program

Brand: this is one of the top SaaS affiliate programs because of the popularity of live chats. There is nothing better than a chat online when most of your customers are millennials or gen-Z.
Niche: contacting customers, good for e-commerce, services, and more.
Market: global, best for medium and big businesses.
Commission: 20%
Cookie length: 120 days.
Marketing instructions: standard agreement. You can combine Livechat with ChatBot.
Extra perks: dedicated affiliate application, special offers, 24/7 support.
To apply for their affiliate program: learn more.
How to start earning with an affiliate program
Once when you choose a few affiliate programs to participate in, you may wonder what to do next. SaaS affiliate marketing is something that you will learn with experience, but there are some things you can start with.
Most of the affiliate partners are required to have a website and/or popular social media profile. Not without a reason. Social media channels are great to possess some successful referrals.
You can also run affiliate campaigns, make landing pages, write a special blog post or use some email marketing software and prepare a newsletter. Start with the best SaaS affiliate program in your opinion.
The most important thing is to promote software you really believe in. Something that your audience will like and be thankful for the recommendation. Affiliate programs can be a good source of income, but you can't forget about fairness.
Conclusion
As you see, there are many great SaaS affiliate programs. The best what you can do is to choose those that are closest to your own niche. For example, if you're focused on business management and marketing & sales, a good trio will be SEMrush, Zoho, and TimeCamp.
Don't overthink. Affiliate marketing works.