15 Best Time Tracking Apps for iOS
July 8, 2022
by Tomasz Celler
10 comments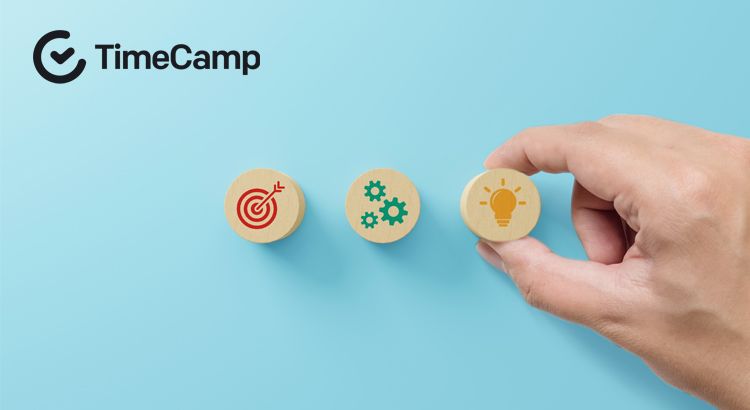 iOS is one of the most popular operational systems, not only in the US but also globally. Many people use Apple's products for work and personal reasons. However, this system requires dedicated apps, and not all of them are available for iOS. The same goes for time tracking apps.
If you're looking for apps that will let you track time on your iPhone, you're in the right place.
iPhone is one of the most often used smartphones. It has many dedicated fans who can't imagine life without it.
How Can You Track Your Time on iPhone?
While the world of apps is filled with thousands of tools, you can't find them all in the Apple store. And when it comes to tracking your time and work hours, it gets more challenging.
The best, easiest, and most effective way to track your time on your iPhone is to use an iPhone time tracking app.
If you are a user of Apple devices, and you would like to have better control over your time, perhaps some of the time tracking apps from the list below will help you. We picked ten very popular and well-developed apps for both freelancers and teams.
Besides, you can use your iPhone or iPad as a shared device for time clock kiosk. It's a basic but simple to use time tracking tool that allows clocking in/out using e.g. a 4-digit PIN code. You just need to place the device somewhere in the visible place in your company, open the kiosk website and let your employees mark the start/end work hours this way. 
How to choose a perfect iOS time tracking app?
If you type "iOS time tracking apps" or "time tracking apps for iPhone" in your browser or just the "time tracking" phrase in App Store, you'll receive plenty of time tracker apps to choose from. But how to choose the one that'll satisfy you the most?
First, ask yourself what you really need. Are you looking for an ordinary time tracker app that'll just track time for your daily activities? Or for a comprehensive time tracking software with more advanced features, like GPS or reporting features? A free app or you're ready to purchase a subscription?
Here are some of the essentials that are worth paying attention to:
type of time tracking app – do you need a standalone mobile time tracker or a time tracking app that is available for multiple devices and platforms?

time tracking features – does the app log time only in online mode or offers also offline time tracking (and then sync data with time tracked using the other apps e.g. web version or desktop app),

time tracking data – does the app allow adding time manually and modifying the existing time entries?

project tracking – does it allow adding unlimited projects and tasks? Can you track multiple projects at once?

subscription model – is it an entirely free time tracking tool or requires additional payments to unlock the advanced features?

GPS tracker – do you want the app to track the location data?

reporting features – does the app generates reports based on tracked time?
Now you're familiar with features that the best time tracking apps for iPhone should have. Let me introduce you to some of the top apps in the market!
1. TimeCamp – robust time tracking for teams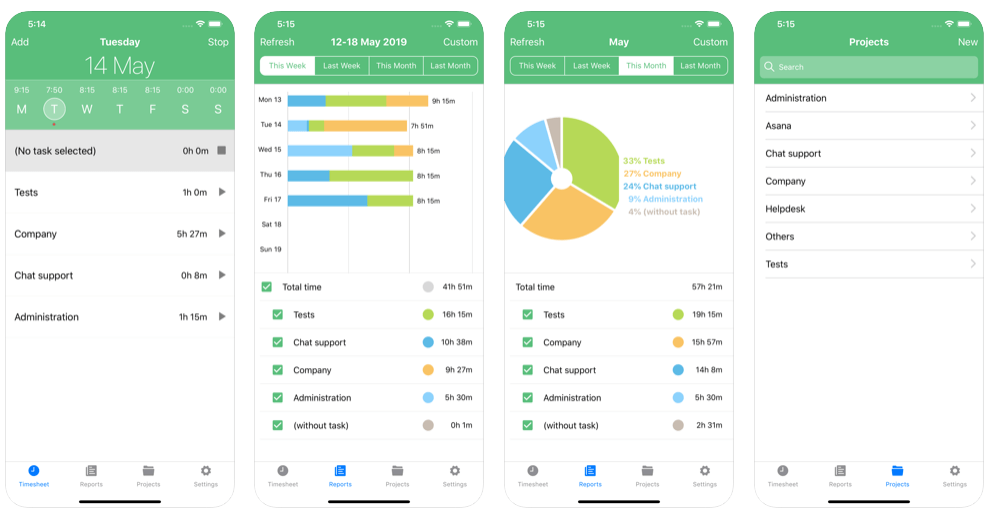 TimeCamp is a time tracker fully compatible with iPhones and iPad. You will always find our time tracker on top of the list because we know that it deserves to be there! (oh, unless it's the list of the worst time tracking apps ?) Set the task that you want to work on and start the timer. Once you turn it off, you will receive a display of all the activities that you performed on that device – both positive and negative ones. Users are able to log their work hours, create new tasks, generate reports and get detailed info about work hours.
It's been designed primarily for companies, and so it offers a feature that will improve the work and time management in every office – timesheets. It also offers reporting tools and timesheet approvals for managers, who need better control over their team members. The hours keeper app synchronizes with other TimeCamp apps on different devices, providing you with a full display of the activities that you have performed during the day.
Main features:
Simple user interface with start and stop time tracker – fully automatic time tracking,

Time clock kiosk, 

You can create time entries manually,

Generate useful reports of your time (standard and custom reports available),

Browse your active projects and tasks,

Tags – another level of time entry categorization,

Log your time offline,

Easily make notes on every time entry you are working on,

Edit time entries with just a few clicks,

Billable hours – mark entries and billable or non-billable by default,

Browse and edit your historical data or plan your future,

Submit timesheets for approval,

TimeCamp is also available as a web app and desktop app so you can synchronize it across all your devices,

GPS tracking for easier mobile workforce team management.
Pricing: TimeCamp hours keeper for iOS offers a free plan and accessing the features listed above doesn't require any additional in-app purchases.  
Start tracking time with TimeCamp! 🚀
2. Hubstaff – for GPS tracking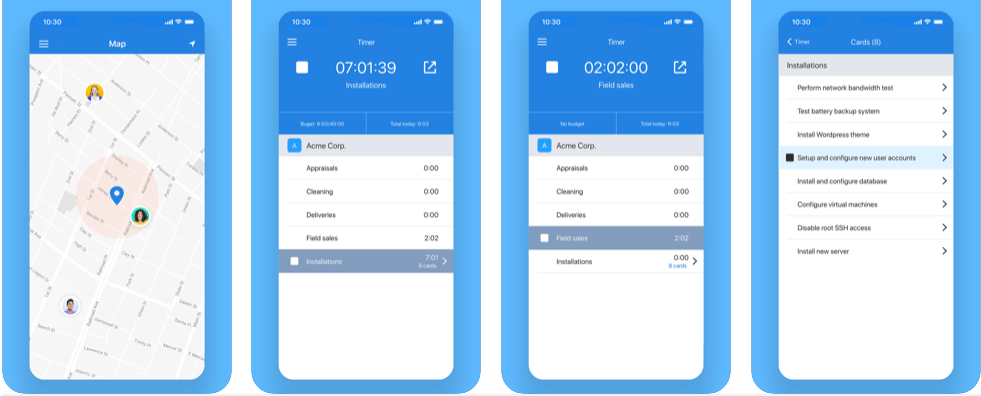 Hubstaff offers a free time tracking app for iPhones. With the Hubstaff app, you can track work hours and pay your workforce automatically. It also comes with an interesting GPS tracker feature that will help you with keeping track of your employees' whereabouts. You launch the app and press start, that's it. Now you can focus on your work, while Hubstaff will be working in the background, tracking both your time and location.
GPS and job sites, however, are not available in the free plan.
👉 Main features:
GPS and geofencing features – tracking time based on geofenced job sites you create, location monitoring, tracking hours spent driving, you can view the routes

Real-time mobile reports with timesheets

Limits and alerts for overbudgeting

You can set rates, pay period, and method of payment

30+ integrations with other apps
💰 Pricing: iOS app is a free time tracking tool for unlimited users; you can access more advanced features purchasing paid plans that start at $5,83 per user per month.
3. Toggl Track – simple time management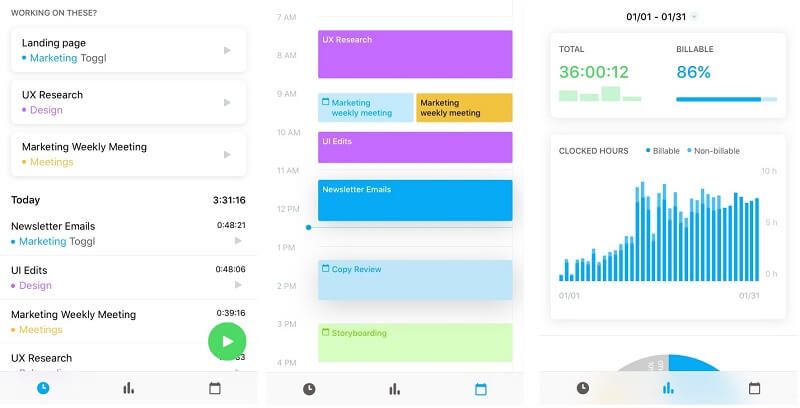 Toggl Track is one of the most popular time tracking apps. This app also offers timesheets that could ease the work in every company.  Log task, switch the timer on, and start tracking. You can generate reports based on the monitored time. The time logs are synced to the Toggl Track cloud, upgrading your data on the go. Additionally, all of your tracked hours are safely synced between your phone, desktop, web, and a browser extension.
Also, you can now use Siri to track your time with Toggl Track, however, this feature requires at least iOS 12. And the free version has limited features.
See Toggl and TimeCamp comparison
👉 Main features:
Summary reports so you can see where all your hours are going

Suggestions – based on your habits and previous time entries, the app will give you suggestions on what you could track

Shortcuts – by using @ and #, you can quickly add projects and tags to your time entry

Calendar

You can customize entries with projects, clients, and tags

Manual mode lets you add time and adjust tracked hours

Offline time tracking
💰 Pricing: Toggl Track is one of the free time tracker apps for iPhone (up to five users). Full version with other features than collecting time tracking data starts at $9 per user per month.
4. TimeTag – free hours monitoring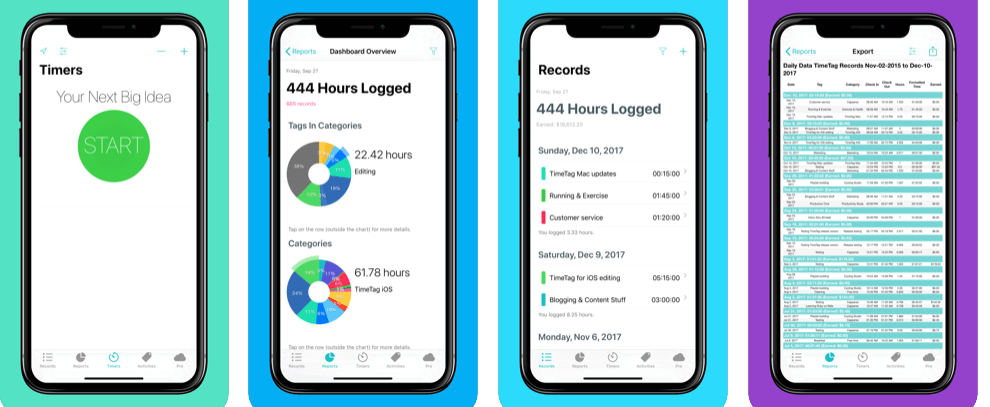 TimeTag is a simple time tracking service. It lets you focus on your work while it's tracking time in the background. It's an intuitive app, easy to use, and has all the features that a good time tracking app for iOS should have. You can use it to monitor how much time you spend on work and control your performance.
👉 Main features of the free version:
Effortless time recording with a simple 1-touch start and stop button

Accurate stats down to the second

See how your time is spent through tags and categories, which are like tasks and projects

You can save time by automatically generating Excel and Numbers compatible spreadsheets with the touch of a button

You can manually add and manage hours tracked

Support for split view, multi-tasking, and iPhone X.

A simple filter tool to total and export only the records that matter most to you
💰 Pricing: This time tracker app for iOS is a free app.
5. Harvest – team & time management

Harvest is offering a well-developed native app for iOS that allows you to track time automatically, log expenses, and manage invoices on the go. Use the timesheet to start a new timer from every place you want (or stop it if you left it running on another device.) You can create and send invoices and you are notified once the clients pay them. Also, there is an expense tracker included; use it to snap receipt photos and keep all your records organized. If you work with the team, you can view your teammates' timers to be up to the with the project.
See Harvest and TimeCamp comparison
💰 Pricing:  The free version of the app has limited features.
6. Paymo – invoicing and billing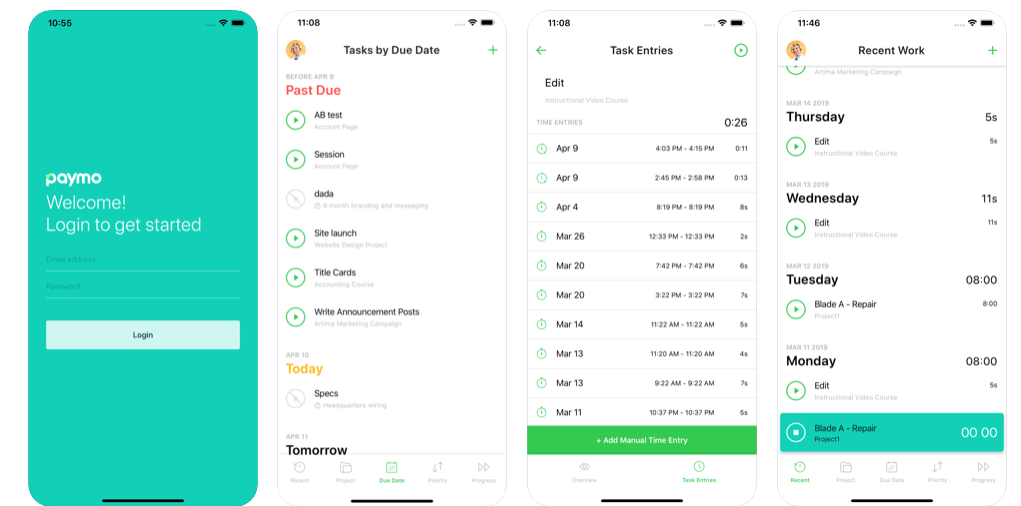 Paymo iPhone time tracking app offers accurate tracking and reporting that is very helpful when it comes to delivering projects on time and on budget. This project management application allows you to track hours, monitor your work, and keep an eye on your projects from any place. Use your iPhone to access and edit existing clients, tasks, and lists of tasks, and add new ones. The embedded search feature lets you find everything that you need. You can also manually add time entries and receive a daily/monthly view.
Paymo lets you easily manage your to-do lists and track time with its free iOS time tracking app.
💰 Pricing: Paymo iOS app is free.
👉 For more time and billing software examples check our article
7. Time Doctor – tracking your to-do list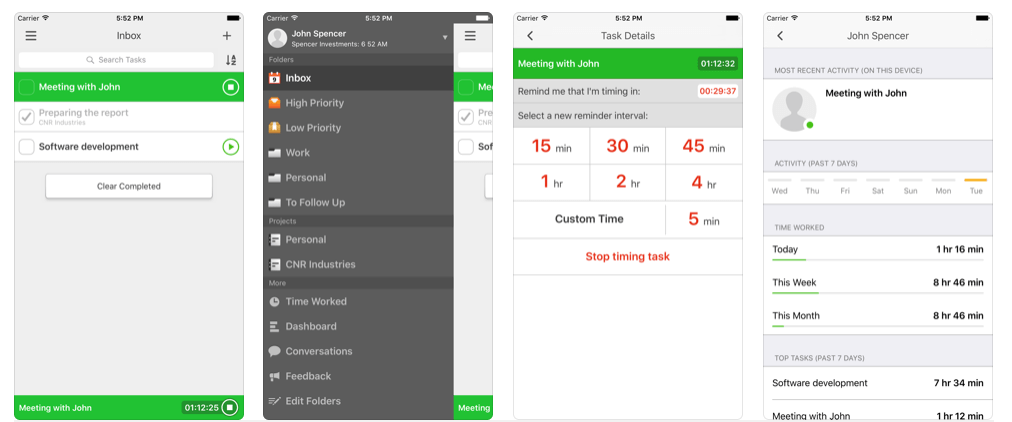 Time Doctor is a to-do list time tracker with a way to easily and accurately track time spent on each activity. It's designed to track all activities in real-time so you can see how many hours you and your team have spent on tasks. Great app for both individuals and teams. It also offers user location tracking. It's a simple app with basic time features.
The new version offers now a dark mode.
See Time Doctor and TimeCamp comparison
💰 Pricing: iOS app is entirely free, if you want to access more advanced features, choose a web version and paid plans that start at $7 per user per year f paid monthly. 
8. Timely – intuitive time tracking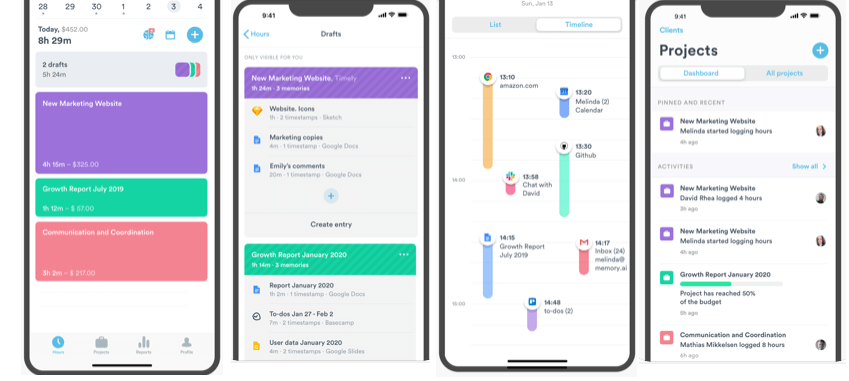 Timely is an intuitive app. With it, you can keep track of your tasks and projects, even if you are not at the office. Timely is simultaneously scheduling and time tracking. It comes with an elegant interface that you can use to add and plan your tasks, organize hours into projects, set hourly rates budgets, control reports, and more. The app for Apple Watch is available, making time tracking as intuitive as it can be. A free trial is available but it's worth investing in for all the powerful features.
See Timely and TimeCamp comparison
👉 Main features:
Timely automatically tracks all the time you spend in web and desktop applications, documents, websites, meetings, etc.

GPS tracking

Task and activity breakdowns

Project budget tracking

Billable vs non-billable time

Estimated vs logged hours

Simple work scheduling

Timesheets

Reports
💰  Pricing: A basic time tracker app for iOS is free. If you want to access other features, purchase a paid plan, which starts at $8 per user per month.
9. Timeneye – portable reporting app
Timeneye is an intuitive time tracking and reporting app that allows you to record the time you spend on different projects and edit them – you can add a task or a description to your project for better work orchestrating. Timeneye on your phone synchronizes with the web app. From it, you can generate reports and analyze the team's performance. You can browse the monitored period by timer and timer's tasks, watch the display of daily entries, and set customizable alerts.
👉 Timeneye app features:
Timers

Daily Suggestions

Budgets overview

Projects overview

Overall view of your daily entries

Time entries automatically saved to the web app

Offline time tracking
💰 Pricing: To use the app, you need a free trial or active subscription.
10. Hours – simple business hours keeper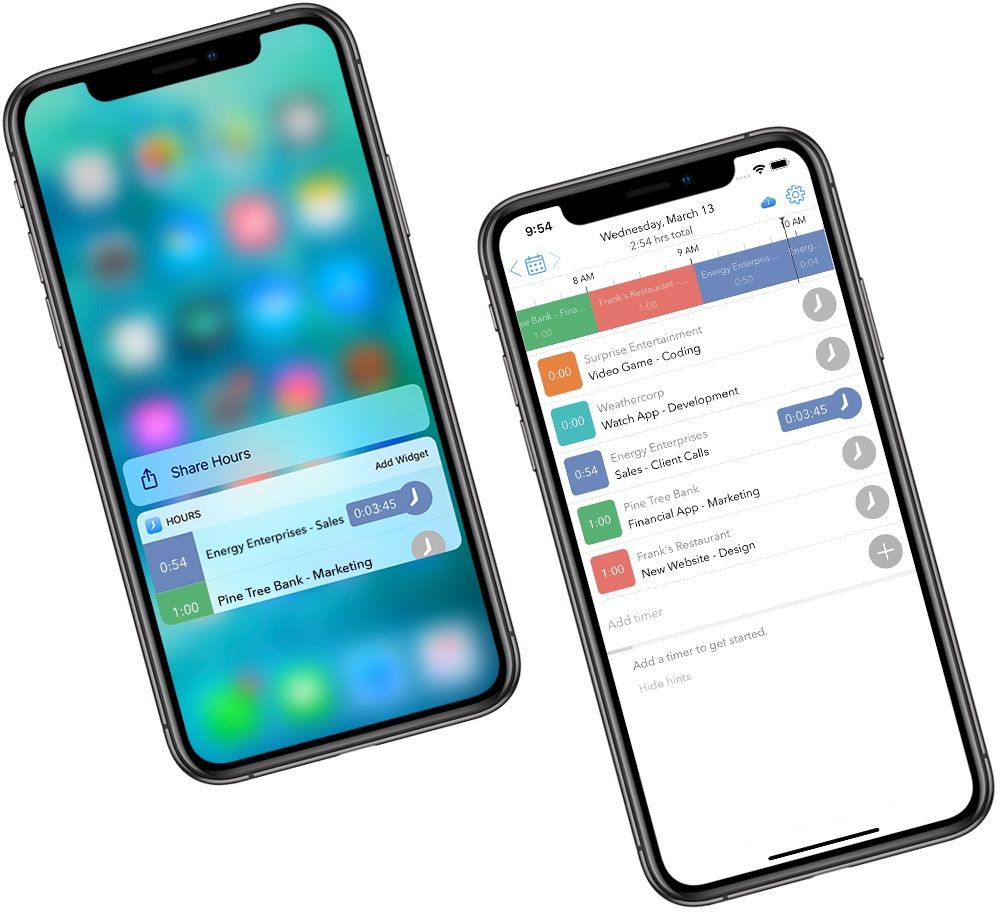 Hours app is very popular on the market with a huge number of positive reviews tempting to give it a try. It offers a visual timeline, smart reminders, detailed reporting, and a user interface designed by the team that won an Apple Design Award. Smart reminders won't allow you to forget to start or stop tracking your time. The visual timeline makes the identification and correction of mistakes a piece of cake. You can also add notes to time entries, choose whether you want to track time by clients, projects, or tasks, and check the calendar for information on your meetings.
👉 Hours is a comprehensive time tracker with the following time tracking options:
Personal – for personal usage,

Professional – for freelancers, contractors, and entrepreneurs for project time tracking

Teams – for collective tracking, allows unlimited team members to work on one project.
💰 Pricing: Hours time tracker is free; in-app purchases available.
11. Tyme3 – hours keeper for workload log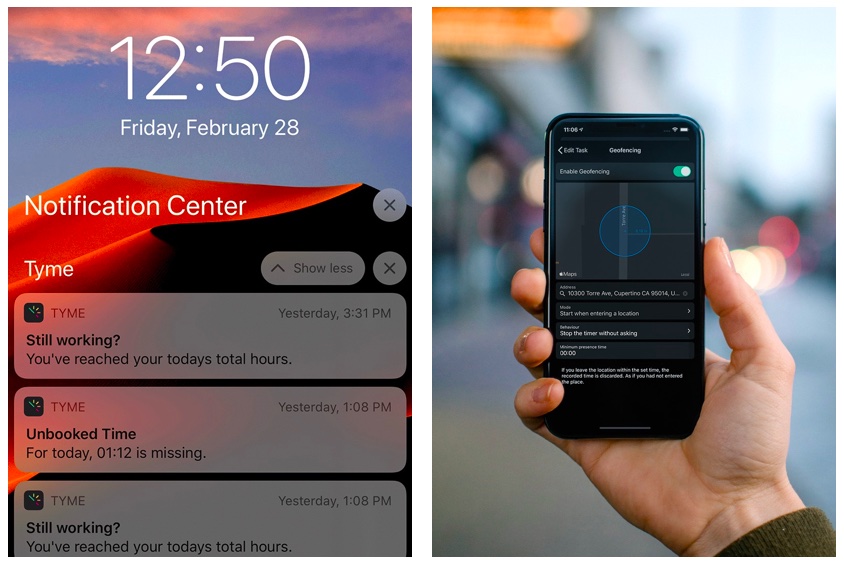 If you need an instant overview of your workload, project, and deadlines, try Tyme3. Its clear user interface gives you all important stats at glance and any time: recorded time, projects, deadlines, and budgets. Running timers are always on top and can be stopped or resumed thanks to the handy widget.
Tyme since time across multiple devices and all your team automatically. Thanks to the Google Calendar integration you'll be able to view all your entries as Calendar events and edit them there.
The Apple Watch app is also available.
💰 Pricing: You need to purchase a subscription to activate your Tyme3 account. Free trial available.
12. Session – for focus improvement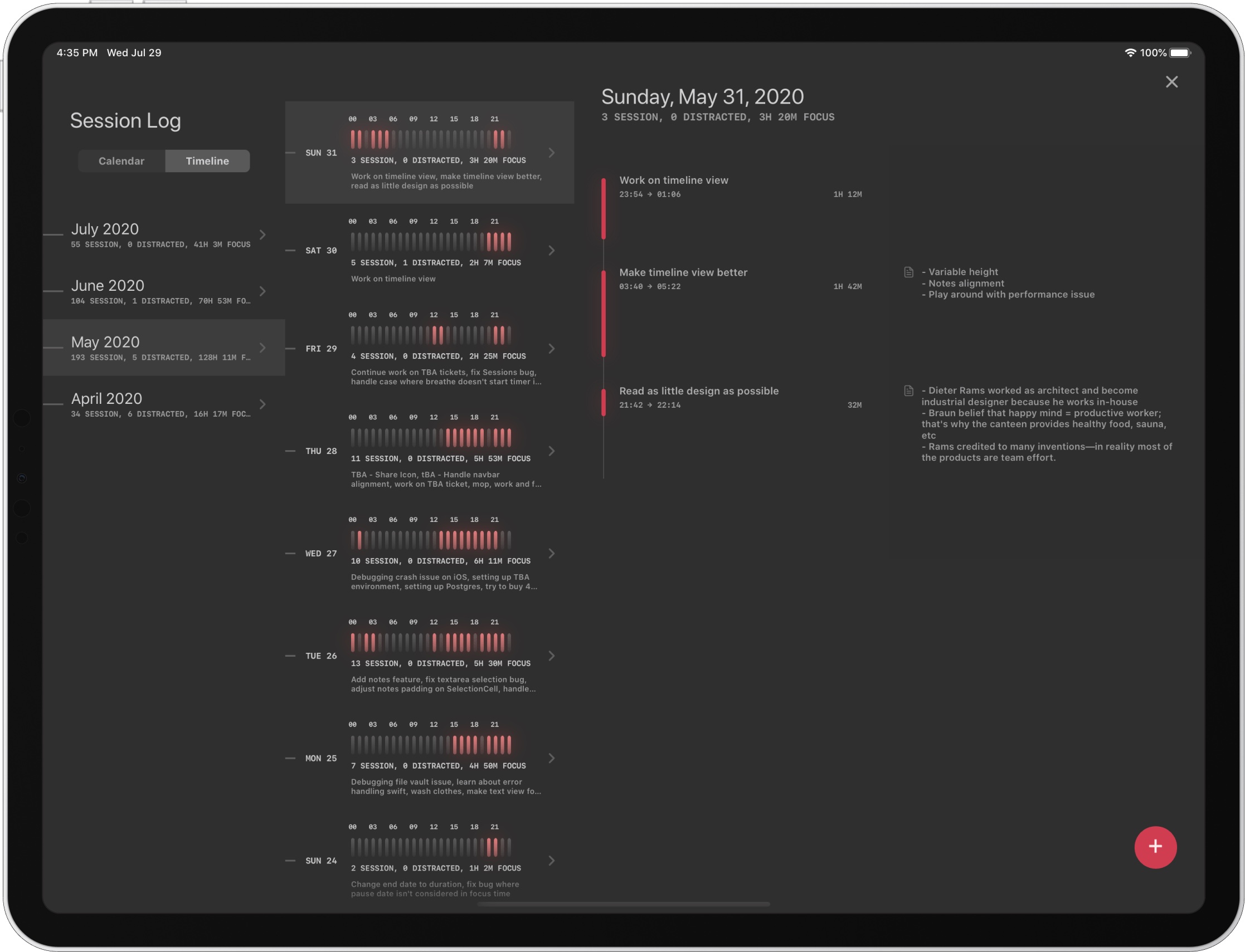 Do you often experience problems with focusing on your task at work? Do you find yourself prone to distractions? Then Session is the app can be a real deal. It's the app designed especially for Apple devices that keeps you focused by scheduling a focus session based on the Pomodoro timer.
All your focus sessions are safely stored in the Session Log. You can access them anytime and check how you did and review your progress. The tool, except for Pomodoro real-time tracking, offers also blocking websites and web apps that distract you the most, yet this feature is available for Mac only.
👉 Read also about Best Time Blocking Apps.
Session has a pleasant, minimalistic, intuitive user interface that stands out with its black and red color palette.
💰 Pricing: Free version offers basic features like unlimited sessions and rest and allows analyzing data only from the past two days. The Pro plan costs $4.99 per month in monthly billing and $3.33 when purchased for a year and includes features like customization for sessions and breaks duration or push notifications.
13. Bonsai – time tracker that integrates within your workflow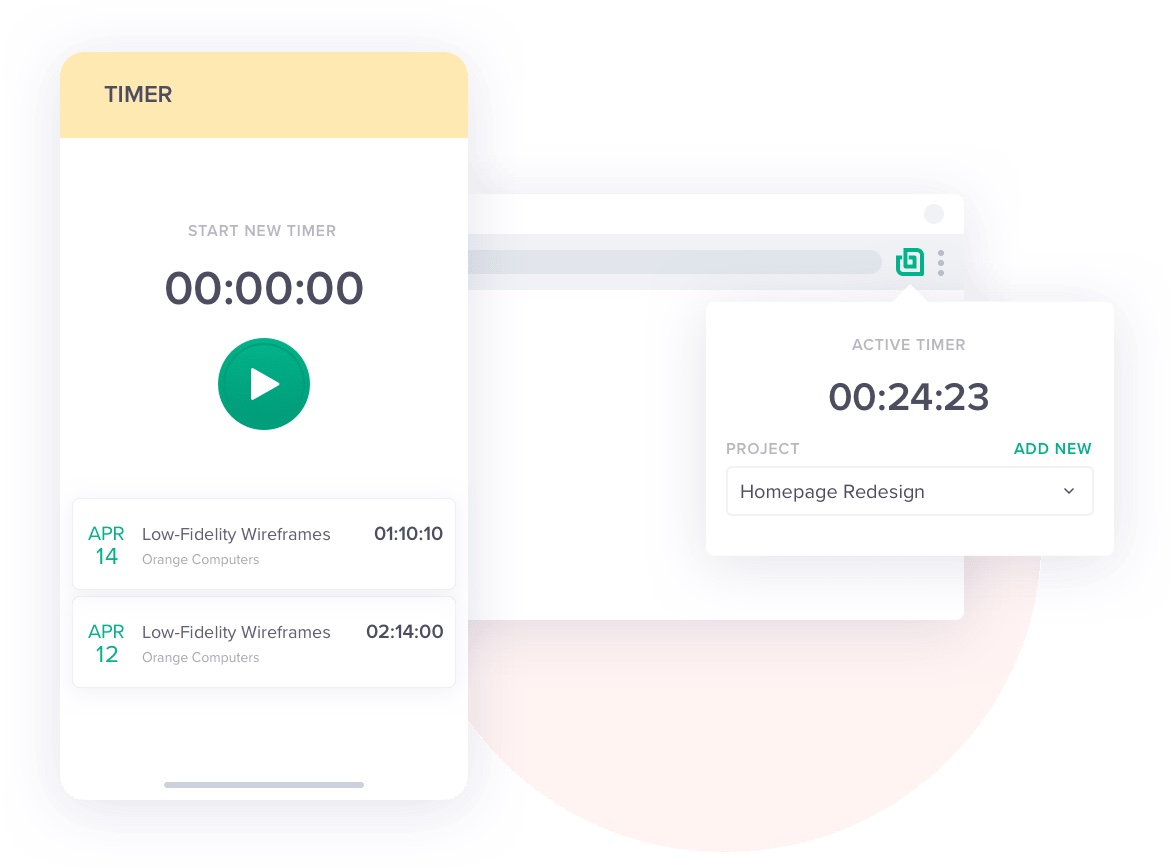 If you're a freelancer and the basic time tracker will satisfy your needs, take a closer look at Bonsai. It's a tool that tracks your work hours in a simple way and stores all your timesheets in one, accessible place.
👉 Read more about Best Timesheets Apps!
Bonsai allows you to track time, but also expenses and manage them on the go. Based on the tracked time and expenses data, you can create invoices and send them to your customers.
Bonsai is one of the best time tracking apps for iPhone to get a basic, yet handy overview of the business income and time consumption.
💰 Pricing: Time tracker for iOS is a free app, but additional features require in-app purchases. The cheapest plan is for $24 per month and includes unlimited projects and clients, invoicing and payments, client CRM and allows up to 5 collaborators to join the account.
14. Geofency – a paid yet comprehensive GPS time tracker

Managing a mobile workforce can be tough, but luckily, GPS tracking apps are no more a luxury that only a few can afford. One of them is Geofency – an automatic, geofencing technology-based location tracker that clocks in and out the mobile employees automatically based on location tracking data. The developer team promises that Geofency usage doesn't affect the battery life significantly.
Mobile team management becomes much easier; you can register arrival and departure times and set job locations. You can access them thanks to the advanced reporting because Geofency offers daily, weekly, and monthly summaries. What's more, the visual reports and fullscreen map view give you a full overview of how you and your employees are moving during working hours.
The tool offers also tags for location grouping, Google Calendar data export, a journaling feature, and a Today widget that shows the most recent data for better productivity. What's more, Geofency is available also as an Apple Watch app.
💰 Pricing: Geofency is offered at one time cost $4.99 and offers in-app purchases like coffee tips.
15. aTimeLogger – track time with just a couple of clicks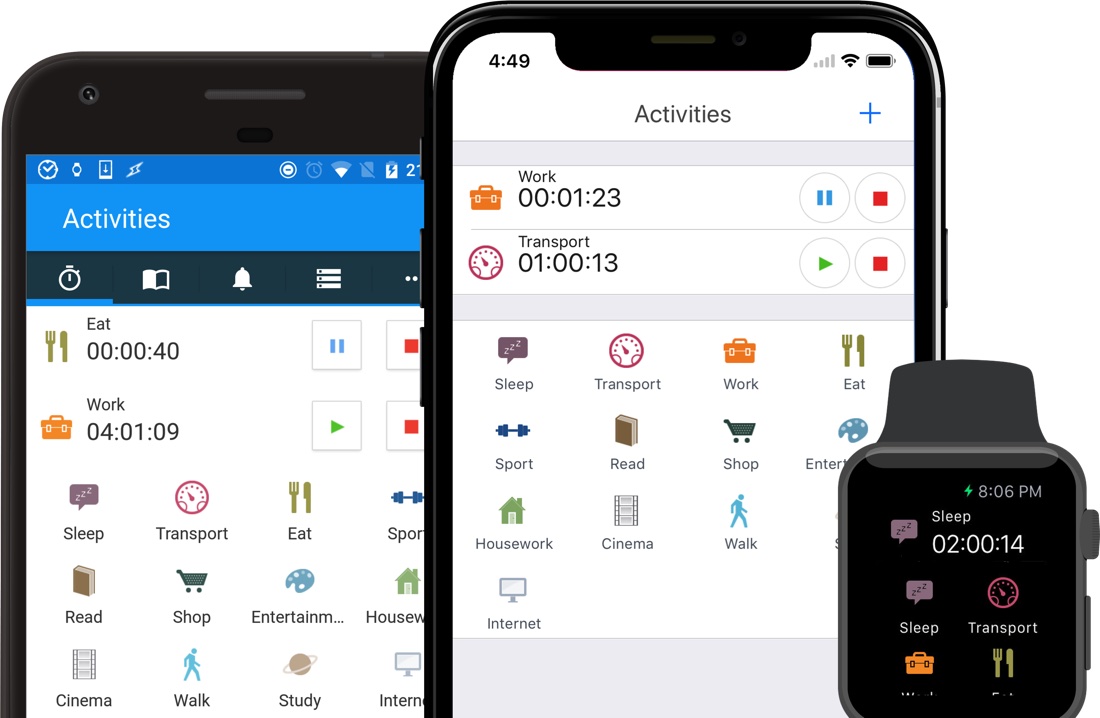 Tired of tedious manual clocking in and out at work? aTimeLogger allows you to track time spent on your projects and tasks, and pause and resume activities with a single touch of the handy widget.
aTimeLogger offers simultaneous activities, so you can log time for multiple projects at the same time. Tracked time is presented as visual reports, graphs, and pie chart designs, giving you a clear summary of time consumption. You can export data in different formats (HTML and CSV).
The tools sync data between multiple devices (it's available as an Apple Watch app as well).
💰 thPriciaung: aTimeLogg-er doesn't offer a free plan, but requires a one-time purchase – $4.99.
Conclusion
Surprised by how many best time tracking apps for iO S are available on the market? With a good tracker that synchronizes across all your Apple devices, you can become more productive, save money and time. Just remember to choose the app that corresponds to your business needs to get the most of it!
And what is your favorite time tracking app iOS supported?
---
Co-author: Ola Rybacka