Looking for Best Employee Hour Tracking Software? Here Are Top 10!
October 25, 2022
by Kate Borucka
No comments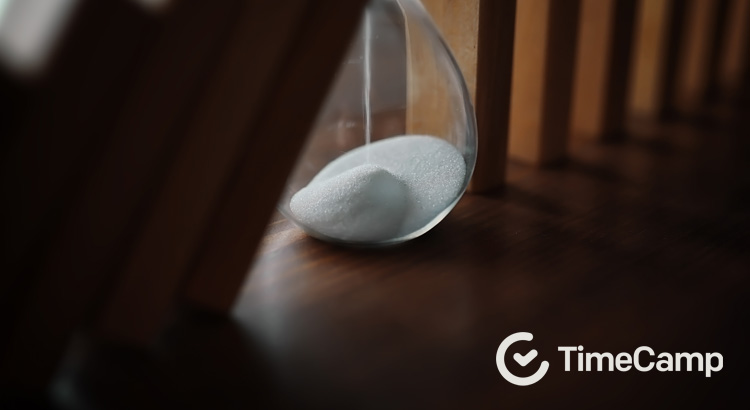 There are many reasons why organizations decide to implement employee hour tracking software. It may be to track working hours, monitor employees' activity, help them organize their work and become more productive, or simply to track project lifecycle.
But which tools are the best, and what should you pay attention to when choosing a computer time tracking program?
Which Employee Hour Tracking Software Should You Use?
Most employee hour tracking software includes features that allow doing much more than just track hours your team spends on work. Even though all these tools seem to be very similar, sometimes it's even one tiny component that makes them different.
That's why it's significant to pay attention to which best time tracking software you want to choose and why. And the best way to figure it out is to establish the criteria it needs to meet to help your business thrive.
What are your organization's business needs? What type of business are you? How many employees do you hire? What are some of the other tools you already use? How are you going to approach the implementation process? It's important that you ask yourself these and other questions that would help you determine what the best solution for you is.
Thus, choosing employee hour tracking software should be a well-thought decision, not a spontaneous act.
Best Employee Hour Tracking Software for your team
To make it easier for you, we prepared a list of the 10 best employee time tracking apps to help you choose from the best ones.
But before digging into the details, let's take a quick look at quick tool comparison of their vital features as employee time tracking apps!
| | | | |
| --- | --- | --- | --- |
| | Automatic time tracking with desktop app | Attendance tracking | Billable hours |
| TimeCamp  | ✅ | ✅ | ✅ |
| Conencteam | ❌ | ✅ | ❌ |
| Quidlo | ❌ | ❌ | ✅ |
| Timenotes | ❌ | ✅ | ✅ |
| Rise | ❌ | ✅ | ❌ |
| Atto | ❌ | ✅ | ❌ |
| BeeBole | ❌ | ✅ | ✅ |
| Jibble | ❌ | ❌ | ✅ |
| Mango | ✅ | ✅ | ✅ |
| Sling | ❌ | ✅ | ✅ |
1. TimeCamp
💚 Flexible time tracking software with attendance and employee productivity monitoring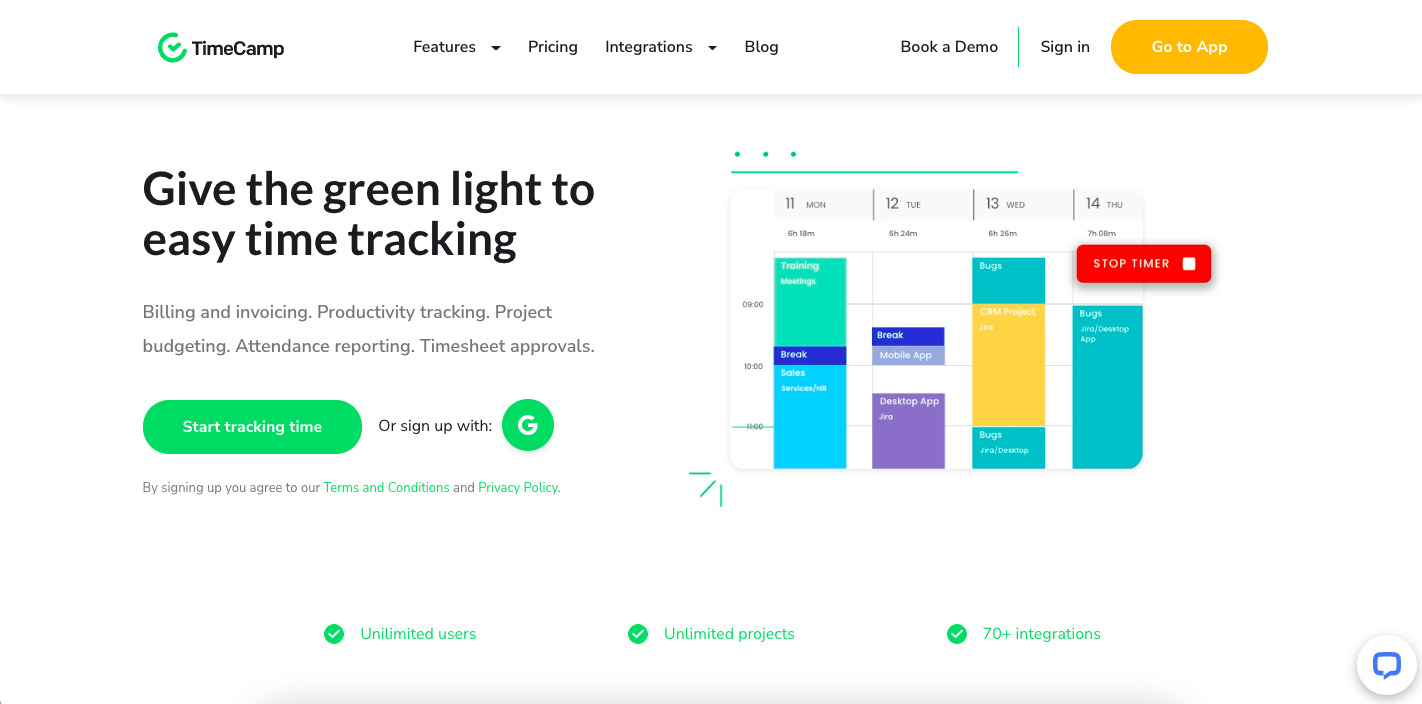 TimeCamp is a great, 100% free employee hour tracking software with project time tracking and attendance features It's easy to use, has a friendly, intuitive interface, and has many useful features. You can use it with all its components or choose those that suit you best. What's more, even in its free plan, TimeCamp supports unlimited users and helps you create time reports for unlimited projects and tasks.
TimeCamp allows you to see how your employees work precisely. And thanks to its flexibility, you can use it for various other purposes than just tracking employees' hours.
🗝️ Why TimeCamp can be considered one of the best employee time tracking software?
Monitors the time devoted to individual documents and tracks activity if needed,
Measures working time by particular categories,
Records the time spent away from a computer – detects when the user stopped being active and how long it lasted,
Works as attendance tracker – it tracks employees' absence and allows preparing payroll lists,
Easy budgeting – budgeting function allows you to estimate how much time the implementation of individual projects will take, and thus effectively plan the use of human resources and make a valuation of future similar projects
Thanks to the feature of billable and non-billable hours, you can accurately bill your customers,
You can turn time entries into invoices based on estimated hourly rates and send them straight to your customers,
Works also as a basic project management tool or rather project time tracking tool,
Task tracking,
GPS tracking,
Offers native time tracking for 30+ integrations with the most popular project management software etc.,
TimeCamp comes with a wide range of platforms. The tool offers desktop apps (Windows, Mac, and Linux) and has native mobile apps available for iOS and Android to help users track their time regardless of location. Moreover, a browser extension for Chrome and Microsoft Edge is also available.
💰Pricing: The free plan is available for unlimited users with unlimited projects. The Starter plan is $3,99 per user/month billed monthly ($2,99 per user/month billed annually), Basic plan is $7.99 per user/month billed monthly ($5.99 per user/month billed annually), Pro – $10.99 per user/month billed monthly ($7.99 per user/month billed annually), and Enterprise, on-premise, offer custom pricing.
Don't want to try anything else? Sign up for a free TimeCamp trial right now!
2. Connecteam
🧡 A time tracking app that turns every device into an employee time clock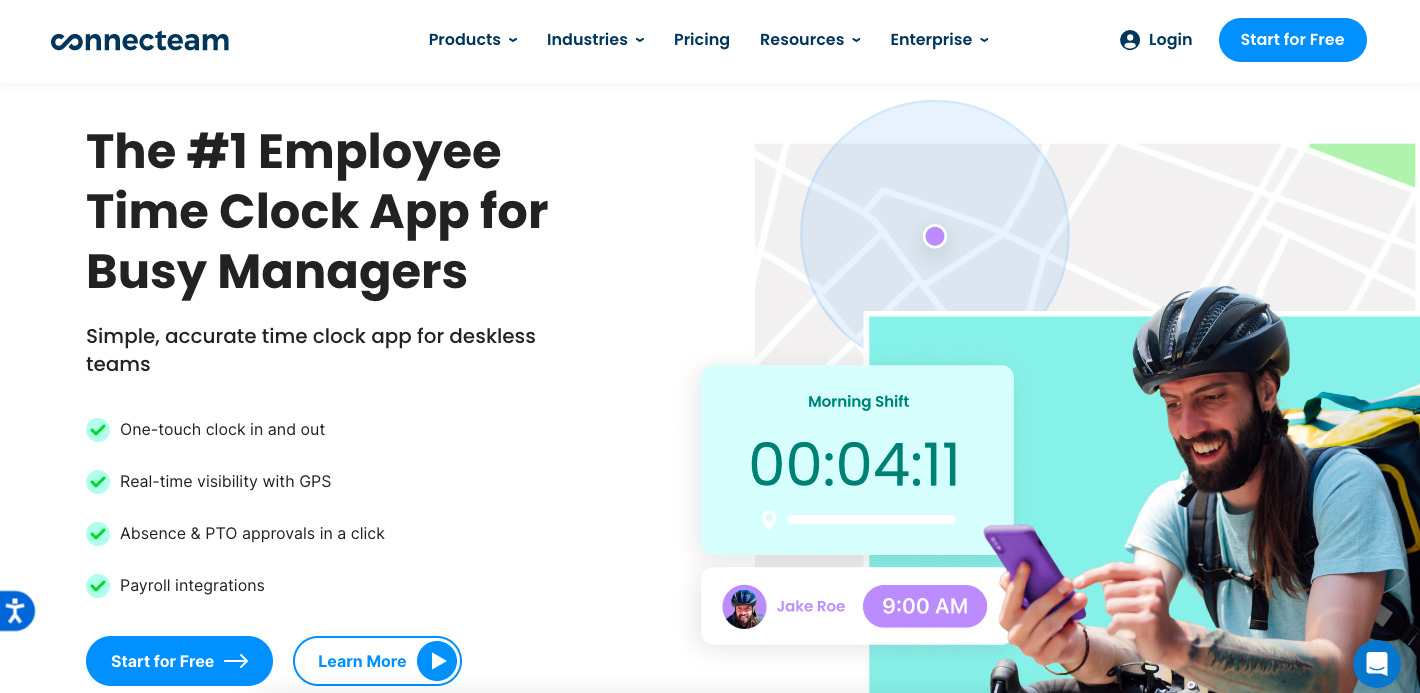 Connecteam is a leading all-in-one employee hour tracking solution that's easy to use, can be used on the go, and is made for any business size or industry type. It's a mobile-first app, so employees can clock in and out right from their smartphone with the click of a button. And, their location is tagged with a timestamp and GPS location so you can be sure everything is accurate. Geofencing ensures everyone is clocking in and out only at the predetermined location you set.
Notifications and reminders ensure your team never forgets to clock in or out again so you can effectively handle payroll. Plus, the timesheets and payroll options are easy to manage so you can save valuable time. Even when you're on the go, you can instantly see who clocked in where and when, examine the map view, manage vacation and time-off requests, and much more.
🗝️ These are some of Connecteam's other top hour tracking features:
Job scheduling,
Communication and engagement features,
Online training and onboarding,
Task management,
Digital workflows,
Checklists,
Reports
💰 Pricing: A free plan is available; however, it includes the most basic features, and only teams of less than 10 users can sign up for it. The cheapest paid plan costs $29 per user per month for the first 30 users, then you need to pay $0.5 per month for each additional user. Free trial available.
👉Check also our list of 10+ Best GPS Tracking Apps With Timesheets
3. Quidlo
🧡 Simple timesheets for tracking employee time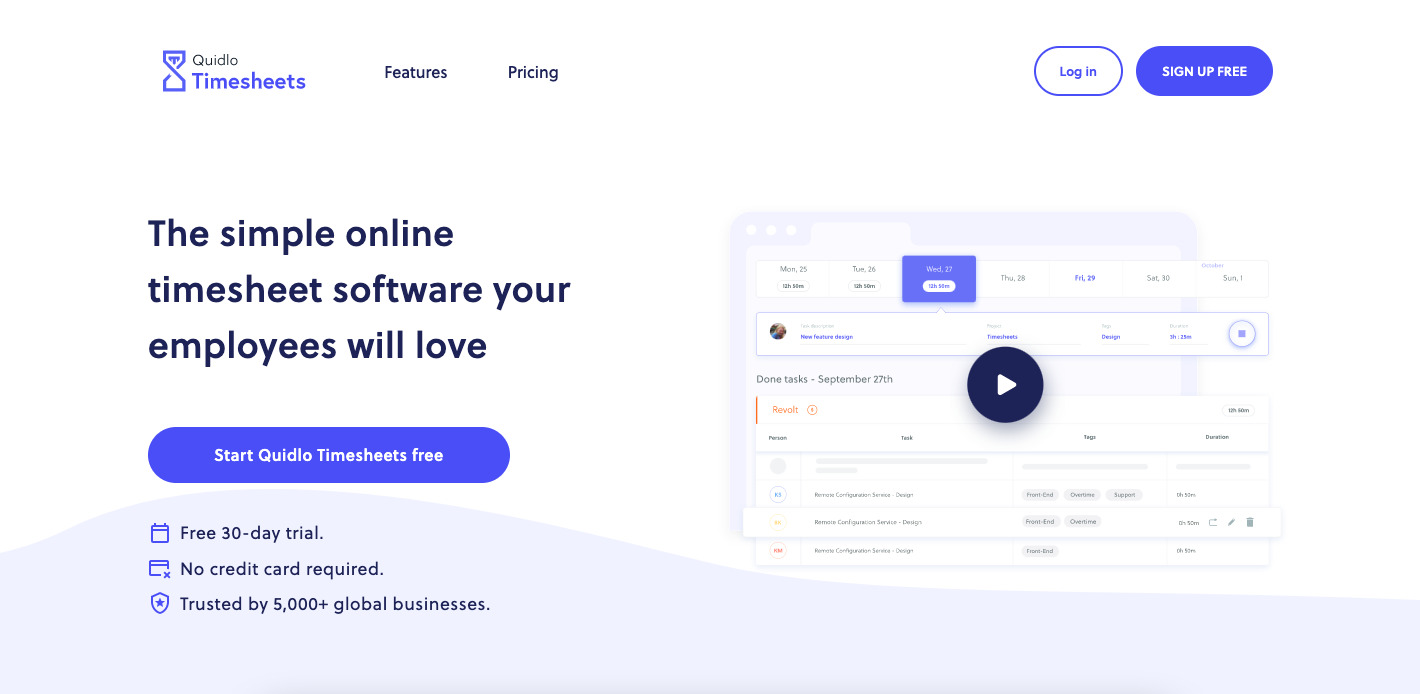 Quidlo is a minimalistic time tracking app that works basically as a timesheet app. To track work hours with it, you need to push a button to start a new timer or add a new time entry manually with just a few clicks. For a maximum level of accurate time tracking, users can modify the time entries if needed and assign them to projects or tasks.
With Quidlo, you can generate reports on a daily, weekly, or monthly frequency and share them with your teammates or customers. Managers can also manage their team members, inviting everyone who's engaged in a particular project and defining their responsibilities.
🗝️ Some of Quidlo's features for employee time tracking:
Desktop app, mobile app, and web timer,
Voice assistant support,
Role management,
In-chat time tracking,
Timesheet locking,
Custom reports on employees' time
💰 Pricing: A free plan for teams of up to 10 users is available. A Pro plan for unlimited users costs $29 per month and is packed with all the features to track employee time. Also, there's a custom offer for teams with more advanced requirements.
4. Timenotes
🧡 Time tracking software with basic project management tools-like features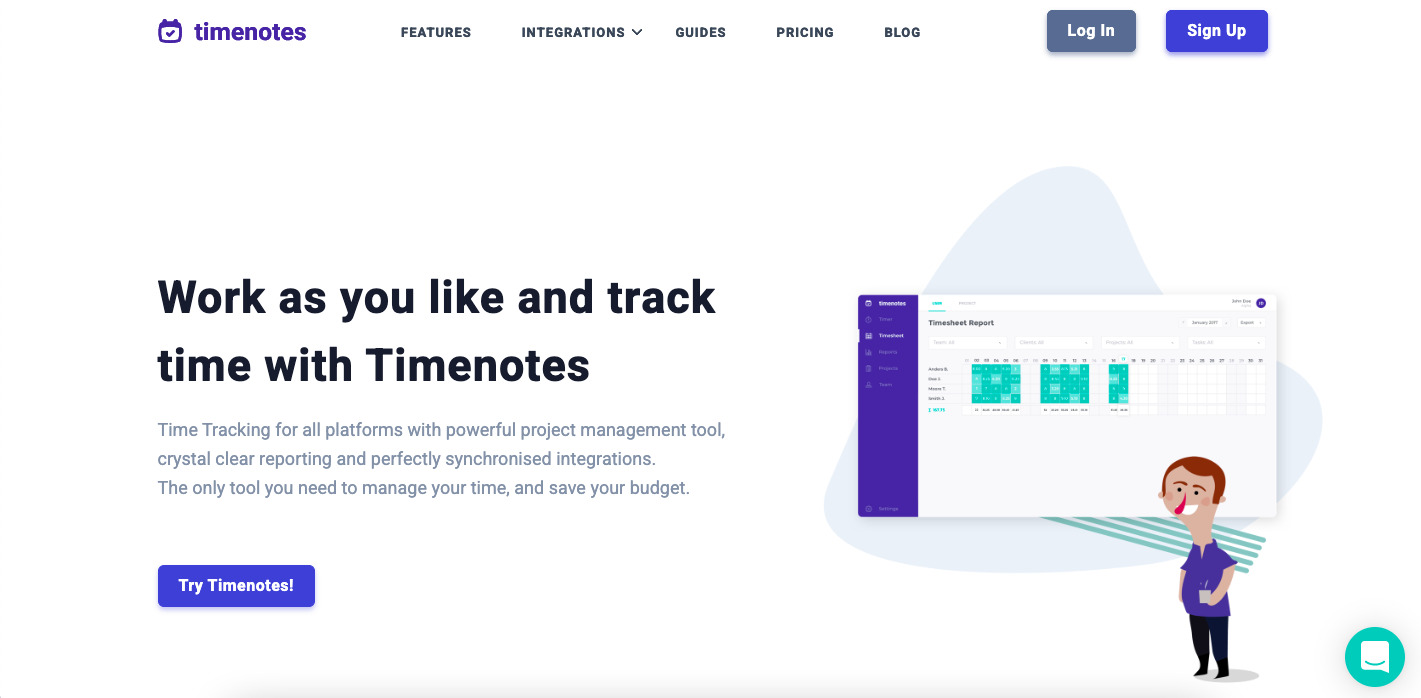 Timenotes is a simple time management software that allows adding new or editing existing time logs manually. But if you want to save time filling timesheets, the start/stop button is also available. You can also define tags and use them to categorize your time spent on various tasks. Moreover, browse employees' timesheets to prevent overworking.
Except for being an employee time tracker Timenotes provides project managers with time reports that are generated based on how many hours employees worked. They can be used for easier invoicing or to show proof of work for clients.
🗝️ Timenotes' features for measuring employee hours:
Manual time tracking and start/stop trackers,
Time reportsing
Absence tracking app,
Basic team management,
Project tracking,
Integrations with Asana, Trello, and Todoist
💰 Pricing: Teams of up to 10 users pay a $6,99 flat fee; a paid plan for bigger teams costs $69 per month when billed annually.
5. Rise
🧡 Clockwork-like running time tracking software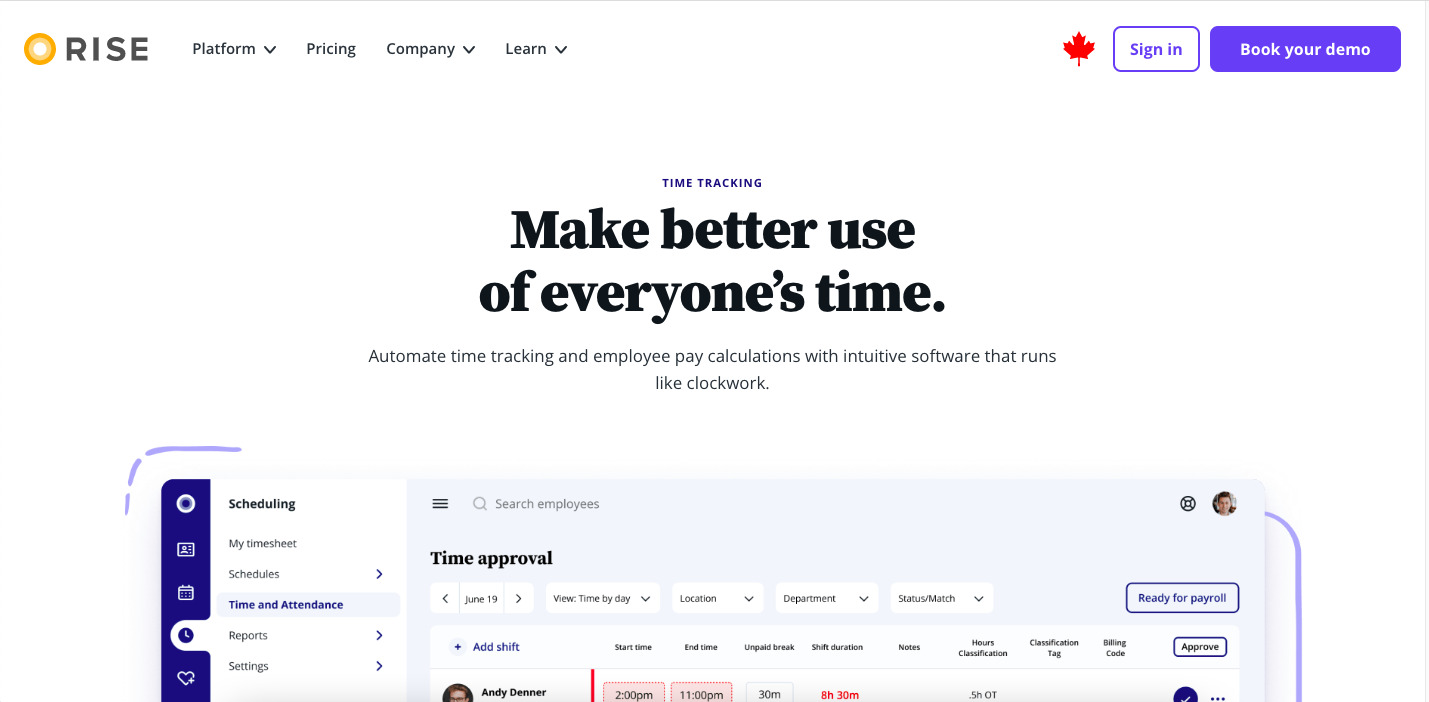 Rise time tracker is a part of the HR suite of the same name. The tool runs like clockwork and ensures employees with various ways of punching in and out, such as touch or face ID, ID card, or mobile device, thanks to the mobile app packed with geolocation and IP tracking (the latter is mostly dedicated to off-site workers).
With Rise, timesheet reviewing takes a much shorter – you can set the worktime, break, and overtime rules according to which employees' timesheets will be approved or not. You can also use your time tracking records, budget tracking, and creating accurate payroll lists to know for sure the employees and contractors will be paid on time.
🗝️ Main Rise features for employee time tracking:
Mobile app and web punch in/out,
Advanced features of clocking in,
GPS Timesheets with approvals,
Location tracking,
Labour law compliance,
Time tracking reports
💰 Pricing: The pricing plans are available; however, you need to connect them to discuss the pricing. Moreover, teams of less than 20 employees need to pay a $30 extra fee base per month.
6. Atto
🧡 Employee time tracking software dedicated to field workers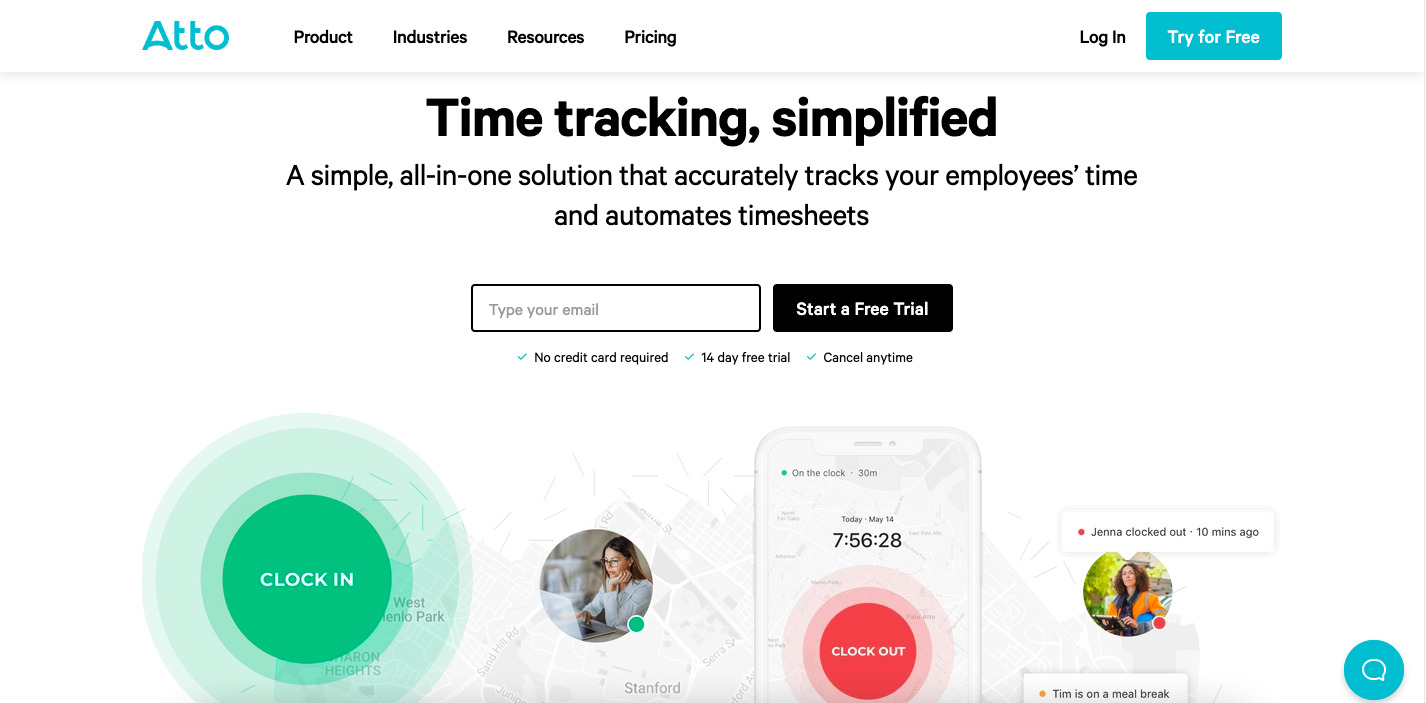 Accurate tracking of the work hours of employees who are working outside the office can be a little tricky. Atto helps companies avoid the risk of misuse, providing them with a mobile time tracking app with GPS tracking, which they can use wherever they are.
With Atto, you can view in real-time the timeline of your employees' work and get notified of their activity. Thanks to location tracking, your team can avoid wasting time on constant checking and progress updates, so you're able to verify if your employees are where they should be during their work hours.
🗝️ Main Atto's features:
GPS location tracking app,
Time clock app with timesheets verified based on location data,
Team activity statuses with a day timeline,
Timesheet reports,
Messages,
Overtime rules,
Break preferences
💰 Pricing: Atto doesn't offer a free plan, yet the 14-day free trial is available. A premium plan is an offer for teams of up to 99 members; it costs $5 per user per month, billed annually. Bigger teams can contact their sales to discuss custom Enterprise plan details.
Available for: Web, mobile app (iOS, Android)
7. BeeBole
🧡 Employee time tracking tool with basic hours scheduling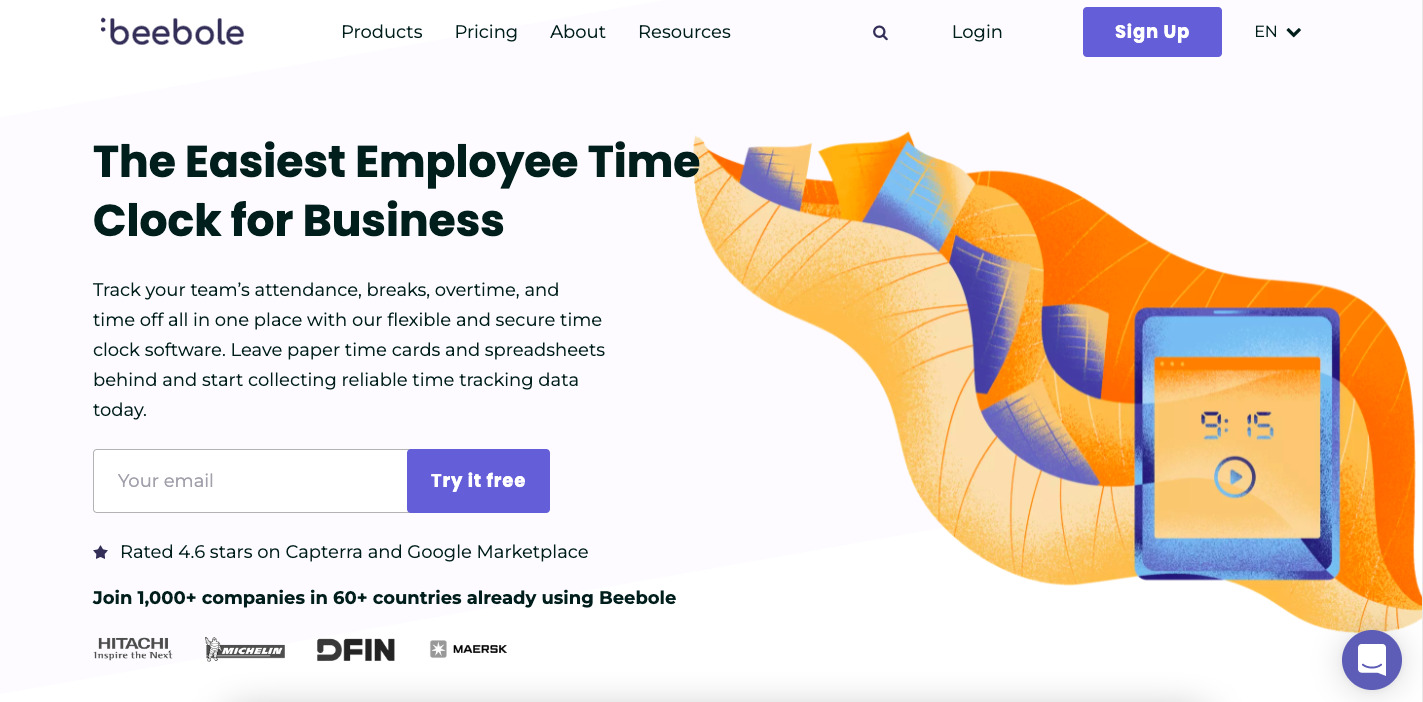 BeeBole works as a time tracking software and allows you to track time daily, weekly, monthly, and real time. You can use it in your company also if you need to track working hours to be able to accurately manage absences and holidays.
With the tool, you can easily monitor projects and budgets in real time and always know what's happening. The customizable dashboard makes it possible to generate employee reports on time attendance, budget, billable hours, margin, and profits. 
BeeBole is a good solution for any type of business, for teams, individuals, and large and small organizations.
🗝️ Some of top BeeBole's features:
Time clock,
Work hours and breaks scheduling,
Time off tracking,
Time reports,
Billable hours,
Budgets and costs,
Automated reminders
💰 Pricing: BeeBole offers just one pricing plan – users must pay € 6.99 per user/month to use all the features the tools offer.
8. Jibble
🧡 Time and attendance tracking for various devices
Jibble makes it easy to track time and attendance of your employees. Your team logs in with phone, tablet, or through the web app. It's best to use it with team administrators or project managers who would be responsible for monitoring employees.
Then they can manage all the important aspects such as view personal or daily, weekly, monthly timesheets, custom reports, monitor staff statistics, set up alerts, make manual entries or view biometric data (Jibble has a feature of logging in with a selfie).
Additionally, Jibble helps to optimize work and make your team more productive, especially if you integrate it with other tools.
🗝️ Jibble's main features for hours tracking:
Timesheets,
Time kiosk app with reminders,
Attendance tracker,
GPS tracking,
Detailed time tracking reporting,
Employee management,
Device lock
💰 Pricing: A free plan is available. The cheapest, most basic paid plan for small businesses is for €1.80 per user/month. Entreprises can contact their sales to discuss the customizable account with a dedicated account manager.
9. Mango
🧡 Time and billing software that eases the pain of payroll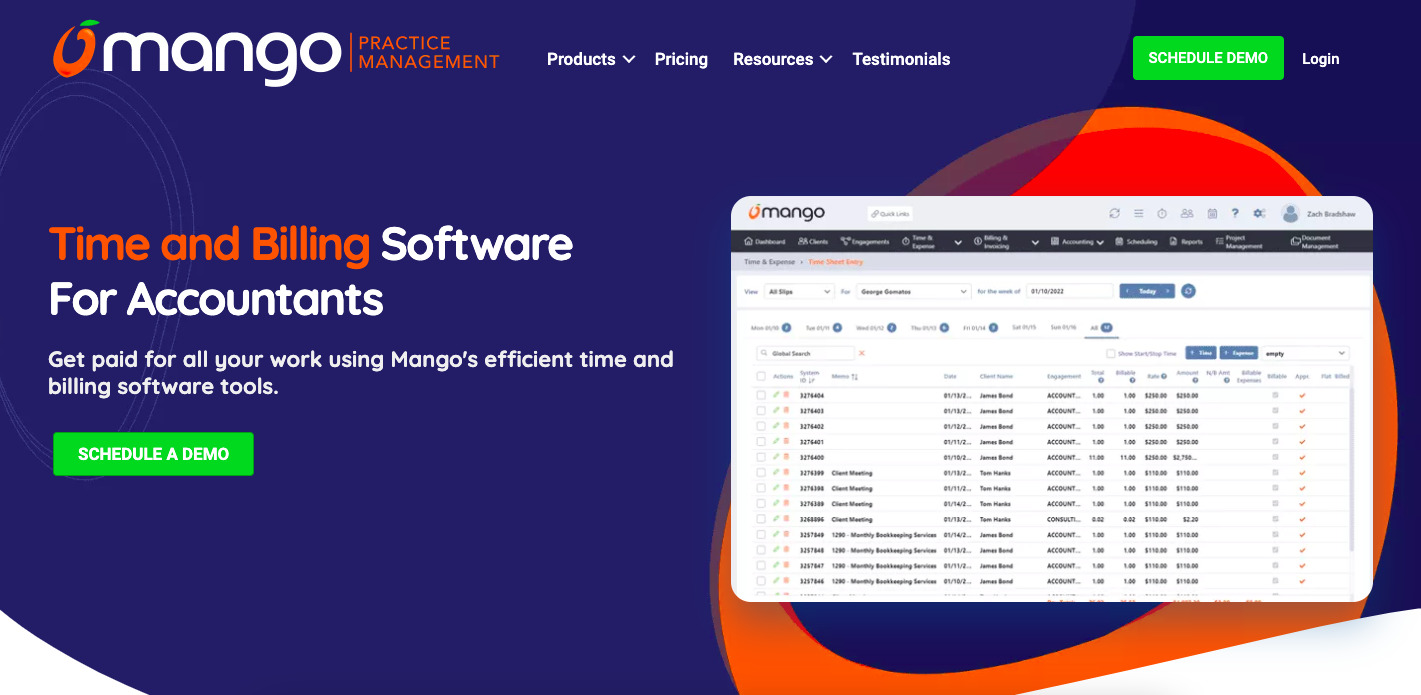 Separate accounting software can be too much for small businesses; purchasing one may end up using only half of its features. That's why many time tracking software serves now as tools that not only track employee hours but also help prepare a payroll list. One of them is Mango, a time tracking app with billable hours and expense tracking software.
Mango helps you obtain useful data for proper financial management, including billing and invoicing the customers and resource usage. Its "click and pay" feature accepts all payments and allows customers to pay as soon as they get invoiced, so you can reduce processing fees and the risk of fraud while using third-party apps.
🗝️ Mango's features for effective time tracking:
Start/stop time tracking,
Manual time entries,
Reporting,
Batch time entry – adding multiple records at once,
Estimates vs. actual budget,
Invoicing with online payments
💰 Pricing: Most of the time tracking features are included in the cheapest paid plan, Basic, which costs $35 per user/month.
10. Sling
🧡 Employee scheduling tool with time clock features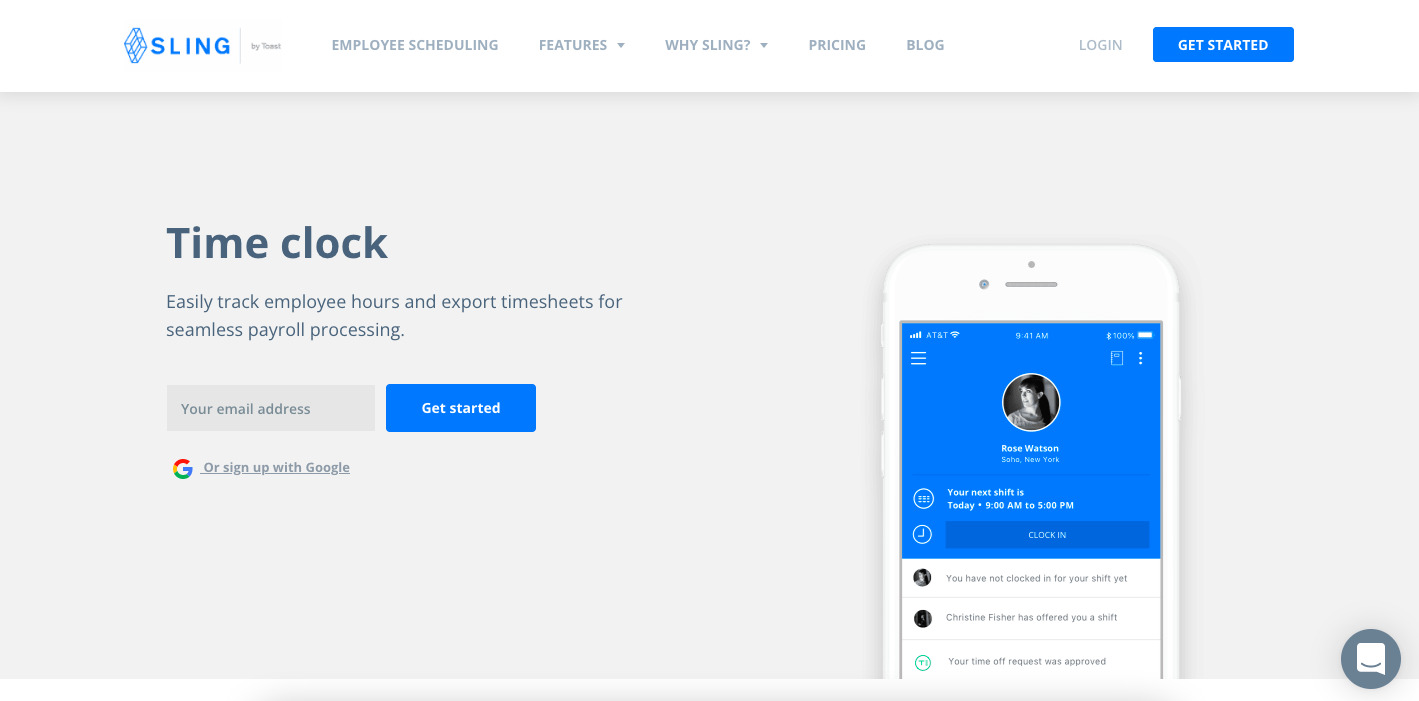 Sling works mostly as a platform to schedule and communicate with the employees, but it also serves the teams as an employee time tracking app. The tool tracks working hours and labor costs and then use the filled timesheets for payroll purposes.
Sling uses a mobile app to let track the time employees spend on their responsibilities by easily clicking in and out. It allows both employees and employers have better control over working hours because it sends notifications each time an employee is running late or forgets to clock in. What's more, geofencing tools keep the team up to date with employees' locations and provide useful data if the employees are where they should be.
🗝️ Sling's features as an employee time tracking software:
Time tracking app,
Mobile apps for clocking in,
Geofencing tools,
Rules for proper clocking in and out with notifications,
Timesheet reviewing and exporting,
IP recognition for a remote workforce
💰 Pricing: Sling offers a free plan, but only shift scheduling features are included. To use the tool as a time tracker, you need to choose at least a Premium plan that costs $1.70 per user per month.
Final Word
Of course, there are many more tools than the employee time tracking apps mentioned above, that can help you track how much time your employees work and what they spend time on. However, these are the most trusted, most popular, with the best features. Make sure you're choosing software that is relevant to your organization's business model, and the features your team will actually need.
Find out how many processes you can automate with the best employee time tracking app - don't hesitate and sign up for a free TimeCamp account!
Co-author: Ola Rybacka, Content Specialist at TimeCamp